CBD for Life Review: Eucalyptus & Peppermint CBD Bath Bomb
Oct 26, 2020 | SOC
CBD for Life Eucalyptus & Peppermint Bath Bomb
Pros
Relaxing
Moisturizing
Natural ingredients
Eases muscles and joints
Easy to use
Cons
Misleading label. There's no eucalyptus in this product.
CBD FOR LIFE
Product Review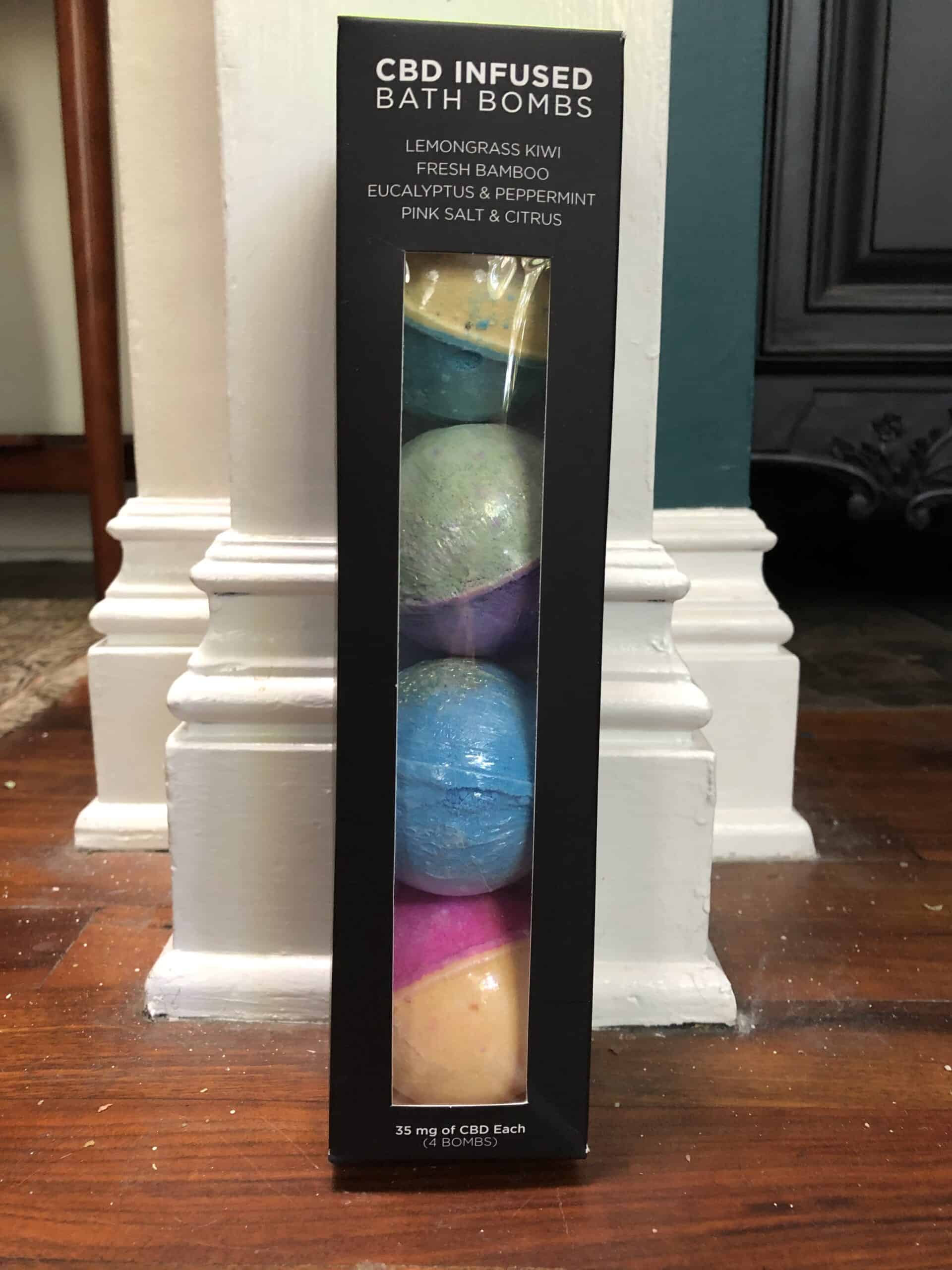 Brand Overview: CBD FOR LIFE
CBD for Life began when co-founder Beth sought relief for her back pain that wouldn't make her feel high. She joined forces with a bona fide chemist and along with her sister Julie created their first CBD topical. The company's mission is to make high-quality CBD products so you can look and feel your best. CBD for Life has a variety of topicals, tinctures, skincare, and bath products made with CBD isolate, essential oils, and other plant-based ingredients.
Sourced from industrial hemp at a farm in Colorado that uses organic and sustainable methods, CBD for Life has everything lab tested for purity and potency. Whether you're looking for a soothing topical to bring you pain relief, a moisturizer designed specifically for your feet, or a tincture that's both non-psychoactive and non-addictive, CBD for Life has something for you.  We were provided these bath bombs by Pure CBD Vapors.
Products: Hair Products, Sanitizers, Topicals, Bath Bombs, Tinctures, Skincare.
Price Range ($-$$$$): $$
---
About CBD FOR LIFE EUCALYPTUS & PEPPERMINT BATH BOMB
The CBD for Life Eucalyptus & Peppermint Bath Bomb contains 35 mg of CBD, coconut oil, Epsom salt, and eucalyptus and peppermint essential oils that work in combination to help you relax, moisturize your skin, and relieve pain and inflammation. The ingredients are safe for sensitive skin types and can act as a numbing agent if you suffer from pain. Made from vegan and cruelty-free ingredients, this bath bomb is totally safe on your body and contains batch certified colorants that won't stain your bathtub.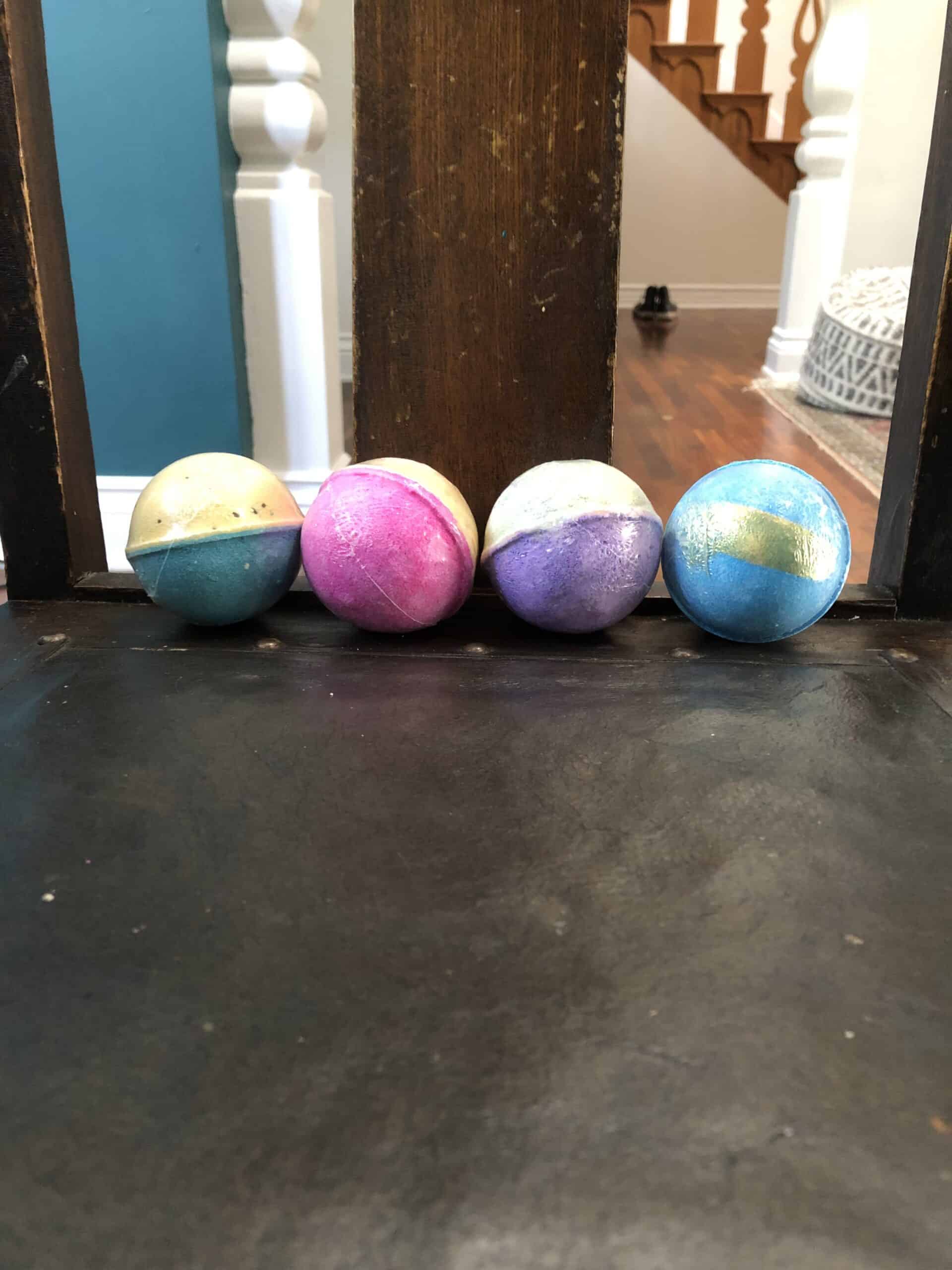 Using bath bombs is such an easy way to relax after a stressful day. Just drop it into a warm bath and soak your cares away. For best results, CBD for Life recommends allowing yourself to indulge in a bath that's thirty minutes or longer.
---
CBD FOR LIFE EUCALYPTUS & PEPPERMINT BATH BOMB Specifications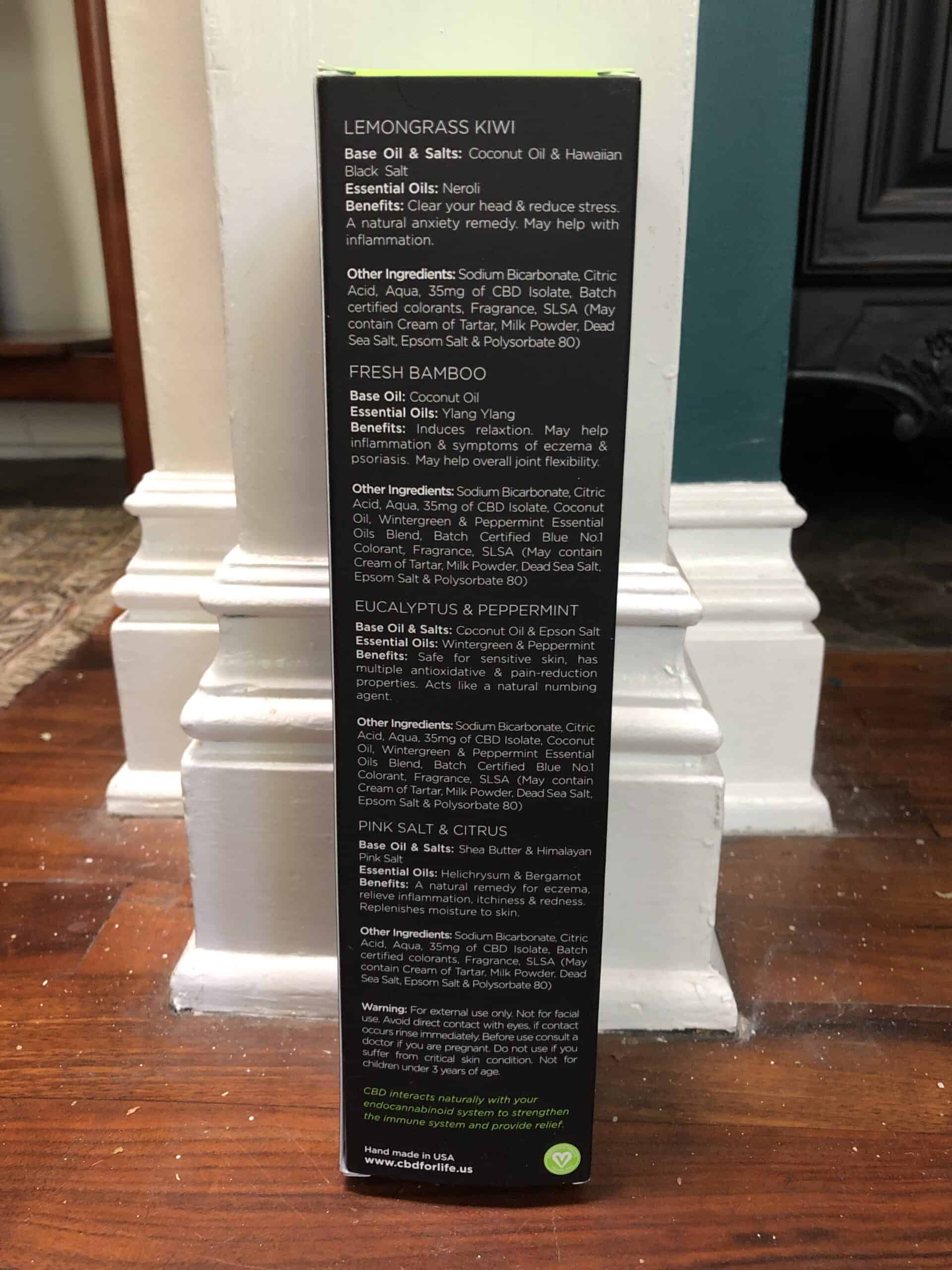 35 mg CBD isolate
5.5 oz
Ingredients: Coconut Oil, Epsom Salt, Wintergreen & Peppermint Essential Oils, Sodium Bicarbonate, Citric Acid, Aqua, Batch Certified Blue No. 1 Colorant, Fragrance, SLSA (May contain Cream of Tartar, Milk Powder, Dead Sea Salt, Epsom Salt, Polysorbate 80.)
---
How We Tested the CBD FOR LIFE EUCALYPTUS & PEPPERMINT BATH BOMB
Eucalyptus is one of my favorite ingredients in a bath bomb, and peppermint is pretty great too. I always love how these particular scents make me feel so relaxed. Plus, when used in topicals, these ingredients can relieve me of some of my arthritis pain. I just started back up in school and my joints have been killing me with all the extra sitting and typing. Not feeling well also increases my stress, so it was a perfect time to try this bath bomb. I was hoping it would not only help me relax but would ease some of my pain too.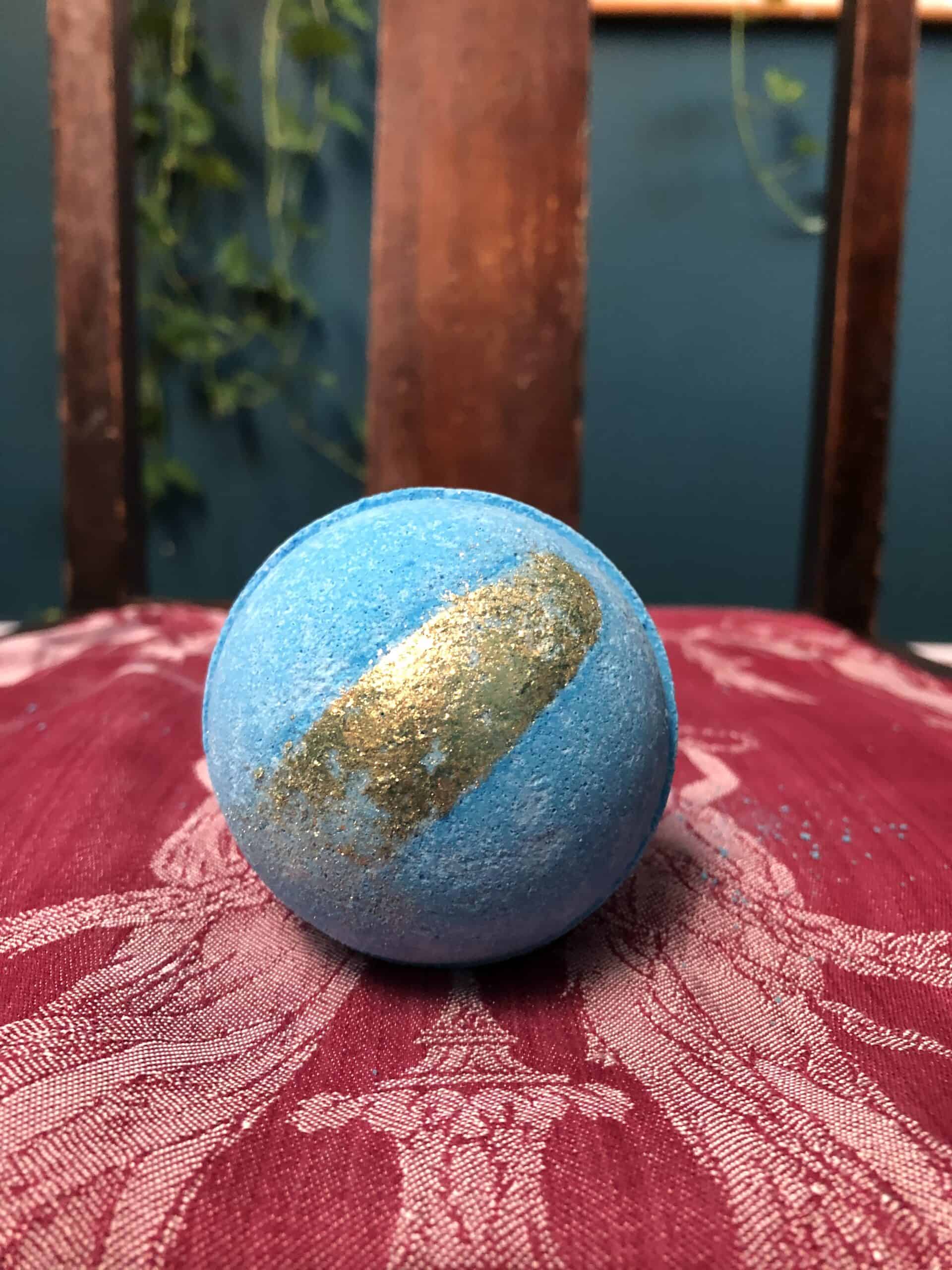 I was disappointed to see the bath bomb doesn't contain any eucalyptus because the smell always eases my mind. It makes me think of my hometown and its country roads lined with eucalyptus trees. Still, this bath bomb contains peppermint and wintergreen, which can have a similar effect. After a particularly stressful and pain-filled day, I ran myself a bath and along with the bath bomb, took a nice long soak for thirty minutes.
---
How the CBD FOR LIFE EUCALYPTUS & PEPPERMINT BATH BOMB Worked for Me
For an hour or two, after I got out of the bath, my pain was reduced considerably. I also found myself so relaxed, I was able to fall asleep without taking any melatonin. It's difficult to feel good when you're in pain and stressed out, and this bath bomb offered some welcome respite. I felt human for a short while. The scent of wintergreen and peppermint essential oils was a big player in helping me find some peace of mind. I was able to fall asleep without waking up from pain and panic, which in turn helped me have less pain the next day. There's nothing like a good night of sleep when you have arthritis to make everything feel better. I would love to use this bath bomb again. It's too bad it only lasts for a single bath.
---
Useful and Unique Things to Know About CBD FOR LIFE EUCALYPTUS & PEPPERMINT BATH BOMB
It's important to know that this product doesn't contain any eucalyptus. In fact, I've found that the CBD for Life bath bombs, in general, don't necessarily contain the ingredients in their names. The wintergreen is often used in topicals used by athletes because it can help with post-workout inflammation and recovery. It's also often used for joint and muscle pain as a "counter-irritant." Peppermint has similar functions as wintergreen in terms of its ability to ease muscle pain, and its aroma can also relieve stress.
---
CBD FOR LIFE EUCALYPTUS & PEPPERMINT BATH BOMB Ratings
In the next sections gradings from 0-100 on our review, these grades add up to give the product's overall score.
PRESENTATION • 90
There's no eucalyptus in this product so the name is confusing.
RELIABILITY • 100
Soothing and relaxing.
QUALITY • 100
Natural ingredients.
FLAVOR / SMELL / or EASE OF USE • 100
Lovely mild minty scent.
VALUE • 90
A little pricey but for a CBD bath bomb, it's about average.
---
How CBD FOR LIFE EUCALYPTUS & PEPPERMINT BATH BOMB Stacks Up Against the Competition
After trying all the CBD for Life bath bombs in their combo pack, the eucalyptus and peppermint one is my favorite, despite it not having any eucalyptus. The wintergreen and peppermint combination was soothing and my joints felt so good after my bath. In terms of scent, the Pink Salt & Citrus comes in at a close second because it had the most unique and potent scent. If CBD for Life wanted to be more competitive, I'd boost the scent profile so it's a little stronger. And I'd add that eucalyptus, or just call it the Wintergreen & Peppermint Bath Bomb instead.
---
Saving Money with Our Verified PURE CBD VAPORS Coupons
Save money by using our verified CBD Bath Bombs here at Save On Cannabis the World's largest online cannabis coupon code directory.
---
Disclosure: I received these products gratis so that I could try them and then share my honest opinion with the SOC community. I am employed by Save on Cannabis to write honest reviews and provided a flat rate payment for the writing of the review. SOC may receive recurring affiliate payments for purchases made based on this content.
Does CBD topical work on pain? Our reviewer got hit by a car & used Steve's Goods CBD Pain Cream on her pain, see if it worked.
Read our hands on cbdMD review of their cbdMD Max Tablets and see if it's worth your money. Video version and verified coupons.
Our reviewer tested the Pure Relief Pure Hemp Salve, check out the full breakdown. Read our Pure Relief review to see if you should buy this CBD salve.