CBD Review: Social CBD Cooling Roll-On Gel
Aug 8, 2020 | SOC
Social CBD Cooling Roll-On Gel
SOCIAL CBD COOLING ROLL-ON GEL
Product Review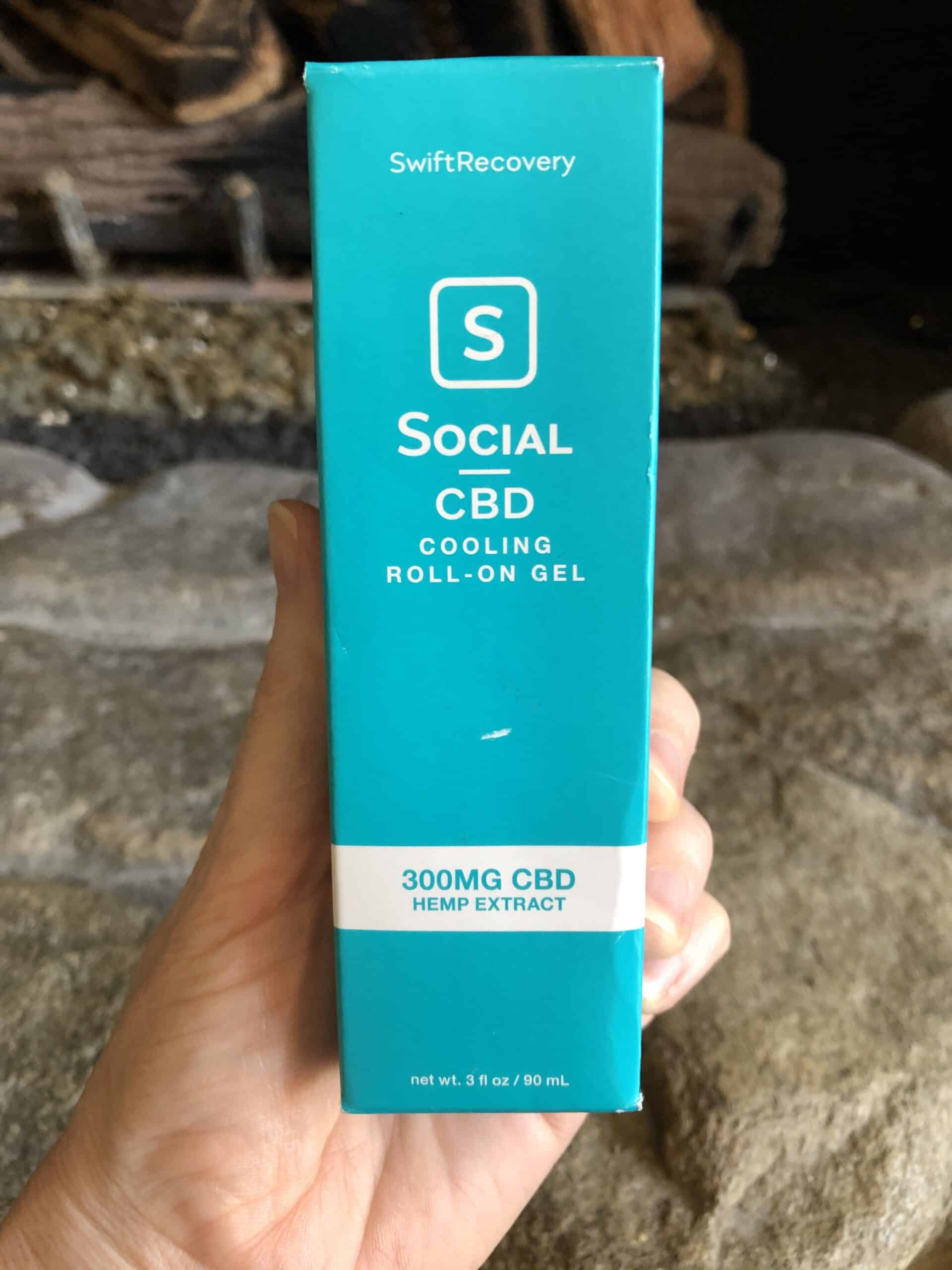 Brand Overview: Social CBD
Social CBD has created a line of CBD products that provide "natural solutions for modern life." Everything they make is 100% plant-based and rich in phytonutrients. Social CBD has a wide variety of drops, vape pens, capsules, and gummies to choose from. Their line of topicals includes products from Volcom, to help with recovery after a workout or time in the sun.They also have a line of self-care topicals for women called Zooey CBD. Social CBD also makes products just for your pet! Sign up for their mailing list and save 20% off your first order.
Products: Drops, Vape Pens, Gel Capsules, Topicals, Gummies, Pets, Volcom CBD, Zooey CBD.
Price Range ($-$$$$): $$
---
About SOCIAL CBD COOLING ROLL-ON GEL
Social CBD Cooling Roll-On Gel contains 300 mg of CBD to help make your muscles and joints feel better. The gel contains menthol, camphor, tea tree oil, and peppermint to help cool down your troubled areas and distract the brain from aches and pains. This roll-on gel is free from artificial fragrances and colors. It's the perfect thing to toss in your bag or take with you on trips. Because it's a roll-on, you can easily apply the gel without having to touch it. No washing hands necessary! The gel is fast-drying and fast-acting. You'll feel the benefits right away! You can use this product up to four times a day.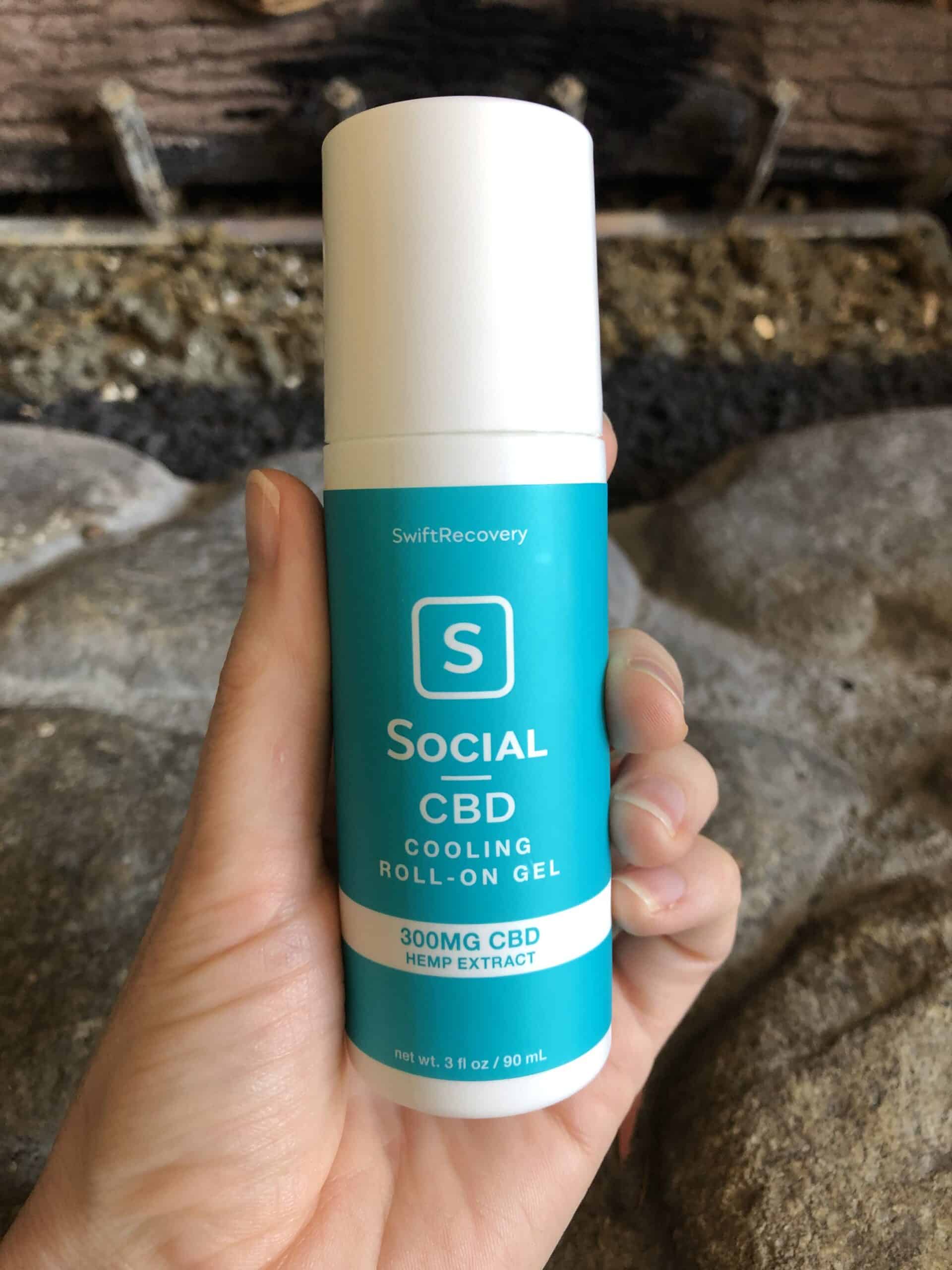 ---
SOCIAL CBD COOLING ROLL-ON GEL Specifications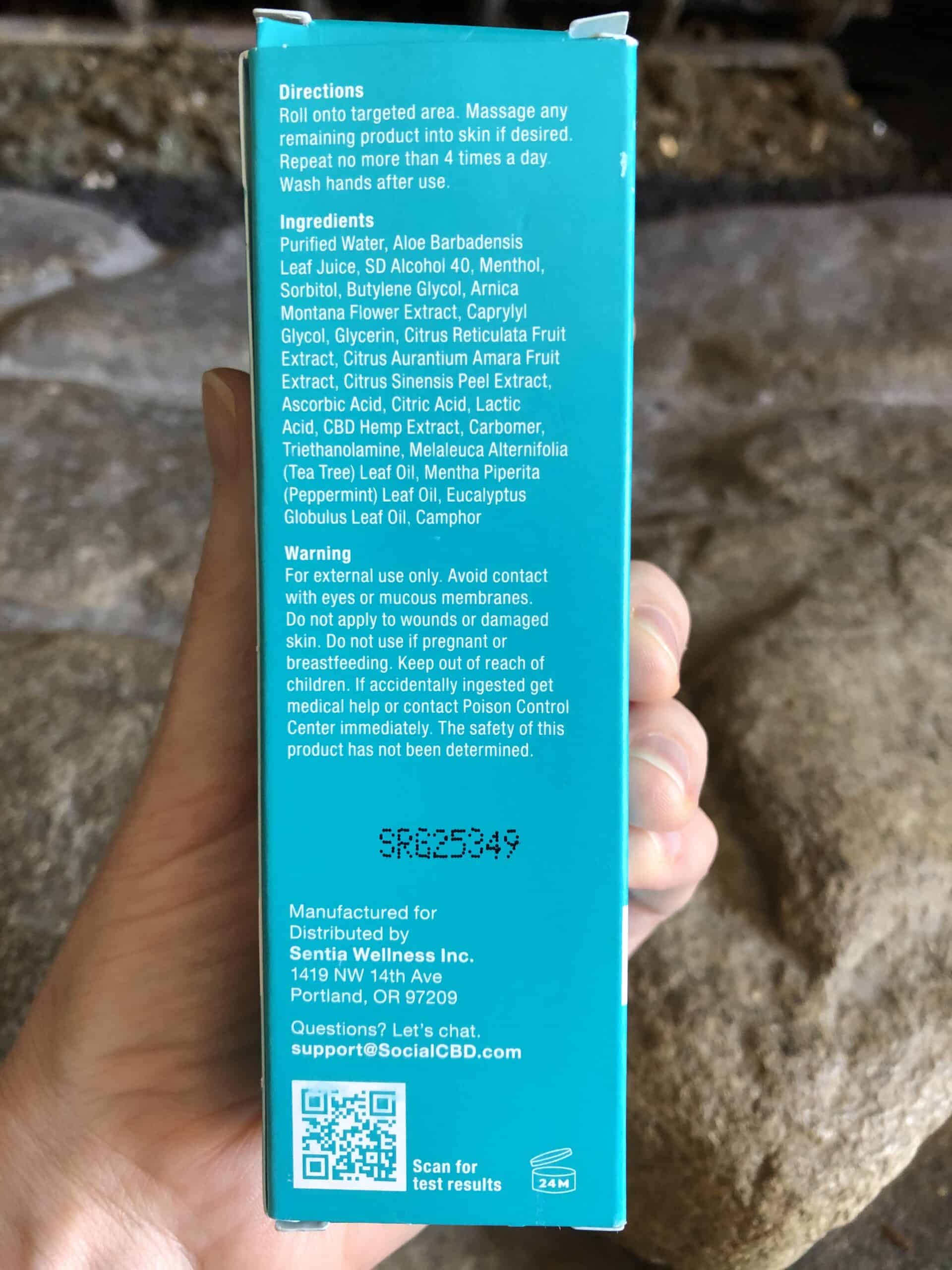 300 mg CBD
3 fl oz / 90 ml
Ingredients: Purified Water, Aloe Barbadensis Leaf Juice, SD Alcohol 40, Menthol, Sorbitol, Butylene Glycol, Arnica Monta Flower Extract, Caprylyl Glycol, Glycerin, Citrus Reticulata Fruit Extract, Citrus Aurantium Amara Fruit Extract, Citrus Sinensis Peel Extract, Ascorbic Acid, Citric Acid, Lactic Acid, CBD Hemp Extract, Carbomer, Triethanolamine, Melaleuca Alternifolia (Tea Tree) Leaf Oil, Mentha Piperita (Peppermint) Leaf Oil, Eucalyptus Globulus Lead Oil, Camphor
---
How We Tested the SOCIAL CBD COOLING ROLL-ON GEL
I was thrilled to get my Social CBD Cooling Roll-On Gel because I love anything that cools down my sore muscles and aching joints. Sitting at a computer all day makes my back, hips, and hands hurt so much that I need to take a break every thirty minutes. I applied the gel first thing in the morning, then again in the afternoon, then before I went to bed. I hoped that it would help relieve some of my pain, so I can get more done. It was so easy to use. And I loved that I didn't have to wash my hands afterward.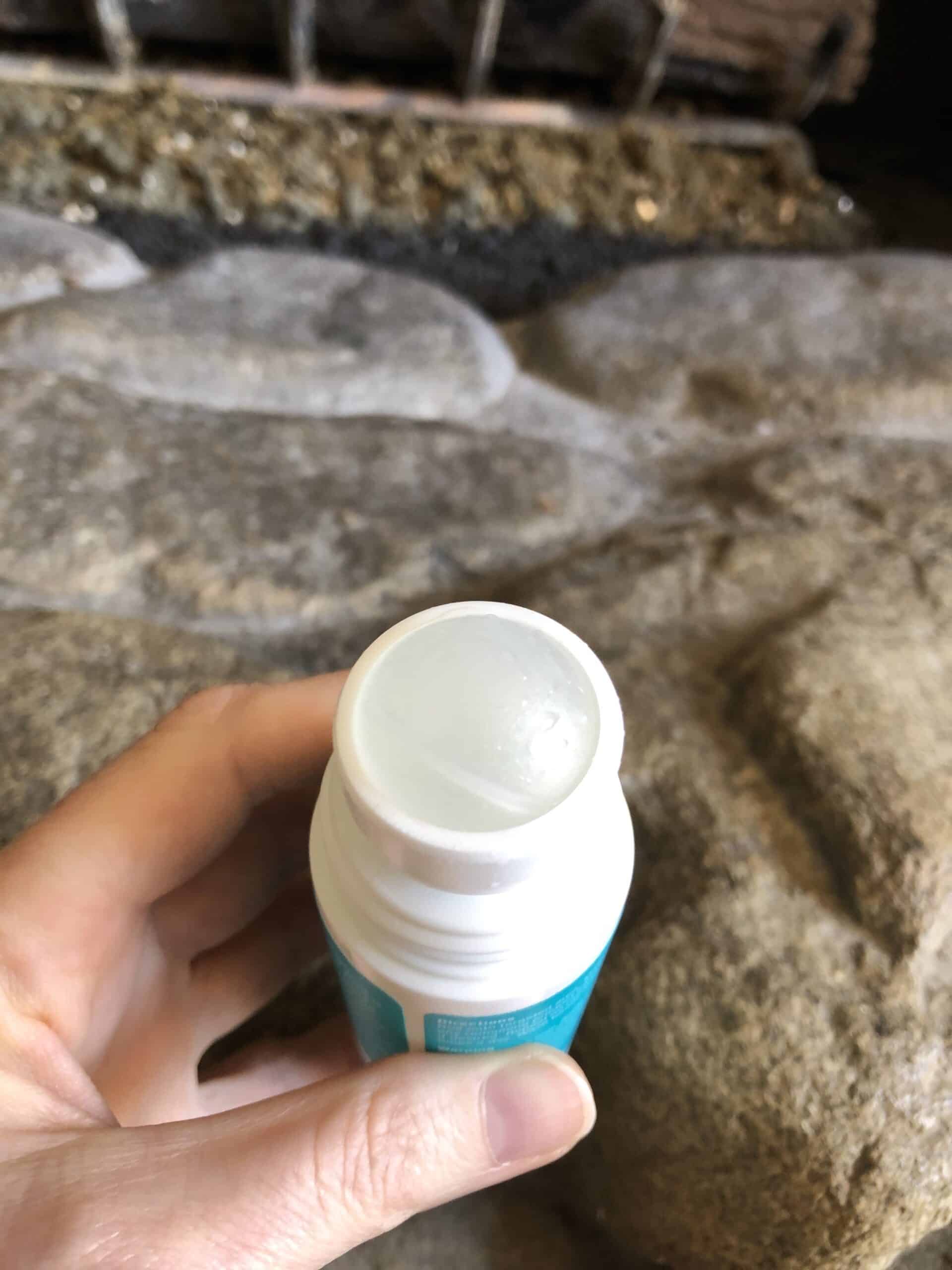 ---
How the SOCIAL CBD COOLING ROLL-ON GEL Worked for Me
The icy coolness brought me relief in only a minute! The potent mix of CBD, menthol, camphor, and all the other amazing ingredients helped me forget about the pain so I was able to focus on work. The relief helped me enjoy my day a little more, and I was able to take fewer breaks. I felt more productive. At night, this gel helped me relax and settle into sleep with less pain. I will be using Social CBD Cooling Roll-On Gel every day. For me, the icier the topical the better. This topical is physical therapist-grade icy. It's definitely one of the best topicals I've tried.
---
Useful and Unique Things to Know About SOCIAL CBD COOLING ROLL-ON GEL
Besides CBD, this roll-on gel contains menthol and camphor, which contribute to the cooling effect. Menthol comes from mint plants and is used in topicals for its icy properties. You'll find menthol in topicals designed for muscle and joint pain. Camphor, which comes from the camphor tree, is also used in topicals to help relieve pain. My physical therapists use some combination of menthol and camphor gels when treating patients, so they're ingredients I trust.
---
SOCIAL CBD COOLING ROLL-ON GEL Ratings
In the next sections gradings from 0-100 on our review, these grades add up to give the product's overall score.
PRESENTATION • 100
Informative information on the package.
RELIABILITY • 100
Brings icy relief to muscles and joints.
QUALITY • 100
Top-notch ingredients.
FLAVOR / SMELL / or EASE OF USE • 100
Easy to use. Menthol smell.
VALUE • 100
Fair price.
---
How SOCIAL CBD COOLING ROLL-ON GEL Stacks Up Against the Competition
This is hands down one of the best topicals I've tried. The cooling is so intense, however, that it might not be everyone's cup of tea. If you're into icy, get this product. If that's not your thing, Social CBD has a plethora of other topicals with and without cooling properties. I look forward to trying them all!
---
Saving Money with Our Verified SOCIAL CBD Coupons
Save money by using our verified CBD Topicals here at Save On Cannabis the World's largest online cannabis coupon code directory.
---
Disclosure: I received these products gratis so that I could try them and then share my honest opinion with the SOC community. I am employed by Save on Cannabis to write honest reviews and provided a flat rate payment for the writing of the review. SOC may receive recurring affiliate payments for purchases made based on this content.

Our reviewer tested out the Medterra Good Morning Capsules, read our first hand trials of how these CBD pills worked. See how if these are worth your money.
Our reviewer tests the All Natural Way CBD Oil - 350mg. Hear what a seasoned CBD user thinks in this CBD review. Find if it relieved her pain & is worth it.
We put the ZenWorks CBD Gummies to the test to see if they worked for our reviewers chronic pain and sleep troubles. See if eating these cute bears worked.