Joy Organics Review: CBD Tincture 900 mg Mint Flavor
Oct 10, 2020 | SOC
Joy Organics CBD Tincture 900 mg Mint Flavor
Pros
Great mint taste
Calming
Quality ingredients
THC-free
Easy to use
Measurements on the dropper
Product Review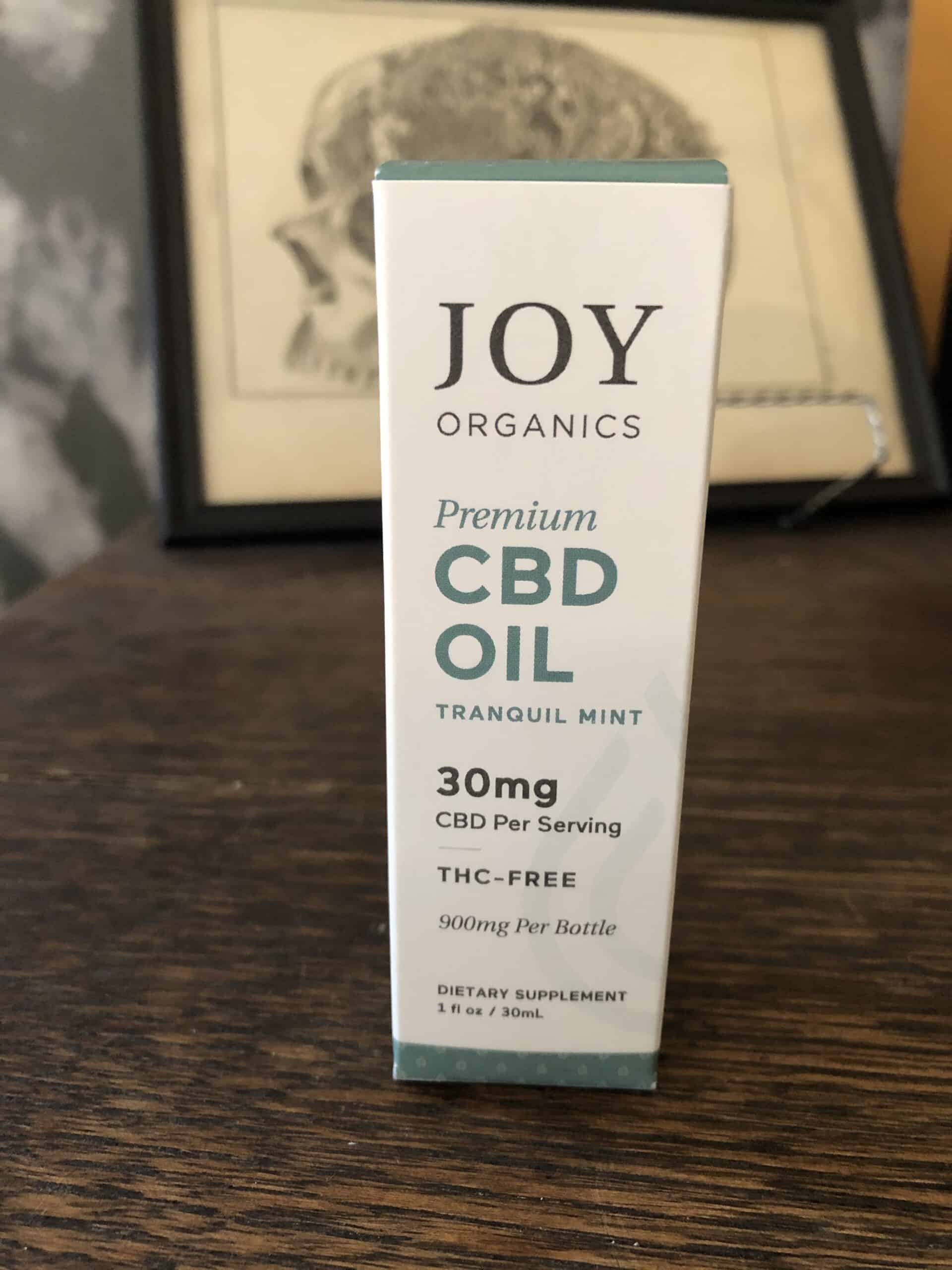 Brand Overview: Joy Organics
Joy Organics is a family business co-founded by Joy Smith, who discovered CBD when she needed help with sleep and other health issues. The company prides itself on its quality products and excellent customer service. Just recently, Joy launched an initiative that donates a portion of its profits to various non-profits. With an emphasis on family, a commitment to giving back, and a dedication to making premium, THC-free CBD products, Joy Organics seems like a place I'd like to work, as well as a place I'd like to purchase from .
The company has even opened some retail stores in Colorado, New Mexico, and Wyoming. Sign up for their mailing list for 15% off your first purchase. Joy Organics offers free shipping and a money-back guarantee.
Products: Tinctures, Gummies, Softgels, Energy Drinks, Pet Products, Salve Balm, Salve Stick, Cream, Sports Cream, Bath Bombs, Sampler Packs.
Price Range ($-$$$$): $$$
---
About JOY ORGANICS CBD OIL – TRANQUIL MINT – 30 MG
Joy Organics CBD Oil comes in a variety of doses and flavors, including this one flavored with organic peppermint essential oil and infused with 900 mg of phytocannabinoid-rich hemp oil. This CBD tincture is free from THC, the psychoactive component of the cannabis plant, meaning you can't get high by taking this product. You can use this stuff during the day to bring calm and focus, and at night to help you get better rest.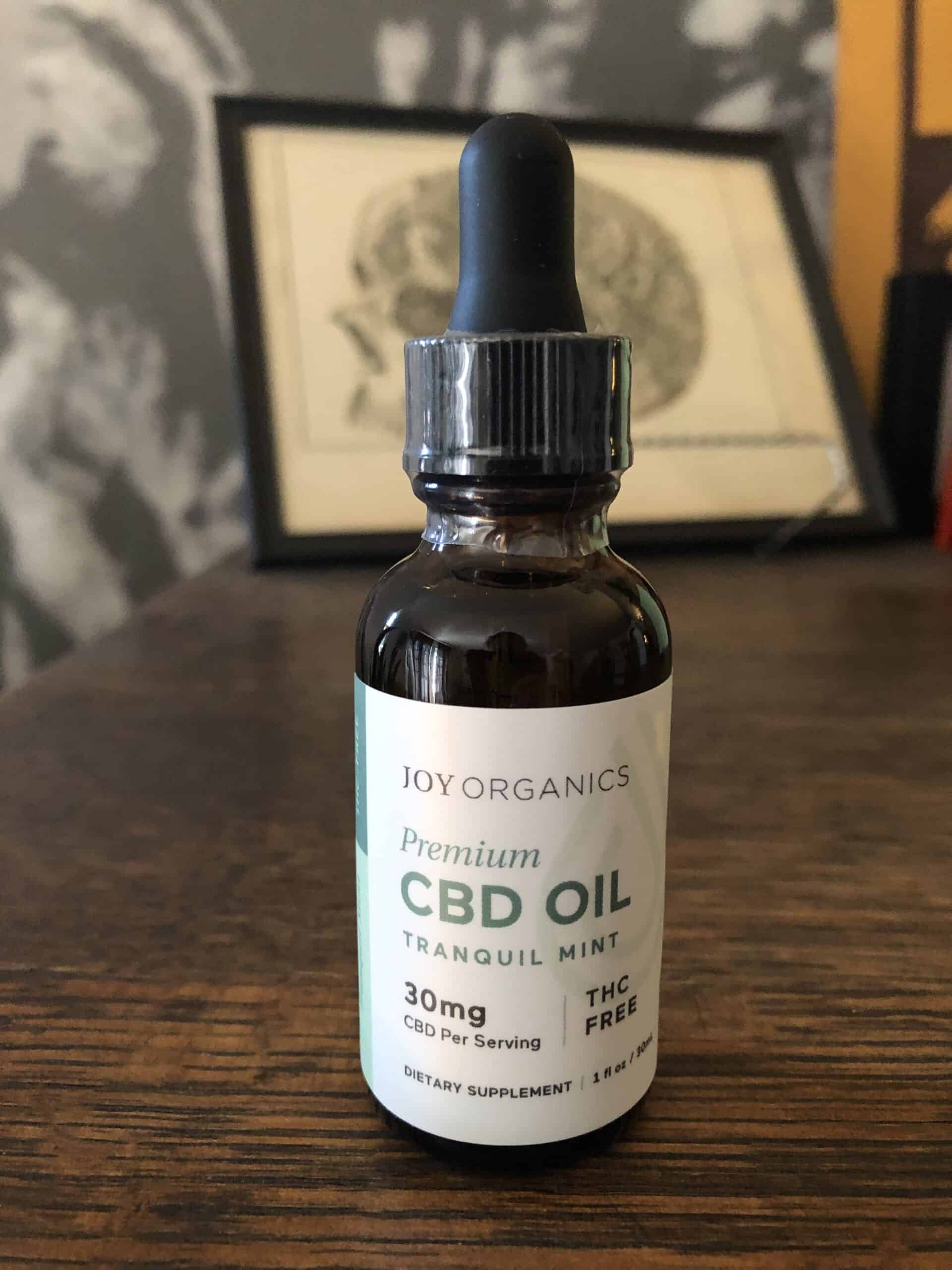 Each serving contains 30mg of CBD, for a moderate dose. If you want to take a lower dose, the 1-ounce bottle comes with a dropper with measurements. Lab-tested for purity and potency, Joy Organics only uses the best ingredients.
---
JOY ORGANICS CBD OIL – TRANQUIL MINT – 30 MG Specifications
900mg

30mg per serving

1 fl oz / 30ml

1oz (30ml)

THC-free

Ingredients

: Organic Extra-Virgin Olive Oil, Organic Peppermint Essential Oil, Phytocannabinoid-Rich Hemp Extract
---
How We Tested the JOY ORGANICS CBD OIL – TRANQUIL MINT – 30 MG
Between work and health issues, it would be a stressful time even if we weren't living during a pandemic. My anxiety has been at an all-time high, and it's affecting my ability to focus and get sleep. I found Joy Organics 15 mg tincture, softgels, and salve super effective, so I knew I'd have a good experience with their 30 mg CBD oil. I hope that by taking this tincture a couple of times a day, it would help me manage my stress and anxiety so I can get more done. I was also hoping it would help me sleep better.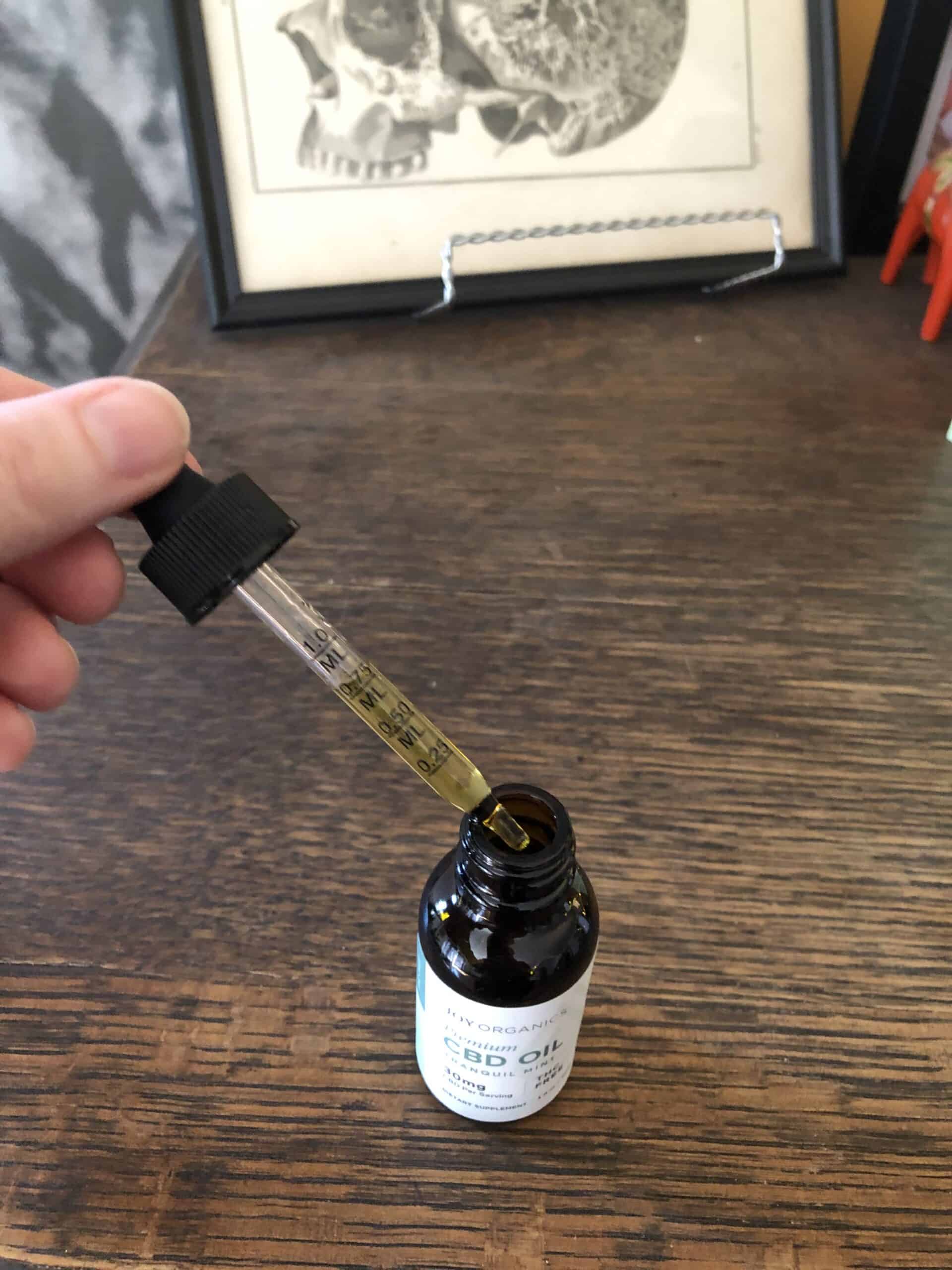 I took one serving in the morning, and once again before bed along with my prescribed medication Gabapentin. I loved that the dropper is labeled, which makes dosing easy.
---
How the JOY ORGANICS CBD OIL – TRANQUIL MINT – 30 MG Worked for Me
After using this CBD oil regularly for a week, I noticed that I was better able to stay in the moment. I somehow felt calm and focused all at once which made it a super productive week. I got more work done and was able to do more physical therapy than usual. Using this tincture at night along with my prescribed medication helped me get better sleep. I was able to fall asleep faster and even stayed asleep longer. I woke up feeling refreshed and energized. This is one of my new favorite tinctures with its fresh, minty flavor and natural ingredients. I'll be using this stuff daily until I run out. The organic peppermint oil perfectly hid the taste of hemp.
---
Useful and Unique Things to Know About JOY ORGANICS CBD OIL – TRANQUIL MINT – 30 MG
Joy Organics makes its CBD oil in different strengths and flavors. If you're just starting out with CBD and want to take a low dose, they offer one bottle that contains 225 mg of CBD, with 7.5 mg in each serving. I've already tried their excellent 450 mg bottle, with the low to moderate serving size of 15 mg. For an extra-strength dose, the company offers an oil that contains 1,350 mg in a bottle, and 45 mg in each serving. Other flavors include natural, summer lemon, and orange bliss.
---
JOY ORGANICS CBD OIL – TRANQUIL MINT – 30 MG Ratings
In the next sections gradings from 0-100 on our review, these grades add up to give the product's overall score.
PRESENTATION • 100
Informative packaging. The label on the dropper makes dosing easy.
RELIABILITY • 100
Effective.
QUALITY • 100
Simple and healthy ingredients.
FLAVOR / SMELL / gold EASE OF USE • 100
Tasty mint flavor.
VALUE • 80
Expensive.
---
How JOY ORGANICS CBD OIL – TRANQUIL MINT – 30 MG Stacks Up Against the Competition
This CBD oil is excellent in all ways except for that high price tag. While this stuff was effective and tasty, there are many other tinctures on the market that are as equally effective and tasty, but cost less. If money is no issue, then this is a great product for you. With such amazing flavor, I'd be curious to try Joy Organics other flavors like summer lemon and orange bliss.
---
Saving Money with Our Verified JOY ORGANICS Coupons
Save money by using our verified CBD Tinctures here at Save On Cannabis the World's largest online cannabis coupon code directory.
---
Disclosure: I received these products gratis so that I could try them and then share my honest opinion with the SOC community. I am employed by Save on Cannabis to write honest reviews and provided a flat rate payment for the writing of the review. SOC may receive recurring affiliate payments for purchases made based on this content.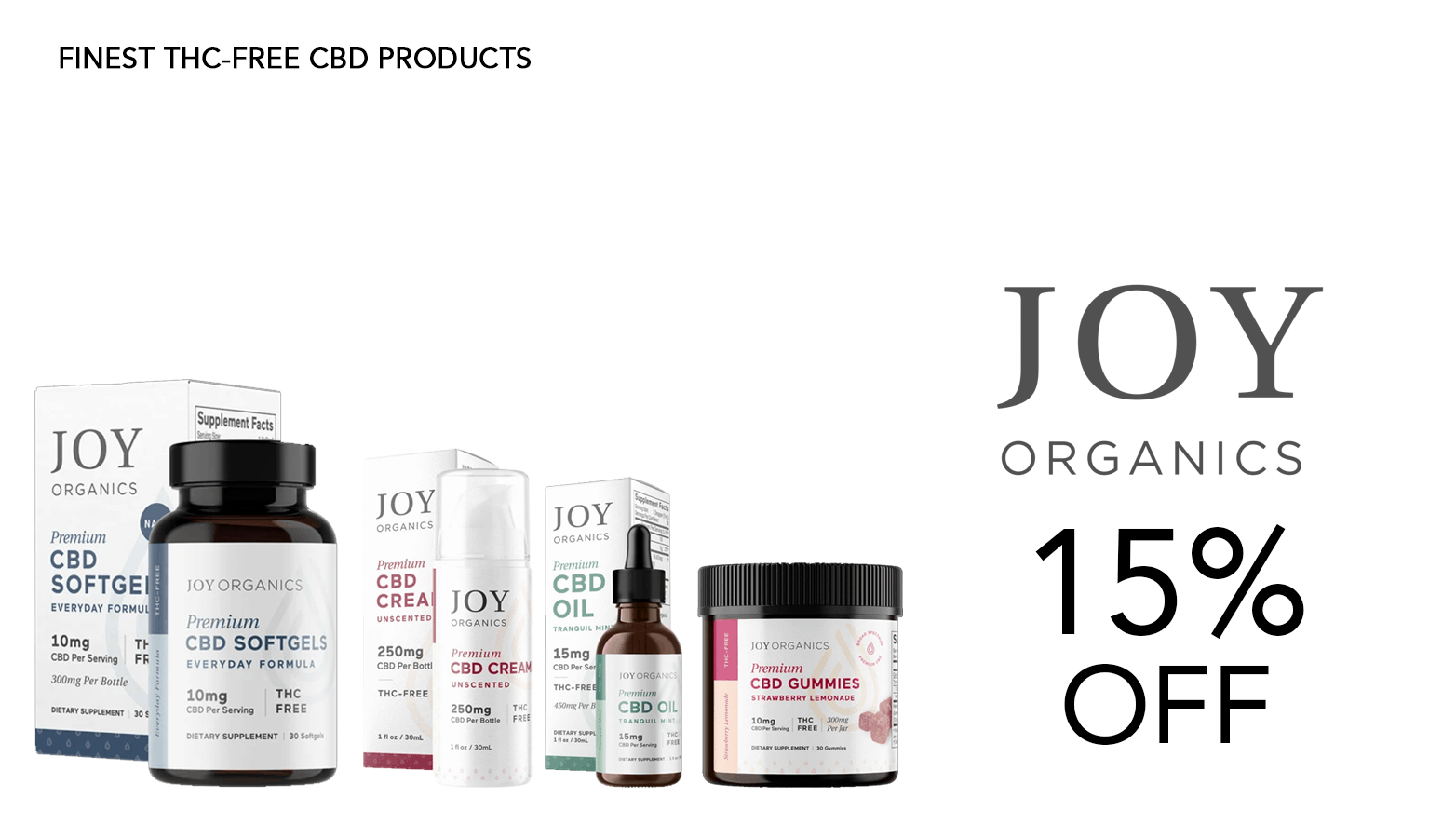 15% OFF site-wide Joy Organics coupon! Live Your Joy with The Finest THC-Free CBD Products.
Tobacco dip has been around a long time, but CBD dip is a new exciting product option. We review this tobacco free & high CBD dosing dip.
Our expert tries out the Real Scientific Hemp Oil (RSHO) Gold Label CBD Oil orally for pain and sleep in this review. See if it is worth your money.
Quarantine and chill with CBD. Find out how the CBDistillery 1,000mg Full Spectrum Tincture helped ease the quarantine blues in this new review.