Nugg • Cannabis Delivery: REVIEW
Jun 29, 2017 | Save On Cannabis
California Cannabis DispensaryCalifornia Cannabis Dispensary (Statewide)Cannabis DispensaryLos Angeles Cannabis DispensarySan Diego Cannabis DispensarySan Francisco Cannabis Dispensary
At first, most users are sceptical to use a marijuana delivery service of any kind, thinking in some way they must be a scam.
Times have changed though in the cannabis delivery industry, as more and more reputable options are emerging.
Nugg was started by three USC students with a passion to make cannabis delivery be respected and on demand.  The three students raised their own starting money by referring riders to use Lyft and getting referral cash.
After a few years, the $100,000 they raised from Lyft referrals has turned into a very legitimate and easy to use on-demand marijuana delivery service.
If you need a medical marijuana recommendation card you can easily get one online at Nugg in minutes.  After you have your digital recommendation it will take a few taps of selecting from the nearest dispensaries showcased by GPS distance and rating.
Nugg is legitimate and easy.
For our first uses of Nugg we have mostly kept to the same delivery service in our region, but it would be just as easy to try another service since it has only one signup.  The possibility of comparing and changing services without a whole new sign up process is a fantastic reality.  So often before using Nugg we had used mediocre delivery services but were too lazy to sign up for a new service and look for reviews, now it is as easy as just tapping a different service when I open the page.
No longer are you bound to one or two delivery options, sign up for Nugg and get exploring to make sure that not only are you getting cannabis delivered but that you are getting the best marijuana delivery experience possible.
Here at Save On Cannabis we love to search out the best Nugg coupons and promo codes because we know you won't be disappointed with their service.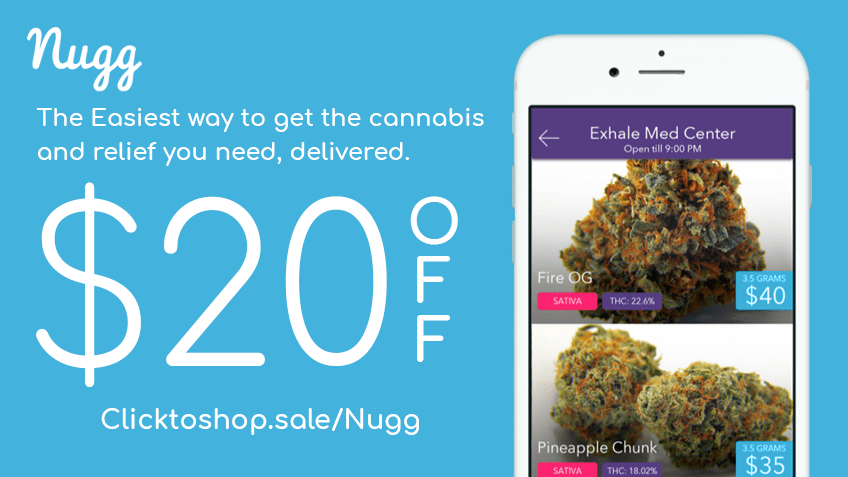 Save on marijuana delivery by Nugg! $20 off your 1st order.
Green Roads is one of the biggest CBD brands, but can their CBD oil standup to our reviewer's needs? Find out in our new Green Roads review.
Provided by AllPremiumCBD.com, in this Joy Organics review of their 900mg Mint Flavor CBD Tincture we see if it should be in your wellness routine.
See how our reviewers feel about this GMP certified vape pen made of Full Spectrum CBD oils. Find out if it is worth your time and money.