Maddyn Review: Renew & Recharge CBD Topical Cream
Jul 13, 2020 | SOC
MADDYN RENEW & RECHARGE CBD TOPICAL CREAM
Product Review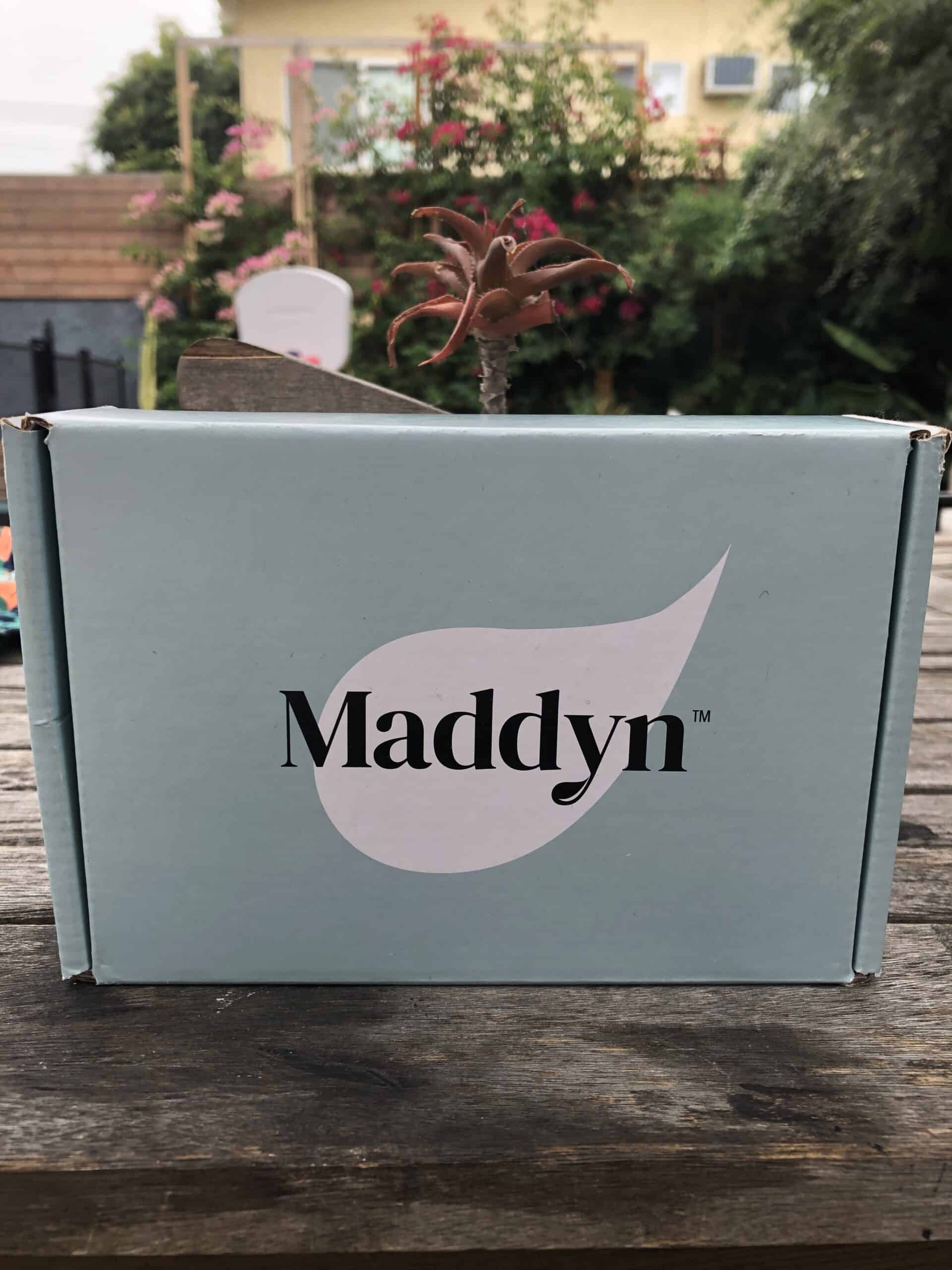 Brand Overview: MADDYN
In April 2019, two entrepreneurs Jim and Rolf founded Maddyn because of their shared love of fitness and CBD. Their mission was to "disrupt the status quo" of the burgeoning CBD market by making stuff that's high-quality, plant-based and made for your recovery. Everything they make uses plant-based ingredients and organic hemp oil from a farm in Colorado.The company has created something for everyone.
Whether you're looking for better sleep, to find your sense of calm, or need something for your muscles after a workout, Maddyn has a product for you. Maddyn's products contain less than 0.3% THC and are lab tested for purity, potency, and quality.
Products: Tinctures, Topicals, Capsules
Price Range ($-$$$$): $$$
---
About MADDYN RENEW & RECHARGE CBD TOPICAL CRÈME
Maddyn Renew & Recharge CBD Topical Crème contains 600 mg of broad-spectrum CBD hemp extract that provides fast-acting relief. This topical was designed for your post-workout recovery and contains healing ingredients like menthol, arnica, and cocoa butter. For scent and relaxation, Madyn has added eucalyptus and lavender to the mix. With the healing benefits of arnica and the cooling effects of menthol, this topical has it all. You'll find a ton of other amazing essential oils that work to soothe and heal.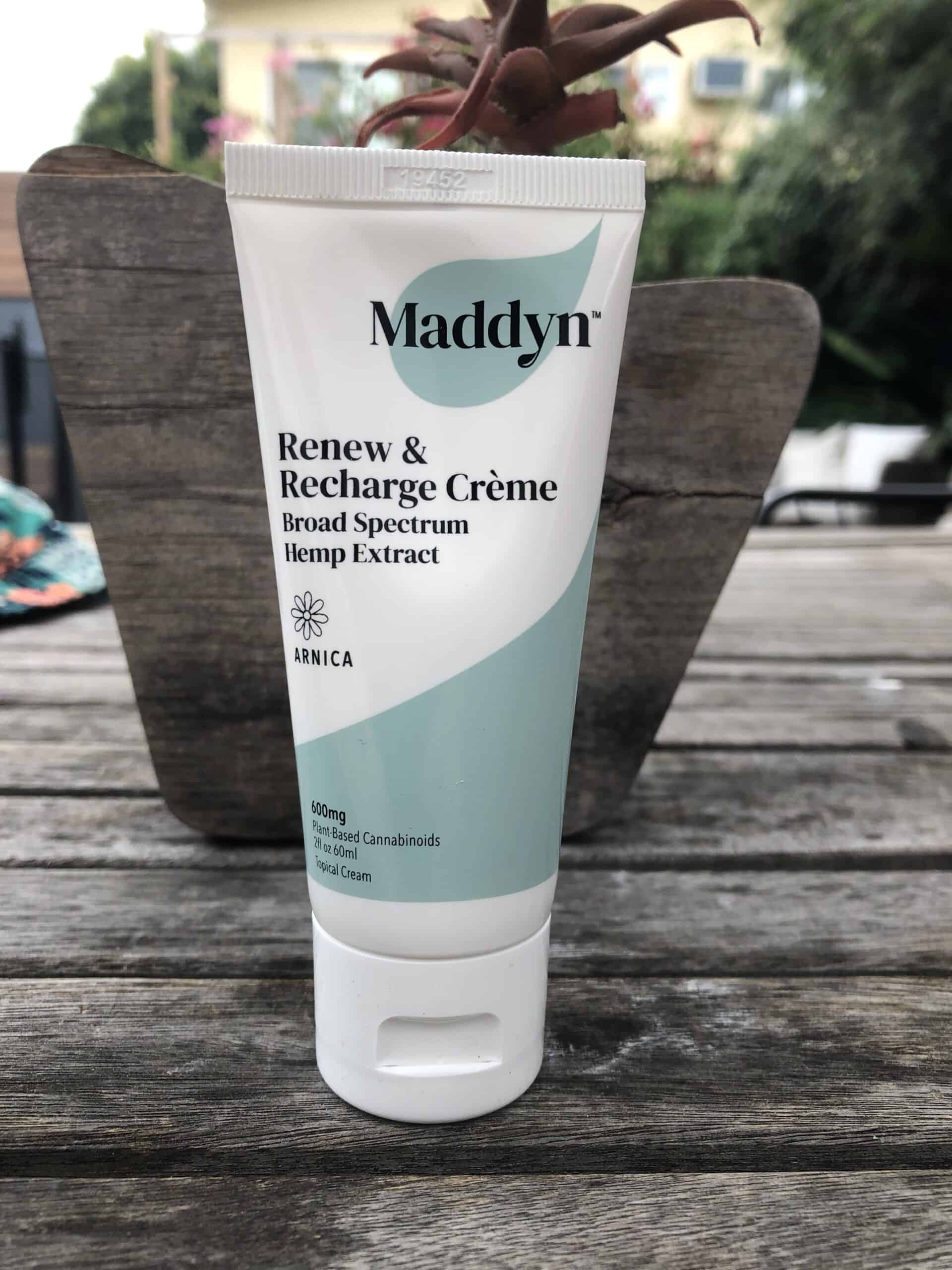 This topical cream will not only help your muscles but will soften and moisturize your skin. Massage the ointment into your skin and use up to four times a day.
---
MADDYN RENEW & RECHARGE CBD TOPICAL CREAM Specifications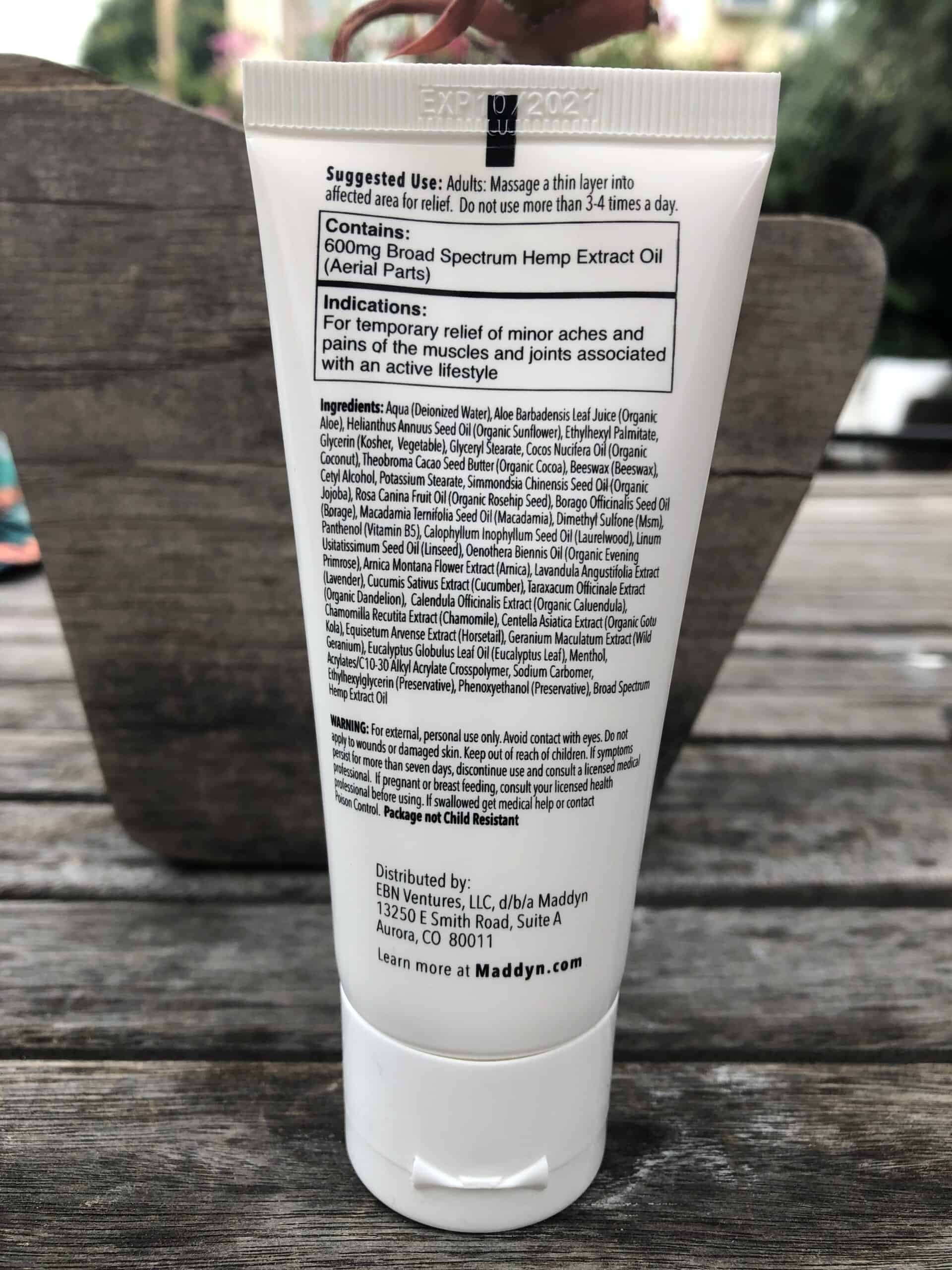 600mg plant-based cannabinoids

2 fl oz (60ml)

Gluten free

Ingredients

: Aqua (Deionized Water), Aloe Barbadensis Leaf Juice (Organic Aloe), Helianthus Annuus Seed Oil (Organic Sunflower), Ethylhexyl Palmitate, Glycerin (Kosher, Vegetable), Glyceryl Stearate, Cocos Nucifera Oil (Organic Coconut), Theobroma Cacao Seed Butter (Organic Cocoa), Beeswax (Beeswax), Cetyl Alcohol, Potassium Stearate, Simmondsia Chinensis Seed Oil (Organic Jojoba), Rosa Canina Fruit Oil (Organic Rosehip Seed), Borago Officinalis Seed Oil (Borage), Macadamia Ternifolia Seed Oil (Macadamia) , Dimethyl Sulfone (Msm), Panthenol (Vitamin B5), Calophyllum Inophyllum Seed Oil (Laurelwood), Linum Usitatissimum Seed Oil (Linseed), Oenothera Biennis Oil (Organic Evening Primrose), Arnica Montana Flower Extract (Arnica), Lavandula Angustifolia Extract ( Lavender), Cucumis Sativus Extract (Cucumber), Taraxacum Officinale Extract (Organic Dandelion),Calendula Officinalis Extract (Organic Caluendula), Chamomilla Recutita Extract (Chamomile), Centella Asiatica Extract (Organic Gotu Kola), Equisetum Arvense Extract (Horsetail), Geranium Maculatum Extract (Wild Geranium), Eucalyptus Globulus Leaf Oil (Eucalyptus Leaf), Menthol, Acrylates/C10-30 Alkyl Acrylate Crosspolymer, Sodium Carbomer, Ethylhexylglycerin (Preservative), Phenoxyethanol (Preservative), Broad Spectrum Hemp Extract OilBroad Spectrum Hemp Extract OilBroad Spectrum Hemp Extract Oil
---
How We Tested the MADDYN RENEW & RECHARGE CBD TOPICAL CREAM
I have arthritis and multiple injuries, which means doing physical therapy has become a way of life. Sometimes my pain is so bad, it's hard to get motivated to do it, even though I know I should. When I read about Madyn's mission to create natural products to support post-workout recovery, I knew I wanted to try it. I'm a big fan of CBD, menthol, AND arnica, so I had a feeling this would be the product for me.I woke up in pain, as usual, and dragged myself out of bed to do my first round of physical therapy .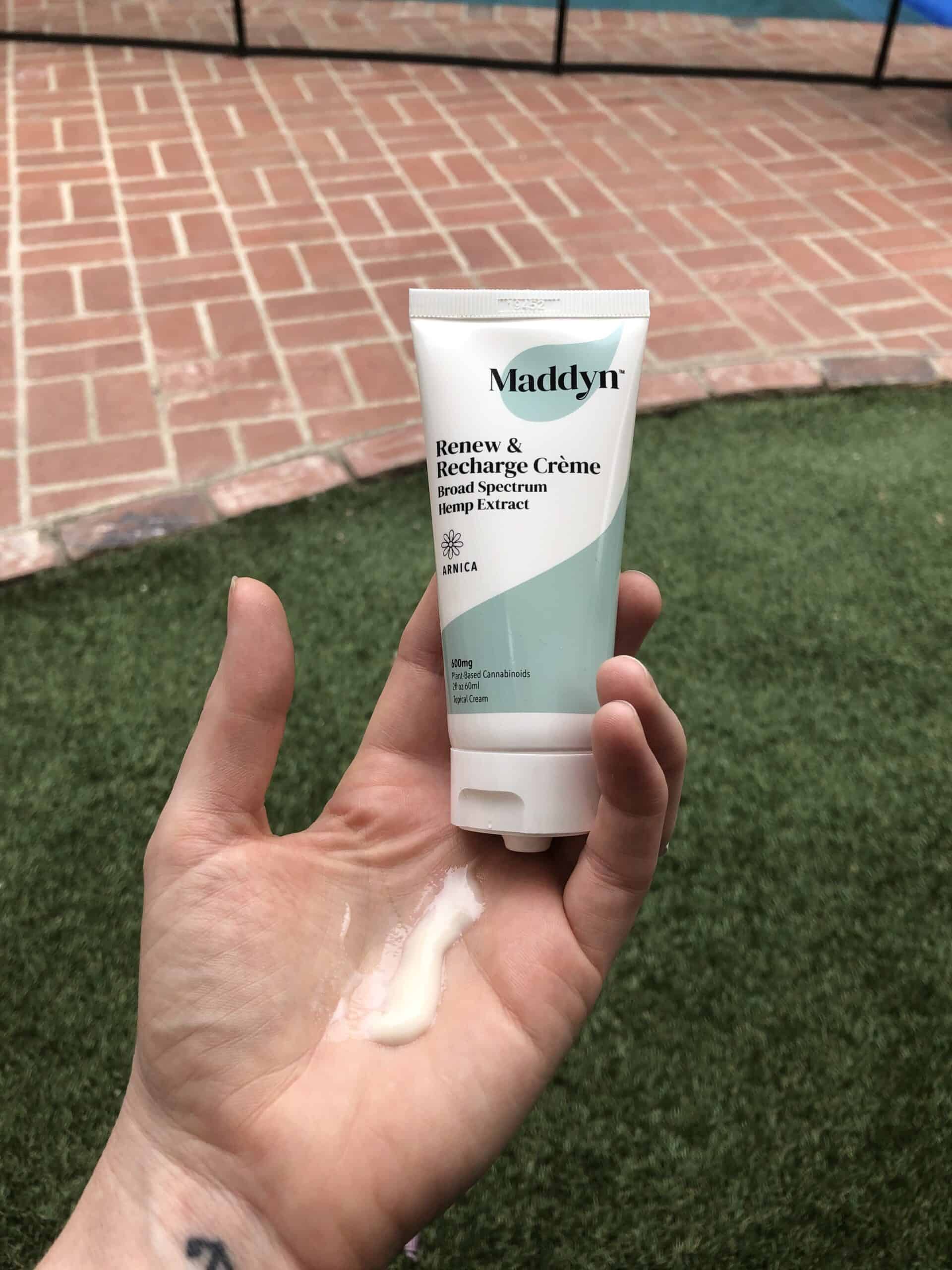 I took a shower, then applied this topical to my low back, hips, quads, hands, and legs. After my routine, I applied it again then went about my day. I practiced the same routine for my afternoon round of physical therapy, then again in the evening.
---
How the MADDYN RENEW & RECHARGE CBD TOPICAL CREAM Worked for Me
This topical was soothing to my skin and smelled lovely. There was a mix of scents, including the cocoa butter which made me smell like chocolate. Yum! I felt some mild-pain relief which helped motivate me to get through physical therapy. The menthol cooling brought some mild relief and the shea butter moisturized the dry skin on my hands. The essential oils were relaxing and made me feel like I had gotten a massage at a spa. While I've tried many topicals, this is one of the only ones that has arnica, which I've used in the past for bruises and post-surgery. This is a great product that I will be using again and again.
---
Useful and Unique Things to Know About MADDYN RENEW & RECHARGE CBD TOPICAL CREAM
As I mentioned, arnica heals bruises and can speed up the healing process post-surgery. It's derived from a plant in the sunflower family. You might be most familiar with its homeopathic form arnica montana, which I used to take in pellet-form if I had an injury. Arnica is often used by naturopathic healers when they need to treat not just bruises, but sprains, muscle and joint pain, cuts and scrapes, insect bites, and swelling.
---
MADDYN RENEW & RECHARGE CBD TOPICAL CREAM Ratings
In the next sections gradings from 0-100 on our review, these grades add up to give the product's overall score.
PRESENTATION • 100
Gorgeous yet complicated packaging.
RELIABILITY • 100
Soothing and moisturizing.
QUALITY • 100
All the ingredients you'd want in a topical.
FLAVOR / SMELL / gold EASE OF USE • 100
Subtle natural scent.

VALUE • 60
Expensive.
---
How MADDYN RENEW & RECHARGE CBD TOPICAL CREAM Stacks Up Against the Competition
While the Maddyn Renew & Recharge CBD Topical Crème was soothing and moisturizing, it's awfully expensive at $79.99. If it's your first order, however, you got a whopping 35% off, bringing the product down to $49.99. Topicals are already so much more expensive than I think they need to be, making them unavailable for the majority of the population who just can't afford them. If Madyn wanted to be more competitive, I recommend lowering the price to $49.99 for always.
---
Saving Money with Our Verified MADDYN Coupons
Save money by using our verifiedCBD Topicals here at Save On Cannabis the World's largest online cannabis coupon code directory.
---
Disclosure: I received these products gratis so that I could try them and then share my honest opinion with the SOC community. I am employed by Save on Cannabis to write honest reviews and provided a flat rate payment for the writing of the review. SOC may receive recurring affiliate payments for purchases made based on this content.
Save on Maddyn Review: Renew & Recharge CBD Topical Cream
Sorry, no coupons were found.
In our BioCBD+ review of their capsules we put them to the test. See if they are worth your money, also get coupons.
Manitoba Harvest is a well-known hemp brand, but we got to test their first CBD products. Read to see how it stood up to our COVID & sleep trials
In these crazy days, how many of us could use a boost of energy with a sense of mental calm? Let's see if the Sunday Scaries Yolo Shot works.