CBD Review: Aspen Green Full Spectrum Hemp Oil 1,000 mg
Sep 18, 2020 | SOC
Aspen Green Full Spectrum Hemp Oil - 1,000 MG
Pros
All-natural
Organic
Effective
Potent
Good price
Full-spectrum
Easy to use
ASPEN GREEN FULL SPECTRUM HEMP OIL – 1,000 MG
Product Review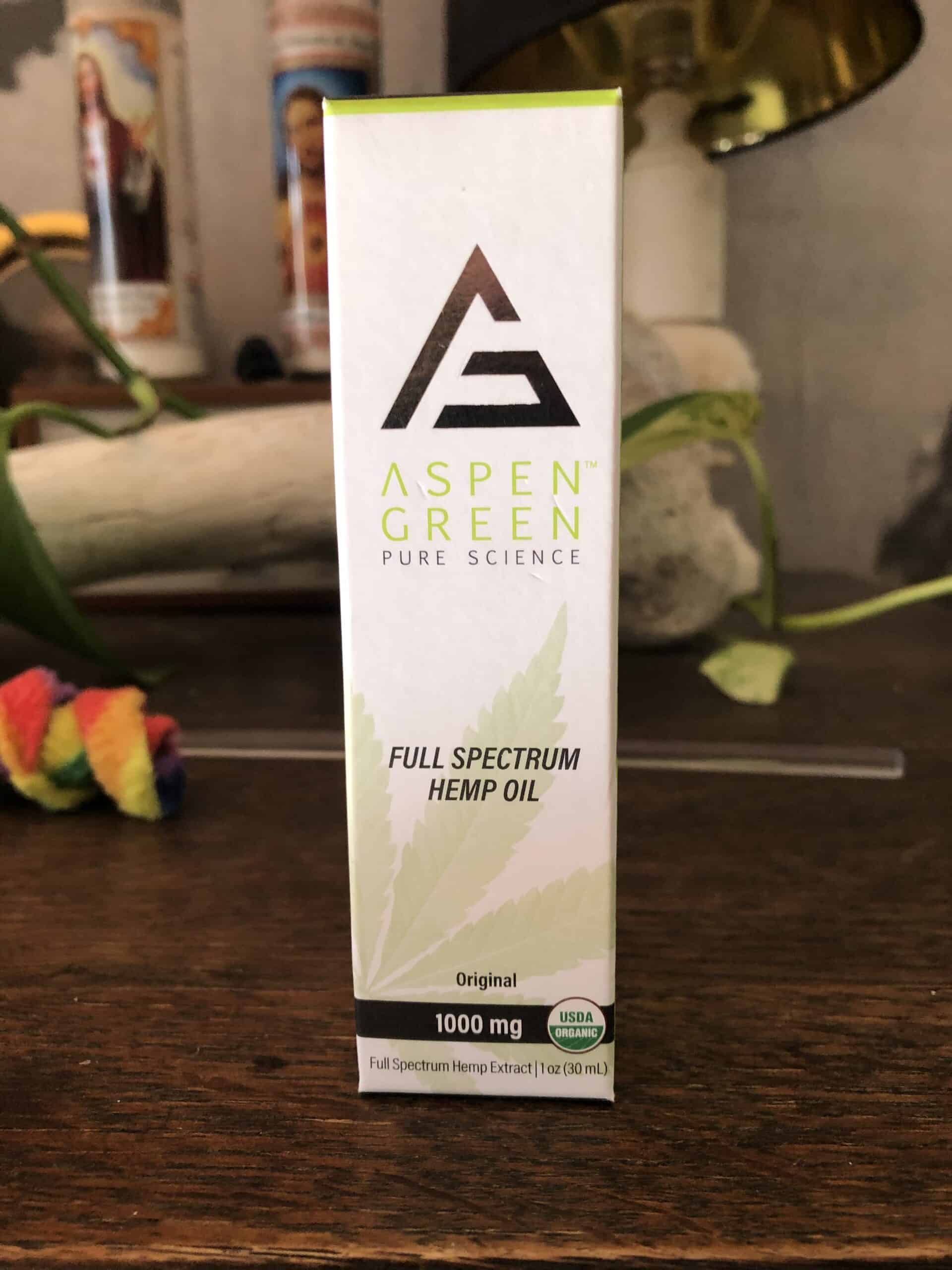 Brand Overview: ASPEN GREEN
Aspen Green uses full-spectrum hemp to create the purest and most potent CBD products on the market. Their products are great for people looking for extra relief from various ailments through natural and non-addictive supplements. Aspen Green was founded on the principles of quality, integrity, and transparency.The company uses organic hemp from the most trustworthy farms in Colorado to ensure that the stuff they put in their products is high-quality from the seeding process to delivery.
Because they use full-spectrum hemp, their products still maintain all the naturally occurring vitamins, minerals, alkaloids, terpenes, and flavanoids for a complete CBD experience.
Products: Full-Spectrum Hemp Oils, Topicals.
Price Range ($-$$$$): $$
---
About ASPEN GREEN FULL SPECTRUM HEMP OIL – 1,000 MG
Aspen Green's oils come in a variety of strengths, including this one that contains 1,000 mg of full-spectrum hemp oil to reduce stress, anxiety, and inflammation. 600 mg of the hemp oil is cannabidiol, or CBD, while the rest of the oil is replete with other amazing phytocannabinoids like CBN, CBG, CBC, and CBDa. With less than 0.3% THC, this hemp oil is nonpsychoactive, which means it won't get you high while still giving you all the benefits of the cannabis plant.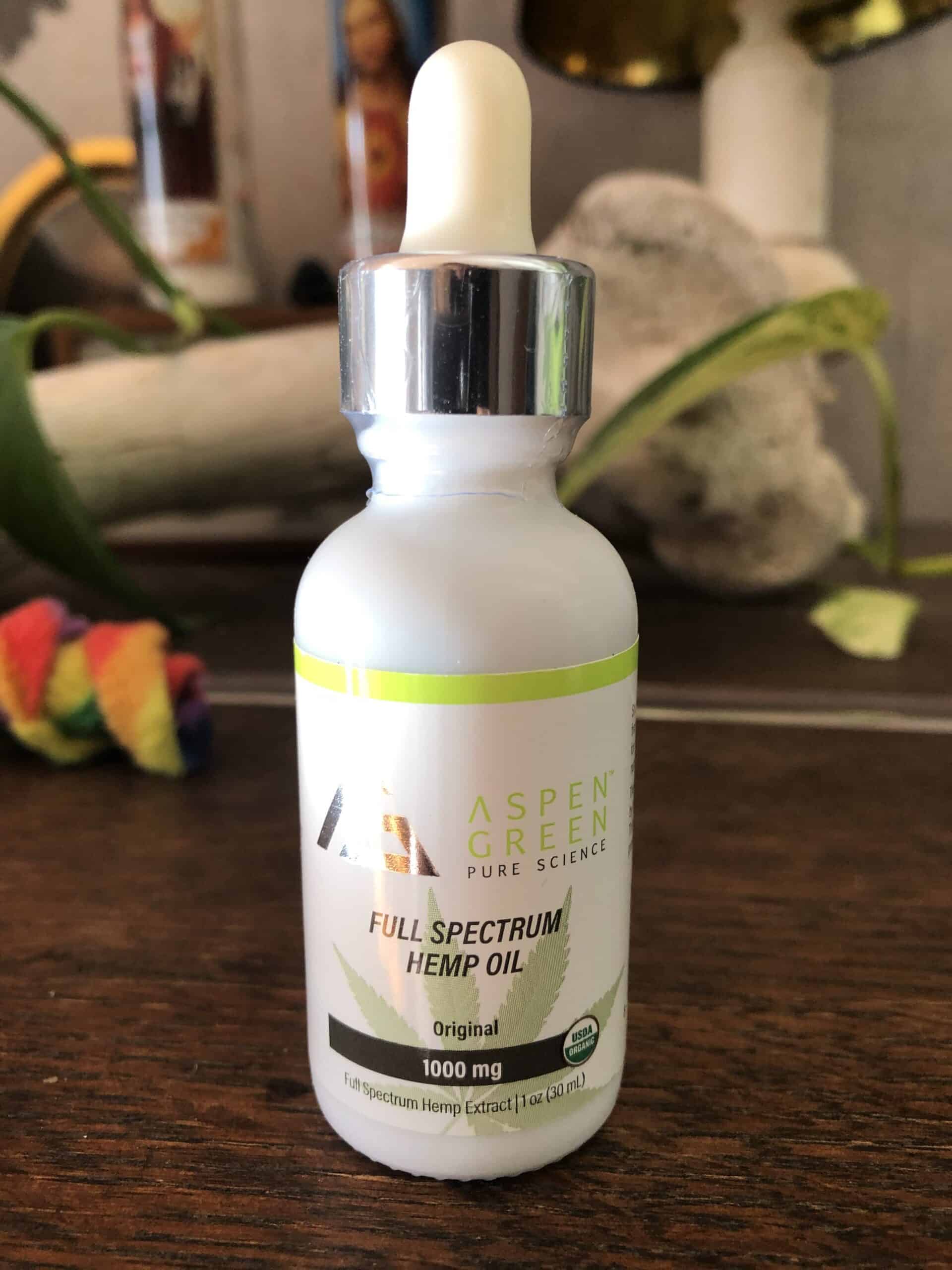 The bottle contains 30 servings, with each serving containing a 33 mg of phytocannabinoids, 20 mg of which is CBD. It's also filled with a ton of terpenes that work to enhance the positive benefits of hemp. You can take up to three servings a day by holding the liquid under your tongue for 30-60 seconds, then swallowing. For best results, try using this stuff consistently for a couple of weeks.
---
ASPEN GREEN FULL SPECTRUM HEMP OIL – 1,000 MG Specifications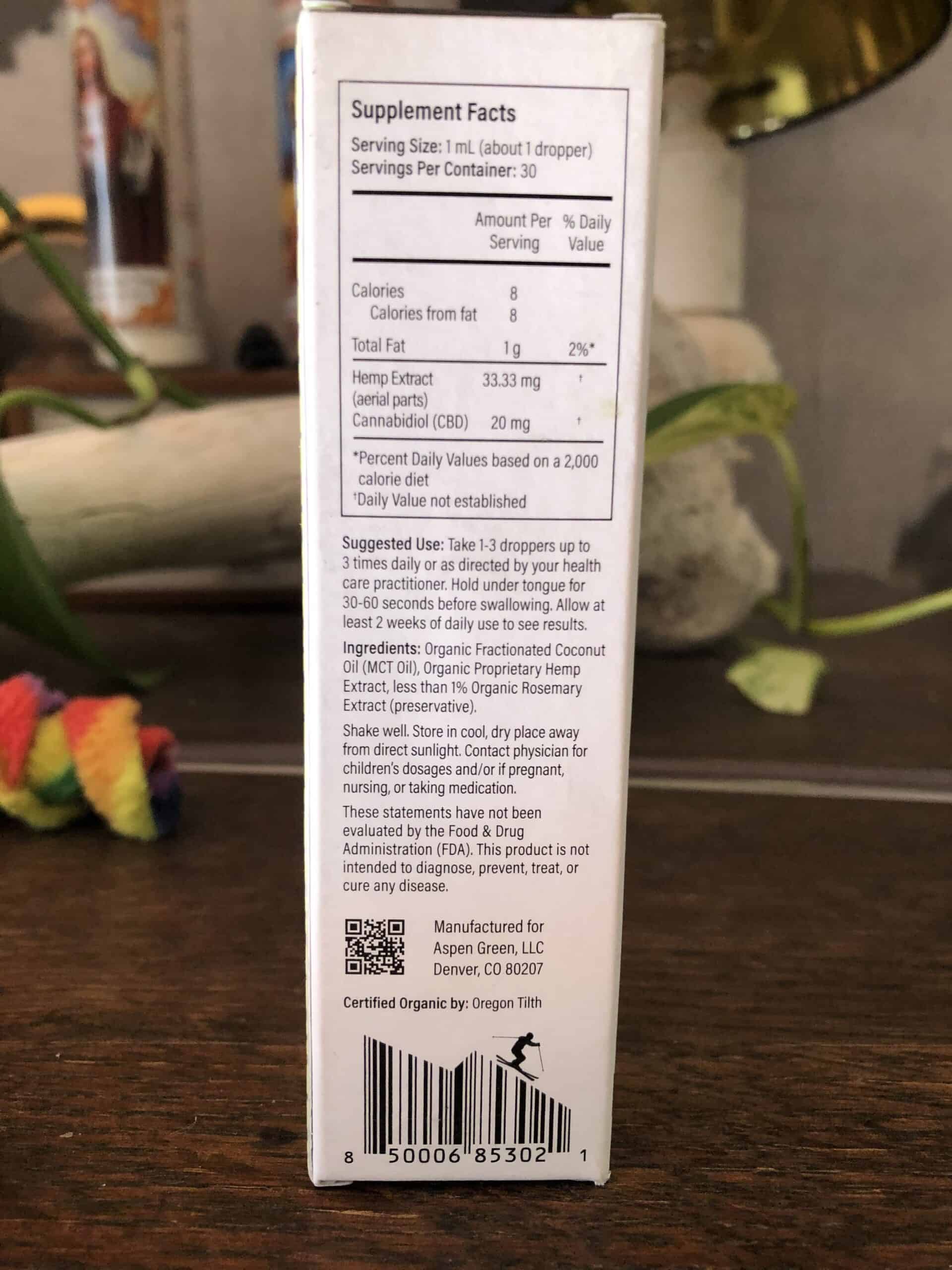 1,000 mg full-spectrum hemp oil per bottle (600 mg CBD)
33.33 mg per serving
30 servings per bottle
1 dropper per serving
1 oz (30 ml)
Ingredients:Organic Fractionated Coconut Oil (MCT Oil), Organic Proprietary Hemp Extract, less than 1% Organic Rosemary Extract (preservative).
---
How We Tested the ASPEN GREEN FULL SPECTRUM HEMP OIL – 1,000 MG
For three decades, I've struggled with arthritis. In that time, I've tried many different ways to reduce pain and inflammation in my joints like physical therapy, prescribed and over-the-counter medications, yoga, meditation, THC, and CBD. Tinctures and hemp oils have always been a reliable way to take CBD, although not every product on the glutted market is equal. Some aren't effective at all. I had a feeling Aspen Green's 1,000 mg hemp oil would be effective in bringing relief to some of my inflammation because I've had such a good experience with their other products.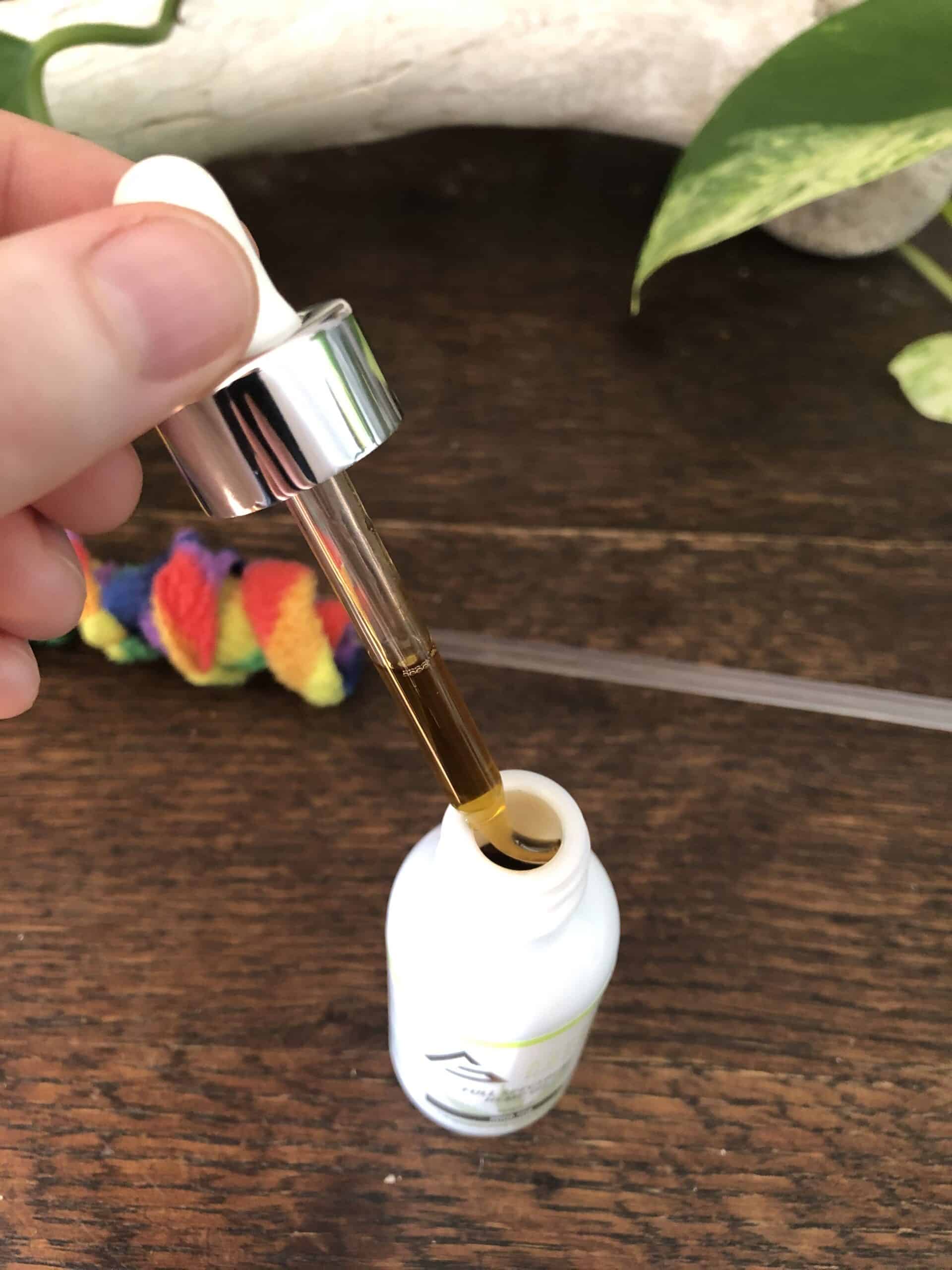 Over two weeks, I took a serving of the hemp oil in the morning for 33 mg of phytocannabinoids, then another in the afternoon, then again before bed along with my prescribed Gabapentin. I hoped the oil would lessen my pain and help me focus and sleep better.
---
How the ASPEN GREEN FULL SPECTRUM HEMP OIL – 1,000 MG Worked for Me
After taking this hemp oil three times a day for a couple of weeks, I noticed my pain and inflammation were much more manageable. It doesn't take away all that stuff but helps take the edge off of it so it doesn't control your every waking moment. I found myself able to fall asleep much easier than normal and was able to stay asleep longer. Overall, I found myself with more energy to get things done and to enjoy life.
Despite the effectiveness of this Aspen Green's hemp oil, I don't think I will be using this product again because it tastes bitter and hempy. While that kind of thing might not bother some people, I prefer a tincture that hides that taste of hemp either with the right combination of MCT oil or by adding natural flavors.
---
Useful and Unique Things to Know About ASPEN GREEN FULL SPECTRUM HEMP OIL – 1,000 MG
The hemp oil is filled with a variety of cannabinoids like CBD, CBN, CBG, CBC, and CBDa. CBD, or cannabidiol, can reduce pain, inflammation, anxiety, depression, among other positive effects. CBN, or cannabinol, can help with sleep, panic attacks, and symptoms from arthritis. CBG, or cannabigerol, can help with digestive issues, as well as pain, inflammation, and nausea. CBC, or cannabichromene, reduces swelling, inflammation, and can also aid with digestion. Finally, CBDa, or cannabidiol acid, is great for nausea and anxiety.
---
ASPEN GREEN FULL SPECTRUM HEMP OIL – 1,000 MG Ratings
In the next sections gradings from 0-100 on our review, these grades add up to give the product's overall score.
PRESENTATION • 100
Informative packaging.
RELIABILITY • 100
Potent and effective.
QUALITY • 100
Organic and natural.
FLAVOR / SMELL / or EASE OF USE • 70
Tastes hempy.
VALUE • 100
Good price.
---
How ASPEN GREEN FULL SPECTRUM HEMP OIL – 1,000 MG Stacks Up Against the Competition
Aspen Green Full Spectrum Hemp Oil stands apart from the competition because of its effectiveness in reducing pain and inflammation from arthritis, as well as helping me sleep better. At $85 for a bottle containing 1,000 mg of hemp oil, it's fairly priced. That said, there are products on the hemp oil market that are as equally effective, cost the same, or even less, but taste better. If Aspen Green wants to be more competitive, I recommend creating a formula that tastes less hempy.
---
Saving Money with Our Verified ASPEN GREEN Coupons
Save money by using our verified CBD Tinctures here at Save On Cannabis the World's largest online cannabis coupon code directory.
---
Disclosure: I received these products gratis so that I could try them and then share my honest opinion with the SOC community. I am employed by Save on Cannabis to write honest reviews and provided a flat rate payment for the writing of the review. SOC may receive recurring affiliate payments for purchases made based on this content.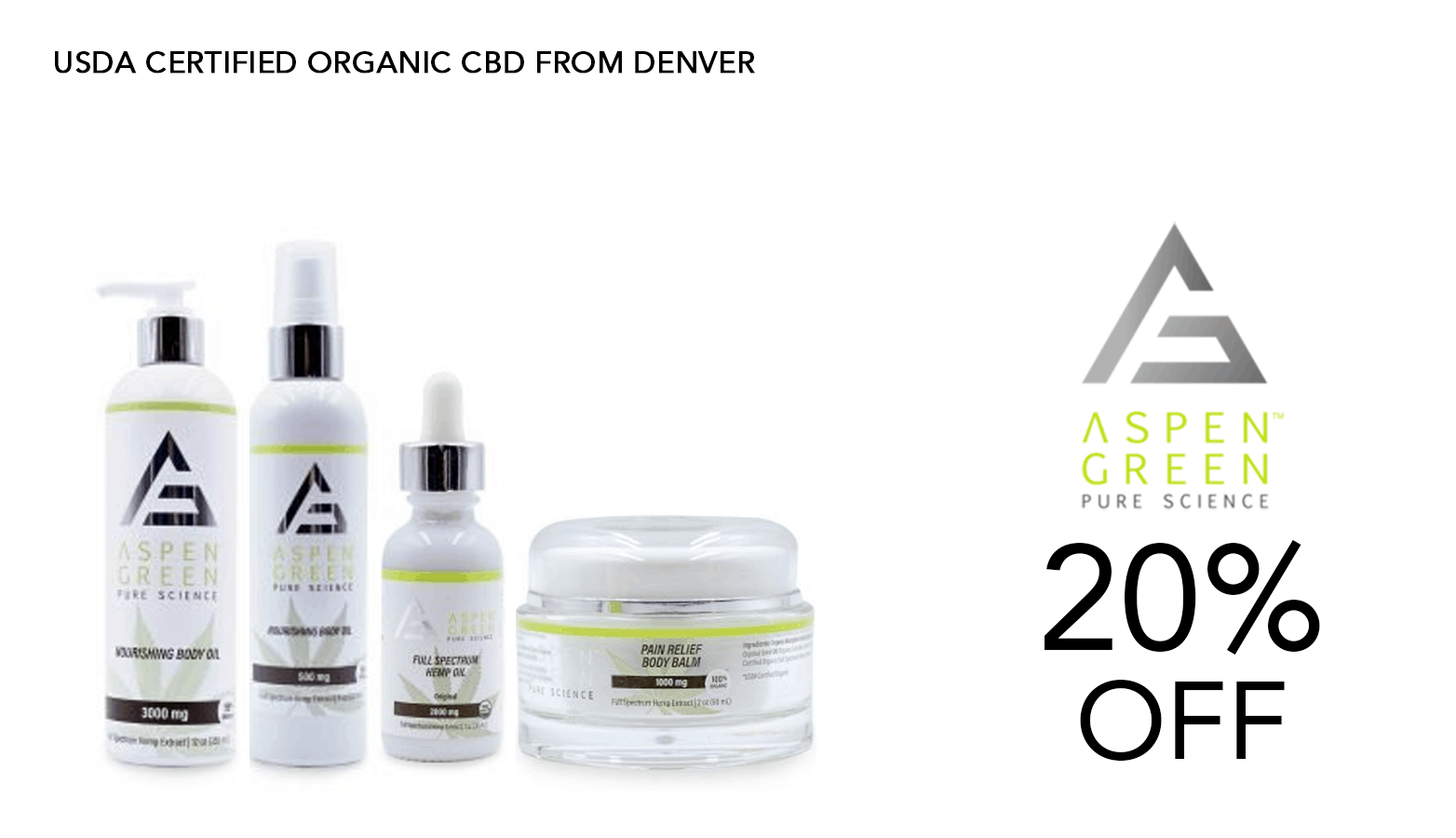 20% OFF site-wide Aspen Green coupon! All users. (Not valid on bulk products or bundles)
Quarantine and chill with CBD. Find out how the CBDistillery 1,000mg Full Spectrum Tincture helped ease the quarantine blues in this new review.
We keep testing out Aspen Green products, find out how much pain relief we got from their 1000mg CBD balm. First-hand experience on our own pains.
Can a tincture full of cannabis oil & CBD be delicious? In this Viobin CBD review of the Orange Cream Tincture, see if it's yummy & useful.