CBD Review: Aspen Green Full Spectrum Hemp Oil 2000 mg
Aug 30, 2020 | SOC
Aspen Green Full Spectrum Hemp Oil 2000 mg
Pros
All-natural
Organic
Effective
Potent
Great deal
Full-spectrum
Easy to use
ASPEN GREEN FULL SPECTRUM HEMP OIL – 2,000 MG
Product Review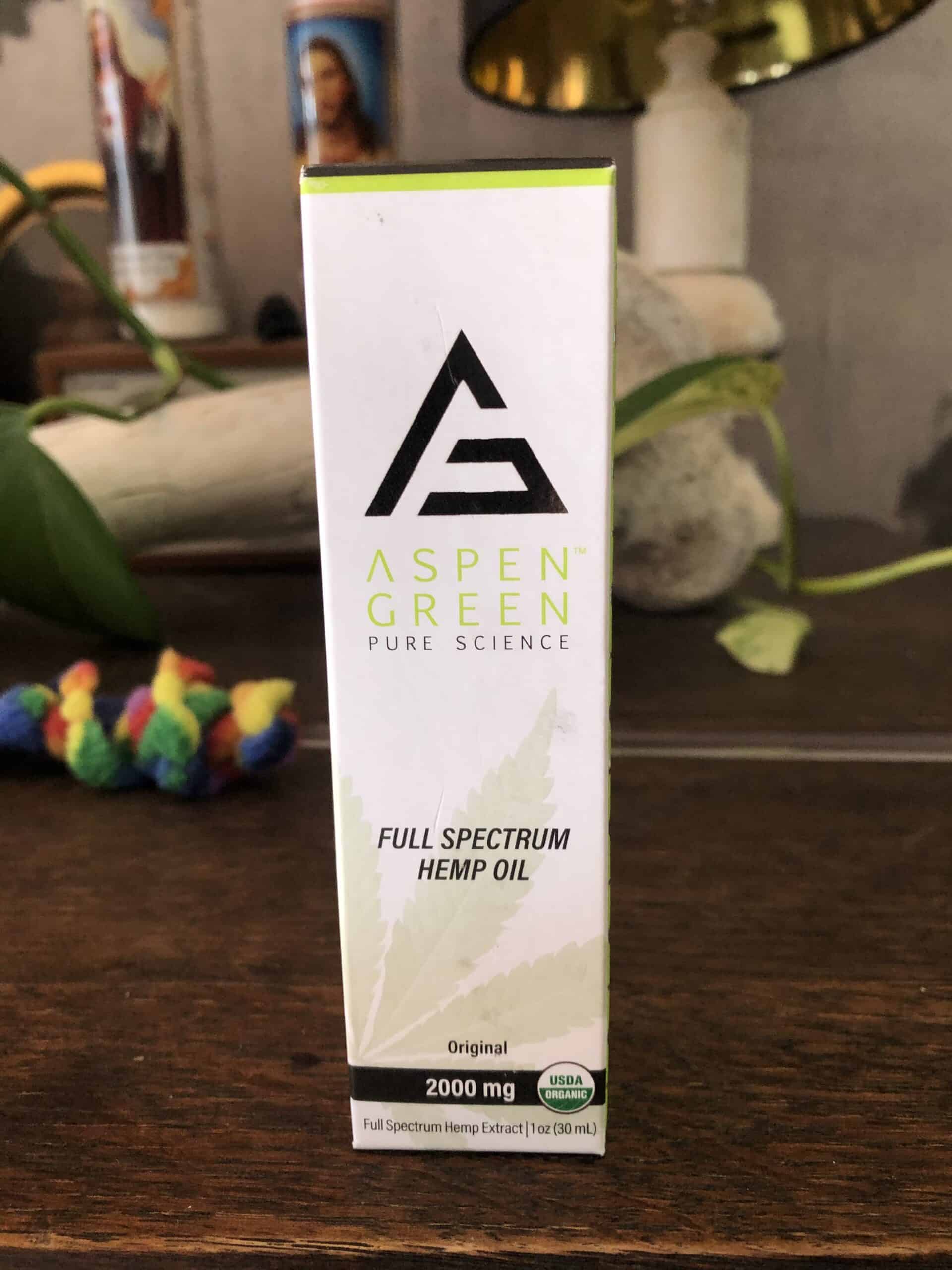 Brand Overview: ASPEN GREEN
Aspen Green uses full-spectrum hemp to create the purest and most potent CBD products on the market. Their products are great for people looking for extra relief from various ailments through natural and non-addictive supplements. Aspen Green was founded on the principles of quality, integrity, and transparency.The company uses organic hemp from the most trustworthy farms in Colorado to ensure that the stuff they put in their products is high-quality from the seeding process to delivery.
Because they use full-spectrum hemp, their products still maintain all the naturally occurring vitamins, minerals, alkaloids, terpenes, and flavanoids for a complete CBD experience.
Products: Full-Spectrum Hemp Oils, Topicals.
Price Range ($-$$$$): $$$
---
About ASPEN GREEN FULL SPECTRUM HEMP OIL – 2,000 MG
This supplement from Aspen Green contains 2,000 mg of full-spectrum hemp oil for a high-potency dose of 66.7 mg of cannabinoids per serving. The company has made sure they've left less than 0.3% of THC in the product, so you can rest assured this stuff won't get you high. Because this is full-spectrum hemp oil, you're not only getting the positive benefits of CBD, but also other compounds found in the cannabis plant like CBN, CBG, CBC, and CBDA.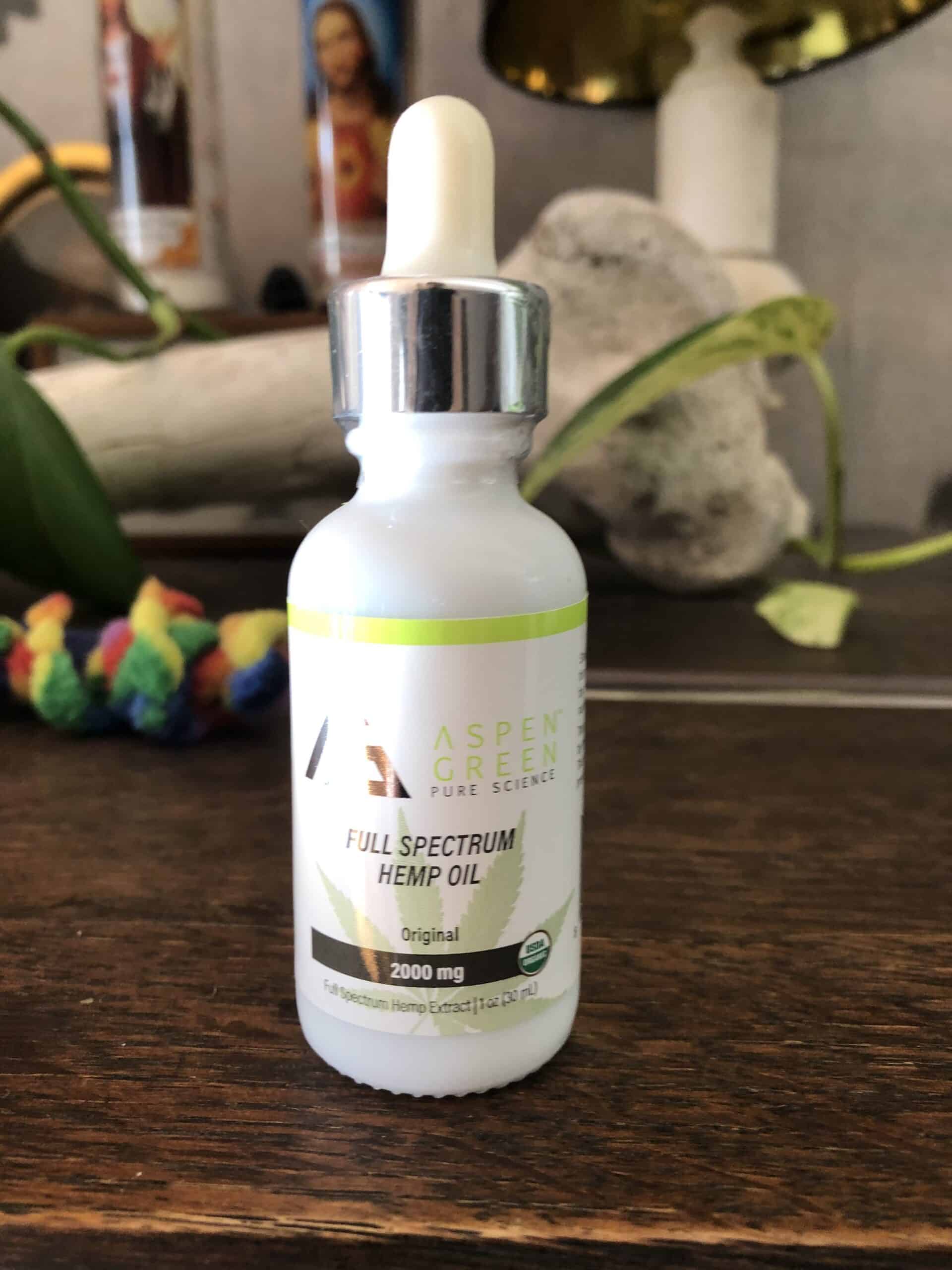 Each bottle contains 30 servings and contains a plethora of terpenes that work together with the cannabinoids to enhance the positive effects. One serving is equal to ¾ of a dropper, and Aspen Green says you can take up to three servings a day. That said, if you're new to CBD, you might want to start at a lower dose and work your way up. It's also good to discuss it with your doctor, as more and more of them are recommending CBD.
---
ASPEN GREEN FULL SPECTRUM HEMP OIL – 2,000 MG Specifications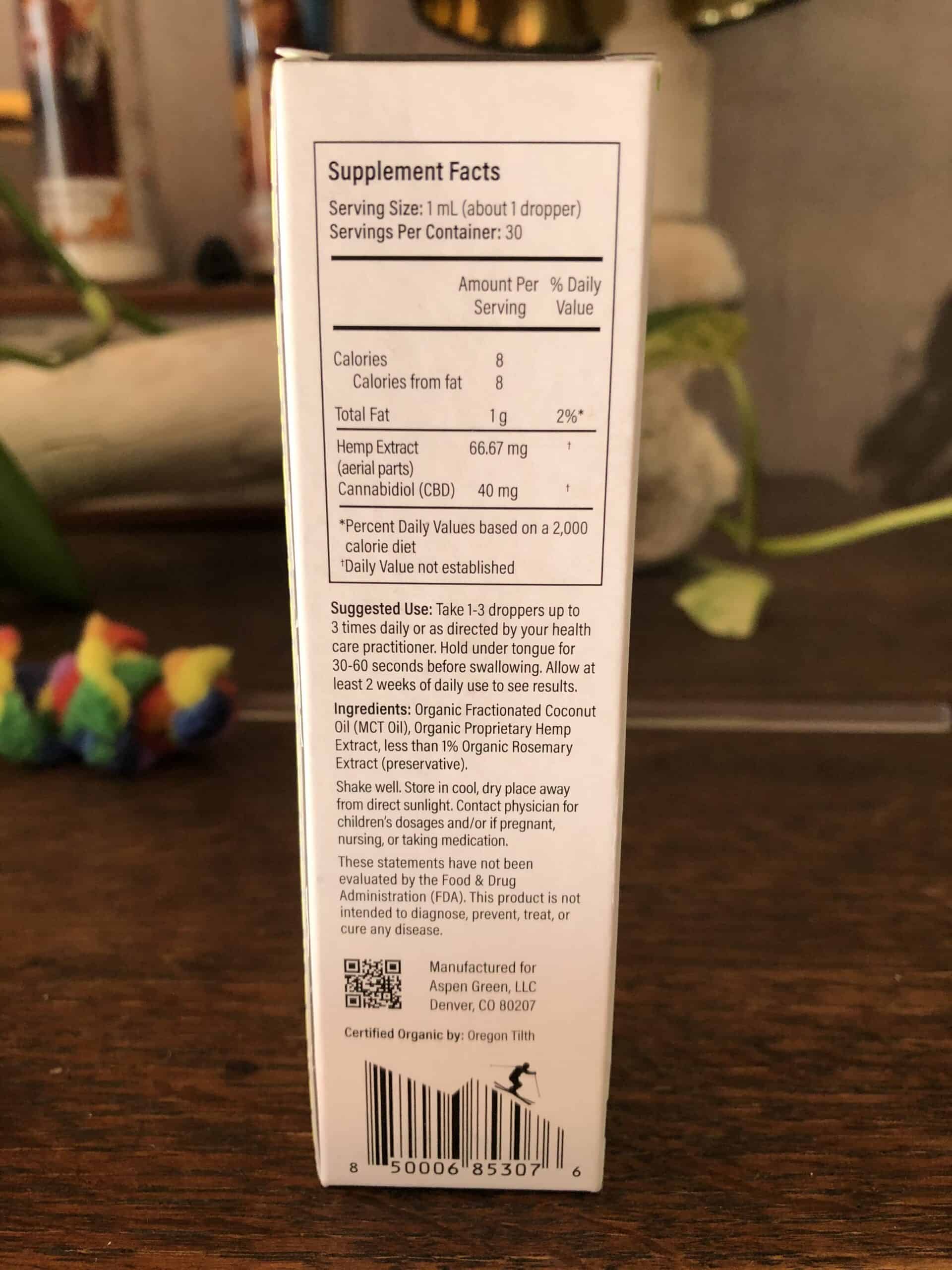 2,000 mg full-spectrum hemp oil per bottle (1,200 mg CBD)
66.7 mg per serving
30 servings per bottle
1 dropper per serving
1 oz (30 ml)
Ingredients:Organic Fractionated Coconut Oil (MCT Oil), Organic Proprietary Hemp Extract, less than 1% Organic Rosemary Extract (preservative).
---
How We Tested the ASPEN GREEN FULL SPECTRUM HEMP OIL – 2,000 MG
I've been struggling with arthritis, which was made worse a couple of years ago following surgery, then getting hit by a car. The pain is constantly bad and my sleep and mental health have struggled. It's a vicious cycle of being in pain, losing sleep because of the pain, then feeling depressed and anxious because of the lack of sleep. My therapist has arthritis too, and she takes CBD drops to help her deal. I've found hemp oil beneficial too, so I decided to try out Aspen Green Full Spectrum Hemp Oil to see if it would help.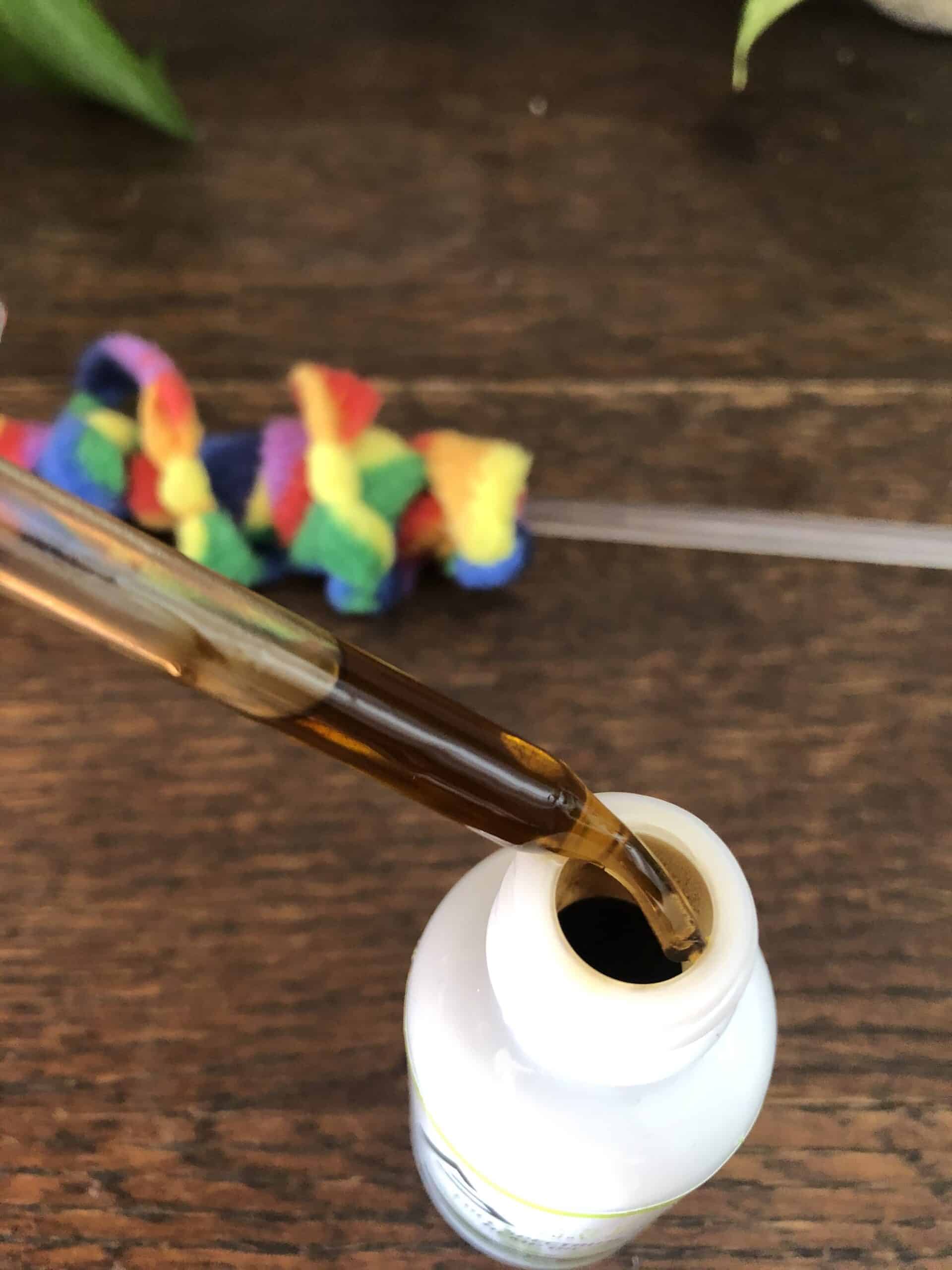 I had already tried Aspen Green's 500 mg oil, so was interested in trying something with more strength.
With 66.7 mg of hemp oil and 40 mg of CBD per serving, this is one of the highest dosed products I've tried. I took one serving in the morning, and one at night for two weeks to see if I noticed any difference in my pain levels and my sleeping ability. I held the oil under my tongue for 60 seconds per the instructions, then swallowed.
---
How the ASPEN GREEN FULL SPECTRUM HEMP OIL – 2,000 MG Worked for Me
After taking Aspen Green Full Spectrum Hemp Oil for a couple of weeks, I noticed some subtle differences in my life. After an hour of taking the hemp oil, I could feel a warmth spreading throughout my body. I didn't feel high at all, just calm and focused. While hemp oil doesn't take away the pain, it certainly takes the edge off it, helping me to focus on more important things like work and sleep.
When I used this oil in combination with my prescribed Gabapentin, I found I was able to fall asleep much faster than usual. While I normally am woken up by pain throughout the night, I found myself sleeping the whole night through. Despite the oil's effectiveness, I didn't care for the bitter hempy flavor that plagues so many other products on the market so I don't think I'll be purchasing this product again.
---
Useful and Unique Things to Know About ASPEN GREEN FULL SPECTRUM HEMP OIL – 2,000 MG
Because this hemp oil contains such a high dose of cannabinoids, Aspen Green gives you instructions on the best way to take this stuff, especially if you're new to CBD products. For the first 1 – 4 days of taking this hemp oil, start with ¼ – ½ a serving which will give you around 16.7 – 33.3 mg in each dropper once a day. For days 4 – 7, try using the same dosage but this time do it twice a day. And for days 7 – 12, you can use a full serving up to 3 times per day. A lot of experts also say to start even lower than 16.7 mg, so you can even start with ⅛ a serving and see how it goes.
---
ASPEN GREEN FULL SPECTRUM HEMP OIL – 2,000 MG Ratings
In the next sections gradings from 0-100 on our review, these grades add up to give the product's overall score.
PRESENTATION • 100
Informative packaging.
RELIABILITY • 100
Potent and effective.
QUALITY • 100
Organic and natural.
FLAVOR / SMELL / or EASE OF USE • 70
Tastes hempy.
VALUE • 100
Great deal!
---
How ASPEN GREEN FULL SPECTRUM HEMP OIL – 2,000 MG Stacks Up Against the Competition
Aspen Green's higher potency hemp oil was effective in helping me deal with pain and sleep issues. At $115 for the bottle, you're getting a great deal. Aspen Green Full Spectrum Hemp Oil could be more competitive by finding a way to hide the hemp flavor that makes it so bitter. It might not bother everyone, but for me, I don't like having to brush my teeth after each use. There are CBD oils on the market that are just as effective and fairly priced but taste a whole lot better.
---
Saving Money with Our Verified ASPEN GREEN Coupons
Save money by using our verified CBD Tinctures here at Save On Cannabis the World's largest online cannabis coupon code directory.
---
Disclosure: I received these products gratis so that I could try them and then share my honest opinion with the SOC community. I am employed by Save on Cannabis to write honest reviews and provided a flat rate payment for the writing of the review. SOC may receive recurring affiliate payments for purchases made based on this content.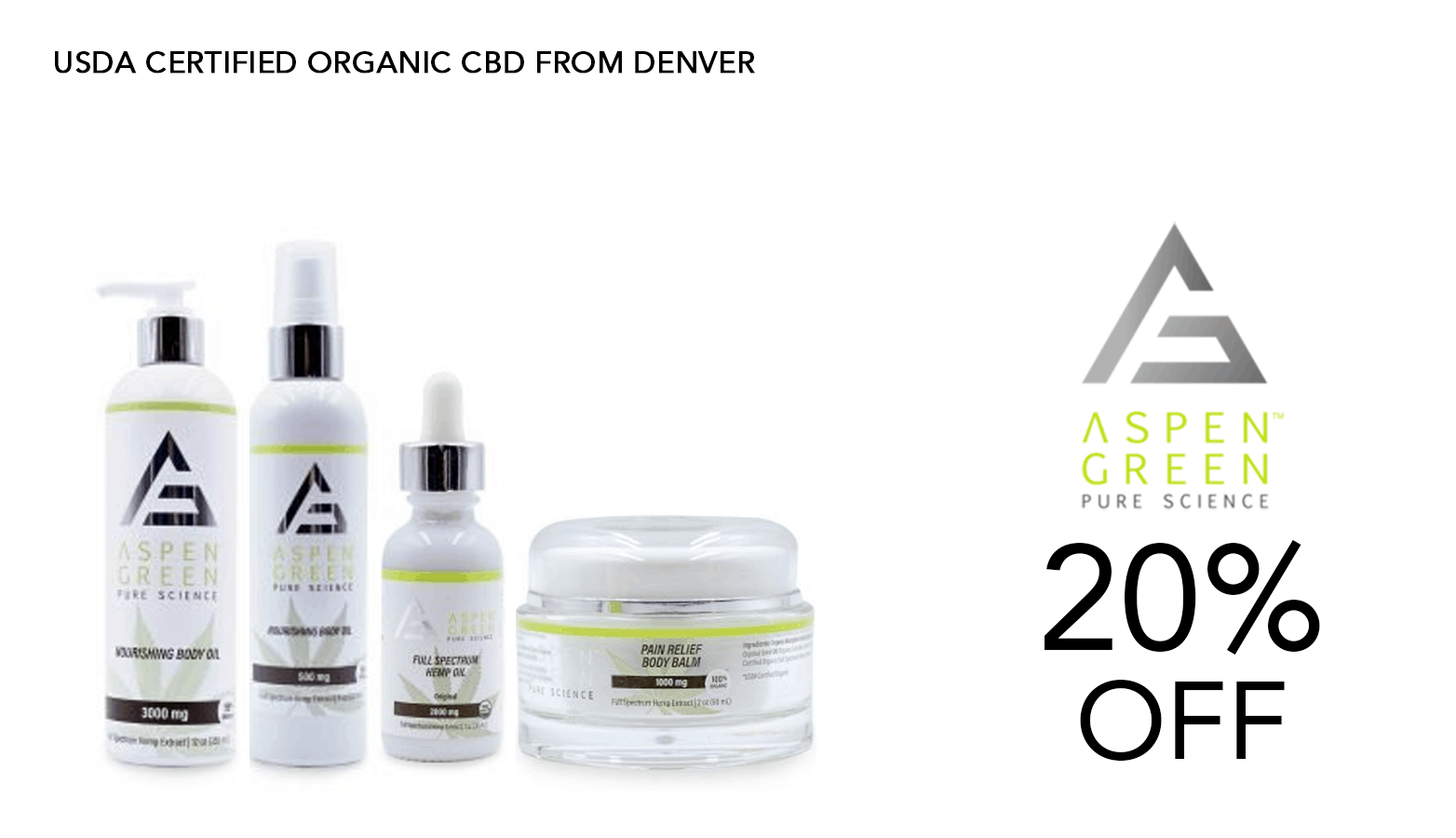 20% OFF site-wide Aspen Green coupon! All users. (Not valid on bulk products or bundles)
Can the pipe be re-invented? Find out in our WeedGets review since we were lucky enough to try the Maze and Slider pipes.
Our reviewer got hold of some tasty CBD pet treats to give her Golden Retreiver, see how they helped her cope with anxiety in this King Calm Crunch review.
In this Magical CBD review, we get to see if this affordable CBD is reliable and tastes good compared to the competing brands.