CBD Review: Real Scientific Health Hemp Oil Salve
Aug 14, 2019 | Romy
Real Scientific Health Hemp Oil Salve
Pros
Quality ingredients
Moisturizing
Heals skin
Mild pain relief
REAL SCIENTIFIC HEMP OIL CBD SALVE
Product Review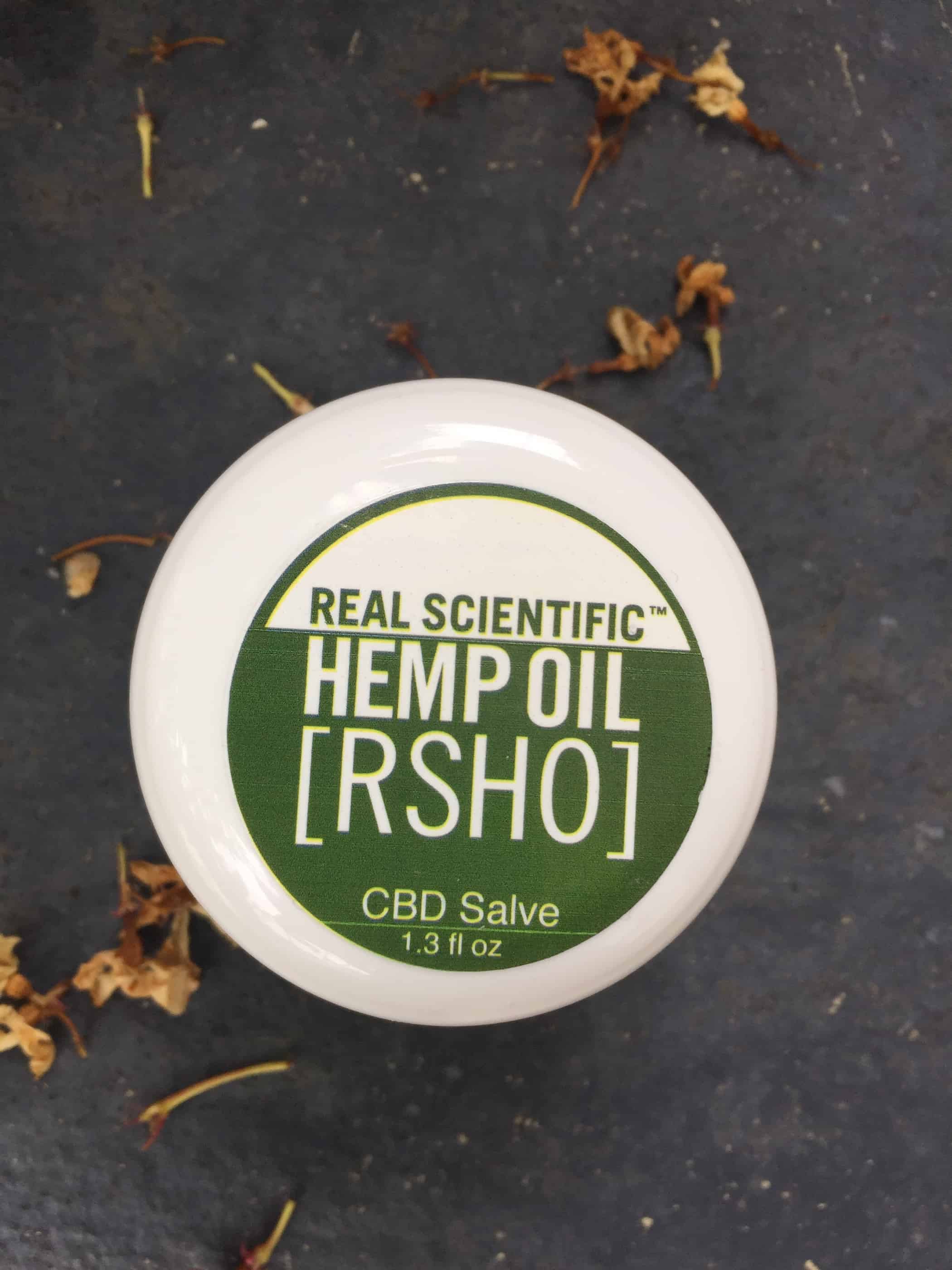 Brand Overview: REAL SCIENTIFIC HEMP CBD OIL
Real Scientific Hemp Oil is one of Medical Marijuana, Inc.'s producers of high-quality CBD products you can easily and legally get shipped to your door. All their products are THC-free, giving you the positive effects of Mary Jane without the high. The company is committed to making CBD accessible and affordable, putting millions of dollars into creating some of the finest medicinal products on the market. This company works with only the most trusted farmers and cultivators, people who honor the land and share in their same values of integrity and quality.
Products: Isolate Powders, Capsules, Tinctures, Bundles.
Price Range ($-$$$$): $$-$$$$
---
About the REAL SCIENTIFIC HEMP OIL CBD SALVE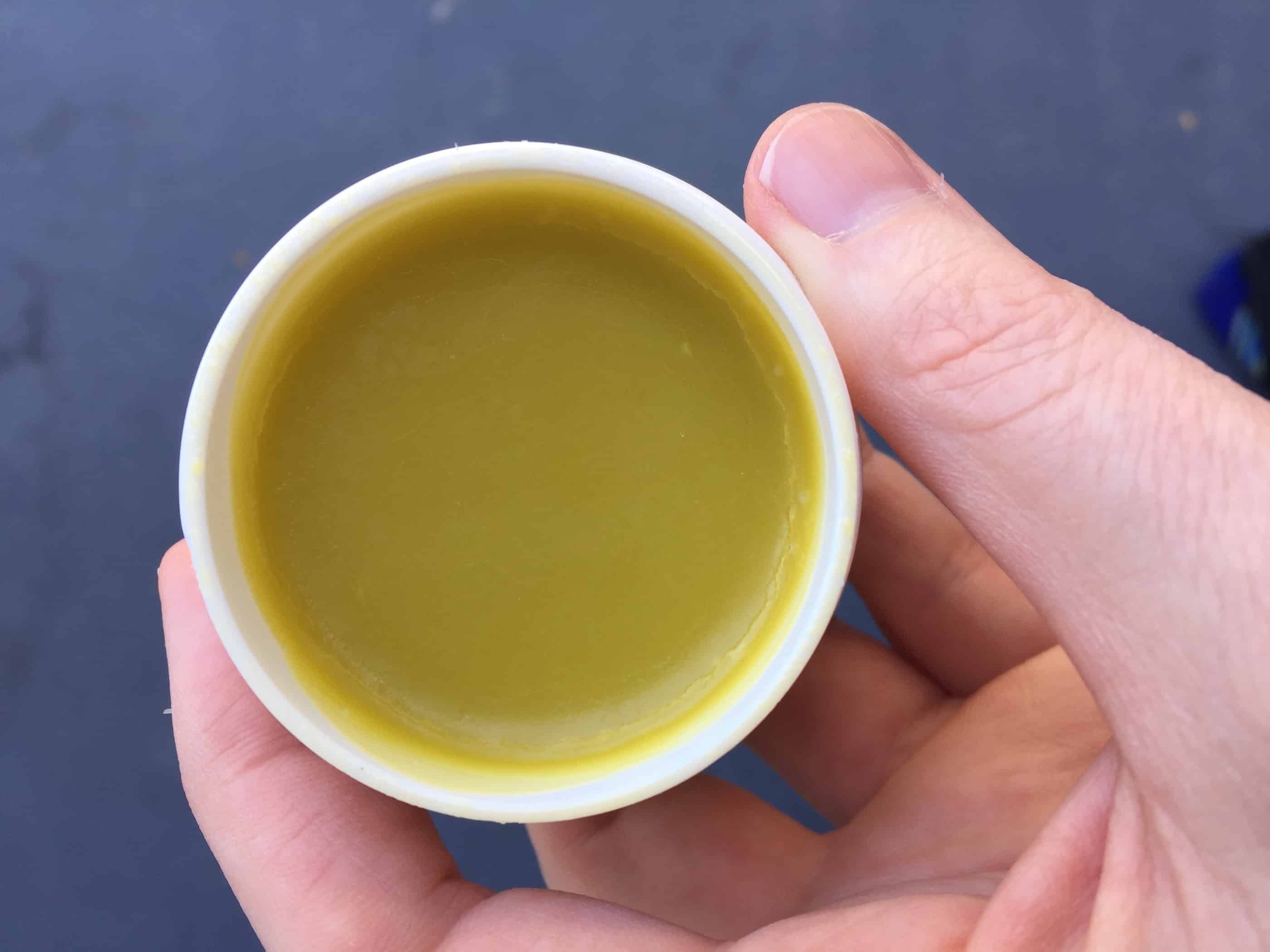 Real Scientific Hemp Oil CBD Salve is packed with 50 mg of full-spectrum CBD, and along with almond oil, beeswax, and camphor, will help soothe muscle pain and works to address age spots, wrinkles, and dry skin. Simply apply this salve to whatever ails you, and relief is yours. This multi-purpose topical is made from the best non-GMO ingredients and comes in a convenient travel-sized jar you can drop in your bag to use before and after a workout. It's also perfect for travelers who struggle with the dry skin that comes with flying.
---
REAL SCIENTIFIC HEMP OIL CBD SALVE Specifications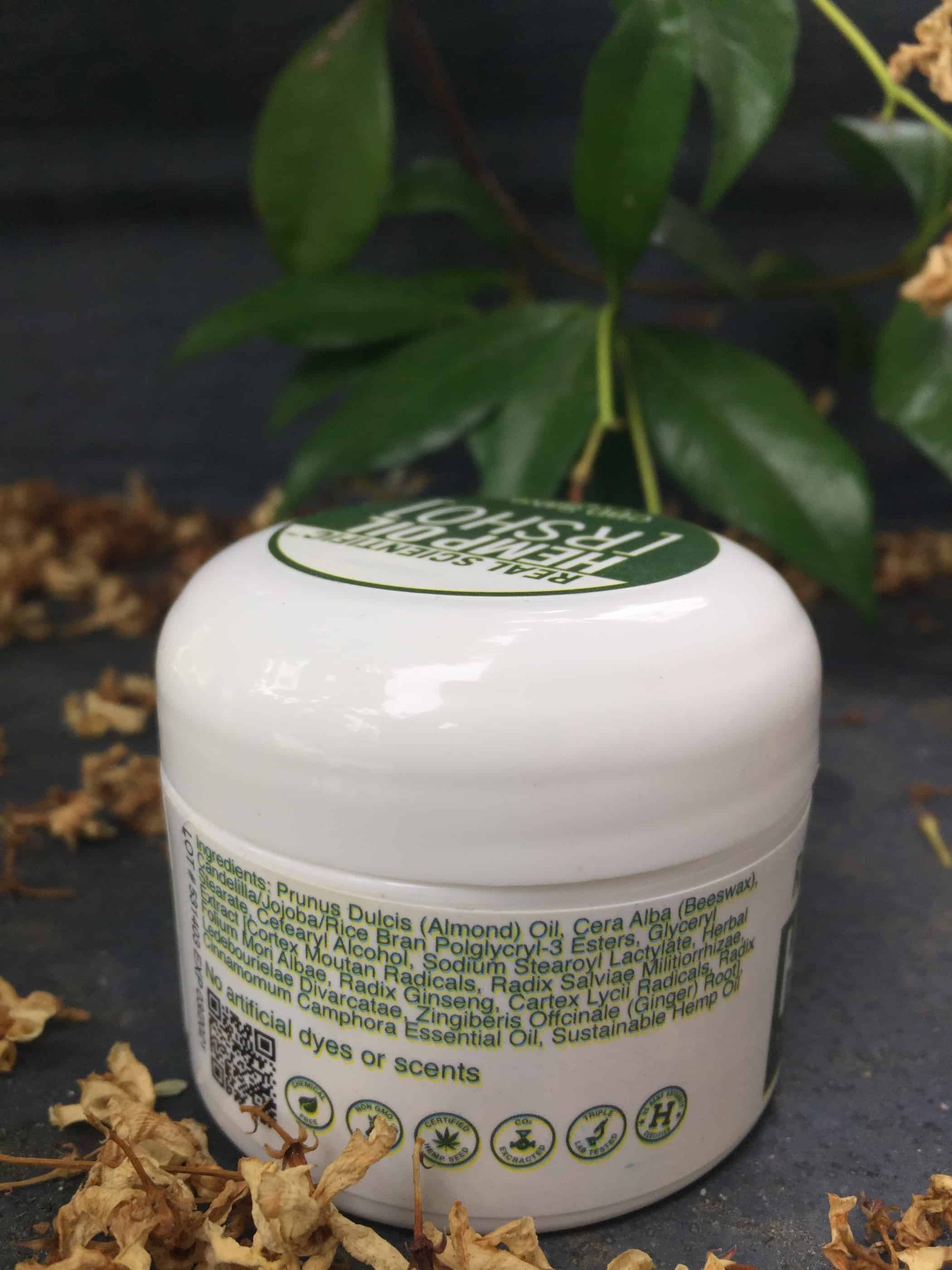 1.3 fl oz
50 mg CBD
Ingredients: Prunus Dulcis (Almond) Oil, Cera Alba (Beeswax), Candelilla/Jojoba/Rice Bran Polyglyceryl-3 Esters, Glyceryl Stearate, Cetearyl Alcohol, Sodium Stearoyl Lactylate, Herbal Extract [Cortext Moutan Radicis, Radix Salviae Miltiorrhizae, Folium Mori Albae, Radix Ginseng, Cortex Lycii Radicis, Radix Ledebouriellae Divaricata, Zingiber Officinale (Ginger) Root], Cinnamomum Camphora Essential Oil, CBD-Rich Hemp Oil, Cannabis Sativa (Hemp) Seed Oil
Directions: Massage onto skin before and after physical activities
No artificial dyes or scents
---
How We Tested the REAL SCIENTIFIC HEMP OIL CBD SALVE
Topicals are my favorite way to "take" CBD. I have chronic pain and quickly go through these kinds of relieving balms and salves. I was particularly eager to try Real Scientific Hemp Oil CBD Salve because of its moisturizing properties. My skin is so dry! So the idea of using a topical that will ease my pain AND flaky skin seemed ideal. Before leaving for physical therapy for my hip, I applied this topical to all my most painful areas: my right foot, lower back, and both my hips and thighs. I brought it with me because my sister likes to steal my CBD salves to put on her face.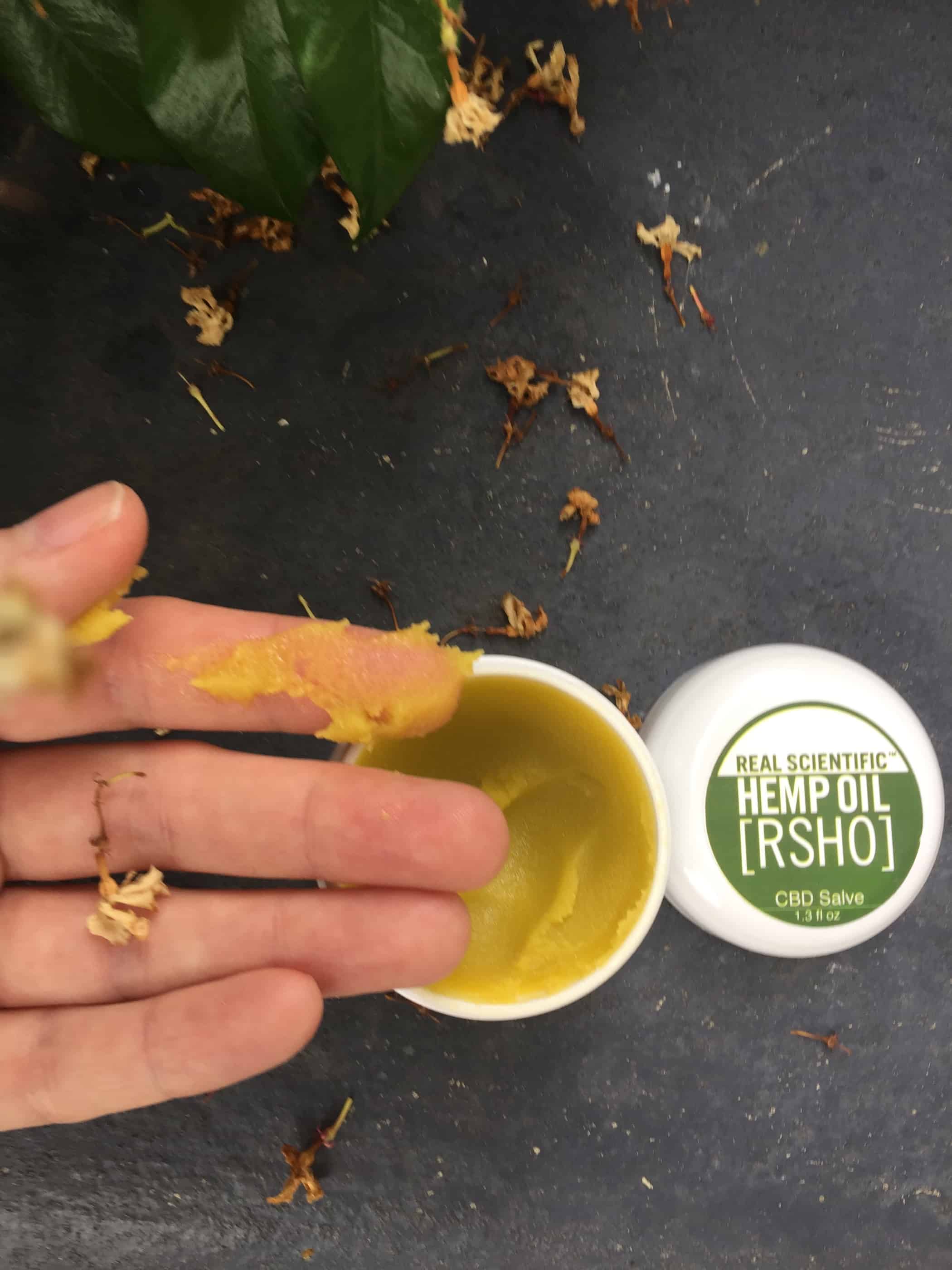 ---
How the REAL SCIENTIFIC HEMP OIL CBD SALVE Worked for Me
The first thing I noticed about this salve was that it goes on nicely. It's smooth, creamy, and makes an excellent massage lotion–I know because my sister stole it to massage her carpel tunnel syndrome. It blends into the skin without leaving flakes or residue. This topical worked so well in healing the dry skin on my arms and legs that I tried it my face too. I looked and felt like one of those dewy-faced movie stars with perfect skin. (My sister has already added it to her nightly beauty regimen before bed.) The salve is a seriously excellent skin cream that threatens to replace all your bottles of Oil of Olay or La Mer.
The Real Scientific Hemp Oil CBD Salve provided mild pain relief but its not nearly as strong as the stuff the physical therapist uses on me. I would definitely use this product again for my dry skin and mild pain but would stick with something stronger for my severe pain.
Useful and Unique Things to Know About REAL SCIENTIFIC HEMP OIL CBD SALVE
Real Scientific Hemp Oil invested time and money into coming up with a highly concentrated CBD oil devoid of chemicals and filled with healthy omega fatty acids, vitamins, amino acids, chlorophyll, and terpenes. The company uses a solvent-free CO2 extraction process to ensure the highest quality and safe CBD that's been tested in ISO-certified labs. I have a certain degree of security using any Real Scientific Hemp Oil product because they've put so much effort and money into making the best CBD around.
REAL SCIENTIFIC HEMP OIL CBD SALVE Ratings
In the next sections gradings from 0-100 on our review, these grades add up to give the product's overall score.
PRESENTATION • 100
Professional and clear.
RELIABILITY • 100
Works great to heal the skin.
QUALITY • 100
High-quality ingredients.
FLAVOR / SMELL / or EASE OF USE • 100
Mild herbal smell.
VALUE • 90
Expensive.
---
How the REAL SCIENTIFIC HEMP OIL CBD SALVE Stacks Up Against the Competition
This creamy salve moisturizes and provides skin-care like no other CBD topical I've tried. It blends easily, making your skin soft and supple. While this product does provide a mild amount of pain relief, if you're looking for something stronger, try Pure Relief Hemp Cream. It's a camphor-heavy topical that contains ten times the amount of CBD as the Real Scientific Hemp Oil CBD Salve.
Saving Money With REAL SCIENTIFIC HEMP OILCoupons
Save money on all CBD Topicals here at Save On Cannabis the World's largest online cannabis coupon code directory.
---
Disclosure: I received these products gratis so that I could try them and then share my honest opinion with the SOC community. I am employed by Save on Cannabis to write honest reviews and provided a flat rate payment for the writing of the review. SOC may receive recurring affiliate payments for purchases made based on this content.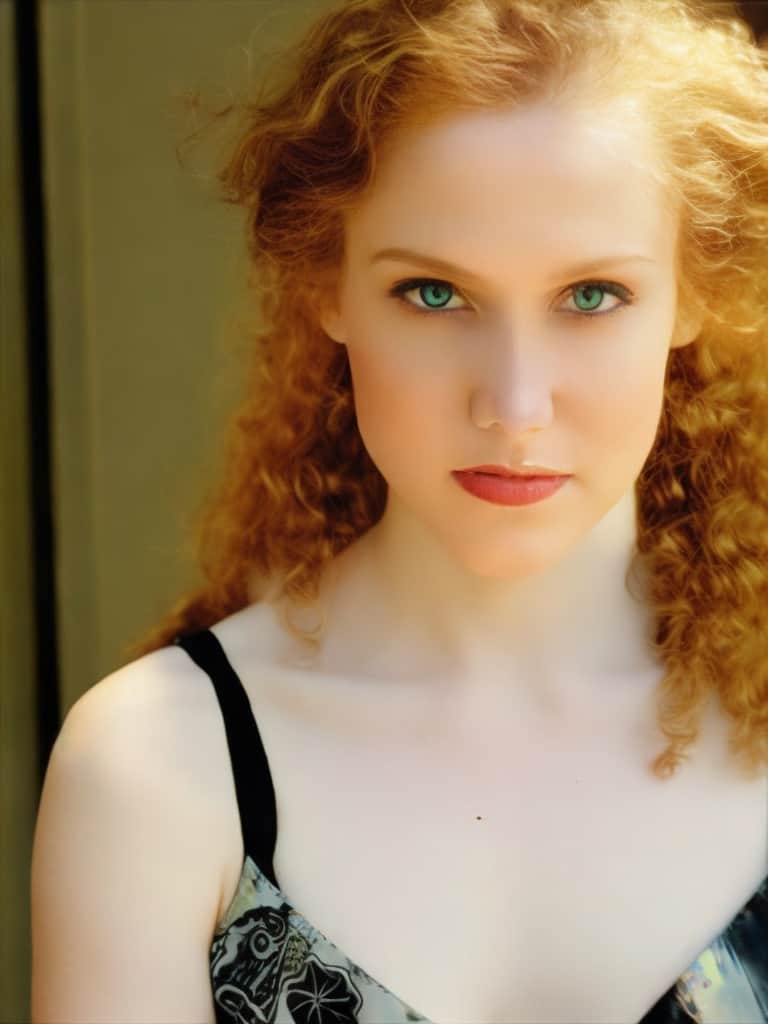 A medicinal cannabis user, utilizing the power of the plant to ease the pains and stresses from long standing conditions that other over the counter or prescriptions could not fix or weren't a natural option like cannabis.  Also, has a background in working directly in the cannabis industry in California within various dispensaries.
Save on Medical Marijuana Inc.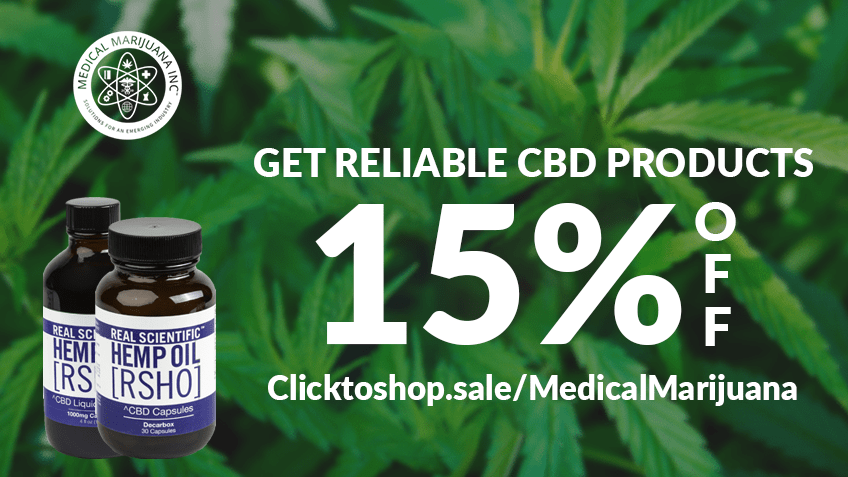 15% OFF site-wide at Medical Marijuana, Inc. on all premium CBD items!
This Pure Relief review is on their extra strength CBD tincture, coming in at a whopping 2,500mg. See if it is worth your money.
We've tested so many CBD products that our expert in topicals tells you in this Social CBD Body Lotion review if it is a reliable product.
In this American Hemp Oil review of the 500mg CBD Tincture see how this CBD tincture worked for our reviewer & if it should be on your list.