CBD for Life Review: Pink Salt and Citrus CBD Bath Bomb
Oct 26, 2020 | SOC
CBD for Life Pink Salt and Citrus Bath Bomb
Pros
Relaxing
Moisturizing
Natural ingredients
Natural remedy for eczema
Relives inflammation, itchiness, and redness
Cons
The ingredients on the website are different than the ingredients on the package.
CBD FOR LIFE
Product Review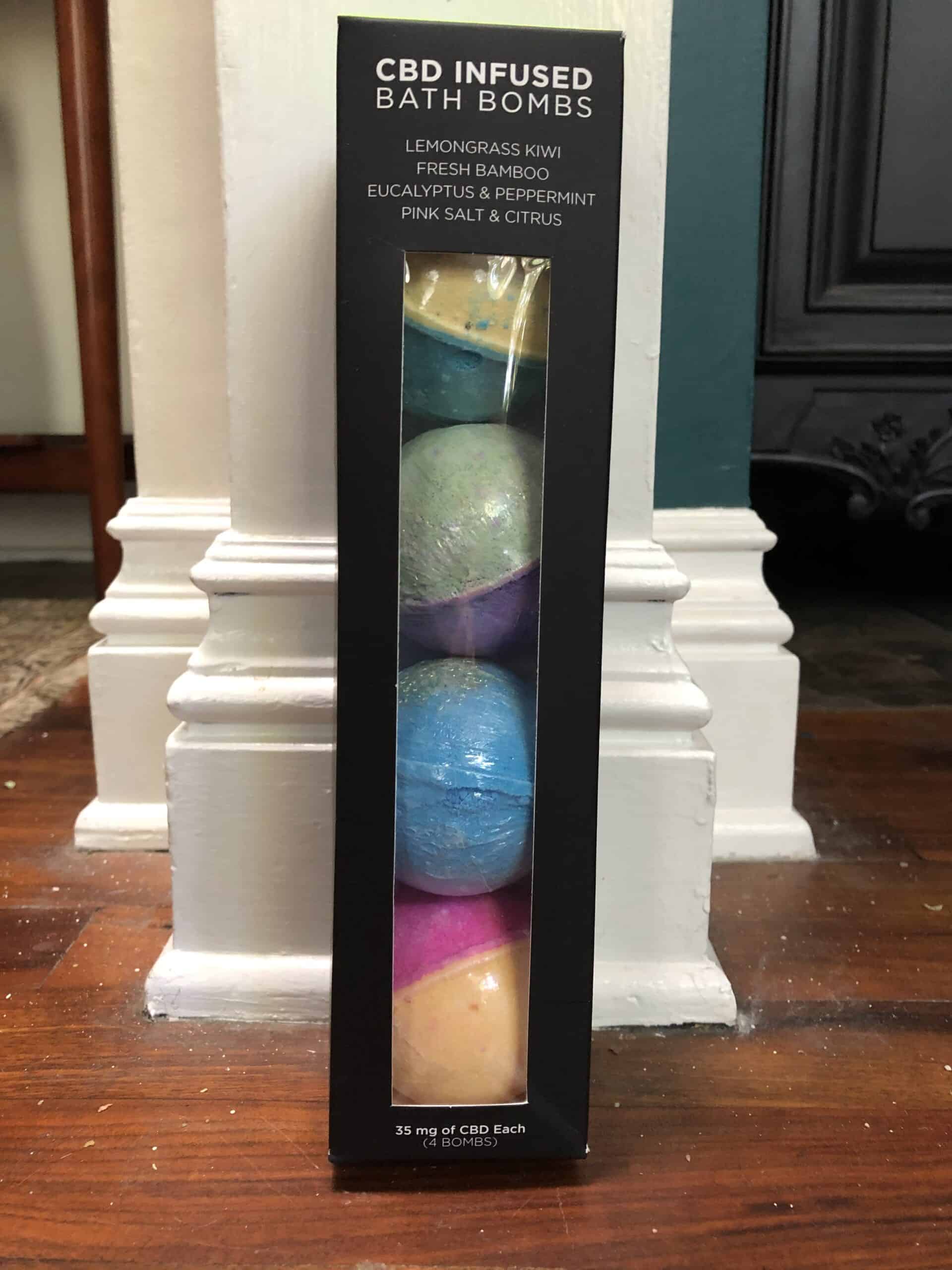 Brand Overview: CBD FOR LIFE
CBD for Life began when co-founder Beth sought relief for her back pain that wouldn't make her feel high. She joined forces with a bona fide chemist and along with her sister Julie created their first CBD topical. The company's mission is to make high-quality CBD products so you can look and feel your best. CBD for Life has a variety of topicals, tinctures, skincare, and bath products made with CBD isolate, essential oils, and other plant-based ingredients.
Sourced from industrial hemp at a farm in Colorado that uses organic and sustainable methods, CBD for Life has everything lab tested for purity and potency. Whether you're looking for a soothing topical to bring you pain relief, a moisturizer designed specifically for your feet, or a tincture that's both non-psychoactive and non-addictive, CBD for Life has something for you. These bath bombs were provided to us by Pure CBD Vapors .
Products: Hair Products, Sanitizers, Topicals, Bath Bombs, Tinctures, Skincare.
Price Range ($-$$$$): $$
---
About CBD FOR LIFE PINK SALT & CITRUS BATH BOMB
Pure CBD Vapor's CBD for Life Pink Salt & Citrus Bath Bomb is advertised as being a completely natural way to fight skin problems like dryness, eczema, inflammation, itchiness, and redness. This bath bomb combines 35 mg of CBD isolate with shea butter and Himalayan pink salt to create a truly relaxing bath time experience. It contains helichrysum and bergamot essential oils which both having healing properties, but also smell great.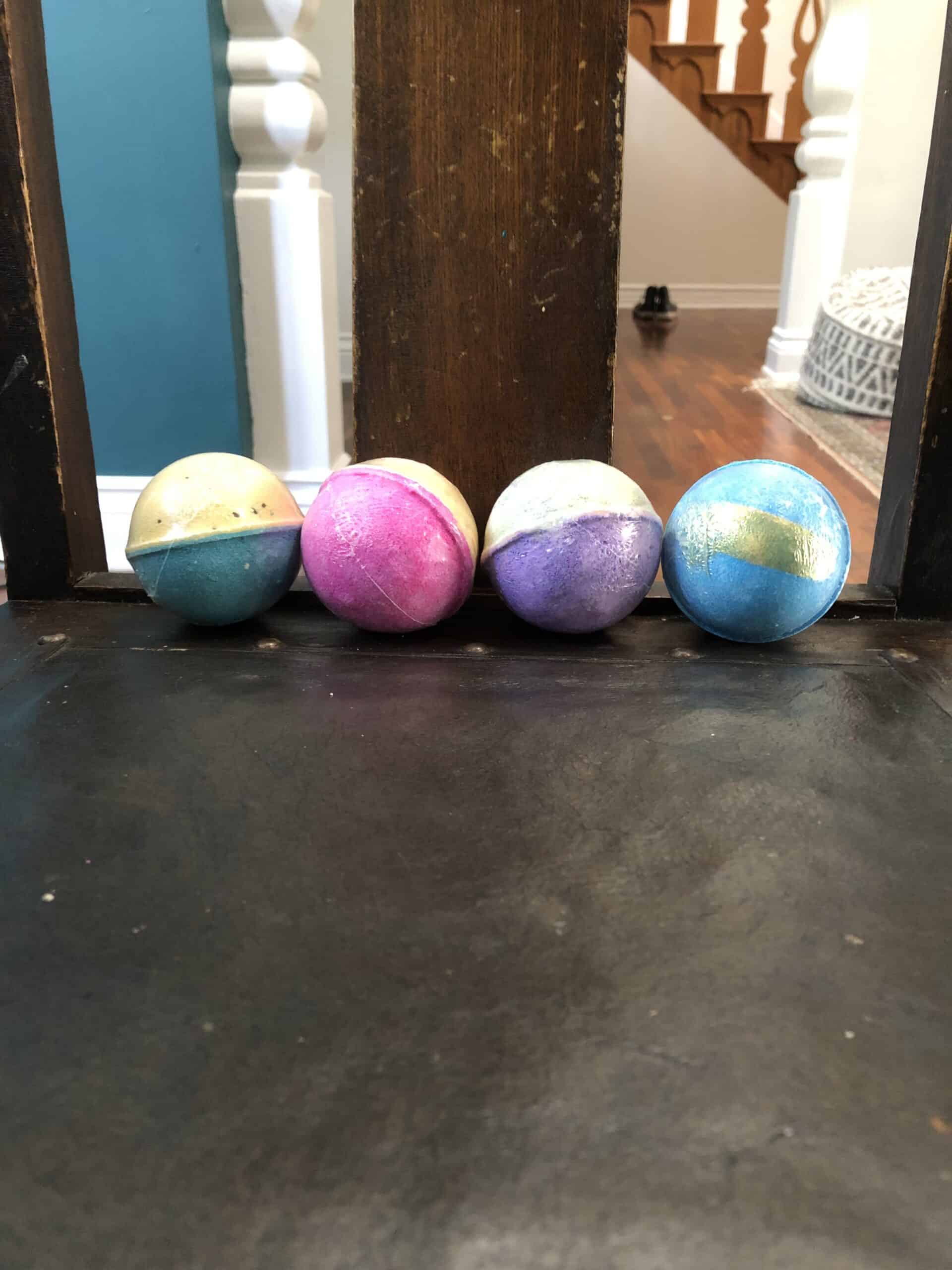 CBD for Life suggests soaking in your bath bomb-infused tub for at least thirty minutes to get the most of the product. Like all their bath bombs, this one is free from GMOs, parabens, phthalates, and formaldehyde so you never have to worry about toxins and chemicals. It's made with batch certified colorants that won't stain the tub.
---
CBD FOR LIFE PINK SALT & CITRUS BATH BOMB Specifications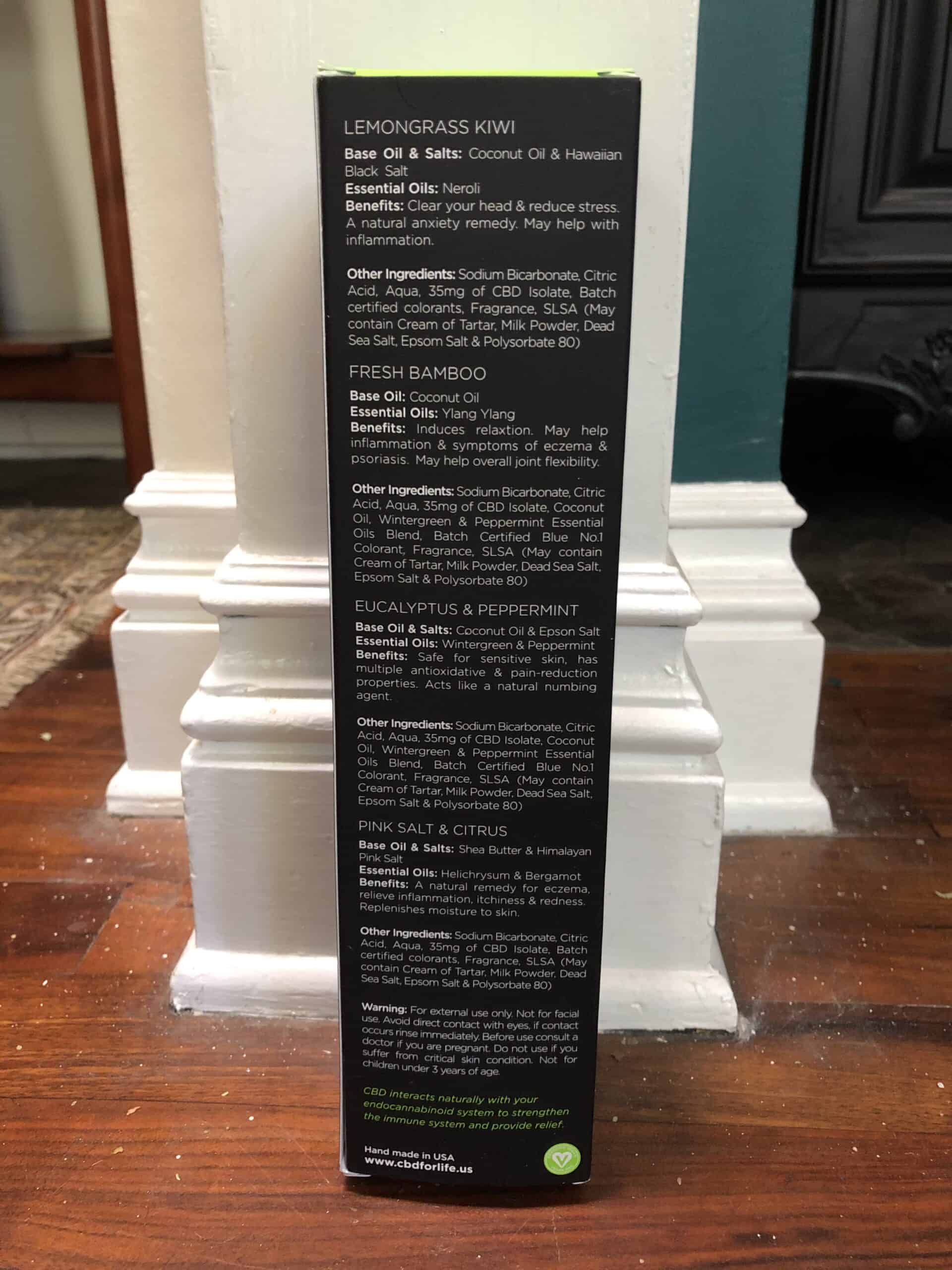 35mg CBD isolate

5.5oz

Ingredients

: Shea Butter, Himalayan Pink Salt, Helichrysum & Bergamot Essential Oils, Sodium Bicarbonate, Citric Acid, Aqua, Batch Certified Blue No. 1 Colourant, Fragrance, SLSA (May contain Cream of Tartar, Dead Sea Salt, Epsom Salt, Polysorbate 80 .)
---
How We Tested the CBD FOR LIFE PINK SALT & CITRUS BATH BOMB
My skin is always dry no matter how much I moisturize. This leaves my hands, feet, and the skin on my face flaky at times. I can't even wear most make-ups because it just dries and clumps on my skin. I was excited to try this bath bomb because it contains moisturizing ingredients like shea butter. I also have a ton of inflammation due to arthritis, so was interested to see if soothing ingredients like helichrysum would bring me some relief.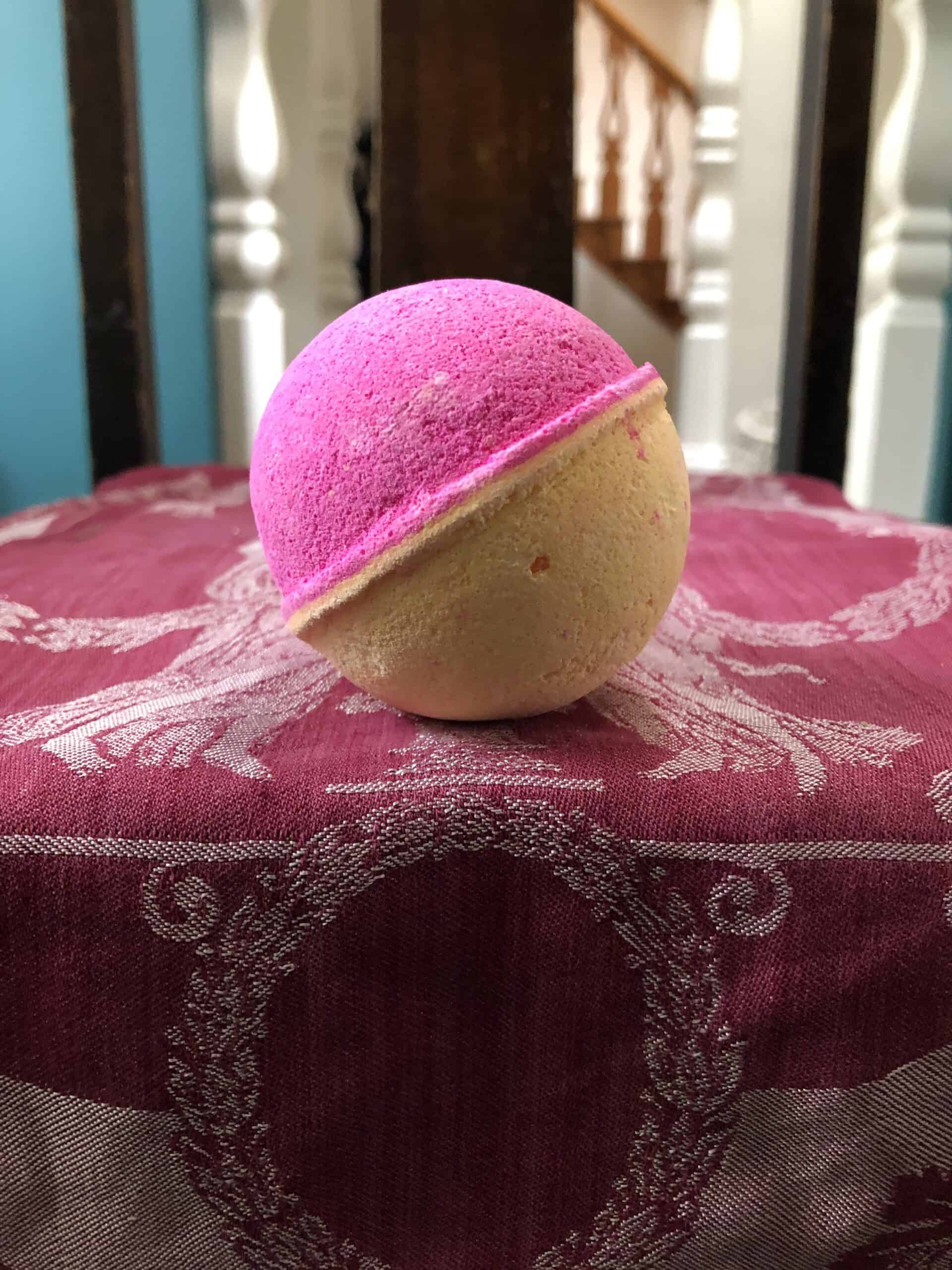 Using bath bombs after a long day is my favorite way to relax. I find they help reduce my pain, calm my mind, and help me sleep better. After running a hot bath, I dropped the bath bomb in, then gingerly placed my aching body in too. I laid back for thirty minutes, allowing the CBD bath bomb to work its magic.
---
How the CBD FOR LIFE PINK SALT & CITRUS BATH BOMB Worked for Me
The smell of the essential oils was lovely. I've tried CBD for Life's other three bath bombs: Eucalyptus & Peppermint , Lemongrass & Kiwi , and Fresh Bamboo . While the eucalyptus & peppermint bath bomb was my favorite scent, the pink salt & citrus comes in at close second. It had the most potent and unique scent of the four.
After my bath, I felt twenty years younger and my skin was soft and moisturized. My body didn't ache and my mind was free from stress. Like the other three bath bombs, the positive effects lasted long after the bath ended and I had some of the best sleep I've had in a while. I would use these bath bombs every night if I could afford it. I only wish they lasted longer than one serving.
---
Useful and Unique Things to Know About CBD FOR LIFE PINK SALT & CITRUS BATH BOMB



The bath bomb contains many healing ingredients, including shea butter, Himalayan pink salt, helichrysum & bergamot essential oils. Shea butter is derived from the African shea tree's nuts and is an amazing moisturizer found in lotions and cosmetics. Himalayan pink salt can kill bacteria in your skin and can even fight acne. Helichrysum is also known as the everlasting or immortal flower and comes from the sunflower family. It can reduce inflammation and can even heal wounds or burns. Finally, bergamot comes the bergamot orange and gives the bath bomb its citrus flavor. Bergamot is great for stress as well as pain.
---
CBD FOR LIFE PINK SALT & CITRUS BATH BOMB Ratings
In the next sections gradings from 0-100 on our review, these grades add up to give the product's overall score.
PRESENTATION • 90
The ingredients on the website are different from the ingredients on the packaging.

RELIABILITY • 100
Soothing and relaxing.
QUALITY • 100
Natural ingredients.
FLAVOR / SMELL / gold EASE OF USE • 100
Fragrant and unique smell.
VALUE • 90
A little pricey but for a CBD bath bomb, it's about average.
---
How CBD FOR LIFE PINK SALT & CITRUS BATH BOMB Stacks Up Against the Competition
While Pure CBD Vapor's CBD for Life Pink Salt & Citrus Bath Bomb was effective in moisturizing my skin, relieving stress and inflammation, other CBD bath bombs work just as well, cost the same, but last for two to three baths. If Pure CBD Vapor's wanted to make their bath bombs more competitive, I would either lower the price, or make the bath bomb bigger so it lasts for more than one serving.
---
Saving Money with Our Verified PURE CBD VAPORS Coupons
Save money by using our verifiedCBD Bath Bombs here at Save On Cannabis the World's largest online cannabis coupon code directory.
---
Disclosure: I received these products gratis so that I could try them and then share my honest opinion with the SOC community. I am employed by Save on Cannabis to write honest reviews and provided a flat rate payment for the writing of the review. SOC may receive recurring affiliate payments for purchases made based on this content.

Our reviewer got hold of all Magical CBD Tinctures, see how the cinnamon 3000mg stands up in flavor and reliability.
Discover the best Delta Extrax gummies with our comprehensive review. Find out why customers love these new Delta Extrax products.
Eir Health makes CBD wellbeing products for all needs. Read our Eir Health review, see how the medium potency version helped us.