43 CBD Solutions: THC-Free CBD Oil Tincture (500mg) Review
Jan 30, 2021 | Save On Cannabis
43 CBD
Product Review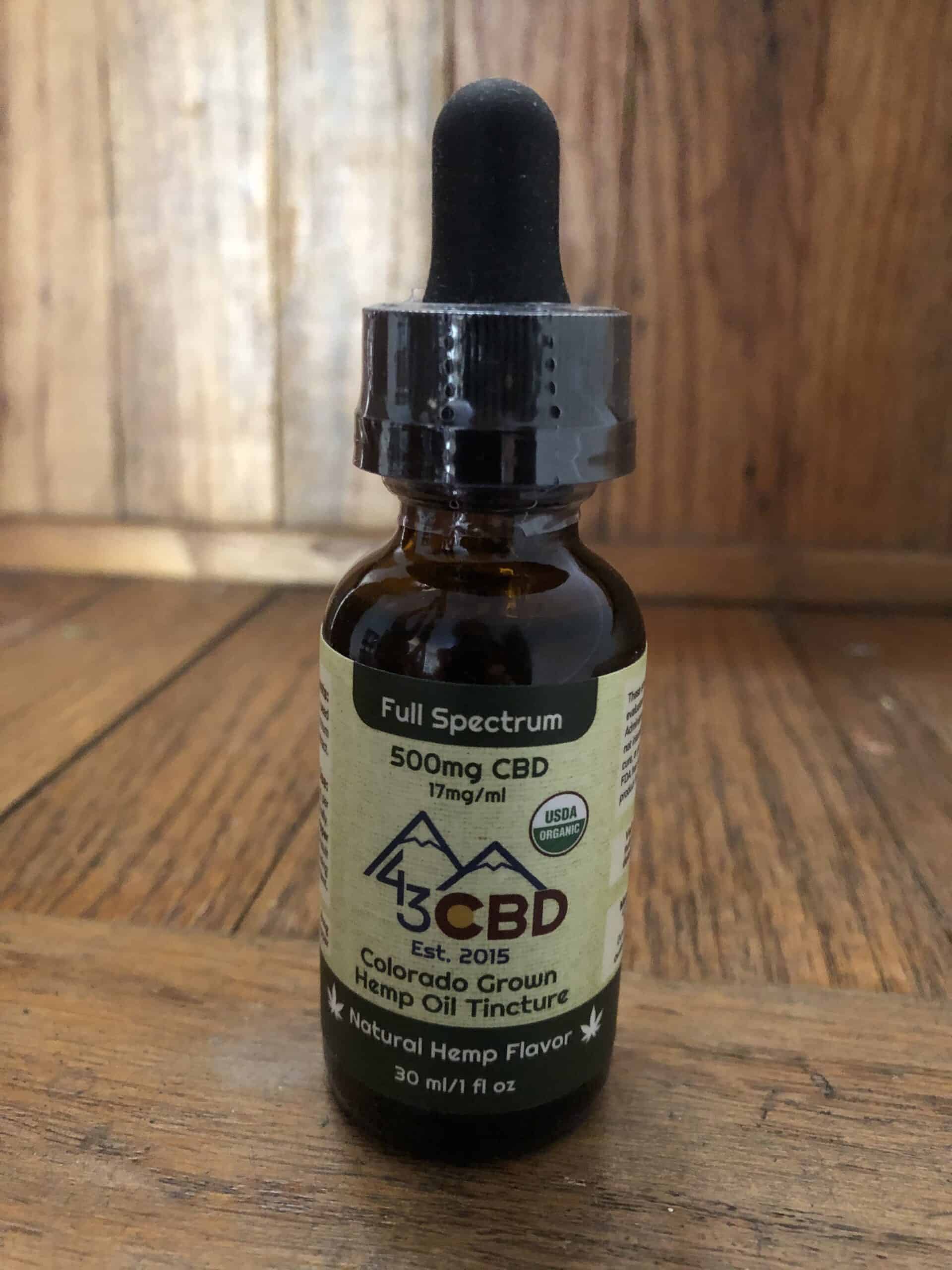 Brand Overview: 43 CBD
43 CBD's mission is to help you feel better naturally. The company was founded by some snowboarder bros from Colorado whose background and interest in chemistry, health, and wellness drew them to CBD. To create high-quality products, 43 CBD uses artisan hemp grown with natural farming practices without chemicals. They hand-select the seeds and everything is lab tested for purity, potency, and to ensure you're getting the best.
The company makes CBD oils that are full-spectrum or THC-free. They have a variety of salves as well as massage oil. 43 CBD also makes a tincture specifically formulated for dogs and cats. Whether you need something to take the edge off stress, need relief from pain, or are dealing with an over-anxious pet, 43 CBD has made it easy to find a natural and non-addictive solution.
Products: Oils, Salves, Capsules, Pets, Massage, Hats, Bundles.
Price Range ($-$$$$): $$
---
About 43 CBD USDA ORGANIC FULL SPECTRUM CBD OIL – 500 MG – NATURAL
43 CBD offers a variety of full-spectrum tinctures including this one which contains 500 mg of cannabidiol and no added flavors. You can also get this tincture flavored with peppermint or cinnamon, with 1,000 and 2,000 mg of CBD, or THC-free. The company combines organic full-spectrum CBD oil with organic hemp seed oil to give you a completely natural and non-addictive supplement that's safe.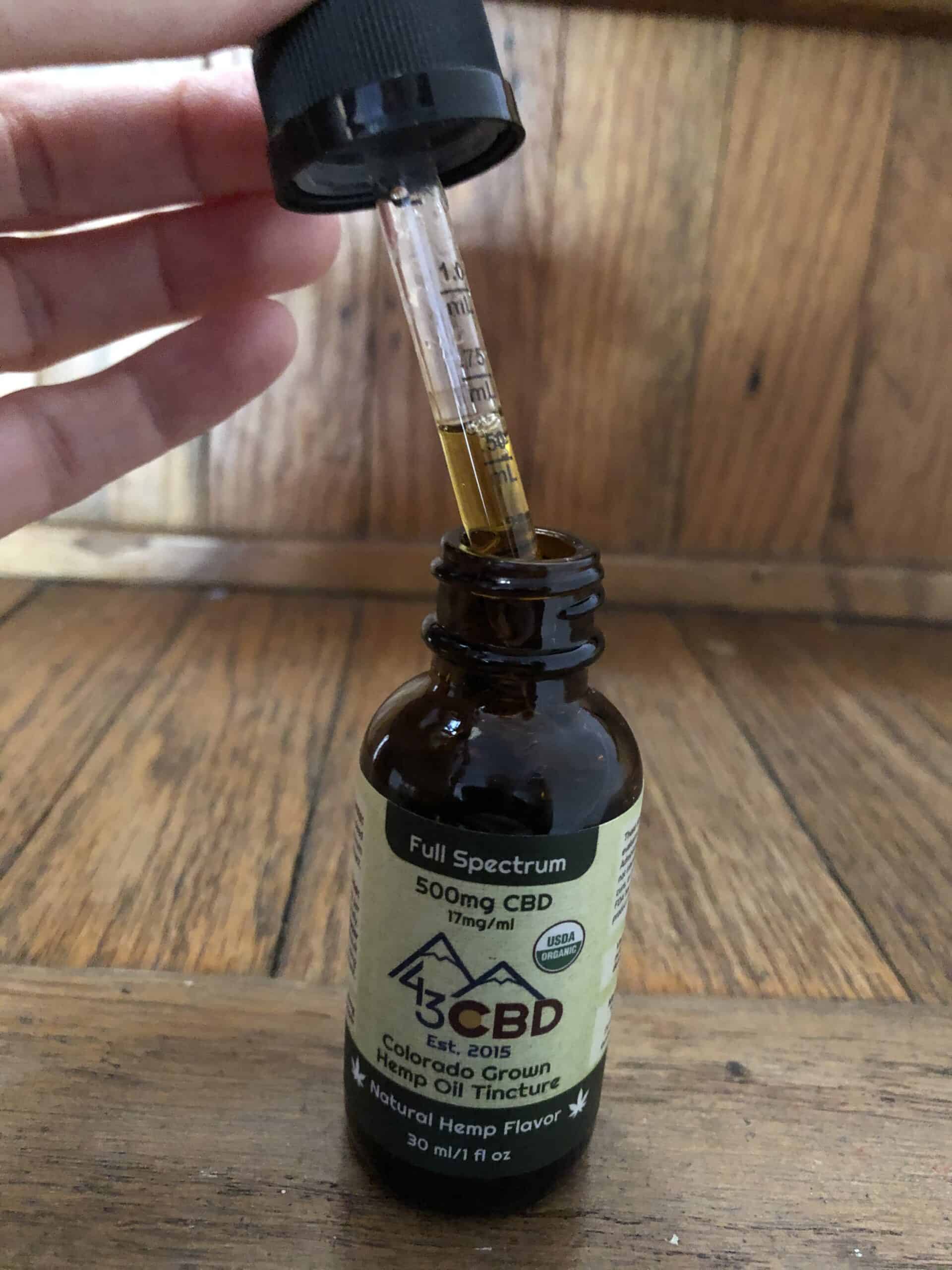 The hemp seed oil is filled with omega fatty acids, antioxidants, and vitamins. If you take this tincture sublingually, meaning you place it under your tongue, it should enter your bloodstream right away and work immediately. The measured dropper makes it easy to find the right dose for you. If you're new to tinctures, 43 CBD recommends starting with one does which is equal to about 18 – 20 mg, then work your way up as needed.
---
43 CBD USDA ORGANIC FULL SPECTRUM CBD OIL – 500 MG – NATURAL Specifications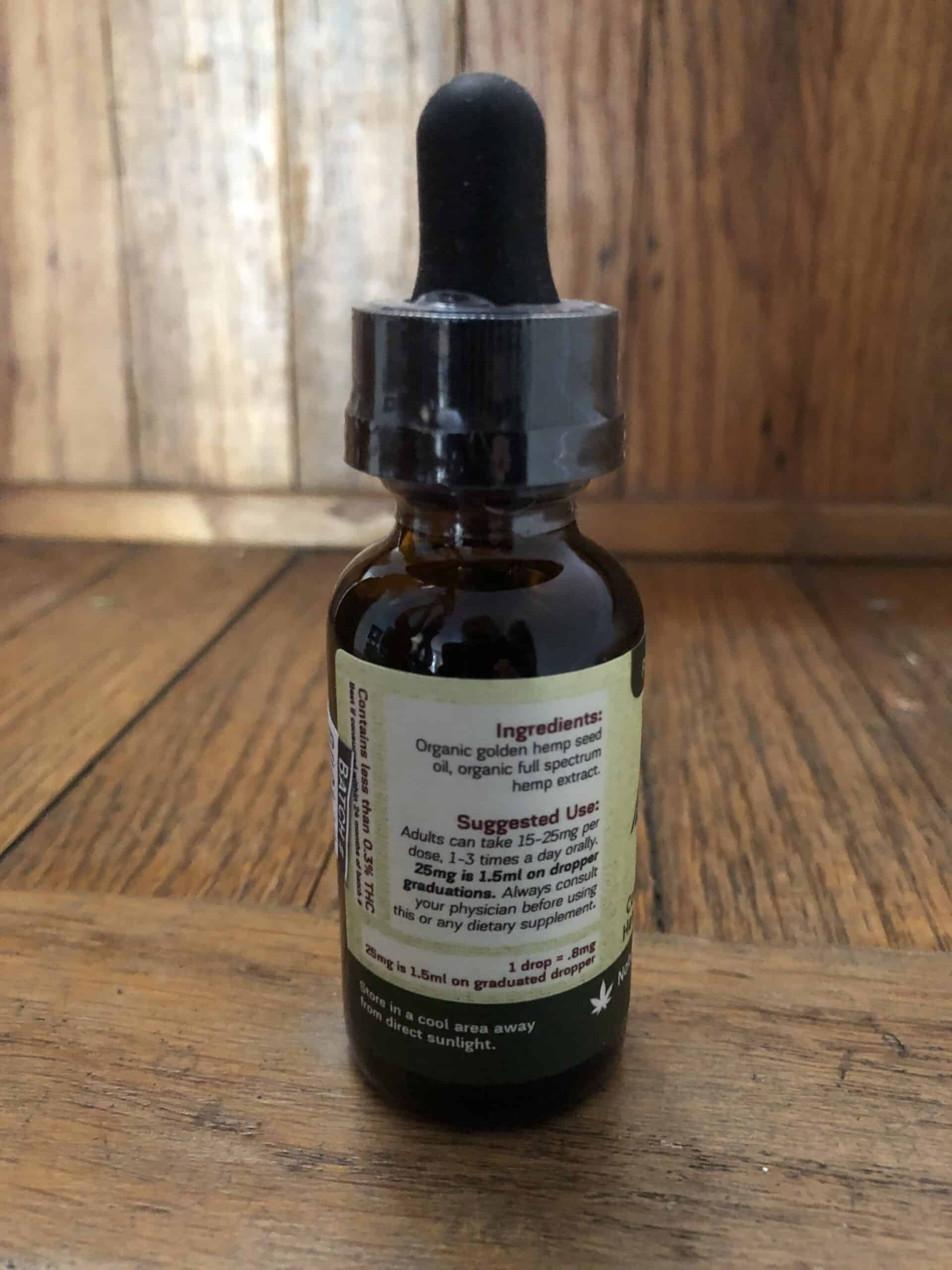 500 mg CBD
17 mg CBD per serving
30 servings per bottle
Ingredients: Organic Golden Hemp Seed Oil, Organic Full Spectrum Hemp Extract
Contains less than 0.3% THC
30 ml / 1 fl oz
---
How We Tested the 43 CBD USDA ORGANIC FULL SPECTRUM CBD OIL – 500 MG – NATURAL
43 CBD makes one of my favorite topicals so I had high hopes for their tincture. I found their Ultra Deep Tissue Salve beneficial in reducing pain and was hoping the combination of using this topical with this tincture would help me find some relief after I workout. I have fibromyalgia so keeping active is important, but when I overdo it, I really feel it.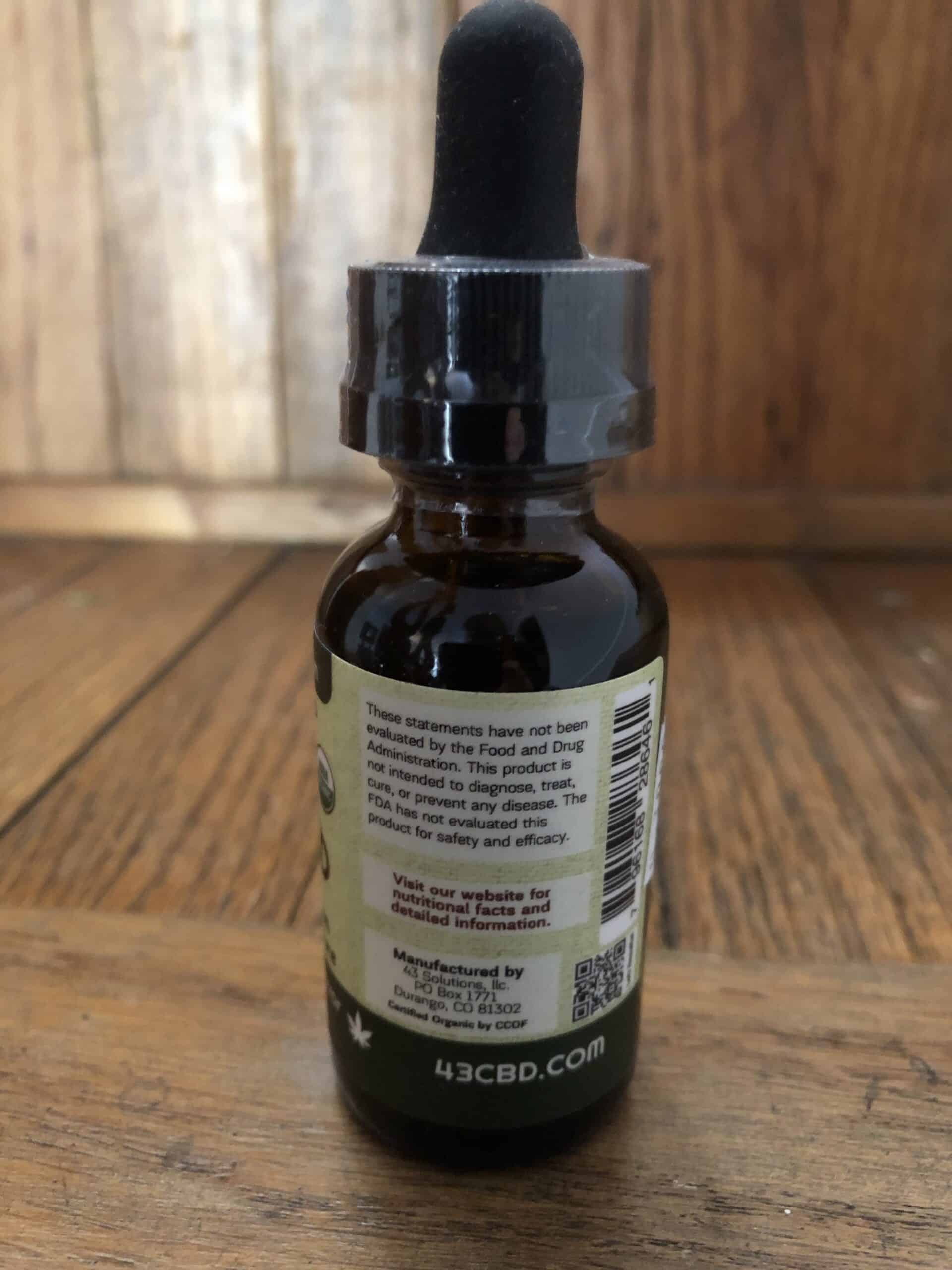 I feel more pain and more tired. This past week, whenever I did physical therapy, yoga, or went for a walk, I would apply the salve to my low back and hips then take a serving of the tincture. The dropper made it easy to find the correct dose. I squirted the hemp oil under my tongue and held it there for thirty seconds before swallowing.
---
How the 43 CBD USDA ORGANIC FULL SPECTRUM CBD OIL – 500 MG – NATURAL Worked for Me
I could feel the effects of the tincture right away. It seemed to create warmth in my body that helped me feel calm and focused. While CBD doesn't take away the pain, it certainly helps take the edge off post-workout inflammation and other symptoms. The tincture helped me push through my discomfort so I could get more done. Using this tincture in combination with 43 CBD's salve made my body feel better and I ended up getting great sleep the entire week. My only complaint about the tincture is the taste. It's bitter and hempy. I prefer my tinctures to taste better so I don't think I'd use this tincture again, despite its effectiveness.
---
Useful and Unique Things to Know About 43 CBD USDA ORGANIC FULL SPECTRUM CBD OIL – 500 MG – NATURAL
There are only two ingredients in this tincture. Organic Golden Hemp Seed Oil comes from the Cannabis Sativa plant and attains its golden color when the seeds undergo cold-pressed extraction. It's filled with healthy omega fatty acids, vitamins, and antioxidants which are great for your overall health. The second ingredient is Organic Full Spectrum Hemp Extract, which contains less than 0.3% THC. When hemp extract is full-spectrum it contains all the naturally occurring phytocannabinoids which work together to enhance the positive effects.
---
43 CBD USDA ORGANIC FULL SPECTRUM CBD OIL – 500 MG – NATURAL Ratings
In the next sections gradings from 0-100 on our review, these grades add up to give the product's overall score.
PRESENTATION • 100
Informative packaging.
RELIABILITY • 100
Effective.
QUALITY • 100
All-natural ingredients.
FLAVOR/SMELL/or EASE OF USE • 70
Bitter taste.
VALUE • 95
Fair price.
---
How 43 CBD USDA ORGANIC FULL SPECTRUM CBD OIL – 500 MG – NATURAL Stacks Up Against the Competition

Despite the effectiveness of 43 CBD USDA Organic Full Spectrum CBD Oil, I didn't care for the bitter taste. I've tried other non-flavored CBD tinctures that hid the taste of hemp better. I'd be curious to see what their cinnamon and peppermint-flavored tinctures taste like. I don't know what the secret is to create great-tasting non-flavored tinctures, but to be more competitive, it would be cool for 43 CBD to learn it.
---
Saving Money with Our Verified 43 CBD Coupons
Save money by using our verified CBD tinctures Coupons here at Save On Cannabis the World's largest online cannabis coupon code directory.
---
Disclosure: I received these products gratis so that I could try them and then share my honest opinion with the SOC community. I am employed by Save on Cannabis to write honest reviews and provided a flat rate payment for the writing of the review. SOC may receive recurring affiliate payments for purchases made based on this content.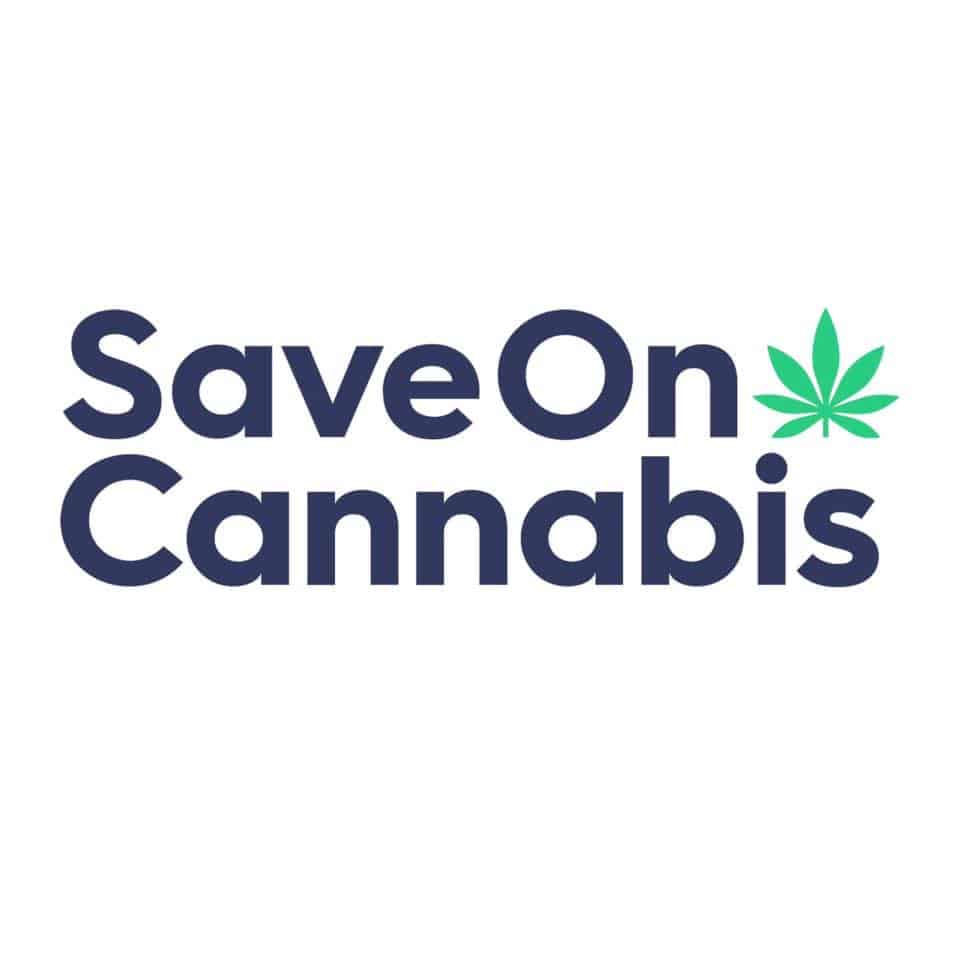 Save On Cannabis is the most trusted source for cannabis discounts and education information.  Vetted deals and clearly written articles to help you become a wiser consumer whether focused on the medical or recreational value of cannabis products.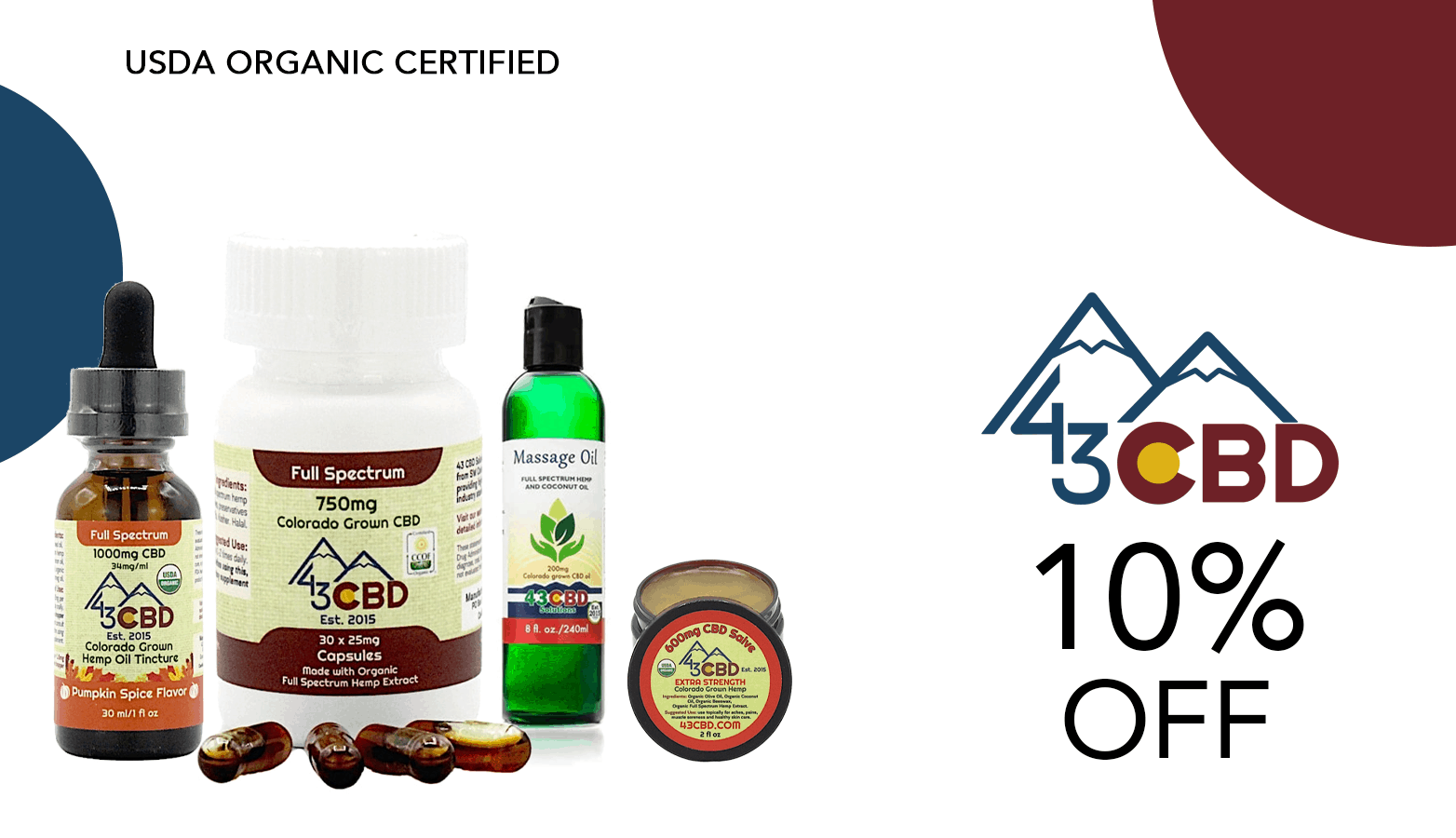 10% Off for Returning Order customers at 43 CBD Solutions! Colorado USDA Organic Grown Hemp.
Watch Our In-Depth Video Review of LEVO C - The Ultimate Cannabis Infusion Device. Unleash Deliciously Potent Edibles with Ease!
Read this Joy Organics review to see if this CBD energy drink take the place of a morning coffee and give some added bonus.
Looking for a vape oil and vaporizer in Canada? Read the Ohm Connect 2.0 review here! Our expert reviewer breaks it down with awesome photos.