Steve's Goods Review: CBD/CBG 20:1 OIL (Watermelon Kush)
Dec 6, 2018 | Romy
CBDCBD TincturesCBGCBG Tinctures
Steve's Goods CBD/CBG 20:1 OIL 500 MG (Watermelon Kush)
Pros
Helped With Mood and Chronic Pain
Full of Nutrients and Vitamins
Unique Reci[e
All-Natural
High in CBD
Brand Overview: STEVE'S GOODS
Steve's Goods makes high-quality CBD products grown, extracted, and packaged in Colorado by trusted farmers. This company is one of the only CBD sellers using one of the lesser-known components of the hemp plant, CBG. The combination of CBD and CBG to your daily routine is a non-psychoactive and natural alternative to opioids. Steve has done a ton of research into the world of CBD and wants to bring a fair cost to superior hemp products.
Products: CBD Tinctures, CBD Concentrates, CBD Vape Oil, Edibles, Bundle Deals, CBD Pet Tinctures, CBD Topicals
Price Range ($-$$$$): $$
About the STEVE'S GOODS CBD/CBG 20:1 OIL 500 MG (WATERMELON KUSH)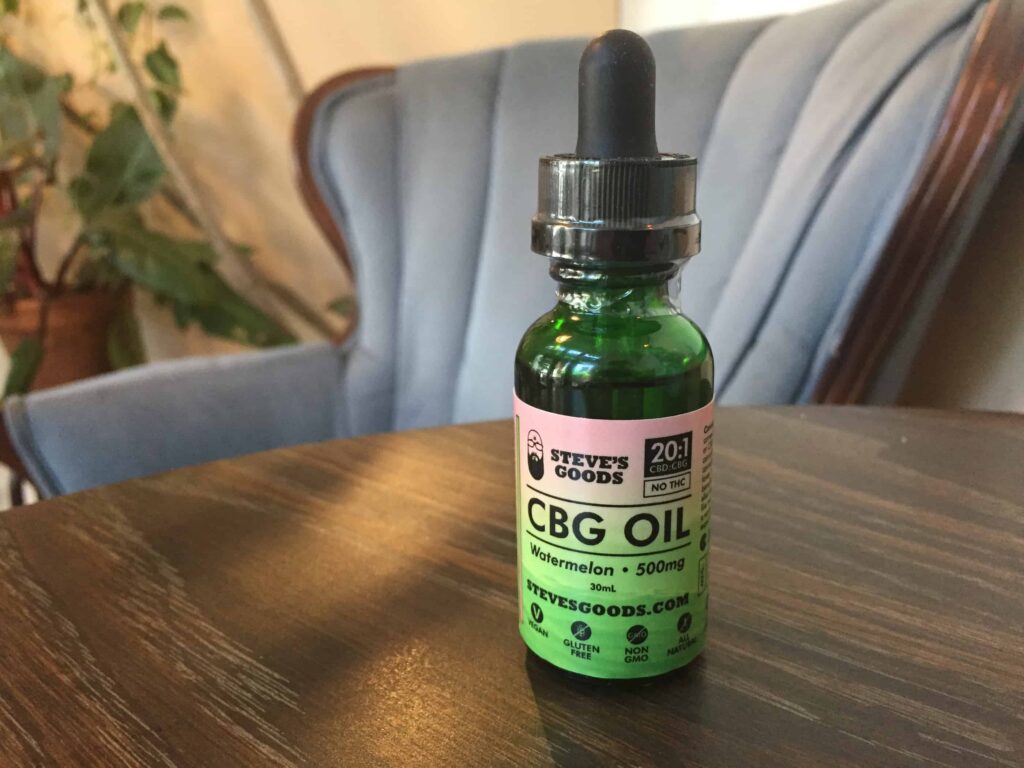 Steve's Goods makes one of the strongest, all-natural, CBD/CBG oils on the market. Their oil is unique because it combines broad-spectrum, THC free distillate, that contains up to 8% CBG per gram and CBD isolate.  The tincture also has over 80 different phyto-cannabinoids that work to enhance each other. Depending on the % of CBG, they add extra CBG isolate to make it a 20:1 product. Cannabigerol (CBG) is the molecule that's like the big daddy to THC, CBC and CBD. The oil's health and wellness benefits include mental clarity, focus, calm, and relief for pain and inflammation. Along with an infusion of Watermelon Kush terpenes and monk fruit, the tincture is also delicious. Steve's Goods believes that CBG should become a part of your daily routine because it helps the body maintain homeostasis of the endocannabinoid system which helps regulate digestion, sleep, and nerves.
STEVE'S GOODS CBD/CBG 20:1 OIL 500 MG (WATERMELON KUSH) Specifications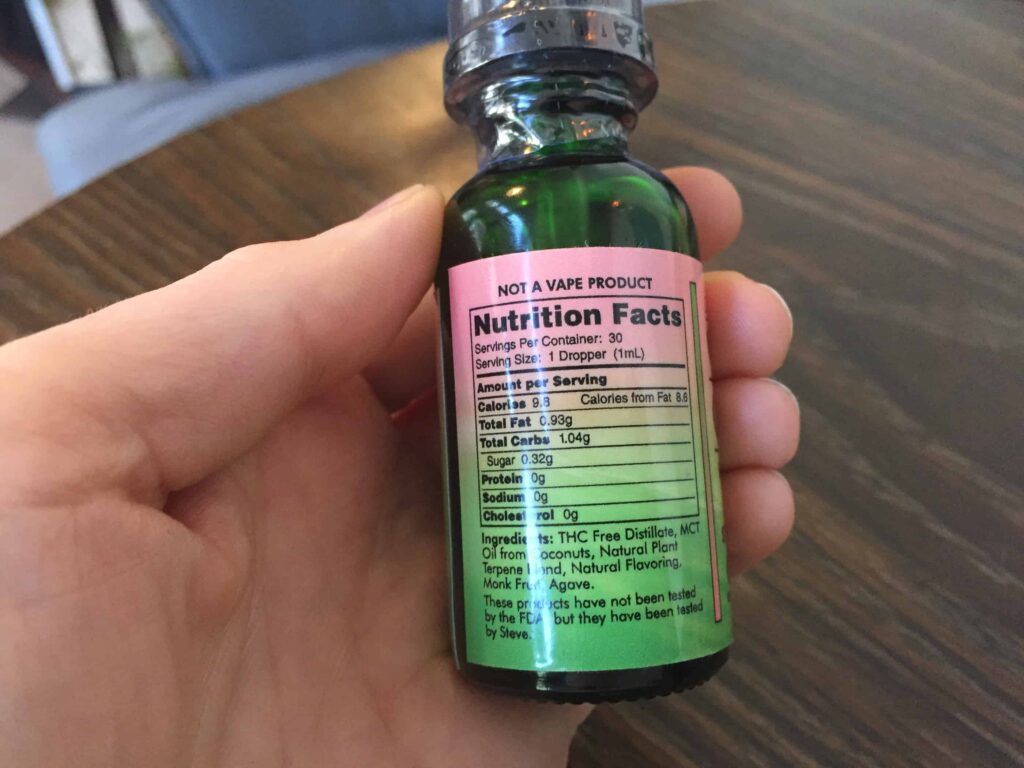 Ingredients: 1 gram CBD/CBD wax, Watermelon OG Terpenes, MCT Oil, Natural Flavoring, Monk Fruit Agave

Shake well

Serving size per container: 30

1 dropper (1 mL)

Short-term effects usually begin to take effect within 20 to 60 minutes

Tincture comes in 500 mg, 1000, mg, and 2500 mg full-spectrum bottles

75 mg to 140 mg CBG per bottle

High amounts of CBG, CBD, CBN, & CBC

100% THC free

Third-party lab tested

Not a vape product
How We Tested the STEVE'S GOODS CBD/CBG 20:1 OIL 500 MG (WATERMELON KUSH)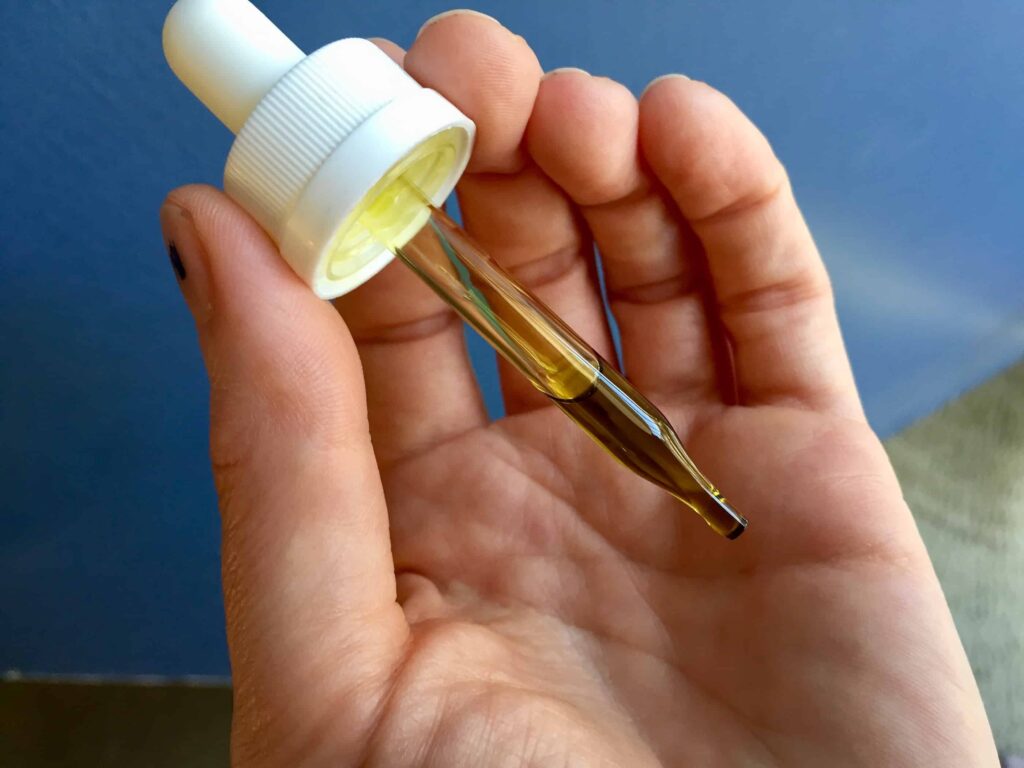 After years of having undiagnosed chronic pain in my hip and lower back, I very recently found a pain specialist who knew exactly why I'm a relatively young woman dreaming of a hip replacement. I won't get into all the medical mumbo-jumbo of everything that is wrong with me, but my lower spine is messed up, causing me to walk like a peg-legged pirate. My new amazing pain specialist prescribed me some non-addictive pharmaceuticals specifically for my issues and had no problem with me combining these meds with cannabis.
I've been hearing good stuff about the Steve's Goods company, which has a funky mom and pop vibe with their psychedelic packaging, complete with a cartoon version of the owner, Steve. I was excited to get a hold of the CBD/CBG oil because I've never tried anything with a high dose of CBG. I've read that the benefits of combining these cannabinoids, along with high amounts of CBN and CBC, offers an all-natural solution to chronic pain.
The Steve's Goods company recommend making the CBD/CBG oil as a part of your daily routine, so I decided that along with my thrice-daily dose of baclofen and gabapentin, I would also add a dropper of this cannabinoid-packed tincture, and write this review after a week of taking all three.
How the STEVE'S GOODS CBD/CBG 20:1 OIL 500 MG (WATERMELON KUSH) Worked for Me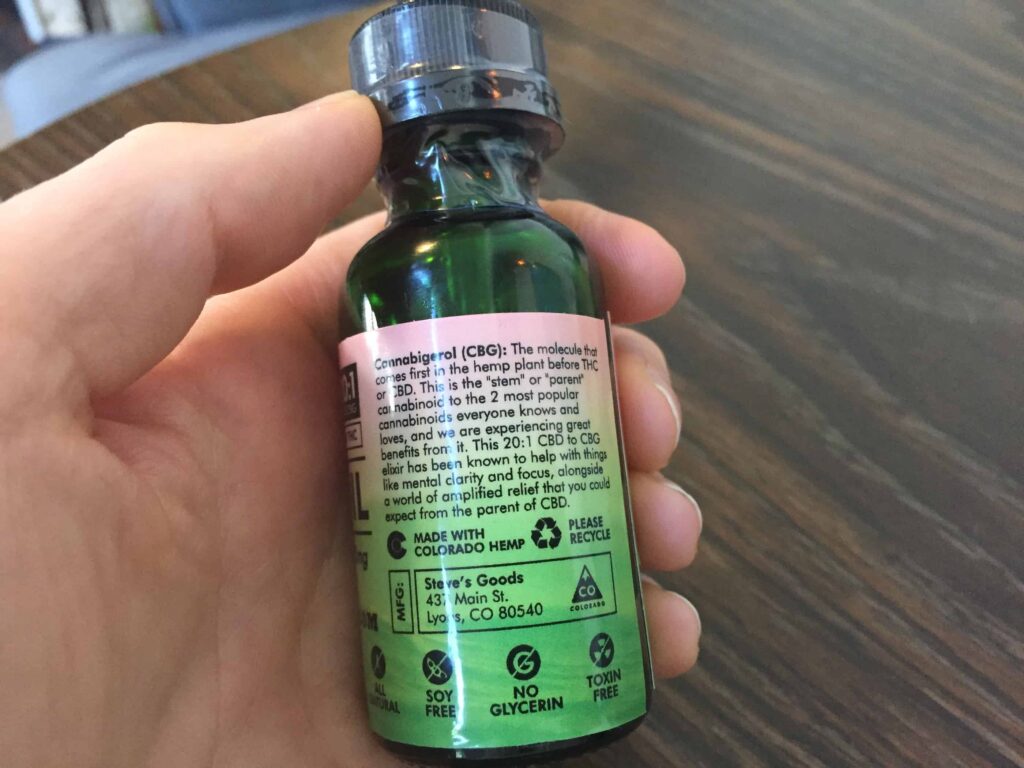 The combination of my new meds and the CBD/CBG oil helped reduce my pain in mild but significant ways. For the past two days, I've gone on long walks without aggravation. Now instead of complaining about my pain while I walk, I talk about how amazing it is to be able to walk! The taste is really nice too, with a hint of watermelon and barely any hemp flavor. I've made this tincture a regular part of my day.  
Useful and Unique Things to Know About STEVE'S GOODS CBD/CBG 20:1 OIL 500 MG (WATERMELON KUSH)
The Steve'S Goods hemp extract contains amino acids, vitamins (including B1, B2, B6, and D), omega fatty acids, minerals (including iron, zinc, calcium, magnesium, and potassium), beta-carotene, chlorophyll, alkanes, and a variety of terpenes each offering different health benefits. Taking a serving of this hemp oil is like taking a superfood extract. All of these ingredients work together to help your bones, eyes, nervous system, brain, and so much more. No wonder I'm feeling so much better mentally, not just pain-wise.
STEVE'S GOODS CBD/CBG 20:1 OIL 500 MG (WATERMELON KUSH) Rating Breakdown
Gradings from 0-100.
PRESENTATION • 100
I adore their funky and unique packaging that's jam-packed with information.
RELIABILITY • 100
The most reliable tincture I've ever tried for chronic pain. After the first hour, I felt a sense of calm and after taking it for a week, my overall mood was better.
QUALITY • 100
This company uses all-natural unique ingredients.
FLAVOR and SMELL • 95
Smells and tastes like watermelon with a hint of hemp!
VALUE • 95
All CBD products are pricey but this one is actually worth the money because it works like medicine.
How the STEVE'S GOODS CBD/CBG 20:1 OIL 500 MG (WATERMELON KUSH) Stacks Up Against the Competition
There are few products on the market that have high doses of CBG which makes this worth the high price tag. I found a wholesale company that sells CBG oil, but buying wholesale doesn't really help the laymen. I also found a product that sells a pure CBG oil, but without the benefits of the other cannabinoids. I think the Steve's Goods company is really onto something with their product line. As CBD products become more and more popular, maybe other companies will follow suit.
Saving Money With  STEVE'S GOODS Coupon Codes
Save money with CBD Tincture coupons here at Save On Cannabis the World's largest online cannabis coupon code directory.
Disclosure: I received these products gratis so that I could try them and then share my honest opinion with the SOC community. I am employed by Save on Cannabis to write honest reviews and provided a flat rate payment for the writing of the review.  SOC may receive recurring affiliate payments for purchases made based on this content.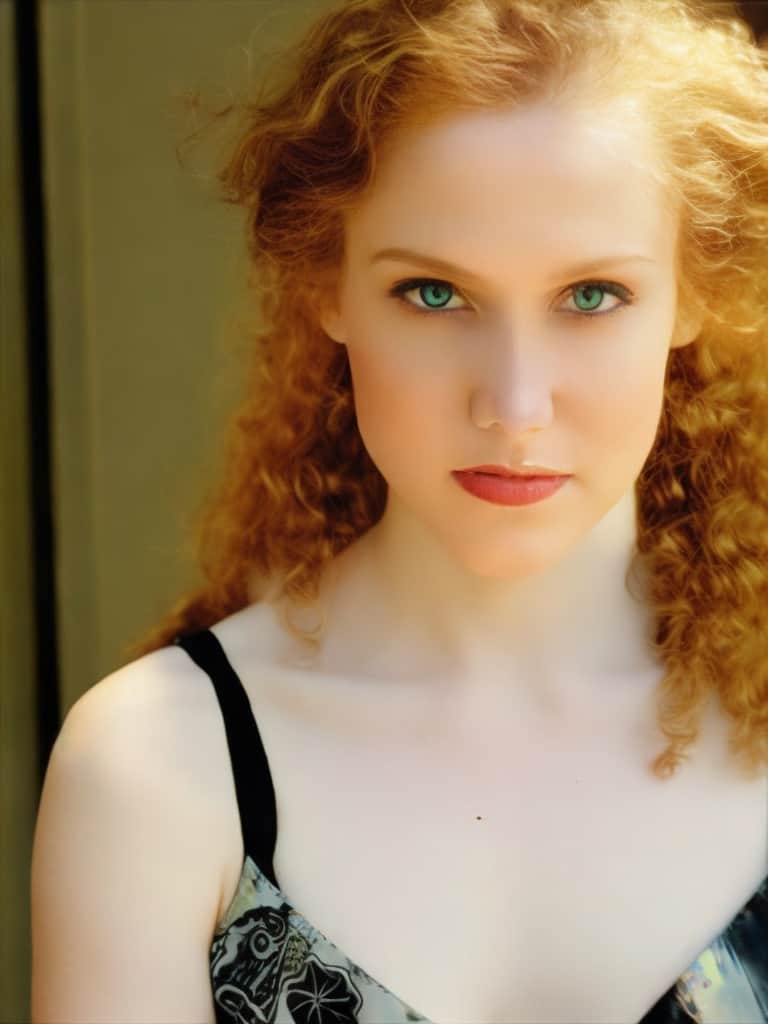 A medicinal cannabis user, utilizing the power of the plant to ease the pains and stresses from long standing conditions that other over the counter or prescriptions could not fix or weren't a natural option like cannabis.  Also, has a background in working directly in the cannabis industry in California within various dispensaries.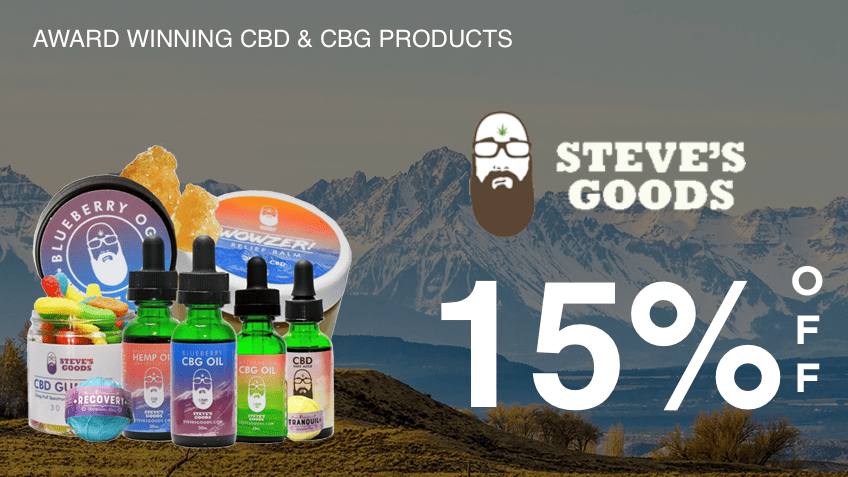 15% OFF CBD shatter with terpenes and more at Steve's Goods! Also get Delta 8 products now. USA Shipping.
Looking for high-quality CBD Shatter? We tested out the Steve's Good Terpin Gorilla CBD Shatter and broke down how it worked for our needs.
Looking for a CBD topical for pain? Our reviewer tested the Vapen CBD Deep Muscle Relief CBD Balm. See how it worked and if we recommend, also get coupons.
We've tested so many CBD products that our expert in topicals tells you in this Social CBD Body Lotion review if it is a reliable product.