CBD For Life Review: Lemongrass Kiwi Bath Bomb
Sep 17, 2020 | SOC
CBD For Life Lemongrass Kiwi Bath Bomb
Pros
Relaxing
Soothing
Moisturizing
Smells lovely
Natural ingredients
Cons
It didn't smell like lemongrass kiwi
CBD FOR LIFE
Product Review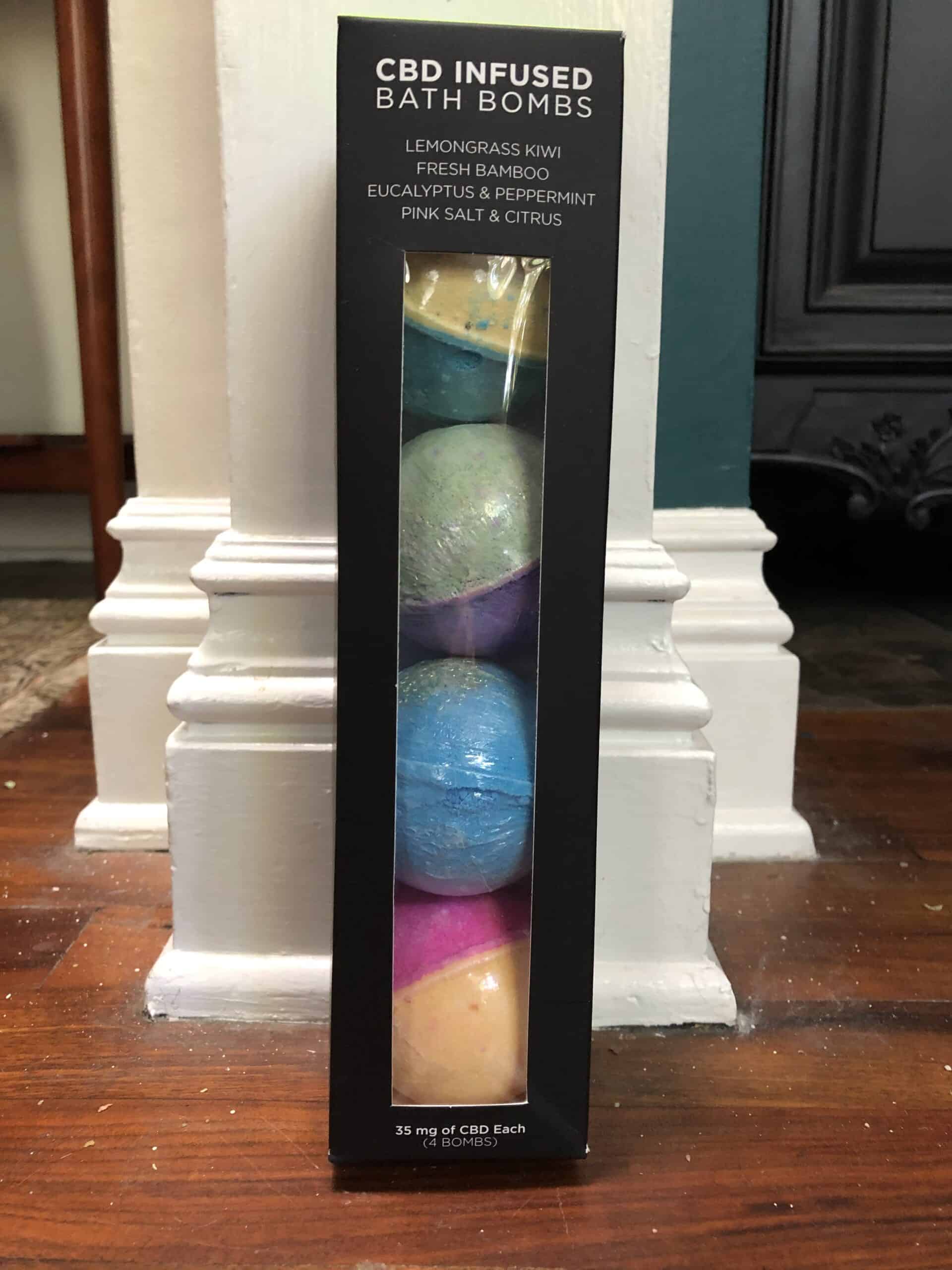 Brand Overview: CBD FOR LIFE
CBD for Life began when co-founder Beth sought relief for her back pain that wouldn't make her feel high. She joined forces with a bona fide chemist and along with her sister Julie created their first CBD topical. The company's mission is to make high-quality CBD products so you can look and feel your best. CBD for Life has a variety of topicals, tinctures, skincare, and bath products made with CBD isolate, essential oils, and other plant-based ingredients.
Sourced from industrial hemp at a farm in Colorado that uses organic and sustainable methods, CBD for Life has everything lab tested for purity and potency. Whether you're looking for a soothing topical to bring you pain relief, a moisturizer designed specifically for your feet, or a tincture that's both non-psychoactive and non-addictive, CBD for Life has something for you.
Products: Hair Products, Sanitizers, Topicals, Bath Bombs, Tinctures, Skincare.
Price Range ($-$$$$): $$
---
About CBD FOR LIFE LEMONGRASS KIWI BATH BOMB
The Lemongrass Kiwi Bath Bomb from CBD for Life is just the thing you need after a long, stressful day. There's nothing better than soaking your sore muscles in a tub, but when you add the benefits of a CBD bath bomb , you're in for an experience that will leave you feeling and sleeping better. It will even moisturize your dry skin. The lemongrass kiwi bath bomb contains 35 mg of CBD along with organic essential oils and a mix of healing salts.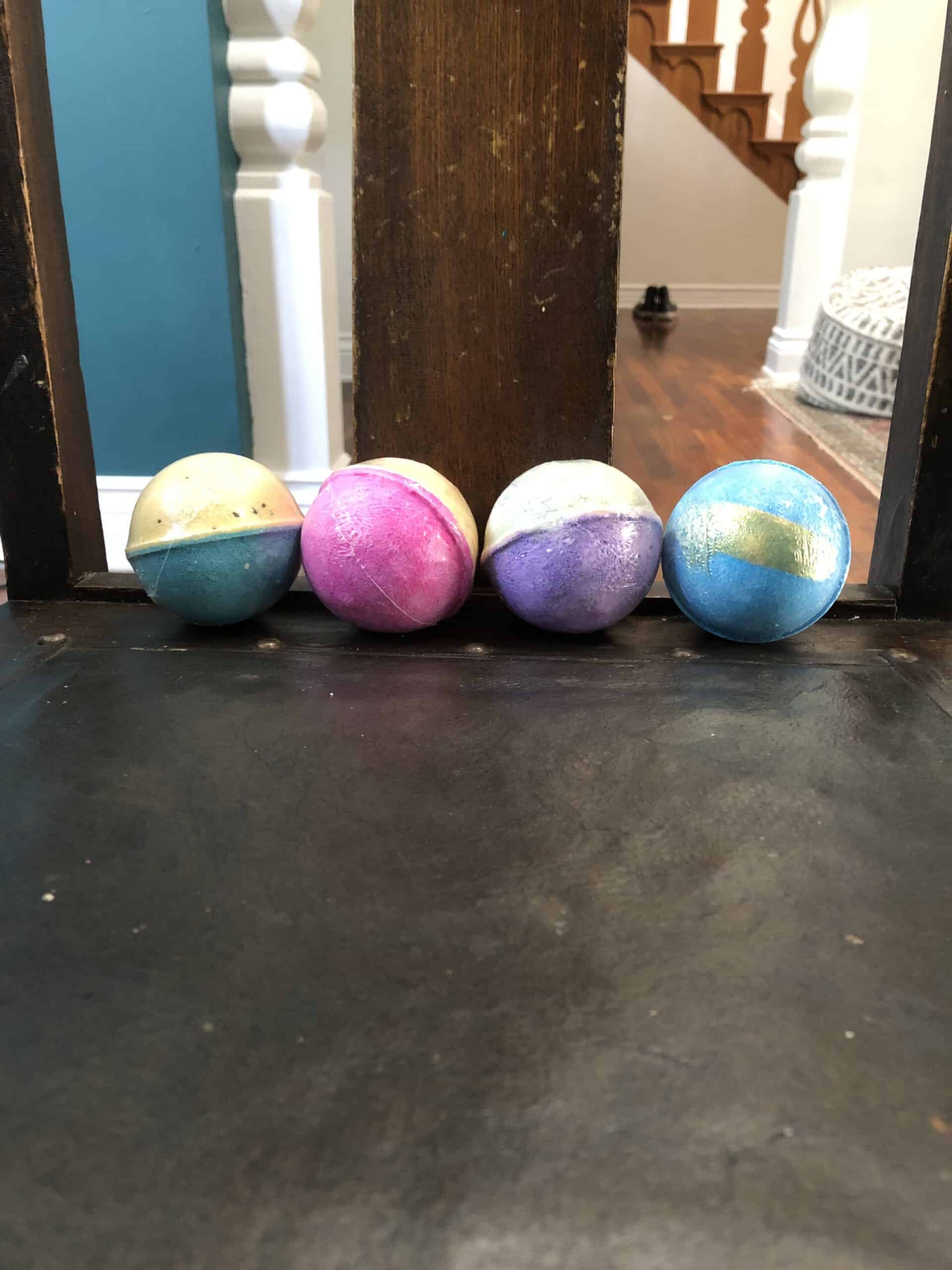 Everything CBD for Life puts into this bath bomb is vegan and free from parabens. The colorants are batch certified to make sure they're pure and natural. CBD for Life has three other scents besides lemongrass kiwi, and you can get them all in a combo pack. The lemongrass kiwi scent will help ease your stress and might help with inflammation. To use, just drop the bomb into a tub of warm water and allow yourself to soak for at least thirty minutes to get the best results.
---
CBD FOR LIFE LEMONGRASS KIWI BATH BOMB Specifications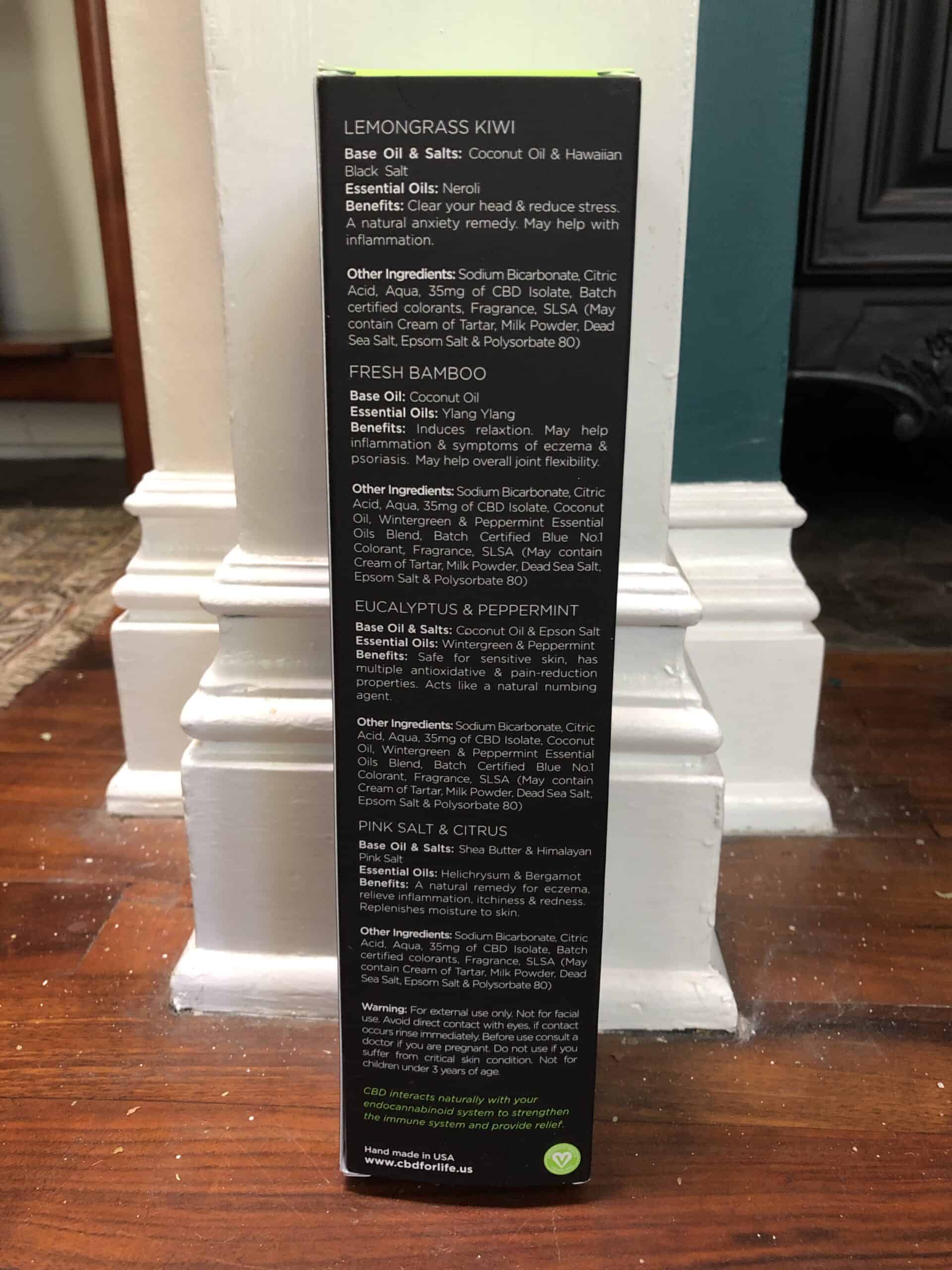 35mg CBD isolate

Ingredients

: Coconut Oil, Hawaiian Black Salt, Sodium Bicarbonate, Citric Acid, Aqua, Batch Certified Colorants, Fragrance, SLSA (may contain Cream of Tartar, Milk Powder, Dead Sea Salt, Epsom Salt, and Polysorbate 80).
---
How We Tested the CBD FOR LIFE LEMONGRASS KIWI BATH BOMB
I was so excited to get the CBD for Life Bath Bomb Combo Pack in the mail because bath bombs are the best! I love the different scents and how they just make any bath more relaxing. I opted to try the lemongrass kiwi bomb first because it's supposed to be good for clearing your head and reducing stress. I'm an "older student" going back to college and juggling classes, combined with health issues is a challenge.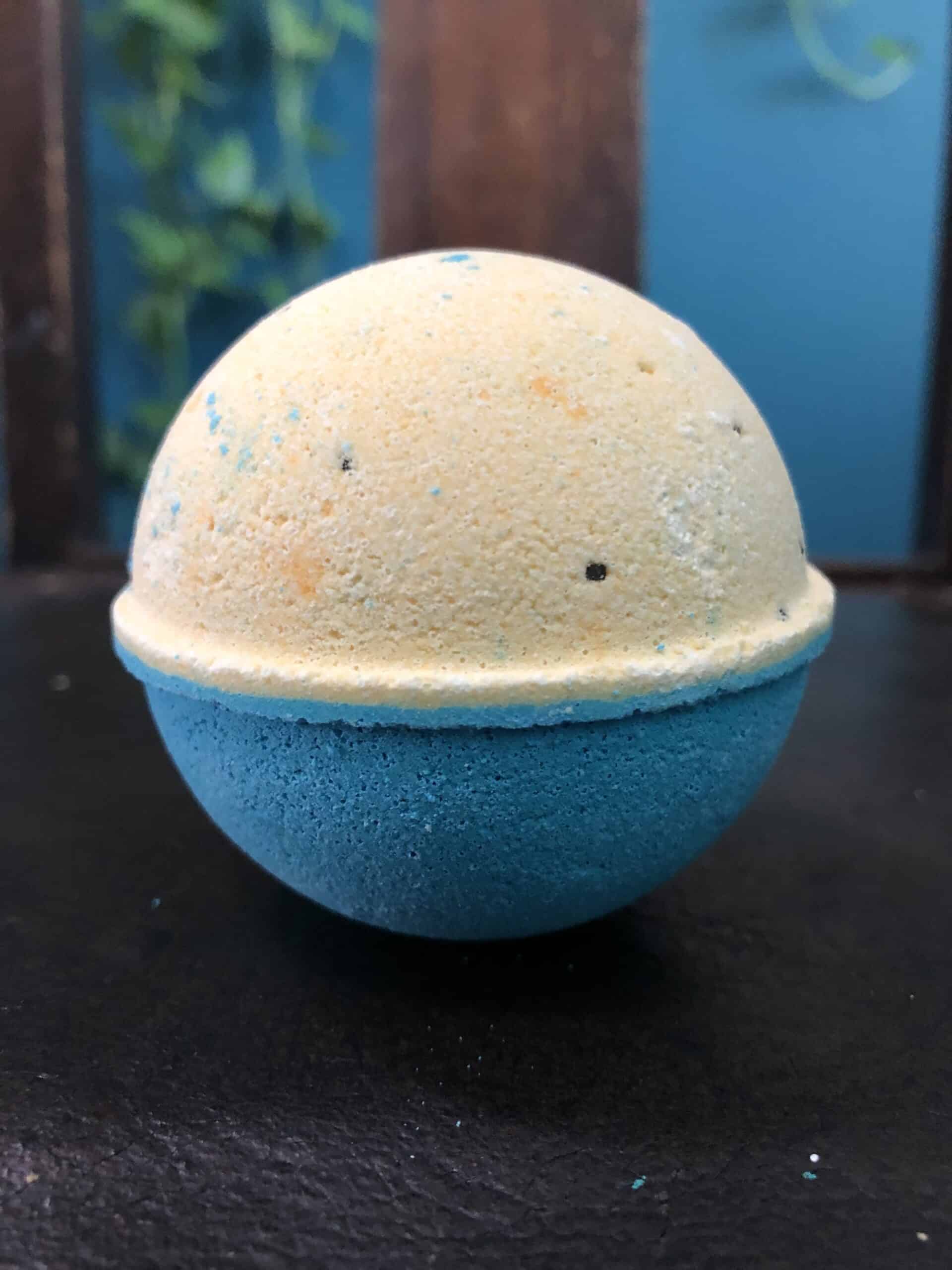 It can get overwhelming because my dream graduate schools require a 4.0, so I'm pushing myself to get A's. The stress can get to me, particularly when I'm not feeling well due to my health. I've been saving this bath bomb to use after my first day of classes, to help me unwind, and hopefully to make my inflamed joints feel better too. I unwrapped the lemongrass kiwi bath bomb as I was running the bath and when it was full, dropped it in.
---
How the CBD FOR LIFE LEMONGRASS KIWI BATH BOMB Worked for Me
I soaked in the tub for thirty minutes, closing my eyes, and listening to Spotify to try to drown out the sound of my housemates' kids screaming in the next room. The scent from the essential oils soothed my nerves and I started to feel human again. To me, the bath bomb didn't smell like lemongrass kiwi, and when I looked on the box, I saw it didn't contain any lemongrass or kiwi.
I'm not complaining, the scent was amazing, but I couldn't tell you what it was by smell alone. According to the box, it contains neroli essential oil and coconut oil, which I'm guessing contributed to its lovely scent. Another great thing about this bath bomb is it helped soothe my arthritic hips, hands, and feet. For an hour or two after my bath, I could almost forget I'm in constant pain. I just wish they made bath bombs that could withstand multiple baths because I would love to use this bath bomb over and over again.
---
Useful and Unique Things to Know About CBD FOR LIFE LEMONGRASS KIWI BATH BOMB
This bath bomb contains neroli essential oil which is known to reduce inflammation and scarring. It's derived from the orange flower and is often used in skincare products. The bath bomb also contains a variety of salts like Hawaiian black salt, Dead Sea salt, and Epsom salt. Hawaiian black salt is great for your skin and circulation. Dead Sea salt strengthens and balances your skin. Epsom salt, which was recommended to me by my podiatrist for a foot injury, can reduce pain and swelling.
---
CBD FOR LIFE LEMONGRASS KIWI BATH BOMB Ratings
In the next sections gradings from 0-100 on our review, these grades add up to give the product's overall score.
PRESENTATION • 80
The packaging is informative but the ingredients listed are different than the website so a bit confusing. Does it have milk powder or not?
RELIABILITY • 100
Works as advertised.
QUALITY • 100
Great ingredients designed to make your body and mind feel better.
FLAVOR / SMELL / gold EASE OF USE • 90
Great scent but didn't smell like lemongrass or kiwis.
VALUE • 90
A little pricey but for a CBD bath bomb, it's about average.
---
How CBD FOR LIFE LEMONGRASS KIWI BATH BOMB Stacks Up Against the Competition
I tried all four of CBD for Life's bath bombs and found them all to be equally effective in soothing my joints and muscles as well as helping to relieve stress. Between the four of them, I liked the scent of the Eucalyptus & Peppermint Bath Bomb the best. It had the strongest smell of the four, and I love anything with eucalyptus. My second favorite was the Pink Salt and Citrus. It had the most unique smell, and like the eucalyptus and peppermint, was strong. If you're looking for a more mild scent, the Lemongrass Kiwi and the Fresh Bamboo are your best bets. While I liked the smells, they were too subtle for my taste.
---
Saving Money with Our Verified PURE CBD VAPORS Coupons
Save money by using our verifiedCBD Bath Bombs here at Save On Cannabis the World's largest online cannabis coupon code directory.
---
Disclosure: I received these products gratis so that I could try them and then share my honest opinion with the SOC community. I am employed by Save on Cannabis to write honest reviews and provided a flat rate payment for the writing of the review. SOC may receive recurring affiliate payments for purchases made based on this content.

In this Steve's Goods review we tested the CBG and CBD 5000mg tincture. See how it stood up to our expectations and how it worked.
We put the ZenWorks CBD Gummies to the test to see if they worked for our reviewers chronic pain and sleep troubles. See if eating these cute bears worked.
Delta-8-THC is legal and available online. See our reviewer's experience in this Delta Extrax review.