CBD Review: Aspen Green Pain Relief CBD Body Balm 1000mg
Oct 14, 2020 | SOC
spen Green Pain Relief CBD Body Balm 1000mg
Pros
Relieves mild pain
Softens
Moisturizing
Organic ingredients
ASPEN GREEN PAIN RELIEF BODY BALM
Product Review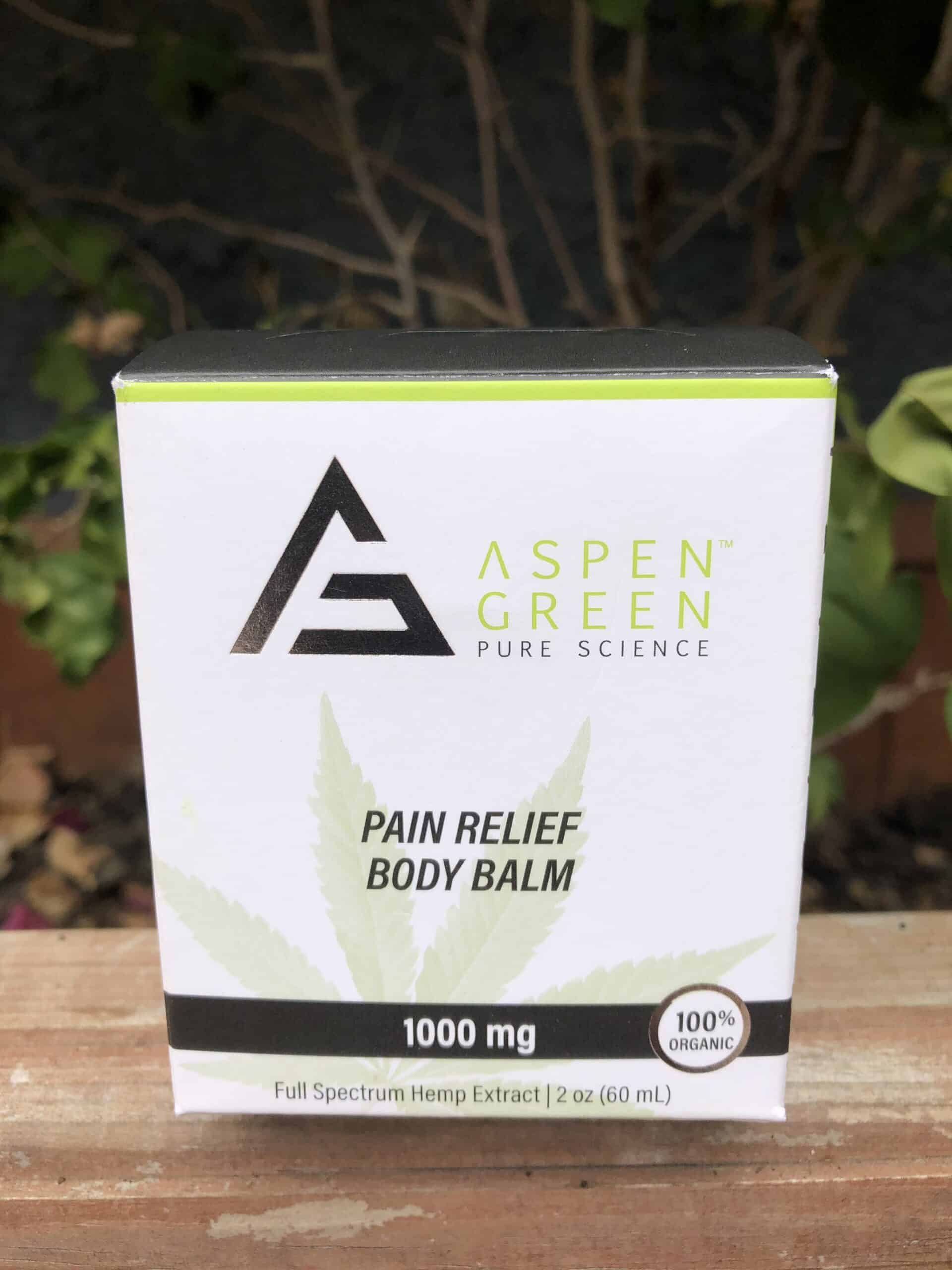 Brand Overview: ASPEN GREEN
Aspen Green uses full-spectrum hemp to create the purest and most potent CBD products on the market. Their products are great for people looking for extra relief from various ailments through natural and non-addictive supplements. Aspen Green was founded on the principles of quality, integrity, and transparency. The company uses organic hemp from the most trustworthy farms in Colorado to ensure that the stuff they put in their products is high-quality from the seeding process to delivery.
Because they use full-spectrum hemp, their products still maintain all the naturally occurring vitamins, minerals, alkaloids, terpenes, and flavanoids for a complete CBD experience.
Products: Full-Spectrum Hemp Oils, Topicals.
Price Range ($-$$$$): $$$
---
About ASPEN GREEN PAIN RELIEF BODY BALM
Aspen Green combines full-spectrum hemp with other natural ingredients to help relieve pain in your muscles and joints. This 2-ounce body balm contains 1,000 mg of the aerial parts of the hemp plant, of which about 600 mg is CBD. With less than 0.3% THC, this topical also include CBN, CBG, CBC, and CBDa. All these different phytocannabinoids work together to create a pain-relieving experience. This stuff is also filled with beneficial terpenes which help to enhance the effects of the hemp.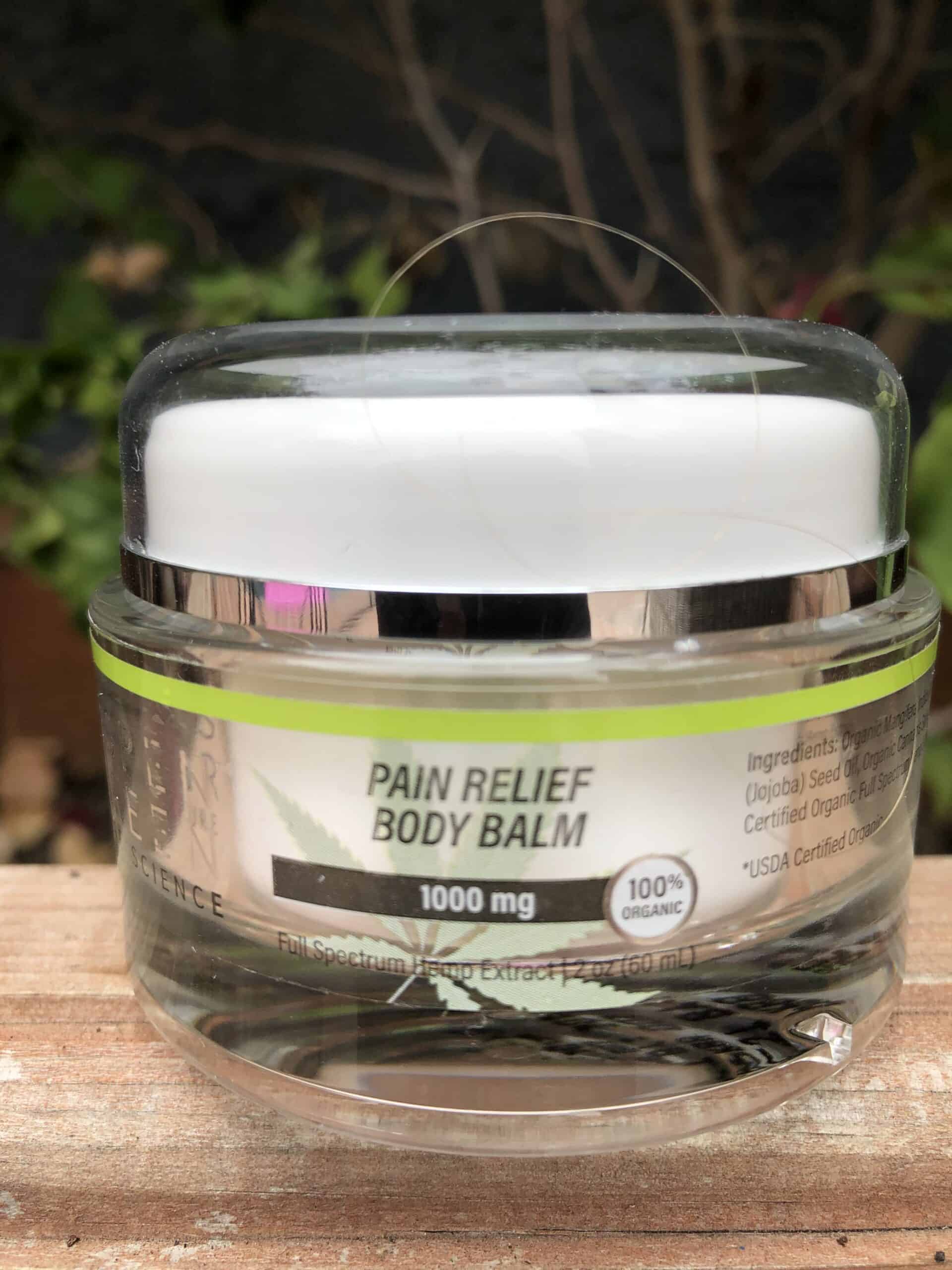 Aspen Green Pain Relief Body Balm doesn't just fight pain but contains soothing ingredients to soften and moisturize your skin like mango butter and jojoba seed oil. Every single ingredient is cruelty-free, organic, and free from toxins and chemicals. To use, just massage a pea-sized amount into your skin and add more as needed. You can use this topical for bone, ligament, joint, and menstrual pain.
---
ASPEN GREEN PAIN RELIEF BODY BALM Specifications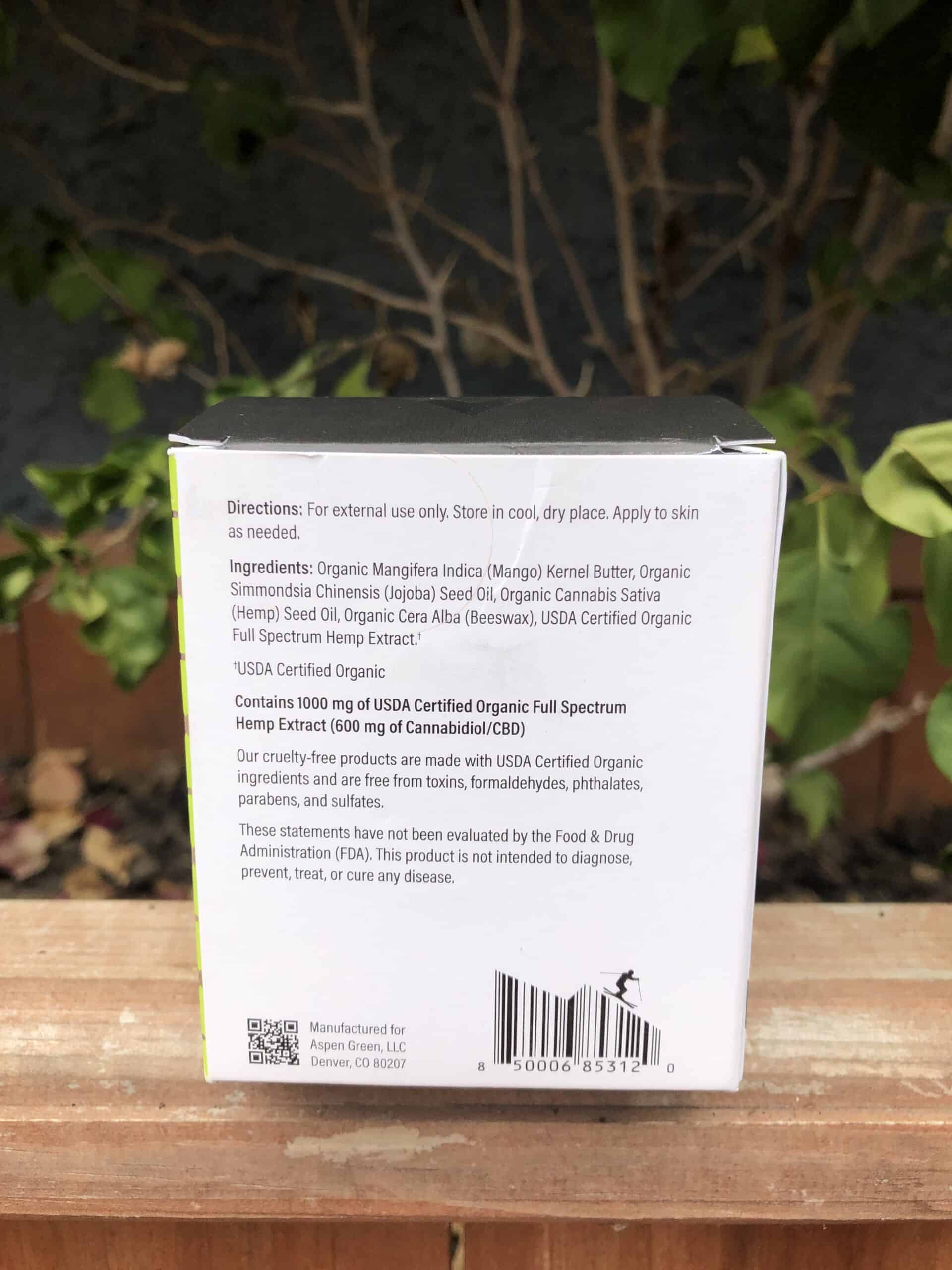 1,000 mg full-spectrum hemp (600 mg CBD)
2 oz (60 ml)
Less than 0.3% THC
1 oz (30 ml)
Ingredients: Organic Mangifera Indica (Mango) Kernel Butter, Organic Simmondsia Chinensis (Jojoba) Seed Oil, Organic Cannabis Sativa (Hemp) Seed Oil, Organic Cera Alba (Beeswax), USDA Certified Organic Full Spectrum Hemp Extract.
---
How We Tested the ASPEN GREEN PAIN RELIEF BODY BALM
I have chronic pain in my feet, hands, knees, quads, hips, pelvis, and low back from untreated juvenile idiopathic arthritis that has developed into numerous issues and disabilities as an adult. It's crazy to think it took thirty years to find out that my pain is caused by arthritis, and I've reached a point where there's no getting better, there's just managing the pain.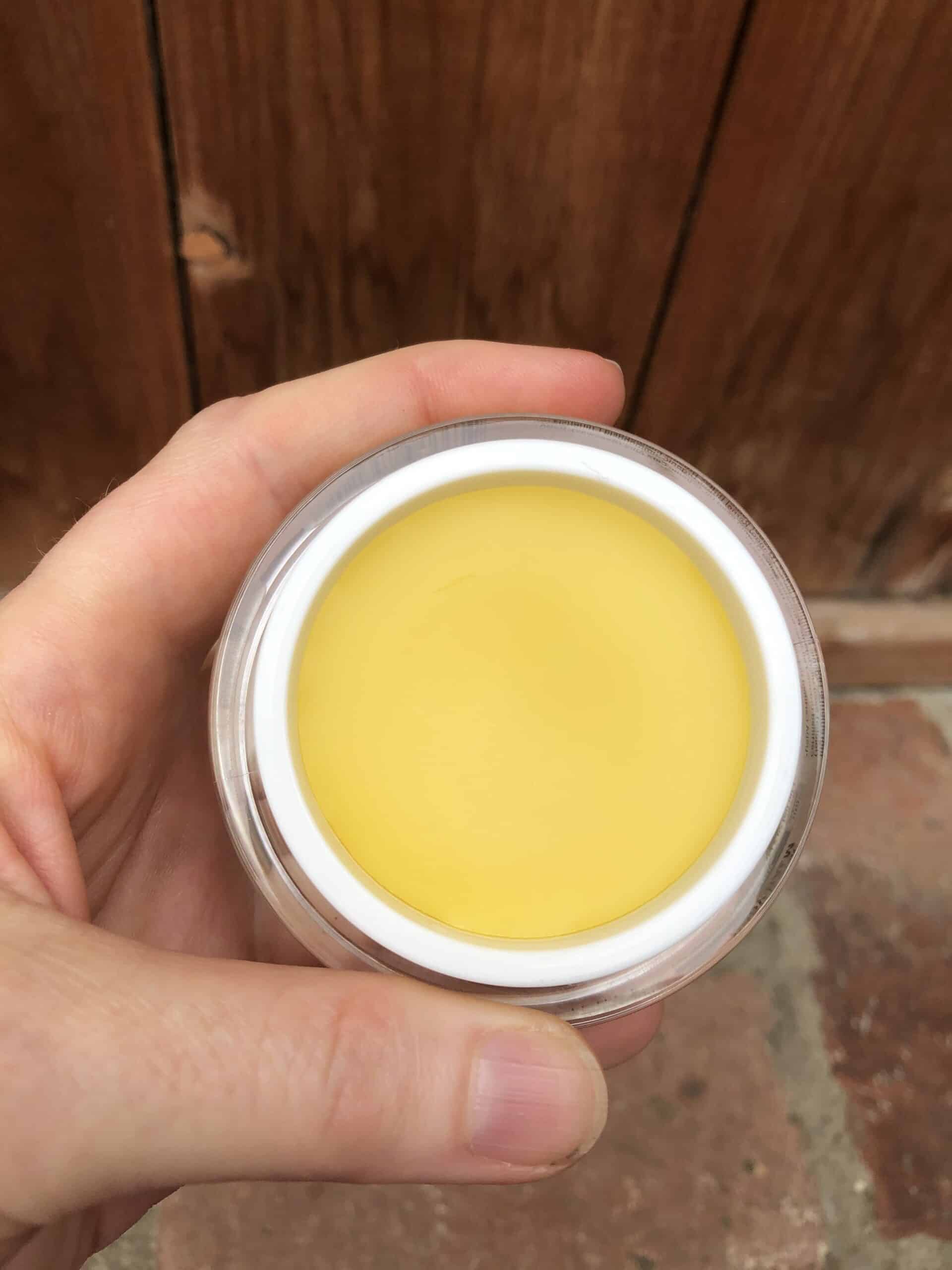 When I was looking at Aspen Green's line of topicals, I became interested in trying their Pain Relief Body Balm because one of the reviews talked about how it had helped the customer's elderly father go down in his prescribed medication because it helped relieve so much of his pain. I take a high dose of Gabapentin for the pain, which barely helps, so I'd love to find something natural and non-addictive to bring more relief. I applied a small amount to my painful areas in the morning before starting my day, then again at night. I hoped the extra relief would help me focus better during the day, and sleep better at night.
---
How the ASPEN GREEN PAIN RELIEF BODY BALM Worked for Me
The balm was soothing and moisturizing. It immediately made my skin feel softer. The hemp body balm worked to help bring relief to some of the more mild pain in my hips, hands, and feet. This relief helped me focus more on work, and less on the pain during the day. At night, when the more severe pain in my back and hips prevents me from falling asleep, I found I needed to add an icy topical for more relief. In sum, this stuff worked for my more mild pain, but I needed something stronger for the more severe pain.
Most of the topicals from Aspen Green smell like hemp. If that kind of thing doesn't bother you, then these high-quality and organic products will work fine. I prefer a topical that doesn't smell like hemp, so I don't feel self-conscious when I go out into the world. Because Aspen Green Pain Relief Body Balm smelled too strongly of hemp, I don't think I'll be using this again.
---
Useful and Unique Things to Know About ASPEN GREEN PAIN RELIEF BODY BALM
There are a ton of amazing ingredients in this body balm besides hemp. Mango Butter makes your skin softer, brighter and reduces the signs of ageing. It's also great for your hair. Jojoba seed oil can help with skin ailments like acne, eczema, and psoriasis. It's also a great cleanser and moisturizer. Beeswax keeps your skin keep moisturized and fights inflammation and other skin irritants.
This body balm also contains a plethora of terpenes like bisabolol and caryophyllene which fight inflammation and redness. Eucalyptol helps with dryness and guaiol works against acne and pain. Limonene is calming for the skin and contains a ton of antioxidants. Myrcene, ocimene, and pinene also fight inflammation. P-Cymene and terpinolene fight skin infections and fungi.
---
ASPEN GREEN PAIN RELIEF BODY BALM Ratings
In the next sections gradings from 0-100 on our review, these grades add up to give the product's overall score.
PRESENTATION • 100
Informative packaging.
RELIABILITY • 95
Relieves mild pain.
QUALITY • 100
High-quality, organic ingredients.
FLAVOR / SMELL / or EASE OF USE • 70
Smells hempy.
VALUE • 85
Expensive.
---
How ASPEN GREEN PAIN RELIEF BODY BALM Stacks Up Against the Competition
While Aspen Green Pain Relief Body Balm helped relieve my mild pain, other topicals on the market relieved some of the more severe pain by adding icy ingredients like menthol and/or camphor. These ingredients help distract the brain from pain, and I thought this product could use some of that. This product could also be more competitive by adding some natural ingredients to help hide the smell of cannabis. And even though most topicals are way too expensive, this one is a little too pricey even for a topical.
---
Saving Money with Our Verified ASPEN GREEN Coupons
Save money by using our verified CBD Topicals here at Save On Cannabis the World's largest online cannabis coupon code directory.
---
Disclosure: I received these products gratis so that I could try them and then share my honest opinion with the SOC community. I am employed by Save on Cannabis to write honest reviews and provided a flat rate payment for the writing of the review. SOC may receive recurring affiliate payments for purchases made based on this content.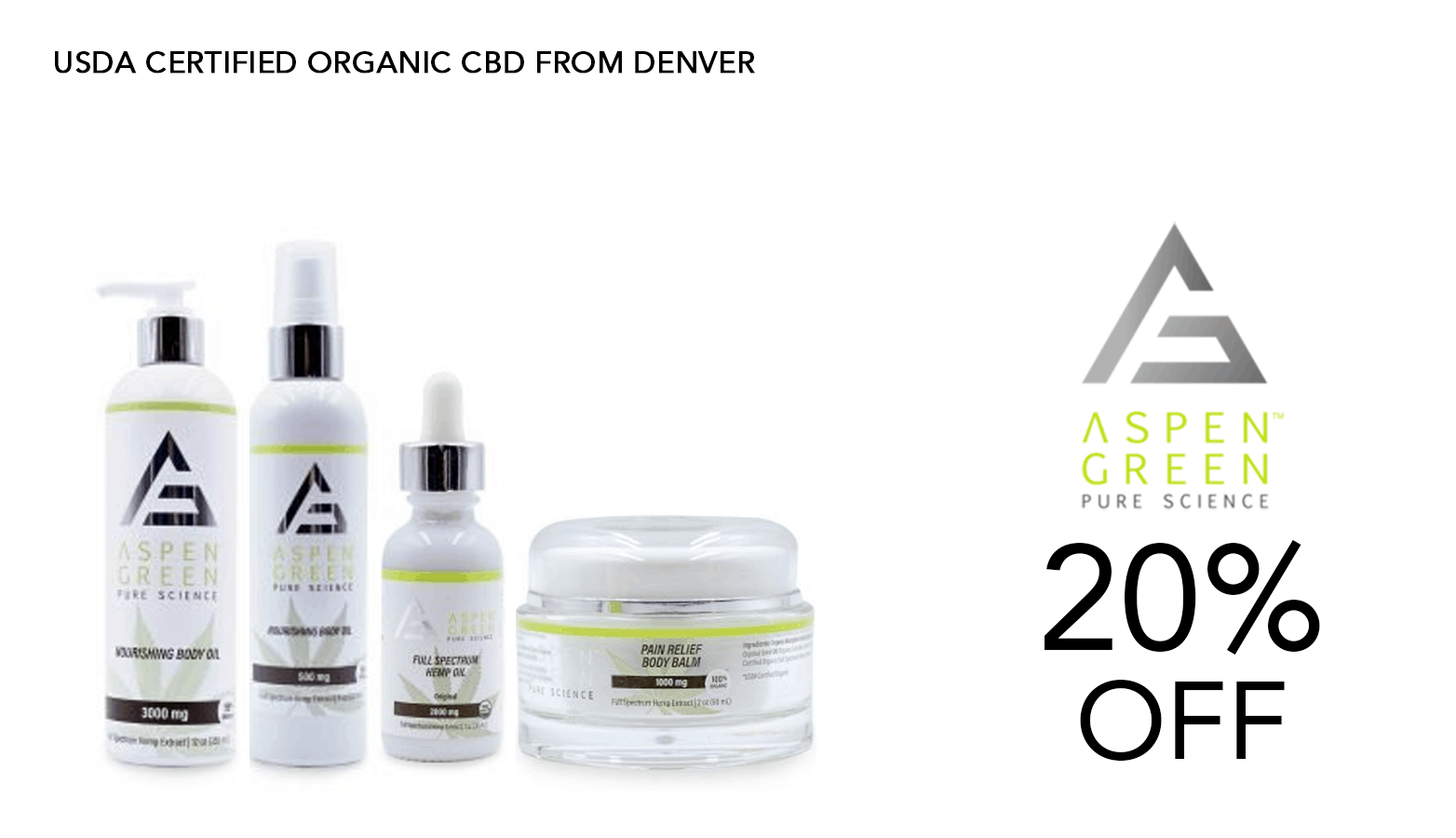 20% OFF site-wide Aspen Green coupon! All users. (Not valid on bulk products or bundles)
How good does a CBD capsule work for chronic pain? In this CBDistillery review of their Full Spectrum Softgels we puts them to the test.
Our reviewer tests the All Natural Way CBD Oil - 350mg. Hear what a seasoned CBD user thinks in this CBD review. Find if it relieved her pain & is worth it.
Looking to minimize smoke smells and second hand smoke? We try out the Philter Labs Smoke Filter in this new review and see if it does the job.