Flora CBD: Delta-8-THC Gummies Review
Feb 28, 2021 | Save On Cannabis
Delta 8 THCDelta 8 THC CandyDelta 8 THC EdiblesDelta 8 THC Gummies
FLORA CBD
Product Review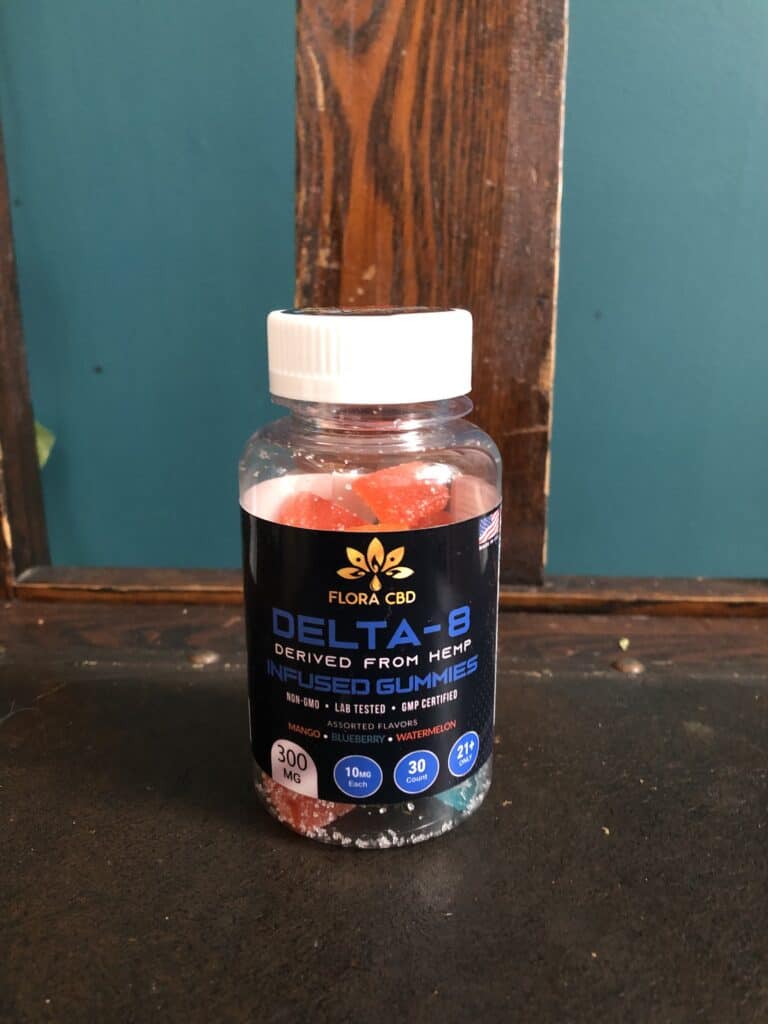 Brand Overview: FLORA CBD
Flora CBD has a diverse line of products in a variety of strengths and flavors. The company's mission is to bring you high-quality CBD products with transparency and innovation. Everything they make is derived from natural and safe ingredients, and third-party tested to ensure purity and potency. Flora CBD has come up with some of the most unique products on the market, including a variety of tobacco-free dips and shisha.
If you're new to CBD, the company offers the fairly priced beginner's bundle which includes premium kief-infused gummies and full-spectrum hemp extract. All of Flora CBD's products contain less than 0.03% THC which means they won't get you high, while still giving you the amazing benefits of the cannabis plant.
Products: Dips, Oils, Shisha, Edibles, Topicals, Bundles.
Price Range ($-$$$$): $$

---
About FLORA CBD DELTA 8 CBD GUMMIES
These Delta 8-infused gummies from Flora CBD can give you a head and body high without the anxiety and paranoia so often induced by other THC products. Delta 8 is a cannabinoid found in hemp that might reduce stress, boost your focus and creativity, and help you relax. Each gummy contains 10 mg of Delta 8 and there are 30 servings per bottle that come in flavors like blueberry, mango, and watermelon. Flora CBD believes these gummies can also help ease discomfort and boost your appetite.
It works a lot like your regular-old THC gummies, but the psychoactive effects aren't as strong. To use, eat one gummy and don't go over four pieces in six hours. This product is for at-home use only, as the high makes it dangerous to drive or operate machinery. Do not use this product if you are under 21 years of age.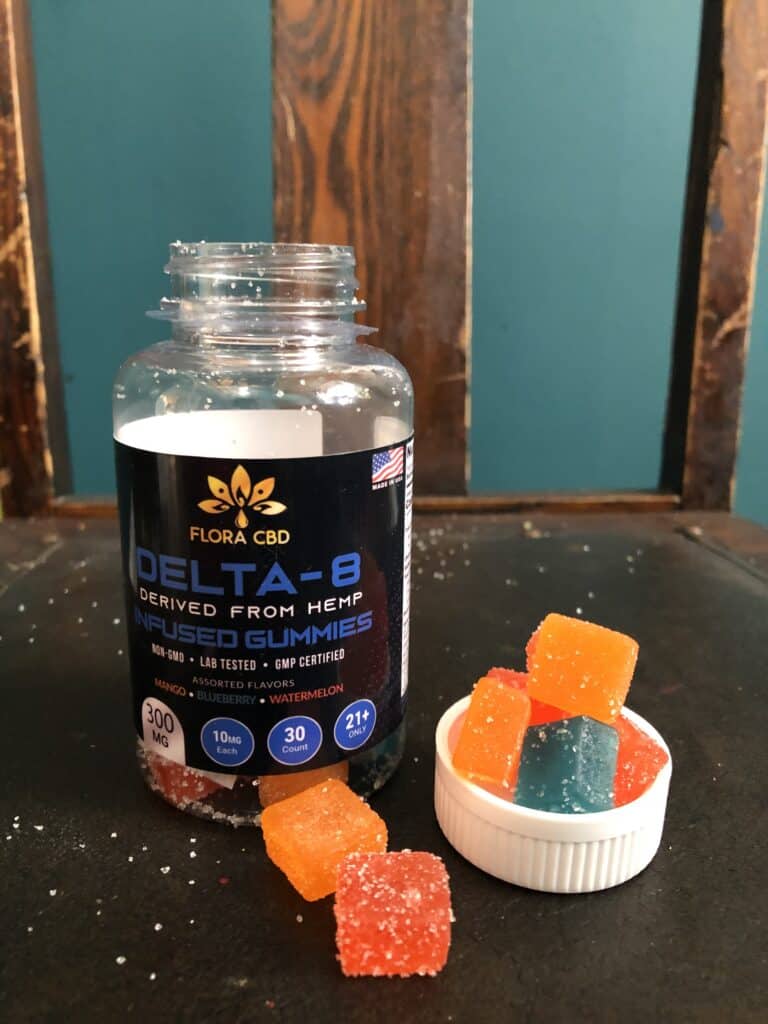 ---
FLORA CBD DELTA 8 CBD GUMMIES Specifications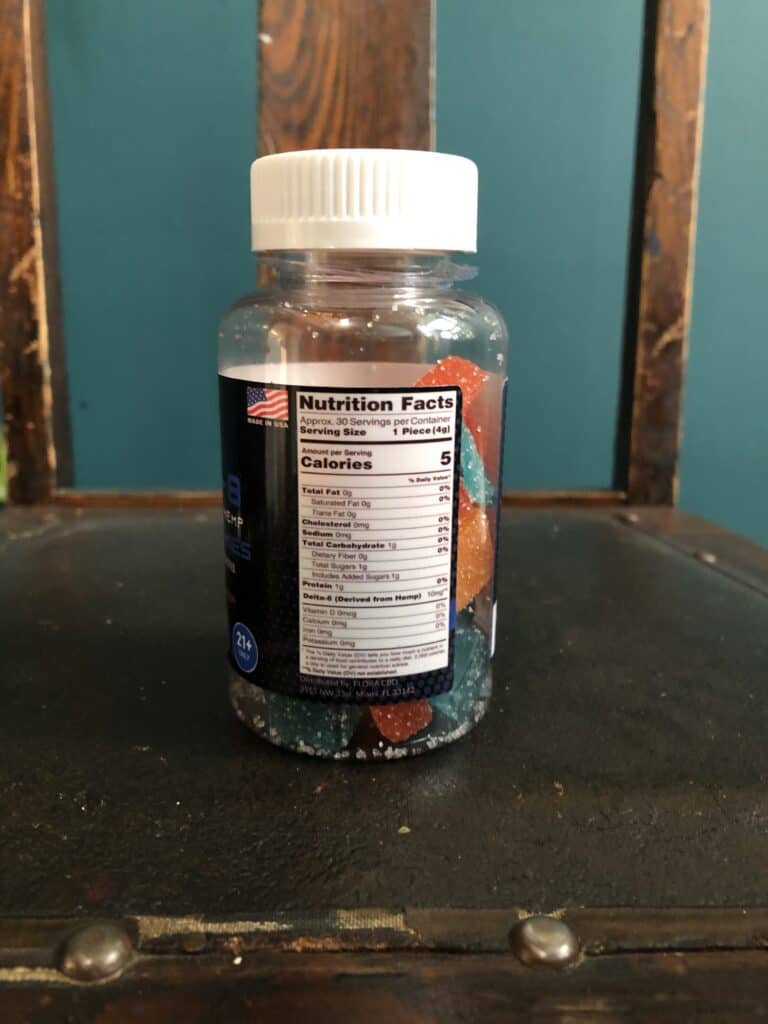 300 mg Delta 8 per bottle
10 mg Delta 8 per gummy
30 gummies (servings) per bottle
5 calories per serving
Non-GMO
Ingredients: Light Corn Syrup (Corn, Syrup, Salt, Vanilla), Cane Sugar, Water, Gelatin, Citric Acid – ADM, Sorbitol Powder, One or more of the following U.S. Certified Colors (Red 40, 3, Yellow 5, Blue 1, 6, and 2, an/or Titanium Dioxide), Modified Starch, Vegetable Gum, Acid, Less 1/10 Percent Sodium Benzoate Potassium Sorbate (As Preservatives), Natural and Artificial Flavors, Sweetener (Maltodextrin, Sucralose), Organic Hemp Oil, 100% Coconut MCT Oil, Propylene Glycol, Propylparaben (Preservative), Full Spectrum Hemp Extract.
---
How We Tested the FLORA CBD DELTA 8 CBD GUMMIES
I recently tried my first product that contains Delta 8 and loved how it gave me all the positive benefits of THC, but without the anxiety. I was impressed with Flora CBD's unique CBD-infused "dip" and had high hopes for these gummies. Pun intended. I have fibromyalgia and sometimes the physical pain combined with extreme fatigue makes it difficult to get anything done. I joke (in a sad clown kind of way) that ever since the disease got worse a few years back, that I live a "part-time life."
I've often turned to hemp products to help me cope with the symptoms. I tried Flora CBD's Delta 8 infused gummies after a month of terrible symptoms where I could barely stand up without feeling nauseated and exhausted. I wanted to see if these gummies would help relieve my symptoms and help me get more out of my days. I ate one gummy in the morning, then another in the afternoon, and another one before bed.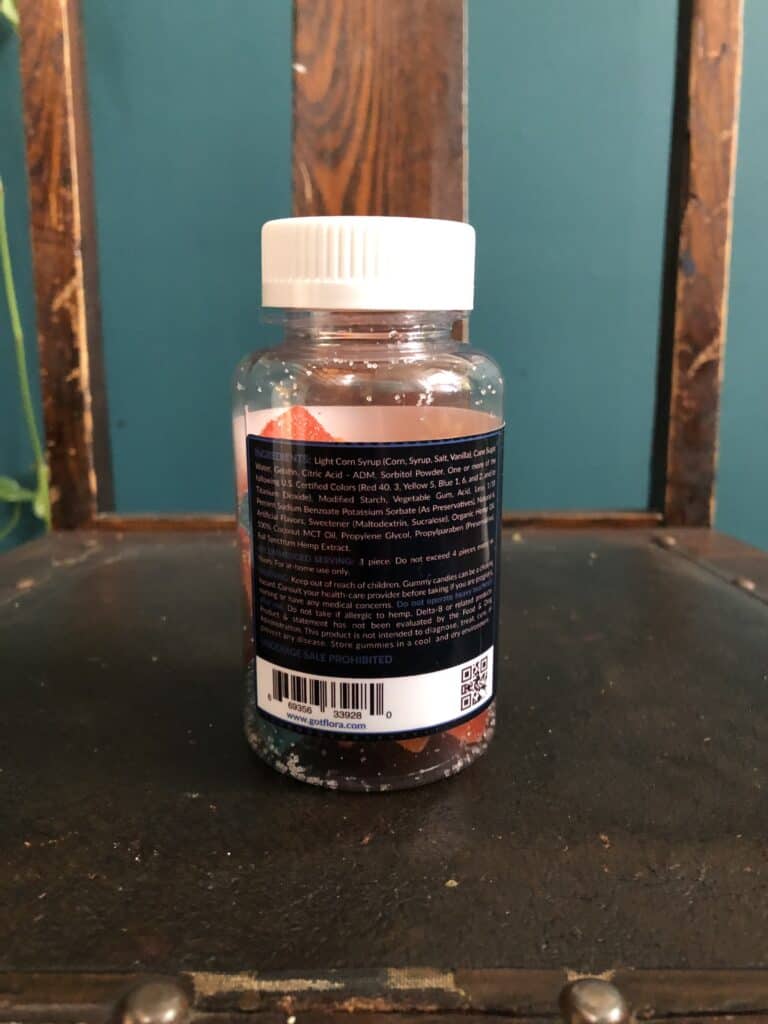 ---
How the FLORA CBD DELTA 8 CBD GUMMIES Worked for Me
I started to feel the effects of the gummies in about an hour. I felt calm and energized all at once. The gummies helped take the edge off my chronic pain which made sitting and working on the computer so much easier. I usually have to take a break after an hour of work but with these, I could sit at the computer for a couple of hours before I start to notice my discomfort. Because I wasn't in as much pain, these gummies made it easier for me to fall asleep, which is normally a difficult endeavor. I felt a mild high without anxiety. I just felt warm and cozy. All the flavors were delicious and hid any taste of hemp, but my personal favorite was the mango. I will be using these gummies again, especially on my bad days when my body needs a little more comfort than usual.
---
Useful and Unique Things to Know About FLORA CBD DELTA 8 CBD GUMMIES
I think it's important to go over the differences between Delta 8 and CBD because they're not the same thing. Unlike CBD, Delta 8 is an isolate of Delta 9, also known as THC. While Delta 8 is psychoactive, meaning it gets you high, CBD is not. While Delta 8 has similar effects as THC, its psychoactive effects aren't as strong. So while Delta 8 can get you high, it won't get you as high as if you ate a THC edible. So if you need to take drug tests for work or pain management, stay away from Delta 8.
---
FLORA CBD DELTA 8 CBD GUMMIES Ratings

In the next sections gradings from 0-100 on our review, these grades add up to give the product's overall score.
PRESENTATION • 100
Informative packaging.
RELIABILITY • 100
Effective and comforting.
QUALITY • 60
Contains artificial sweeteners.
FLAVOR / SMELL / or EASE OF USE • 100
Delicious, fruity flavors.
VALUE • 100
Good deal.
---
How FLORA CBD DELTA 8 CBD GUMMIES Stacks Up Against the Competition
These gummies were great! My only complaint is that they contain artificial sweeteners like maltodextrin and sucralose. While artificial sweeteners keep the calorie count low, studies have indicated that too many artificial sweeteners can cause gastrointestinal problems, blood sugar spikes, and other bad side effects. Most of the health-conscious people I know try to avoid artificial sweeteners. I'm not a doctor so please research on your own, but I wish Flora CBD would make this gummy using natural ingredients.
---
Disclosure: I received these products gratis so that I could try them and then share my honest opinion with the SOC community. I am employed by Save on Cannabis to write honest reviews and provided a flat rate payment for the writing of the review. SOC may receive recurring affiliate payments for purchases made based on this content.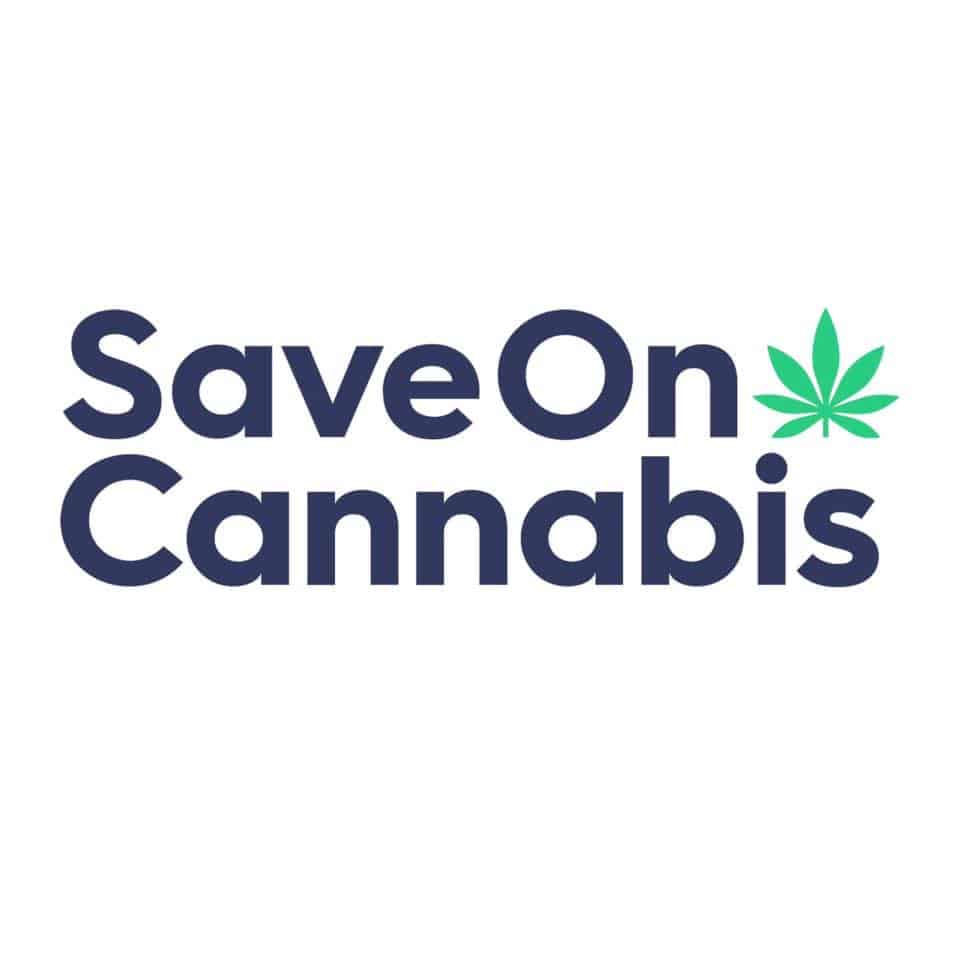 Save On Cannabis is the most trusted source for cannabis discounts and education information.  Vetted deals and clearly written articles to help you become a wiser consumer whether focused on the medical or recreational value of cannabis products.
Ctirus is the last flavor we tried in our Dr. Dabber reviews of their CBD vape oils, see how it ranks. Our expert sees if it helps with sleep
Ever tried a CBD bath bomb? This is not our expert reviewer's first time trying a CBD bath bomb, read her experience.
How nourishing is the Aspen Green CBD body oil for your dry skin? Find out in our hands-on Aspen Green review.