R + R Medicinals Review – CBD Hemp Tincture 100mg (Mint)
Sep 14, 2020 | SOC
R+R Medicinals CBD Hemp Extract Tincture
Pros
Full spectrum hemp extract
Organically outdoor grown hemp on Colorado farms
Full panel of third-party lab tests
Natural mint flavoring
Infused with MCT oil from coconuts
Medium-high dose of CBD
Terrific value
Comes with graduated dropper
R+R Medicinals CBD Hemp Extract Tincture
Product Review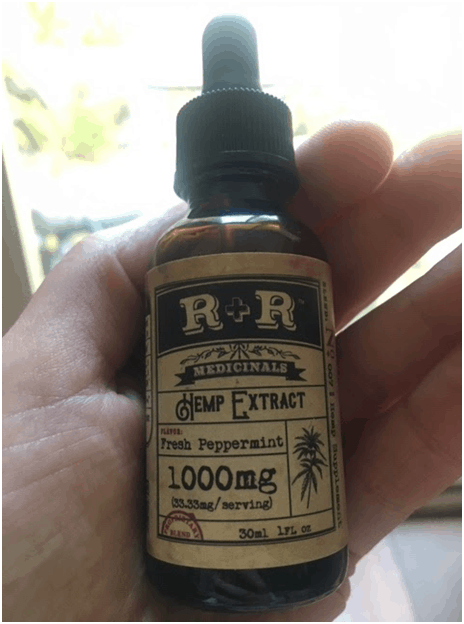 Brand Overview: R+R Medicinals
R+R Medicinals is a veteran, minority, and family-owned CBD business based in Colorado. The company prides itself on exceptional customer service. Based on our positive interaction with them I agree that their service is top-notch.
Also, R+R Medicinals believes in full transparency, fair pricing, and sourcing the best quality hemp available. To embody the term transparency, they provide access to lab testing results on their website and hard copies of their third-party lab testing results with my package.
Since the company is vertically integrated, they manage the operations of the business from seed to sale. This means they save more costs and pass those on to consumers through affordable pricing. As for the quality of its hemp, R+R Medicinals works with local farmers in the state of Colorado who grow their plants outdoors, using organic methods.
Finally, two more major perks about ordering from this company include free domestic shipping and a 30-day satisfaction guarantee.
Products: Tinctures, gummies, topicals, and pet products
Price Range ($-$$$$): $
---
About R+R Medicinals CBD Hemp Extract Tincture
R+R Medicinals Hemp Extract Tincture contains a full-spectrum CBD formula. The carrier oil chosen for this product is MCT oil from coconuts. There's also a natural peppermint flavor to spice things up. The bottle holds 30ml of tincture oil for a serving of medium-high potency of 33mg of CBD per ml.
The purpose of this tincture is to have a quick and convenient way to incorporate CBD into your day. You can place some drops of the oil under your tongue, add some to your coffee or tea, or stir the drops into your protein shake or fruit smoothie.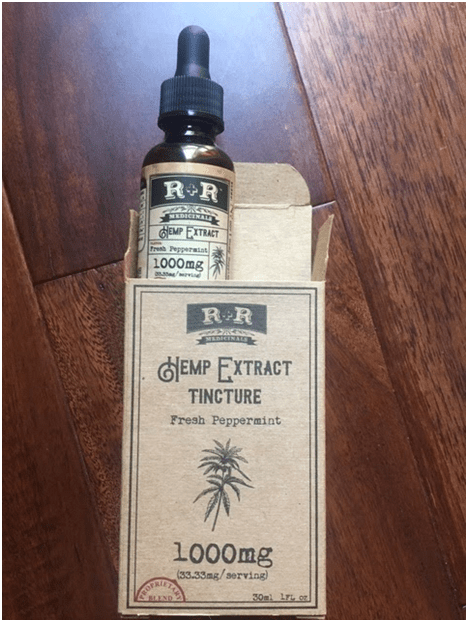 ---
R+R Medicinals CBD Hemp Extract Tincture Specifications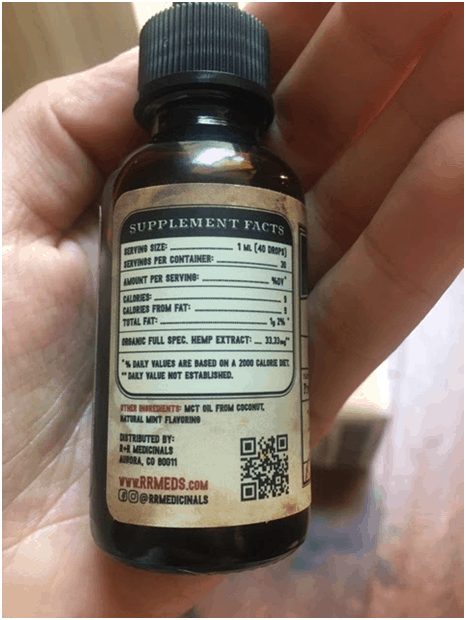 1,000mg of full-spectrum hemp (CBD) per bottle
33.3mg of CBD per ml
Organically grown outdoor hemp from Colorado
MCT oil from coconut & natural mint flavoring
Comes in a recyclable box
Dark color bottle to reduce light or heat damage
Has a graduated dropper cap
---
How We Tested R+R Medicinals CBD Hemp Extract Tincture
Before I wrote this review, I used the tincture for 2 weeks straight. For the first few days, I placed 20 to 25 mg of CBD under my tongue in the mornings. Then I started taking it in the morning and at night. During my final testing week, I was up to 33mg of CBD both during the morning and at night.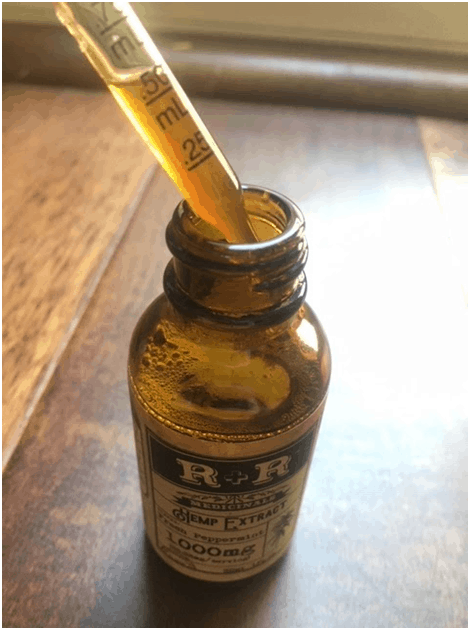 ---
How the R+R Medicinals Hemp Extract Tincture Worked for Me
I love this tincture. Even though it wasn't my favorite taste-wise, the effects were wonderful and I could always count on them. So, the consistency in the effects was the highlight of this product for sure.
Whenever I supplemented with the tincture, within 30 minutes or so, I felt amazing. A wave of calm and peace would flow over me. This helped me stay balanced instead of stressed while getting my work, chores, or cooking done during the week.
The tincture did exactly what CBD promises to do. Yet, not every CBD product actually delivers on this. So, I was happy, to say the least. Between the high-quality hemp and ingredients, along with finding the perfect dose, the tincture was a welcomed addition to my daily self-care routine.
---
Useful and Unique Things to Know About R+R Medicinals CBD Hemp Extract Tincture
R+R Medicinals Hemp Extract Tincture does contain small traces of THC (less than 0.3%). Although full spectrum formulas potentially have more benefits than CBD isolates, some people may prefer 100% THC-free for personal or work-related reasons.
There are no artificial flavorings or preservatives, the peppermint flavor comes from natural sources.
---
R+R Medicinals CBD Hemp Extract Tincture Ratings
In the next section, we provide ratings from 0-100 based on our testing period. Add up these ratings to arrive at an overall score for the product.
PRESENTATION • 100
Wonderful presentation, and descriptive, helpful information on the label.
RELIABILITY • 100
Same great effects with every single dose.
QUALITY • 100
Clean source of hemp, third-party lab tested, and natural ingredients.
FLAVOR / SMELL / or EASE OF USE • 90
Strong hemp and peppermint taste, but not off-putting.
VALUE • 100
Excellent price point making it very affordable.
---
PROS of the R+R Medicinals Hemp Extract Tincture
One of the major pros of this product has to do with its source of hemp. The hemp plants grow in the outdoor sun, the extract gets sent to third-party labs and they test the potency and check for pesticides, heavy metals, residual solvents, and microbials. Also, this bottle packs 1,000mg of CBD for a great price and value. Furthermore, the company offers free domestic shipping and a 30-day money-back guarantee.
---
CONS of the R+R Medicinals Hemp Extract Tincture
It was difficult coming up with something negative to say about this product. If there was a con, I'd say it was the flavor, although this is a subjective thing to rank. The taste wasn't my favorite at first, but over time it grew on me and I didn't really notice it.
---
How R+R Medicinals CBD Hemp Extract Tincture Stack Up Against the Competition
There's a lot of competition in the CBD oil tincture arena. At this point in time, it's almost impossible to stand out. Even if R+R Medicinals doesn't rank in the number 1 spot, I'd say they still stack up against the best in the industry.
---
Saving Money with Our Verified R+R Medicinals Coupons
Save money by using our verified CBD Tinctures here at Save On Cannabis the World's largest online cannabis coupon code directory.
---
Disclosure: I received these products gratis so that I could try them and then share my honest opinion with the SOC community. I am employed by Save on Cannabis to write honest reviews and provided a flat rate payment for the writing of the review. SOC may receive recurring affiliate payments for purchases made based on this content.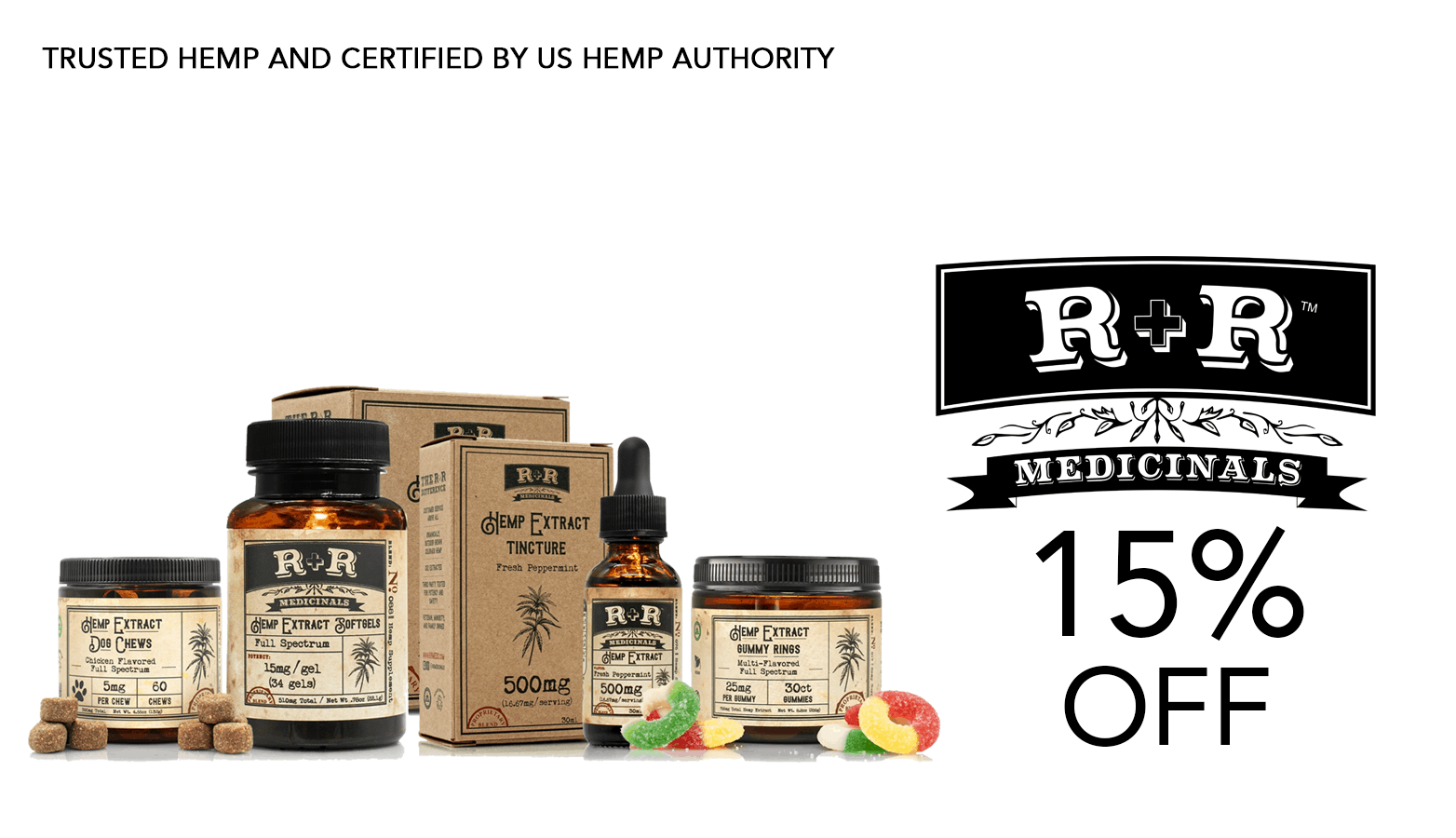 15% OFF site-wide R+R Medicinals CBD coupon! US Hemp Authority Certified, Colorado CBD.
Our reviewer uses the Social CBD Volcom Truly Cool CBD Muscle Rub for her undiagnosed chronic pain. See if she felt like this CBD is worth your money.
As a daily CBD user, in this Maddyn review we try it for two weeks & sees how it works, find out if this full spectrum tincture did the job.
Trying to soothe pains before sleep our reviewer puts the Meridian Life Balance "Relieve" CBD Balm to the test in this hands on review.