CBD Review: Aspen Green Moisturizing CBD Body Butter
Oct 2, 2020 | SOC
Aspen Green Moisturizing CBD Body Butter
ASPEN GREEN MOISTURIZING BODY BUTTER
Product Review
Brand Overview: ASPEN GREEN
Aspen Green uses full-spectrum hemp to create the purest and most potent CBD products on the market. Their products are great for people looking for extra relief from various ailments through natural and non-addictive supplements. Aspen Green was founded on the principles of quality, integrity, and transparency. The company uses organic hemp from the most trustworthy farms in Colorado to ensure that the stuff they put in their products is high-quality from the seeding process to delivery.
Because they use full-spectrum hemp, their products still maintain all the naturally occurring vitamins, minerals, alkaloids, terpenes, and flavanoids for a complete CBD experience.
Products: Full-Spectrum Hemp Oils, Topicals.
Price Range ($-$$$$): $$
---
About ASPEN GREEN MOISTURIZING BODY BUTTER
Through a combination of organic seed butter and oils, Aspen Green has created a moisturizer that keeps your skin soft, supple, and hydrated. Whether you have naturally dry skin, or just live in a harsh climate, keeping yourself moisturized is the key to again gracefully. Infused with 500 mg of hemp oil, this body butter also helps fight inflammation and redness. This two-ounce jar contains 300 mg of CBD, derived from the company's Colorado USDA Certified Organic Full Spectrum Hemp Extract.
You'll also find other phytocannabinoids in this product, including CBN, CBG, CBC, CBDa, and less than 0.3% THC. Use this body butter on your skin only, and apply as needed throughout the day. The bottle contains 30 servings, with each serving containing a 33 mg of phytocannabinoids, 20 mg of which is CBD. It's also filled with a ton of terpenes that work to enhance the positive benefits of hemp. You can take up to three servings a day by holding the liquid under your tongue for 30-60 seconds, then swallowing. For best results, try using this stuff consistently for a couple of weeks.
---
ASPEN GREEN MOISTURIZING BODY BUTTER Specifications
500 mg of USDA Certified Organic Full Spectrum Hemp Extract (300 mg of Cannabidiol/CBD)
2 oz (60 ml)
98% Organic
Less than 0.3% THC
1 oz (30 ml)
Ingredients:Purified Water, Organic Mangifera Indica (Mango) Kernel Butter, Organic Simmondsia Chinensis (Jojoba) Seed Oil, Organic Cannabis Sativa (Hemp) Seed Oil, Organic Oenothera Biennis (Evening Primrose) Oil, Glyceryl Stearate, Cetearyl Alcohol, Sodium Stearoyl Lactylate, Phenoxyethanol, USDA Certified Organic Full Spectrum Hemp Extract, Tocopherol, Organic Lavender Essential Oil, Organic Eucalyptus Globulus Essential Oil.
---
How We Tested the ASPEN GREEN MOISTURIZING BODY BUTTER
I have naturally dry skin, particularly on my face, feet, and hands. My skin is so dry, I can't wear make-up because it will inevitably clump on my face. I'm always on the lookout for a good moisturizer and have tried a couple of amazing ones that were also infused with CBD. I hoped that using this product would moisturize and provide soothing respite for my hands and feet. I just started physical therapy for an old right foot injury, and I get embarrassed at how dry and flaky my feet are.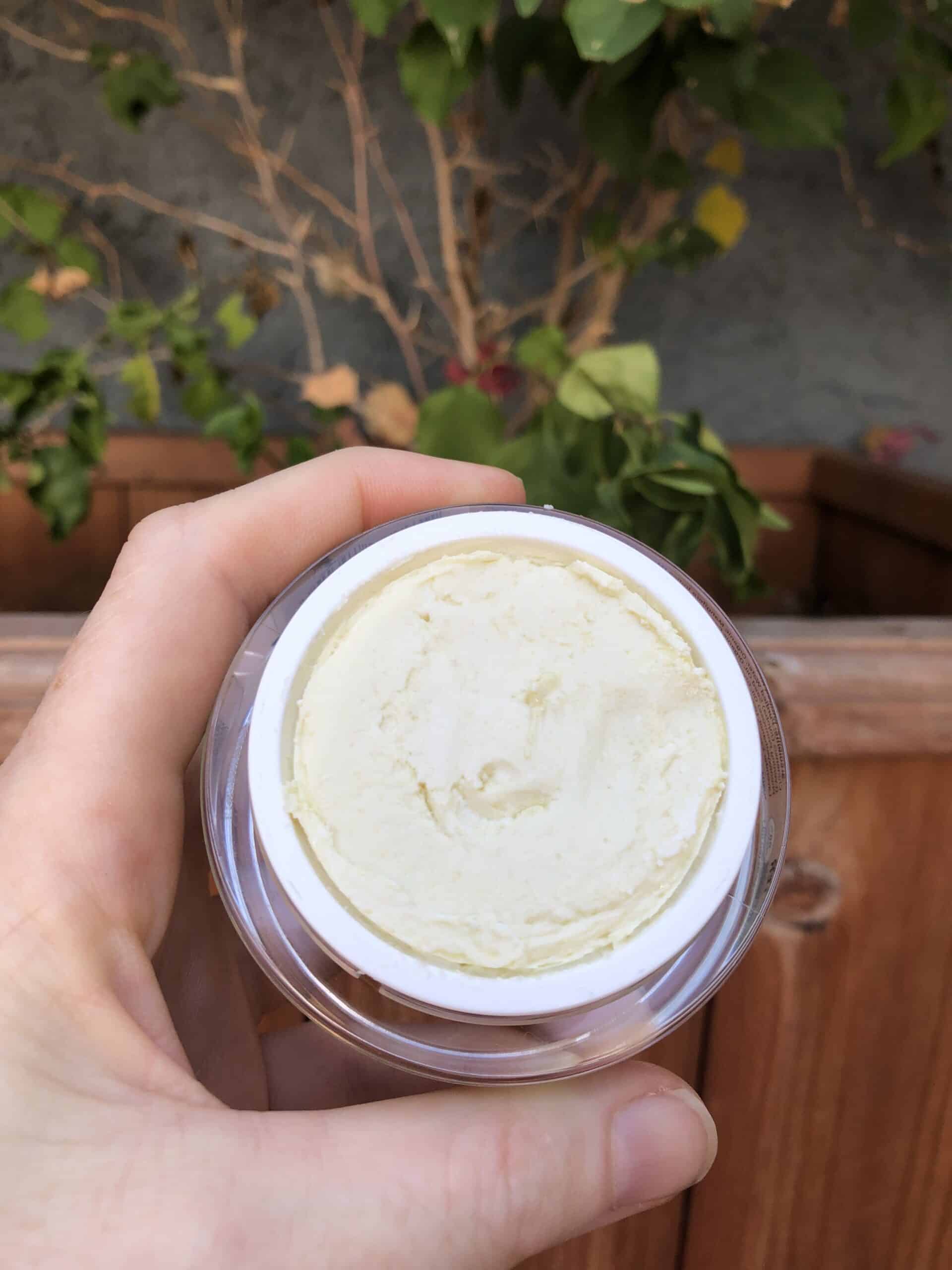 This might be the perfect topical to add some much-needed hydration to my skin. I used this stuff every morning for a couple of weeks to see if I noticed any differences in my hands and feet.
---
How the ASPEN GREEN MOISTURIZING BODY BUTTER Worked for Me
Aspen Green Moisturizing Body Butter immediately brought relief to my dry hands and feet. It was refreshing and hydrating, smoothing away the dryness and lasting for hours. I feel like after using this stuff for a couple of weeks, my hands and feet feel and even look younger. Even though this stuff isn't marketed towards pain-relief, I noticed the CBD worked to fight the inflammation in my right foot. It was run over by a car less than two years ago and I've had inflammation ever since. With this topical, I found myself able to for walks for longer before the pain started bothering me.
Despite the effectiveness of this body butter, I won't be purchasing it again, as I didn't like the hempy smell. It might not bother everyone, but I don't like smelling like that, even when I don't leave the house.
---
Useful and Unique Things to Know About ASPEN GREEN MOISTURIZING BODY BUTTER
This body butter contains amazing ingredients to moisturize your skin including mango butter, jojoba seed oil, evening primrose oil, lavender essential oil, and eucalyptus globulus essential oil. Mango butter is great in the fight against those pesky wrinkles as you get older and softens the skin. Jojoba seed oil is a natural moisturizer that can help your skin heal faster. Evening primrose oil is great for your skin overall and fights acne and eczema. Lavender oil helps you relax and works against fungus and eczema. Finally, eucalyptus globulus oil can help with arthritis pain.
---
ASPEN GREEN MOISTURIZING BODY BUTTER Ratings
In the next sections gradings from 0-100 on our review, these grades add up to give the product's overall score.
PRESENTATION • 100
Informative packaging.
RELIABILITY • 100
Super moisturizing.
QUALITY • 100
Natural ingredients.
FLAVOR / SMELL / or EASE OF USE • 70
Smells hempy.
VALUE • 85
Expensive.
---
How ASPEN GREEN MOISTURIZING BODY BUTTER Stacks Up Against the Competition
Even though Aspen Green Moisturizing Body Butter is truly moisturizing, the company could make it more competitive by first lowering the price, then by finding a way to hide the smell of cannabis. There are a ton of topicals on the market that are as equally moisturizing but smell a whole lot better. I'm sure there are natural ingredients the company can add to make it smell better, without taking away from the naturalness of the ingredients.
---
Saving Money with Our Verified ASPEN GREEN Coupons
Save money by using our verified CBD Topicals here at Save On Cannabis the World's largest online cannabis coupon code directory.
---
Disclosure: I received these products gratis so that I could try them and then share my honest opinion with the SOC community. I am employed by Save on Cannabis to write honest reviews and provided a flat rate payment for the writing of the review. SOC may receive recurring affiliate payments for purchases made based on this content.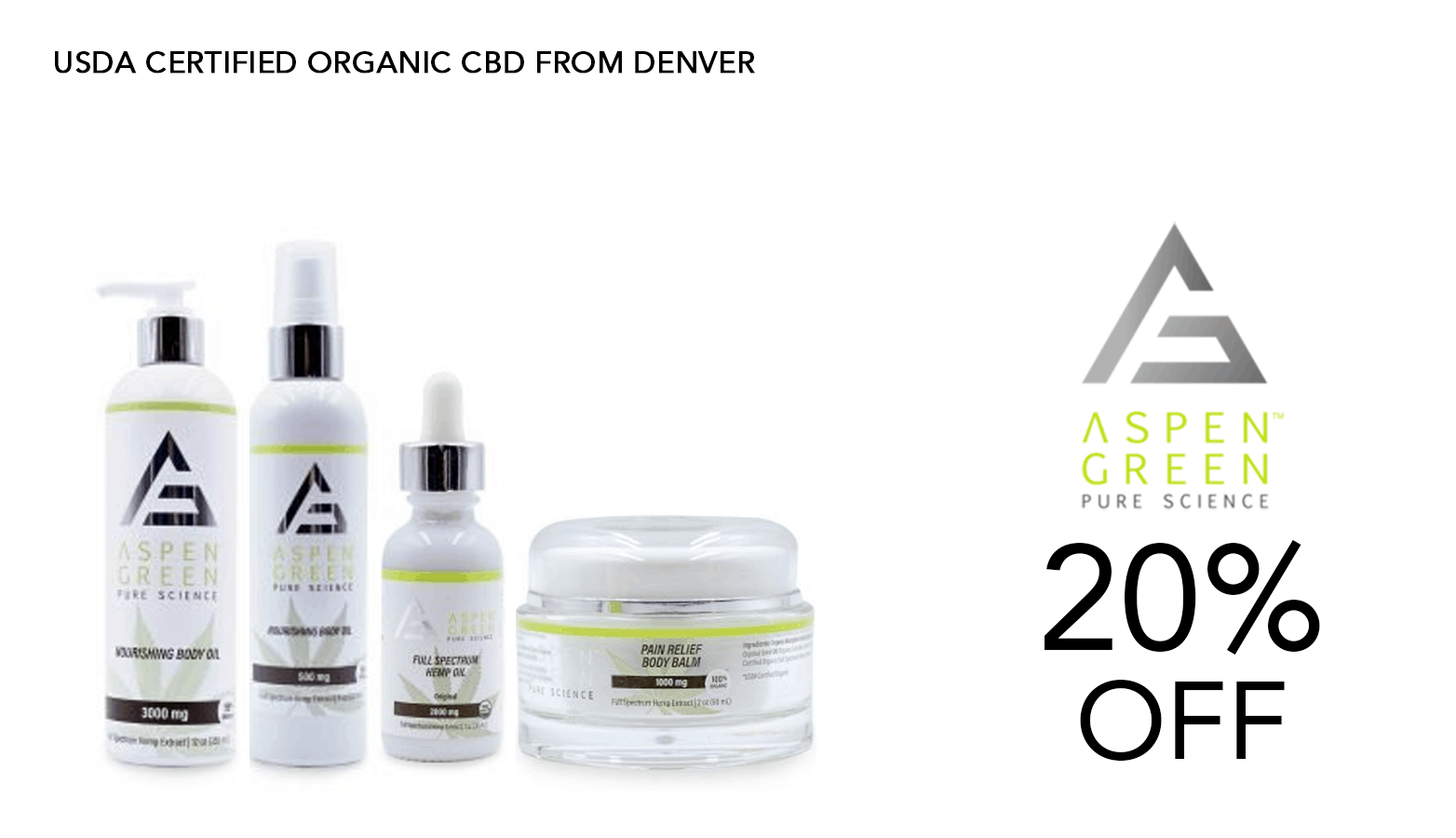 20% OFF site-wide Aspen Green coupon! All users. (Not valid on bulk products or bundles)
Can a tincture full of cannabis oil & CBD be delicious? In this Viobin CBD review of the Orange Cream Tincture, see if it's yummy & useful.
See how CBD dog treats worked for three hyper-active teenage chihuahuas. Find out in this hands on ZenWorks review if CBD dog treats will calm them down.
Read our hands on expert GoGreen Hemp review of the CBD Gummy Bears. Also, get coupons to save on your purchase.