CannaFlower Review: Bubba Kush CBD Flower (Berkshire CBD)
Aug 26, 2020 | SOC
Berkshire CBD Bubba Kush Whole Hemp Flower Stacks
Pros
Organically grown hemp
Lab tested for cannabinoid and terpene potency
60+ day cure
Hand-trimmed buds
Sourced from licensed farms in the U.S.
Amazing aroma
Smooth smoke
Value is superb
Cons
Grams not listed on bag
Missing some of the lab tests
CannaFlower Review: Bubba Kush Whole Hemp Flower (Formerly Berkshire CBD)
Product Review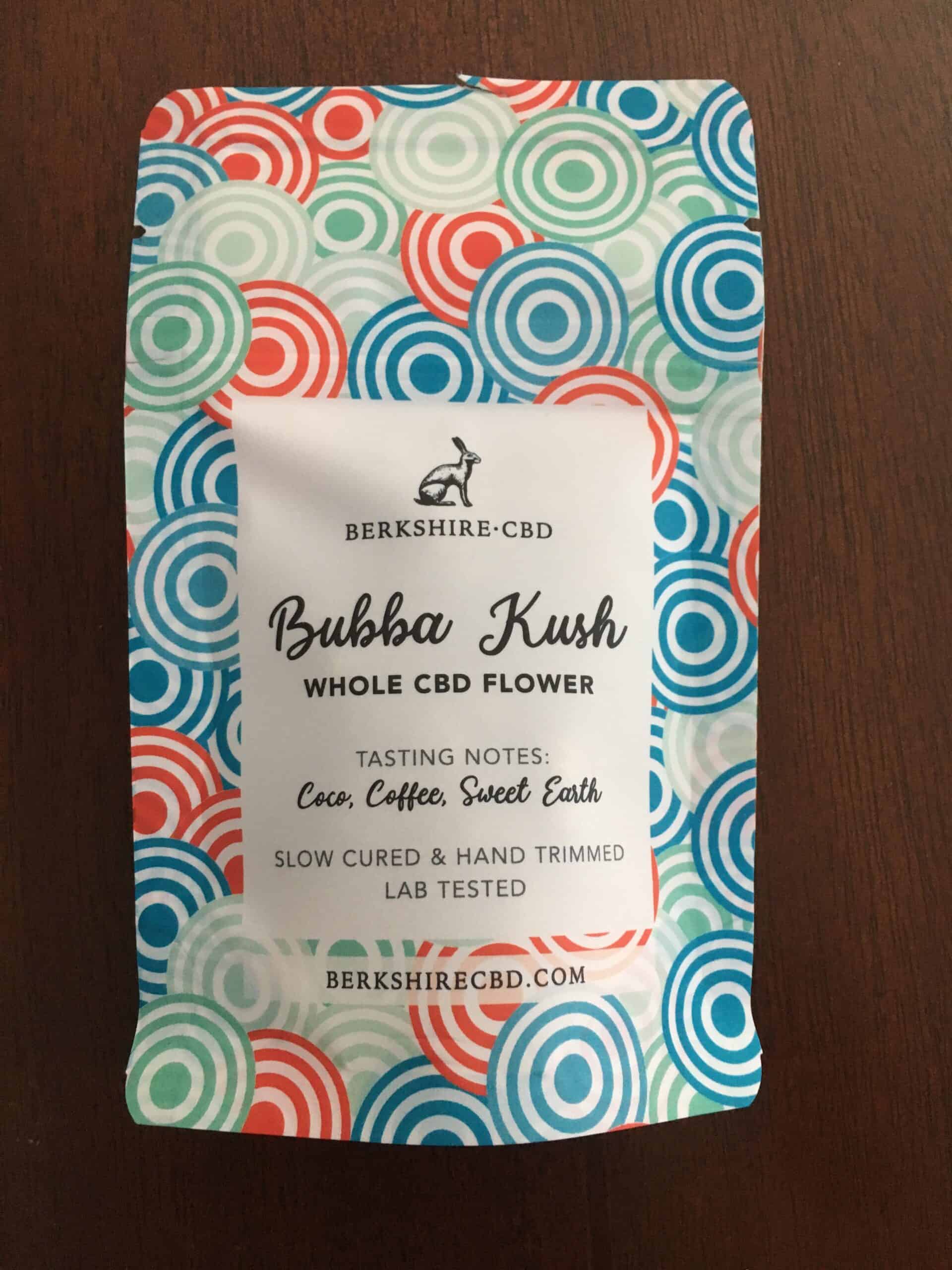 Brand Overview: Cannaflower (Formerly Berkshire CBD)
CannaFlower is a family-owned company based out of Brattleboro, Vermont. They're certified and licensed hemp growers, and also source some of their hemp flower from licensed local farms. Recently, they rebranded to CannaFlower from Berkshire CBD but the same quality and product delivery is to be expected within the new packaging and name. Read the rest of this CannaFlower review to see how they lived up to our expectations. Both the company and its partners start each new growth cycle with organic soil. The crops are treated with love and care, which means there are no pesticides, heavy metals, or chemicals involved. After the plants get harvested, they go through a slow drying process.
Then, the buds get hand-trimmed and put in glass jars for a slow cure of at least 60 days. Once CannaFlower receives an order on its website, the team takes the flower buds from the curing jars and packs them in a smell-proof, zippable bag. This keeps each order as fresh and terpene-rich as possible.
Besides CBD hemp flower, Berkshire also has one CBG strain (as of the date of this writing), CBD oils, and pre-rolls.
Products: CBD hemp flower, pre-rolls, CBD oil
Price Range ($-$$$$): $$$
---
About CannaFlower Bubba Kush Whole Hemp Flower
The Bubba Kush hemp flower strain by CannaFlower (formerly Berkshire CBD) has a diverse cannabinoid and terpene profile. CannaFlower has its flower tested by third-party labs on a regular basis. The most recent lab test showed 13.85% total cannabinoids and 1.3% total terpenes in the Bubba Kush strain.
If you purchase this CBD flower, you can smoke or vape with it, or even make oil from it to include in your baking or edible recipes.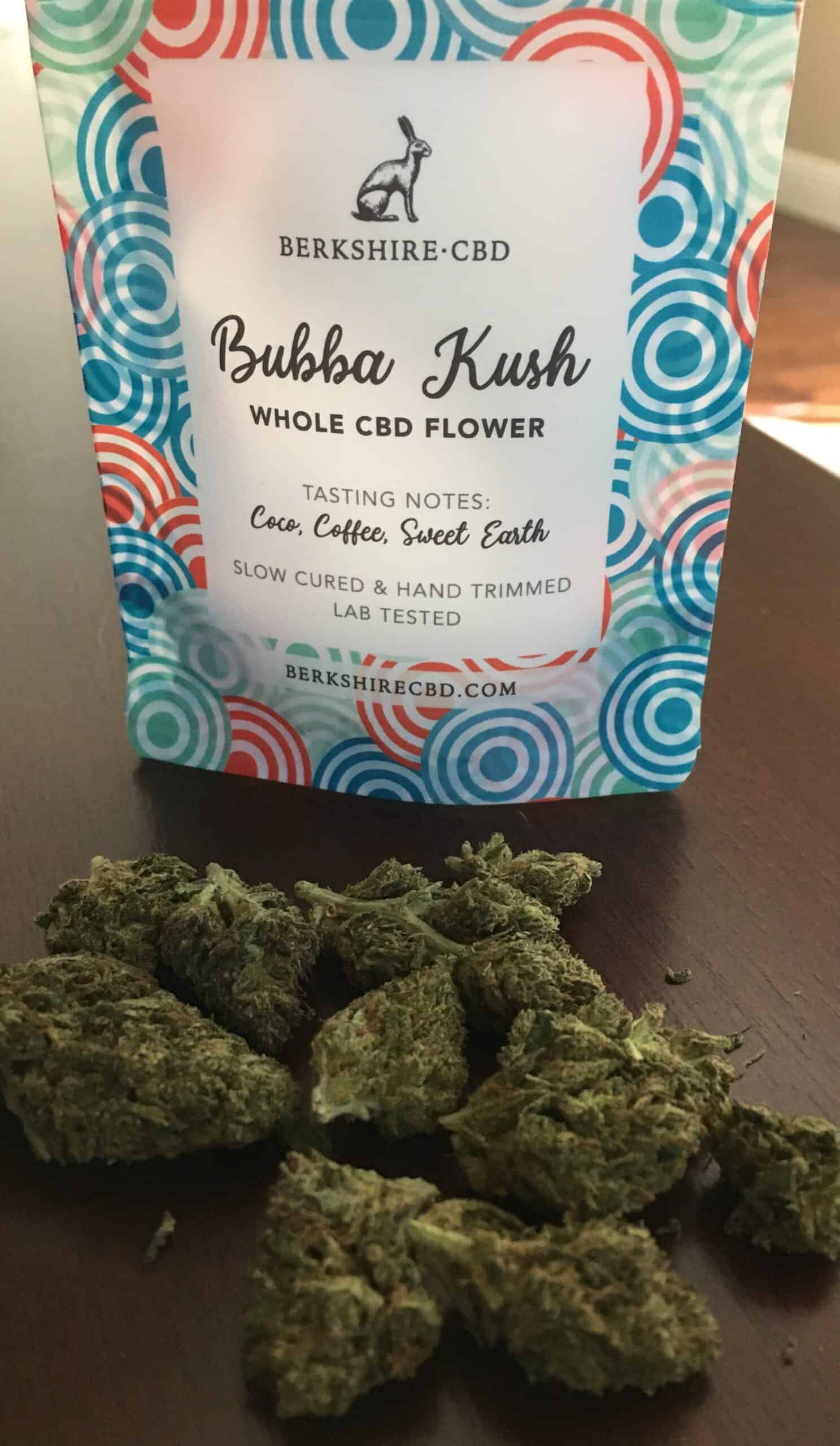 ---
CannaFlower (Formerly Berkshire CBD) Bubba Kush Whole Hemp Flower
Specifications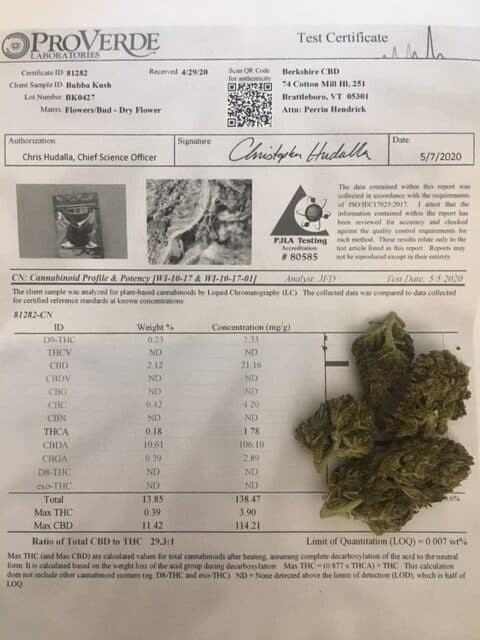 11.42% CBD
13.85% total cannabinoids including Δ9-THC, CBC, CBGA, and THCA
Available in 1, 3.5, 7, 14 or 28 grams
Terpene profile = 1.3%
Myrcene 0.75%
Beta-caryophyllene 0.19%
Pinene 0.13%
Limonene 0.09%
Humulene 0.06%
Ocimene 0.05%
Tasting notes: coffee, cocoa, sweet earth
Slow cured for 60+ days
3rd party lab tested
Organically grown on small farms in the United States
---
How We Tested CannaFlower Bubba Kush Flower
Bubba Kush is often called a nighttime strain because of its high myrcene content. But, I wanted to smoke her at various times to see how the effects felt at different points of the day.
My smoking method of choice was in an organic hemp pre-rolled Queen-sized cone. I broke up some of the nugs and put them in my grinder. Then I packed a cone with the ground-up material.
The first time I smoked the Bubba Kush flower was around 4 pm. The second and third times I smoked it was around 10 or 11 am and the final time was an hour before bed.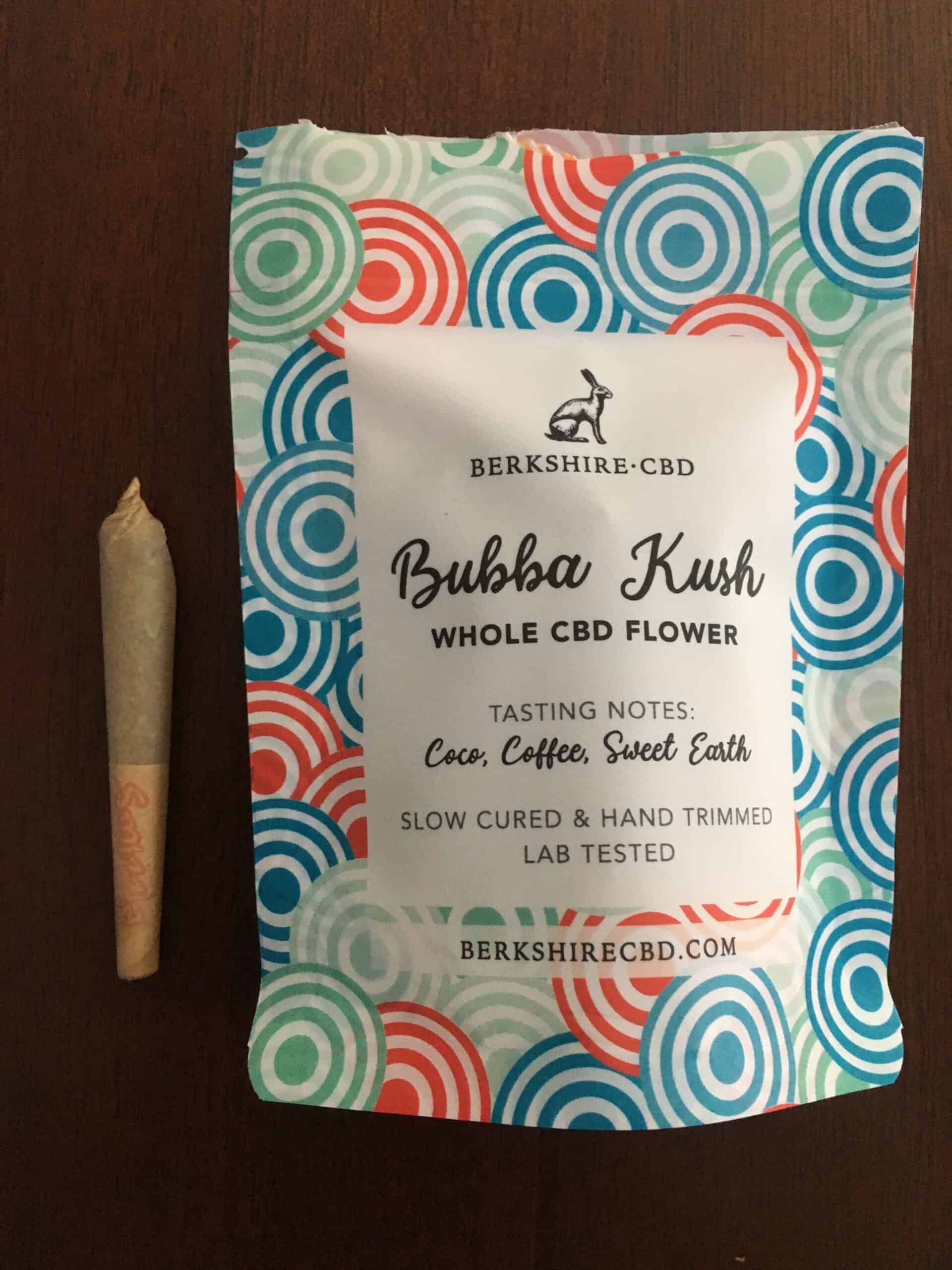 ---
How CannaFlower's Bubba Kush Hemp Flower Worked for Me
First of all, I have to comment on the appearance and smell of Bubba Kush. When I first opened the little bag, the aroma was beyond amazing. Then when I put my nose closer to the buds, the smell was even more intense. I definitely noticed the sweet earthy notes, but also caught refreshing fruit and citrus aromas.
Also, as promised by Berkshire (now CannaFlower), the CBD buds were hand-trimmed to perfection.
Once I took my first inhale from my hemp joint, it was love at first toke. I took about 4 to 5 hits and felt happy. I was sitting outside on my patio and felt utterly content and at peace. It was subtle, so I was still able to finish up my writing for the day, but the smoke kind of renewed my motivation. It kept me clear-headed and focused, and at the same time completely relaxed and calm.
When I smoked it during the following two mornings the buzz was pretty similar but more calm and relaxing than anything else. It was nice and gentle. But, I was more in a rush to get some assignments completed, so I think that took away from its potential.
Lastly, I smoked Bubba Kush before bed and it was a wonderful way to end the day. Plus, I got a good night's sleep. And that's always a good thing.
---
Useful and Unique Things to Know About CBD Bubba Kush
Whole Hemp Flower
One of the most unique aspects of CannaFlower CBD's hemp flower is the curing process they use. All their CBD flower, not just the Bubba Kush strain, cures for 60 or more days. During this long period of time, the terpene profile gets enhanced, which means the smells and flavors become more potent.
Plus, terpenes come with their own set of therapeutic effects to upgrade the overall experience of smoking or consuming CBD flowers. So, this is an important step for many reasons. Also, another benefit of a long cure means you'll have a smoother smoking experience, which I
noticed when testing out this strain.
Lastly, when you open the box that contains your hemp flower order, you'll see a paper copy of the "Cannabinoid Profile" from ProVerde (third-party) Labs. And there's a note called "Notice to Law Enforcement Authorities." It explains that the contents inside the package come from industrial hemp. And this note also and sites code from the Farm Bill to prove it's a federally legal product. I thought that was pretty cool, and unique and hence why I added that detail to this CannaFlower review.
---
CannaFlower Review CBD Bubba Kush Whole Hemp Flower Ratings
In the next sections gradings from 0-100 on our review, these grades add
up to give the product's overall score.
PRESENTATION • 100
Informative.
RELIABILITY • 100
Consistent effects and smooth smoke session every time.
QUALITY • 100
Organically grown flower, hand-trimmed, and slow cured — doesn't get
much better.
FLAVOR / SMELL / or EASE OF USE • 100
Like the smell, the flavor was incredible.
VALUE • 100
The quality justifies the price and ensures exceptional value.
---
PROS of CannaFlower (formerly Berkshire CBD) Bubba Kush Hemp Flower
There are so many pros to share about this CBD flower. First off, Bubba Kush is already a well-known and admired strain. And CannaFlower does it justice by growing Bubba Kush organically, manicuring the buds by hand, curing it for extended periods of time, and having a third-party lab test its cannabinoid and terpene profiles.
Even more, the flower is bagged to order — maximizing its freshness and flavor. Lastly, all the flower grow on small family farms, so a purchase supports local farmers and businesses in the U.S.
---
CONS of CannaFlower Bubba Kush Hemp Flower
There's not a whole lot to say here — with the expectation of two items. First, the company's CBD oils have lab test reports showing they pass all the contaminants, chemicals, and impurities tests. But, these same types of reports aren't posted for the flower. This could be an admin thing or just an oversight.
Secondly, the little bag that holds the CBD flower doesn't state the number of grams. This may or may not be an issue to some.
---
How CannaFlower CBD Bubba Kush Whole Hemp Flower Stacks Up Against the
Competition
Although I've only tried CBD flower from a handful of other brands, I can still state with confidence that CannaFlower's Bubba Kush hemp flower is phenomenal. It checks all the right boxes and best of all, it delivers an exceptional terpene profile, smooth smoke, and incredible
effects.
Other brands may compete, but after doing this CannaFlower review I don't know if it's possible for Bubba Kush CBD flower to get any better than this.
---
Saving Money with Our Verified CannaFlower Coupons
Save money by using our verified CBD Flower here at Save On Cannabis the World's largest online cannabis coupon code directory.
---
Disclosure: I received these products gratis so that I could try them and then share my honest opinion with the SOC community. I am employed by Save on Cannabis to write honest reviews and provided a flat rate payment for the writing of the review. SOC may receive recurring affiliate payments for purchases made based on this content.
Save on CannaFlower Review: Bubba Kush CBD Flower (Berkshire CBD)
Sorry, no coupons were found.
Can CBD not only be helpful but also a delicious treat? Our reviewer tests out the Soul CBD Gummies in their raspberry flavor.
Read our expert Green Road's Review of their Muscle & Joint Relief CBD cream! Our reviewer tested it so you can see if it's worth your money.
This is our first Magical CBD review. With this product the makers of the Magical Butter device move into CBD. See if it passes our expert tests.