Soul CBD Gummies Review (Raspberry Flavor)
Jan 27, 2021 | Save On Cannabis
CBDCBD CandyCBD EdiblesCBD Gummies
Soul CBD Gummies - Raspberry
$40.00
Soul CBD Gummies — Raspberry
Product Review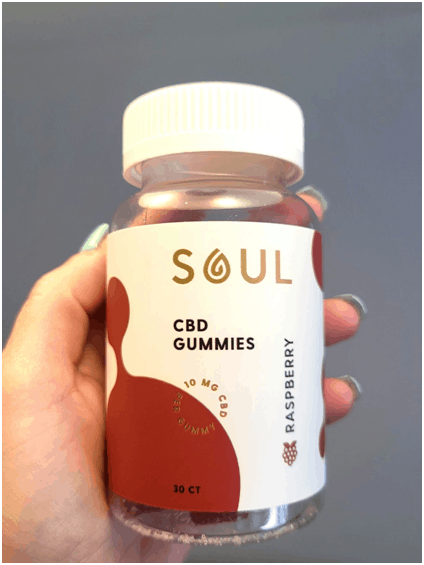 Brand Overview: Soul
Angie and Mike Lee, co-founders of Soul CBD and a sister-brother team, started this CBD company because of their 'soul desire' to help other people. While working as a professional boxer, Mike received a heart-wrenching diagnosis in 2014. He had an autoimmune condition and spent the next two years tirelessly looking for solutions the conventional way. After hitting a wall, he started to seek out natural remedies and solutions. One of those solutions was CBD.
Angie had a similar connection to CBD in the way it improved her health. She was dealing with overwhelm, anxiety, and stress from being a busy marketing entrepreneur. With her expertise in starting businesses, she presented the idea to Mike to start a CBD business together.
So, in 2018, they launched Soul "on principles of transparency, quality, and efficacy." Also, all its products get formulated by physicians, contain 0% THC, and include USA-grown hemp.
In addition, the company pays for comprehensive third-party lab testing. This means the lab analyzes the cannabinoid profile, tests for heavy metals, microbial contaminants, and pesticides.
Products: CBD oil, capsules, topicals, bath bombs, and pet products
Price Range ($-$$$$): $$

---
About Soul CBD Gummies
Soul's Raspberry Gummies include CBD Isolate from hemp. This means there's zero THC in the formula. Also, this is a vegan and gluten-free product that has 10mg of CBD in each cubed bite. This bottle contains 30 gummies for a total CBD potency of 300mg. The purpose of these gummies is to get a tasty, convenient, low dose of CBD that has long-lasting effects.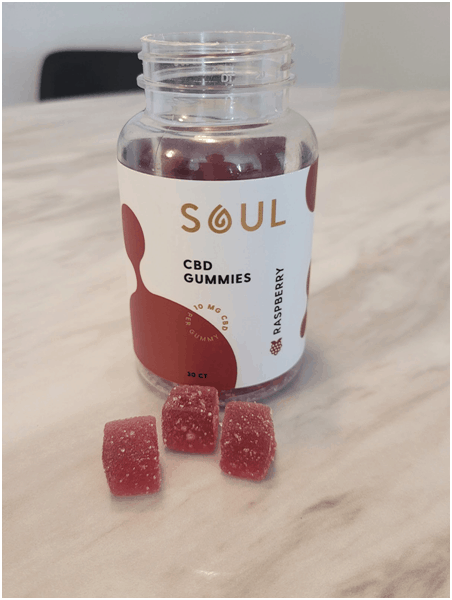 ---
Soul CBD Gummies Specifications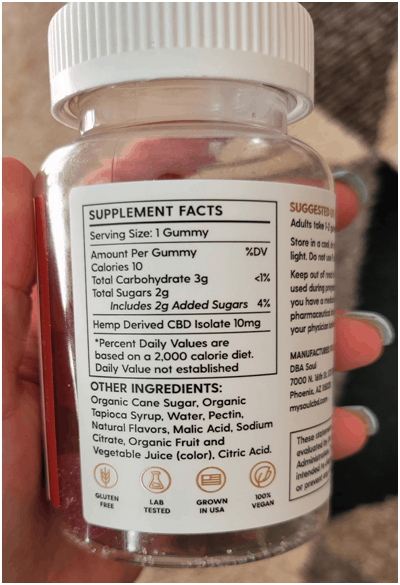 Raspberry flavor
CBD Isolate (THC-free)
300mg of CBD per container
30 sugar-coated gummy cubes
10mg CBD per gummy
USA-grown hemp
Third-party lab tested for potency and purity
Twist-on & twist-off lid for storage safety and freshness preservation
Vegan and vegetarian-friendly ingredients
No artificial colors or flavors
Colors from fruit and vegetable juice
Flavors come from natural sources
Ingredients: hemp extract, organic cane sugar, organic tapioca syrup, water, pectin, natural flavors, malic acid, sodium citrate, organic fruit and vegetable juice (color), and citric acid
---
How We Tested Soul CBD Gummies
Before completing this write-up and review, I had 1 to 2 gummies a day, off and on over a 3 week period. I often consumed them during the early or late afternoons. This wasn't exactly by design, it just sort of worked out this way.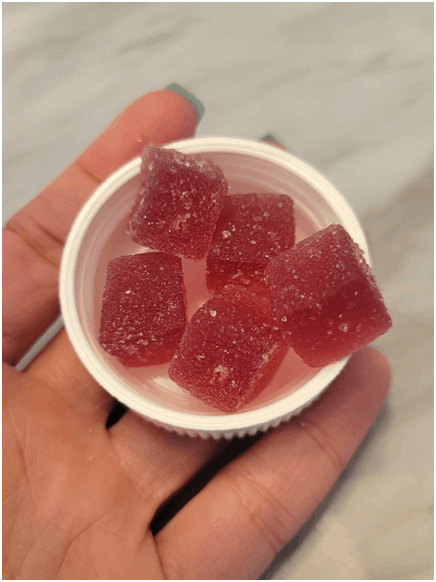 ---
How the Soul CBD Gummies Worked for Me
Overall, these gummies were a gentle way to bring calm back into my being. I would have them when I felt stressed or sometimes I ate one because it looked good and tasted good. I appreciated how the gummies didn't have any artificial flavors, sweeteners, or dyes. With that said, eating them was enjoyable versus a dreaded task.
Because the dose of 10mg is low for me the effects were also subtle. I could've had 2 gummies at a time but I chose not to for the most part. I like the subtle, "take the edge off" kind of feel. But, this is totally my preference, and the one time I did eat 2 gummies I could feel stronger effects.
So, the positive takeaway is that I actually felt something when consuming these. With some other CBD products, it could be difficult to notice anything at all. But that has to do with the person taking it, the dosage, and a handful of other factors.
In short, I'm going to continue eating these gummies until the bottle is empty. And I'd definitely consume these gummies in the future.
---
Useful and Unique Things to Know About Soul CBD Gummies
Soul CBD Gummies don't have gelatin or any other animal by-product, so they're an option for those living a vegan or vegetarian lifestyle. In addition, there's no gluten, which is a common allergen for a lot of people.
Also, as I mentioned earlier, there are no artificial colors, flavors, sweeteners, or dyes. And there's no high-fructose corn syrup for that matter. All these ingredients mentioned are of poor quality and potentially harmful to people. Not using any of these ingredients is a great feature and you may find that helpful in your decision-making process to try them or not.
---
Soul CBD Gummies Ratings
In the next sections gradings from 0-100 on our review, these grades add up to give the product's overall score.
PRESENTATION • 100
Easy-to-read labeling and great layout of details.
RELIABILITY • 100
The size of each gummy was consistent and so were the effects.
QUALITY • 100
Health-conscious selection of ingredients & thoroughly lab-tested.
FLAVOR/SMELL/or EASE OF USE • 100
The raspberry flavor was nice and had no weird aftertaste.
VALUE • 100
Price reflects their high-quality and value.
---
PROS of the Soul CBD Gummies
There's a lot of positive attributes of these gummies. Firstly, they're lab tested to verify the potency of 10mg each and they're tested for major contaminants. Also, they have a vegan formula and don't contain any gluten.
The THC-free hemp extract that goes into these gummies comes from farms in the U.S. Lastly, there are no artificial ingredients and the gummies have a wonderful taste.
---
CONS of the Soul CBD Gummies
There aren't many cons. And the only two I came up with are pretty minor. The first is the lack of potent variety (only 10mg) and the bottle used to house these raspberry gummies. Because the bottle is clear and not opaque, if left in the sun or in the heat, the gummies may melt. But, even worse, their potency and flavor could be affected.
---
How Soul CBD Gummies Stack Up Against the Competition
It's not hard to find CBD gummies these days. And the competition is getting pretty intense. But, Soul's CBD gummies still stand out because they have an excellent source of hemp that's lab-tested, health-conscious ingredients, and awesome flavor. There's really nothing to improve upon.
---
Saving Money with Our Verified Soul Coupons
Save money by using our verified CBD Gummies Coupons here at Save On Cannabis the World's largest online cannabis coupon code directory.
---
Disclosure: I received these products gratis so that I could try them and then share my honest opinion with the SOC community. I am employed by Save on Cannabis to write honest reviews and provided a flat rate payment for the writing of the review. SOC may receive recurring affiliate payments for purchases made based on this content.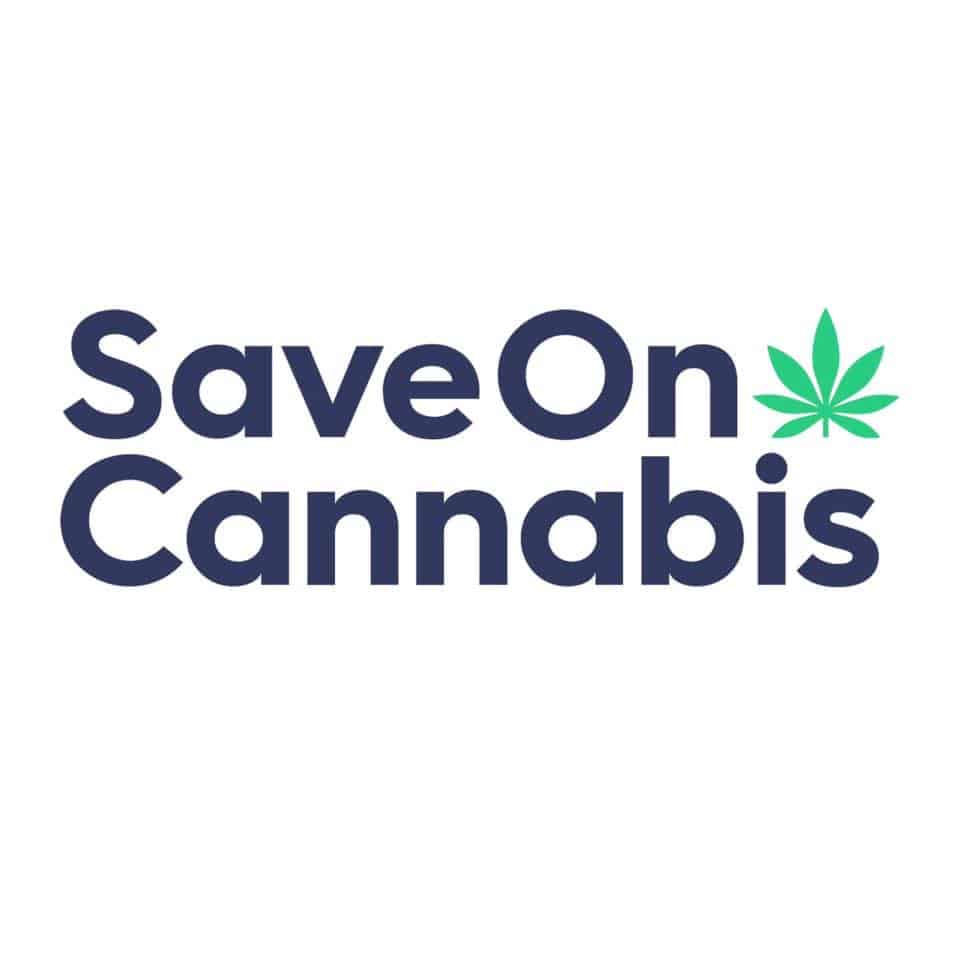 Save On Cannabis is the most trusted source for cannabis discounts and education information.  Vetted deals and clearly written articles to help you become a wiser consumer whether focused on the medical or recreational value of cannabis products.
Can a CBD cream help a foot that was run over by a car? See how the Social CBD Foot Renewal Cream worked for our reviewer. She will tell us.
Can CBDMedic cream help back pain that makes it difficult to sit for more than forty-minutes without needing a break? See if it is worth it & helps.
Our expert got their hands on CBD Pure 750mg capsules to test on her consistent pains. In this CBD Pure review see if they are worth buying.