Soul CBD: 500mg Tincture Review (Watermelon Mint)
Mar 5, 2021 | Save On Cannabis
Soul CBD: 500mg Tincture (Watermelon Mint)
$60.00
Soul CBD Tincture
Product Review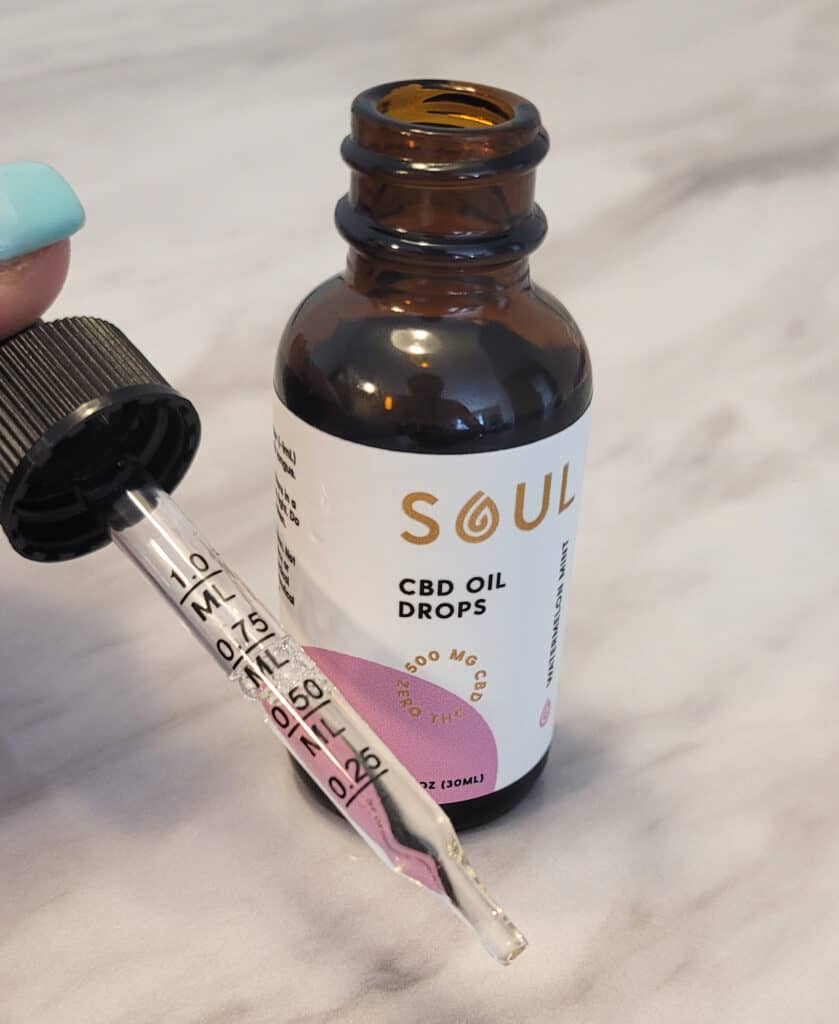 Brand Overview: Soul
Soul CBD co-founders and siblings, Angie and Mike Lee created Soul because they both experienced transformational changes in their health thanks to CBD.
Mike found CBD years after a tragic diagnosis in 2014. He had an autoimmune condition that forced him to take a break from his career as a professional boxer. After going about his healing the traditional way, in and out of doctor's offices and hospitals, he started looking for plant-based solutions. One of those solutions was CBD.
Angie had a similar story with CBD. Her entrepreneurial career and demanding lifestyle created major stress in her life and led to anxiety. But, with the help of hemp-derived CBD, she gained her health back.
With their positive experiences and love for business, they founded Soul in 2018 "on principles of transparency, quality, and efficacy."
The company sources its hemp from licensed U.S. farms and has its products get formulated by physicians. Also, Soul CBD pays a third-party lab to test the cannabinoid content of all its products and also check for pesticides, heavy metals, and microbial contaminants.
Products: CBD gummies, capsules, topicals, pet products, and bath bombs
Price Range ($-$$$$): $$

---
About Soul CBD Oil Drops — Watermelon Mint
Soul's CBD Oil Drops contains pure CBD Isolate from hemp, so there's 0% THC in the product. The bottle includes 500mg of CBD and each 1ml serving has 16.7mg. It has watermelon mint natural flavors and is sweetened with Stevia. Also, the formula is gluten-free and vegan-friendly and includes a graduated dropper to help measure out each dose.
The purpose of these oil drops is to get a tasty and medium-low dose of CBD that is versatile to use.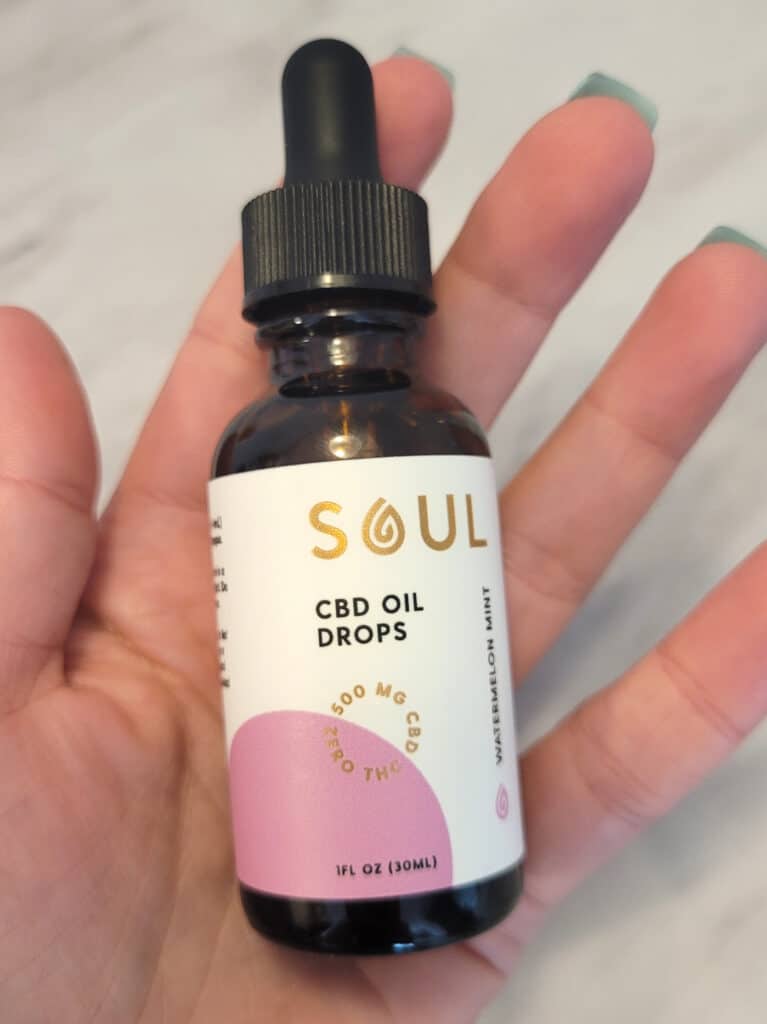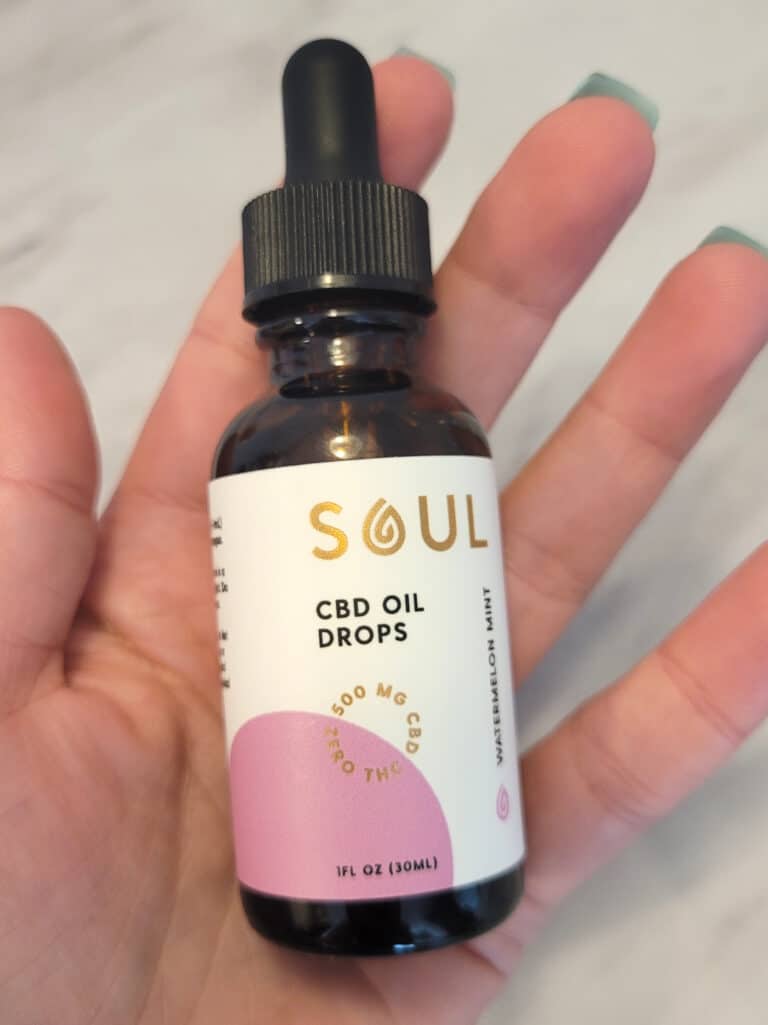 ---
Soul CBD Oil Drops Specifications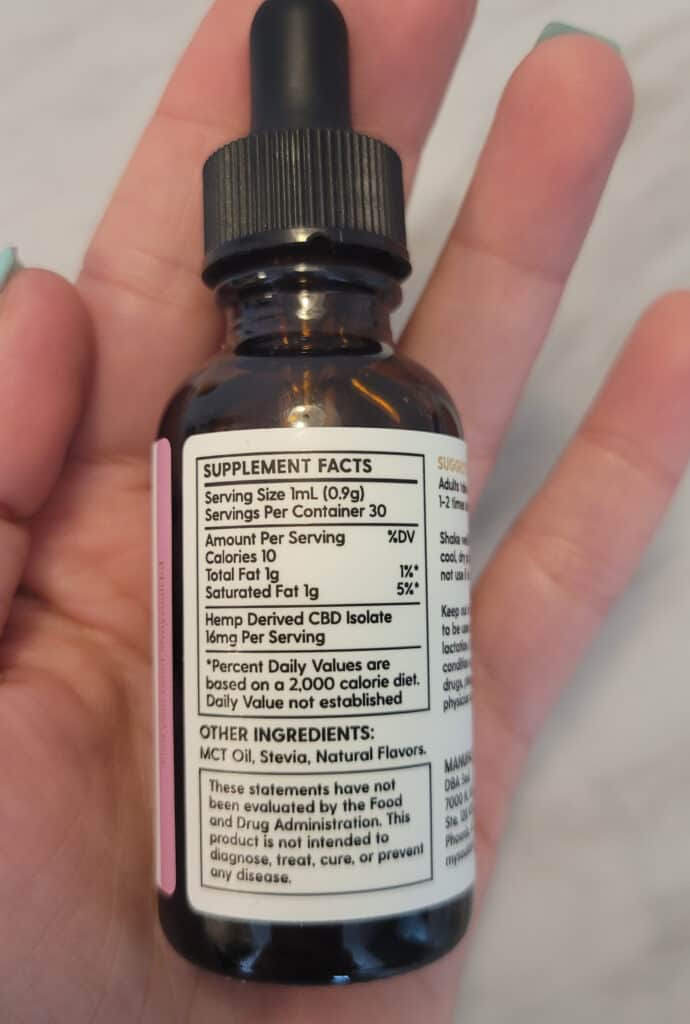 Watermelon Mint flavor
CBD Isolate (THC-free)
500mg of CBD per 30ml bottle
16.7mg CBD per serving (1ml)
USA-grown hemp
Third-party lab tested for potency and purity
Zero artificial flavors
Vegan and vegetarian-friendly formula
Ingredients: MCT oil, CBD isolate, stevia, natural flavors
---
How We Tested Soul CBD Oil Drops
Before writing this review, I used this product for about 2 weeks, once or twice a day. Given my medium tolerance to CBD, I took a full dropper or more at a time. I didn't specifically take it in the morning, afternoon, or night, just whenever I thought of it. This usually ended up being the mid to late afternoon.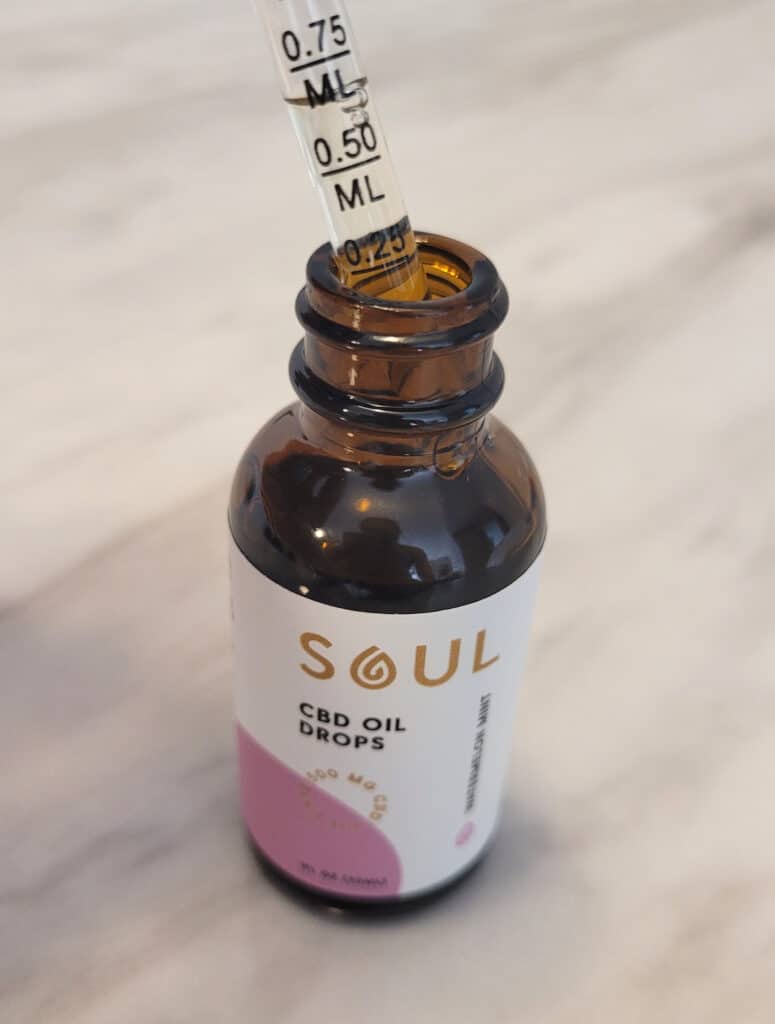 ---
How the Soul CBD Oil Drops Worked for Me
In general, I really liked the effects I felt when dosing with these oil drops. For me, I don't have any daily health challenges, but there are definitely days when I'm super busy and rushing around trying to get everything done. In other words, I have a big daily to-do list. Sometimes this leads to anxiety, frustration, or even anger. When this happens, that's when I know I could use some CBD oil.
There were a couple of instances when I took these drops, where I really needed to relax and calm down. And they gave me that relief. However, the dose for me is pretty low, so I had to take more than 1 full dropper. I never got up to 2 full droppers at once, but I think that would've provided deeper relaxation in my body and a calmer mind.
Overall, I really liked how these drops worked for me and really enjoyed the flavor as well. It did in fact taste like watermelon mint. Since the formula has pure CBD isolate, it's easier for the CBD oil to taste like the flavor on the label. That's one nice benefit of a tincture with only CBD and none of the other phytochemicals found in hemp.
---
Useful and Unique Things to Know About Soul CBD Oil Drops
Soul CBD Oil Drops have Stevia for sweetener which helps to bring out the watermelon mint flavor. And it's a preferred choice of sweetener over artificial sweeteners or high fructose corn syrup. Also, the flavoring is a unique offering that I haven't seen companies sell.
---
Soul CBD Oil Drops Ratings
In the next sections gradings from 0-100 on our review, these grades add up to give the product's overall score.
PRESENTATION • 100
Nice labeling, all details provided, and carefully explained.
RELIABILITY • 100
The effects felt consistent with every dose.
QUALITY • 100
Great selection of ingredients & comprehensive lab-testing.
FLAVOR/SMELL/or EASE OF USE • 100
The watermelon flavor was awesome and tasted natural.
VALUE • 90
Priced higher than most products, but good overall value.
---
PROS of the Soul CBD Oil Drops
There are many good qualities to this product. The first one is the third-party lab testing that verifies the potency of CBD per bottle and confirms there's 0% THC. There are tests on major contaminants, which is great. Also, the hemp gets sourced from licensed farms in the U.S.
In addition, the product includes a natural sweetener and natural flavors, as opposed to artificial sugars and artificial flavors.
---
CONS of the Soul CBD Oil Drops
The potency could be too low for some, but Soul offers a higher strength potency if needed. Also, the price per mg of CBD is much higher than most competing CBD oil tinctures.
---
How Soul CBD Oil Drops Stack Up Against the Competition
This is a competitive product, for sure. It has all the qualities needed to make it a 5-star product from its high-quality source of hemp to the independent lab testing to the health-conscious formula, etc. It has a higher price tag than products of equal value, so that's one major fallback compared to the competition.
---
Disclosure: I received these products gratis so that I could try them and then share my honest opinion with the SOC community. I am employed by Save on Cannabis to write honest reviews and provided a flat rate payment for the writing of the review. SOC may receive recurring affiliate payments for purchases made based on this content.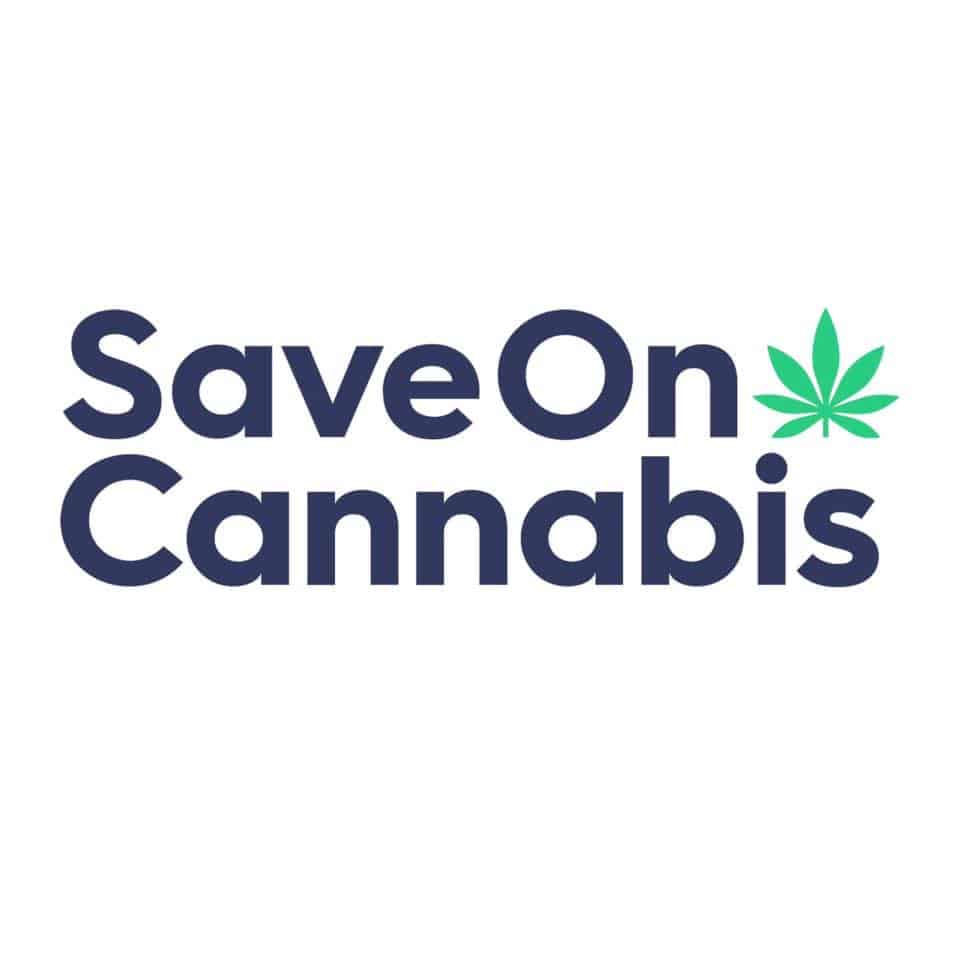 Save On Cannabis is the most trusted source for cannabis discounts and education information.  Vetted deals and clearly written articles to help you become a wiser consumer whether focused on the medical or recreational value of cannabis products.
See in our Manitoba Harvest review of their CBD oil drops if it helps us get some sleep. Also, enjoy Manitoba Harvest coupons.
Will this CBDistillery CBD Warming Cream stand up to the heat of our reviewer's critical needs? See how it works on pained muscles first hand.
Read how this ultra high potency 3,000mg CBD tincture worked for our reviewer. In this review you'll see if it helped our reviewer sleep.