Infinite CBD Review: Nano Non-Dairy Creamer (French Vanilla)
Nov 15, 2018 | Romy
CBDCBD CandyCBD ConcentratesCBD DrinksCBD EdiblesCBD GummiesCBD Isolate or Terpsolate Powder and CrystalsCBD Pet ProductsCBD Pills & CapsulesCBD SuppositoriesCBD TincturesCBD TopicalsCBD Vape OilsCoupons Valid For Returning UsersHand SanitizersSave On Cannabis Verified
Infinite CBD Nano Non-Dairy Creamer (French Vanilla)
Pros
Great Taste
Interesting Ingredients
Portable Bottle
Cons
Not Effective For Me
Gave Me a Stomach Ache
Brand Overview: INFINITE CBD
Infinite CBD sells a variety of products made from the purest, all-natural CBD isolate available. CBD isolate is the most concentrated form on the market, containing 99% pure CBD. All their products contain less than .1% THC so you won't get high but still get the health benefits of the cannabis plant. They add no harmful additives or chemicals to their products. Many professional athletes like UFC fighters, cyclists, and soccer players use Infinite CBD to help them train harder and improve during recovery. As an added bonus, the company offers yummy recipes like their homemade CBD Spice Latte. Sign me up!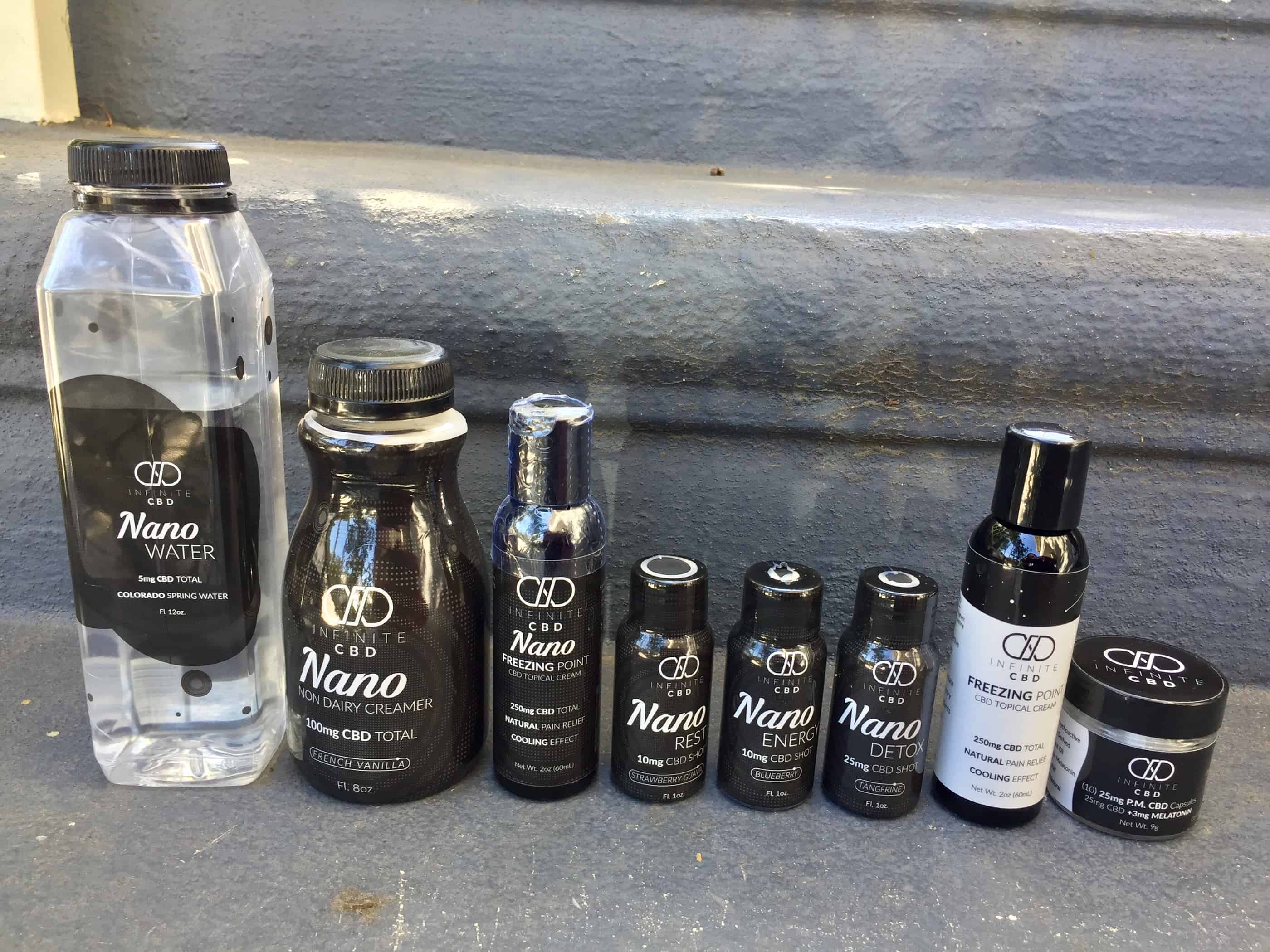 Products: CBD Water, Topical Cream, Shots (Detox, Energy, Rest), Non-Dairy Creamer (French Vanilla, Hazelnut), Gummies, Salve (Stick, Tin), Tinctures, Pure Crystalline, Antiseptic Soap, Isolate Capsules, Isolate Droppers, A.M. Capsules, Afterglow Healing Oil, Pet Droppers, Vape Juice, Hair Plasma (Dry Scalp, Conditioning, Shine, Growth & Thickening), P.M. Capsules, Suppositories, Beard Flux Oil, Freezing Point Cream
Price Range: $$
About the NANO FRENCH VANILLA NON-DAIRY CREAMER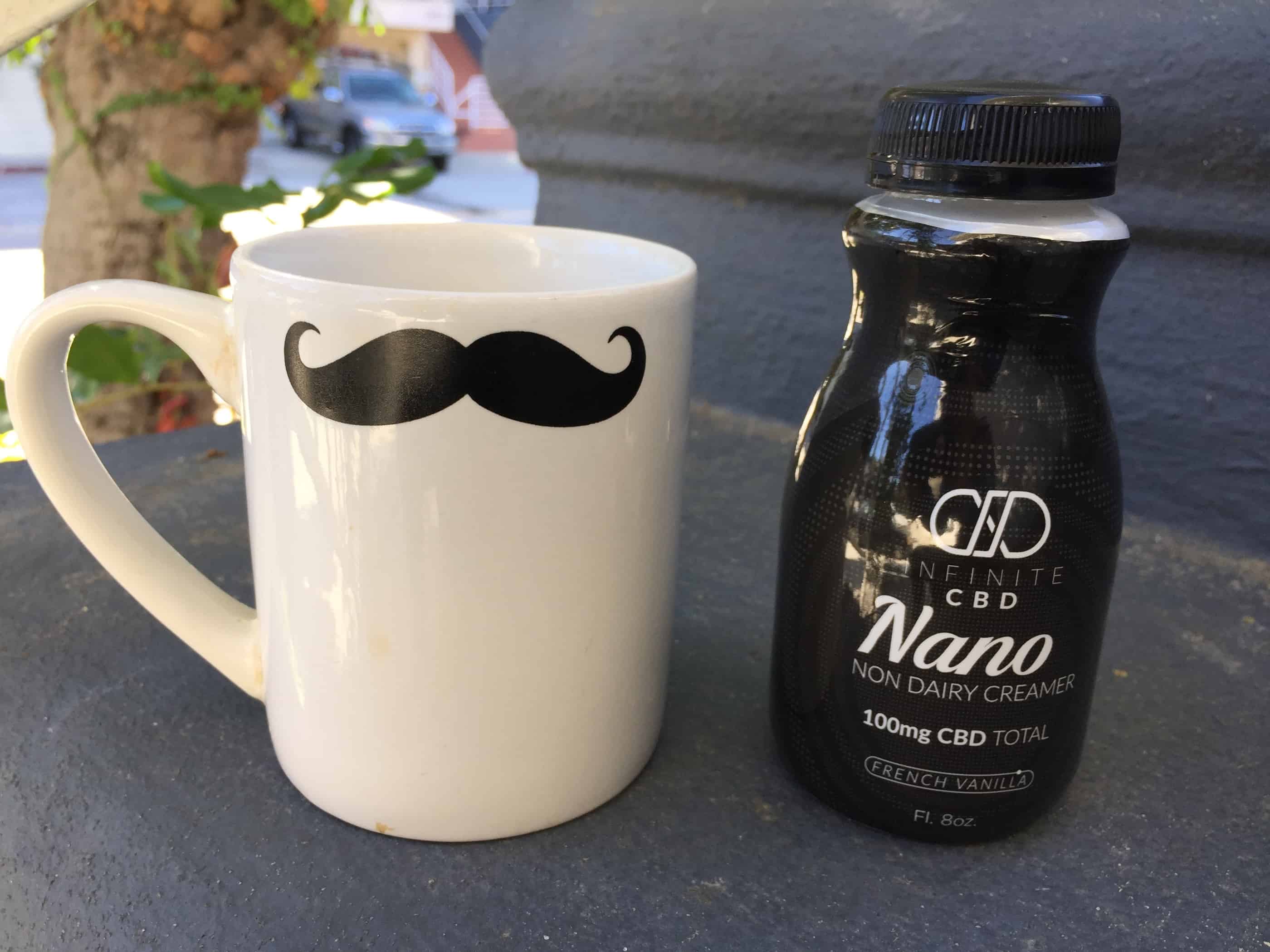 The NANO French Vanilla Non-Dairy Creamer is a delicious addition to your coffee or tea that comes with the health benefits provided by CBD and MCT oil. The MCT gives you a boost of energy while the CBD offers you pain and anxiety relief. Using nanotechnology, the CBD is made into teeny tiny CBD particles that can more easily penetrate the blood-brain barrier allowing for more effective results. So, grab a cup of coffee (or tea for me) and add some of this tasty non-dairy creamer for an extra boost.
NANO FRENCH VANILLA NON-DAIRY CREAMER Specifications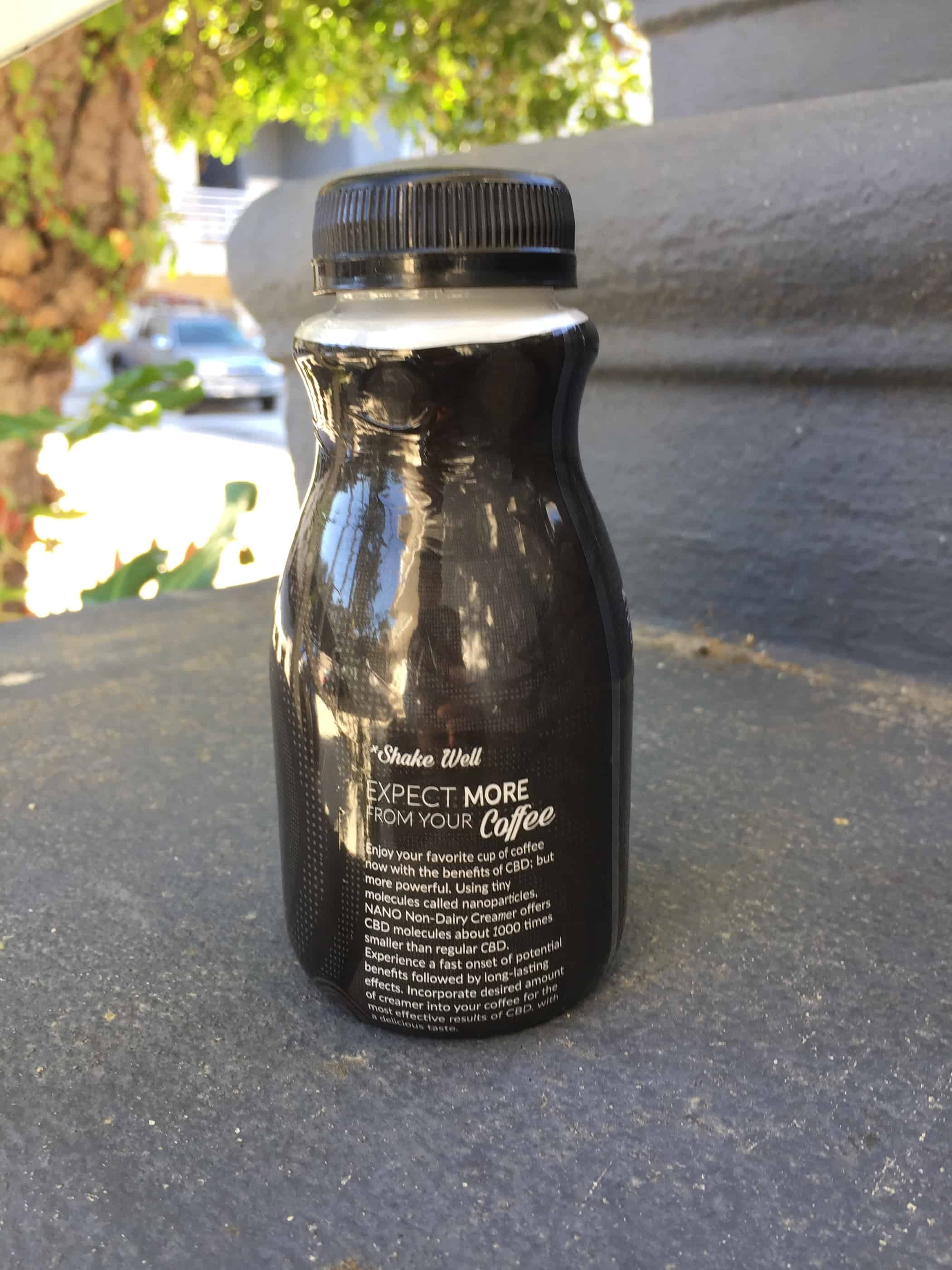 Ingredients: NANO CBD, MCT Oil, Natural Flavors

Directions: Stir NANO Non-Dairy Creamer into your beverage of choice

100 mg of CBD per bottle

1 tablespoon is approximately 6.25mg of Nano CBD

8 oz bottle

Comes in French Vanilla and Hazelnut

Dairy Free
How We Tested the NANO FRENCH VANILLA NON-DAIRY CREAMER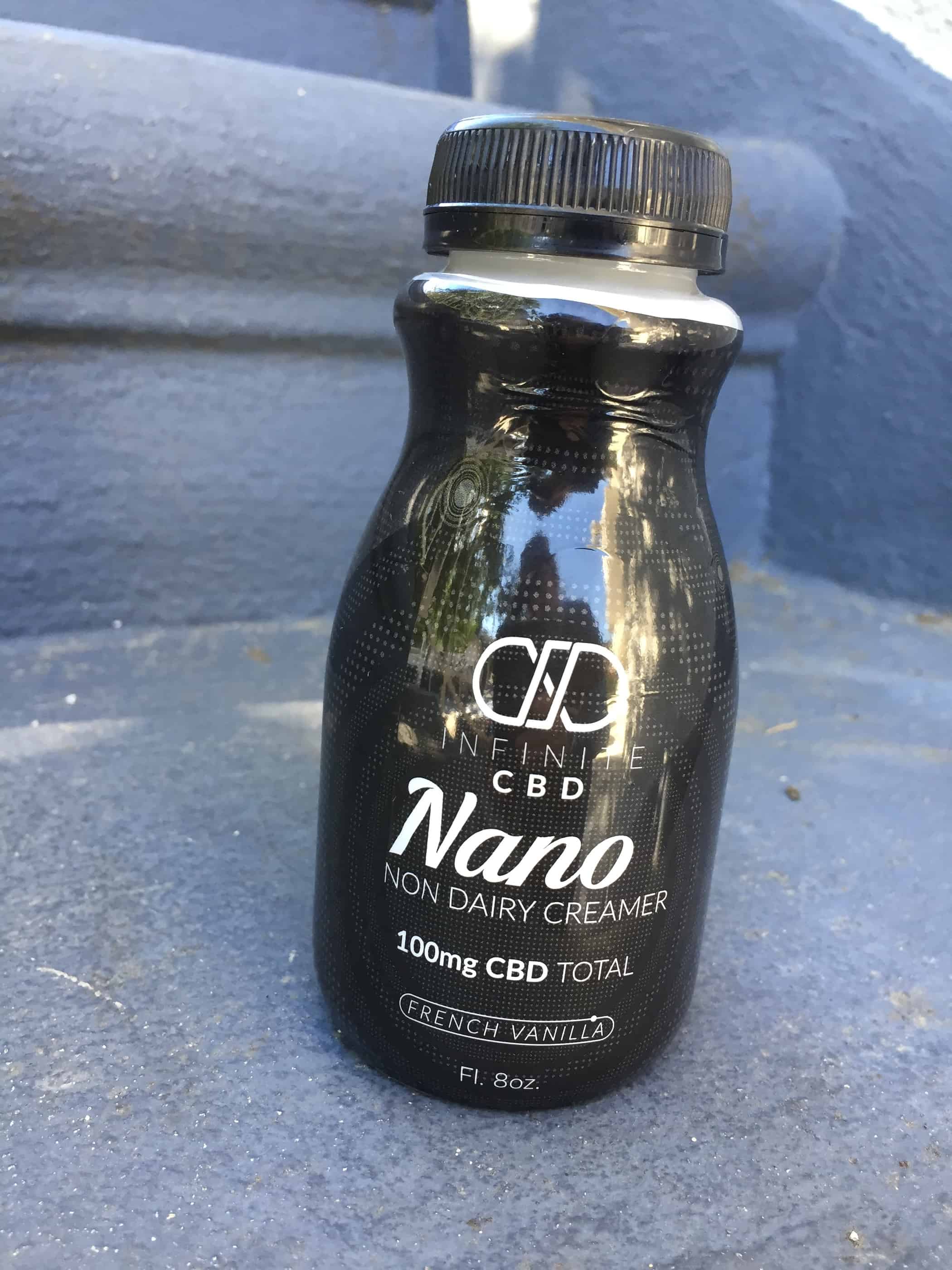 If I don't have 1-2 cups of super strong Irish Breakfast tea with a large dollop of half and half in the morning, I'm not happy. So Infinite CBD's French Vanilla non-dairy creamer is the perfect product for me. CBD has become a normal part of my daily routine ever since hip surgery a few months ago. Since the surgery, I have a lot of nerve pain in and around the surgery site. When CBD works, my body warms up, I feel relaxed, and the pain dims. It never cuts the pain completely, but only heavy pain meds or a frontal lobotomy can do that, and I'm not interested in adding to the opiate crisis or drilling a hole in my head. I was excited to try this CBD infused creamer because if it works, I could easily add this to my daily tea-time routine. I added two tablespoons to my hot tea in the morning.
How the NANO FRENCH VANILLA NON-DAIRY CREAMER Worked for Me
Sadly, I didn't feel any of the normal benefits of CBD from the creamer. I also got a stomach ache, which could be a result of the MCT oil, but I can't be sure. On the positive side, it tasted great in my black tea. I probably wouldn't get this product again, unless it had a stronger dose of CBD. I was afraid to try more of it just in case it was the MCT oil hurting my stomach. Some people swear by MCT oil, so those people might love this stuff.
Useful and Unique Things to Know About NANO FRENCH VANILLA NON-DAIRY CREAMER
I didn't know anything about MCT oil before trying the creamer. After some research, I learned there are some awesome benefits. MCT oil is often taken as an energy-boosting supplement that will help burn fat. It also has antifungal and antimicrobial properties so it's great for keeping your gut healthy. On the bad side, it can cause a raised heart rate and diarrhea. So, it's probably not a great idea to take high doses of this product.  
NANO FRENCH VANILLA NON-DAIRY CREAMER Rating Breakdown
In the next section we validate our ratings that show as gradings from 0-100.
PRESENTATION • 100
Portable, professional-looking.
RELIABILITY • 50
It didn't work for me.
QUALITY • 70
All-natural ingredients with the cool tech behind it but not very effective.
FLAVOR • 100
Tasted amazing!
VALUE • 80
Reasonably priced but a small bottle.
How the NANO FRENCH VANILLA NON-DAIRY CREAMER  Stacks Up Against the Competition
This 8 oz bottle of creamer is relatively cheaper than the competition. That being said, I use up to 8 oz of creamer in two days, so I might be swayed to buy a larger bottle from a different company.
Saving Money With Infinite CBD Coupons
Save money on all CBD Drinks coupons here at Save On Cannabis the World's largest online cannabis coupon code directory.
Disclosure: I received these products gratis so that I could try them and then share my honest opinion with the SOC community. I am employed by Save on Cannabis to write honest reviews and provided a flat rate payment for the writing of the review.  SOC may receive recurring affiliate payments for purchases made based on this content.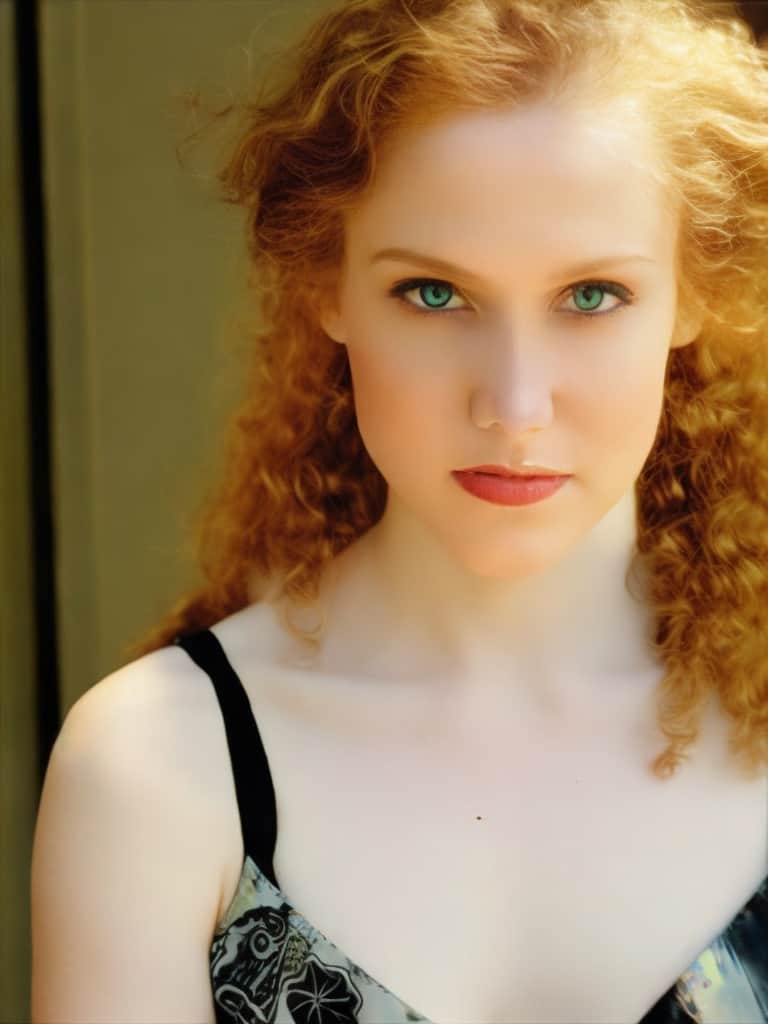 A medicinal cannabis user, utilizing the power of the plant to ease the pains and stresses from long standing conditions that other over the counter or prescriptions could not fix or weren't a natural option like cannabis.  Also, has a background in working directly in the cannabis industry in California within various dispensaries.
Gummies are a very popular way to take CBD. In our Pure Relief review see if their Daytime 900mg CBD Gummies pack the punch we needed.
Looking for a portable dabbing device you can trust? See if we found it in this Dr. Dabber review of the Ghost & Light dab vape.
We test another REAKIRO CBD product to see how it worked for our reviewer. See how this vegan CBD product helped anxiety and offer calm.