CBD Review: CBD•TRU – Salve for Migraines
Oct 6, 2019 | kati
CBDCBD CandyCBD ConcentratesCBD EdiblesCBD GummiesCBD Isolate or Terpsolate Powder and CrystalsCBD Pills & CapsulesCBD TincturesCBD TopicalsCoupons Valid For Returning UsersSave On Cannabis Verified
CBD•TRU - Salve for Migraines
Pros
Quality ingredients
Goes on smooth
Pleasant light herbal smell
Mild pain relief
Pretty label
CBD•TRU Migraine Topical
Product Review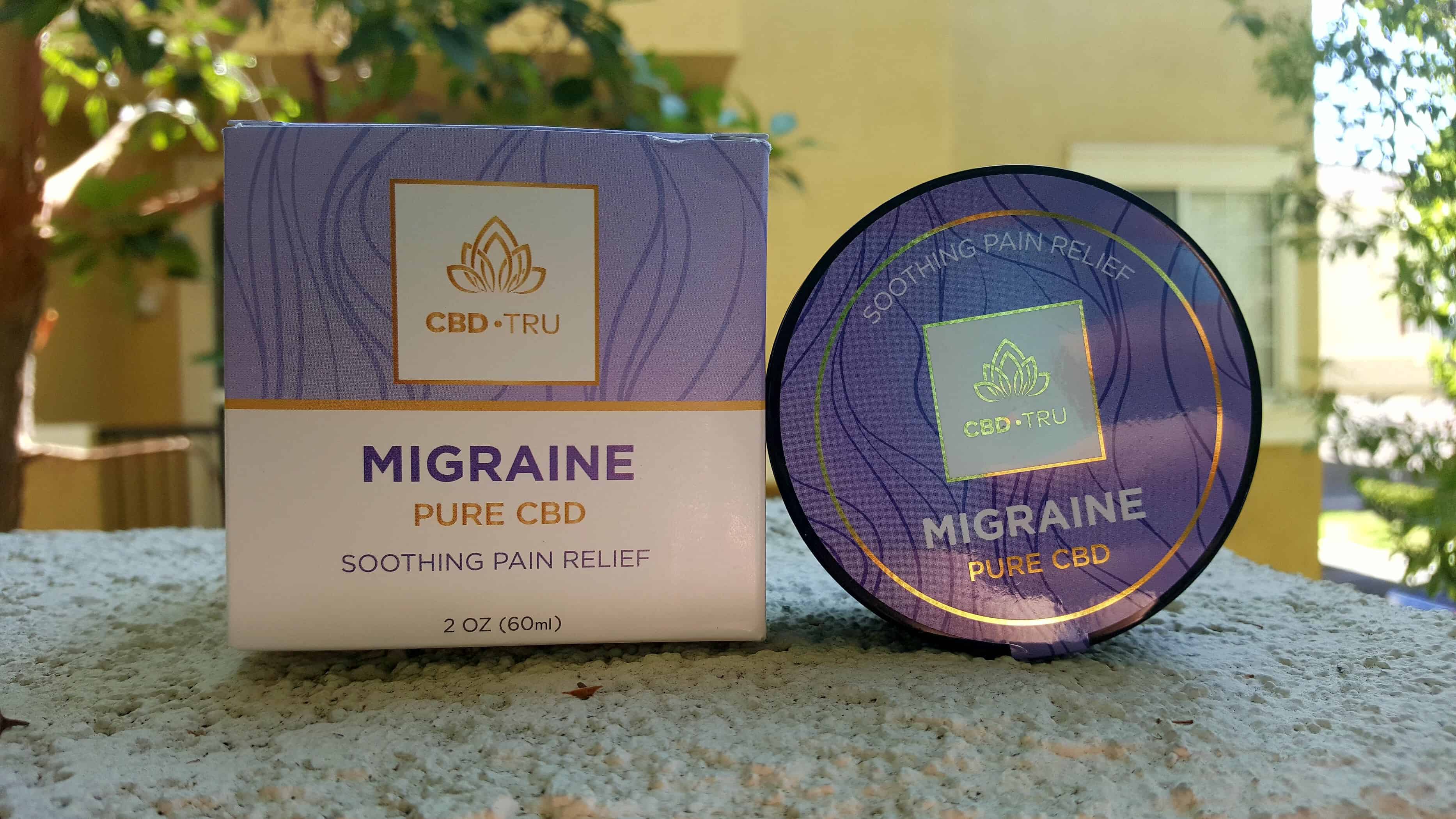 CBD•TRU takes great pride in creating organic and pure CBD. All of their products are prepared with PURE CBD and hand-selected pure ingredients. Organic, nutritious, and vegan with absolutely no GMOs, carb-free, THC-free, gluten-free, solvents-free, and sugar-free. They also have been awarded the GMP (Good Manufacturing Practice) stamp of approval for quality products. They have the most innovative and effective meticulous formulas for sourcing best-in-class CBD products. They are on a mission to help humanity move from illness to wellness.
Products: Topicals, Tinctures, Isolates, Gummies, Capsules
Price Range ($-$$$$): $$$
---
About the CBD•TRU Migraine Topical
This topical migraine salve is packed with 100 milligrams of pure CBD and contains carefully selected terpenes and essential oils for pain relief and anti-inflammation in a creamy cocoa-butter base and is the only scientifically proven salve on the market to carry 4 medications transdermal. It comes in a convenient travel sized jar, perfect for tossing into your bag to take to work, the library, long flights or anywhere else you may find yourself having a headache. The nice thing about this topical is that it can double as a pain relieving salve.
---
CBD•TRU Migraine Topical Specifications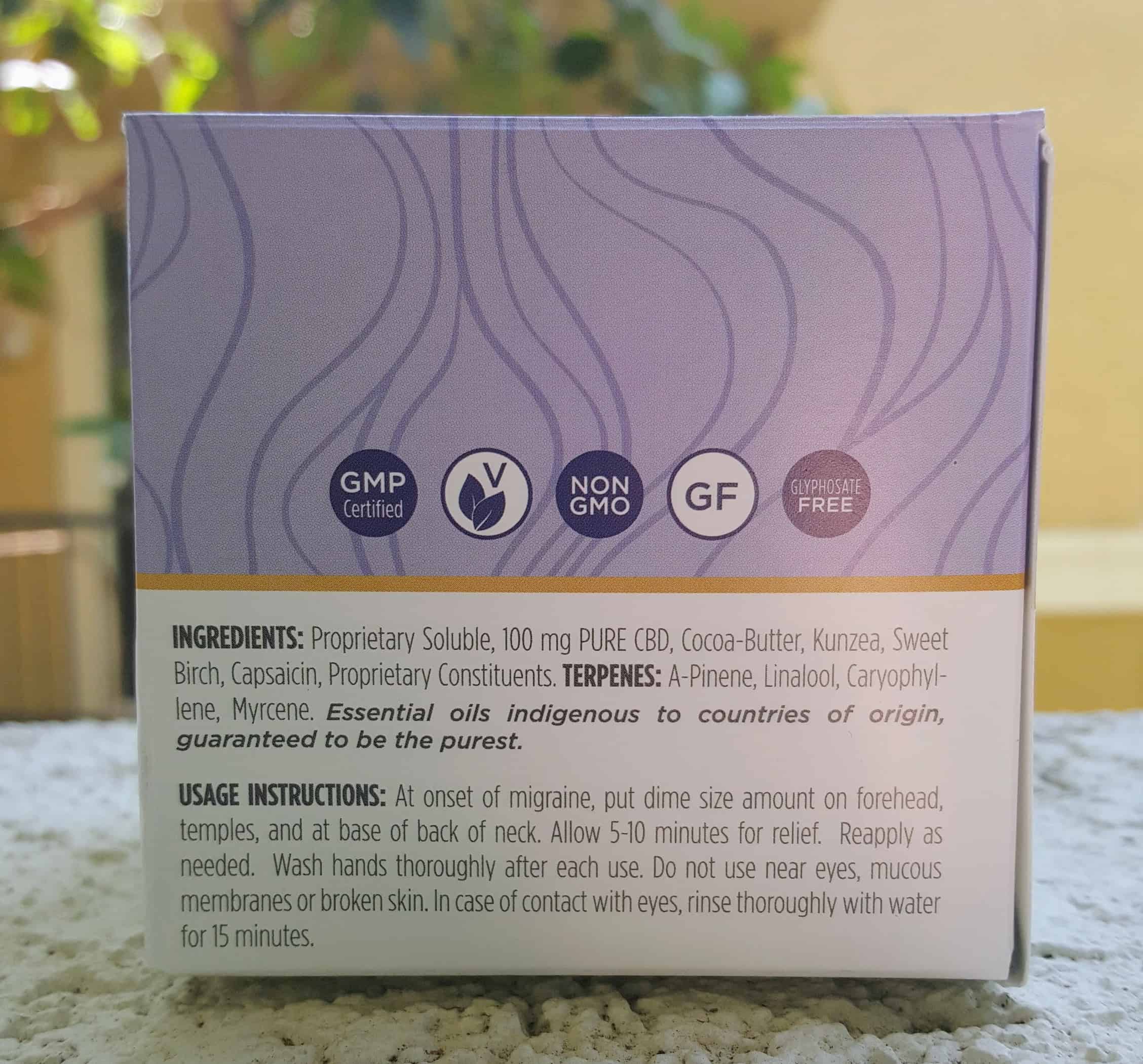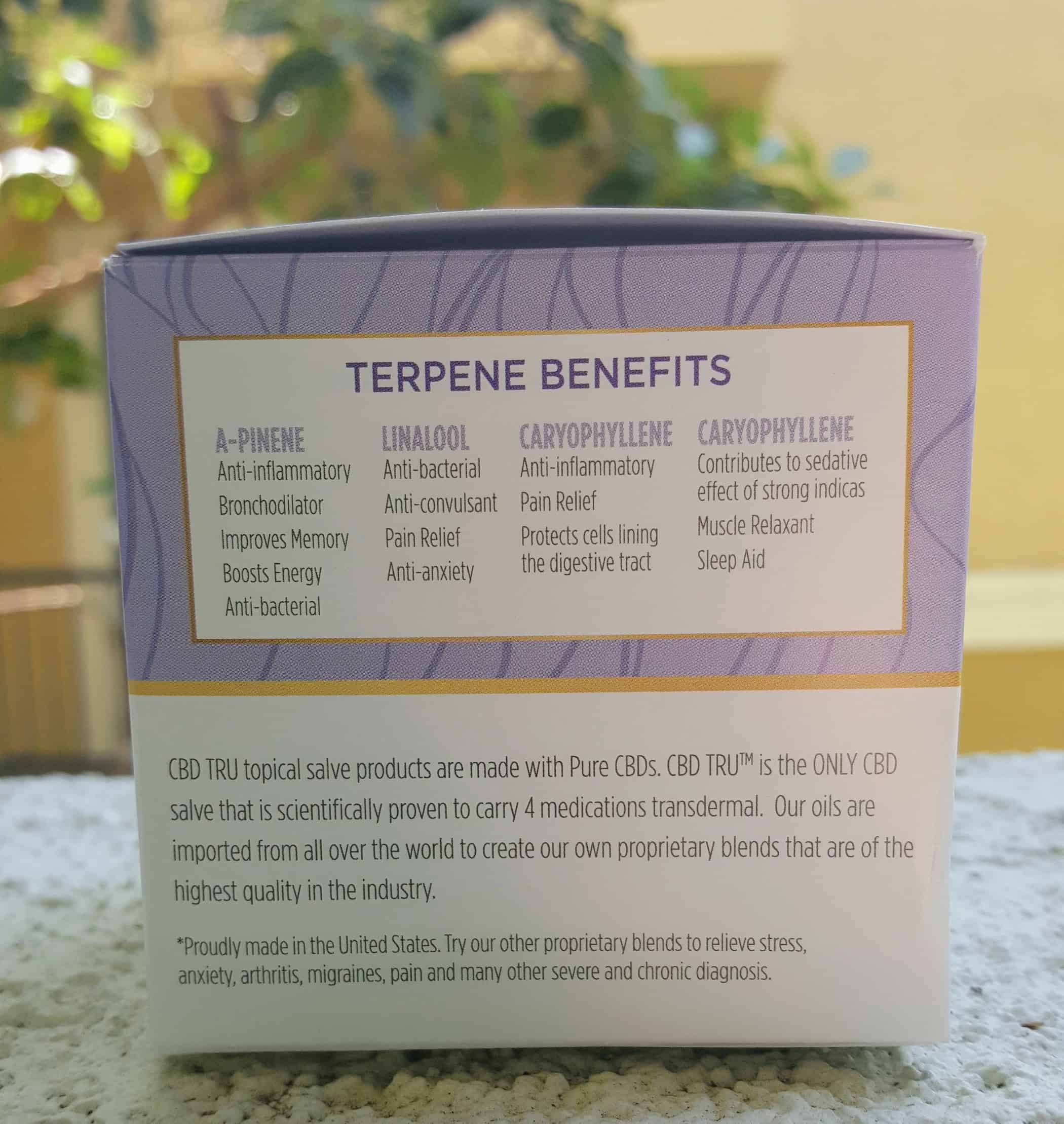 100mg CBD
2oz (60ml)
Ingredients:Proprietary Soluble, 100mg PURE CBD, Cocoa-Butter, Kunzea, Sweet Birch, Capsaicin, Proprietary Constituents
Terpenes: A-Pinene, Linalool, Caryophyllene, Myrcene
Application: Forehead, Temple, and Behind Ears
THC Free
Serving Size: ½ dropper
Non GMO
Vegan
Sugar Free
Gluten Free
Solvent Free
GMP Stamp of Approval
---
How We Tested the CBD•TRU Migraine Topical
As a massage therapist, I am always looking for new CBD topicals to try in order to incorporate them into my practice. While this particular product is more geared towards headaches, it still contains the same major ingredients as CBD TRU's other topical products, so I was curious to try it in other applications, as I do not suffer from Migraines. I do however, suffer from chronic shoulder pain, and after a long day at work, my shoulder is quite inflamed. I already know how much I love the rich creaminess of cocoa butter lotions so I was eager to try this product, as that is the base for it. I asked my boyfriend to rub this into my shoulder for me.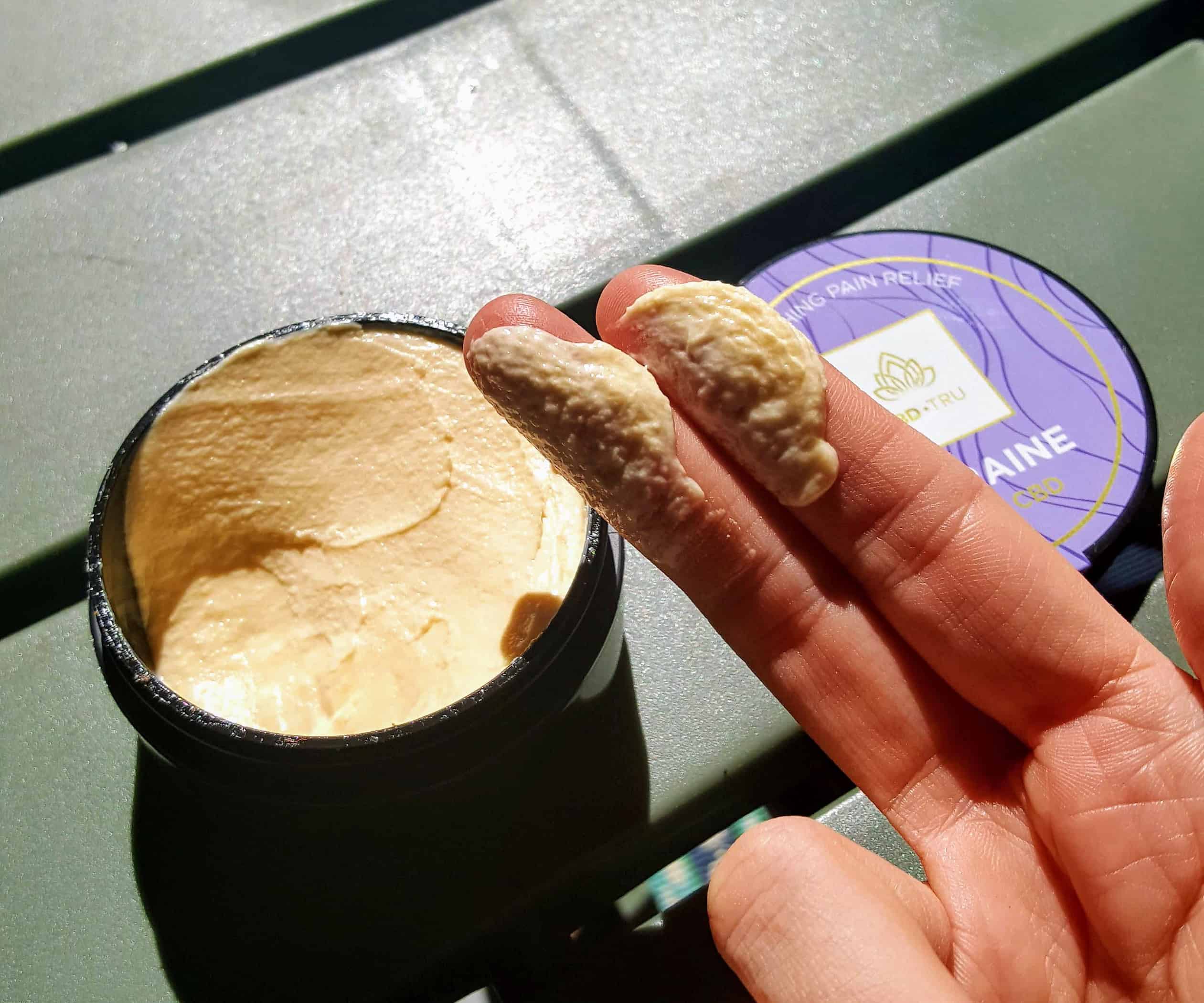 ---
How the CBD•TRU Migraine Topical Worked for Me
Upon opening the product, I was welcomed by a pleasant herbal aroma, which I appreciated, because a lot of topicals have a medicinal smell which is a turn off. The cocoa butter allows for a nice creamy consistency that isn't too oily or too slick and leaves my skin feeling hydrated and smooth. The immediate warming sensation from the capsaicin reminded me of wrapping myself in a blanket fresh from the dryer. As the CBD kicked in I slowly felt my pain dissipating.
I didn't get quite as much relief as I was hoping for but I will continue to use this product for mild pain. If a headache does pop up, I'll be eager to try this as the website had great reviews from headache users.
---
Useful and Unique Things to Know About CBD•TRU Migraine Topical
CBD TRU put in a lot of effort to source all of their ingredients, making sure everything is organic and only the highest quality. The addition of the terpenes really sets them apart from other brands I've seen out there. One thing to look out for is the capsaicin though. Make sure you thoroughly wash your hands after and don't touch your eyeball or other mucous membranes or you'll be in for an unpleasant surprise.
---
CBD•TRU Migraine Topical Ratings
In the next sections gradings from 0-100 on our review, these grades add up to give the product's overall score.
PRESENTATION • 100
Beautiful labeling with clear list of ingredients
RELIABILITY • 100
Does what it promises
QUALITY • 100
Organic ingredients
FLAVOR / SMELL / or EASE OF USE • 100
Light pleasant herbal smell
VALUE • 90
Expensive
---
How the CBD•TRU Migraine Topical Stacks Up Against the Competition
This buttery soft topical goes on light and absorbs really nicely into the skin without leaving a residue. The added terpenes and essential oils really give it that extra boost of healing. A quick Google search will pull up a million different salves/topicals with a higher dose of CBD at a reduced rate. This is a great quality product but if they want to stand up to the competition they need to up the milligrams of CBD.
---
Saving Money With CBD•TRU Coupons
Save money on all Cbd Topicals here at Save On Cannabis the World's largest online cannabis coupon code directory.
---
Disclosure: I received these products gratis so that I could try them and then share my honest opinion with the SOC community. I am employed by Save on Cannabis to write honest reviews and provided a flat rate payment for the writing of the review. SOC may receive recurring affiliate payments for purchases made based on this content.
Sorry, no coupons were found.
Our reviewer tests the ZenWorks CBD Vape E-Liquid Bangin' Berry, find out from our hands-on testing if it is worth your money.
Our reviewer got to test the Vapen Clear CBD Crystalline Inhaler 1000mg. See what she thought of this product & if it is worth your money.
Delta-8-THC is legal and available online. See our reviewer's experience in this Delta Extrax review.