Canada Mail Order Cannabis: Get Kush Review & Unboxing
Oct 26, 2018 | Save On Cannabis
Canada Mail Order CannabisCBDCBD CandyCBD ChocolateCBD ConcentratesCBD EdiblesCBD GummiesCBD Isolate or Terpsolate Powder and CrystalsCBD Pet ProductsCBD Pills & CapsulesCBD RSO Phoenix TearsCBD TincturesCBD TopicalsCBD Vape OilsDisposable CBD Vape PenDisposable THC Vape PenSave On Cannabis VerifiedSmoking AccessoriesTHCTHC CandyTHC ChocolateTHC ConcentratesTHC EdiblesTHC FlowersTHC GummiesTHC Hard CandyTHC Live ResinTHC Pills & CapsulesTHC RSO Phoenix TearsTHC TincturesTHC TopicalsTHC Vape OilsUnique Smoking DevicesVaporizersWax & Concentrate Vaporizers
GetKush
CUSTOMER EXPERIENCE
9.0/10
SHIPPING & PACKAGING
9.5/10
Pros
Easy Sign-Up
$10 Sign-Up Bonus
Free Gram for First Time Buyer
Free Shipping Orders Over $149
Variety Packs Allow Trying Multiple Strains
Rewards Program
Cons
High Minimum Order Quantities (14g min. for Some Strains)
Service Newer, Not A Lot of Reviews
No Lab Test Results
Get Kush Overview
Get Kush offers a wide variety of cannabis flowers, each advertised with a unique graffiti art style that really makes each strain stand out. From the start, it is clear that Get Kush is trying their hardest to stand out. Like most mail order websites, they offer more than just flowers – featuring concentrates and edibles on their site as well. For this review, we picked up their top-shelf variety pack, and it did not disappoint. All four strains were solid, and you can read about each below.


Tom Ford – Indica
Tom Ford Premium Indica 3.5 g
We love the classy, sophisticated feeling we get from the name of this strain. Tom Ford has very unique looking nugs; they are not dense and are loose enough to see through the nug. The nugs are absolutely covered in big crystals and have clusters of dangling dark orange pistils. Tom Ford's scent is extremely piney at first but has some strong diesel notes when ground.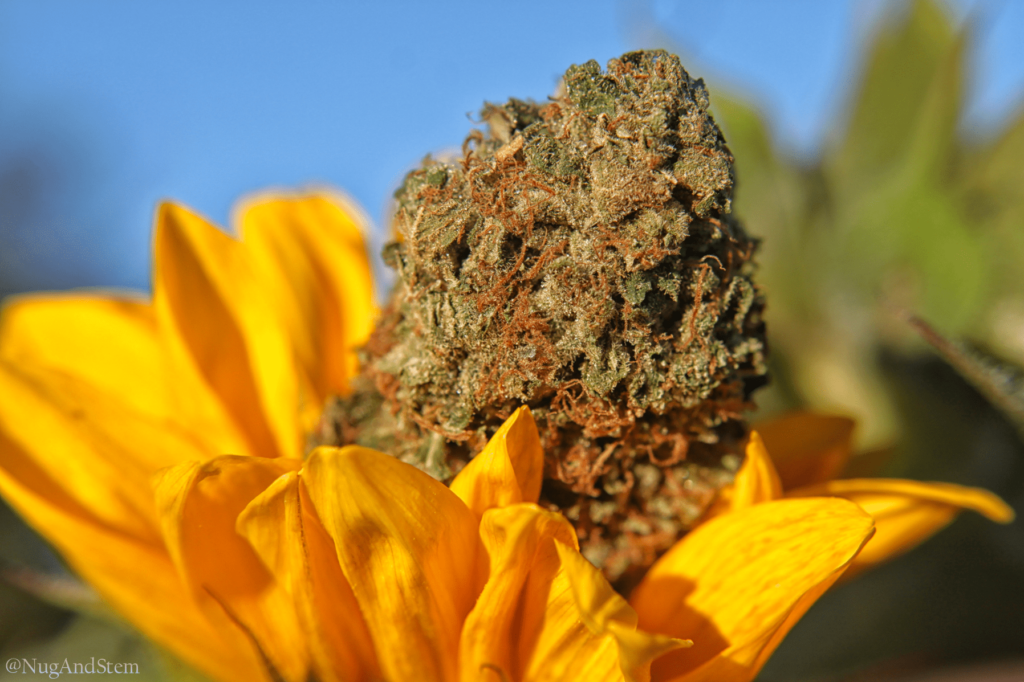 When smoked from a pipe, TF has a great smoke flavour that is both nutty and woody. The bowl stayed well lit and provided a smooth smoke. The high is very mellow and sets in quickly while being mostly head-heavy. The strain provides positive energy that lasts even after the high, but the heavy effects of the high are not long lasting. These traits make this a great strain for a wake and bake.
When smoked as a joint, Tom Ford provides a beautiful chocolatey burn flavour with some dark grassy notes. Nug thought it tasted a bit like an expensive lipstick, but we might just be influenced by associations with the name. This strain allows for maximum relaxation, but, unfortunately for Stem, did not provide great pain relief for an injured back. If you aren't a seasoned smoker, do be careful with how much you consume. TF did cause nug (who is prone to paranoia) to become quite paranoid when smoked in a larger quantity. However, once we reduced the intake amount, there were no issues, and the effect was purely relaxing.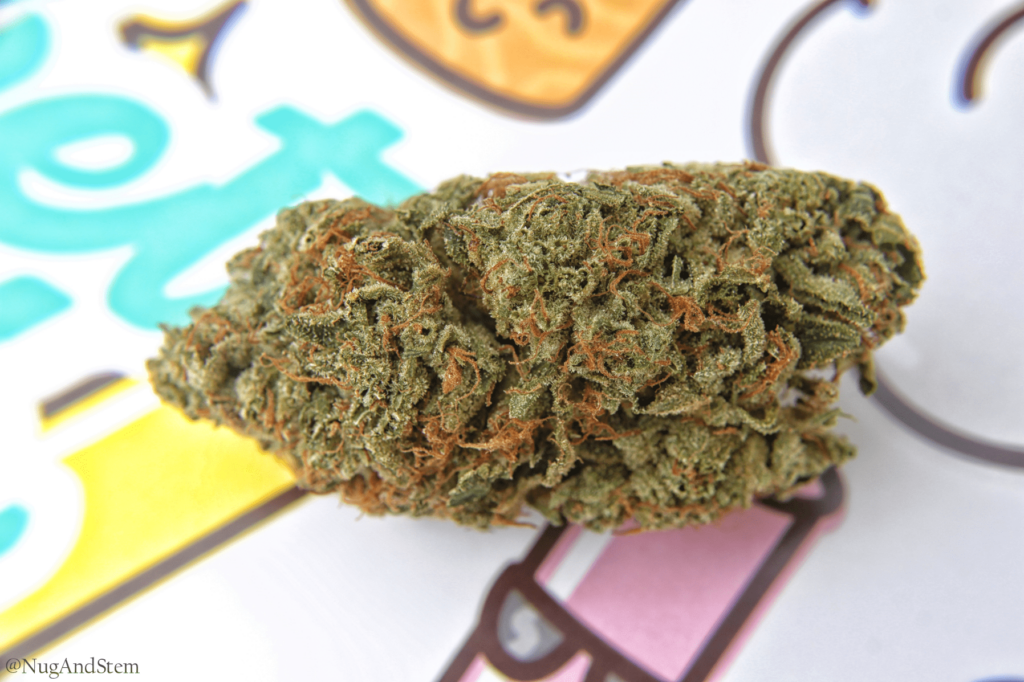 Nug's HIGHlight: Once we found the right dose for TF, this strain provided the relaxed energy needed to be at ease in social situations. As someone who can struggle with social anxiety and sometimes avoids smoking in social situations because of it, Tom Ford actually allowed me to be at ease around other people while high, which was a big relief.
Stem's HIGHlight: Tom Ford is fantastic for relaxation. Whether you need it after a long day of work or want some good energy to start your day, this strain is going to release tensions and keep the positive vibes flowing.
Tom Ford from Get Kush Scoring
Scoring 0-100
Aroma • 90
Taste • 95
Visual Aesthetics • 95
Stone / High • 90
Burnability / Flush • 90
Alien OG – Hybrid
Alien OG Balanced Hybrid 3.5g
Alien OG did thankfully come with humidity control. This strain boasts some of the most beautiful little nugs ever. The nugs are very dense and slender. The flower has a vibrant green colour and lots of short dark orange (almost red) pistils; the nugs are also fully covered in white powder like an early snowfall of trichomes. To be honest, the scent this strain provides is not great; it's very grassy – almost like old cut grass. However, when busted up, the scent develops more of a licorice overtone, which we saw as an improvement.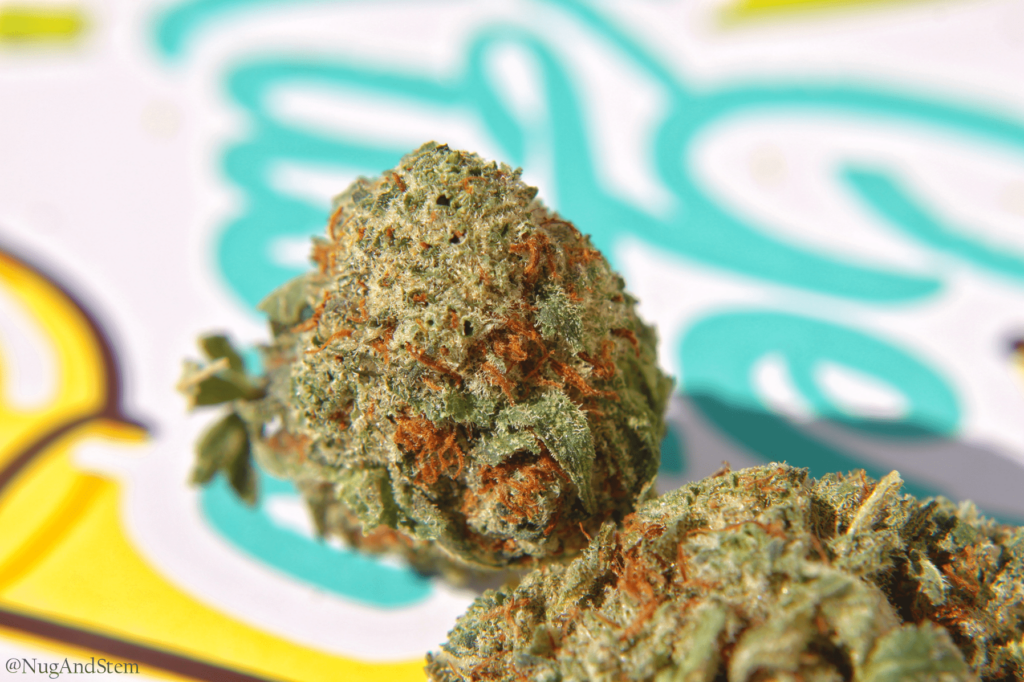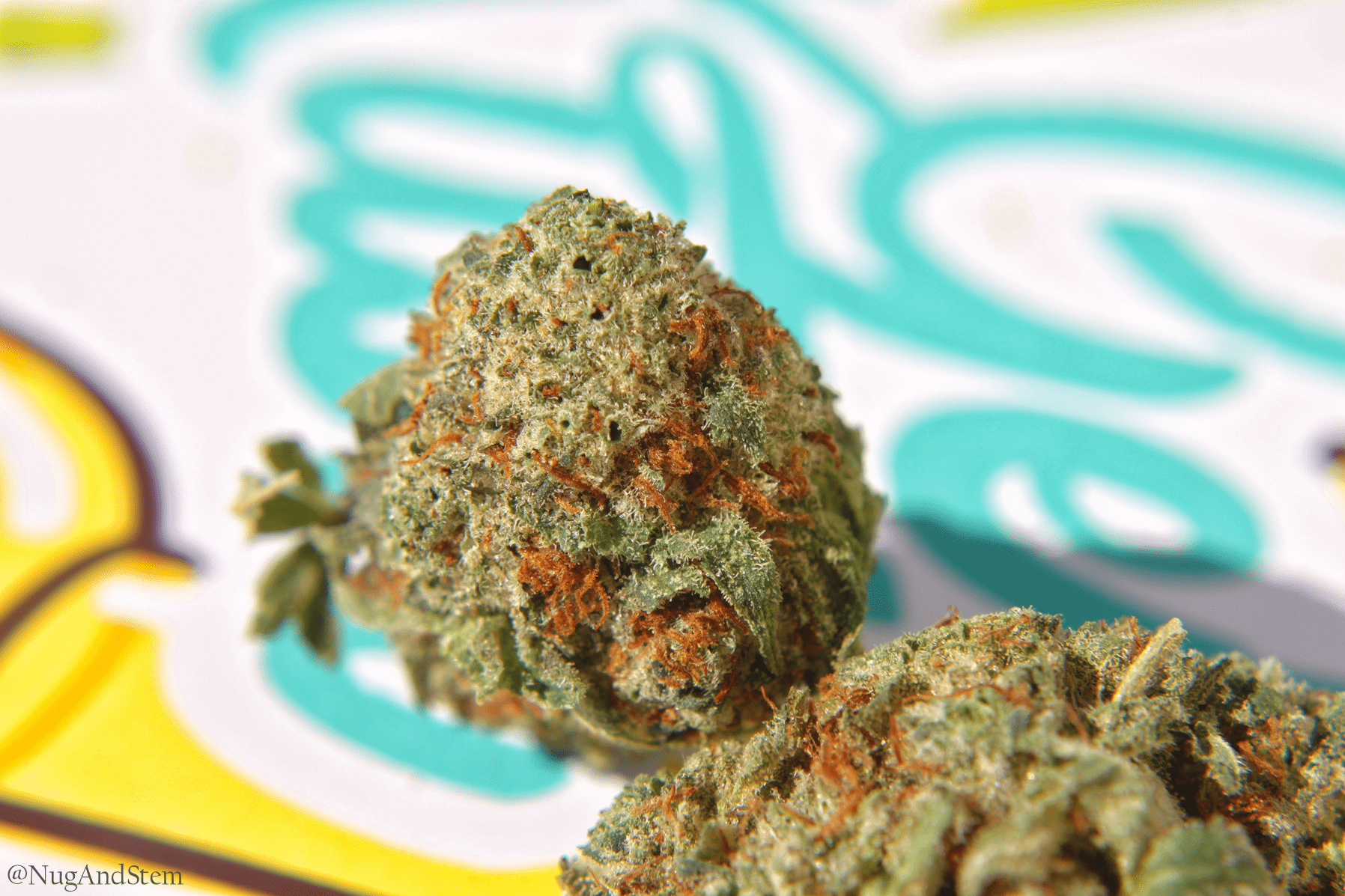 Alien OG provided a very smooth smoke with a joint. There is a slight coffee flavour, but it also tastes light – almost like pleasant flowers. Even at the end of the joint, this strain doesn't burn too hot, so it's clearly well cured. When smoked fairly heavily, Alien OG mostly just made us pass out.
When smoked from a pipe, Alien OG burns great. We lit it once, and it lasted for the whole session. The taste is, again, light and refreshing. Alien OG does not provide the heavy headrush that strains as Tom Ford do. It definitely provides good positive energy but doesn't have any strong psychoactive effects. When smoked in a smaller dose with a one-hitter, this strain allowed for good focus, so it's great if you want to work on a project or get tasks done while still getting that energy burst from the high.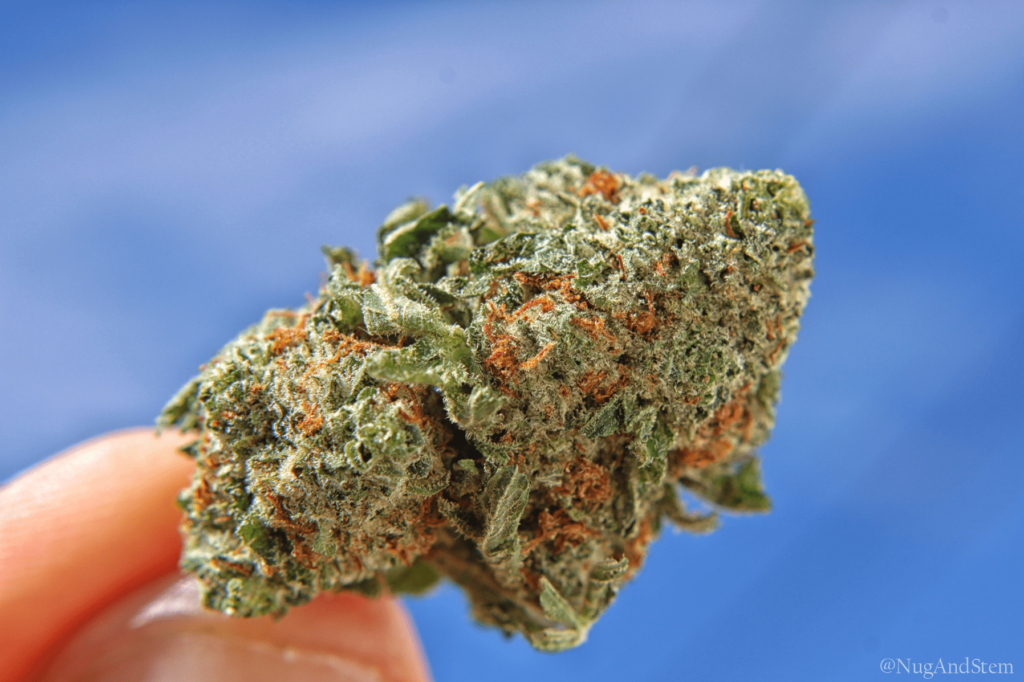 Nug's HIGHlight: Hopefully this isn't TMI, but this strain really helped take our sex life to the next level. Enough said.
Stem's HIGHlight: This strain is just really enjoyable to smoke. From how smooth it is to the flavours to the look of it, Alien OG creates an overall great smoking experience.
Alien OG from Get Kush Scoring
Scoring 0-100
Aroma • 80
Taste • 90
Visual Aesthetics • 100
Stone / High • 90
Burnability / Flush • 95
Red Congo – Sativa
Red Congo Sativa 3.5g
Red Congo, unfortunately, did not come with humidity control. The nugs are very misshapen and somewhat chaotic; the have medium density and are almost a collage of various green shades. This flower has tiny, very light green trichomes all over and has long and pronounced light red and brown pistils. It is a beautiful strain, but ours was just not trimmed in the best way since the shapes were fairly random. Red Congo has a very interesting scent; it's a mashup of minty, fruity, floral, and vanilla – almost like candy. When ground, it has the same sweet scent, but even more rich and lovely.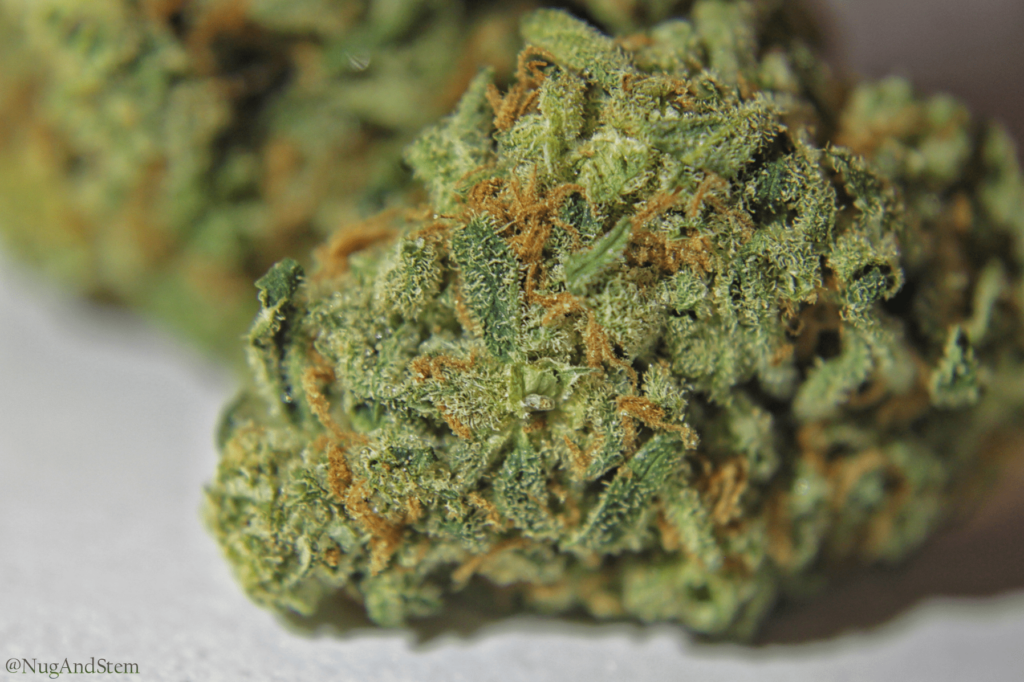 Red Congo is another very smooth smoke, but the weak flavour is a bit of a let down considering how amazing this strain smells. The effects do not immediately set in, but when they do, they provide a powerful burst of energy and focus. This strain also definitely stimulates the appetite, so it's a good idea to have some healthy snacks on hand. For Stem, this strain had no negative side effects; even after hiking for a few hours, Red Congo did not cause any problems with a dry mouth. For Nug, the highs from this strain did come on fast and a bit too hard; for anyone worried about this, we would suggest adding a CBD heavy strain in the mix.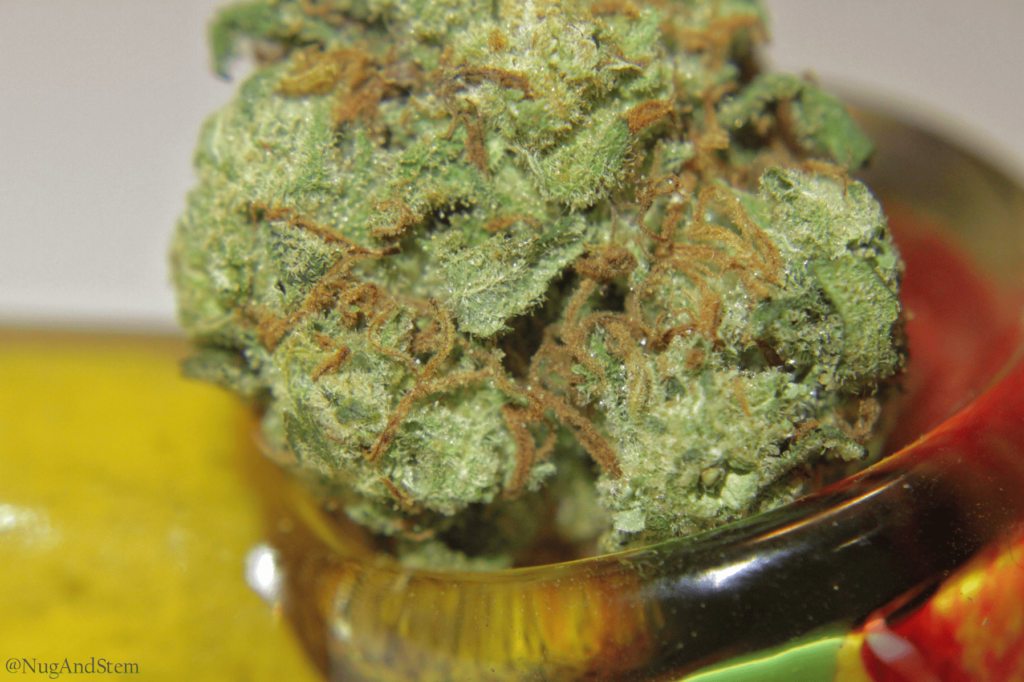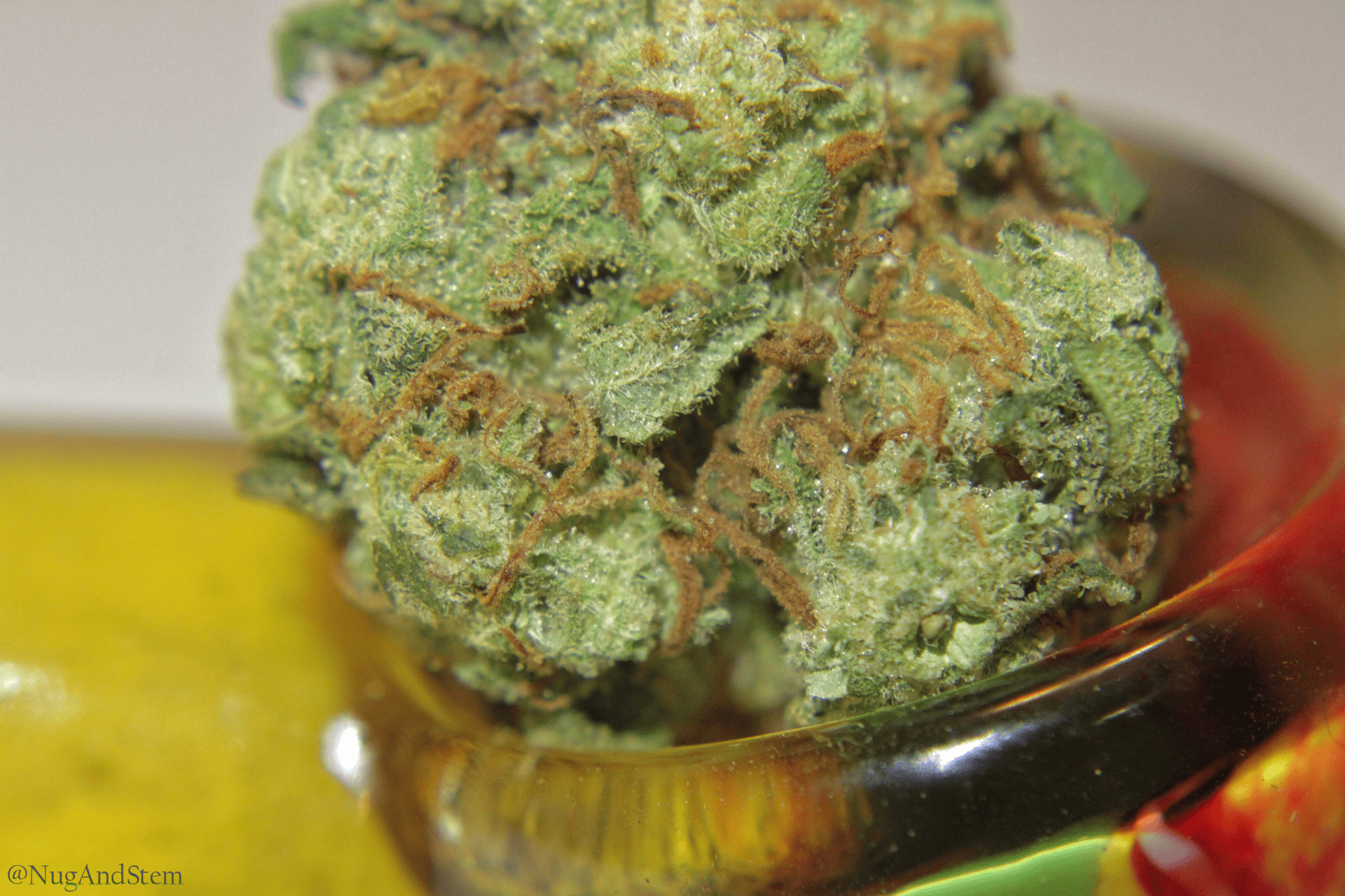 Nug's HIGHlight: I was experiencing some pretty bad period-related cramps before smoking Red Congo, and this strain was able to totally distract me from the pain. Not a lot of strains are able to do that for me, so I would definitely recommend this for cramps or other pain treatment.
Stem's HIGHlight: Red Congo provided so much good energy that lasted such a long time. I went for some great hikes after smoking this strain, and I was able to fully focus on nature and not get too distracted by back pain. The effects of Red Congo lasted for about two hours, which is quite a long time for me since I'm usually frustrated by how quickly highs wear off on me now.
Red Congo From Get Kush Scoring
Scoring 0-100
Aroma • 100
Taste • 85
Visual Aesthetics • 90
Stone / High • 90
Burnability /  Flush • 95
Master Bubba – Indica
Master Bubba premium Indica 3.5g
Master Bubba was one of the strains that did come with humidity control. The nugs are a beautiful dark green – almost black. They are smaller, dense nugs like little stones and are covered in lots of tiny dark brown pistils. There is good coverage of trichomes that looks really stunning against the black-green nug. Master Bubba provides a really unique scent that blends diesel with a coffee aroma and even has a hint of bubblegum. When ground, the scent becomes very fruity like a citrus explosion.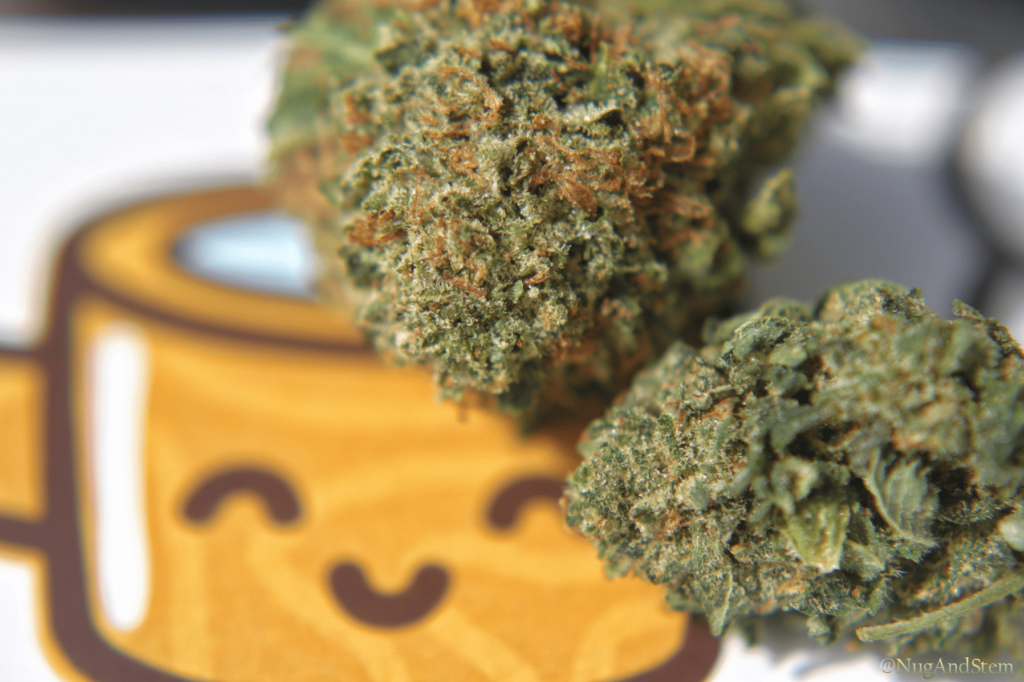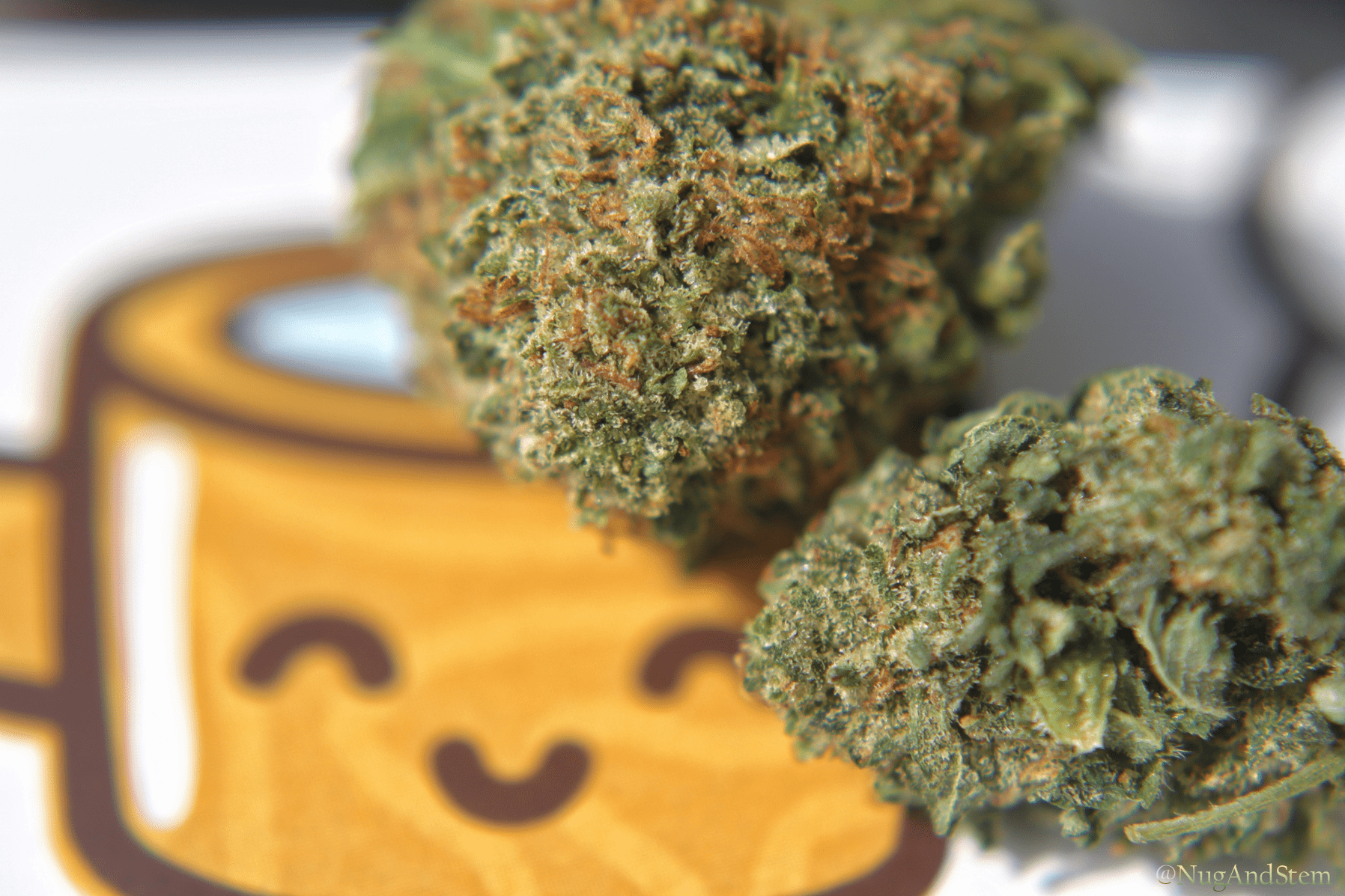 When smoked in a joint, this strain definitely provides the smoothest smoke of all the strains we tried – almost dangerously smooth as it's easy to smoke a lot quickly without realizing. If you're someone with sensitive lungs, Master Bubba is definitely for you. MB originally sets in heavy but the heavy feeling doesn't last for long, and it leaves you with a steady high. On one occasion, we did mix Master Bubba with a heavy CBD strain, and it provided the perfect mellow relaxation for enjoying a Sunday evening at home, cuddling and watching YouTube. Stem has difficulty sleeping because of back pain, but with Master Bubba, he was able to avoid restlessness and fall asleep easily.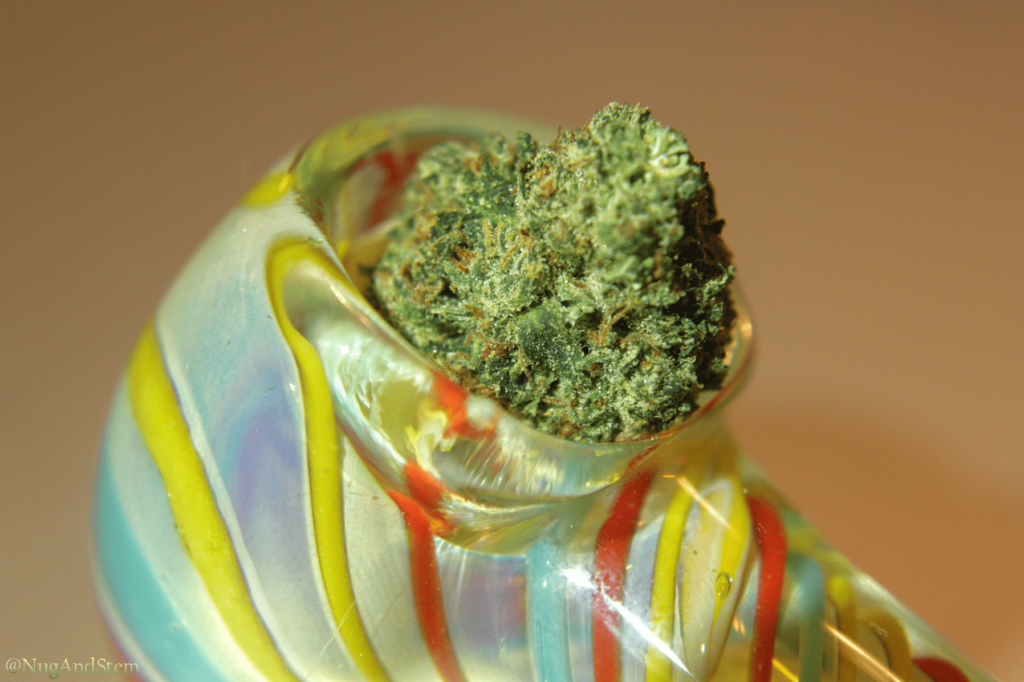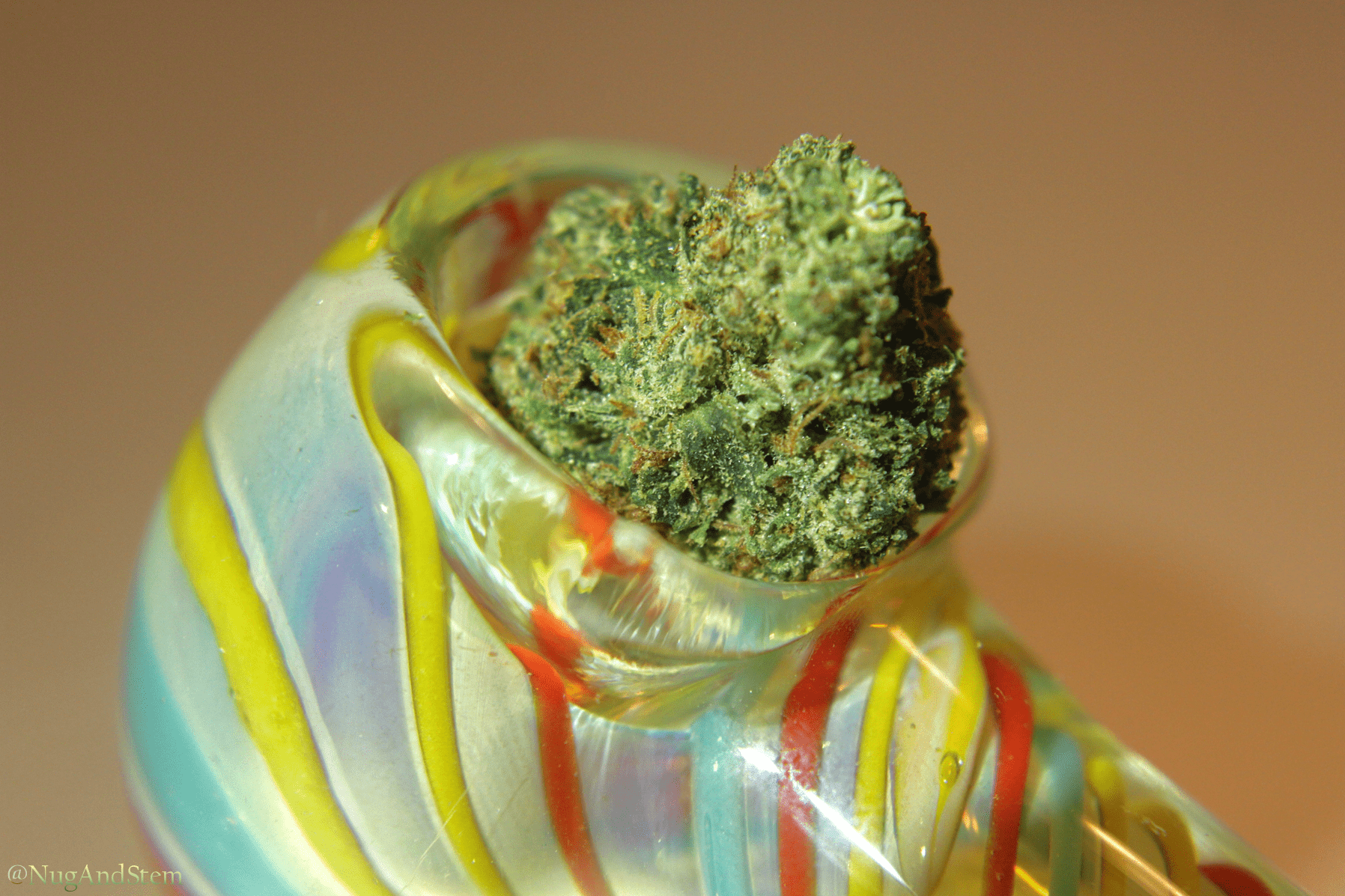 Nug's HIGHlight: As someone who does have sensitive lungs and can cough sometimes from smoking, I really appreciated how smooth of a smoke this was. Probably the most enjoyable strain I've ever smoked.
Stem's HIGHlight: One night, I extended this high by smoking in three sessions, and it made for a really nice gradual but steady high. I definitely felt the heaviness of the Indica, but I had enough energy to keep conversations with company going.
Master Bubba From Get Kush Scoring
Scoring 0-100
Aroma • 95
Taste • 90
Visual Aesthetics • 90
Stone / High • 90
Burnability / Flush • 100
Get Kush Service Review
Website Experience
If you are a first-time mail order cannabis user, you may find the website a little busy, so it may be hard to navigate at first. However, the website definitely has all of the necessary information at your disposal to find what you are looking for. The products are sorted in a logical way, and their user interface offers great unique filters like 'Hot Items' & 'New Products' and the traditional filters by price range and such that you are used to in most online shopping sites.
What is definitely unique about Get Kush is their graphics. Overall the site has a great style and makes each strain unique. There is a lot of information that is clearly communicated, and they have a comprehensive FAQ section. The products also have excellent photos, and they certify that the photos are real and taken by them.
Shipping and Packaging Quality
Our package was shipped by Canada Post Xpresspost and arrived in a timely fashion. Like we would expect, the outside of the package was discrete and had nothing to indicate the wonders hidden within. The internal cardboard box did not have any creases or dents and was substantially solid enough to bring the goods to us safely. The first thing we found when opening the box was a very unique company printout which had an attractive and colourful design. This was not expected, but it sticks to Get Kush's theme of trying to stand out and going the extra mile with their art and design.
The Cannabis itself was contained in a 'pop-top' plastic container. These containers were bundled within a smell proof bag and then again in an air sealed bag. Two strains had humidity control in the plastic container, which is very good for keeping the nugs fresh. Their website indicates that they only put humidity control in strains they think need it. We would suggest including it with all strains.
On the plastic container, there are labels which indicate the stain name and strain type,  but there is no information on the product weight or THC/CBD potency. This was our first time receiving cannabis within these types of containers. Typically we dislike plastic and cannabis mixing together because the trichomes tend to stick to the sides due to static electricity, but that does not appear to be affecting these containers. All of the nugs stayed in good shape during transport. It's definitely easier to use these containers, and it causes less damage to the nugs than zip-lock style plastic bags.
Summary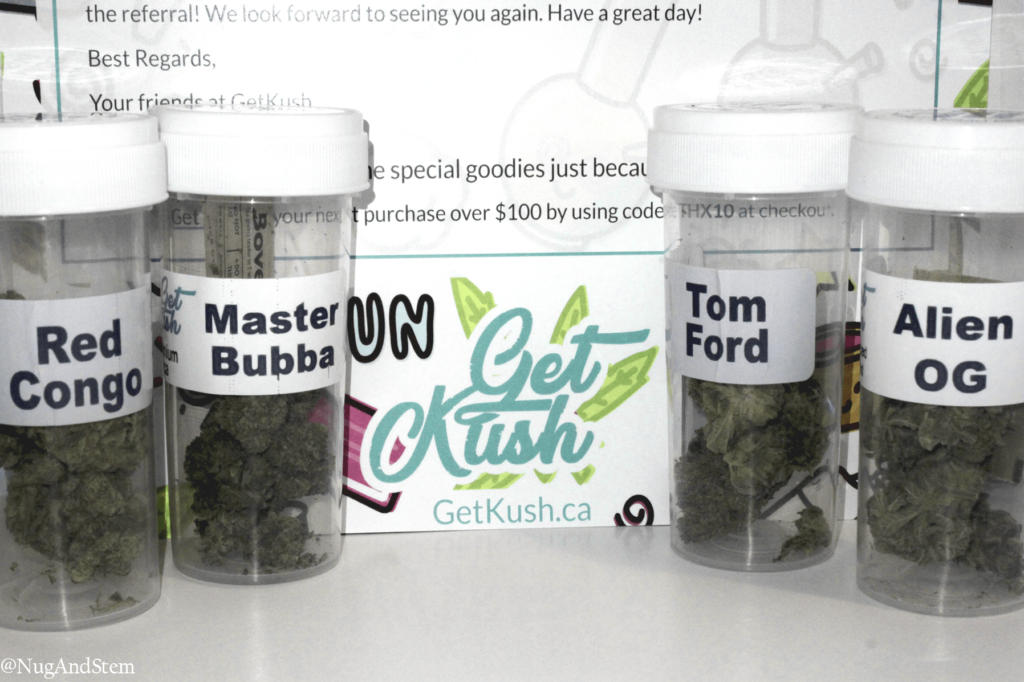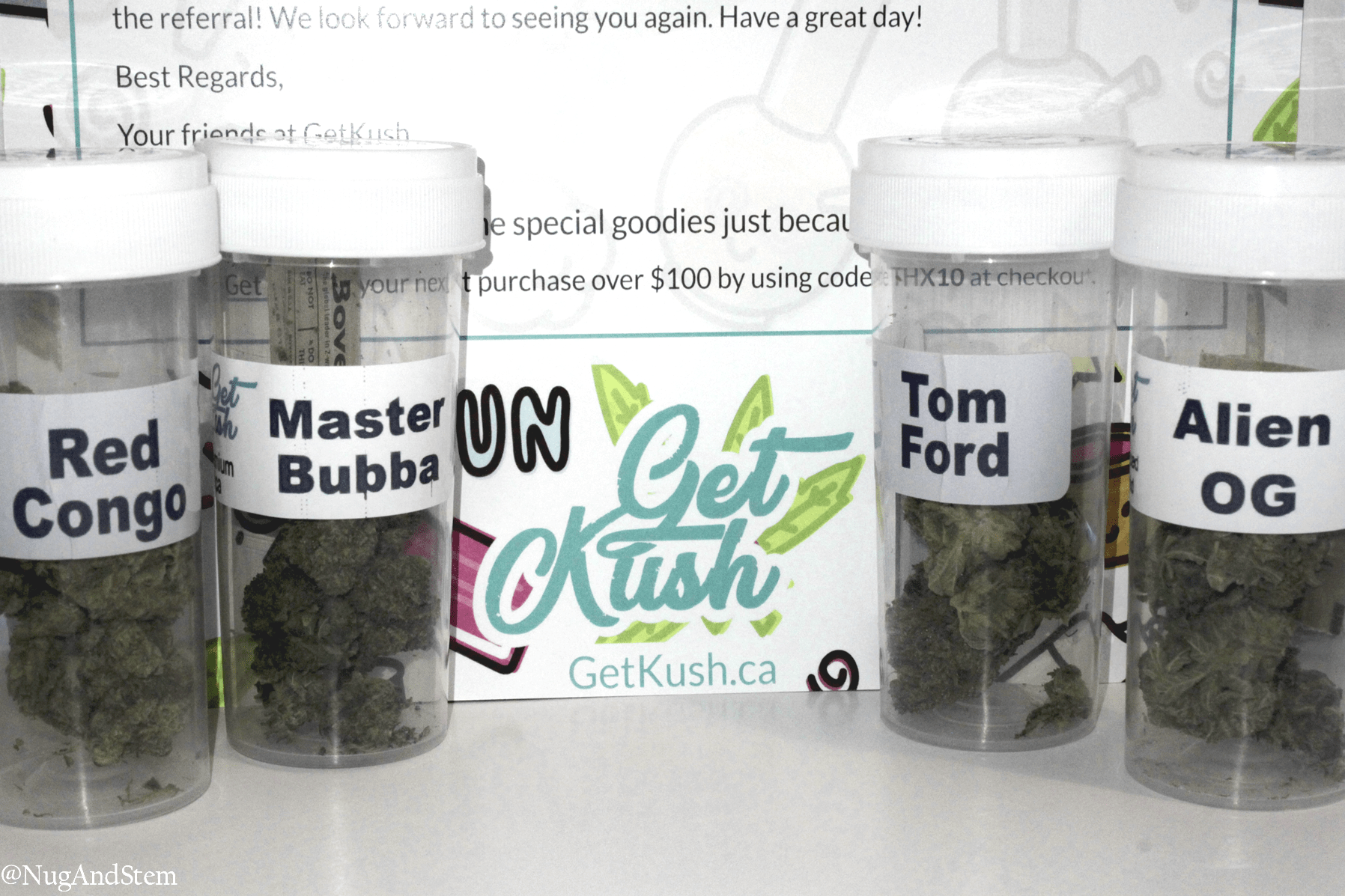 Get Kush is definitely an up-and-comer to look out for. The amount of effort they have put into their graphics and company image surely reflect their means and desire to go above and beyond the norm. This speaks well of any new business. Their products were all solid, and there is nothing to fault them for. If you are looking for quality cannabis you can trust, you need to Get Kush.
For the First Time Buyer
Here are a few key reasons you should check out Get Kush:
Easy sign-up

Quick and discreet shipping

10$ sign-up bonus

Free gram for the first time buyer

Free shipping on orders over 149$

Variety packs allow you to try multiple strains

Rewards program
However:
High minimum order quantities (14g minimum for some strains)

Not a lot of reviews yet as the service is newer

No lab test results will not allow you to know exactly the thc % of the strains
For the Experienced Buyer:
Here are a few key reasons you should check out Get Kush:
Very affordable Ounces – some as low as 145$ an ounce

Awesome information about the strains for their benefits and drawbacks.

Transparent & informative reviews

They have an affiliate program

Large discounts when ordering multiple ounces

Refer your friends for a 25$ bonus
However:
They do not have as many Sativa offerings as they have Indica offerings
Overall Get Kush Service Scoring
Scoring 0-100
Customer Experience • 90
Shipping & Packaging • 95
Product Value • 90
Product Quality • 95
Save Money with Get Kush Coupon Codes
Save money with Canada Mail Order Marijuana coupons here.
Disclosure: I received these products gratis so that I could try them and then share my honest opinion with the SOC community. I am employed by Save on Cannabis to write honest reviews and provided a flat rate payment for the writing of the review.  SOC may receive recurring affiliate payments for purchases made based on this content.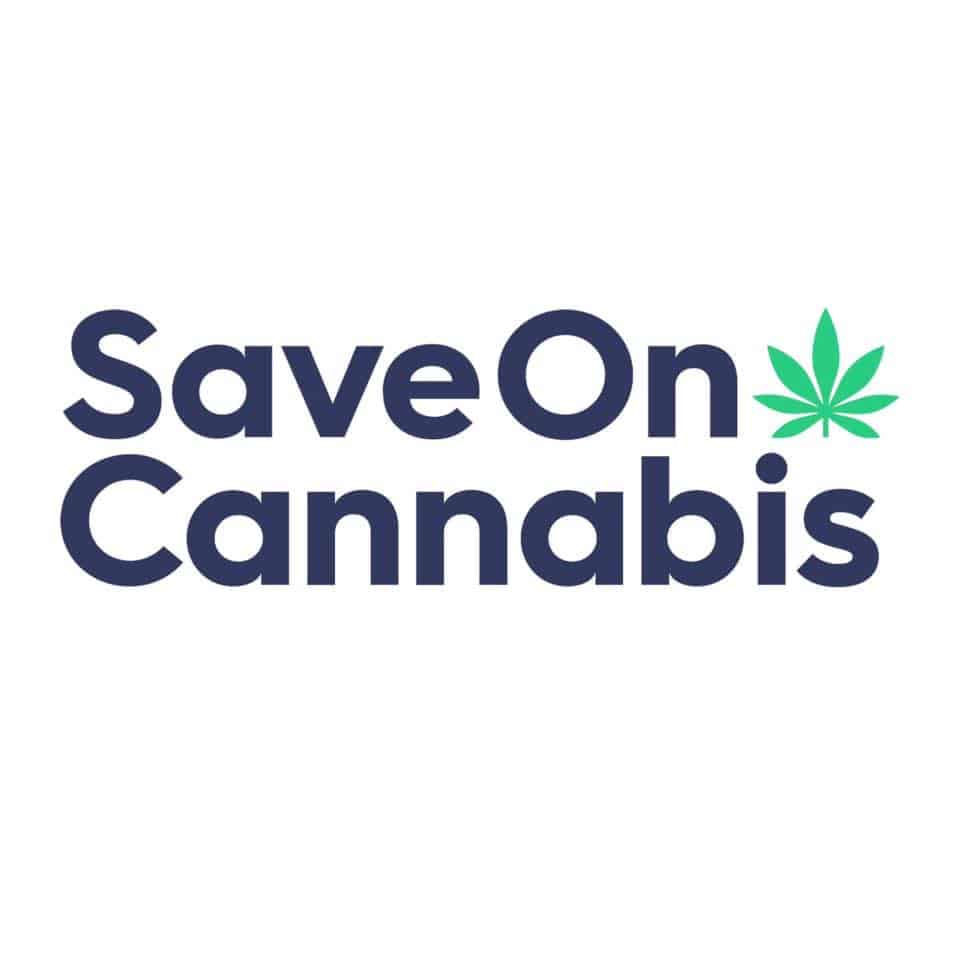 Save On Cannabis is the most trusted source for cannabis discounts and education information.  Vetted deals and clearly written articles to help you become a wiser consumer whether focused on the medical or recreational value of cannabis products.
Co Authors :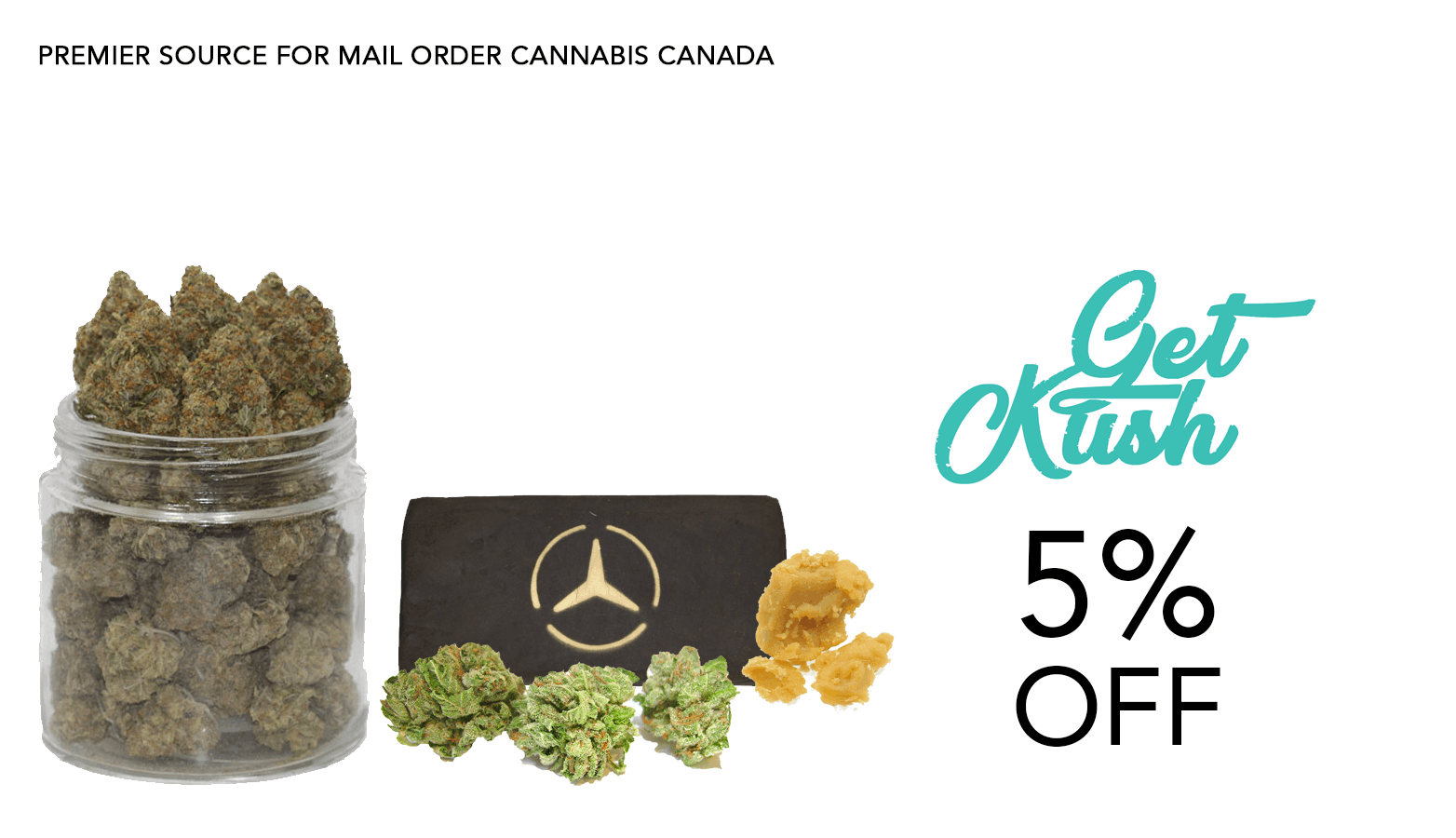 5% OFF site wide orders at GetKush! Mail order cannabis in Canada.
We test another REAKIRO CBD product to see how it worked for our reviewer. See how this vegan CBD product helped anxiety and offer calm.
Looking for a portable dabbing device you can trust? See if we found it in this Dr. Dabber review of the Ghost & Light dab vape.
Ctirus is the last flavor we tried in our Dr. Dabber reviews of their CBD vape oils, see how it ranks. Our expert sees if it helps with sleep