Joy Organics Review: CBD Salve 500mg
Jul 16, 2020 | SOC
Joy Organics 500mg CBD Salve
Pros
Soothing
Great for skin
Easy to use
Smells amazing
Eases muscles and joints
JOY ORGANICS CBD SALVE
Product Review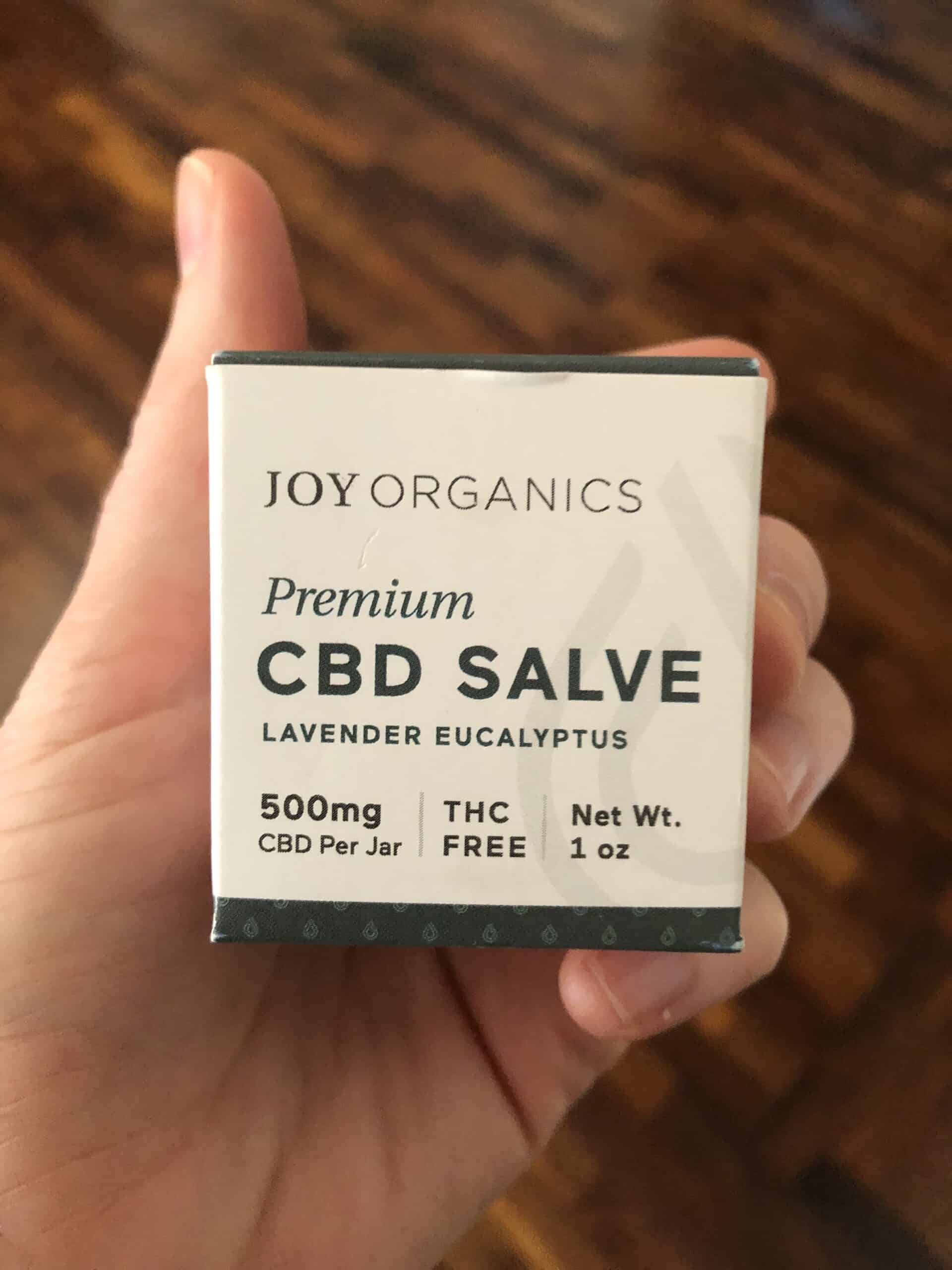 Brand Overview: JOY ORGANICS
Joy Organics is a family business co-founded by Joy Smith, who discovered CBD when she need help with sleep and other health issues. The company prides itself on its quality products and excellent customer service. Just recently, Joy launched an initiative that donates a portion of its profits to various non-profits.
With an emphasis on family, a commitment to giving back, and a dedication to making premium, THC-free CBD products, Joy Organics seems like a place I'd like to work, as well as a place I'd like to purchase from. The company has even opened some retail stores in Colorado, New Mexico, and Wyoming. Sign up for their mailing list for 15% off your first purchase. Joy Organics offers free shipping and a money-back guarantee.
Products: Tinctures, Gummies, Softgels, Energy Drinks, Pet Products, Salve Balm, Salve Stick, Cream, Sports Cream, Bath Bombs, Sampler Packs.
Price Range ($-$$$$): $$$
---
About JOY ORGANICS CBD SALVE
Joy Organics' THC-free salve comes with 500 mg in a 1 oz container or 1000 mg in a 2 oz container. The salve helps bring relief to muscles and joints by combining phytocannabinoid hemp oil with essential oils. This salve is moisturizing and beneficial for the skin. As soon as you massage this salve onto your muscles or joints, you will experience immediate relief. It contains lavender and eucalyptus essentials oils that have healing properties and can help calm your mind. You only need to use a small amount to get the desired effect and feel free to use it throughout the day.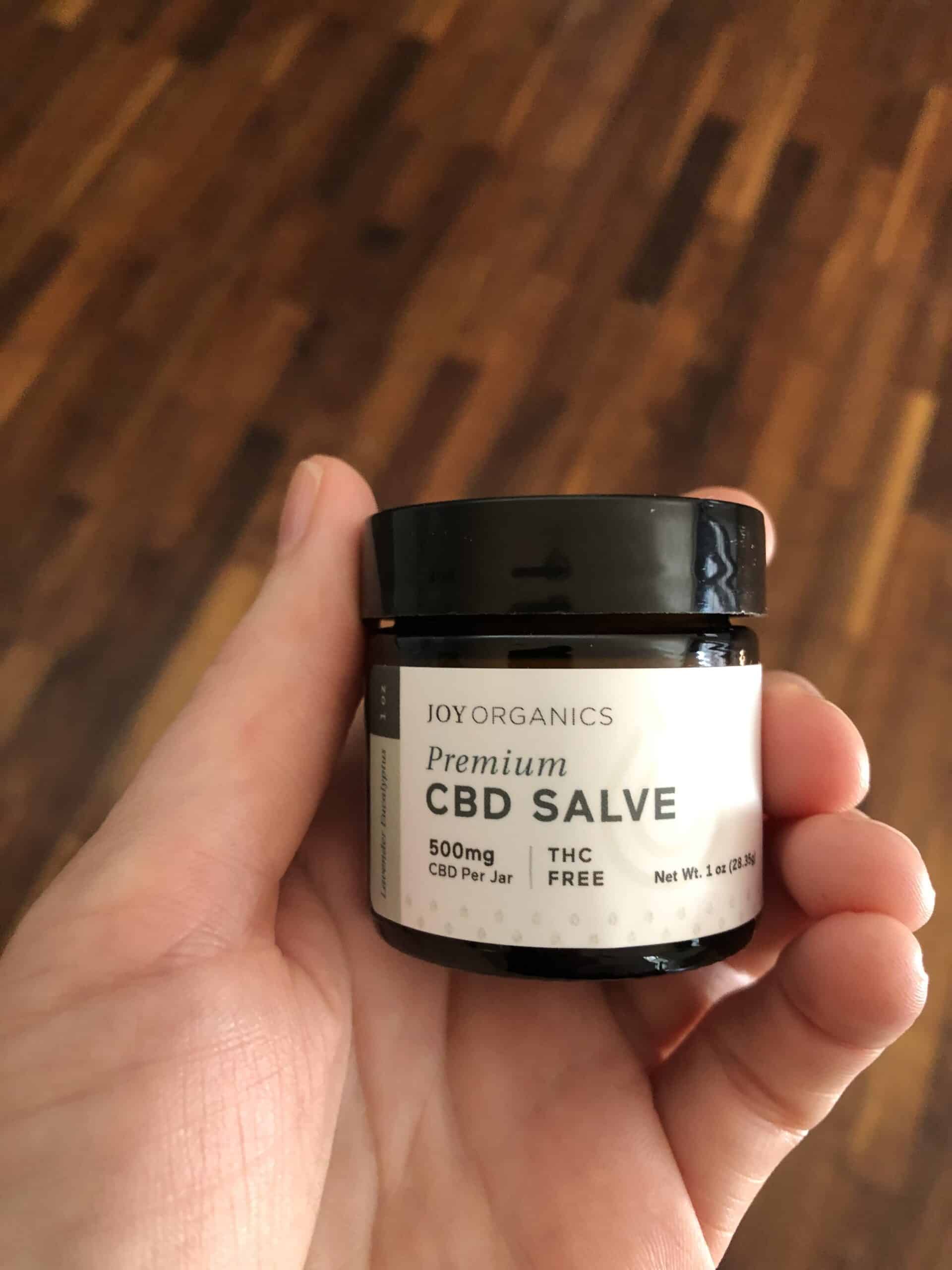 ---
JOY ORGANICS CBD SALVE Specifications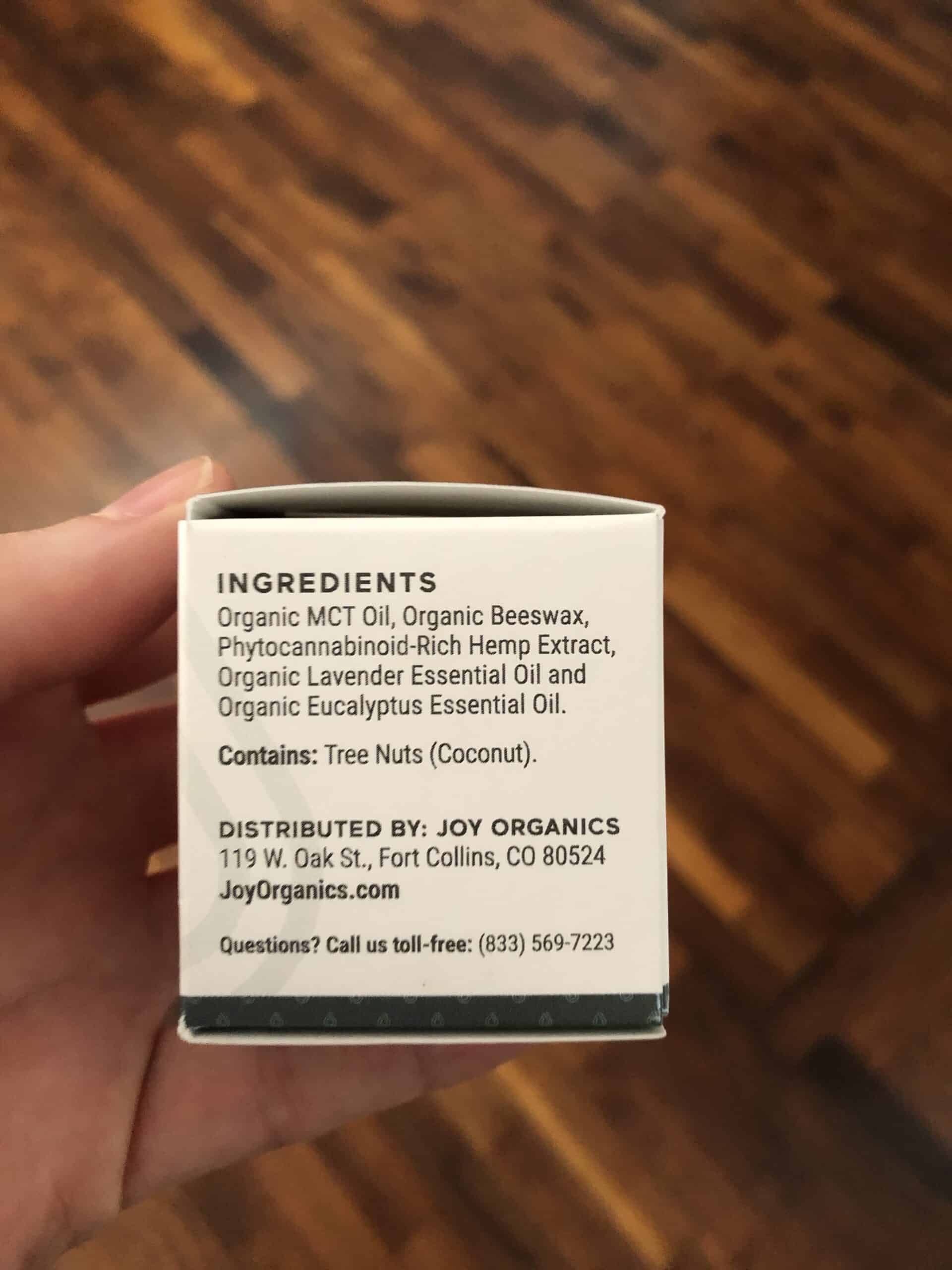 500 mg CBD
1 oz
Contains Tree Nuts (Coconut)
THC-Free
Lab-Tested
Ingredients: Organic MCT Oil, Organic Beeswax, Phytocannabinoid-Rich Hemp Extract, Organic Lavender Essential Oil and Organic Eucalyptus Essential Oil
---
How We Tested the JOY ORGANICS CBD SALVE
I found Joy Organic's Energy Drink Mix effective, so I was thrilled to try their salve, as topicals are my favorite way to use CBD. I've been having trouble sleeping because of quadricep pain. Sometimes I fall asleep, only to wake up from pain a couple of hours later and find myself unable to fall back to sleep. Before bedtime, I massaged this salve onto my quads and hips and settled down to rest. I was hoping the CBD would soothe the inflammation and essential oils would help me relax.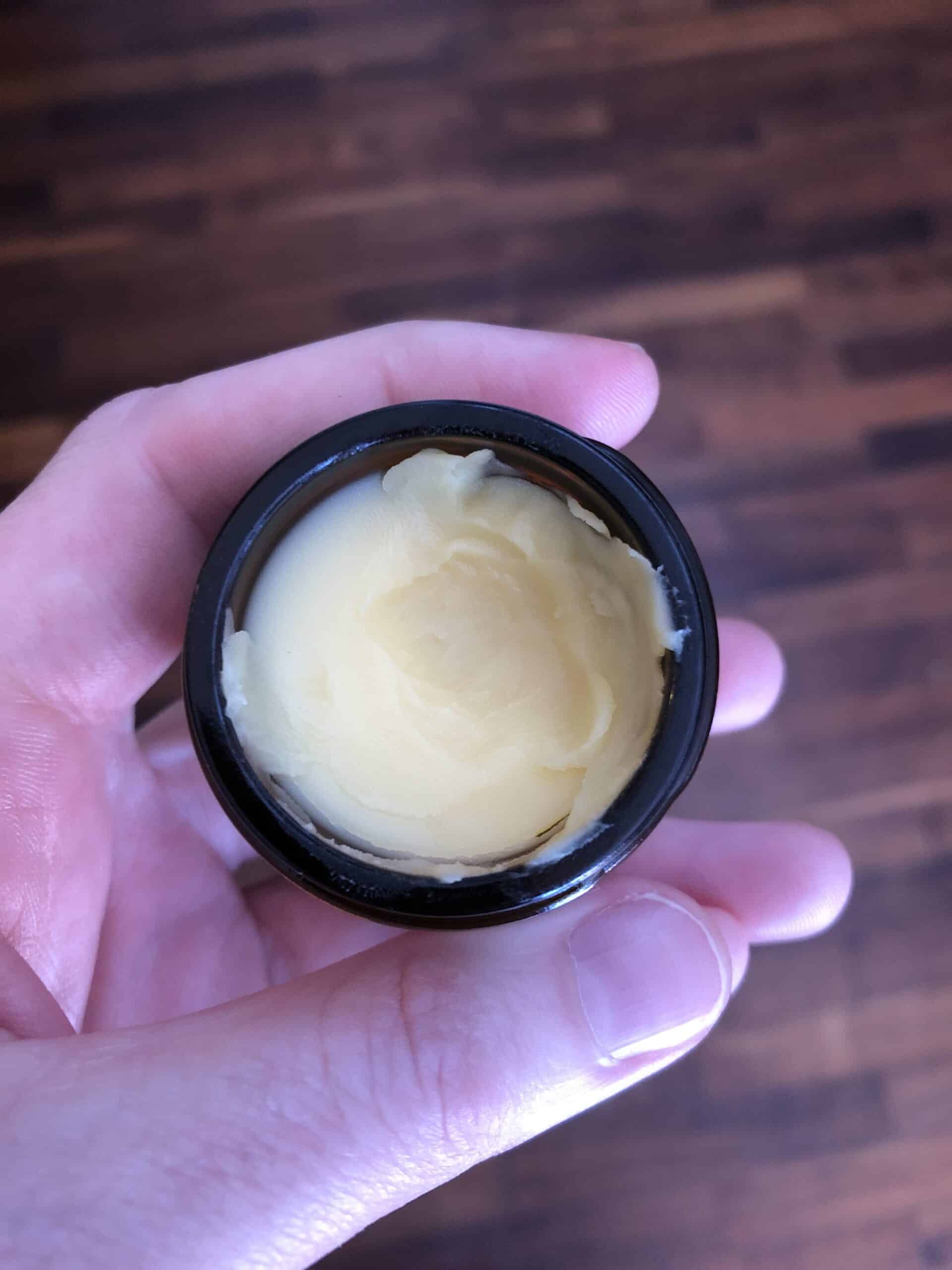 ---
How the JOY ORGANICS CBD SALVE Worked for Me
The soothing lavender and eucalyptus blend smelled amazing. I felt like I'd just had a massage at a spa. The salve helped me relax and forget about the pain. I think I slept for a few hours before I woke up from the pain. I applied this topical again and enjoyed how soft it made my skin feel. I am so grateful for Joy Organics CBD Salve because I was able to fall asleep again and for once, had a good night of rest. I will be keeping this salve next to my bed and am using it during the day too. I wish I had gotten the 2 oz bottle because this amazing salve is going to go fast.
---
Useful and Unique Things to Know About JOY ORGANICS CBD SALVE
This salve only contains natural ingredients, including organic lavender and eucalyptus essential oils. Lavender essential oil is used in aromatherapy to help relax the mind. Eucalyptus essential oil has clarifying and invigorating qualities that I find useful in helping me focus on other things besides my pain. This salve also contains organic beeswax, which moisturizes, softens, and heals the skin.
---
JOY ORGANICS CBD SALVE Ratings
In the next sections gradings from 0-100 on our review, these grades add up to give the product's overall score.
PRESENTATION • 100
Informative
RELIABILITY • 100
Soothing and relaxing.
QUALITY • 100
Natural ingredients.
FLAVOR / SMELL / or EASE OF USE • 100
Lovely lavender and eucalyptus smell.
VALUE • 65
Expensive
---
How JOY ORGANICS CBD SALVE Stacks Up Against the Competition
Joy Organics creates truly quality products, and their CBD salve is no exception. I do think the product is expensive, especially for my blood. You'll pay $54.95 for a 1 oz bottle of salve. The 2 oz bottle is the better deal at $79.96. You can always save a little with their various coupon codes and the free shipping sweetens the deal.
---
Saving Money with Our Verified JOY ORGANICS Coupons
Save money by using our verified CBD Topicals here at Save On Cannabis the World's largest online cannabis coupon code directory.
---
Disclosure: I received these products gratis so that I could try them and then share my honest opinion with the SOC community. I am employed by Save on Cannabis to write honest reviews and provided a flat rate payment for the writing of the review. SOC may receive recurring affiliate payments for purchases made based on this content.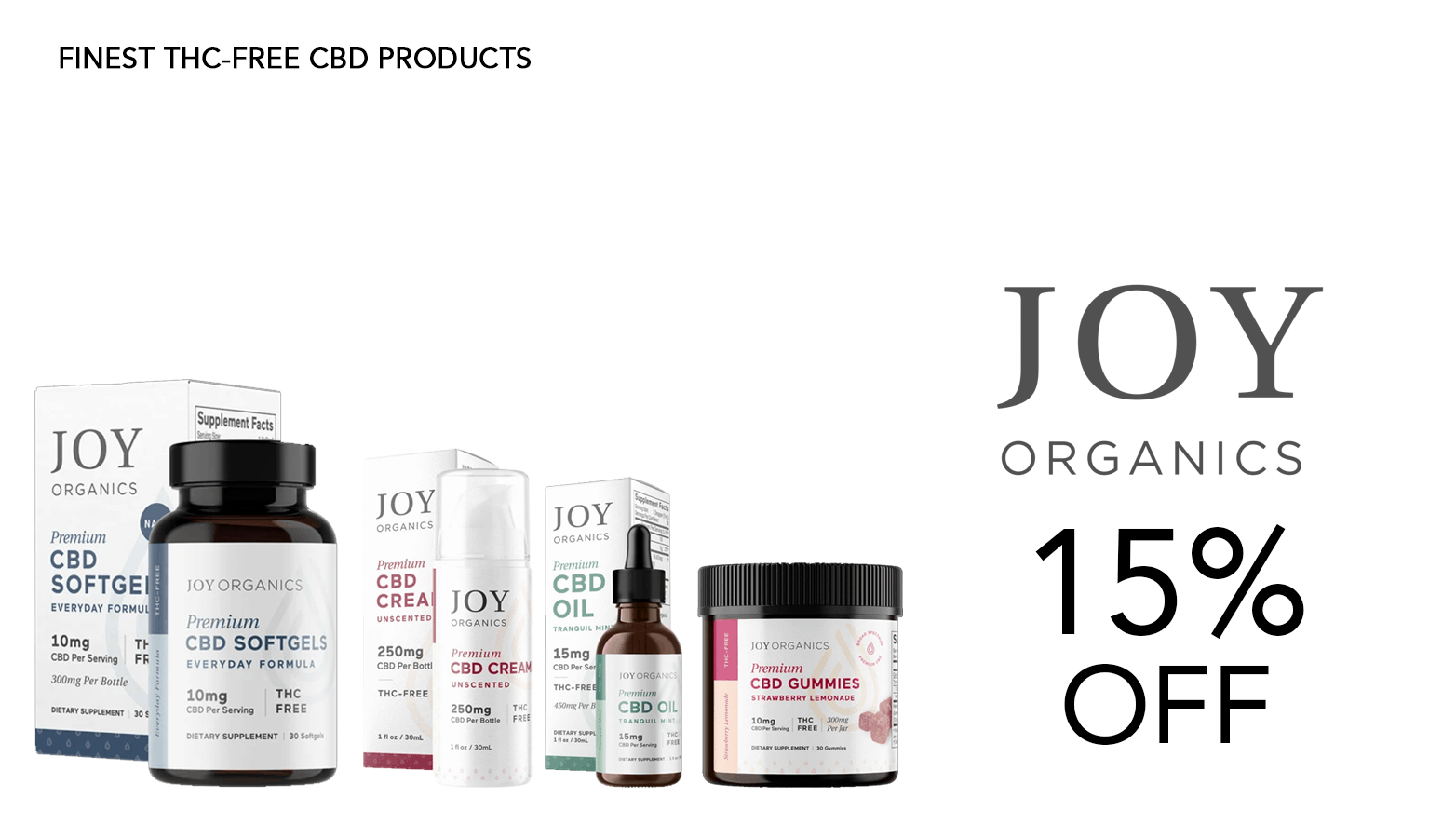 15% OFF site-wide Joy Organics coupon! Live Your Joy with The Finest THC-Free CBD Products.
Exclusive review of Canada mail order site The Green Ace. We got our hands on a nice selection of cannabis flowers.
In this Big Sky Botanicals review we check to see if this CBD tincture will help us de-stress and focus...oh man we hope it works.
Read how this ultra high potency 3,000mg CBD tincture worked for our reviewer. In this review you'll see if it helped our reviewer sleep.