Veritas Farms Review: 500MG Full Spectrum CBD Oil
Oct 1, 2020 | SOC
Veritas Farms 500 MG Unflavored Full Spectrum CBD Tincture
Pros
All-natural ingredients
Easy-to-dose dropper
Full-spectrum
Organic
Non-GMO
Effective
Cons
Mild hemp flavor
Somewhat expensive
Veritas Farms
Product Review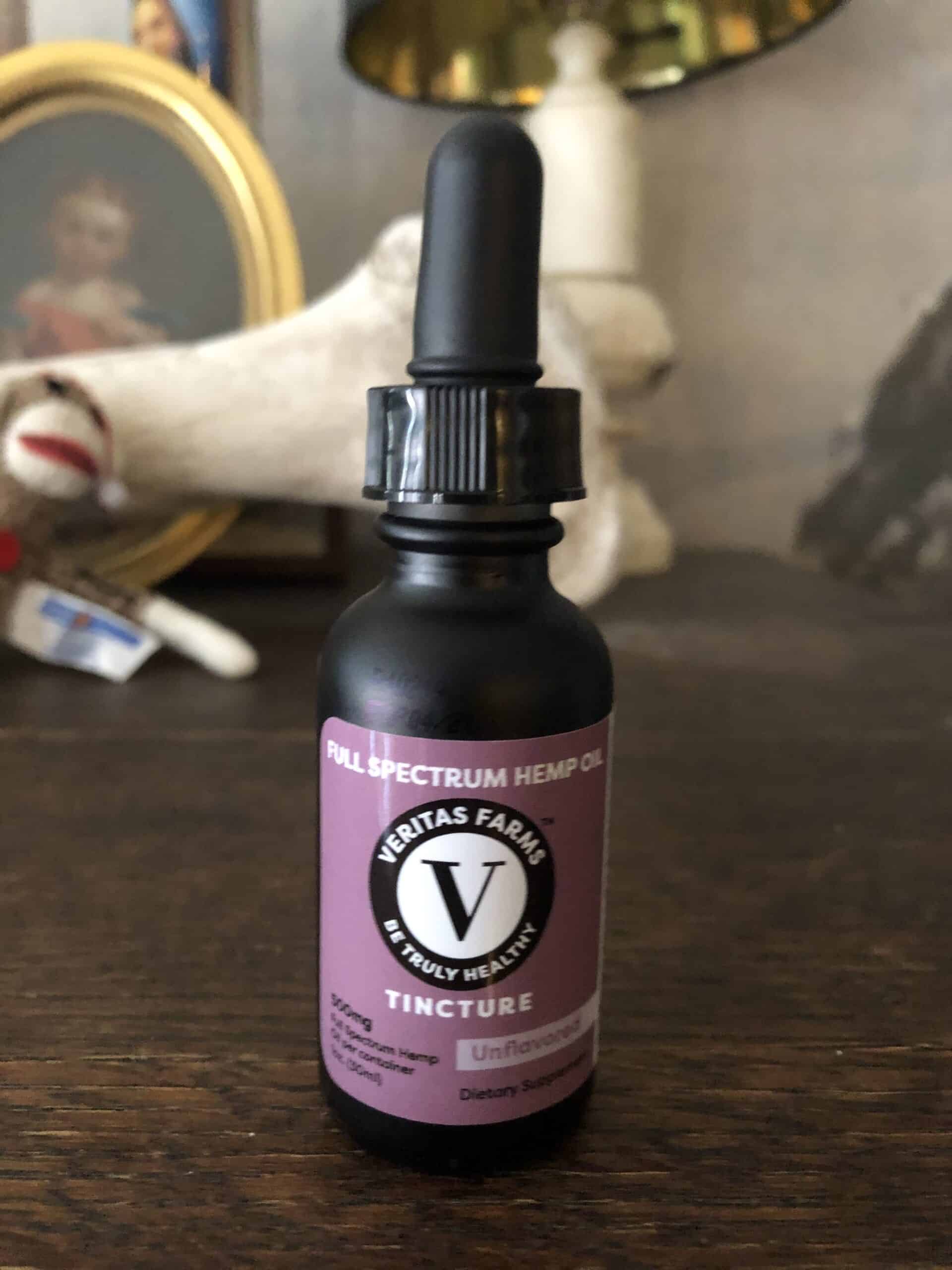 Brand Overview: Veritas Farms
Veritas Farms started in the Rocky Mountains of Colorado by people committed to sustainable and environmentally-friendly farming. The company's mission is to create high-quality CBD products while protecting the earth, as well as educating people about the benefits of hemp.Veritas Farms ensures the purity and potency of its products through supervising the process from seed, to harvest, to extraction.
They ensure every product is free from chemicals and toxins through independent testing by certified labs. Using mostly organic and non-GMO ingredients, Veritas Farms has created a wide-ranging variety of products from flavored and unflavored tinctures, to tasty gummies, and topicals. They even have safe and innovative products just for your pets!
Products: Tinctures, Gummies, Topicals, Capsules, Pets, Skincare, Bundles & Gifts, Hand Sanitizer.
Price Range ($-$$$$): $$$
---
About VERITAS FARMS 500 MG UNFLAVORED FULL SPECTRUM CBD TINCTURE
This 500 mg unflavored CBD tincture from Veritas Farms is made with full-spectrum hemp and contains less than .3% THC, which means it won't get you high, while still giving you all the positive benefits of the cannabis plant. Veritas Farms also makes this tincture with 250 mg of CBD, all the way up to 2,000 mg. You can also purchase their CBD oil in other flavors, including Citrus, Peppermint, Watermelon, and Strawberry.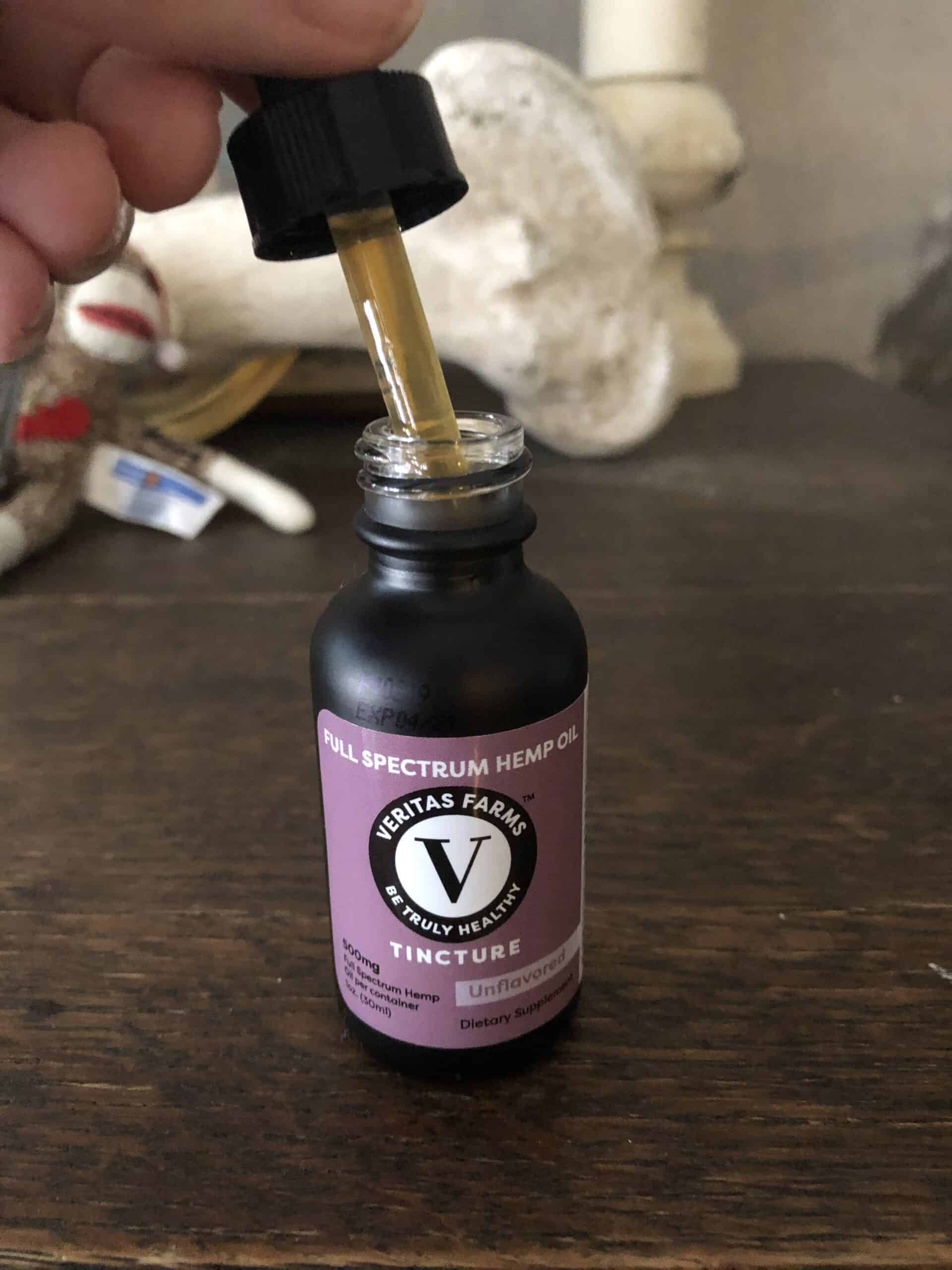 Made with organic and non-GMO ingredients, this full-spectrum CBD tincture is natural and non-addictive. Each serving, or dropper, contains 16.6 mg of CBD infused with the full spectrum of cannabinoids, flavonoids, and terpenes.
The company recommends using this product as needed, but you might find improved effectiveness in combination with a topical or capsule. The bottle comes with a labeled dropper for easy-to-dose servings. For best results, Veritas Farms instructs you to hold the oil under your tongue for 60 – 90 seconds, then swallow. You can also mix this tincture with a beverage.
---
VERITAS FARMS 500 MG UNFLAVORED FULL SPECTRUM CBD TINCTURE Specifications
500 mg CBD
30 servings
1 oz / 30 ml
Contains less than .3% THC
Ingredients: Full-Spectrum Hemp Extract (Aerial Parts), Organic Fractionated Coconut Oil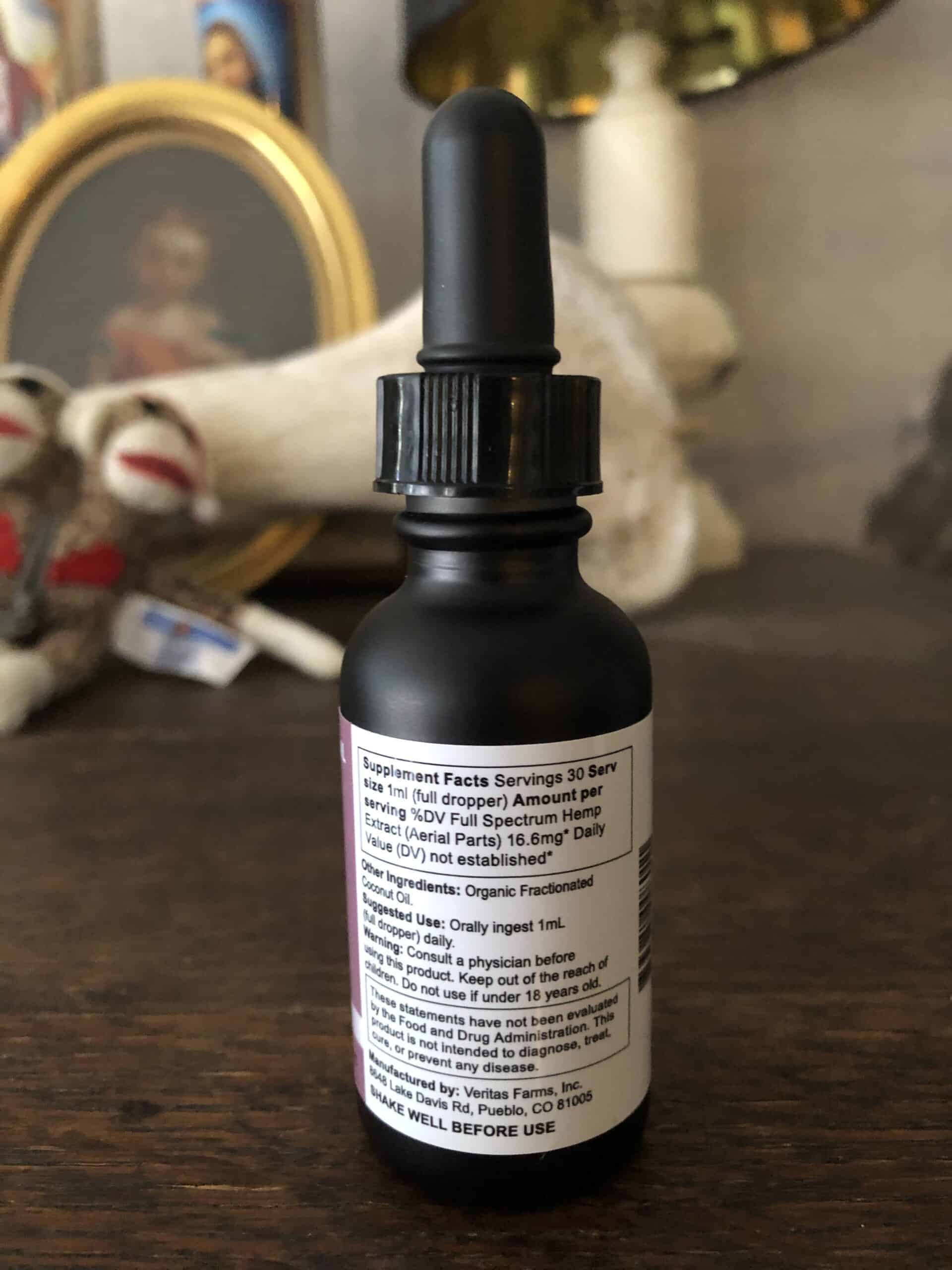 ---
How We Tested the VERITAS FARMS 500 MG UNFLAVORED FULL SPECTRUM CBD TINCTURE
I've never tried anything from Veritas Farms, so I didn't know what to expect with their unflavored tincture. I read through their website to learn more about the company and felt confident in their professionalism and ability when it comes to creating quality CBD products. I was excited to try this because I've been primarily using topicals and thought adding a tincture to my daily wellness routine would give me the boost I needed.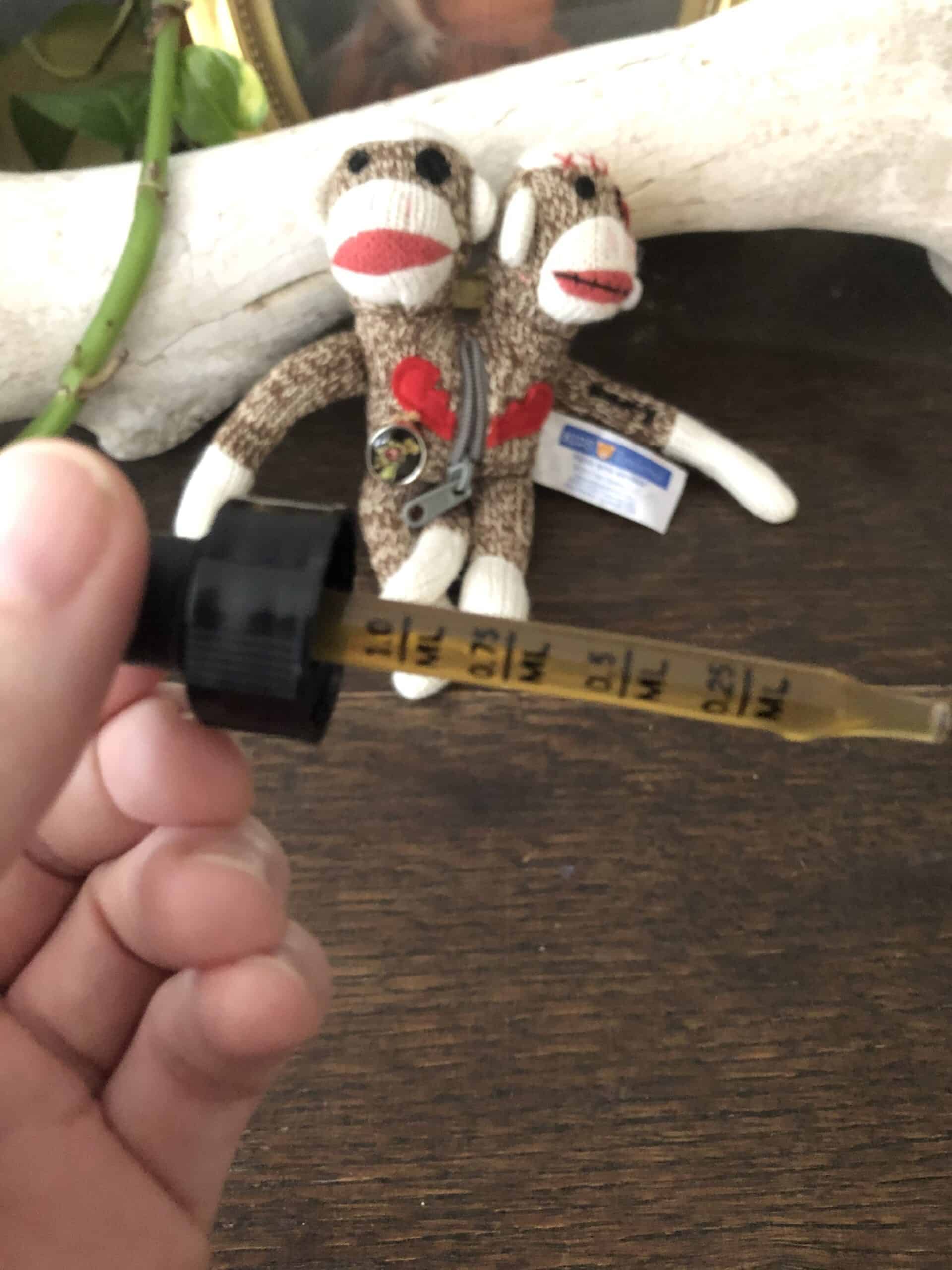 While struggling to work and deal with health issues, I've often turned to CBD to help me find relief. I took one serving, or 16.6 mg, of the Veritas Farms 500 MG Unflavored Full Spectrum Tincture with my multi-vitamin first thing in the morning. I took another serving in the afternoon after a physical therapy session. I took serving twos at bedtime along with my prescribed medication Gabapentin. I also massaged an here topical into my hips and low back to help me relax and relieve some post-workout inflammation.
---
How the VERITAS FARMS 500 MG UNFLAVORED FULL SPECTRUM CBD TINCTURE Worked for Me
I could feel the positive effects of the full-spectrum CBD oil within an hour after taking each serving. I felt a warmth and calm come over me. I was focused and relaxed at the same time. This tincture provided the extra support I needed during the day and night.
I loved how the dropper is labeled to measure smaller doses, and it was easy to use. The unflavored CBD tincture had a bitter, weedy flavor that might be unpleasant to certain palates. I prefer an unflavored CBD oil that hides most of the hemp taste. I've found other effective tinctures that taste better, so I wouldn't buy this product in the future.
---
Useful and Unique Things to Know About VERITAS FARMS 500 MG UNFLAVORED FULL SPECTRUM CBD TINCTURE
When a CBD says it's full-spectrum, it means it contains an array of cannabinoids like CBD (cannabidiol), CBG (cannabigerol), CBC (cannabichromene), and CBN (cannabinol) that work together to produce the "entourage effect." This full-spectrum oil also includes flavonoids and terpenes, which boost the positive effects of cannabis. Flavonoids might have anti-inflammatory properties. Terpenes are compounds found in plants that make the aroma. They are found naturally in the cannabis plant and can provide a wide array of positive benefits like relaxation and anti-inflammation.
---
VERITAS FARMS 500 MG UNFLAVORED FULL SPECTRUM CBD TINCTURE Ratings
In the next sections gradings from 0-100 on our review, these grades add up to give the product's overall score.
PRESENTATION • 90
The bottle contains info about ingredients but doesn't include instructions on how-to-use.
RELIABILITY • 100
Effective.
QUALITY • 100
Natural ingredients.

FLAVOR / SMELL / gold EASE OF USE • 90
Mild hemp flavor.
VALUE • 90
Not the most expensive dye, but not the cheapest.
---
How VERITAS FARMS 500 MG UNFLAVORED FULL SPECTRUM CBD TINCTURE Stacks Up Against the Competition
Veritas Farms 500 MG Unflavored Full Spectrum CBD Tincture is an effective daily supplement if you need to feel better. I could feel the positive effects less than an hour after taking my first serving. Despite its effectiveness, there are other tinctures on the market that are just as effective, cost less, and despite being unflavored, find a formula that hides most of the bitter, hempy flavor.
---
Saving Money with Our Verified VERITAS FARMS Coupons
Save money by using our verifiedCBD Tinctures here at Save On Cannabis the World's largest online cannabis coupon code directory.
---
Disclosure: I received these products gratis so that I could try them and then share my honest opinion with the SOC community. I am employed by Save on Cannabis to write honest reviews and provided a flat rate payment for the writing of the review. SOC may receive recurring affiliate payments for purchases made based on this content.

Sorry, no coupons were found.
Read an expert Green Road's CBD review of their Froggies. Yes, they look tasty but do they give the relief necessary to buy them?
Our reviewer got hold of some tasty CBD pet treats to give her Golden Retreiver, see how they helped her cope with anxiety in this King Calm Crunch review.
Can you use CBD instead of Advil? Our reviewer put this idea to the test in this CBD•TRU review of their Pure Full Spectrum CBD Oil.