Calm By Wellness: Strawberry Lemon-aid CBD Tincture Review
Jul 25, 2019 | Romy
Strawberry Lemon-aid CBD Hemp Extract
Pros
Quality ingredients
Tastes good
Vegan
Calming
Eases pain
CALM BY WELLNESS HEMP CBD OIL TINCTURE – STRAWBERRY LEMON-AID – 500 MG
Product Review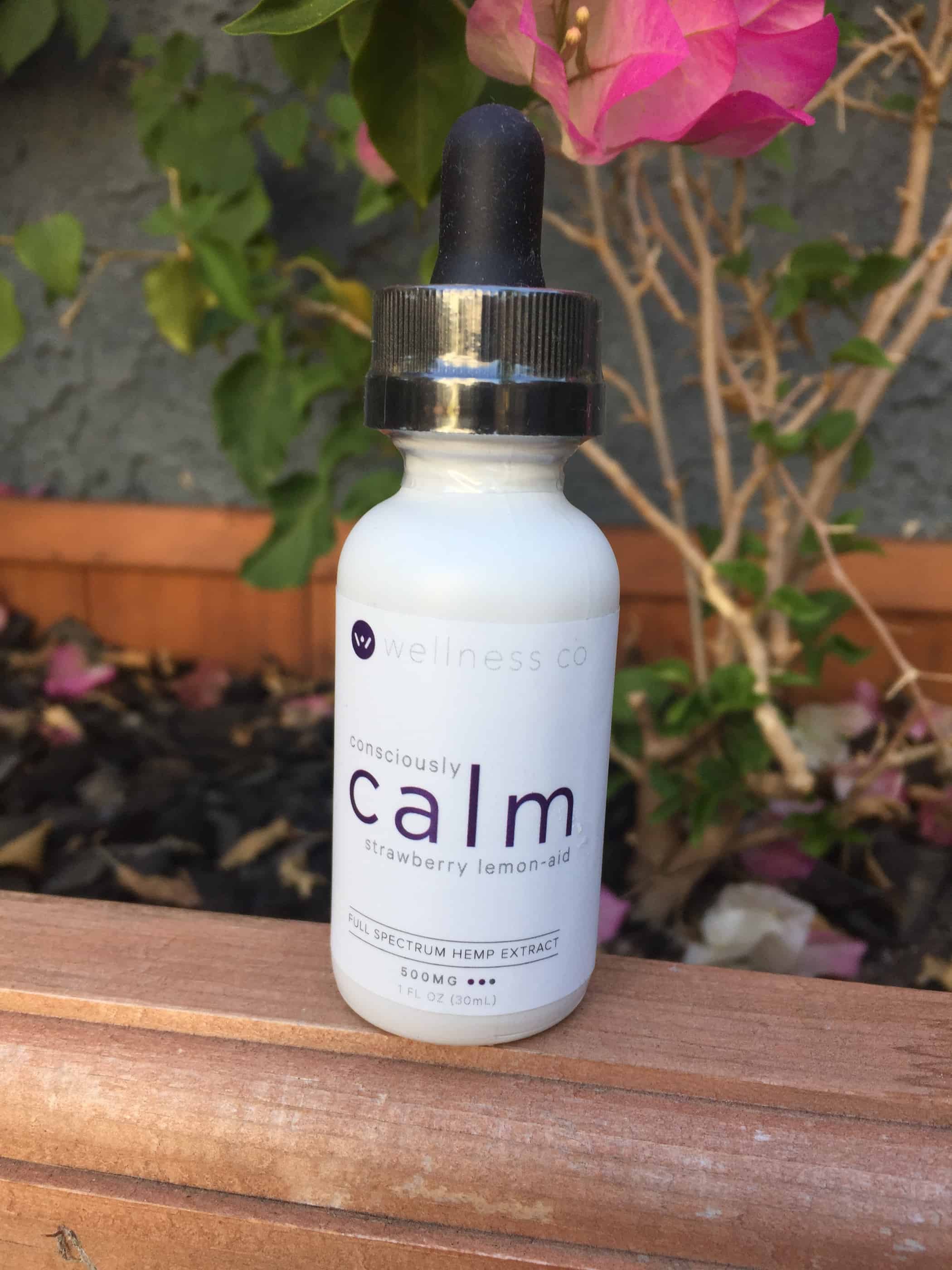 Brand Overview: CALM BY WELLNESS
Calm by Wellness brings award-winning CBD products right to your door. Boasting one of the largest facilities in the world for growing hemp and extracting CBD, Calm by Wellness prides itself on its top-notch team of scientists, researchers, and pharmacists who have put their minds together to create the best flavors and science-backed solutions to ease pain and anxiety. The company uses only the highest quality and organically sourced CBD, which undergoes a CO2 extraction process that retains over eighty cannabinoids and terpenes while removing any toxins. Calm by Wellness' mission is to help you live your happiest and healthiest life with a daily dose of their THC-free CBD products.
Products: Tinctures, Edibles, Topicals, Pet Treats, T-Shirts, Stickers.
Price Range ($-$$$$): $$-$$$$
---
About the CALM BY WELLNESS CBD OIL TINCTURE – STRAWBERRY LEMON-AID – 500 MG
Calm by Wellness has created a delicious strawberry lemonade flavored tincture filled with 500 mg of broad-spectrum hemp extract that aids in stress and pain relief. Made with organic and vegan ingredients, Calm by Wellness CBD Oil Tincture Strawberry Lemon-Aid is non-psychoactive as its entirely devoid of THC. Each serving (half a dropper) provides 10 mg of CBD, and the company suggests taking one serving in the morning, and one at night. You can take this tincture under the tongue, or add it to your beverage. If you're suffering from anxiety, sleeplessness, or have pain, give this stuff a try. You have nothing to lose as Calm by Wellness has enough confidence in its product to offer a 30-day money-back guarantee.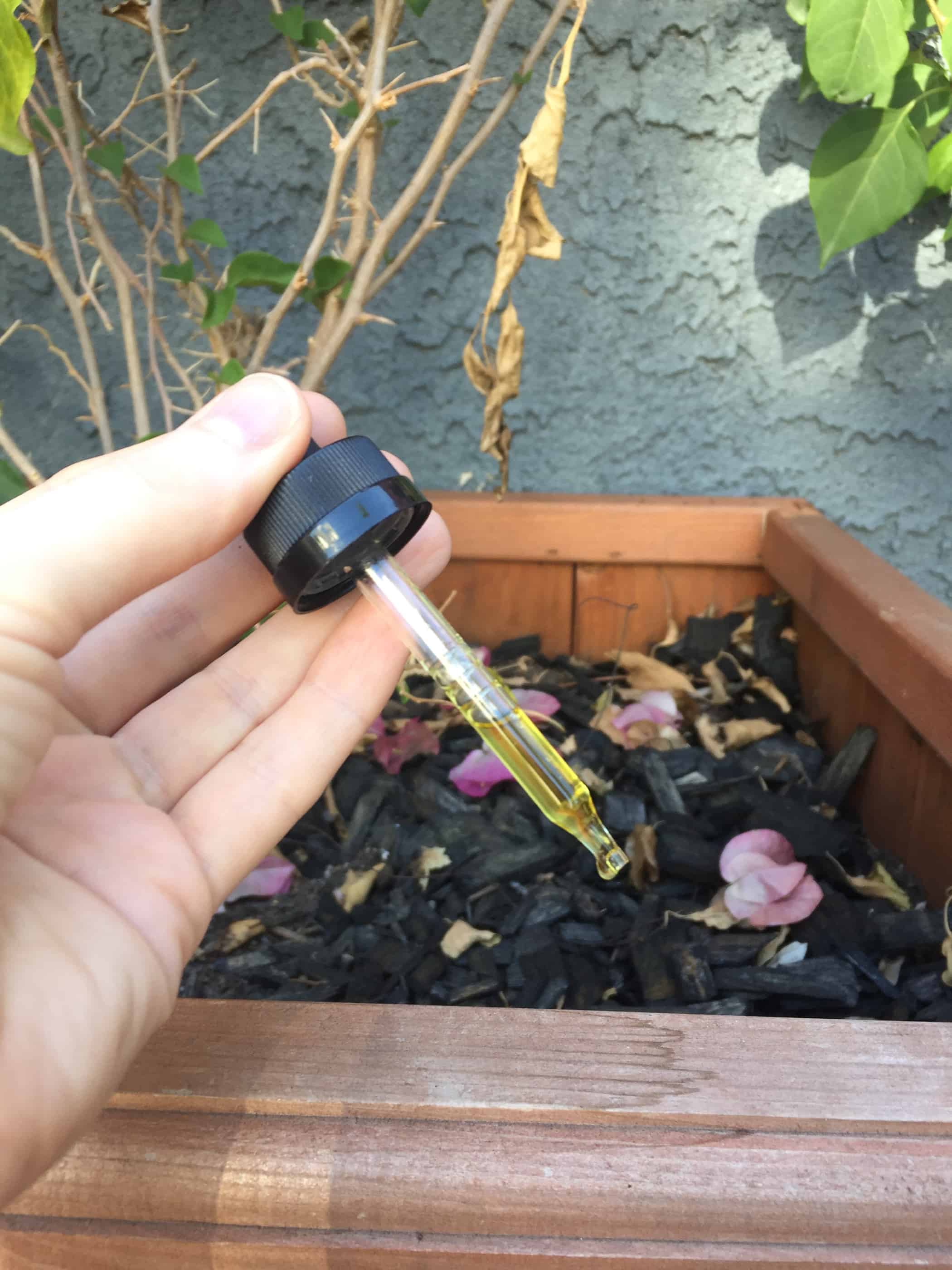 ---
CALM BY WELLNESS HEMP CBD OIL TINCTURE – STRAWBERRY LEMON-AID – 500 MG Specifications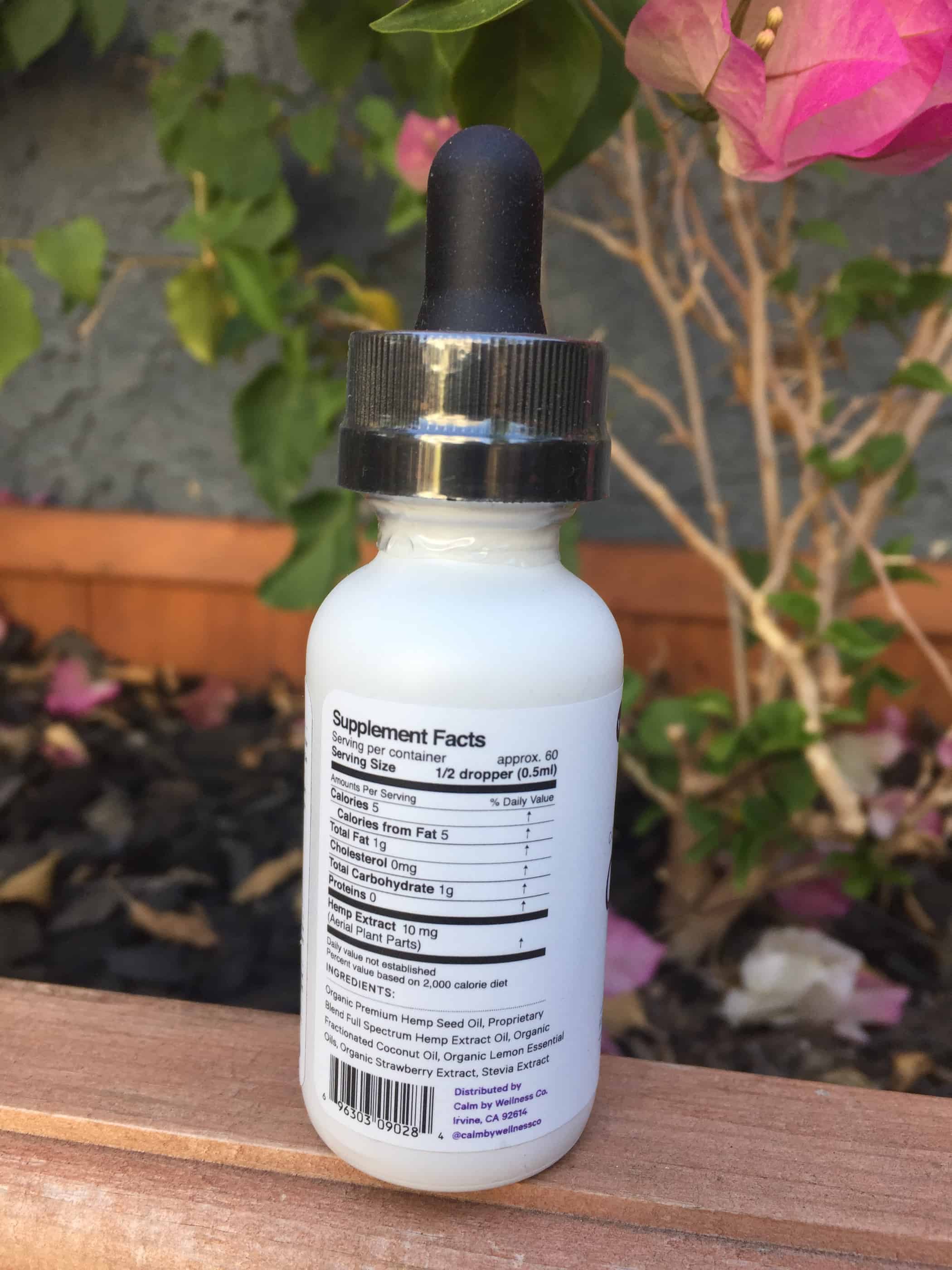 1 fl. Oz. (30 ml)
500 mg CBD (10 mg per serving)
Ingredients: Premium Hemp Seed Oil, Proprietary Blend Full Spectrum Hemp Extract Oil, Organic Fractionated Coconut Oil, Organic Lemon Essential Oils, Organic Strawberry Extract, Stevia Extract
Calories: 5 per serving
Serving Size: ½ dropper
No THC
Organic
Gluten-Free
Vegan
---
How We Tested the CALM BY WELLNESS HEMP CBD OIL TINCTURE STRAWBERRY LEMON-AID – 500 MG
As someone with immense anxiety, including panic attacks, I often use CBD products to help me stay cool, calm and collected, even when my heart wants to race and my mind wants to never shut down. I had a great experience using Calm by Wellness' gummies, so was interested to see if this tincture would help my anxiety. I also have chronic pain from a few different injuries that have led to a sleep disorder. Every position I sleep in hurts me in some new and exciting way. With anxiety and sleeplessness seemingly trying to rule my life, it was time to turn to CBD. I took a full dropper of Calm by Wellness Strawberry Lemon-Aid Tincture for 20 mg of CBD first thing in the morning, and then again at night.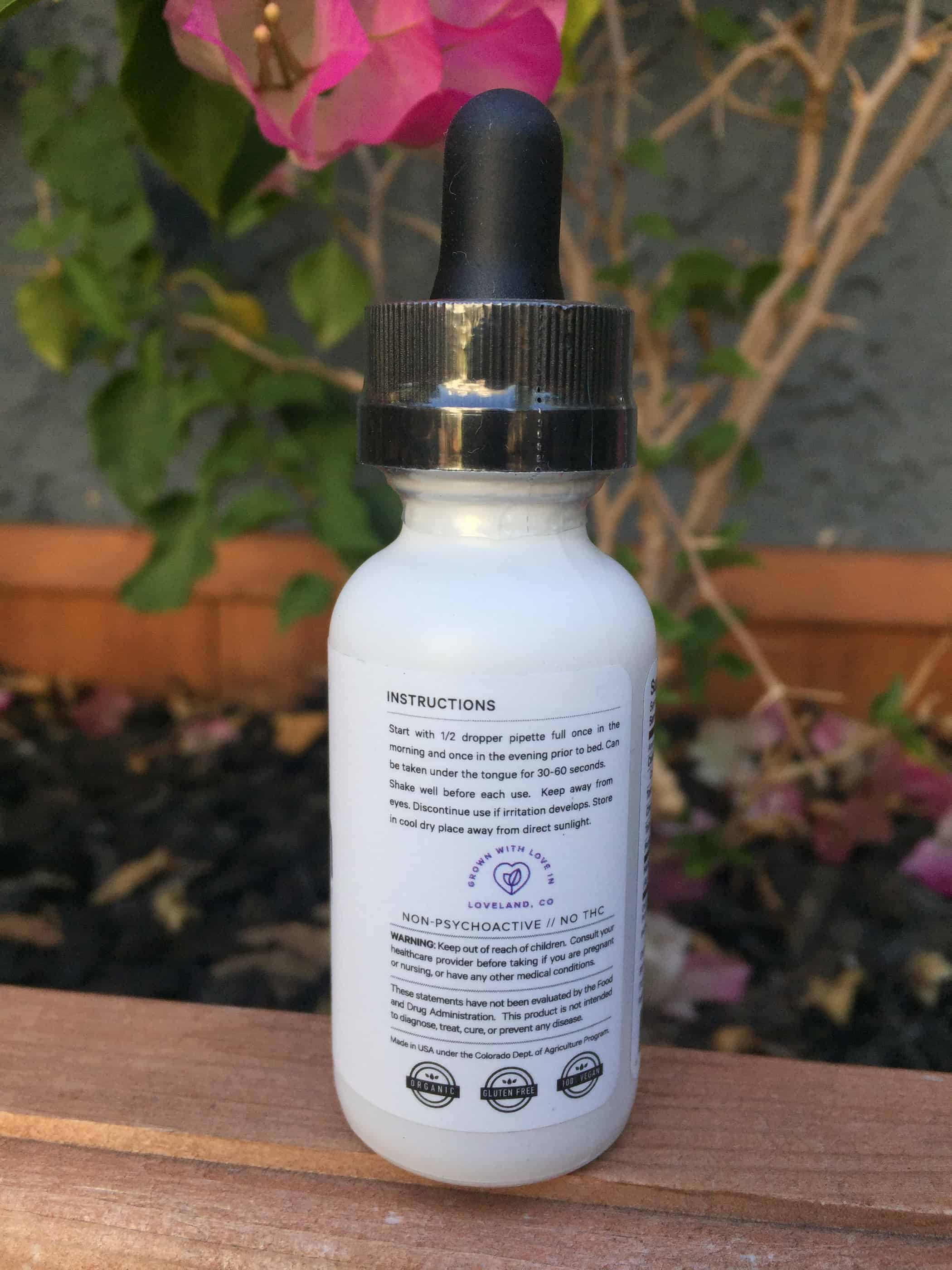 ---
How the CALM BY WELLNESS HEMP CBD OIL TINCTURE – STRAWBERRY LEMON-AID – 500 MG Worked for Me
I could feel the effects of the Calm by Wellness Hemp CBD Oil Tincture in less than an hour. The tincture tasted like strawberries and was mild enough not to overwhelm. I couldn't taste any weediness at all. This CBD oil made me feel calm, warm and focused, taking the edge off of my anxiety and helping me feel like more of a human than a freaked out stress ball. After a few days of taking this tincture two times a day, I noticed an overall sense of ease in my life. I've been sleeping better too. With the delightful taste and its overall effectiveness, I will most definitely keep using this. I can't wait to try their other flavors!
---
Useful and Unique Things to Know About CALM BY WELLNESS HEMP CBD OIL TINCTURE – STRAWBERRY LEMON-AID – 500 MG
All the ingredients in the Calm by Wellness Strawberry Lemon-Aid Tincture are organic and vegan, making this product safe for the health-conscious. It's even sweetened with all-natural stevia, a healthy sugar substitute. And it's not just the CBD that's working to improve wellness. Lemon essential oils are added for flavor, but also serves to alleviate stress, insomnia, and fatigue. These essential oils are also known to help with depression, can boost the immune system, and eases the pain. Strawberry extract provides antioxidants, can also boost the immune system and is beneficial to your heart.
---
CALM BY WELLNESS HEMP CBD OIL TINCTURE – STRAWBERRY LEMON-AID – 500 MG Ratings
In the next sections gradings from 0-100 on our review, these grades add up to give the product's overall score.
PRESENTATION • 100
Professional and informative packaging.
RELIABILITY • 100
Reduces pain and eases anxiety.
QUALITY • 100
Organic and potent ingredients.
FLAVOR / SMELL / or EASE OF USE • 100
Mild strawberry flavor. Tastes great!
VALUE • 95
Slightly more expensive than other tinctures.
---
How the CALM BY WELLNESS HEMP CBD OIL TINCTURE – STRAWBERRY LEMON-AID – 500 MG Stacks Up Against the Competition
I've tried a dozen or so different CBD-infused tinctures and this is the first time I've come across the strawberry-flavored variety. With its unique flavor and ingredients that are vegan and organic, this tincture stands apart from the competition. You can certainly find 500 mg CBD tinctures for less, but for the quality and flavor, it's worth it. If you are looking for a CBD tincture that costs less, but still has a nice flavor without the weediness, try GoGreen Hemp's CBD Premium Orange Oil Drops. Still, you're not going to find another tincture like Calm by Wellness' Hemp CBD Oil Tincture with its one-of-a-kind strawberry lemonade flavoring.
---
Saving Money With CALM BY WELLNESS Coupons
Save money on all Cbd Edibles here at Save On Cannabis the World's largest online cannabis coupon code directory.
---
Disclosure: I received these products gratis so that I could try them and then share my honest opinion with the SOC community. I am employed by Save on Cannabis to write honest reviews and provided a flat rate payment for the writing of the review. SOC may receive recurring affiliate payments for purchases made based on this content.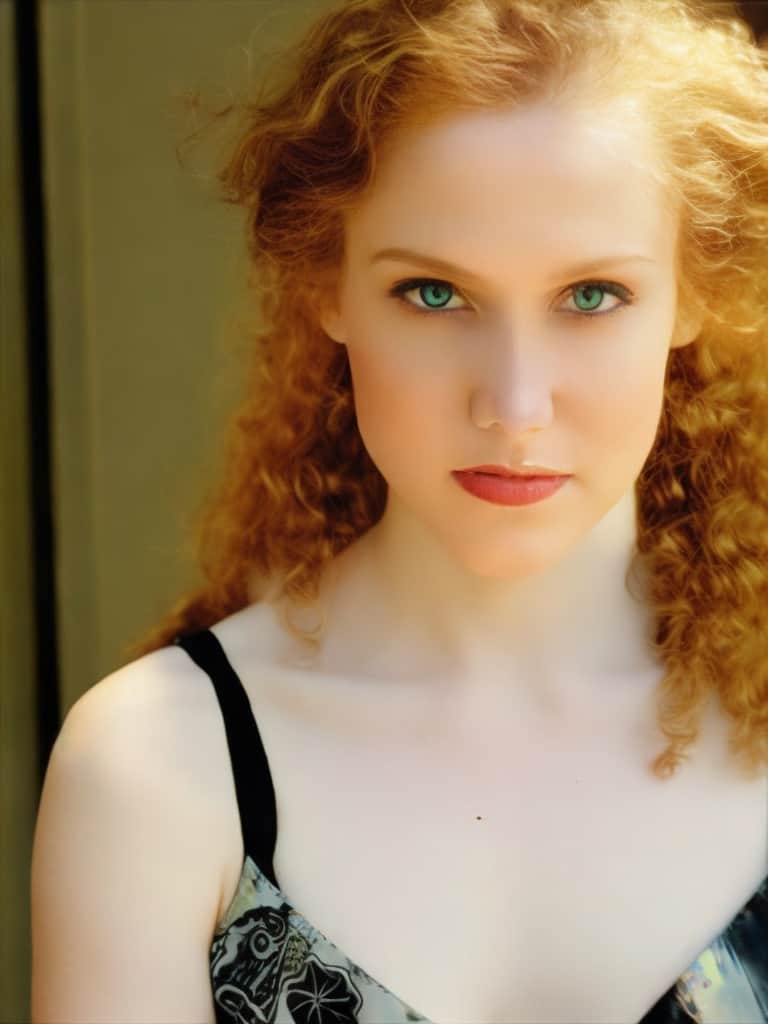 A medicinal cannabis user, utilizing the power of the plant to ease the pains and stresses from long standing conditions that other over the counter or prescriptions could not fix or weren't a natural option like cannabis.  Also, has a background in working directly in the cannabis industry in California within various dispensaries.
Veritas Farms review of their unflavored 500mg CBD tincture, see how it fit into our reviewer's daily wellness routine.
We vaped the Blue Moon CBD Shatter as provided by Pure CBD Vapors to see how it worked. Read our experience with this CBD concentrate.
How nourishing is the Aspen Green CBD body oil for your dry skin? Find out in our hands-on Aspen Green review.