Magical CBD Orange 3000mg Tincture Review
Nov 10, 2020 | SOC
Magical CBD Orange 3000mg Tincture
Pros
Yummy flavor
Great price
Non-GMO
Vegan
THC-free
Fat-free
Sugar-free
Gluten-free
MAGICAL
Product Review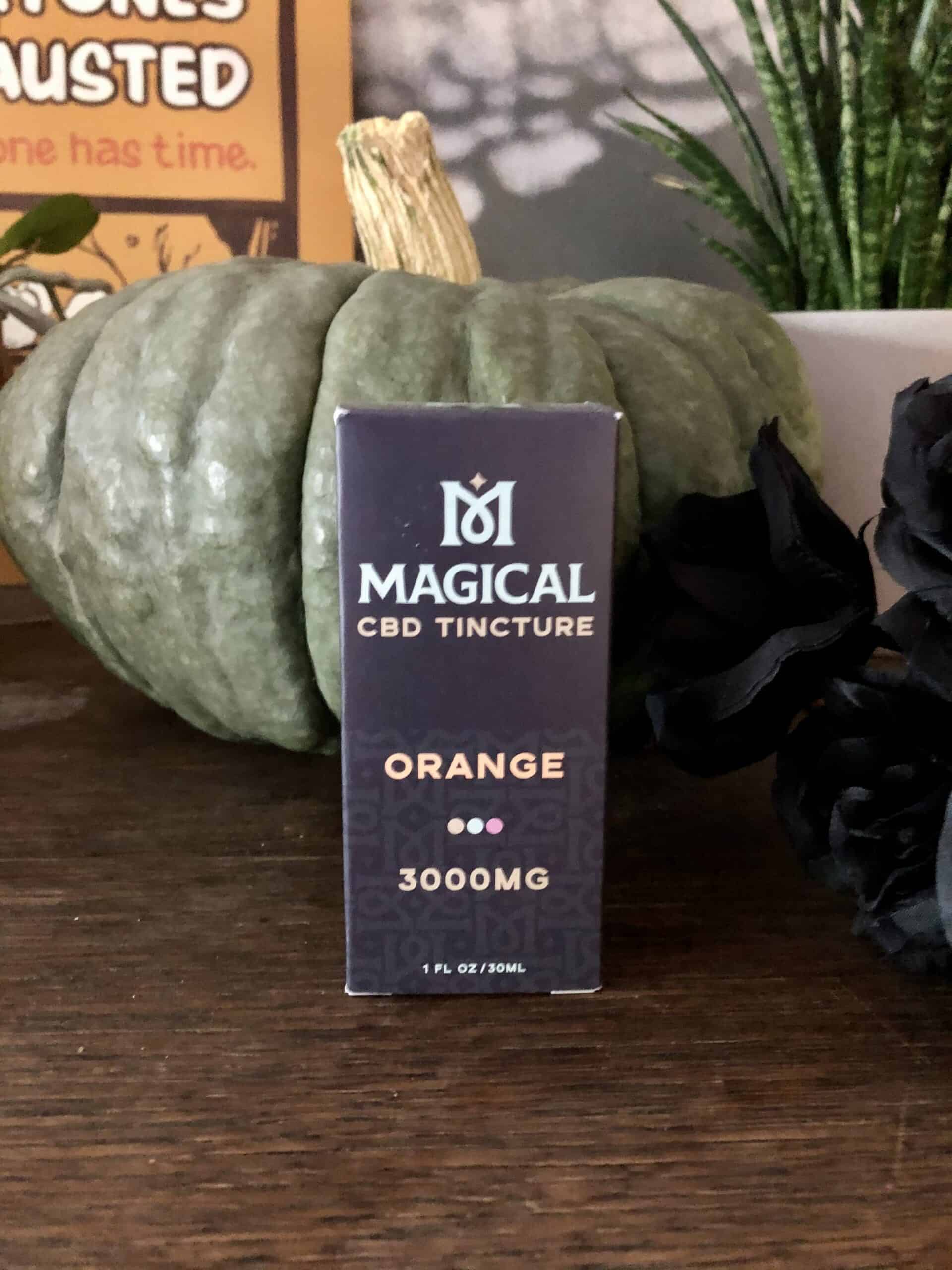 Brand Overview: Magical
Magical has created a line of hemp-derived CBD-infused products that are pesticide-free, cruelty-free, and follow the standards dictated by Good Manufacturing Practices to ensure quality. The founders of the company also created Magical Butter, which sells the MagicalButter MB2e, a botanical extractor you can keep in your home that helps you turn hemp into butter, oil, tinctures, lotions, and more. They use American grown hemp extract and all their products are THC-free.
Magical uses a third-party lab to test their products for purity and potency. You can find a detailed Certificate of Analysis for their products on the company's website. All of their products are vegan.
Products: Edibles, Tinctures, Softgels, Topicals, Bundles.
Price Range ($-$$$$): $
---
About MAGICAL CBD TINCTURE – ORANGE – 3,000 MG
Magical's CBD tinctures come in a variety of flavors including crème de menthe, mixed berry, cinnamon, and orange. You can purchase the tinctures with 1,500 mg or 3,000 mg of CBD. I tried the orange-flavored 3,000 mg CBD tincture, which provides a high-dosage of 100 mg per serving. The bottle comes with a labelled dropper making it easy to measure smaller doses. This product is vegan and free from THC and pesticides. Magical combines CBD isolate and broad-spectrum CBD with pure coconut MCT oil to help boost absorption.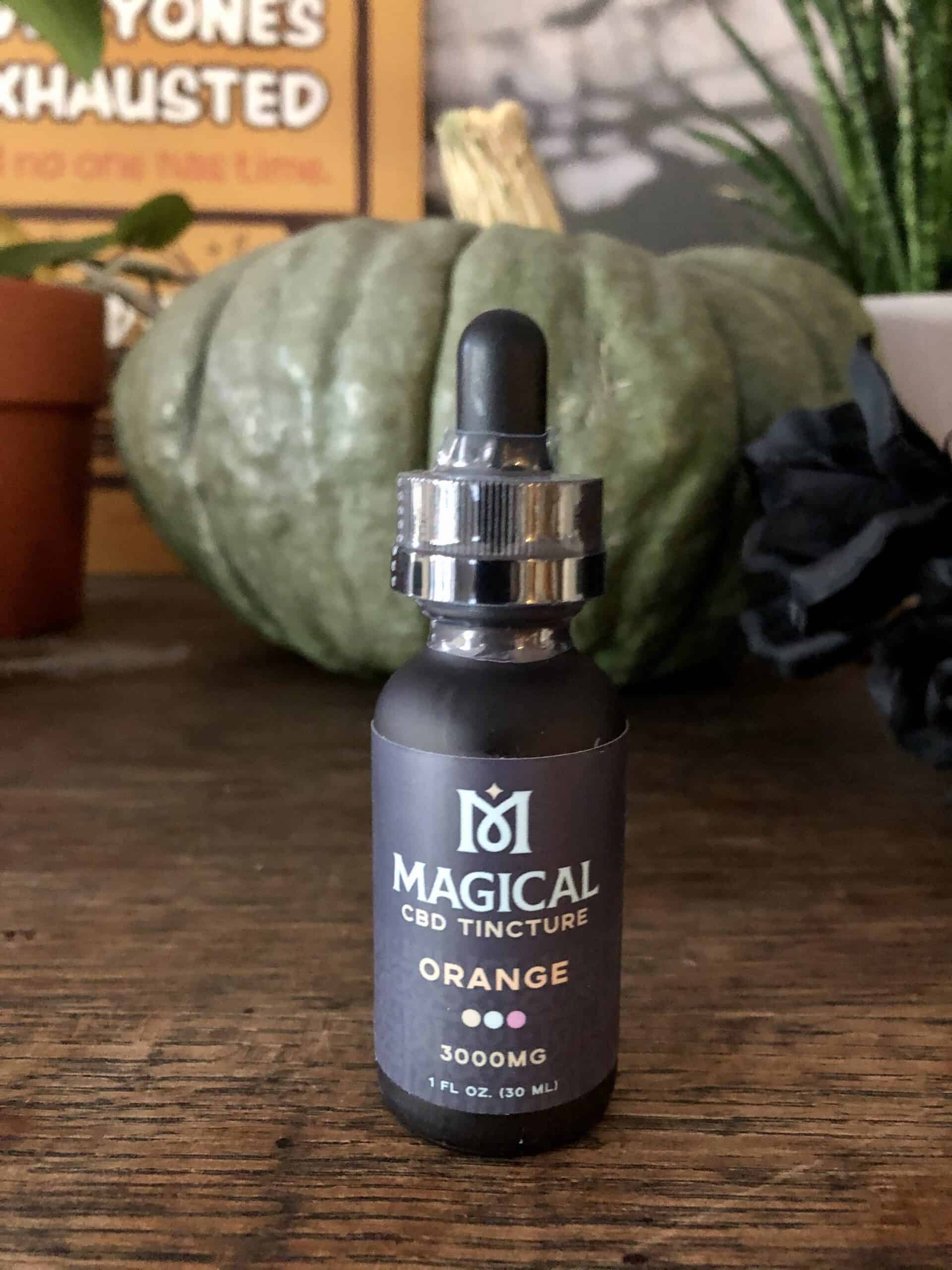 The tincture is completely natural, non-GMO, gluten-free, fat-free, and sugar-free. You can take one full dropper per day or as needed. If you're new to CBD, don't start with a full serving. Experts recommend starting at a low dose and working your way up.
---
MAGICAL CBD TINCTURE – ORANGE – 3,000 MG Specifications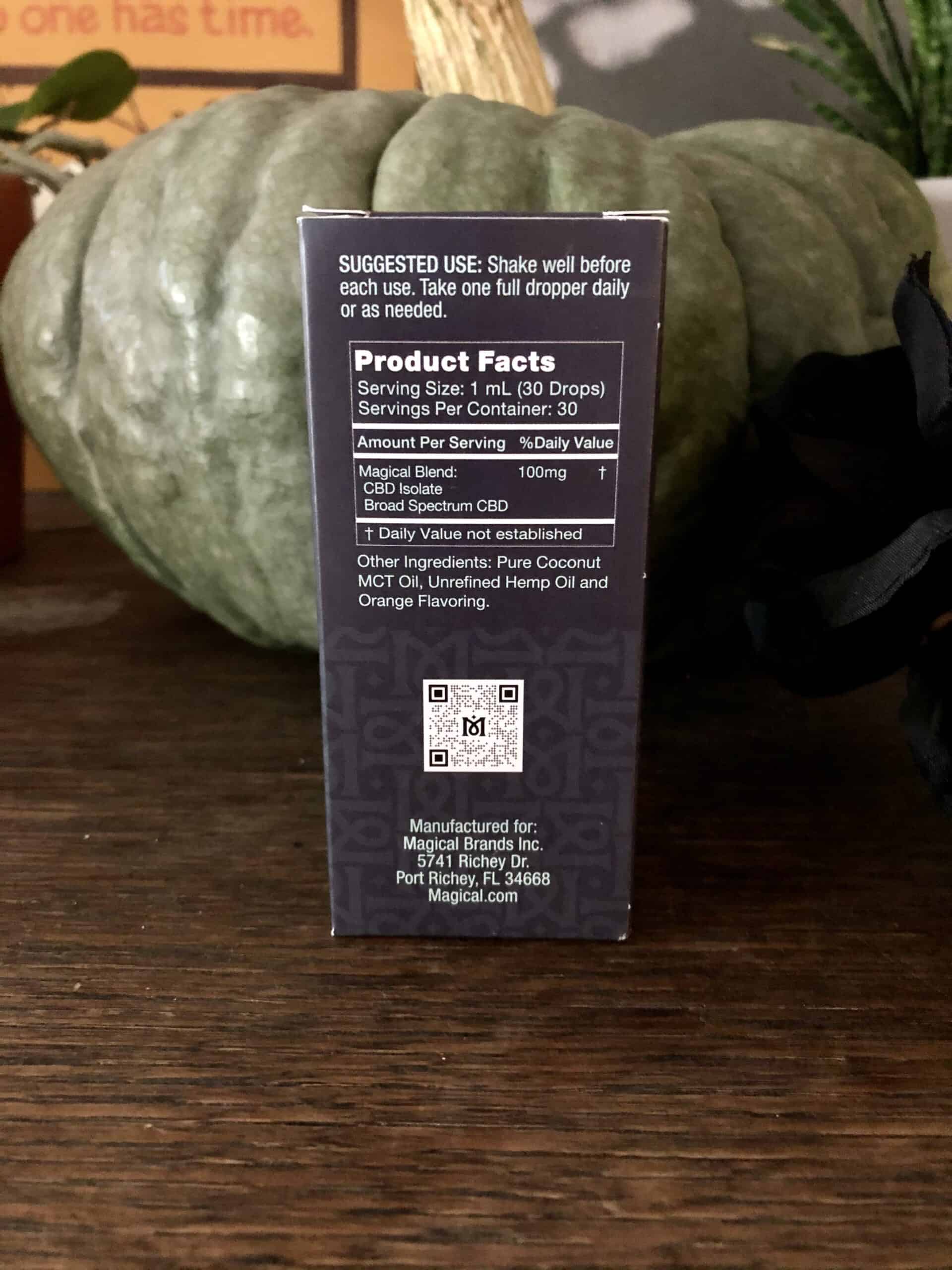 3,000 mg CBD
30 servings
100 mg CBD per serving
THC-free
Fat-free
Sugar-free
Gluten-free
Non-GMO
Vegan
Ingredients: CBD Isolate, Broad-Spectrum CBD, Pure Coconut MCT Oil, Unrefined Hemp Oil, Orange Flavoring.
1 fl oz / 30 ml
---
How We Tested the MAGICAL CBD TINCTURE – ORANGE – 3,000 MG
I've already tried the refreshing crème de menthe and invigorating cinnamon-flavored tinctures from Magical so was fairly confident this product would taste amazing and work just as well. I've been using CBD lately to help me deal with stress. I have a chronic illness which is triggered by stress, so managing it has become a priority in my life. I'm trying yoga, mediation, morning walks, and practicing staying mindful and in-the-moment.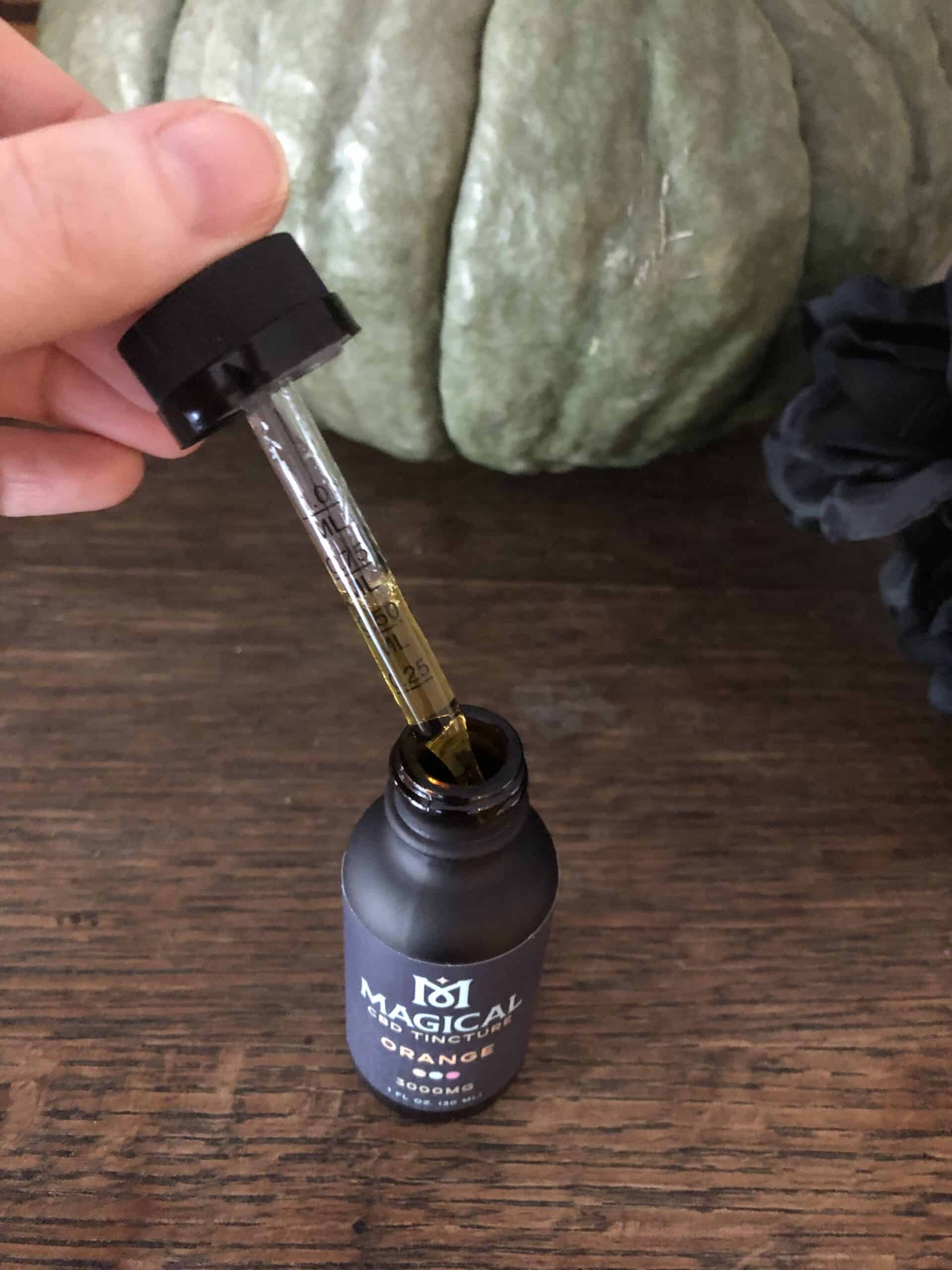 I'm not naturally a relaxed person. I'm anxious and hyper-vigilant. For me, relaxing is working with the TV on rather than off. I wanted to try this tincture to see if it would help me keep my cool during times when I want to meltdown. I was 100% certain Magical's orange-flavored tincture would do the trick. In the morning, I measured out a quarter serving for 25 mg of CBD, then took 50 mg before bed.
---
How the MAGICAL CBD TINCTURE – ORANGE – 3,000 MG Worked for Me
As expected based on Magical's other flavors, this was delicious. It tasted like an orange creamsicle and I couldn't taste any hemp at all. I wish I could drink this stuff over ice. I started to feel the warming and calming effects of the CBD within an hour. The tincture doesn't take away anxiety, but it helps take the edge off so I was able to stay in-the-moment when my mind wanted to think ten steps ahead. When I started to feel stressed out, I would focus on the warmth in my body, and remember that freaking out doesn't help. This helped me be more productive when I was working, and more relaxed when I wanted to rest.
---
Useful and Unique Things to Know About MAGICAL CBD TINCTURE – ORANGE – 3,000 MG
Magical CBD mixes CBD isolate with broad-spectrum CBD. CBD isolate is 99% pure CBD that comes from an extraction process that removes almost all the other phytocannabinoids except for CBD. Broad-spectrum CBD is when all the phytocannabinoids are kept, except for THC. It's through the broad-spectrum CBD that you'll experience the "entourage effect." This is when all the different components of the cannabis plant work together to boost their effects.
---
MAGICAL CBD TINCTURE – ORANGE – 3,000 MG Ratings
In the next sections gradings from 0-100 on our review, these grades add up to give the product's overall score.
PRESENTATION • 100
Informative packaging.
RELIABILITY • 100
Calming, focusing.
QUALITY • 100
All-natural ingredients.
FLAVOR/SMELL/or EASE OF USE • 100
Great orange flavor.
VALUE • 100
Good price.
---
How MAGICAL CBD TINCTURE – ORANGE – 3,000 MG Stacks Up Against the Competition
Magical CBD's line of great-tasting and potent tinctures have become my new go-to in times of stress. All the flavors are great, but if I had to pick a favorite, it would be a tie between the orange and the cinnamon. The flavors reminded me of my favorite kinds of candy and I had to stop myself from consuming more just for the taste.
---
Saving Money with Our Verified MAGICAL Coupons
Save money by using our verified CBD Tinctures Coupons here at Save On Cannabis the World's largest online cannabis coupon code directory.
---
Disclosure: I received these products gratis so that I could try them and then share my honest opinion with the SOC community. I am employed by Save on Cannabis to write honest reviews and provided a flat rate payment for the writing of the review. SOC may receive recurring affiliate payments for purchases made based on this content.
Our expert got their hands on CBD Pure 750mg capsules to test on her consistent pains. In this CBD Pure review see if they are worth buying.
Suck away the stress and boost your immunity with a CBD lollipop. Sounds too good to be true, find out if is true in this Vida Optima review.
These Pure Relief Immune Support Gummies have come at the perfect time, when we all have some extra stress & want to avoid sickness.