Maddyn Review: Relax & Revive Full Spectrum CBD Capsules
Oct 28, 2020 | SOC
Maddyn Relax & Revive Hemp Extract Turmeric Capsules
Pros
Colorado grown hemp
Non-GMO hemp
Medium-high dose of CBD
Lab tested for potency
3rd party labs check for residual solvents, microbials, and mycotoxins
Vegan capsule
Free of artificial colors and preservatives
Made in a GMP facility with strict quality controls
Cons
Labeling on jar is a bit difficult to read
No lab test for pesticides or heavy metals
Maddyn Relax & Revive Hemp Extract Turmeric Capsules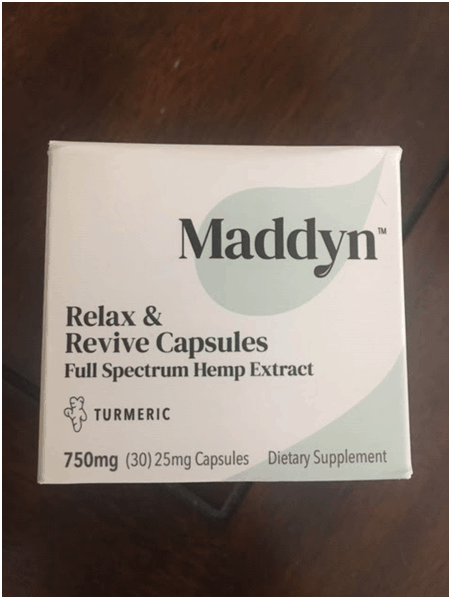 Brand Overview: Maddyn
Co-founders Rolf Sannes and Jim Heidenreich founded Maddyn in 2019. As fitness experts and passionate entrepreneurs, getting into the hemp-based CBD industry was a no-brainer and the perfect fit.
As a company based in Colorado, Maddyn sources its hemp from local Colorado farms. The hemp plants grow organically, without the use of GMOs.
Besides turmeric CBD capsules, the company also sells a mint-flavored CBD oil tincture, and a topical cream. There could be future products as the company continues to grow its presence.
Furthermore, Maddyn sends its products to a third-party lab for independent quality and purity testing. This lab tests the cannabinoid and terpene content and looks for mycotoxins, microbials, and residual solvents.
However, the lab didn't test for pesticides or heavy metals.
Products: Tinctures, creams, capsules
Price Range ($-$$$$): $$
---
About Maddyn Relax & Revive Hemp Extract Turmeric Capsules
Maddyn Relax & Revive Hemp Extract Capsules contain full-spectrum CBD and turmeric, a known anti-inflammatory. There are 30 capsules in the jar each with 25mg CBD and 500mg turmeric.
The purpose of these capsules is to serve as an on-the-go solution to supplementing with CBD. They're made with an easy to swallow capsule to allow a quick and simple way to get the benefits of CBD and turmeric in your system.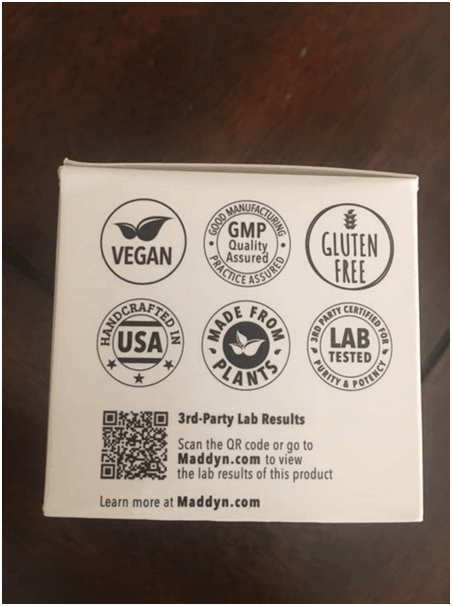 ---
Maddyn Relax & Revive Hemp Extract Capsules Specifications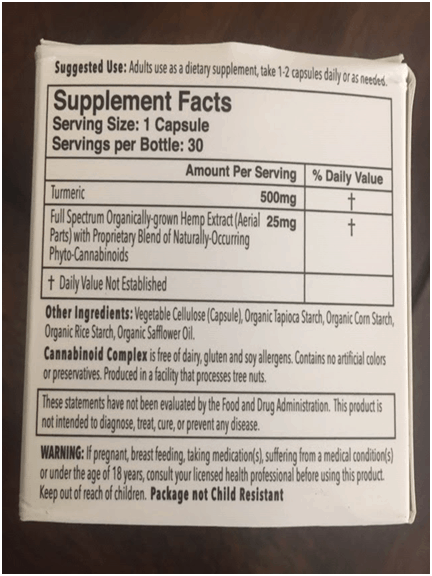 Full-spectrum hemp extract
750mg CBD
25mg CBD per capsule
500mg turmeric per capsule
30 capsules per jar
Vegan and gluten-free
Free of artificial colors and preservatives
Colorado-grown hemp
Made in a Good Manufacturing Practices (GMP) facility
Box includes a scannable QR code that takes you to third-party lab test results
Lab-tested for cannabinoid and terpene potency
Capsules are free of microbials, mycotoxins, and residual solvents
---
How We Tested the Maddyn Relax & Revive Hemp Extract Turmeric Capsules

Since these capsules include turmeric, an herb that can support the process of digestion, I decided to take one capsule a day after a meal, typically my lunch or dinner. I took some time testing these out. I finished half the jar, so I had 15 capsules in total over the course of a month.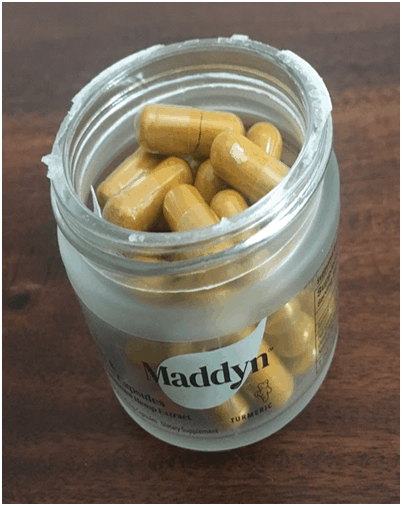 ---
How the Maddyn Relax & Revive Hemp Extract Turmeric Capsules Worked for Me

Full disclosure — I use CBD fairly often in my day to day life. Usually a tincture in the morning and a gummy in the afternoon. Sometimes I smoke hemp flower. But, during the course of my trial run with these capsules, I only had these during the day. I wanted to "see" how they worked independently of the other CBD products.
For some reason, I have a harder time feeling the effects of capsules compared to tinctures, but since these also contained turmeric, I had some noticeable effects. On certain days I could tell that my digestive system was being impacted. Either through a burp, or the need to use the restroom, but not in a bad or uncomfortable way.
Also, the calming effects that are associated with CBD came through from these caps. It was a nice feeling to have, especially in the late afternoon when I can get a little stressed out. Overall, I liked this product and appreciated the combination of two powerful herbs coming together in one cap.
---
Useful and Unique Things to Know About Maddyn Relax & Revive Hemp Extract Turmeric Capsules
It's unique for a brand to make CBD capsules with herbs. Generally, the formula only includes the ingredient(s) to make the capsule and CBD hemp oil. But Maddyn's Hemp Extract Capsules contain 500mg of turmeric per cap, which is a good daily dose. More than many of us probably get, if we get any at all.
---
Maddyn Relax & Revive Hemp Extract Capsules Ratings
In the next sections gradings from 0-100 on our review, these grades add up to give the product's overall score.
PRESENTATION • 90
Wonderful first-impression, but the writing on the jar is hard to read.
RELIABILITY • 100
It felt like each capsule provided consistent effects.
QUALITY • 100
A great source of hemp and made under strict quality control standards.
FLAVOR• 90
There's not much flavor, but the strong smell and slight aftertaste of turmeric are noticeable.
VALUE • 100
Priced fair for the high level of quality.
---
PROS of the Maddyn Relax & Revive Hemp Extract Turmeric Capsules
These capsules have a medium-high dose of full-spectrum CBD oil. The hemp comes from local farms in Colorado that use organic growing methods. Also, the capsules get lab tested for potency and purity. These capsules are vegan, gluten-free, dairy-free, and contain zero artificial colors or preservatives.
In addition, these capsules get made in a registered Good Manufacturing Practices (GMP) Assured facility.
---
CONS of the Maddyn Relax & Revive Hemp Extract Turmeric Capsules
There are only a few cons to this product. The first has to do with the labeling on the jar itself. The jar is clear and the words are in black font. Normally, this is fine, but against a clear backdrop, it makes it hard to read the words. Also, the company didn't pay to have the pesticides or heavy metals lab tests performed.
---
How Maddyn Relax & Revive Hemp Extract Capsules Stacks Up Against the Competition

Maddyn Relax & Revive Hemp Extract Capsules stand out for including turmeric in the formula. Also, it has vegan-friendly caps, which you can find elsewhere but it's not all that common.
---
Saving Money with Our Verified Maddyn Coupons
Save money by using our verified CBD Capsules Coupons here at Save On Cannabis the World's largest online cannabis coupon code directory.
---
Disclosure: I received these products gratis so that I could try them and then share my honest opinion with the SOC community. I am employed by Save on Cannabis to write honest reviews and provided a flat rate payment for the writing of the review. SOC may receive recurring affiliate payments for purchases made based on this content.
Save on Maddyn Review: Relax & Revive Full Spectrum CBD Capsules
Sorry, no coupons were found.
In this American Hemp Oil review of the 500mg CBD Tincture see how this CBD tincture worked for our reviewer & if it should be on your list.
Ever tried a CBD bath bomb? This is not our expert reviewer's first time trying a CBD bath bomb, read her experience.
Can CBD not only be helpful but also a delicious treat? Our reviewer tests out the Soul CBD Gummies in their raspberry flavor.