CBD Review: CBD Livity Extra Strength CBD Salve
Aug 29, 2020 | SOC
CBD LIVITY EXTRA STRENGTH CBD SALVE
Pros
Great ingredients that come from the earth
Soothing
Moisturizing
Smells natural and minty
Perfect topical for massage
CBD LIVITY
Product Review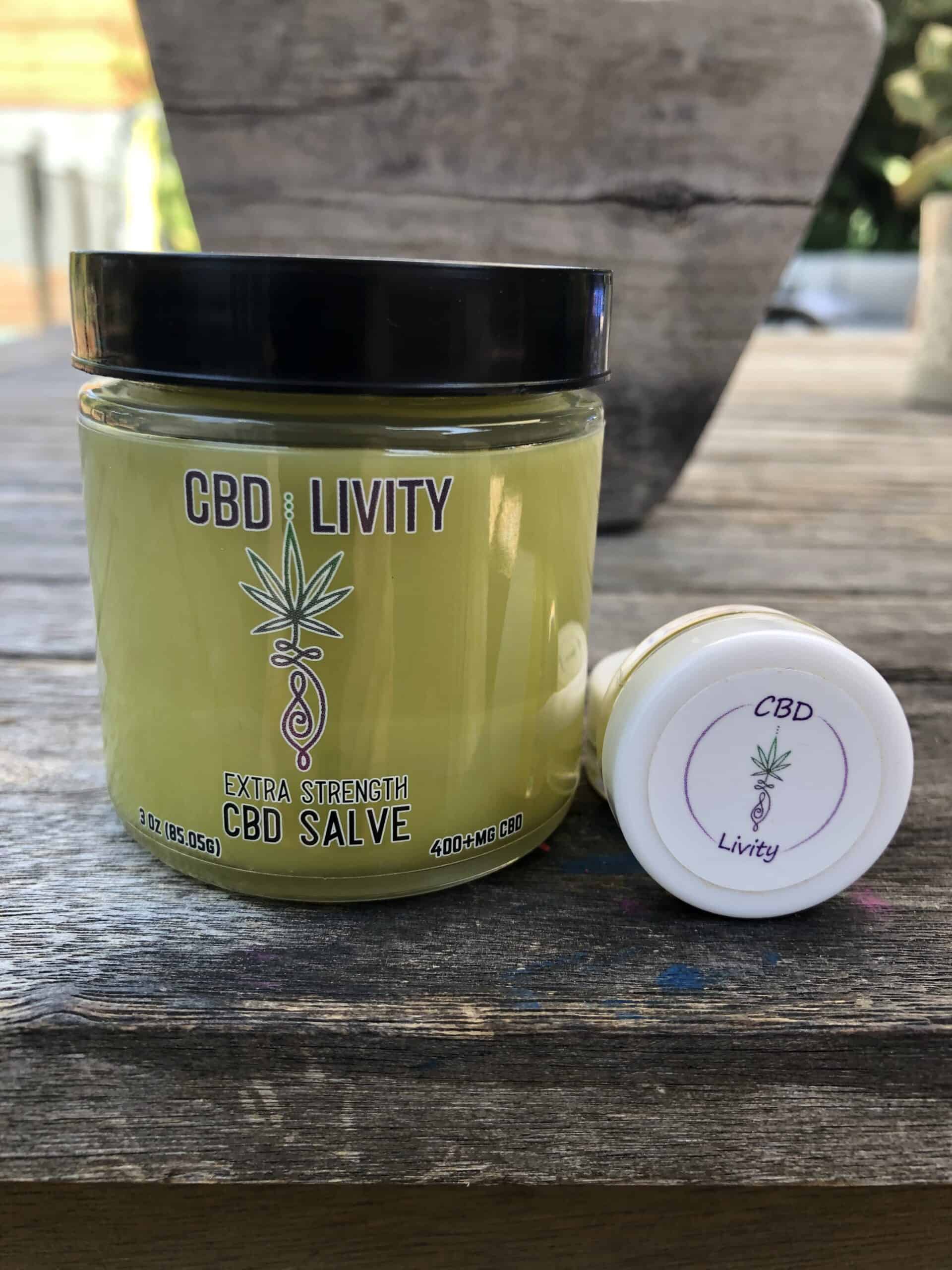 Brand Overview: CBD LIVITY
Started as a hobby to educate friends and family about the benefits of cannabis, CBD Livity was founded in 2015 with a mission to create affordable and quality CBD products to heal the world. The CBD Livity "movement" aims to spread love and self-care through educating people about all the positives ways we can use cannabis and hemp plants, including one of its powerful nonpsychoactive components cannabidiol, or CBD.
According to the company, CBD can work to bring balance and harmony to your immune system, your body, and your mind. CBD Livity has big plans for the future, including creating a non-profit organization that aims to educate people about the positive effects of CBD. The company wants to spread its message of "livity," which is the Rastafarian idea that there's an "eternal godly energy" that flows through all living things. All their products are third-party tested for purity and potency. Subscribe to their mailing list for a discount on your first order.
Products: Tinctures, Topicals, Distillates, Candle, Coffee, Bath Bombs, T-Shirts, Hats, Bundles.
Price Range ($-$$$$): $$$
---
About CBD LIVITY EXTRA STRENGTH CBD SALVE
CBD Livity's Extra Strength CBD Salve contains over 400 mg of cannabidiol and a ton of organic ingredients designed to make you feel better. This topical is made for your "external recovery," and after applying a generous serving to your troubled spots, penetrates the skin to help your tissues and nerves. While not evaluated by the FDA, some studies have found that CBD topicals can fight inflammation and provide relief.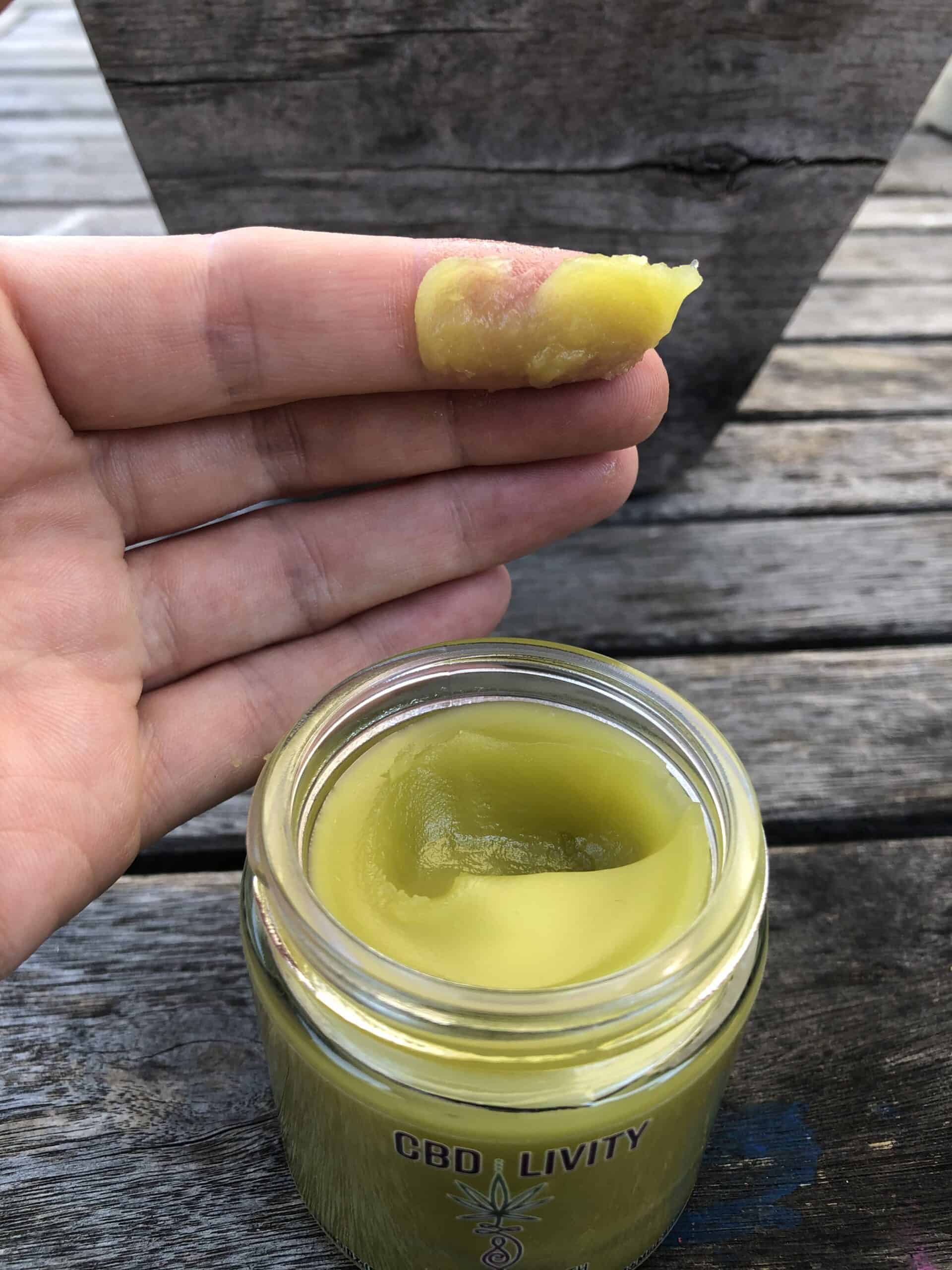 With ingredients like Organic Coconut Oil, Organic Almond Oil, and Organic Beeswax, you can bet this stuff leaves your skin moisturized and happy. The salve also contains arnica, which is often used in homeopathy or post-surgery to help your skin heal faster from injuries. It contains 0% THC and is entirely organic.
---
CBD LIVITY EXTRA STRENGTH CBD SALVE Specifications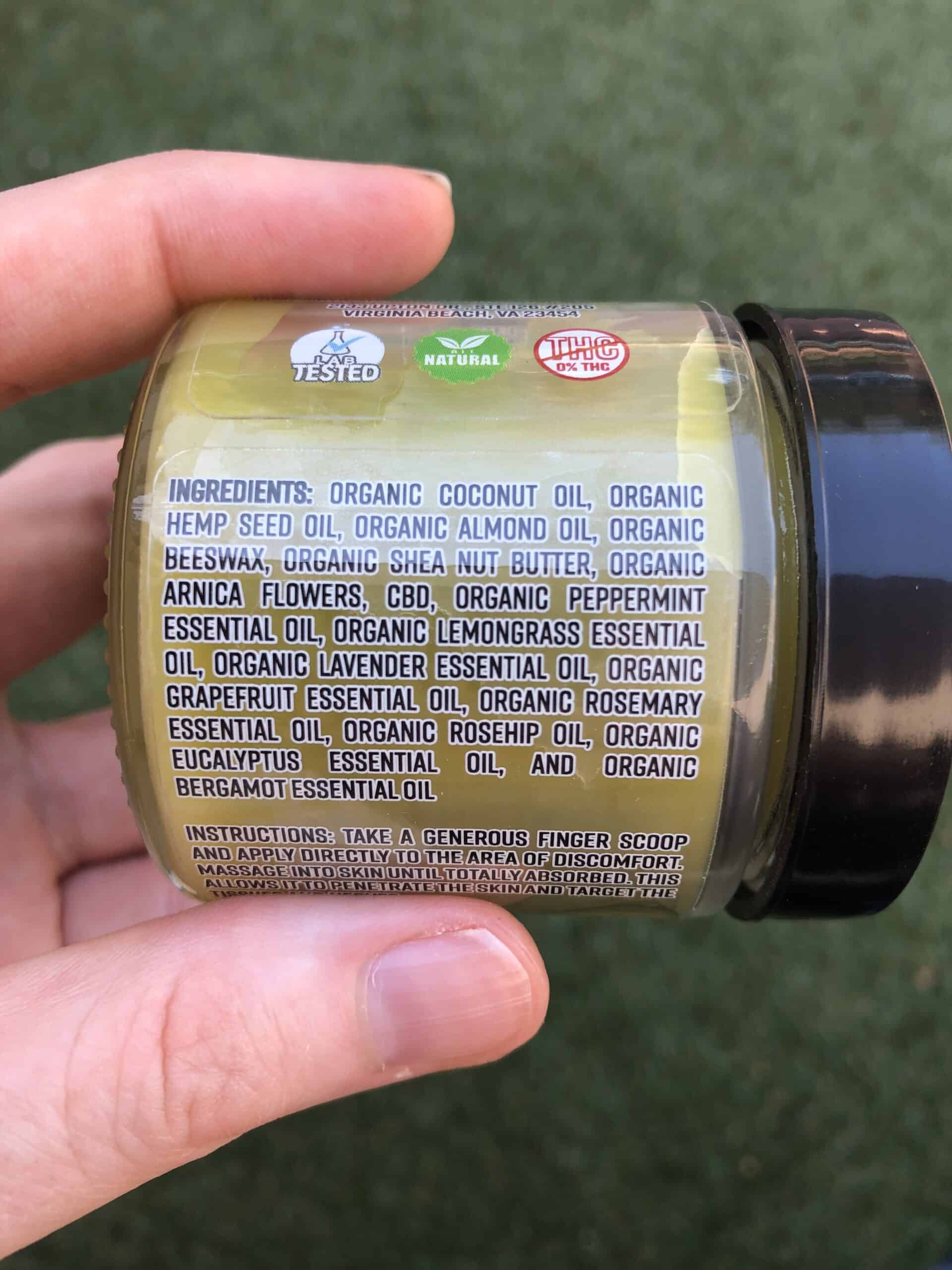 400+ mg CBD
3 oz / 85 g
0% THC
Ingredients: Organic Coconut Oil, Organic Hemp Seed Oil, Organic Almond oil, Organic Beeswax, Organic Shea Butter, Organic Arnica Flowers, CBD, Organic Rosehip Oil, Organic Grapefruit Essential Oil, Organic Lavender Essential Oil, Organic Peppermint Essential Oil, Organic Lemongrass Essential Oil, Organic Rosemary Essential Oil, Organic Eucalyptus Essential Oil, and Organic Bergamot Essential Oil
---
How We Tested the CBD LIVITY EXTRA STRENGTH CBD SALVE
I've never tried anything from CBD Livity, so was excited to find an extra-strength topical that contains all my favorite ingredients like eucalyptus, arnica, and peppermint. Those ingredients feel amazing on my skin, and I've had a great experience using topicals like this in the past to help with post-workout inflammation and provide soothing relief before bed. I haven't been feeling well lately because of a mystery disease that's been plaguing me for a while.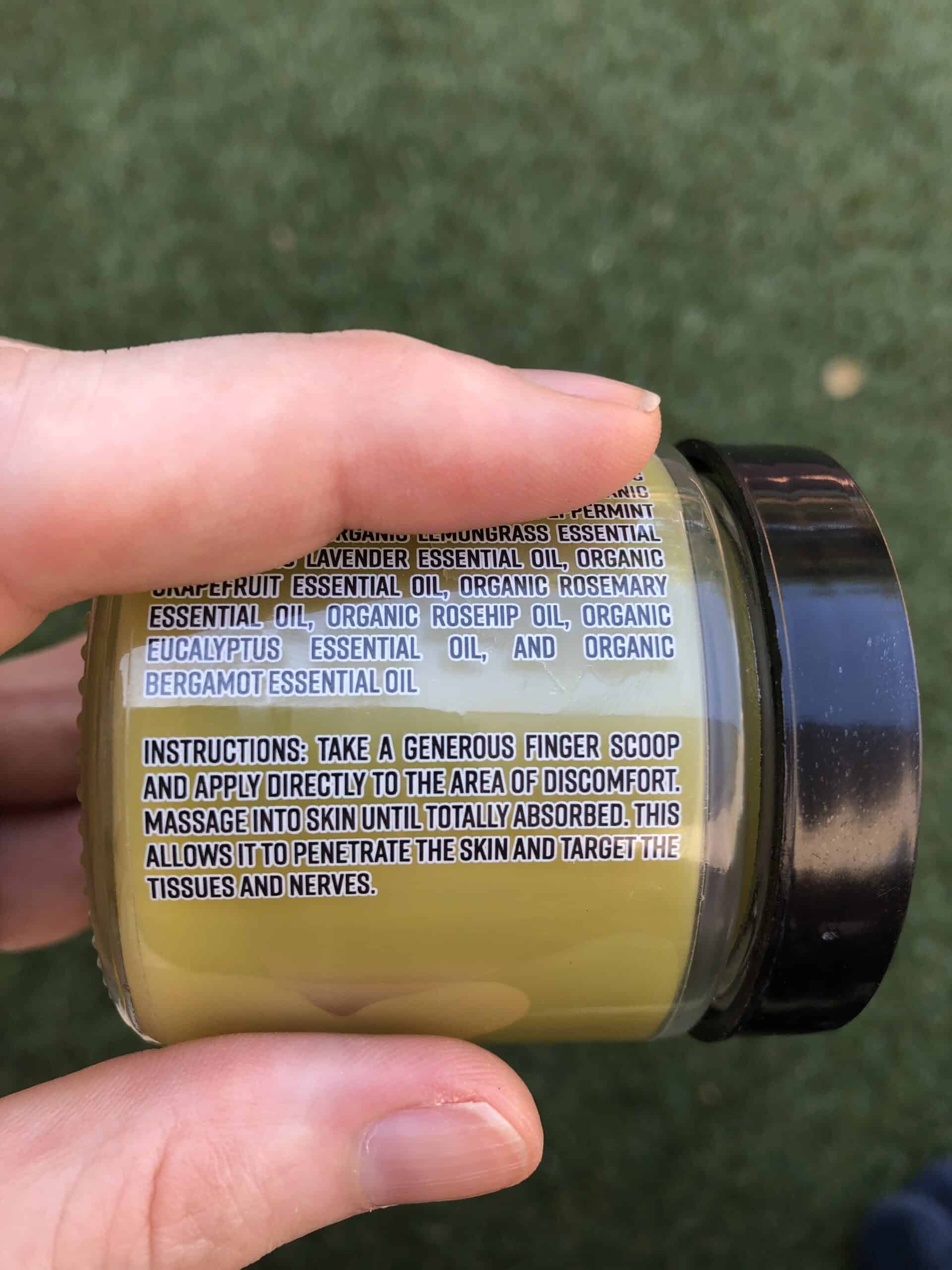 I'm getting closer to a diagnosis (probably something autoimmune) but without a definitive one, I'm left to my own devices in treating my discomfort since I can't get the proper prescription. I've found topicals to be more effective than tinctures or capsules, so was thrilled to get this salve in the mail. I was hoping this topical would provide relief during the day so I could get more done, and help me relax at night so I could get sleep. I applied a healthy dollop of the salve to my low back and hips during the day and some more before bed.
---
How the CBD LIVITY EXTRA STRENGTH CBD SALVE Worked for Me
This CBD salve makes an amazing massage lotion! It doesn't dry or flake on the skin so I was able to give my sore muscles a massage for fifteen minutes before my hands started to ache from arthritis. It blends easily into the skin and my dry hands felt incredibly moisturized after use. The salve had a fresh, minty scent that's natural, not artificial. The smell also has an herbal quality from the mix of essential oils. It wasn't perfumey at all. The CBD and other healing ingredients worked immediately to bring relief. I found it especially beneficial after a difficult physical therapy session when I need help with inflammation. At night, the combination of the essential oils and massage helped me relax and fall asleep quicker than normal. This jar of salve now sits by my bed and I'll be using it daily.
---
Useful and Unique Things to Know About CBD LIVITY EXTRA STRENGTH CBD SALVE
The salve contains several essential oils. Some of them are more familiar to me, like Eucalyptus, Lavender, and Peppermint, so I wanted to Google the oils I wasn't as familiar with to see what the experts are saying. Organic grapefruit essential oil is a common ingredient in topicals and aromatherapy. It's known to be good for stress and mood issues. The organic lemongrass essential oil is known to benefit high blood pressure, digestive issues, and stress. Organic rosemary essential oil might be able to boost the immune system by reducing stress. Finally, the organic bergamot essential oil is also great for stress and some studies indicate it might relief pain.
---
CBD LIVITY EXTRA STRENGTH CBD SALVE Ratings
In the next sections gradings from 0-100 on our review, these grades add up to give the product's overall score.
PRESENTATION • 100
Informative packaging with clear instructions.
RELIABILITY • 100
Soothing.
QUALITY • 100
All-natural and healing ingredients.
FLAVOR / SMELL / or EASE OF USE • 100
Smells herbal and minty.
VALUE • 70
Expensive.
---
How CBD LIVITY EXTRA STRENGTH CBD SALVE Stacks Up Against the Competition
The CBD Livity Extra Strength CBD Salve is soothing and moisturizing, giving my muscles and joints some much-needed relief. I was a bit put off by the price tag, considering the company wants to create affordable products, so if they wanted to be more competitive, I recommend lowering the cost. That said, other company's charge too much for CBD topicals, and CBD Livity isn't the most cost-prohibitive one out there. Still, I've found other topicals that are just as effective for less.
---
Saving Money with Our Verified CBD LIVITY Coupons
Save money by using our verified CBD Topicals here at Save On Cannabis the World's largest online cannabis coupon code directory.
---
Disclosure: I received these products gratis so that I could try them and then share my honest opinion with the SOC community. I am employed by Save on Cannabis to write honest reviews and provided a flat rate payment for the writing of the review. SOC may receive recurring affiliate payments for purchases made based on this content.
Tobacco dip has been around a long time, but CBD dip is a new exciting product option. We review this tobacco free & high CBD dosing dip.
Is the Calm By Wellness Strawberry Lemon-aid CBD tincture as delicious & useful as it sounds? Our reviewer puts it to the test.
CBD bath bombs are growing in popularity for a relaxing way to get CBD in your system. See this CBD For Life review, if bath bombs worth it.