Magical CBD 500 mg Topical Soothing Relief Gel Review
Nov 6, 2020 | SOC
CBDCBD CandyCBD EdiblesCBD GummiesCBD Hard CandyCBD Pills & CapsulesCBD TincturesCBD TopicalsCoupons Valid For Returning UsersSave On Cannabis Verified
Magical CBD 500 mg Topical Soothing Relief Gel
Pros
THC free
A plethora of essential oils
Moisturizing
Healing
Soothing
Natural ingredients
Organic Aloe
Vegan
MAGICAL CBD
Product Review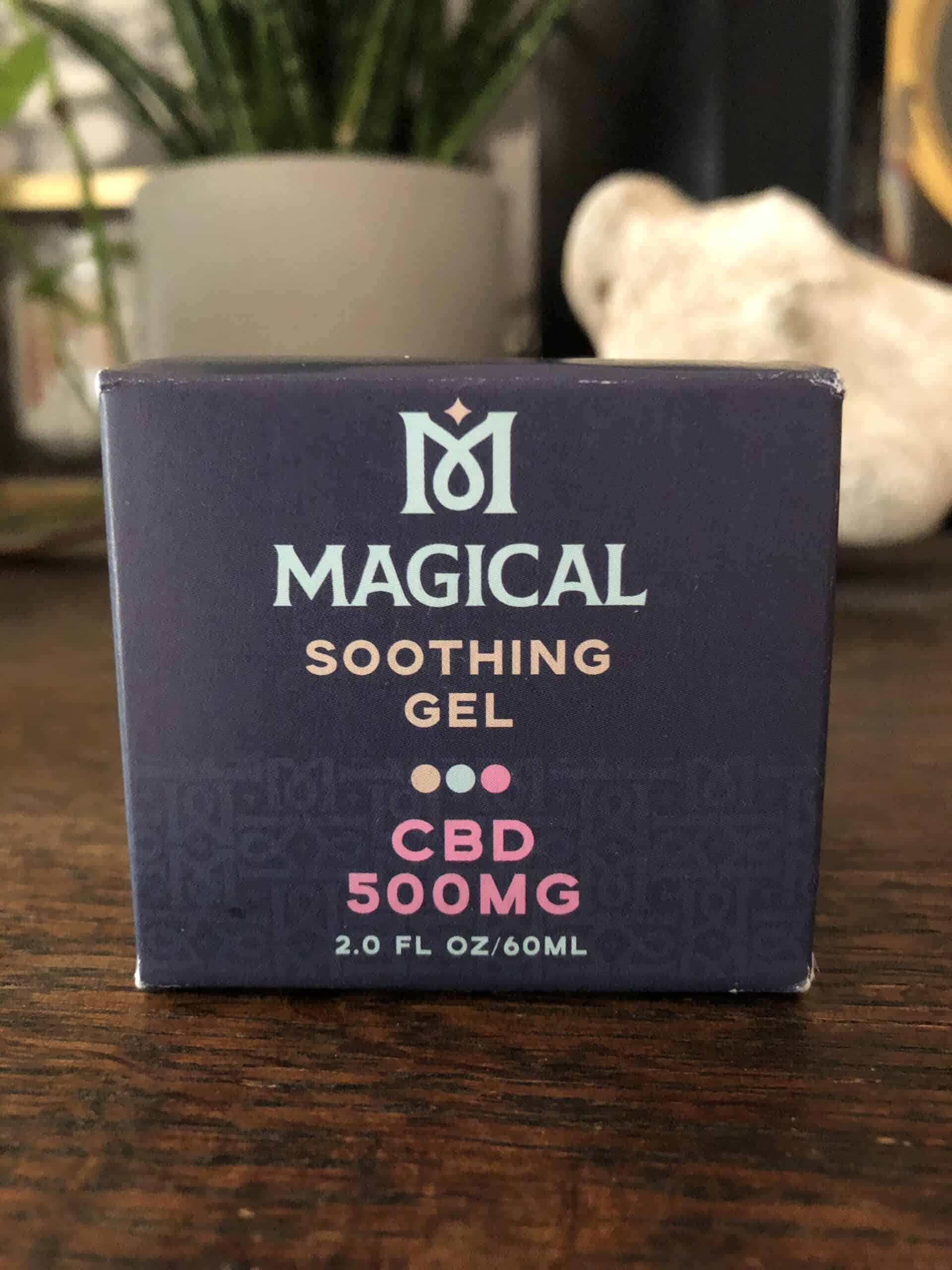 Brand Overview: MAGICAL CBD
Magical has created a line of hemp-derived CBD-infused products that are pesticide-free, cruelty-free, and follow the standards dictated by Good Manufacturing Practices to ensure quality. The founders of the company also created Magical Butter, which sells the MagicalButter MB2e, a botanical extractor you can keep in your home that helps you turn hemp into butter, oil, tinctures, lotions, and more.
They use American grown hemp extract and all their products are THC-free. Magical uses a third-party lab to test their products for purity and potency. You can find a detailed Certificate of Analysis for their products on the company's website. All of their products are vegan.
Products: Edibles, Tinctures, Softgels, Topicals, Bundles.
Price Range ($-$$$$): $$$
---
About MAGICAL CBD SOOTHING GEL
The Magical Hemp Soothing Gel contains 500 mg of CBD isolate and Broad Spectrum CBD. Using only vegan ingredients, Magical infuses this gel with a variety of essential oils like meadowfoam seeds, white camphor bark, sweet basil leaf, eucalyptus, and so many more. This stuff also contains menthol crystals, which creates the cooling sensation found in many pain-relieving topicals. The gel is moisturizing and healing, providing your skin, joints, and muscles relief.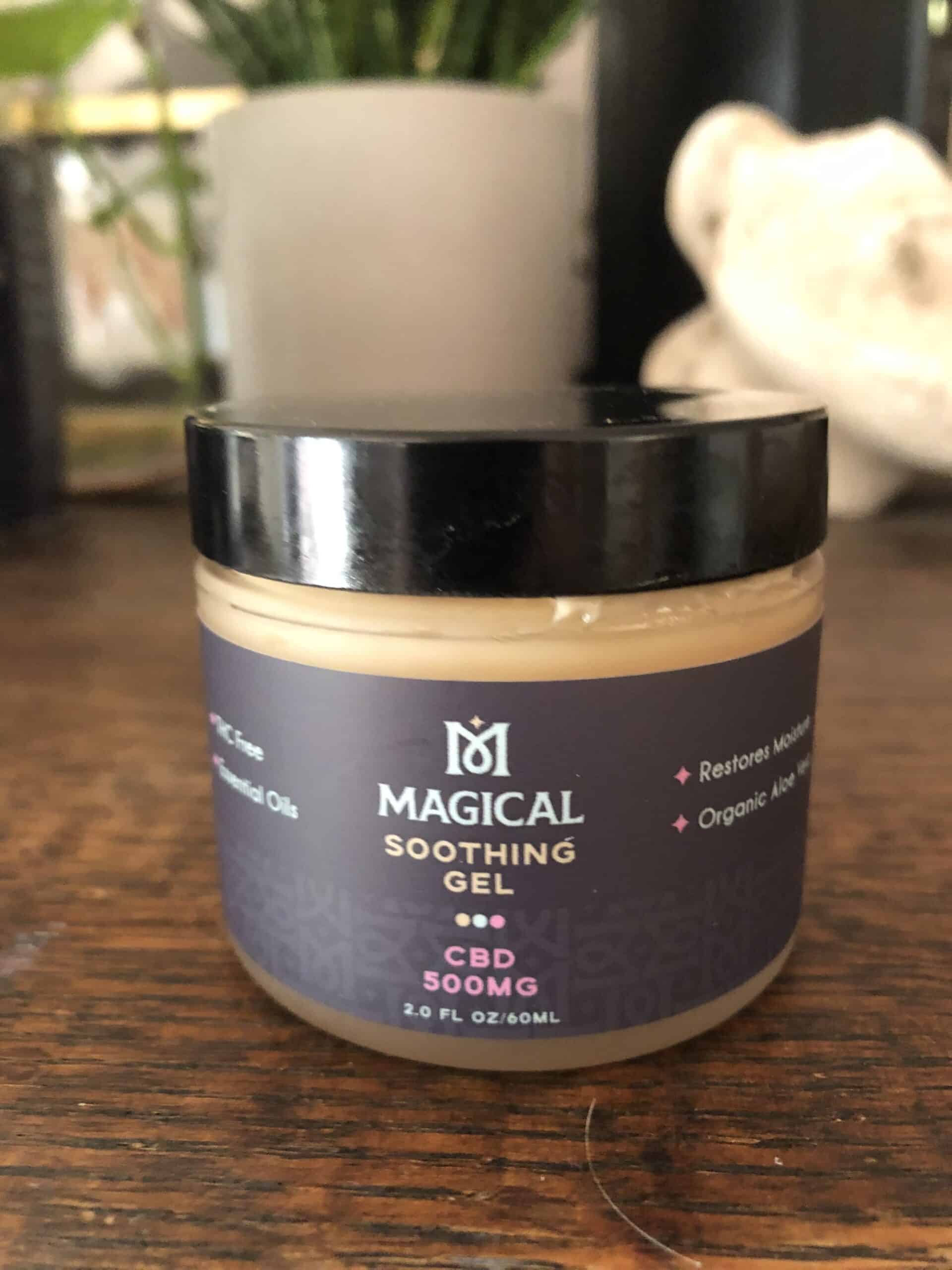 To use, thoroughly massage the gel into your skin for best absorption. You can apply it daily as needed.
---
MAGICAL CBD SOOTHING GEL Specifications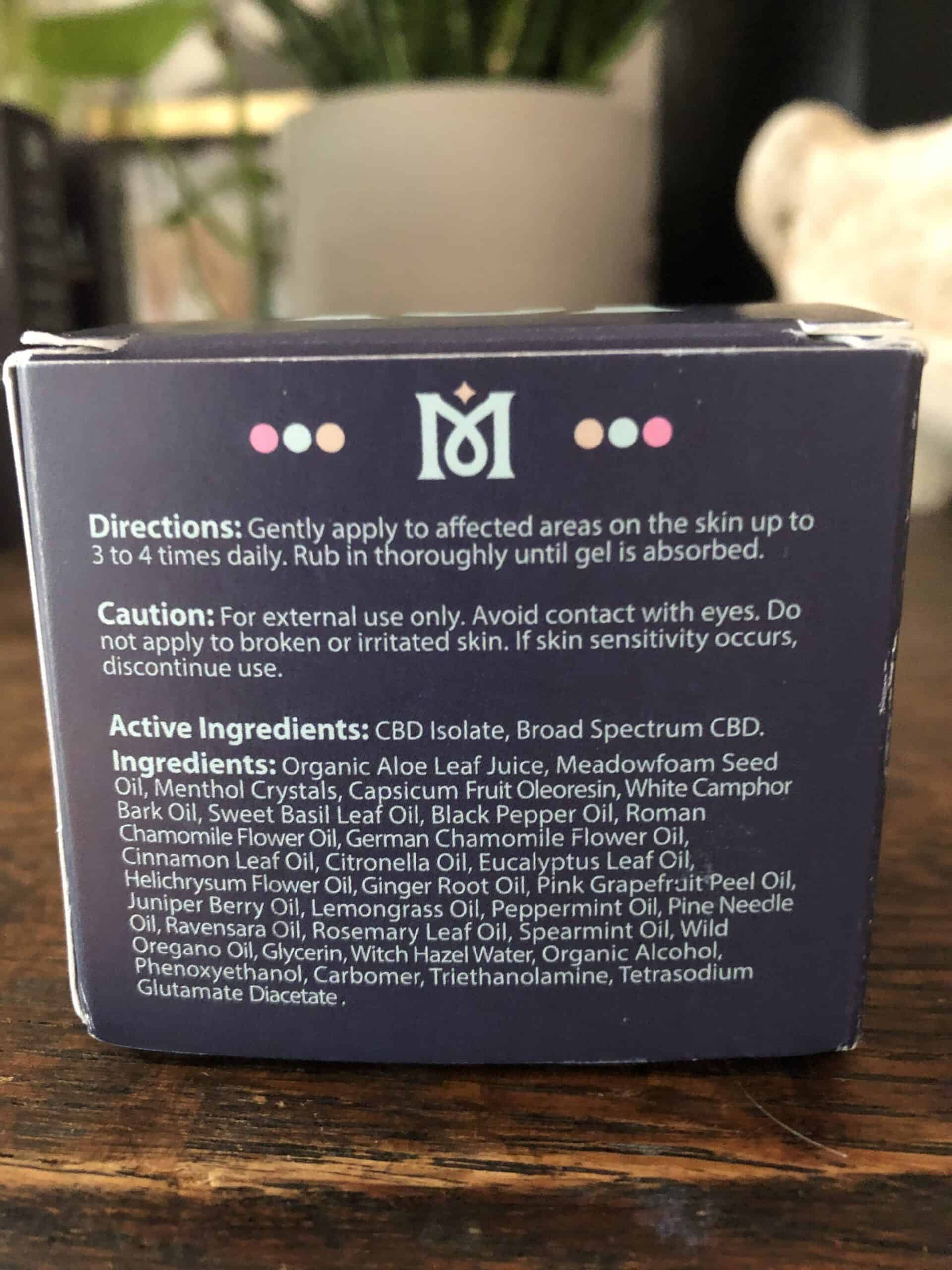 500 mg of CBD isolate and Broad Spectrum CBD
THC free
Ingredients:Organic Aloe Leaf Juice, Meadowfoam Seed Oil, Menthol Crystals, Capsicum Fruit Oleoresin, White Camphor Bark Oil, Sweet Basil Leaf Oil, Black Pepper Oil, Roman Chamomile Flower Oil, German Chamomile Flower Oil, Cinnamon Leaf Oil, Citronella Oil, Eucalyptus Leaf Oil, Helichrysum Flower Oil, Ginger Root Oil, Pink Grapefruit Peel Oil, Juniper Berry Oil, Lemongrass Oil, Peppermint Oil, Pine Needle Oil, Ravensara Oil, Rosemary Leaf Oil, Spearmint Oil, Wild Oregano Oil, Glycerin, Witch Hazel Water, Organic Alcohol, Phenoxyethanol, Carbomer, Triethanolamine, Tetrasodium Glutamate Diacetate
2 fl oz / 60 ml
---
How We Tested the MAGICAL CBD SOOTHING GEL
I was excited to try the Magical CBD Soothing Gel because I've never seen a topical with so many healing ingredients. There are so many essential oils in the jar that I hadn't even heard of half of them. I also love any topical that contains menthol for it's cooling properties that take the edge off of my arthritic pain. I've recently gone back to college and the most challenging part is getting through classes and homework when my hands, hips, and low back hurt from all the sitting and working on a computer.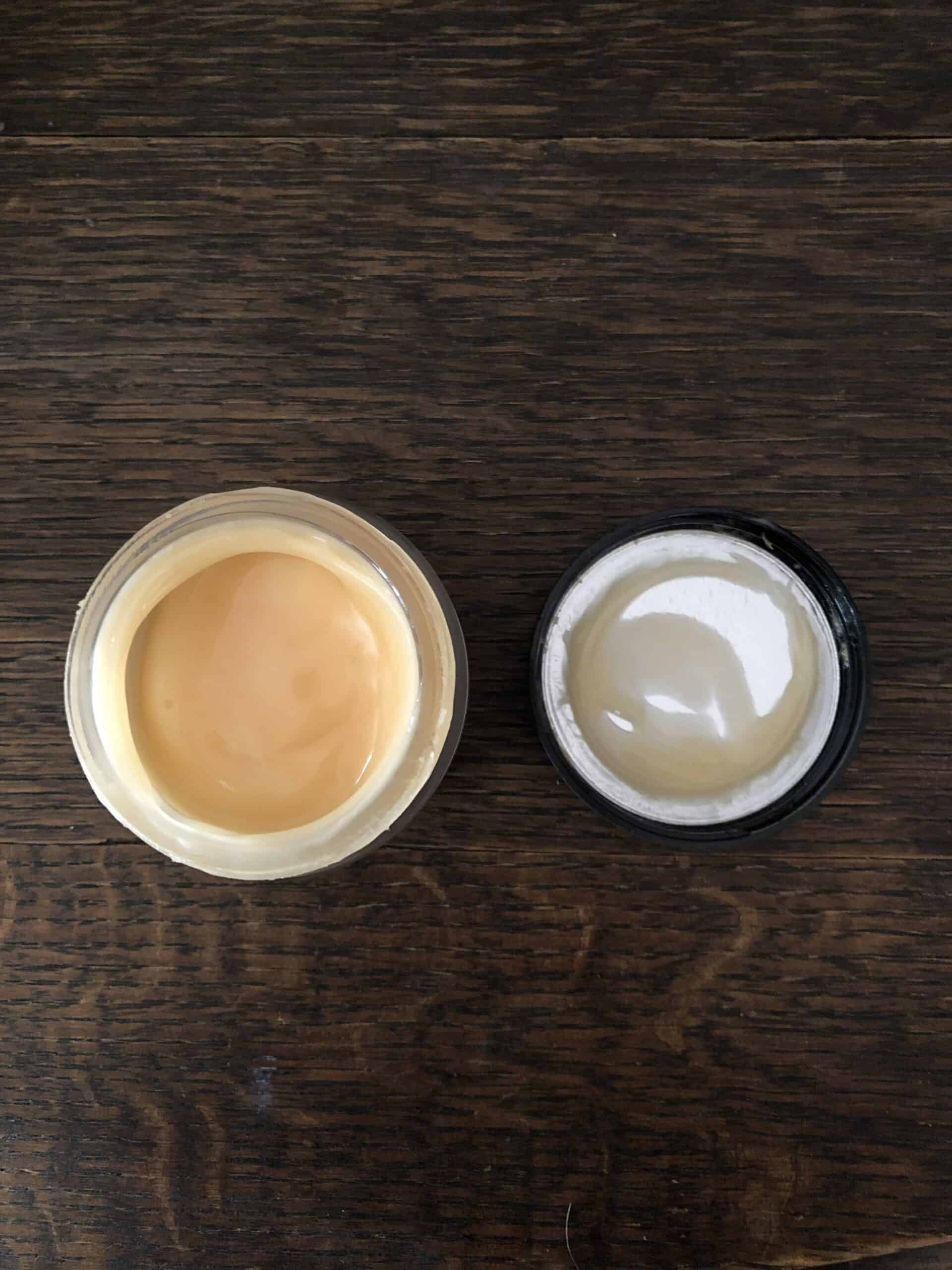 I wanted to see if this product would soothe some of the pain so I could get more done. I applied some of the gel to my target areas in the morning, then again at night, massaging it into my skin until it was fully blended.
---
How the MAGICAL CBD SOOTHING GEL Worked for Me
The cooling effects of the menthol crystals along with the benefits from CBD and essential oils worked immediately to provide respite and relief. I enjoyed the natural, mint scent that seemed to help me relax without losing my focus. I found myself able to sit longer without needing a break when I normally need to get up during class several times. It also helped bring relief to my hands and I got more homework done at once when normally I need to spread it out and take a lot of breaks. This topical helped me be more productive during the day, and at night, I found myself getting better sleep.
---
Useful and Unique Things to Know About MAGICAL CBD SOOTHING GEL
This CBD gel is filled with essential oils I haven't seen in any other CBD topical like meadowfoam seed oil, white camphor bark oil, sweet basil leaf oil, black pepper oil, citronella oil, ravensara oil, and wild oregano oil. Meadowfoam seed oil is incredibly moisturizing because it's filled with fatty acids. White camphor bark oil, sweet basil leaf oil, and black pepper oil have been known to help soothe muscles and joints. Citronella oil is most famous for being a mosquito repellant but it also is known to heal cuts and scrapes similar to ravensara oil. Finally, wild oregano oil is also an insect repellant and can help you find relief from bug bites and other skin irritants.
---
MAGICAL CBD SOOTHING GEL Ratings
In the next sections gradings from 0-100 on our review, these grades add up to give the product's overall score.
PRESENTATION • 100
Informative packaging.
RELIABILITY • 100
Soothing.
QUALITY • 100
All-natural ingredients.
FLAVOR / SMELL / or EASE OF USE • 100
Smells natural and minty.
VALUE • 80
Expensive, but most CBD topicals are.
---
How MAGICAL CBD SOOTHING GEL Stacks Up Against the Competition
I love finding a new topical that's unique to the other CBD topicals on the market. Magical's CBD gel has a wide variety of essential oils that sets it apart from the competition. With its effectiveness, great smell, and natural ingredients, the only thing I'd change is the price. Paying $45 for a two-ounce topical can hurt the wallet, but if you have the dough, this product is worth the price.
---
Saving Money with Our Verified MAGICAL Coupons
Save money by using our verified CBD Topicals here at Save On Cannabis the World's largest online cannabis coupon code directory.
---
Disclosure: I received these products gratis so that I could try them and then share my honest opinion with the SOC community. I am employed by Save on Cannabis to write honest reviews and provided a flat rate payment for the writing of the review. SOC may receive recurring affiliate payments for purchases made based on this content.

Sorry, no coupons were found.
New to hash? Never tried CBD hash? In this IHL Sativa Black Hash review of our reviewers tests it out. See their first time experience.
Read our Half Day CBD review of the 1000mg CBD oil with a high dose. Will our reviewer get relief from Complex Post Traumatic Disorder.
In this Frontier Jackson review, we got our hands on their CBD tincture. See if we get relief from constant pain & if worth your money.