Lock & Key Remedies: 4000mg Extreme Tincture Review
Feb 24, 2021 | Save On Cannabis
LOCK & KEY REMEDIES
Product Review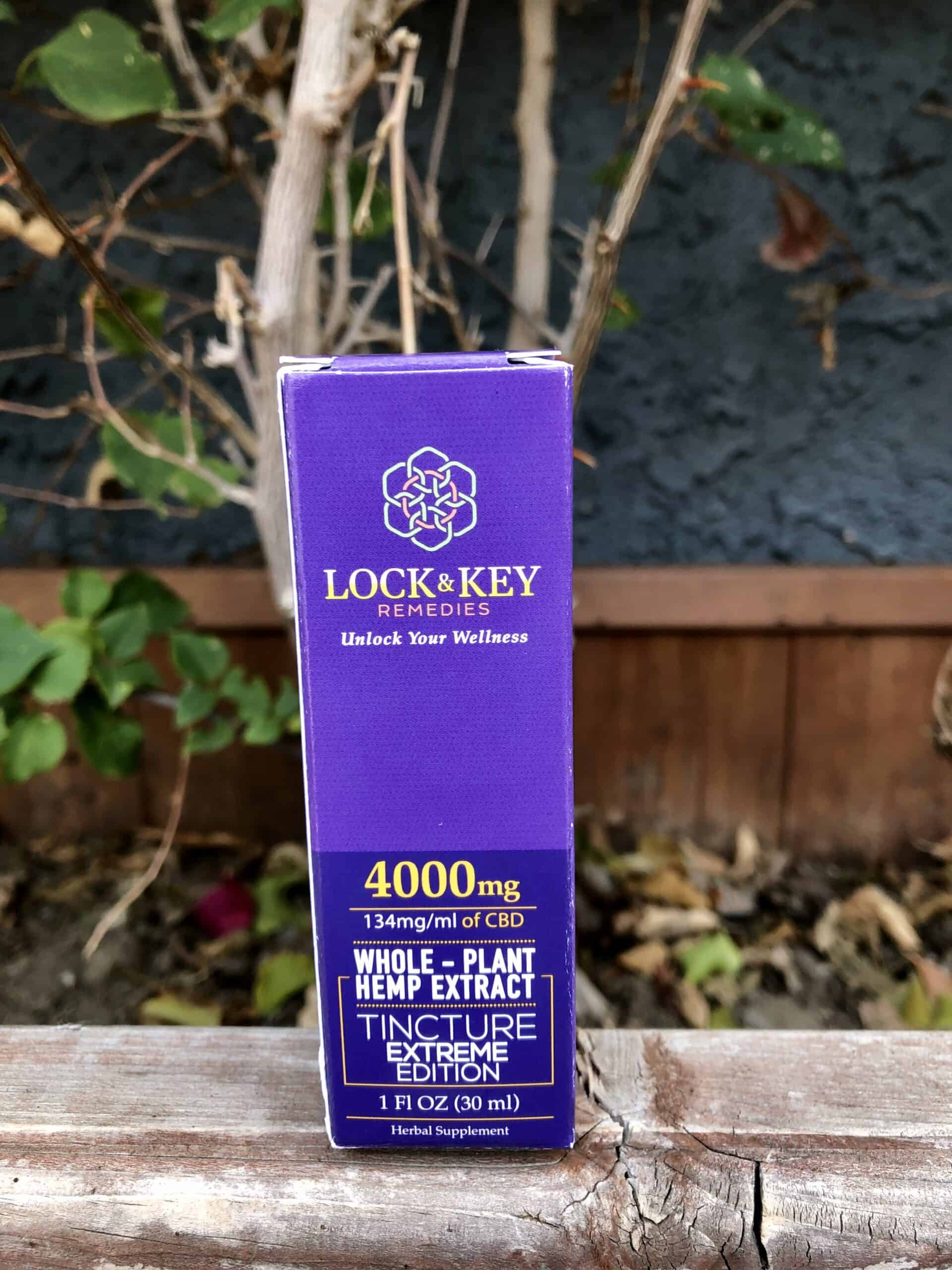 Brand Overview: LOCK & KEY REMEDIES
The mission of Lock & Key Remedies is to create CBD products made with all-natural and plant-derived ingredients to help support your endocannabinoid system. There are no artificial ingredients in any of the products which are lab-tested to ensure purity from heavy metals, pesticides, and other toxins. The company is dedicated to creating safe, natural, and non-addictive solutions to decrease the pain and stress in your life.
Everyone who works at Lock & Key Remedies has personally benefitted from taking CBD, and they want to use their experience and know-how to help you get the most of it. They offer a wide variety of wide-spectrum products including topicals, tinctures, and softgels which contain a ton of cannabinoids and terpenes. Their products contain less than 0.3% THC, so nothing they sell will get you high.
Products: Vape, Tinctures, Softgels, Topicals, Batteries, Bundles
Price Range ($-$$$$): $
---
About LOCK & KEY REMEDIES EXTREME FORMULATION – 4,000 MG
Lock & Key Remedies Extreme Formulation Tincture combines full-spectrum hemp extract with herbs and essential oils. Containing a whopping 4,000 mg of CBD per bottle, each serving offers up a high-potency dose of 134 mg. This tincture is rich in terpenes and flavonoids, which work in combination with the other ingredients to boost your CBD experience. The tincture works in your system for 6 – 8 hours so you only need to use it once or twice a day.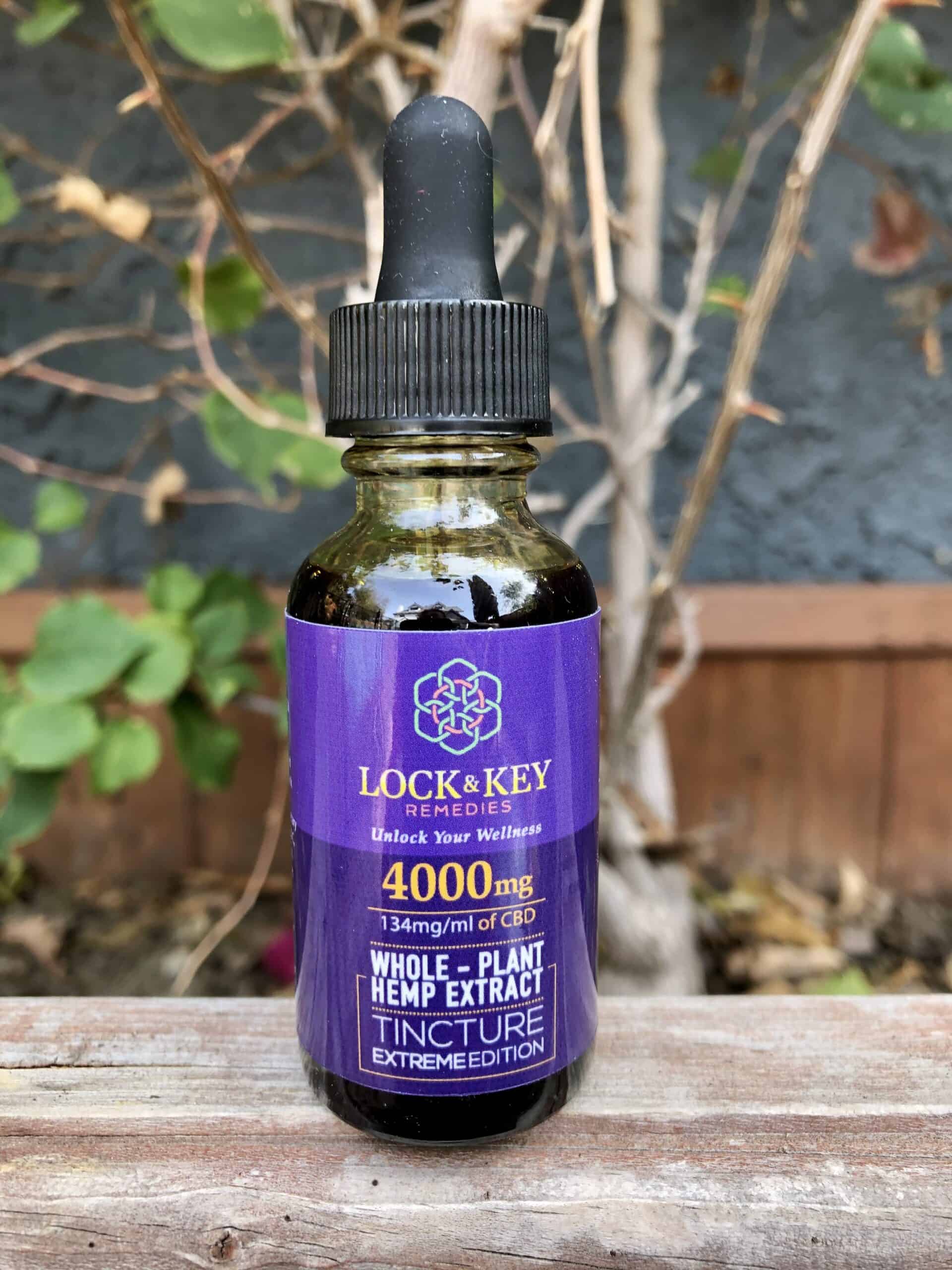 CBD can help ease discomfort in your body, find balance and peace of mind, and boost your immune system. The bottle comes with a graduated dropper to ensure accuracy in dosing and you can also get it in 2,000 mg of CBD. To use, drop the desired mouth underneath your tongue and hold it there for at least 90 seconds before swallowing.
---
LOCK & KEY REMEDIES EXTREME FORMULATION – 4,000 MG Specifications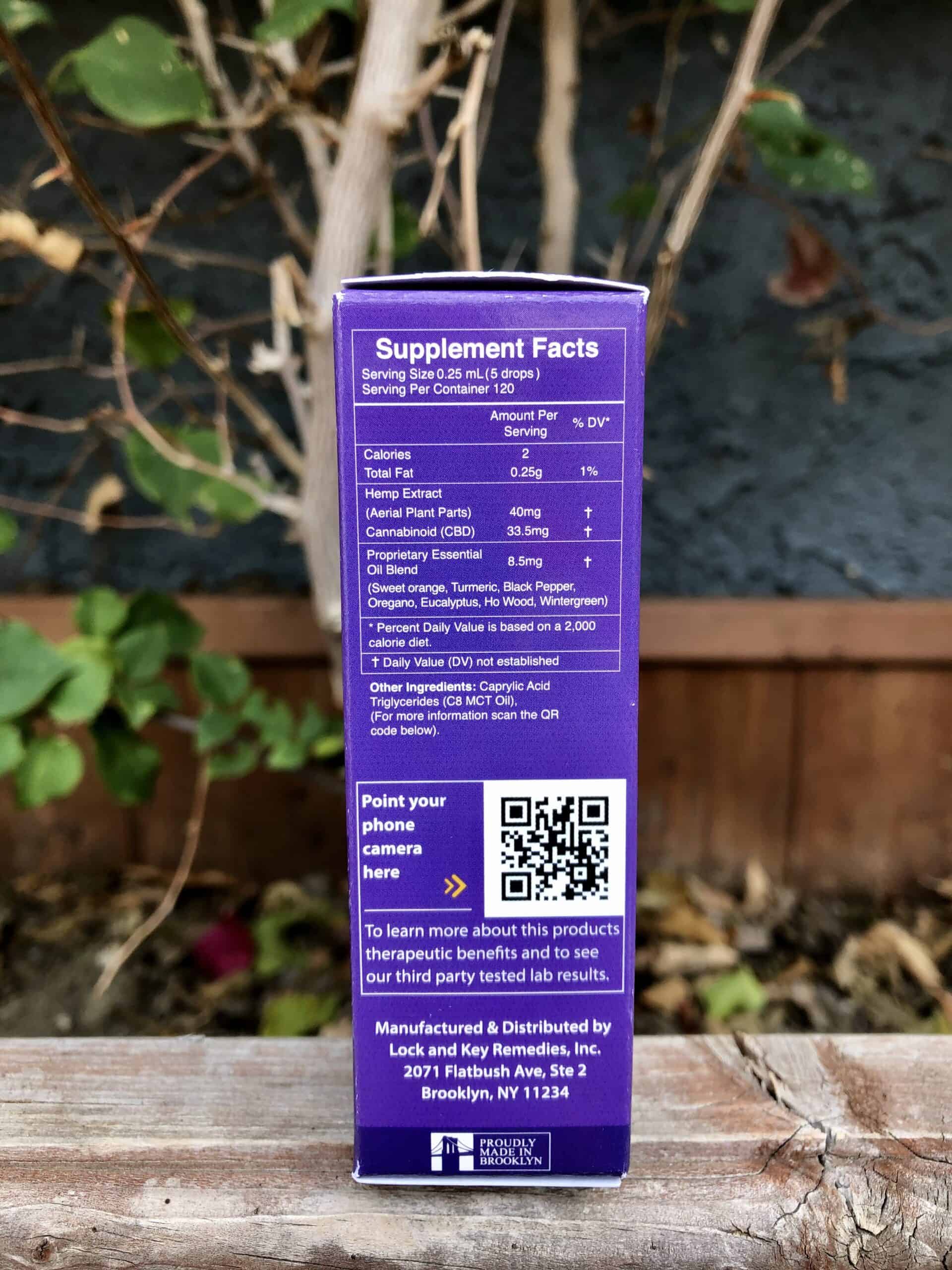 4,000 mg CBD per bottle
134 mg CBD per serving
120 servings per bottle
Less than 0.03% THC
Ingredients: USDA Organic Certified MCT Oil, Full Spectrum Whole-Plant Hemp Extract, Proprietary USDA Organic Essential Oil Blend (Sweet Orange, Turmeric, Black Pepper, Oregano, Eucalyptus, Ho Wood, Juniper Berry), Proprietary Botanical Terpene Blend (Beta-Caryophyllene, Myrcene, Humulene, Geraniol).
---
How We Tested the LOCK & KEY REMEDIES EXTREME FORMULATION – 4,000 MG
With the stress that comes with juggling work, school, and ongoing health issues, I feel out of sorts all the time. I have found CBD can help relieve stress and keep me in-the-moment so I was excited to try Lock & Key Remedies Extreme Formulation Tincture to see if it would help keep my homeostasis in check. I'm taking three classes and working, so I find it hard sometimes to juggle and keep focused on what's right in front of me.In the morning before starting work, I measured out half a serving of the tincture using the handy graduated dropper for a total of 67 mg of CBD, which is still a big serving. If you're new to CBD, experts recommend starting at a much lower dose.
---
How the LOCK & KEY REMEDIES EXTREME FORMULATION – 4,000 MG Worked for Me
Within an hour I started to feel the effects of the CBD tincture. I felt focused and relaxed without feeling tired. I could feel a warmth spread throughout my body which seemed to dull some of the chronic pain I have due to fibromyalgia and hip injuries. I found myself better able to work on what was right in front of me, instead of always thinking ahead about what else I needed to get done. This helped me get work done more efficiently and quickly. The tincture tasted great, with the sweet orange, turmeric, black pepper, oregano, eucalyptus, ho wood, and juniper berry hiding the bitter taste of hemp. This powerful formula is something I will use again and again. Best of all, it should last me a long time since it doesn't take a lot of CBD to be effective.
---
Useful and Unique Things to Know About LOCK & KEY REMEDIES EXTREME FORMULATION – 4,000 MG
This tincture is infused with essential oils like sweet orange, turmeric, black pepper, oregano, eucalyptus, ho wood, and juniper berry. Sweet orange might help with symptoms of anxiety and depression, boost exercise performance, and reduce pain. Turmeric is great for your mouth health and has been recommended to me by my rheumatologist to treat many of the symptoms of fibromyalgia. Black pepper can ease the symptoms of arthritis, stomach issues, and depression. Oregano might help with rheumatoid arthritis and urinary tract infections. Eucalyptus, when diluted, can be a remedy for fever. Don't take too much as it can be poisonous! Ho wood can relieve stress and has relaxing properties. Juniper berry is high in antioxidants and can reduce inflammation.
---
LOCK & KEY REMEDIES EXTREME FORMULATION – 4,000 MG Ratings
In the next sections gradings from 0-100 on our review, these grades add up to give the product's overall score.
PRESENTATION • 100
Informative packaging.
RELIABILITY • 100
High-potency effectiveness.
QUALITY • 100
Natural ingredients.
FLAVOR / SMELL / or EASE OF USE• 100
Great taste.
VALUE • 100
Great deal.
---
How LOCK & KEY REMEDIES EXTREME FORMULATION TINCTURE – 4,000 MG Stacks Up Against the Competition
Lock & Key Remedies Extreme Formulation Tincture is super effective, tastes great, and is sold for only $250. Before you balk at the price, don't forget you're getting 4,000 mg of CBD (as well as other amazing ingredients), and a lot of the time you'd be paying upwards of $400 for that much. With that amount of CBD, and the ability to measure out smaller amounts, this tincture will last you a lot longer than if you purchased a lower-dosed tincture. Because of that, this tincture blows the competition out of the water.
Save money by using our verified CBD Tinctures Coupons here at Save On Cannabis the World's largest online cannabis coupon code directory.
---
Disclosure: I received these products gratis so that I could try them and then share my honest opinion with the SOC community. I am employed by Save on Cannabis to write honest reviews and provided a flat rate payment for the writing of the review. SOC may receive recurring affiliate payments for purchases made based on this content.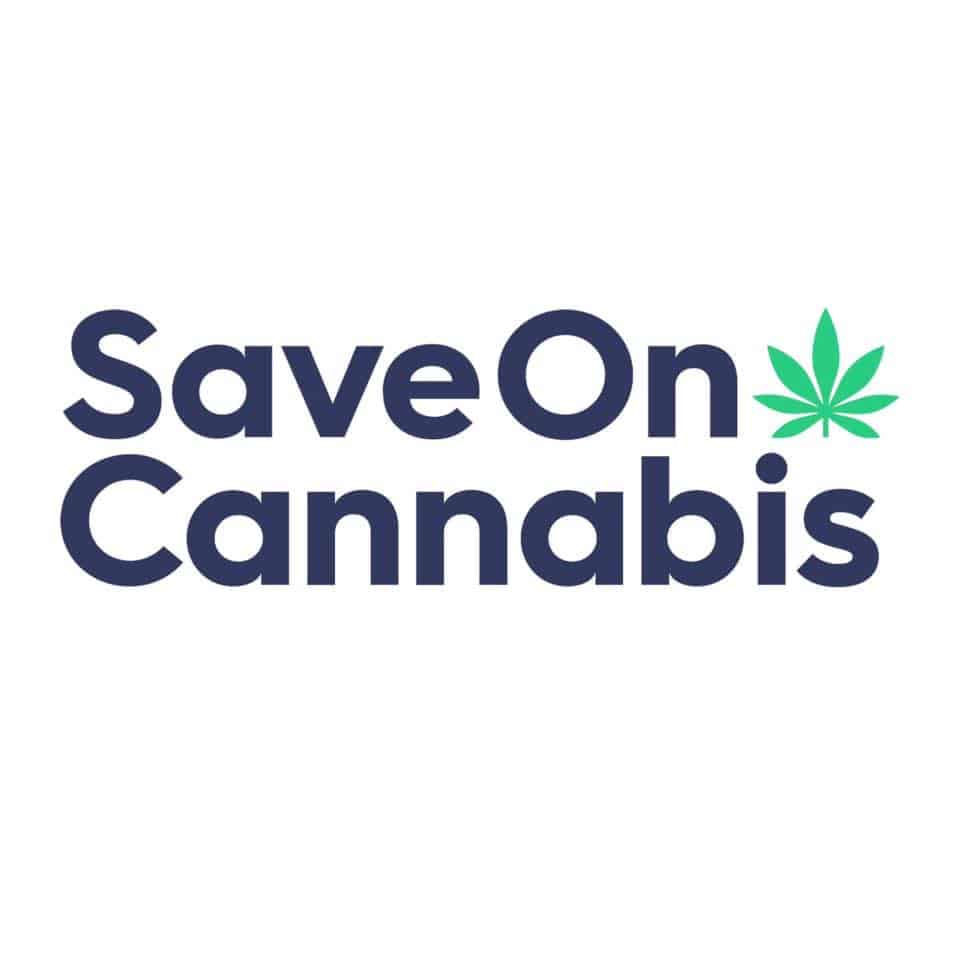 Save On Cannabis is the most trusted source for cannabis discounts and education information.  Vetted deals and clearly written articles to help you become a wiser consumer whether focused on the medical or recreational value of cannabis products.
Save on Lock & Key Remedies
Will this CBDistillery CBD Warming Cream stand up to the heat of our reviewer's critical needs? See how it works on pained muscles first hand.
Find the best Koi CBD reviews at Save On Cannabis. Learn if the Koi CBD Dreamsicle inhaler is fast, effective, & reliable in dosing.
Our reviewer lights up the Alive & Kicking Hemp CBD Pre-Rolls to see how they worked for her. See if they are worth your dollars.