Reakiro CBD Oil Spray Peppermint 1000 mg Review
Dec 7, 2020 | SOC
Reakiro CBD Oil Spray Peppermint
Pros
Nice relaxing effect from 6.7mg of CBD per spray
Good quality, premium packaging and bottle
Independent lab test results included
Easy to use and discreet to consume
Cons
Slightly on the expensive side
Branding doesn't quite 'suit' the product positioning
REAKIRO CBD Oil Spray Peppermint
Product Review
Brand Overview: REAKIRO
Reakiro is a European Pharma GMP compliant manufacturer and supplier of full-spectrum CBD oils, creams and capsules.
Reakiro has full control of its CBD production and is involved in all steps of the production process (sourcing seeds, organic cultivation, product design, accurate formulation, and packaging). They use traceable batch codes printed on each individual consumer product for transparency.
Reakiro Holdings owns or manages three extraction facilities in Europe, the USA, and South America. It centres its operations around utilizing all parts of the hemp plant
Products: CBD Oils, CBD Oil Sprays, CBD Capsules, Immune Support Capsules, Raw Hemp Extract, CBD Skin Care (Creams, Oils, Gels, Body Butter), Hemp Skin Care (Gels, Creams), CBD Skin Care 0% THC Gels, Hand Sanitiser
Price Range: $-$$
---
About Reakiro CBD Oil Spray Peppermint
Reakiro's CBD Oil Spray is presented in stylish, high-quality packaging and made in the EU using premium quality CBD oil. Combining the benefits of CBD with the freshness of peppermint, Reakiro's Oil spray leaves you feeling refreshed and relaxed.
Reakiro developed this high-quality, full-spectrum CBD Oil Spray and put a real emphasis on quality, consistency and transparency. They also offer a Blood Orange spray or an Apple Crumble & Custard spray for those with a sweet tooth!
Reakiro's CBD Oil Sprays all come in 30ml bottles with 1000mg of CBD. They deliver 6.7mg CBD per 1 spray.
---
Reakiro CBD Oil Spray Peppermint Specifications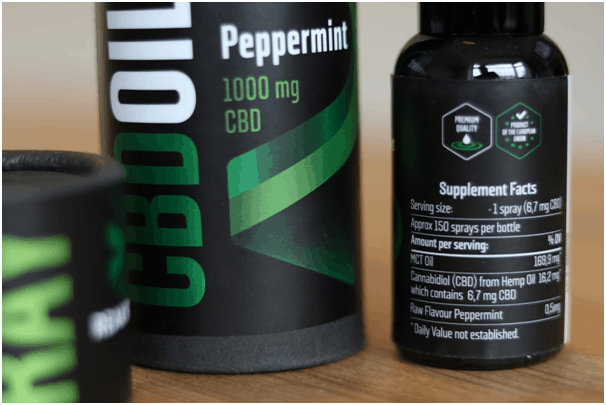 Supplement Facts:
Serving Size – 1 Spray (6.7mg CBD)
Approx 150 sprays per bottle
Amount Per Serving
MCT Oil – 169.9mg*
Cannabidiol (CBD) from Hemp Oil – 16.2mg*
Raw Flavour Peppermint – 0.5mg
*Daily Value Not Established
Lab Reports:
Batch 0720
Batch 0120
Batch 0719
---
How I Tested the Reakiro CBD Oil Spray Peppermint
To test Reakiro's CBD Oil Spray, I took 2 sprays each day under the tongue – 1 after I'd eaten dinner, then 1 before I went to bed. The spray bottle itself feels well-made and makes the product very easy to use. It provides a quick, direct spray which they recommend you spray under the tongue, and then hold for 1 minute before swallowing.
I tested this product alongside Reakiro's Hemp CBD Capsules (which I took in the mornings), and they made a great combination.
---
How the Reakiro CBD Oil Spray Peppermint Worked for Me
The results from taking this spray in the evenings wes noticeable and very satisfying. I found the spray to leave me feeling fresh but relaxed, which was ideal in the evenings.
The product worked well for me and aside from the effects, the taste was mild and pleasant (which can't be said for all oil sprays on the market). It's priced at the higher end of the spectrum, but I would definitely use this oil spray again.
---
Useful and Unique Things to Know About Reakiro CBD Oil Spray Peppermint
I really like this product. Aside from the relaxing dose of CBD and the fresh feeling from the peppermint, the bottle is really good quality and feels like it would function well until it runs out.
One thing I love about this product is that it comes with independent lab test results, which gave me confidence that Reakiro is a transparent and trustworthy brand.
Personally, I'm not a huge fan of the branding itself. Due to Reakiro's focus this being a natural, vegan, gluten and GMO-free product, I feel a more natural look would fit the product better. That said, the branding itself is clean and well designed, I just don't feel it's quite the right fit and would be more suited to a workout supplement type of product.
---
Reakiro CBD Oil Spray Peppermint Ratings
In the next section, we provide ratings from 0-100 based on our testing period. Add up these ratings to arrive at an overall score for the product.
PRESENTATION • 95
High-quality spray bottle, nice solid packaging and lots of product info on the bottle itself. Personally, I feel this spray (along with other Reakiro CBD products) would suit a more natural look.
RELIABILITY • 100
A solid spray bottle that functions well – I cannot see this letting me down before it runs out!
QUALITY • 100
High-quality CBD product, that's natural and tastes nice. Well constructed packaging using good quality materials.
FLAVOR / SMELL / or EASE OF USE • 100
Very easy to apply a quick spray under the tongue.
VALUE • 80
At €59,99 this oil spray is on the more expensive side in comparison to similar products. However, Reakiro position themselves as a premium brand, and the quality of the product and packaging reflects this.
---
PROS of the Reakiro CBD Oil Spray Peppermint
Nice relaxing effect from 6.7mg of CBD per spray
Good quality, premium packaging and bottle
Independent lab test results included
Easy to use and discreet to consume
In summary, I feel this is a high-quality CBD product, and felt comfortable consuming this oil spray due to the transparency from independent lab test results – a really nice touch for any CBD product or dietary supplement. I would definitely use this product in future and enjoyed the effects and flavour of using it in the evenings.
---
CONS of the Reakiro CBD Oil Spray Peppermint
Slightly on the expensive side
Branding doesn't quite 'suit' the product positioning
Whilst this oil spray impressed me overall, I believe it's slightly on the expensive side but Reakiro position themselves as a premium brand, so this doesn't come as a surprise. I'm not convinced the branding is right and feel it would suit a natural look with perhaps earthy colours instead of the intense green on black, but this is more a personal preference and many people would like this design.
---
How Reakiro CBD Oil Spray Peppermint Stack Up Against the Competition
This product is well-positioned in the premium end of the CBD Oil spectrum. I love the independent lab test results – this always makes me feel more comfortable about consuming CBD products.
---
Saving Money with Our Verified REAKIRO Coupons
Save money by using our verified REAKIRO Coupons here at Save On Cannabis the World's largest online cannabis coupon code directory.
---
Disclosure: I received these products gratis so that I could try them and then share my honest opinion with the SOC community. I am employed by Save on Cannabis to write honest reviews and provided a flat rate payment for the writing of the review. SOC may receive recurring affiliate payments for purchases made based on this content.
Looking for more or better sleep? See in this cbdMD review of their CBD & Delta 9 THC Gummies, if their herbal blend works for our reviewer.
In this Papa & Barkley Releaf Balm review we test out the product hands on and give you a complete breakdown.
Having trouble sleeping on a regular basis our reviewer, in this CBDistillery review they try out the Sleep Gummies with CBD & Melatonin.