Koi CBD Review: Aerosol Inhaler – Dreamsicle 1000mg
Oct 5, 2020 | SOC
Product Review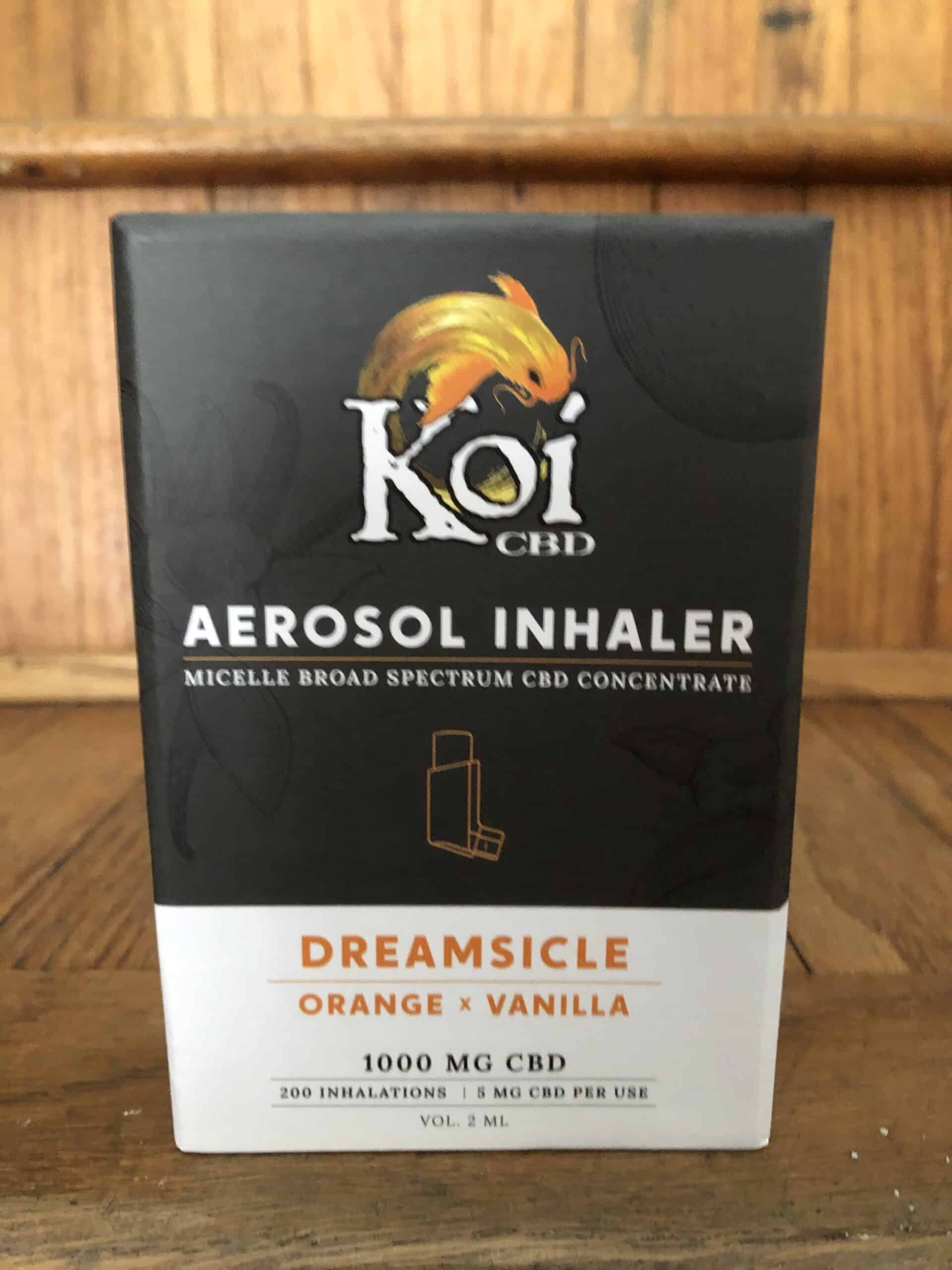 Brand Overview: KOI CBD
Koi CBD is a family-run business that has created a line of quality CBD products to help people live better lives. The company aims for transparency and consistency in their products as well as educating the public about the restorative benefits of CBD. Koi CBD's trademarked PRIZM broad-spectrum hemp extract is made through whole plant extraction and is tested by ISO accredited 3rd party labs to make sure each product is free from toxins and chemicals.
If you're a frequent CBD user, Koi's rewards program allows you to earn points with each purchase for discounts. Because the company is committed to educating people about CBD, you can find a ton of great resources on their website, including a blog and lab results. For purchases over $35, Koi CBD offers free shipping.
Products: Oil Tinctures, Shots, Gummies, Softgels, Inhalers, Balm & Pain Relief Gel, Skincare, Bath & Body, Vape, Flower, Pets, Merchandise, Hand Sanitizer.
Price Range ($-$$$$): $$
---
About KOI HEMP EXTRACT CBD INHALER – DREAMSICLE
This orange and vanilla flavored hemp extract inhaler offers a precise dose of 5 mg of CBD in each inhalation. The entire product contains 1,000 mg of CBD, giving you 200 servings in total. Inhalers offer an easy-to-dose solution to taking CBD that's so portable, you can even bring it with you on a plane. Koi CBD uses the PurZorb Micellized process with its broad spectrum CBD, which is a biomollecular process that shrinks down the compound so it's better absorbed in your body.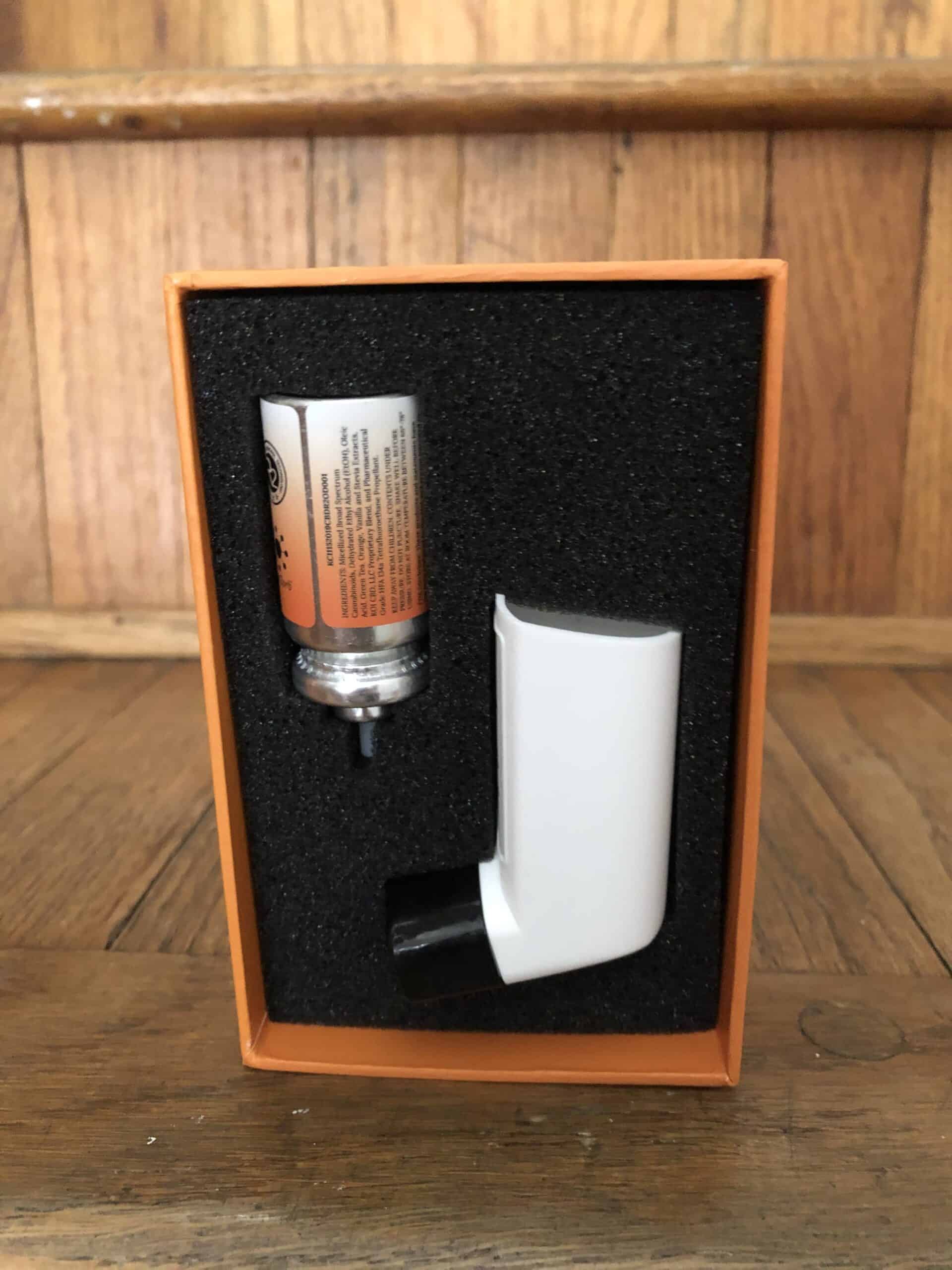 In other words, when CBD is made this way, it'll work faster and more efficiently. The inhaler is fast-acting and contains less than .001% THC. To use, insert the canister into the body of the inhaler, remove the mouthpiece, then shake for five seconds. When you're ready, exhale all your air and tilt the inhaler towards the back of your throat. Hold the mist in your mouth for five seconds for the best results. You can take up to four servings at a time, three times a day.
---
KOI HEMP EXTRACT CBD INHALER – DREAMSCLE Specifications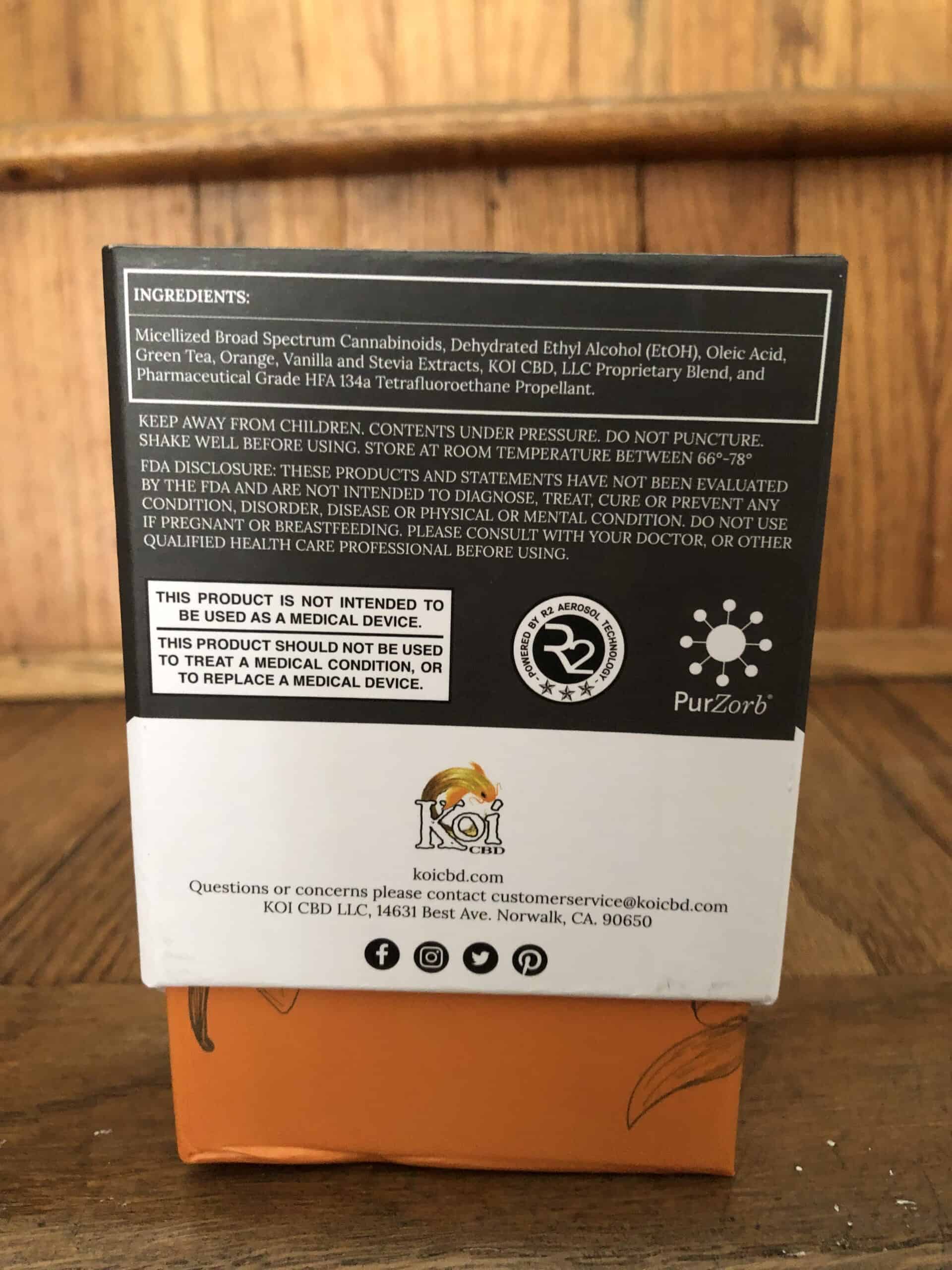 1,500 mg CBD
1,000 mg CBD
200 inhalations
5 mg per use
2 ml
.001% THC
Ingredients: PurZorb® Micellized Broad Spectrum Cannabinoids, Dehydrated Ethyl Alcohol (EtOH), Oleic Acid, Green Tea, Orange, Vanilla, and Stevia Extracts, KOI CBD LLC Proprietary Blend, Pharmaceutical Grade HFA 134a Tetrafluoroethane Propellant

---
How We Tested the KOI HEMP EXTRACT CBD INHALER – DREAMSICLE
I love the delicious flavor of those orange popsicles called Creamsicles, so was excited when I got my Dreamsicle Koi Hemp Extract CBD Inhaler in the mail. I've used inhalers in the past, and find them to be one of the most effective ways to take CBD, but I've never tried one that sounded so yummy with its orange and vanilla flavoring. It's the last week of summer break, so I'm reviewing everything I've learned in French 1 and 2, before I begin French 3 in the Fall semester.
Although I had planned to study the whole summer, I procrastinated until this week, and am going through stacks of flashcards. It's overwhelming, especially because I can often succumb to perfectionism. When I get overwhelmed, I find it hard to focus. I was hoping this inhaler would give me the calm and focus needed to learn a bunches of tenses and hundreds of vocab words. I followed the instructions on how to assemble the inhaler, shook it for five seconds, then took four servings for a total of 20 mg of CBD.
---
How the KOI HEMP EXTRACT CBD INHALER – DREAMSICLE Worked for Me
I could feel the effects of the inhaler immediately. It was like had just drunk a cup of chamomile tea because it warmed up my body and provided me with a sense of calm. The CBD in the inhaler helped me focus more on what was in front of me, to stay present, and I got a good chunk of studying done. I have arthritis in my hips, which makes sitting, and therefore studying challenging. While CBD doesn't take away pain, this inhaler helped me focus on what's important.
Despite its effectiveness, I didn't care for the flavor. It tasted metallic and unpleasant so I had to brush my teeth immediately. The other inhalers I've tried also tasted bad, so maybe that's just the downside to an otherwise great product. Even though I didn't care for the flavor, I will continue using this product because it's so potent and fast-acting.
---
Useful and Unique Things to Know About KOI HEMP EXTRACT CBD INHALER – DREAMSICLE
Koi's trademarked PRIZM broad-spectrum hemp extract undergoes a process to maintain all the naturally occurring phytocannabinoids and terpenes, while making sure it removes most of the THC, the compound that makes you high. Koi wants to ensure you're getting the complete "entourage effect," meaning all the different components like CBD, CBG, CBC, and others to work together to be more effective.
---
KOI HEMP EXTRACT CBD INHALER – DREAMSICLE Ratings
In the next sections gradings from 0-100 on our review, these grades add up to give the product's overall score.
PRESENTATION • 80
The packaging is nice, but there are no instructions. You'll need to refer to the website.
RELIABILITY • 100
Fast-acting and effective.
QUALITY • 100
Great ingredients.
FLAVOR / SMELL / or EASE OF USE • 65
Tastes bad.
VALUE • 100
Good deal.
---
How KOI HEMP EXTRACT CBD INHALER – DREAMSICLE Stacks Up Against the Competition

Even though I didn't like the flavor, Koi CBD's inhaler was potent enough that I'd still use it. All of the other inhalers I tried tasted equally bad, so maybe that's just how CBD inhalers are. I'd be curious to see what Koi CBD's mojito mint flavored inhaler tastes like. Although companies that make CBD inhalers don't have a lot of competition because it's such a unique product, it would be awesome if Koi found a way to make this taste better. A great inhaler like this with superior flavor would blow the competition away.
---
Saving Money with Our Verified KOI CBD Coupons
Save money by using our verified CBD Inhalers here at Save On Cannabis the World's largest online cannabis coupon code directory.
---
Disclosure: I received these products gratis so that I could try them and then share my honest opinion with the SOC community. I am employed by Save on Cannabis to write honest reviews and provided a flat rate payment for the writing of the review. SOC may receive recurring affiliate payments for purchases made based on this content.
In this TryTheCBD review OG Kush CBD vape cartridge for her body pains & anxiety, see if it did the trick. Read real world experience.
Stick it on, forget it and feel better? Let's see in this Trokie review of their CBD patch how it worked for our pained expert.
Looking for a super high dose CBD oil? Read this Aspen Green review of their 3,000mg Full Spectrum tincture, it may be just what you want.