Magical CBD 600 mg Soft Gels Review
Jan 31, 2021 | Save On Cannabis
Magical CBD 600 mg Soft Gels
$90.00
MAGICAL
Product Review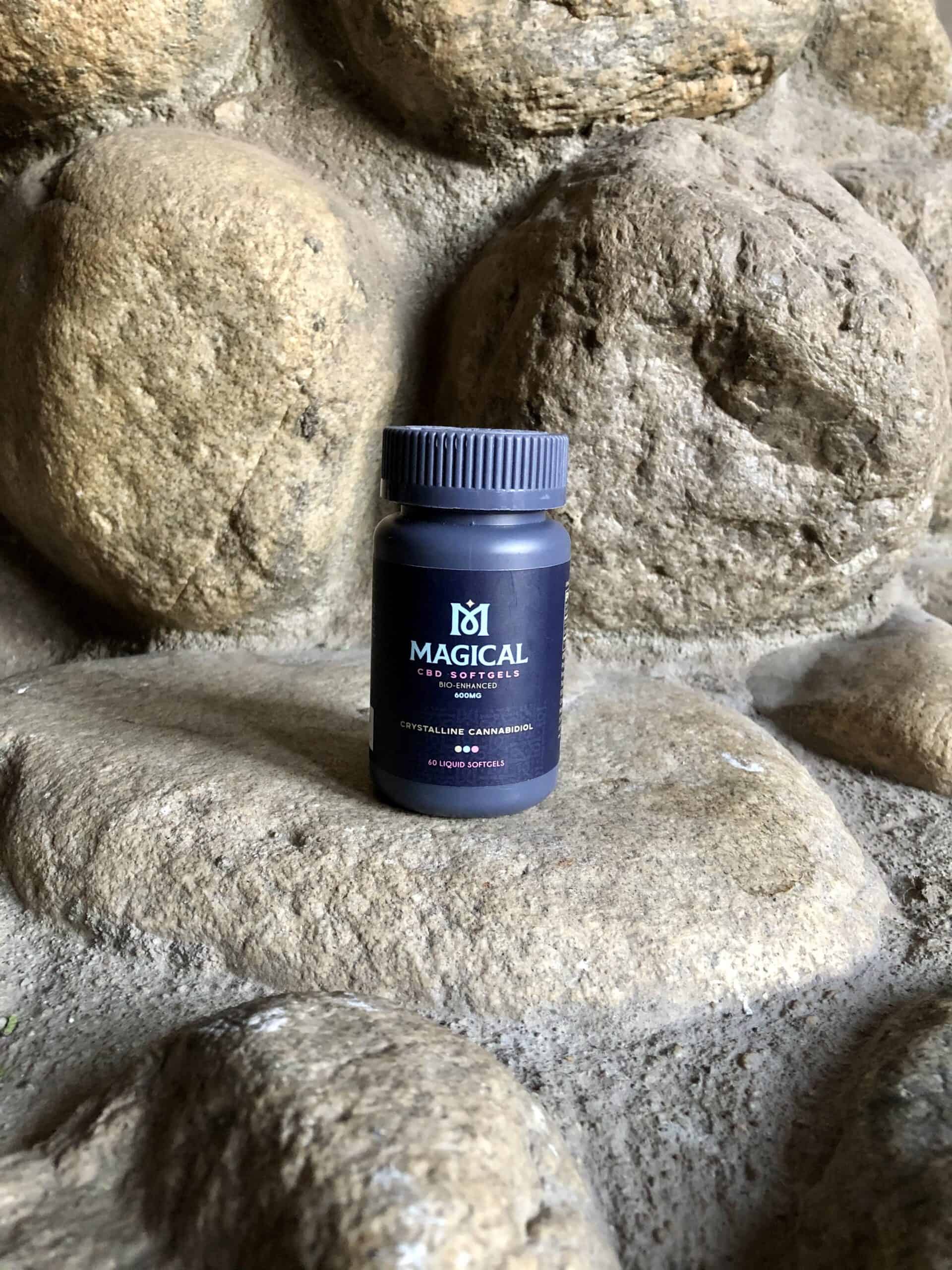 Brand Overview: MAGICAL
Magical has created a line of hemp-derived CBD-infused products that are pesticide-free, cruelty-free, and follow the standards dictated by Good Manufacturing Practices to ensure quality. The founders of the company also created Magical Butter, which sells the MagicalButter MB2e, a botanical extractor you can keep in your home that helps you turn hemp into butter, oil, tinctures, lotions, and more. They use American grown hemp extract and all their products are THC-free.
Magical uses a third-party lab to test their products for purity and potency. You can find a detailed Certificate of Analysis for their products on the company's website. All of their products are vegan.
Products: Edibles, Tinctures, Softgels, Topicals, Bundles.
Price Range ($-$$$$): $$$$
---
About MAGICAL CBD SOFTGELS – 600 MG
Made from high-quality CBD, Magical's softgels contain 10 mg of CBD per serving, or 5 mg per capsule, giving you a total of 600 mg per bottle. The company uses their trademarked bio-enhanced formula in a water-soluble softgel to make certain you're getting CBD fast and efficiently. These are available in 30 or 60-count bottles that have been third-party tested to ensure you're getting less than 0.03% THC, the psychoactive component of the cannabis plant.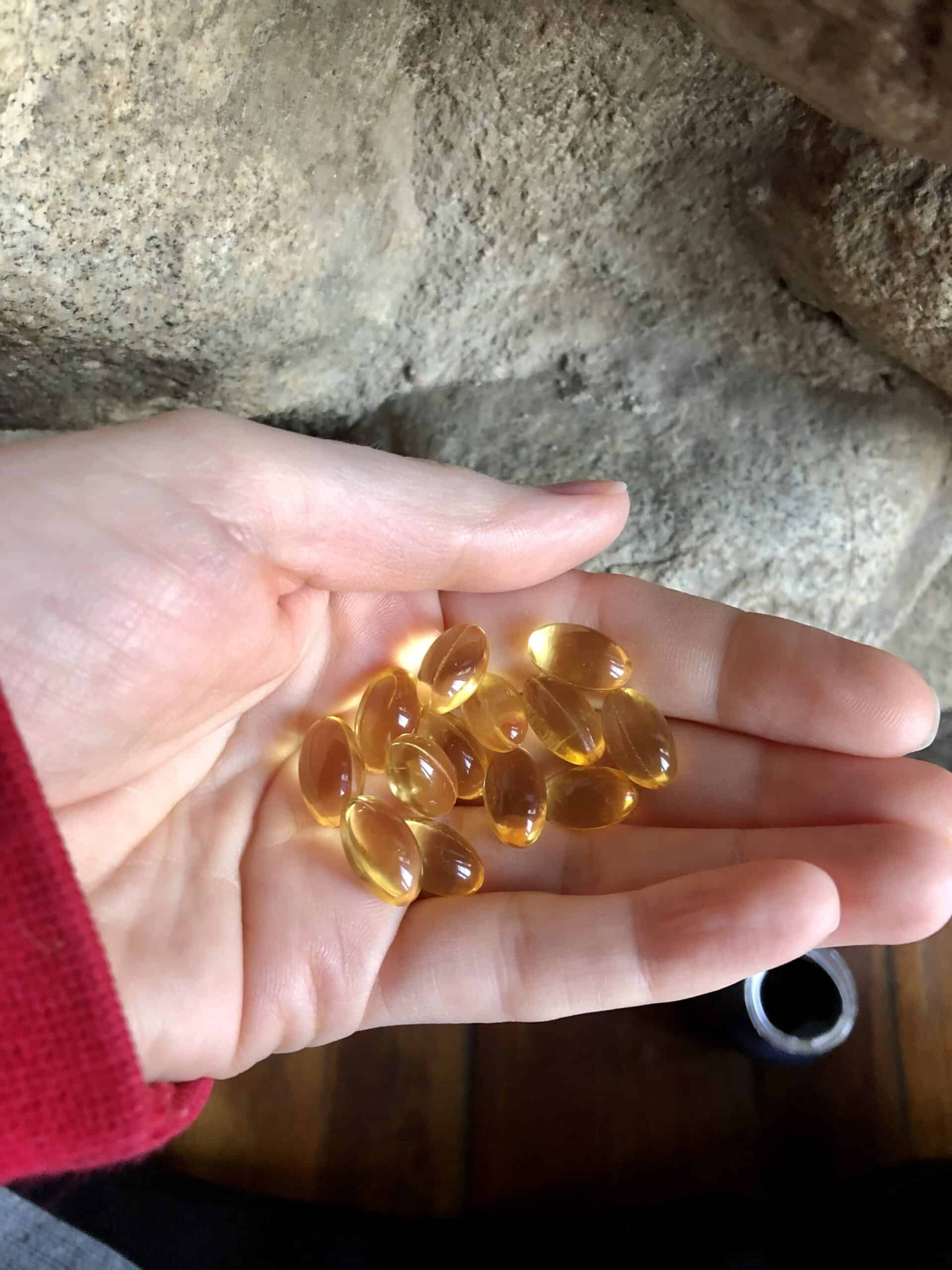 This product is gluten-free, GMO-free, and devoid of herbicides and pesticides. By combining the CBD with medium-chain triglycerides, or MCT oil, you're going to feel the positive benefits quickly. Softgels are an easy way to take CBD, just toss it into your gym bag to help fight post-workout inflammation, or put a couple in your pocket for work or travel. To use, take one serving (or two softgels) per day.
---
MAGICAL CBD SOFTGELS – 600 MG Specifications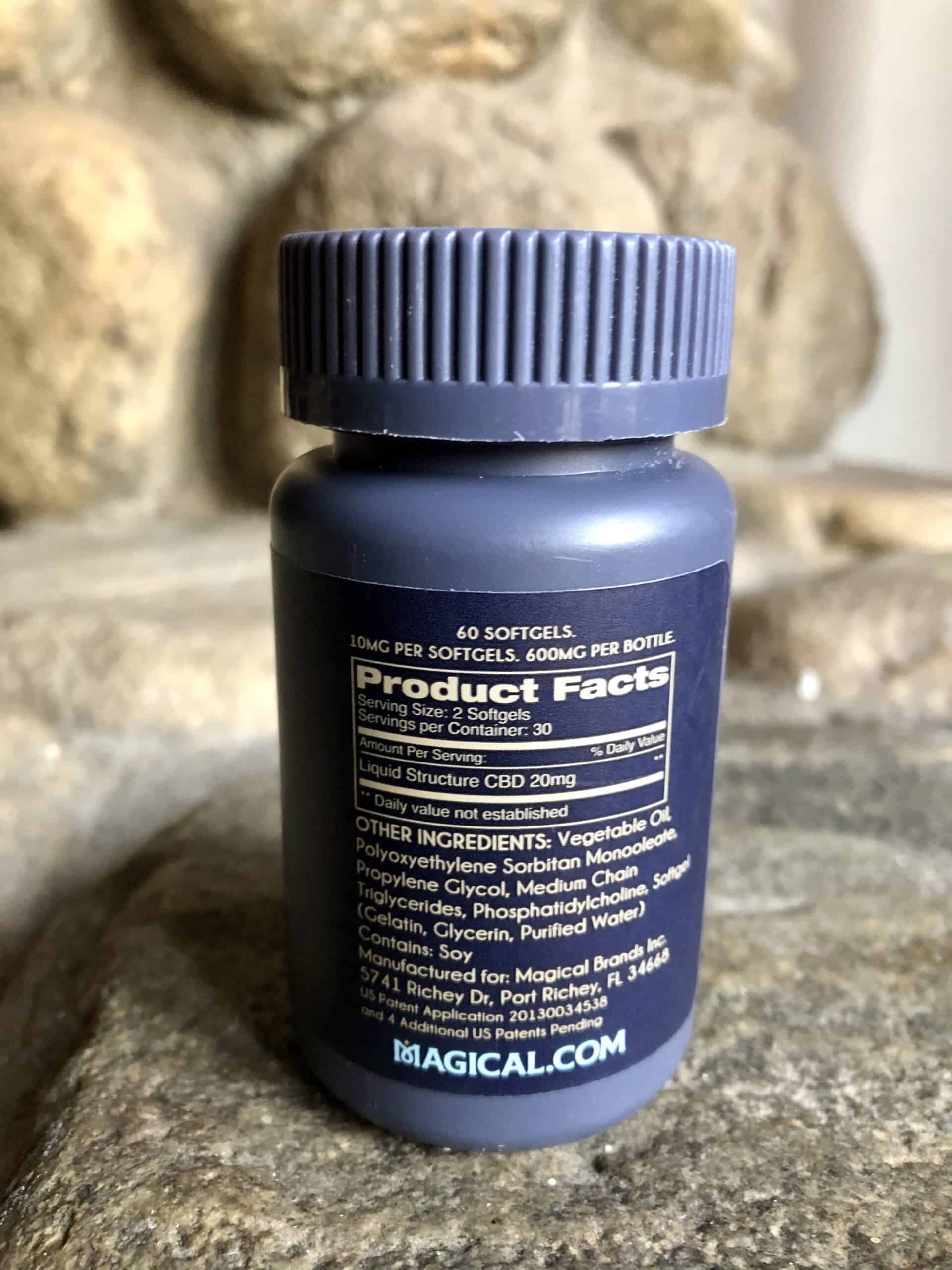 600 mg CBD per bottle
60 softgels per bottle
2 softgels per serving
10 mg CBD per serving
5 mg CBD per softgel
Contains soy
No corn, dairy, egg, gluten, salt, starch, sugar, wheat, yeast, artificial flavors, and fragrances
Ingredients: Liquid Structure CBD, Vegetable Oil, Polyoxyethylene Sorbitan Monooleate, Propylene Glycol, Medium Chain Triglycerides, Phosphatidylcholine, Softgel (Gelatin, Glycerine, Purified Water)
---
How We Tested the MAGICAL CBD SOFTGELS – 600 MG
I like softgels because you get an exact dose each and every time. I also like that softgels are a smoke-free and calorie-free method to take CBD. I was excited to try Magical CBD Softgels because I loved their delicious flavored tinctures so I expected these to be just as effective. Dealing with the anxieties of everyday life combined with the stress of everything that's going on in the world, I'm betting CBD sales have gone up, as I've turned more and more to this natural and non-addictive supplement to just take the edge off everything.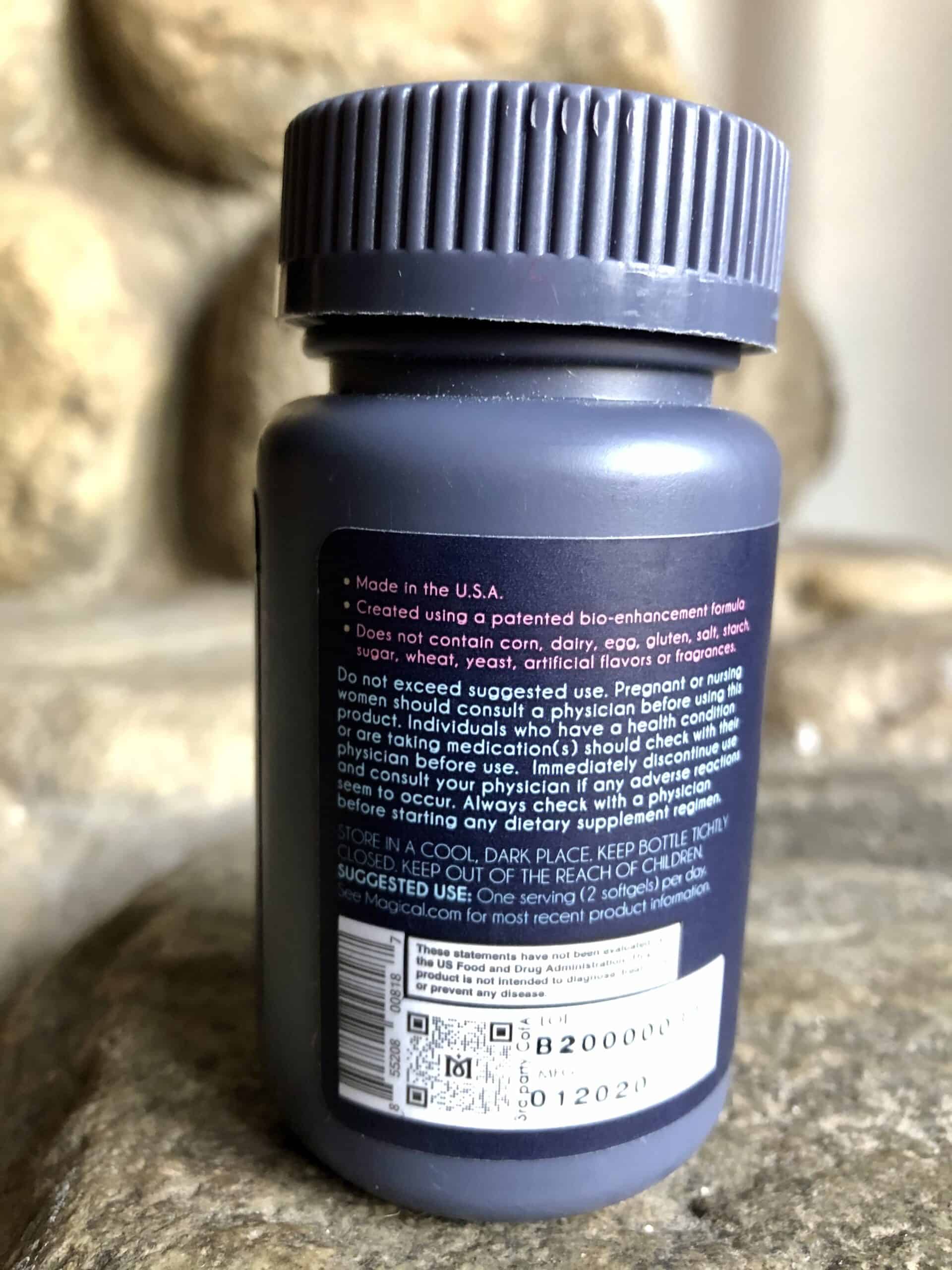 This past week has been particularly trying so I broke out this bottle of softgels to see if they would help me deal. I took two capsules in the morning for a total of 20 mg of CBD.
---
How the MAGICAL CBD SOFTGELS – 600 MG Worked for Me
Magical's tinctures were so helpful that I wasn't surprised to feel the calming effects of the CBD from their softgels in under an hour. I felt warm, focused, and while it doesn't take away anxiety, it somehow makes it easier to manage. I found I was able to stay more mindful and present while taking these softgels. These would be perfect to take to school, work, or on a plane because they look just like Vitamin E softgels. There's still a stigma with some people that hemp is bad, so it's always nice to be able to take one of these puppies without people giving me the stink eye like I'm going to get high and eat their babies. In fact, these softgels contain such a minute amount of THC they have zero psychoactive qualities. Once the pandemic has waned and I'm back in the classroom, these will be coming with me.
---
Useful and Unique Things to Know About MAGICAL CBD SOFTGELS – 600 MG
It's useful to know that these softgels contain soy, as more and more people are realizing they have allergies, particularly those who suffer from certain autoimmune diseases. The gel cap itself is made in part from gelatin, which is useful to know if you're a vegan or a vegetarian. Gelatin is made from cows or pigs, so that's something to keep in mind when making your CBD softgels purchases.
---
MAGICAL CBD SOFTGELS – 600 MG Ratings
In the next sections gradings from 0-100 on our review, these grades add up to give the product's overall score.
PRESENTATION • 100
Informative packaging.
RELIABILITY • 100
Effective.
QUALITY • 100
Natural and non-addictive.
FLAVOR / SMELL / or EASE OF USE• 100
Easy to use.
VALUE • 65
Expensive.
---
How MAGICAL CBD SOFTGELS – 600 MG Stacks Up Against the Competition
Like the other Magical products I've tried, the CBD softgels are great! To be more competitive, however, I suggest lowering the price. You'll pay $83 for 600 mg of CBD, which is higher than average. Another way to be more competitive is to create a softgel with vegan or vegetarian ingredients, which I'm seeing more and more.
Save money by using our verified CBD Softgels Coupons here at Save On Cannabis the World's largest online cannabis coupon code directory.
---
Disclosure: I received these products gratis so that I could try them and then share my honest opinion with the SOC community. I am employed by Save on Cannabis to write honest reviews and provided a flat rate payment for the writing of the review. SOC may receive recurring affiliate payments for purchases made based on this content.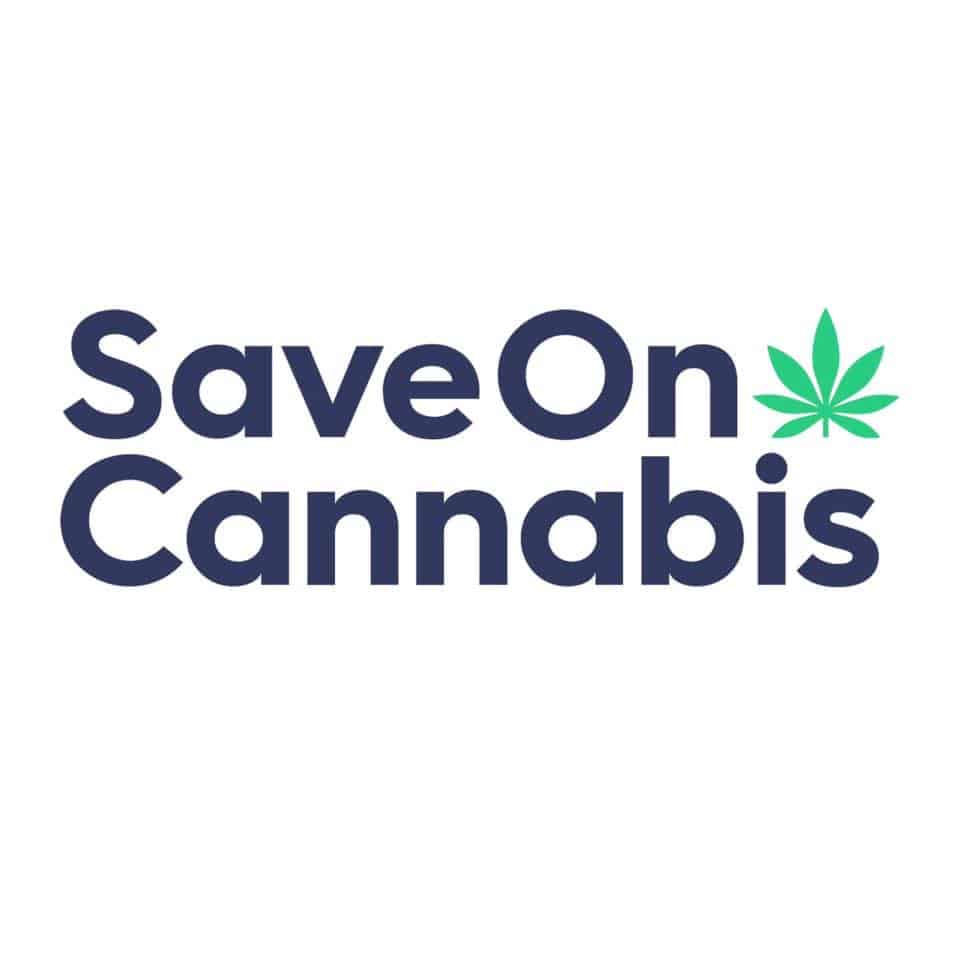 Save On Cannabis is the most trusted source for cannabis discounts and education information.  Vetted deals and clearly written articles to help you become a wiser consumer whether focused on the medical or recreational value of cannabis products.
Sorry, no coupons were found.
Our reviewer tests the ZenWorks CBD Vape E-Liquid Bangin' Berry, find out from our hands-on testing if it is worth your money.
In this Papa & Barkley Releaf Softgels review we test out these respected CBD pills to see how they worked for our team.
The Charlotte's Web Balm Stick with CBD is a very pretty product, but does it help our reviewer with her daily needs? Is it worth your money?