GoGreen Hemp Review: CBD 10mg Gummy Bears (200mg)
Sep 26, 2018 | Romy
CBDCBD CandyCBD ConcentratesCBD EdiblesCBD GummiesCBD Pet ProductsCBD Pills & CapsulesCBD TincturesCBD TopicalsCBD Vape OilsSave On Cannabis Verified
GoGreen Hemp CBD Gummy Bears 10mg
Pros
Easy to use
Relaxing
Helps with sleep
Great price
GMO-free
Gluten-free
Low calorie
Brand Overview: GoGreen Hemp CBD 10mg Gummy Bears (200mg)
GoGreen Hemp is a family owned and operated company from Colorado that specializes in products that use organic hemp extract with CBD and other quality ingredients. Their extensive line of medicinal CBD products ranges from wax crumble, gel capsules, candies, oil drops, balms, and dog chews for your animal friends. GoGreen Hemp's mission is to make high-caliber products that bring relief and to educate consumers about the medicinal properties of CBD. They have a Helping Hand Program that supports veterans and those with long-term disabilities by offering 20% off anyone who qualifies. They believe that CBD can change the world.
Products: CBD Oil Drops, CBD Cartridges, CBD Balms, CBD Gummy Bears, CBD Gel Capsules, CBD Wax Crumble, CBD Dog Chews
Price Range: $
About the GoGreen Hemp CBD 10mg Gummy Bears (200mg)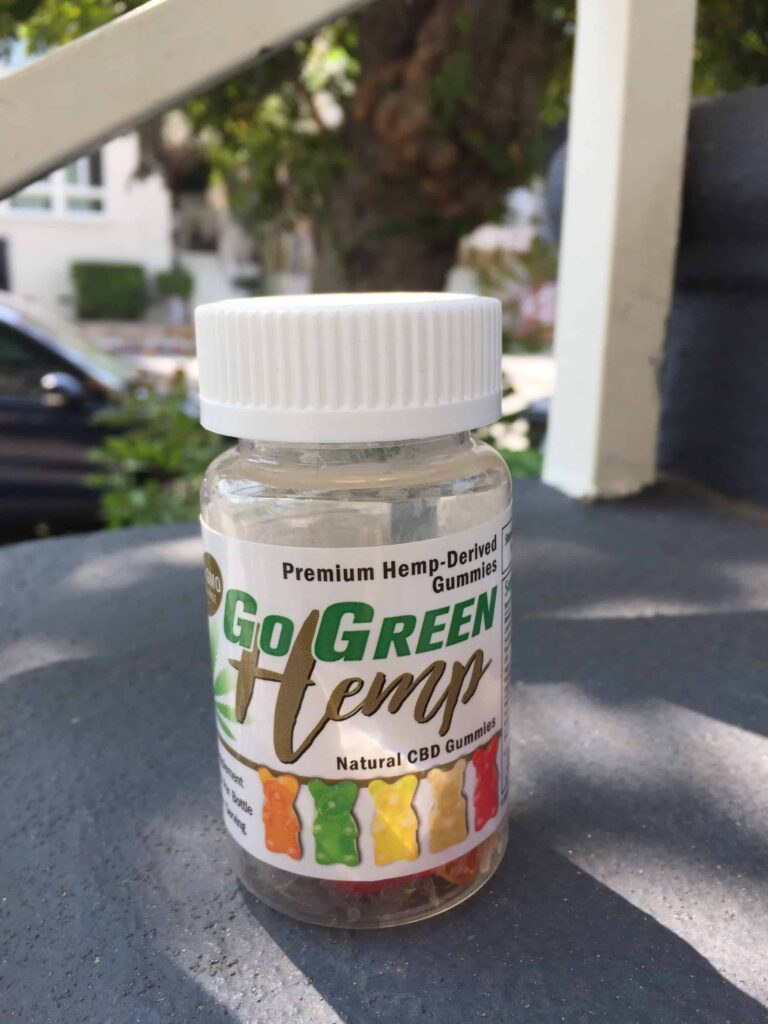 The GoGreen Hemp gummies are infused with CBD which offers relief for insomnia, anxiety, depression, and pain. Derived from industrial grade hemp, CBD does not get you "high" like products that contain THC. In fact, these gummy bears are legal in all 50 states! Every container has 20 gummy bears with 10mg of CBD each. These little guys are an easy and discreet way to microdose your CBD intake. They come in a variety of flavors like pineapple, raspberry, lemon, orange, and strawberry, and taste almost like the real thing.
GoGreen Hemp CBD 10mg Gummy Bears (200mg) Ingredients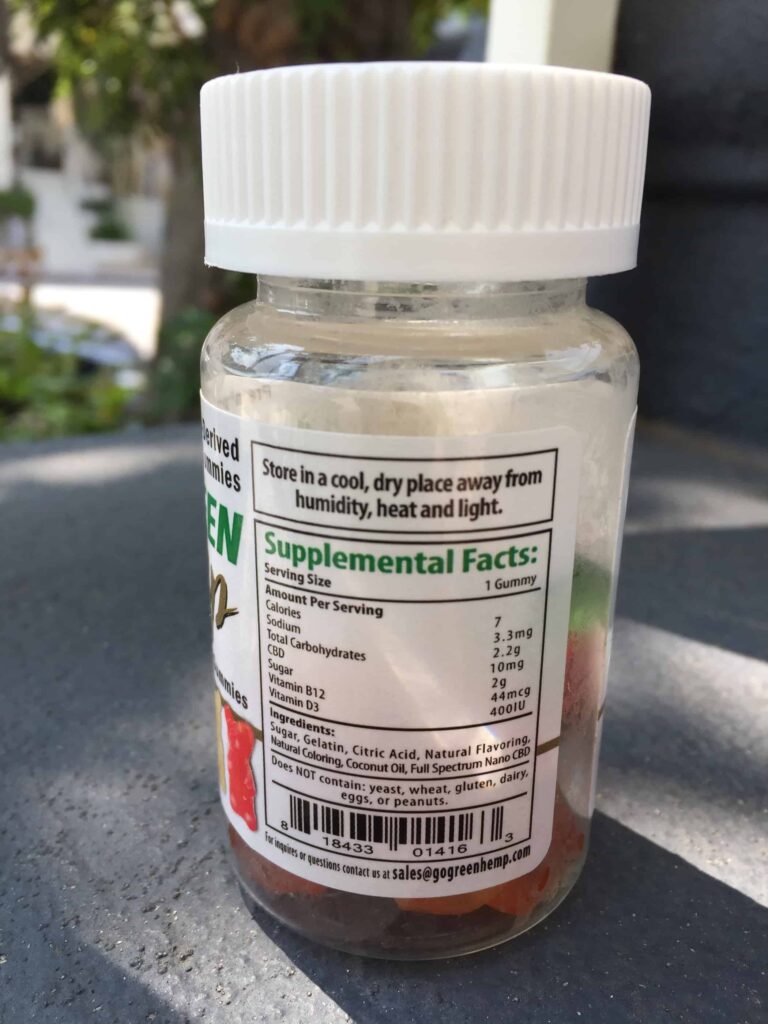 Ingredients

:  

Sugar, Gelatin, Citric Acid, Natural Flavoring, Natural Coloring, Coconut Oil, Full Spectrum Nano CBD

20 CBD Gummy Bear Per Container

10mg each / 200mg Per Container

Assorted Flavors which include pineapple, raspberry, lemon, orange, and strawberry

Third Party Tested

Contains Vitamin B12 – 44mcg

Contains Vitamin D3 – 400IU

Premium CBD Hemp Oil Extracted From Organic Industrial Hemp

THC-Free

Non-Psychoactive

Does NOT Contain: Yeast, Wheat, Gluten, Dairy, Eggs, or Peanuts

Made in the U.S.A.

Non-GMO
How We Tested the GoGreen Hemp CBD 10mg Gummy Bears (200mg)
I believe I've tried everything to help me sleep. From prescription medication that caused me to make inappropriate phone calls to exes in the middle of the night to melatonin that works great but doctors tell me I shouldn't take it every night because it will mess with my natural melatonin. Or maybe turn me into a werewolf? I can't remember because I was too sleepy to listen. I wanted to try the GoGreen Hemp CBD Gummy Bears because I read a few positive reviews from people who said it helped them with sleep as well as other issues like arthritis pain and anxiety (nothing about werewolves but studies still pending). I took two gummy bears thirty minutes before bed.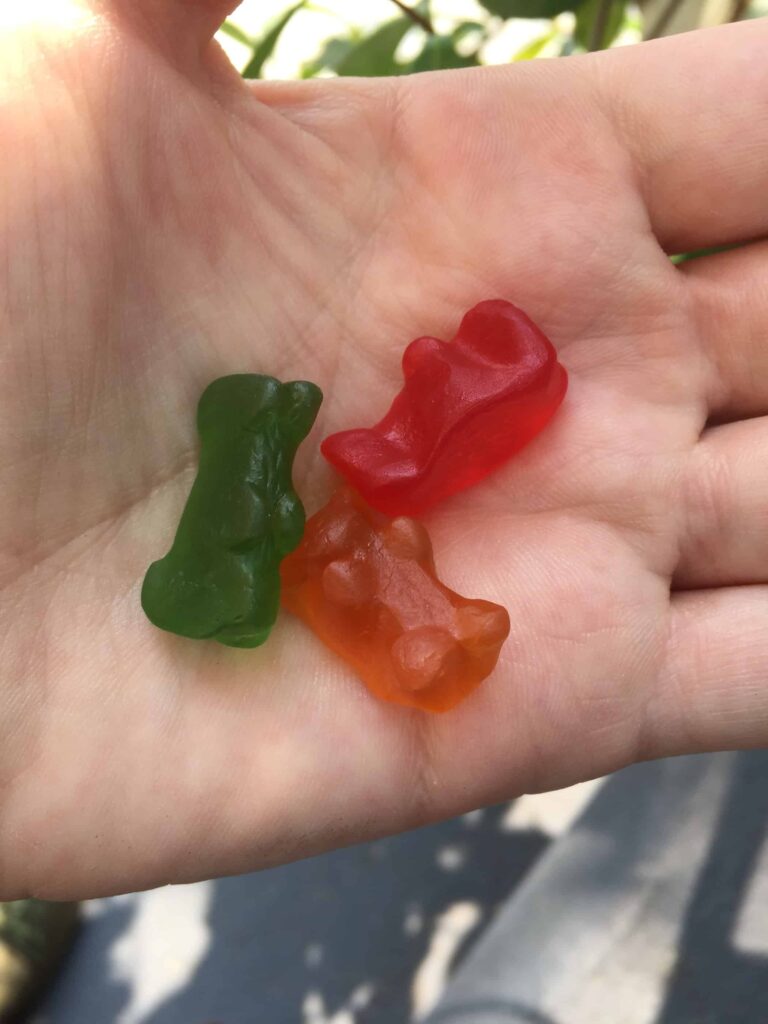 How the GoGreen Hemp CBD 10mg Gummy Bears (200mg) Worked for Me
The gummy bears were amazing! Twenty or thirty minutes after taking two bears (20mg of CBD) I felt a warm sleepy feeling and wanted to go to bed. I got some of the best sleep I've had in a long time. The following day, I was more focused, and I didn't want to nap all day. I took the same dosage the next night. I'm grateful that I found the GoHemp Gummy Bears. I would definitely recommend them to anyone struggling with insomnia.
Useful and Unique Things to Know About the GoGreen Hemp CBD 10mg Gummy Bears (200mg)
Not only do the gummies have CBD, but they also have Vitamin B12 and D3 which are both great for the mind and body. For the vegans out there, the gummies have gelatin, so you might want to try the GoGreen oil drops.
GoGreen Hemp CBD 10mg Gummy Bears (200mg) Breakdown
PRESENTATION – 100
Great packaging with lots of information.
RELIABILITY – 100
Helped me get a good night's sleep.
QUALITY – 100
Low calories and allergy free organic ingredients.
FLAVOR – 100
Tastes almost like a regular gummy bear!
VALUE – 100
Inexpensive for the quality and amount of CBD you get.
How the GoGreen Hemp CBD 10mg Gummy Bears (200mg) Stacks Up Against the Competition
GoGreen CBD Gummies are a great alternative to prescription and over-the-counter sleeping pills. The price can't be beaten.
Saving Money With CBD Gummies Coupons
Save money on all CBD Gummies here at Save On Cannabis the World's largest online cannabis coupon code directory.
Disclosure: I received these products gratis so that I could try them and then share my honest opinion with the SOC community. I am employed by Save on Cannabis to write honest reviews and provided a flat rate payment for the writing of the review.  SOC may receive recurring affiliate payments for purchases made based on this content.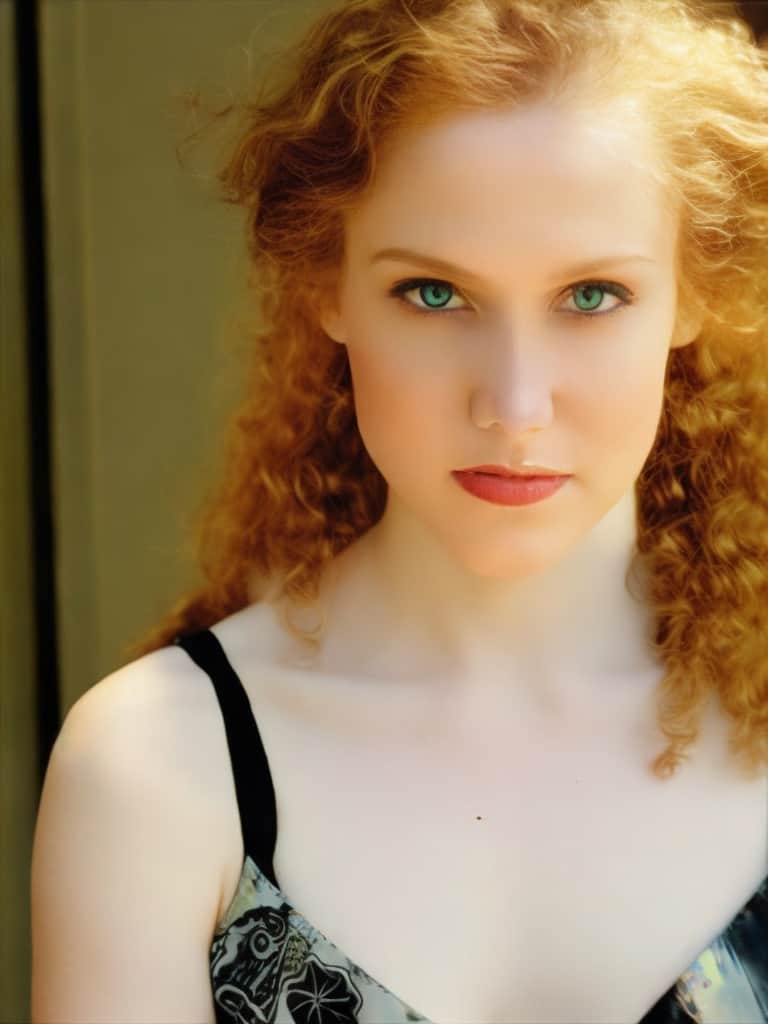 A medicinal cannabis user, utilizing the power of the plant to ease the pains and stresses from long standing conditions that other over the counter or prescriptions could not fix or weren't a natural option like cannabis.  Also, has a background in working directly in the cannabis industry in California within various dispensaries.
Ice, Ice, Baby...in this Green Roads CBD review of their Cool Relief Roll On see how the icy effects of menthol worked for us.
Interested in CBD for sleep? This Infinite CBD review is for their P.M. Capsules which contain CBD and a dose of melatonin. See how it worked for us!
Hands-on review of the 710Life eNail from our expert reviewers. See if you should spend your money on this dabbing eNail.