Joy Organics Review: CBD Softgels 750mg
Aug 9, 2020 | SOC
Joy Organics CBD Softgels 750mg
Pros
Easy to use
Effective
More bioavailability
THC-free
Fast-acting
JOY ORGANICS CBD SOFTGELS
Product Review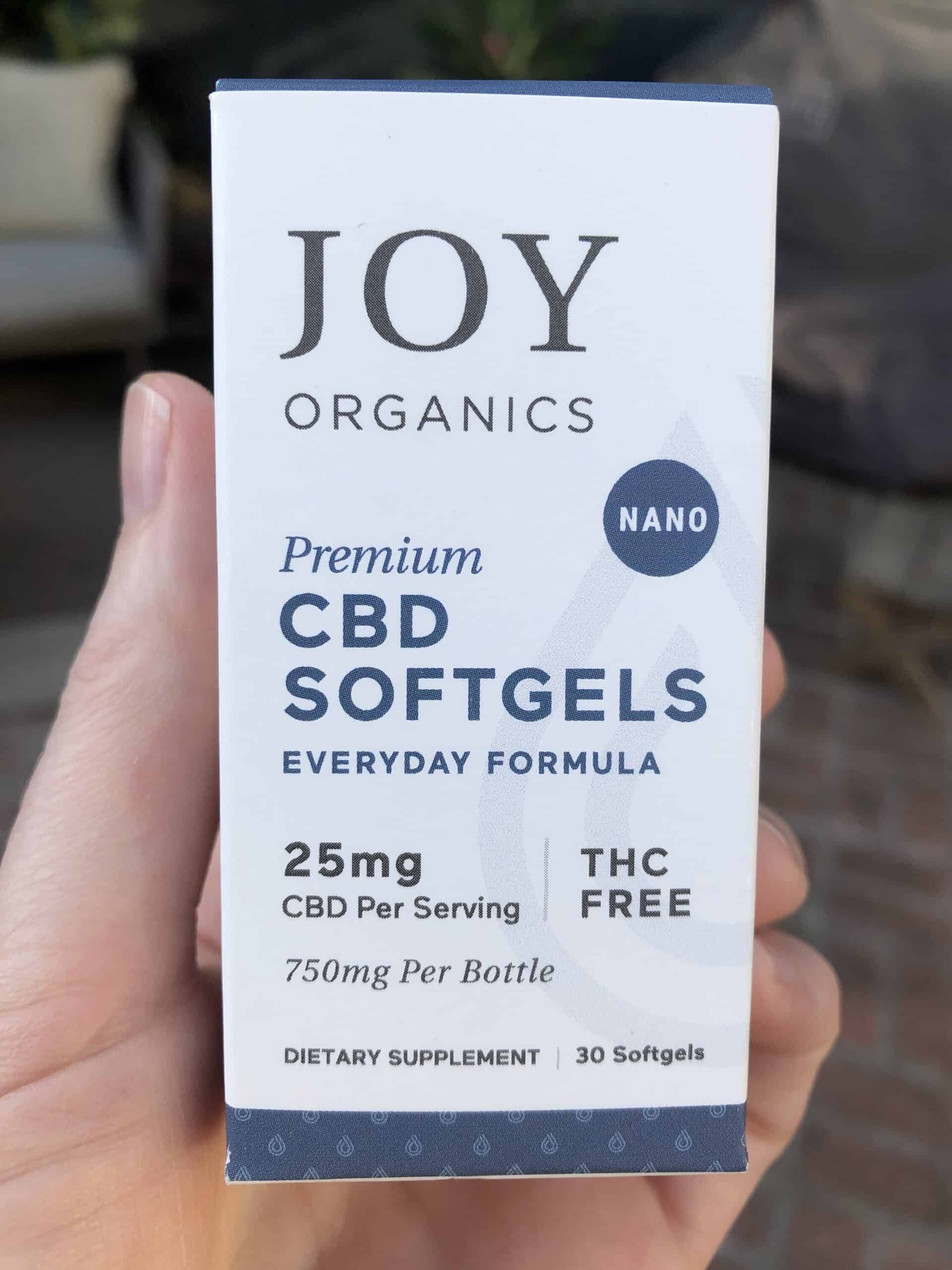 Brand Overview: JOY ORGANICS
Joy Organics is a family business co-founded by Joy Smith, who discovered CBD when she needed help with sleep and other health issues. The company prides itself on its quality products and excellent customer service. Just recently, Joy launched an initiative that donates a portion of its profits to various non-profits.
With an emphasis on family, a commitment to giving back, and a dedication to making premium, THC-free CBD products, Joy Organics seems like a place I'd like to work, as well as a place I'd like to purchase from. The company has even opened some retail stores in Colorado, New Mexico, and Wyoming. Sign up for their mailing list for 15% off your first purchase. Joy Organics offers free shipping and a money-back guarantee.
Products: Tinctures, Gummies, Softgels, Energy Drinks, Pet Products, Salve Balm, Salve Stick, Cream, Sports Cream, Bath Bombs, Sampler Packs.
Price Range ($-$$$$): $$$
---
About JOY ORGANICS CBD SOFTGELS
Softgels are hands down the easiest way to take CBD, and Joy Organics has a variety of options, from 10 – 25 mg per serving, to a softgel that contains melatonin for sleep. I got the Premium CBD Softgels Everyday Formula with 25 mg per serving. The entire bottle contains 750 mg of CBD and 30 servings in total. Made with THC-free hemp extract, these little guys won't get you high, but will still give you all the positive benefits of cannabidiol or CBD. Joy Organics uses a water-soluble nanoemulsion technology which boosts the bioavailability of the CBD up to 200% more than other products on the market. This means that you'll get more of the benefits of CBD faster and more effectively.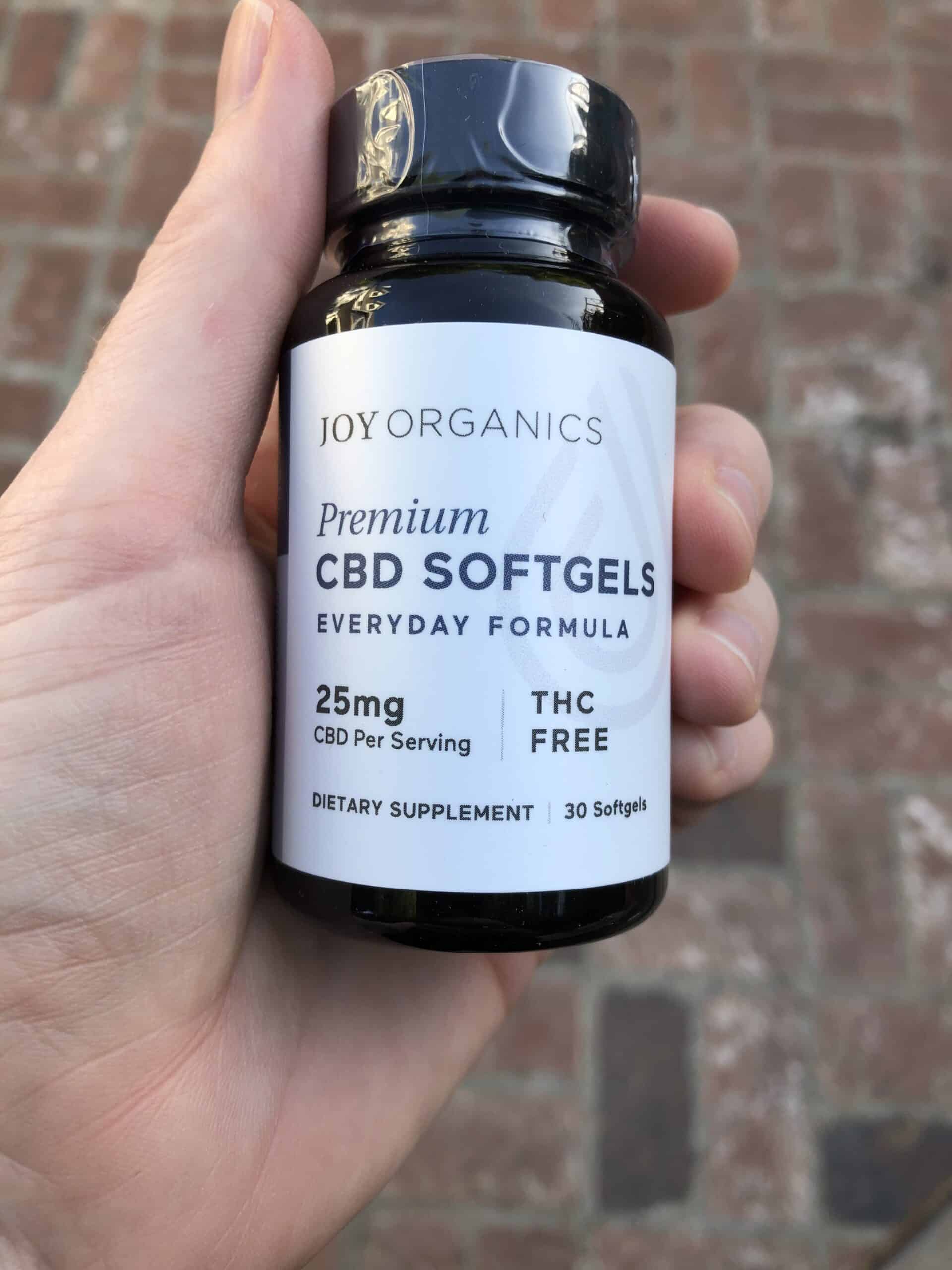 ---
JOY ORGANICS CBD SOFTGELS Specifications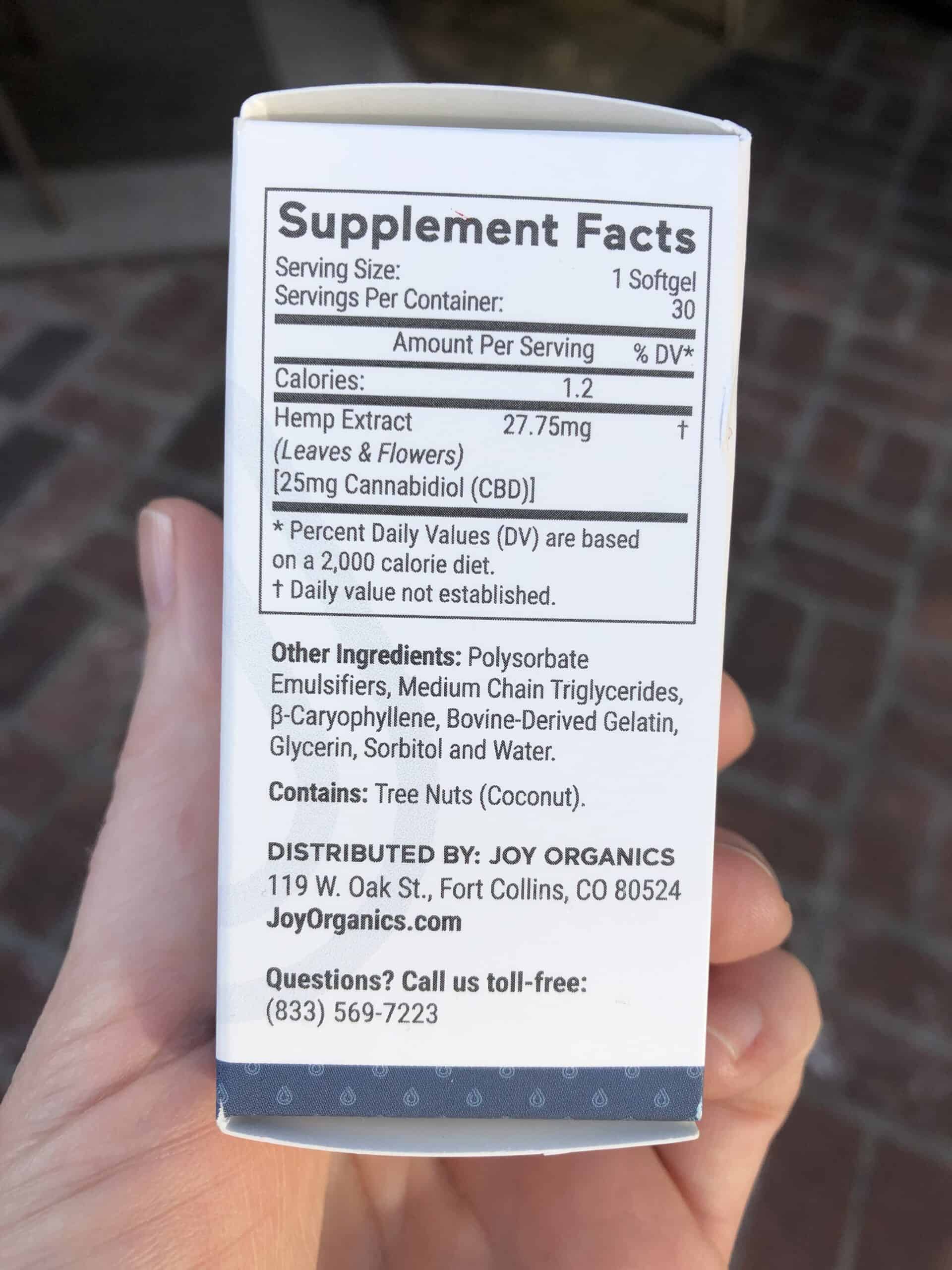 750 mg CBD
25 mg CBD per serving
30 servings per bottle
Ingredients: Polysorbate Emulsifiers, Medium Chain Triglycerides, B-Caryophyllene, Bovine-Derived Gelatin, Glycerin, Sorbitol, and Water
Contains Tree Nuts (Coconut)
THC-free
Not vegetarian
---
How We Tested the JOY ORGANICS CBD SOFTGELS
I have to come to expect quality when I use a Joy Organics product, so I was excited to give their CBD softgels a try. With everything going on in the world, and the stress of dealing with health issues, I was hoping these softgels would help me find some peace of mind. There's no easier way to take CBD than with softgels, so the first thing the morning, I took one with a glass of water to wash it down. I took another one again at night along with my prescribed Gabapentin. I even slathered on some of Joy Organic's salve on my low back and hips, hoping for a good night of sleep.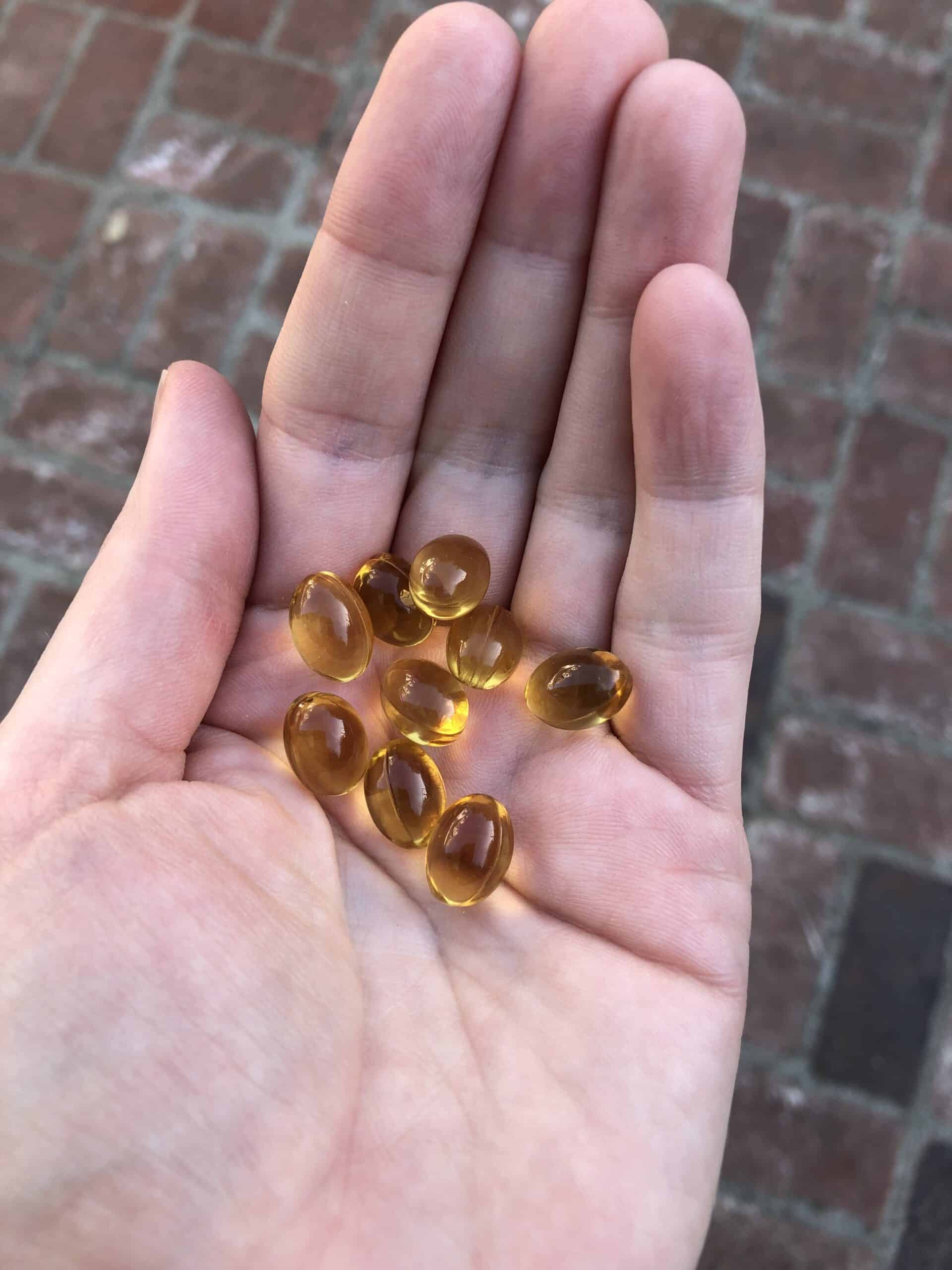 ---
How the JOY ORGANICS CBD SOFTGELS Worked for Me
I could feel the effects of Joy Organics CBD Softgels in less than an hour. I felt warm, focused, and calm. The effects of the CBD helped me focus on work, rather than the horror show that seems to be happening in the world. At night, I found myself better able to fall asleep and stayed asleep longer than I normally do. I even woke up in the middle of the night, applied more of Joy Organic's salve, and was able to fall back to sleep. These softgels were potent and effective and I will be using them up fast.
---
Useful and Unique Things to Know About JOY ORGANICS CBD SOFTGELS
Joy Organics uses broad-spectrum hemp oil because it's filled with phytonutrients that help create the "entourage effect." This is when all the different cannabinoids and terpenes from the cannabis plant work together to make the softgels as effective as possible. The softgels have been tested in a lab for purity and potency to make sure there aren't any toxins, E. Coli, or salmonella. All in all, a high-quality product.
---
JOY ORGANICS CBD SOFTGELS Ratings
In the next sections gradings from 0-100 on our review, these grades add up to give the product's overall score.
PRESENTATION • 100
Clear instructions and information on packaging.
RELIABILITY • 100
Fast-acting and effective.
QUALITY • 100
More bioavailability than other CBD products.

FLAVOR / SMELL / or EASE OF USE • 100
Easy to use.
VALUE • 95
Not too expensive, but still up there.
---
How JOY ORGANICS CBD SOFTGELS Stacks Up Against the Competition
These CBD softgels are fantastic, but there are a couple of ways they could be more competitive with other softgels on the glutted CBD market. While it's not terribly expensive, you can still find CBD softgels for less. And I've also discovered a couple companies that make vegan softgels. I'm not a vegetarian or a vegan, but if I can avoid bovine-derived gelatin, I will.
---
Saving Money with Our Verified JOY ORGANICS CBD SOFTGELS Coupons
Save money by using our verified CBD Pills & Capsules here at Save On Cannabis the World's largest online cannabis coupon code directory.
---
Disclosure: I received these products gratis so that I could try them and then share my honest opinion with the SOC community. I am employed by Save on Cannabis to write honest reviews and provided a flat rate payment for the writing of the review. SOC may receive recurring affiliate payments for purchases made based on this content.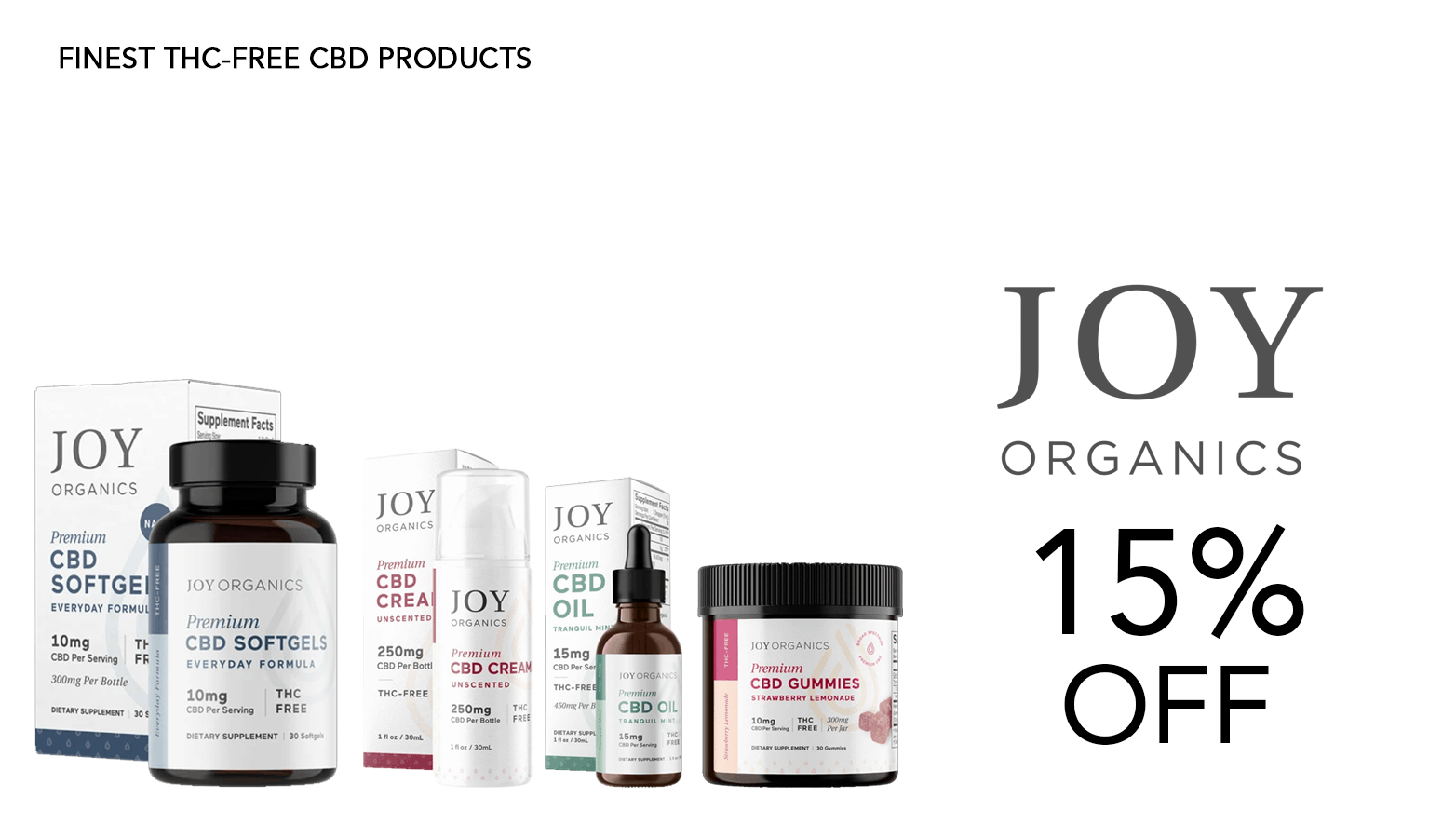 15% OFF site-wide Joy Organics coupon! Live Your Joy with The Finest THC-Free CBD Products.
Our reviewer has tested lots of CBD topicals & this one has now ended up on the daily list, find out why in this hands on CBD Livity review.
Looking for a portable dabbing device you can trust? See if we found it in this Dr. Dabber review of the Ghost & Light dab vape.
Ever tried a CBD bath bomb? This is not our expert reviewer's first time trying a CBD bath bomb, read her experience.