CBDistillery Review: CBD Sleep Gummies with Melatonin
Jan 15, 2021 | SOC
CBDCBD CandyCBD EdiblesCBD Gummies
CBDISTILLERY
Product Review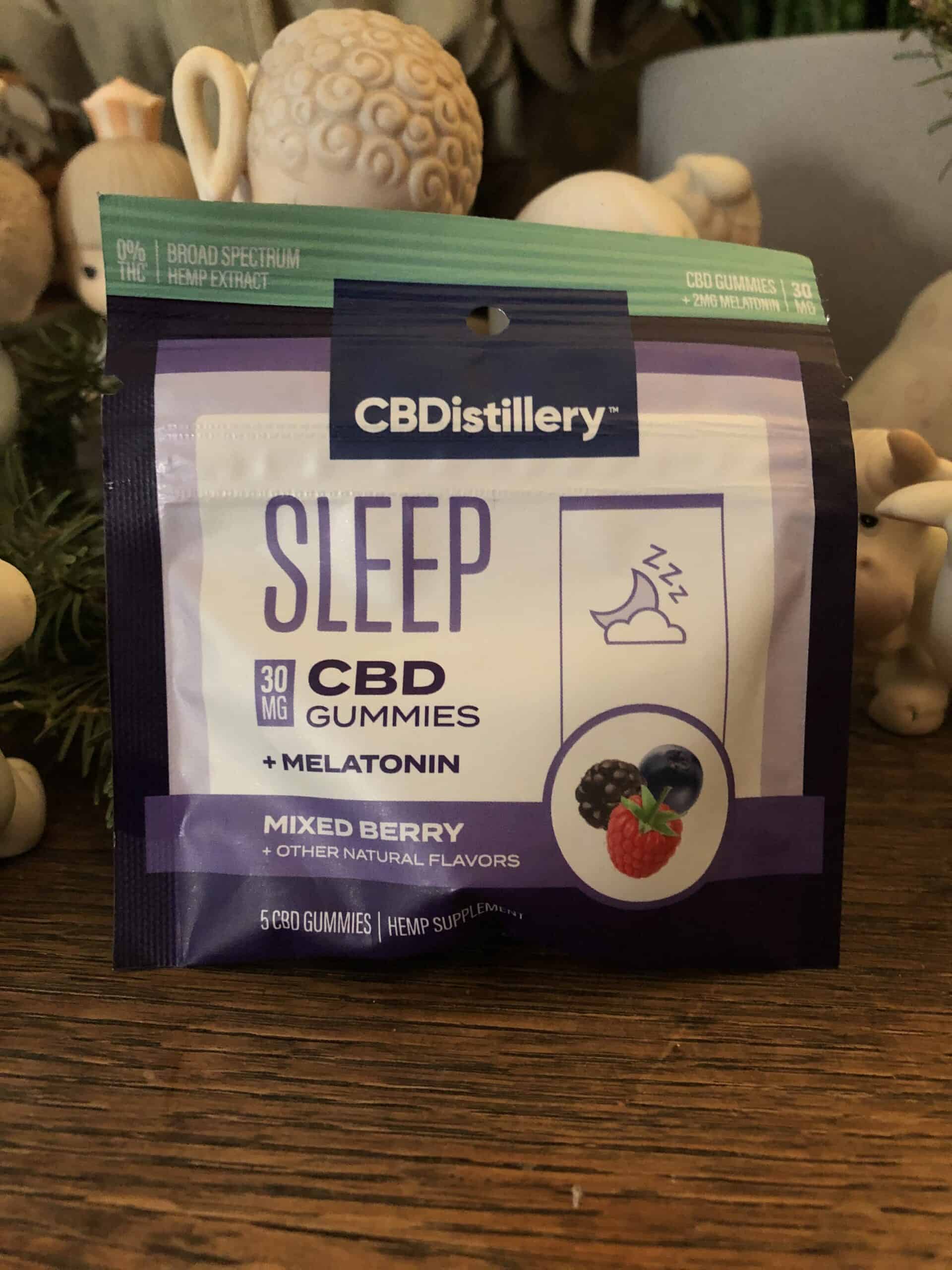 Brand Overview: CBDISTILLERY
CBDistillery has created an effective and affordable line of CBD products to help ease anxiety, stress, and pain. The company's mission is to bring you superior quality at a lower price, making it easier for the everyday person to get CBD-infused tinctures, salves, edibles, isolates, and topicals. The CBDistillery Team is proud to have brought to the Twittersphere the #CBDMOVEMENT™, which aims to educate people about non-addictive and all-natural ways to feel better.
Every product is clearly labelled and third-party tested for quality, following guidelines set forth by the FDA. Certified by the U.S. Hemp Authority, you can rest assured that every product you buy from CBDistillery is the real deal. Check out their website for recipes using CBD, like their mouth-watering Buffalo Chicken Dip. The website also contains articles about the benefits of CBD when playing sports or doing yoga.
Products: Oils, Isolates, Gummies, Capsules, Topicals, Vape Liquids, Pets, THC-Free CBD.
Price Range ($-$$$$): $$
---
About CBDISTILLERY SLEEP GUMMIES
By combining 30 mg of Broad Spectrum CBD with 2 mg of melatonin, CBDistillery has designed a gummy to help you get a better night of rest. This nighttime formula will help you fall asleep and stay asleep without making you feel groggy and unrested in the morning. Each gummy is flavored with mixed berry and other natural flavors and lightly coated with sugar to make you feel like you're eating candy, not medicine. Just don't forget to brush your teeth afterward!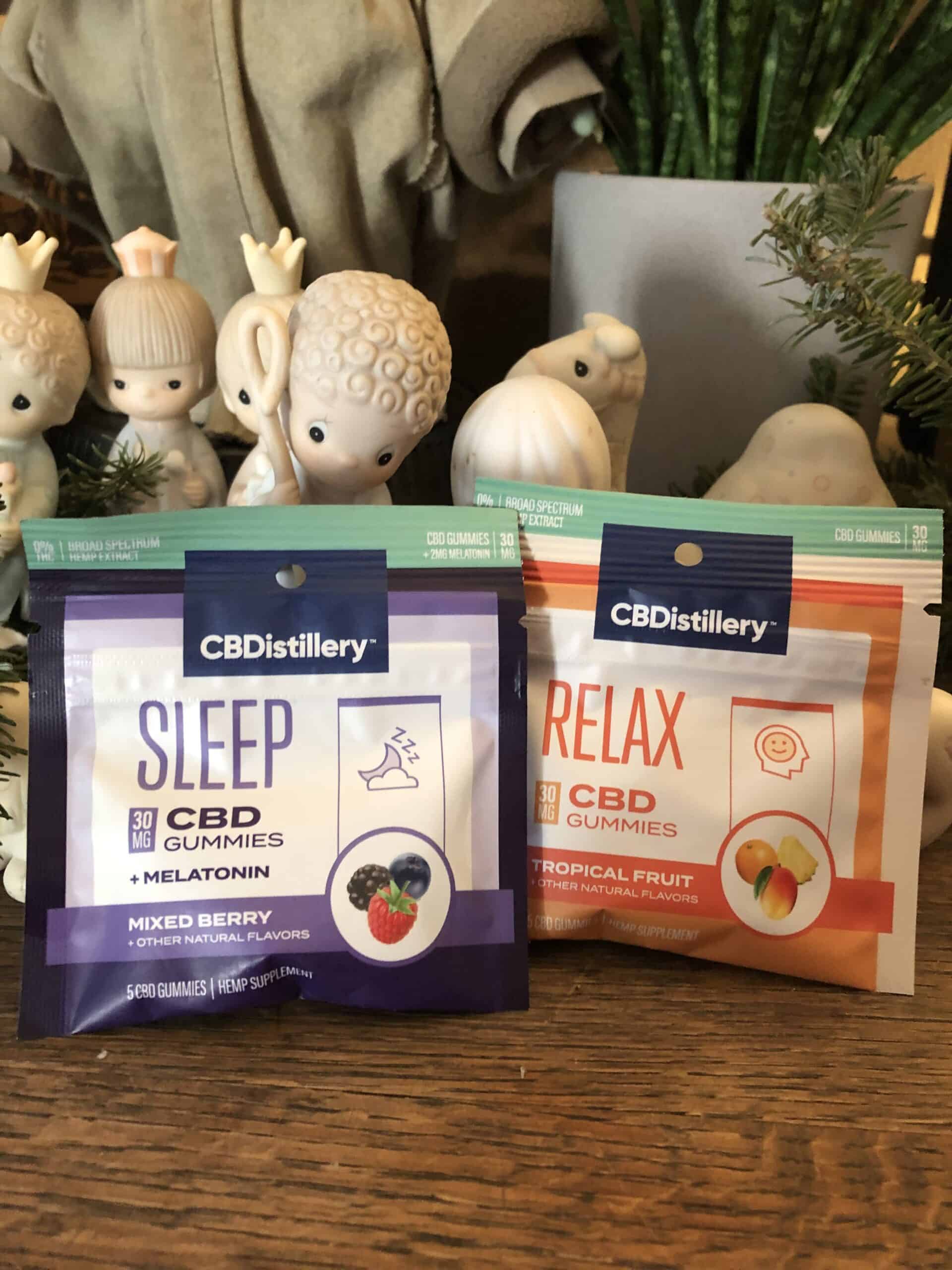 The product has been tested by reliable 3rd parties to ensure potency and purity. There is less than .05% THC which means this stuff is non-psychoactive and won't get you high. The company did a survey in 2019 and discovered that 89% of customers said that CBD helped them sleep better. CBDistillery recommends taking one serving, or a single piece of gummy, before bedtime.
---
CBDISTILLERY SLEEP GUMMIES Specifications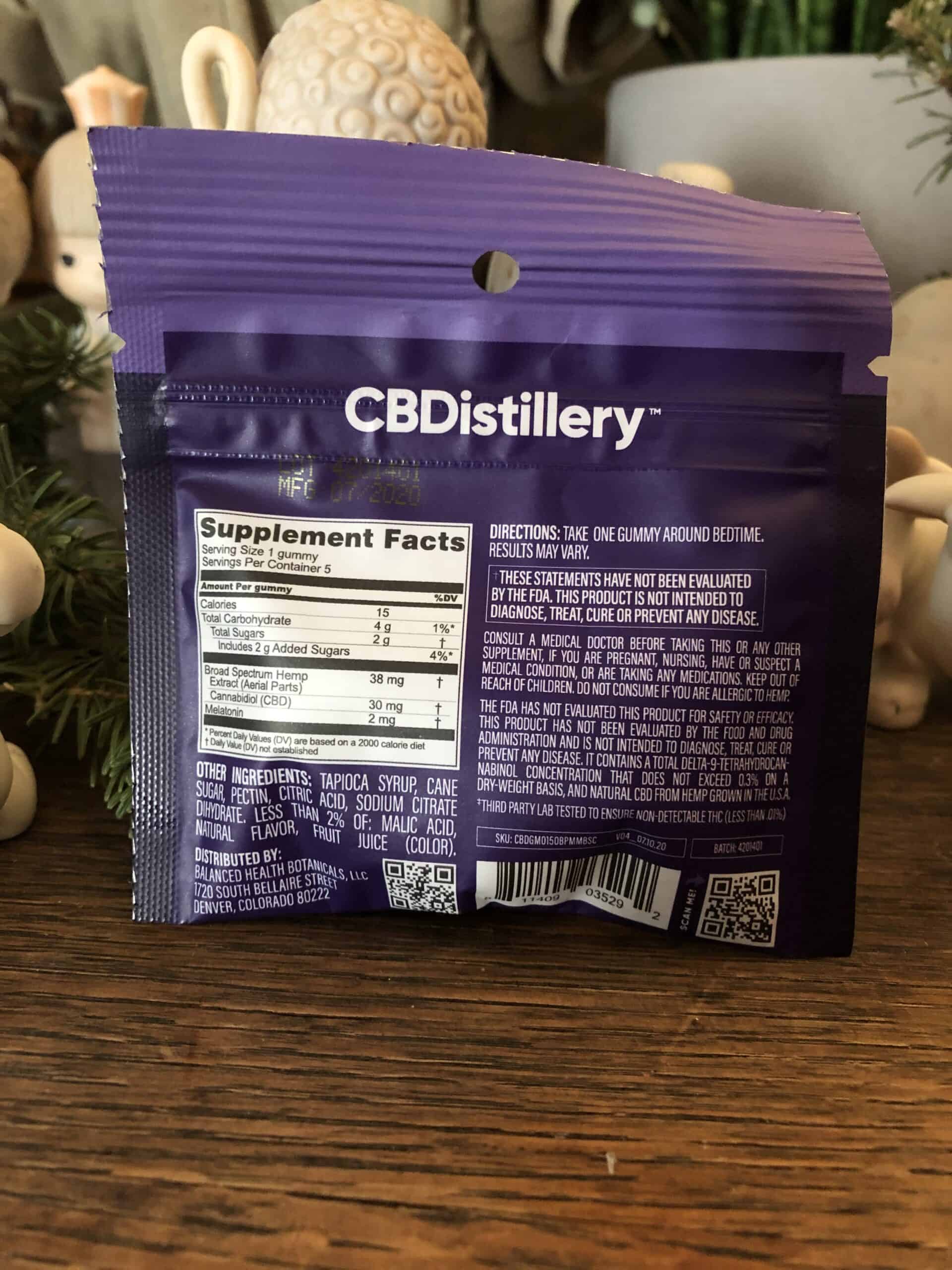 ---
How We Tested the CBDISTILLERY SLEEP GUMMIES
I have a hard time falling and staying asleep because I have fibromyalgia and a great deal of anxiety and physical pain from injuries. I've often turned to CBD to help me relax, and melatonin to help me sleep so was excited to get a sample pack of CBDistillery Sleep Gummies in the mail. Lately, my sleep has been worse probably due to holiday stress so have needed a little extra help. I also took an additional 10 mg of melatonin as I often need more just to feel relaxed.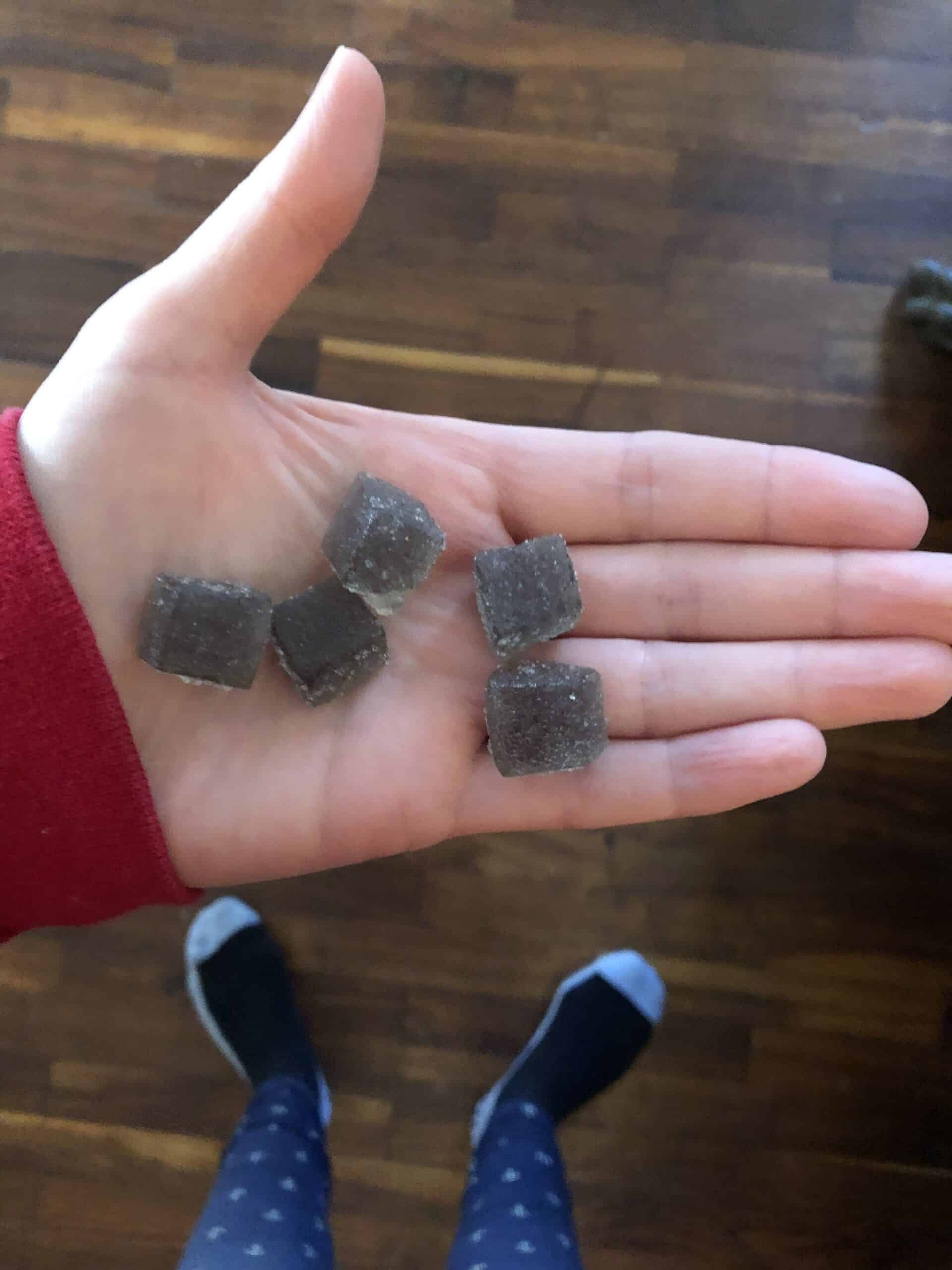 I tucked myself in and put on reruns of a TV show that always helps take my mind off the anxieties of the day.
---
How the CBDISTILLERY SLEEP GUMMIES Worked for Me
I started to feel relaxed less than an hour after eating the CBD and melatonin-infused gummy. Usually, it takes me hours to fall asleep, if I even do fall asleep. With these gummies, I fell asleep faster than I have in a while. And while I normally wake up throughout the night from pain, I only got up once. I woke up feeling refreshed and I didn't experience any of the grogginess that happens with other kinds of sleeping aids. I also loved the flavor. The mixed berry and other natural flavors hid the bitter taste of hemp so I felt like I was eating regular candy. I would definitely use this product again with an additional dose of melatonin.
---
Useful and Unique Things to Know About CBDISTILLERY SLEEP GUMMIES
These gummies contain some ingredients I didn't know much about like tapioca syrup, pectin, and citric acid. Tapioca syrup is derived from the cassava or yucca root and is often used as a replacement for corn syrup. Although it has no health benefits, it's a good replacement for people needing to avoid gluten. Pectin is a soluble fiber found in fruits and vegetables and is often used to thicken jellies. Citric acid is derived from citrus fruits, giving them their tart taste. It's often used as a preservative and for flavoring.
---
CBDISTILLERY SLEEP GUMMIES Ratings
In the next sections gradings from 0-100 on our review, these grades add up to give the product's overall score.
PRESENTATION • 100
Informative.
RELIABILITY • 100
Effective sleep aid.
QUALITY • 100
Great combination of CBD and melatonin.
FLAVOR / SMELL / or EASE OF USE• 100
Tastes like candy!
VALUE • 100
Fair price.
---
How CBDISTILLERY SLEEP GUMMIES Stacks Up Against the Competition
CBDistillery Sleep Gummies are one of my new favorite products because they helped me sleep which in turn helped me feel more like a human during the day. I also love how these gummies are fairly priced and tasted great. There's not much I would change about this product to make it more competitive. That said, I'd love a CBD / Melatonin product that contains more melatonin. 2 mg is great if you don't have a hard time staying asleep, but for me, I need a lot more.
---
Disclosure: I received these products gratis so that I could try them and then share my honest opinion with the SOC community. I am employed by Save on Cannabis to write honest reviews and provided a flat rate payment for the writing of the review. SOC may receive recurring affiliate payments for purchases made based on this content.

Our reviewer has arthritis so she is looking for any relief possible, see if the Aspen Green 2000mg hemp tincture helps her with some relief.
Expert review of the NutraCanna CBD Cooling Pain Cream! See how it lived up to our tester's expectations, see photos, and save money with coupons.
RYOT Ceramic Bong Review: Unveiling the Stylish and Functional Ceramic Traveller. Elevate your smoking experience and get exclusive savings.