CBD Review: Infinite CBD Nano Water
Oct 16, 2018 | Romy
Infinite CBD Nano Water
Pros
All Natural Ingredients
Nano Technology For Increased Absorption
Clear & Professional Packaging
Cons
Didn't Feel the Effects
Slightly Bitter Taste
Brand Overview: INFINITE CBD
Infinite CBD sells a variety of products made from the purest, all-natural CBD isolate available. This is the most concentrated form on the market, containing 99% pure CBD. All of their products contain less than .1% THC so you won't get high but still get the health benefits of the cannabis plant. They add no harmful additives or chemicals to their products. Many professional athletes like UFC fighters, cyclists, and soccer players use Infinite CBD to help them train harder and improve during recovery. As an added bonus, the company offers yummy recipes like their homemade CBD Spice Latte. Sign me up!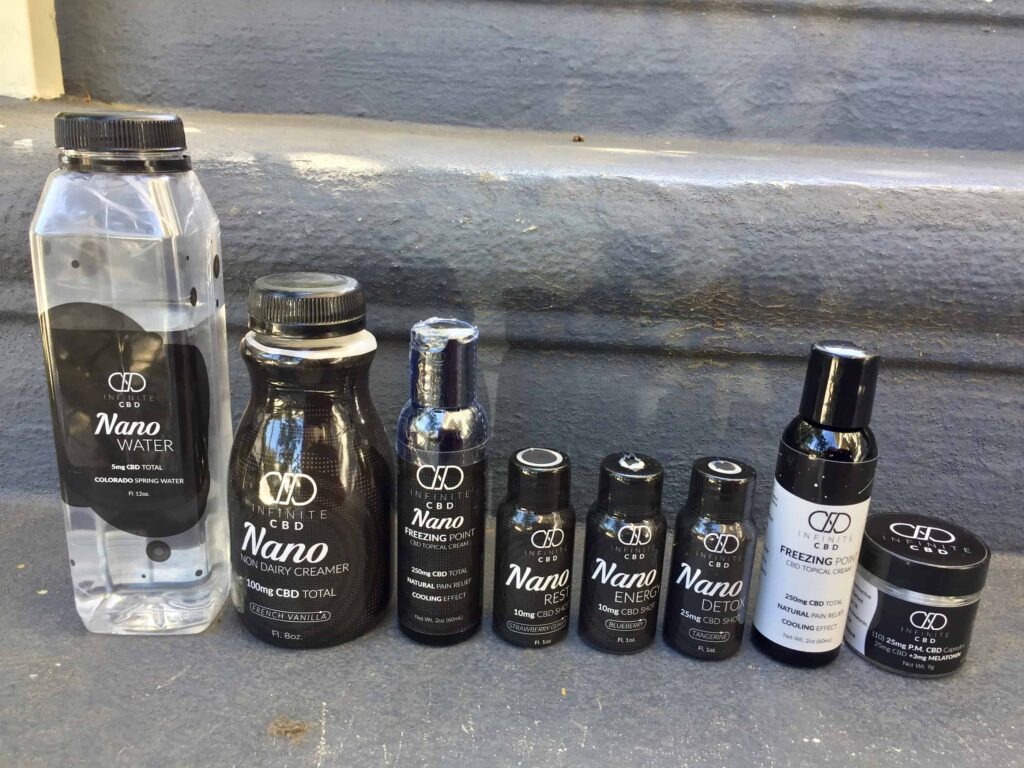 Products: CBD Water, Topical Cream, Shots (Detox, Energy, Rest), Non-Dairy Creamer (French Vanilla, Hazelnut), Gummies, Salve (Stick, Tin), Tinctures, Pure Crystalline, Antiseptic Soap, Isolate Capsules, Isolate Droppers, A.M. Capsules, Afterglow Healing Oil, Pet Droppers, Vape Juice, Hair Plasma (Dry Scalp, Conditioning, Shine, Growth & Thickening), P.M. Capsules, Suppositories, Beard Flux Oil, Freezing Point Cream
Price Range: $$$
About the INFINITE CBD NANO WATER
Nano CBD is different than regular CBD. Nano comes from the Greek nanos which translates as dwarf. The inference here is that nano is small and when used scientifically or in the tech world, refers to something very tiny. Infinite CBD's Nano Water is made via nanotechnology which disperses the molecules into nanoparticles. Smaller than molecules! This allows for the CBD to penetrate into the "blood-brain barrier," for quicker and more effective results. Infinite CBD Nano Water is made with tiny CBD particles that range from .01 to 100 nanometers. So tiny and cute! The water is sourced naturally from springs in the lovely state of Colorado. I've never been, but I like mountains and mountain men, so I think I'd like it.
INFINITE CBD NANO WATER Specifications
5mg CBD Total

12 fl. Oz.

Ingredients: Nano CBD, Colorado Spring Water, Polysorbate

Contains CBD molecules between 50 and 100 nanometers in size, reducing its size by about 1/1000th
How We Tested the INFINITE CBD NANO WATER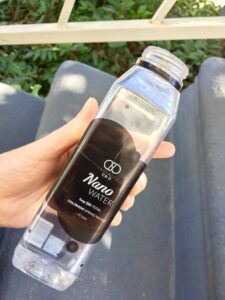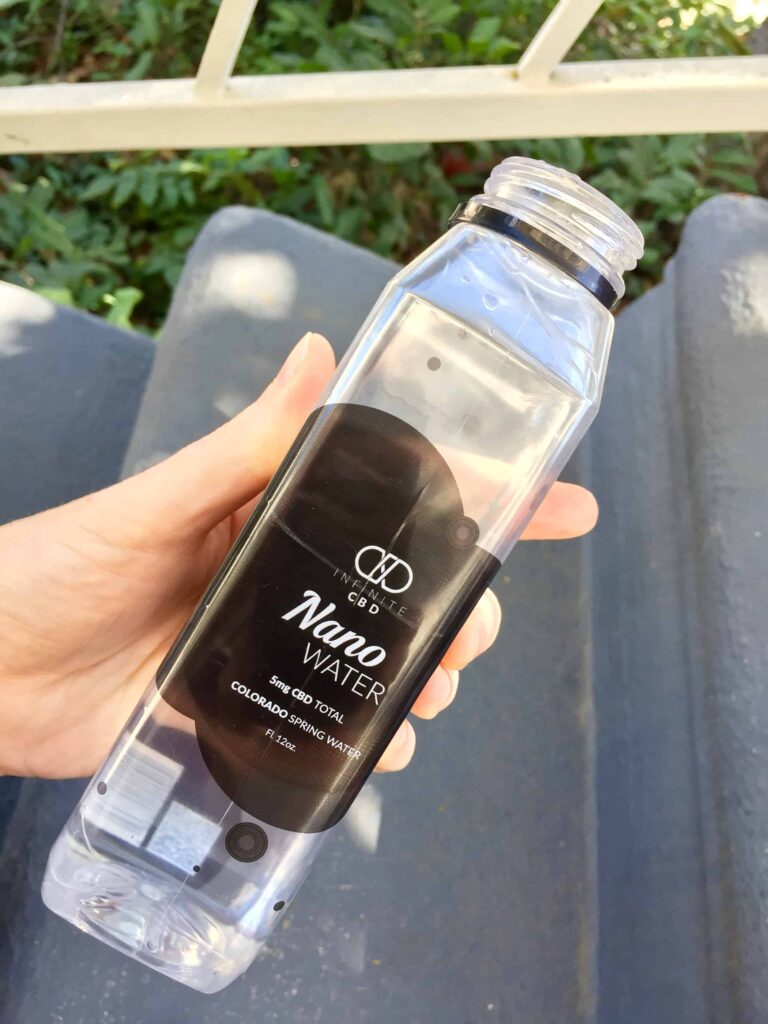 This was my first time trying Infinite CBD brand products AND my first time trying a product that uses nanotechnology. I've tried the EndoWater brand's CBD-infused water, and it has been, to date, my favorite way to consume CBD. I'm an equal opportunity consumer, however, and despite already having a competing brand taking the number one spot in my heart, I looked forward to trying Infinite CBD Nano Water with an open mind. For comparison's sake, the Infinite CBD Nano Water contains 5 mg of CBD made with nanotechnology for faster and more effective absorption while the EndoWater contains 10 mg of non-nano CBD.
I live with chronic nerve and muscle pain, forcing me to work primarily from home. If you struggle with pain, then you're well aware of how it can cause huge interruptions to work. It's hard for me to focus when the only thing I can think about is the pain. When CBD works for me, it relaxes my mind and body. It doesn't take away the pain, but it certainly takes the edge off so I can focus. The morning I tried the Infinite CBD Nano Water was a morning like every other morning. I was in pain and exhausted from a bad night of sleep. I drank the entire bottle and set to work creating ads on Goodreads to promote my new book.
How the INFINITE CBD NANO WATER Worked for Me
Unfortunately, I didn't feel any of the positive effects from the Infinite CBD Nano Water. I gave it a good couple hours before I decided to try 5 mg of the Infinite CBD Nano Non-Dairy Creamer in my Irish Breakfast tea. Since I'm comparing it to my experience using EndoWater (which contains 10 mg), I wanted to give this nano stuff an equal shot. Again, I didn't feel anything. That's not to say this product doesn't work. CBD effects everyone differently. It's possible I just need to take more. I'll try a higher dosage with the Non-Dairy Creamer next time in order to really give this newfangled nanotechnology stuff a fair shot.
Useful and Unique Things to Know About INFINITE CBD NANO WATER
Even if a product doesn't work for me, it doesn't discount the fact that it might help other people. Whenever I find something that's not my cup of tea, I always like to search online for people who have benefited from it. From what I gather after reading through the testimonials on the Infinite CBD website, their products are beneficial mostly in higher dosages, sometimes around 100 mg a day, and often taken over a longer period of time. So while it might not be the best product for short-term relief, it seems like Infinite CBD products have benefited other people struggling with chronic pain.
INFINITE CBD NANO WATER Rating Breakdown
PRESENTATION • 100
Really professional and clear packaging. You can bring these products to work with you.
RELIABILITY • 50
Not reliable for short-term use or in small doses, but others seem to benefit from a higher dose.
QUALITY • 100
All natural ingredients.
FLAVOR • 90
Tastes like water with a subtle, bitter taste.
VALUE • 50
Less effective and costs more than EndoWater.
How the INFINITE CBD NANO WATER Stacks Up Against the Competition
When comparing the Infinite CBD Nano Water to the EndoWater brand, I prefer the latter. The EndoWater is infused with 10 mg of CBD and an hour after drinking a bottle, a warmth crept over me and I felt relaxed. It costs $60 for a 12 pack making them $5 per bottle. A bottle of the Infinite CBD Nano Water, which contains 5 mg of CBD, costs $6.43. If Infinite wants to stay competitive, I recommend offering a higher-dosed water and lowering the price.
Saving Money With INFINITE CBD Coupons
Save money on all enter category name here at Save On Cannabis the World's largest online cannabis coupon code directory.
Disclosure: I received these products gratis so that I could try them and then share my honest opinion with the SOC community. I am employed by Save on Cannabis to write honest reviews and provided a flat rate payment for the writing of the review.  SOC may receive recurring affiliate payments for purchases made based on this content.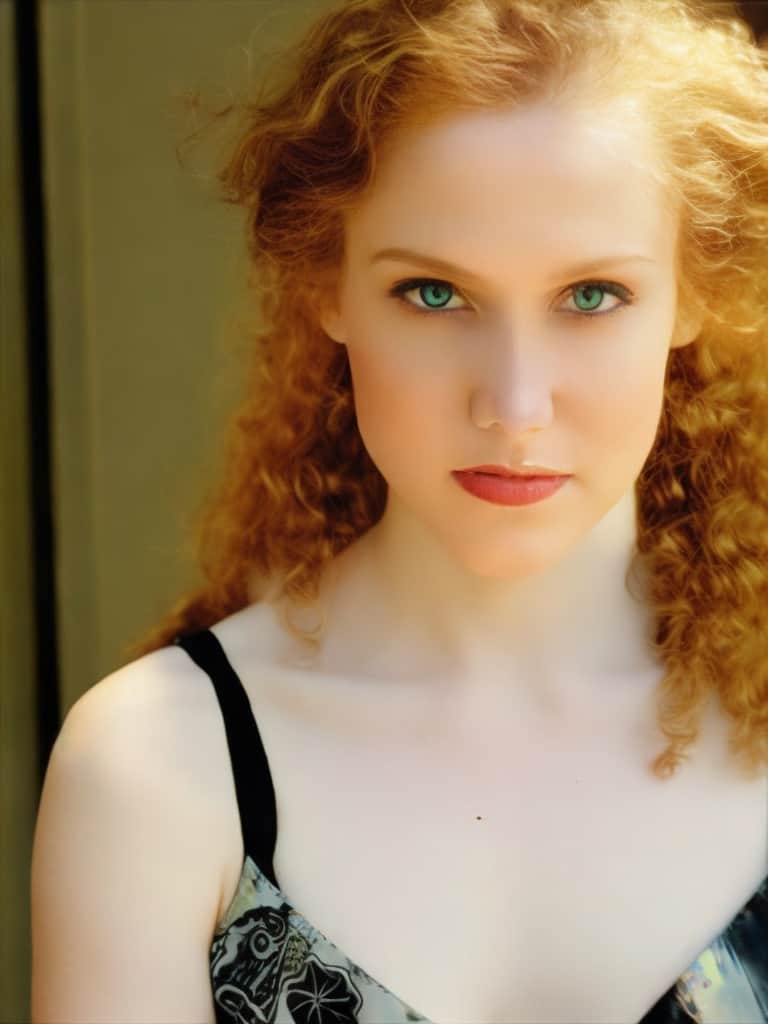 A medicinal cannabis user, utilizing the power of the plant to ease the pains and stresses from long standing conditions that other over the counter or prescriptions could not fix or weren't a natural option like cannabis.  Also, has a background in working directly in the cannabis industry in California within various dispensaries.
Can a tincture full of cannabis oil & CBD be delicious? In this Viobin CBD review of the Orange Cream Tincture, see if it's yummy & useful.
Can CBDMedic cream help back pain that makes it difficult to sit for more than forty-minutes without needing a break? See if it is worth it & helps.
Check out our Steve's Goods CBD/CBG 20:1 Blueberry Tincture review and see how it worked for anxiety & inflammation.