CBD•TRU Review: Pure Full Spectrum CBD Oil 500mg
Feb 1, 2020 | kati
CBD•TRU Pure Full Spectrum CBD Oil 500mg (2 OZ)
Pros
Nice Flavor
Glass Bottle
Easy to Use
Added Terpenes
Cons
Expensive
Lab Sheets Seem to Show It May Not Be Full Spectrum
Pure Full Spectrum CBD Oil 500mg (2 OZ)
Product Review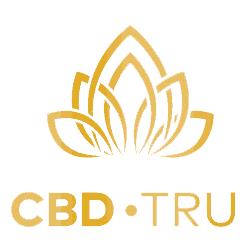 Brand Overview:CBD TRU 500 mg tincture
CBD•TRU takes great pride in creating organic and pure CBD. All of their products are prepared with PURE CBD and hand-selected pure ingredients. Organic, nutritious, and vegan with absolutely no GMOs, carb-free, THC-free, gluten-free, solvents-free, and sugar-free. They also have been awarded the GMP (Good Manufacturing Practice) stamp of approval for quality products. They have the most innovative and effective formulas for sourcing best-in-class CBD products. They are on a mission to help humanity move from illness to wellness.
Products: Topicals,Tinctures, Isolates, Gummies, Capsules.
Price Range ($-$$$$): $$$
---
About CBD TRU 500 mg Tincture

CBD TRU has created an organic and vegan tincture filled with 500 mg of hemp extract without any added gluten, sugar, or carbohydrates. It aids in stress and pain relief without the harsh side effects of chemical-based medicines. This tincture from CBD TRU is non-psychoactive as it is entirely free of THC. Each serving (15 drops) provides 9 mg of pure organic CBD. You can take this tincture under the tongue, or add it to your morning smoothie. Bottled with MCT Oil for maximum absorption and a proprietary soluble protein base for easy digestion, this tincture is truly great for everyone. If you're suffering from stress, anxiety, or pain, give this stuff a try.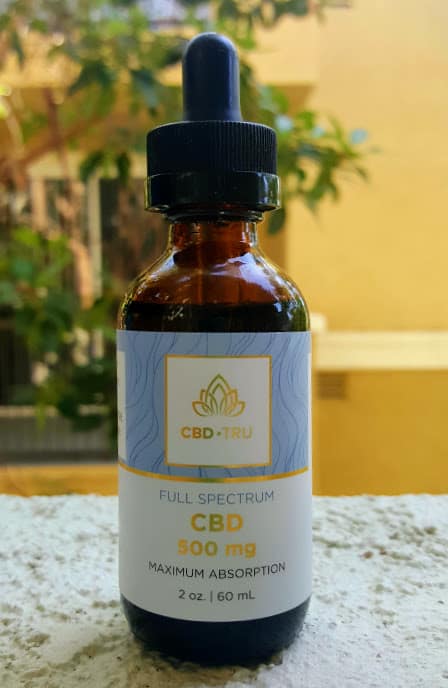 ---
Specifications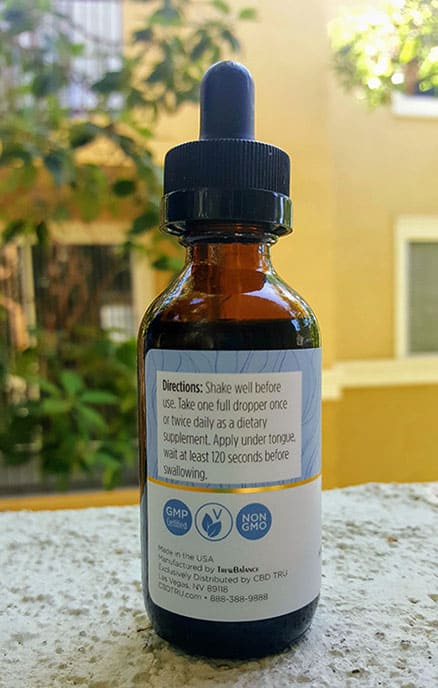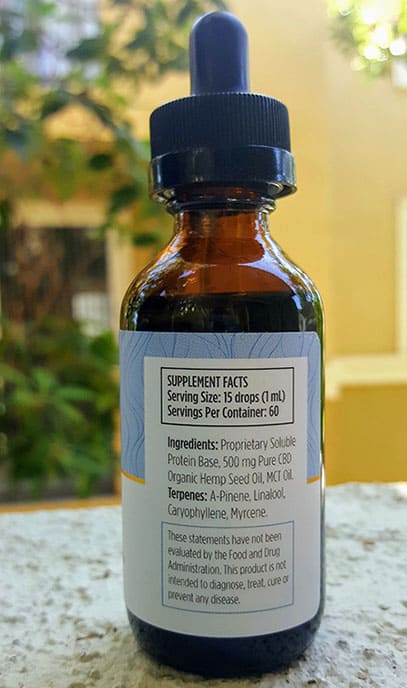 ---
2 oz
Serving Size: 15 drops
Ingredients: Proprietary Soluble Protein Base, 500mg Pure CBD, Organic Hemp Seed Oil, MCT Oil
Servings per Container: 60
Terpenes: A-Pinene, Linalool, Caryophyllene, Myrcene
Non GMO
Vegan
GMP Certified
Lab tested CBD contents 551.126mg per unit
---
How We Tested the Tincture
So I had a long weekend going out dancing and working and my body was pretty upset at me. In particular my low back and my feet. I was looking for some moderate pain relief as I was going out to another show in a few hours. I took three big dropperfuls of this tincture as I normally require a larger dose. I didn't want to take any advil or tylenol because I felt like I had already taxed my liver and kidneys with drinking over the weekend. The flavor was a pleasant surprise. Reminds me of taking a wheatgrass shot, which I like the earthy flavor of, as compared to the usual medicinal flavor of CBD.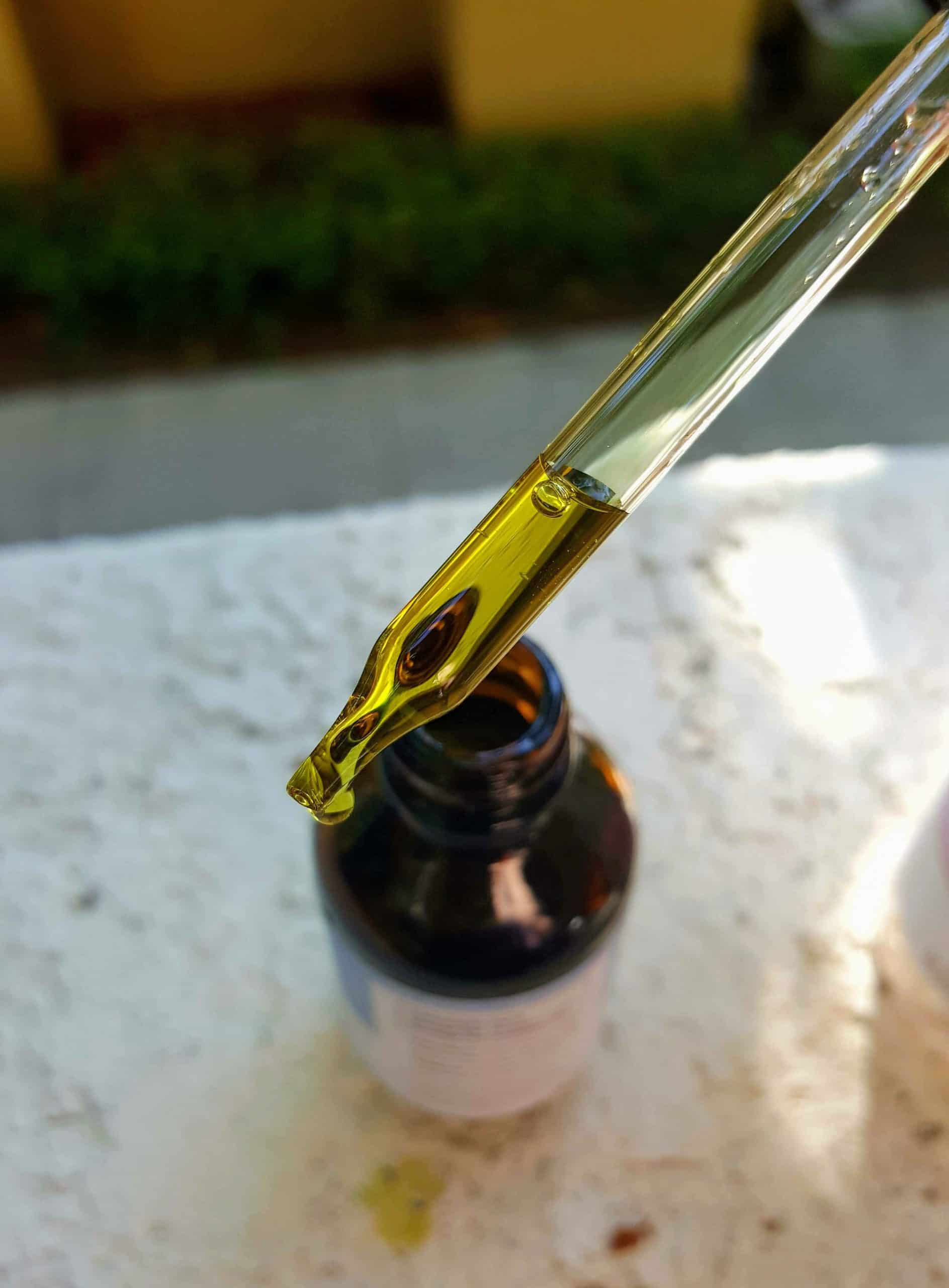 ---
How the Tincture Worked for Me
The bottle recommends holding the tincture under your tongue for two minutes but I've always struggled with holding oils in my mouth. I held it in as long as I could, chugged some water and headed out the door. I got to the venue about twenty minutes later and made my way onto the crowded dance floor. I was feeling a lot better by this point and could no longer feel the tension in my back and feet. I danced for a good two hours and then returned home, still pain free. I'm really glad I went with a natural pain reliever. I will definitely be reaching for this bottle over the Advil next time.
---
Useful and Unique Things to Know About CBD TRU 500mg Tincture
CBD TRU really goes above and beyond ingredient wise. The added terpenes including: A-Pinene, Linalool, Caryophyllene, and Myrcene, help to set this product apart from the competition. The proprietary protein base and the MCT Oil aid in maximum absorption and easy digestion so it starts working as quickly as possible. This tincture is pretty thin so it drops out of the dropper even when you're not squeezing it, so be careful.
---
CBD TRU 500mg Tincture Ratings
In the next sections gradings from 0-100 on our review, these grades add up to give the product's overall score.
PRESENTATION • 100
Appealing bottle.
RELIABILITY • 100
Does what it's supposed to.
QUALITY • 100
Good organic product.
FLAVOR / SMELL / or EASE OF USE • 95
Grassy flavor, ok if you like wheat grass, could be off putting to others
.
VALUE • 80
Expensive compared to market
---
How CBD TRU 500mg Tincture Stacks Up Against the Competition
This product is pretty expensive compared to other tinctures on the market. I feel like CBD TRU's own CBD Gummies are a much better value, at 750mg per bottle for $49, as compared to this tincture which is 500mg for $99.99. I do really love the added terpenes in this for that extra boost of health benefits though. My biggest concern with this product is that it claims to be full-spectrum but on the lab sheets online the only cannabinoid present is CBD. CBD TRU should be careful with how they're labeling their products if they want to remain compliant.
---
Saving Money With Our Verified CBD TRU Coupons
Save money on all Cbd Tinctures , Cbd here at Save On Cannabis the World's largest online cannabis coupon code directory.
---
Disclosure: I received these products gratis so that I could try them and then share my honest opinion with the SOC community. I am employed by Save on Cannabis to write honest reviews and provided a flat rate payment for the writing of the review. SOC may receive recurring affiliate payments for purchases made based on this content.

Save on CBD•TRU Review: Pure Full Spectrum CBD Oil 500mg
Sorry, no coupons were found.
Expert review of the NutraCanna CBD Cooling Pain Cream! See how it lived up to our tester's expectations, see photos, and save money with coupons.
Can the Charlotte's Web Mint Chocolate Hemp Extract help our reviewer ease her stresses during Finals? Find out how her experience was first hand.
How does CBD lotion work on your skin? Is it worth trying? Our reviewer tested out the Enflower CBD Eye Cream on her eyes and face, see if it worked.