CBD Review: Green Roads – Relax CBD Bath Bomb
Sep 11, 2020 | SOC
GREEN ROADS 150 MG RELAX CBD BATH BOMB - EUCALYPTUS & LAVENDER
Pros
Smells delightful
Easy to use
Contains essential oils
THC-free
Green Roads – Relax Bath Bomb
Product Review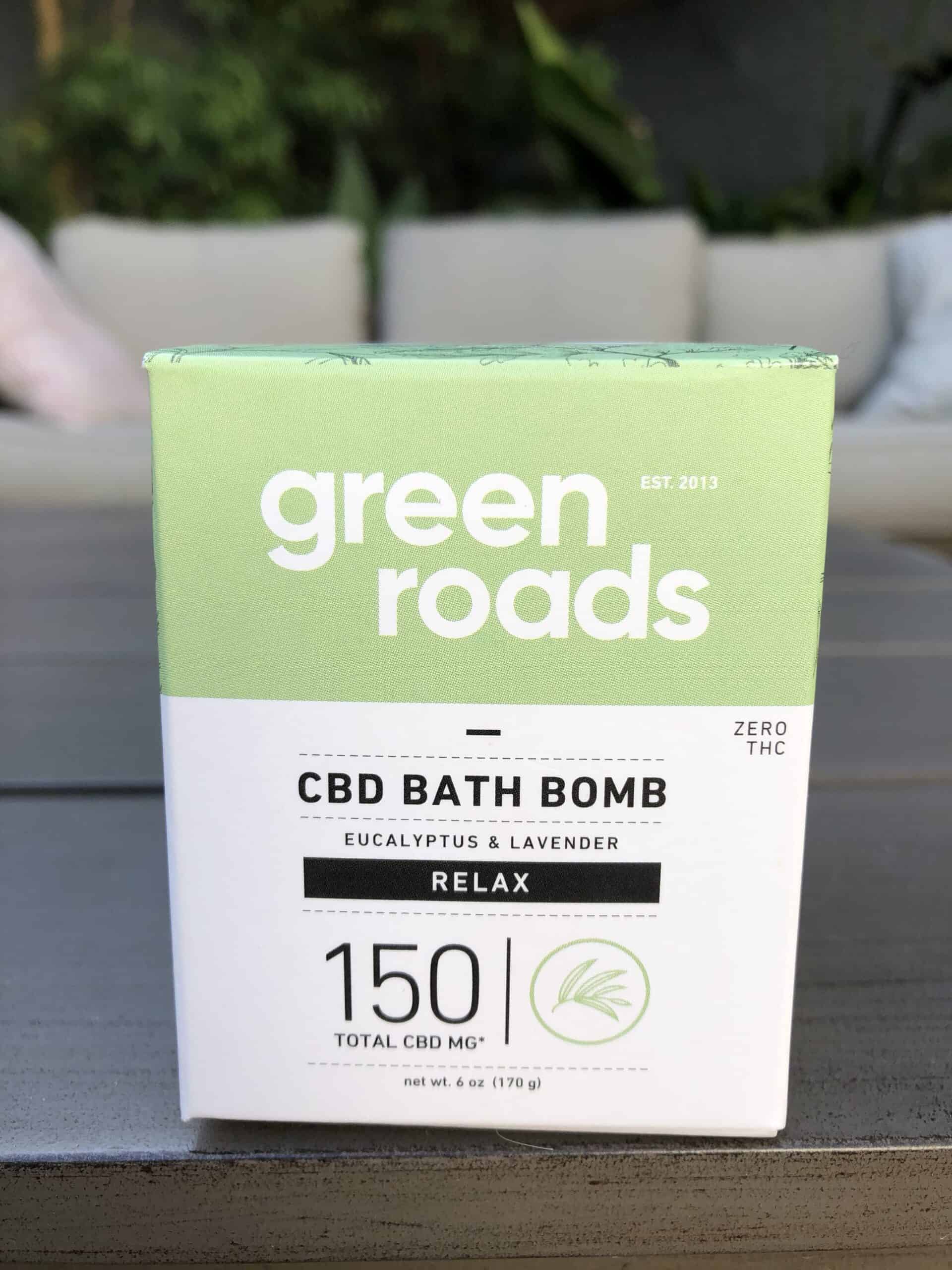 Brand Overview: GREEN ROADS
Green Roads has grown into one of the leading manufacturers of CBD in the industry. The company is one of the first in the US to use licensed pharmacists to formulate its CBD products. They want to offer patients an all-natural way to health and healing. Green Roads has a huge product line to meets a variety of their customer's needs. From their edibles, concentrates, oils, and animal tinctures, they use the purest form of CBD on the market.
What sets them apart from many other companies is their commitment to excellence. Every three months, Green Roads has every product tested for purity and potency by a third-party lab, so you get quality and consistency every time.
Products: CBD Oil, Candies (Gummy Bears, Fruit Bites, Relief Toads, Froggies, Night Time Gummies, Strawberry Chews, Grape Chews), Capsules, Terpenes Oil Drops, Pain Cream, Skin Relief Cream, On-The-Go Edibles (Froggies and Fruit Bites), Daily Dose Droppers, Syrups, Oil for Pets, Concentrates, Tea, Coffee, and Bundles.
Price Range ($-$$$$): $$
---
About GREEN ROADS 150 MG RELAX CBD BATH BOMB – EUCALYPTUS & LAVENDER
Green Roads Relax CBD Bath Bomb comes from their Indulgence Line which includes different smelling bath bombs and essential oils. The company offers a spa-like experience with this CBD-infused bath bomb that contains eucalyptus and lavender essential oils. You can also get this bath bomb in lavender; orange, lavender, and lemon; peppermint and lemon; and ylang ylang. If you can't decide which one to get, you can always purchase a two-pack. This bath bomb supports a more balanced and calm existence. Just drop it into your bath and let it dissolve you into relaxation.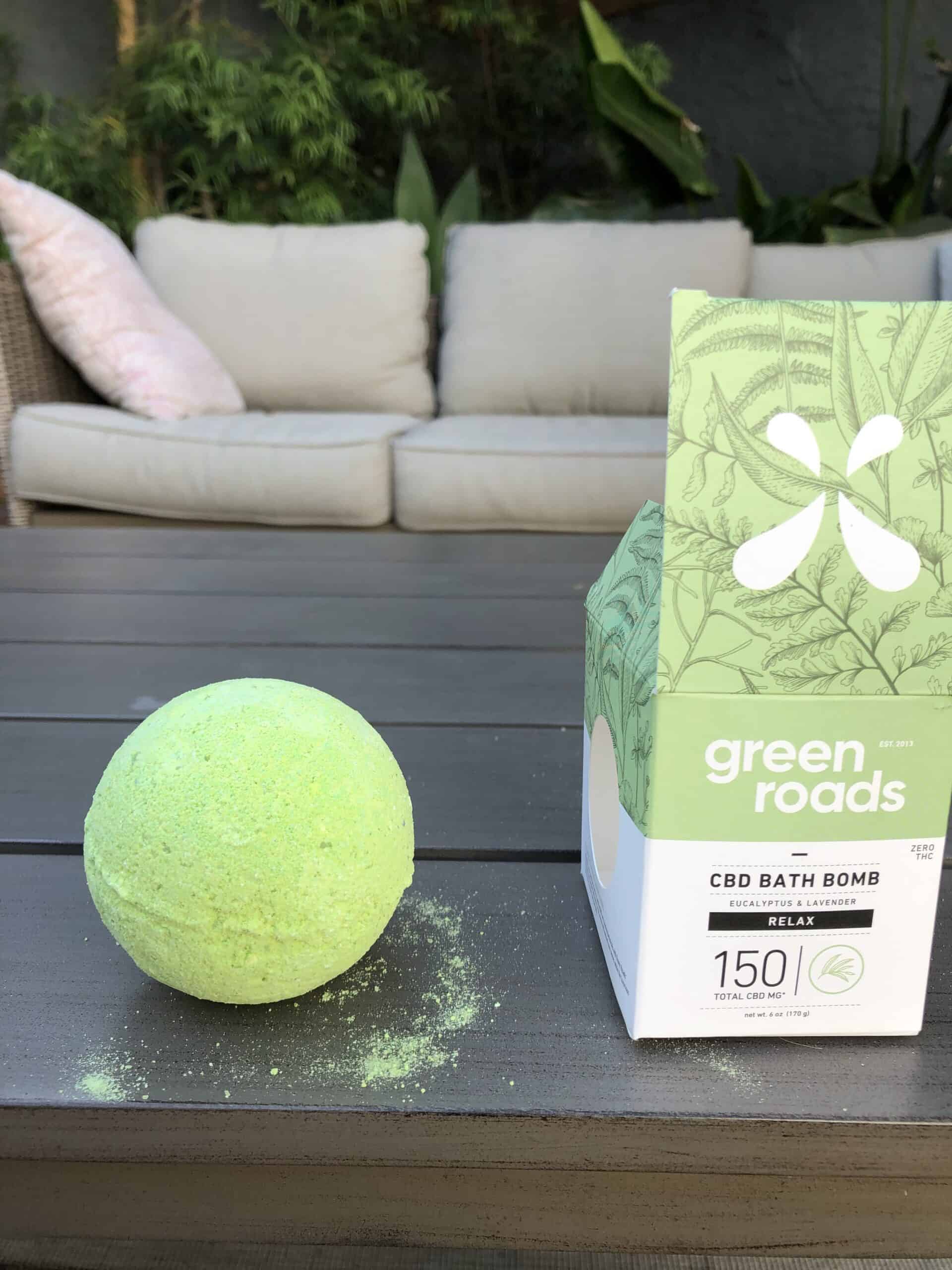 ---
GREEN ROADS 150 MG RELAX CBD BATH BOMB – EUCALYPTUS & LAVENDER Specifications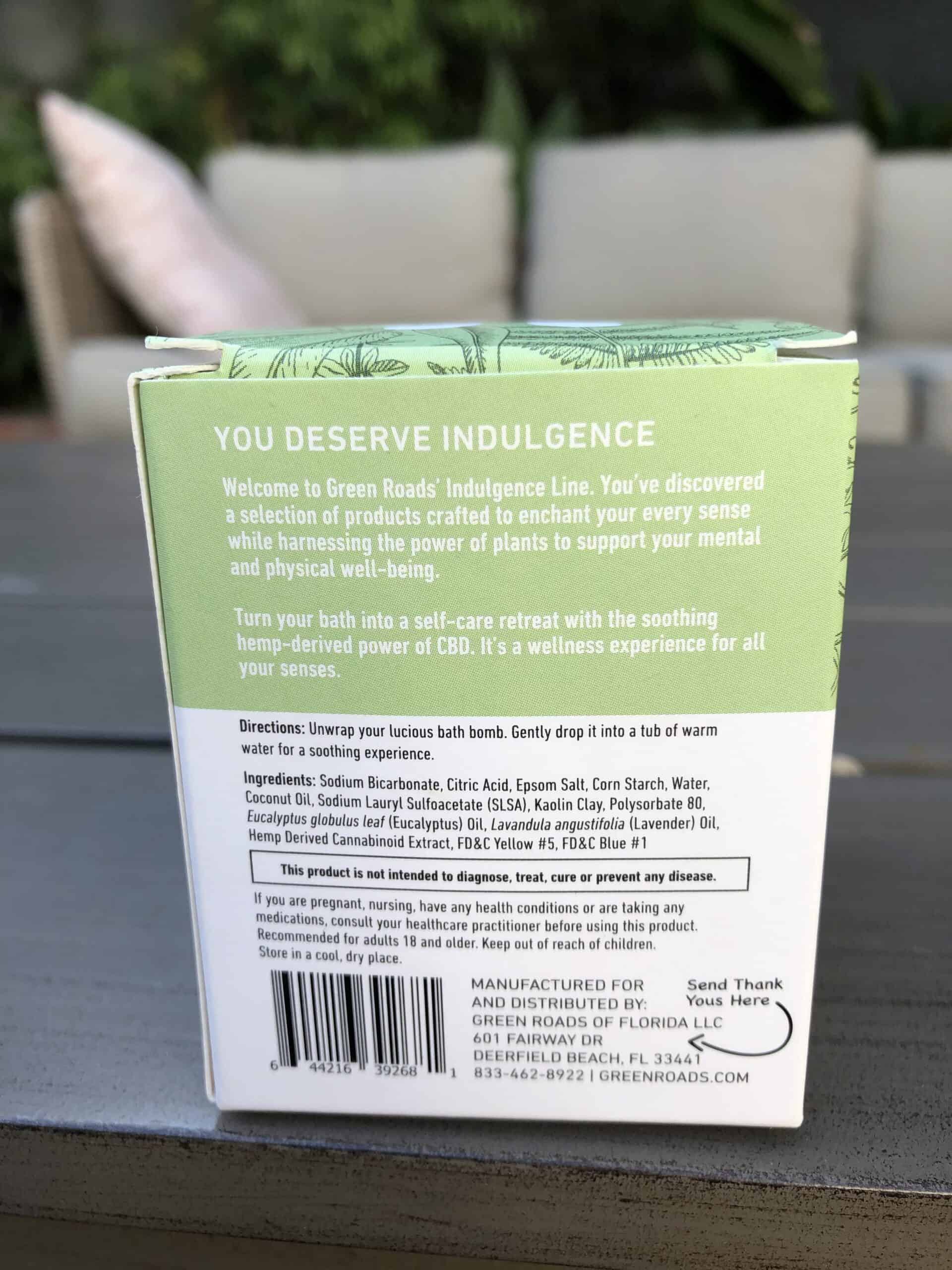 150 mg CBD
6 oz (170 g)
Zero THC
Ingredients:Sodium Bicarbonate, Citric Acid, Epsom Salt, Corn Starch, Water, Coconut Oil, Sodium Lauryl Sulfoacetate (SLSA), Kaolin Clay, Polysorbate 80, Eucalyptus Oil, Lavender Oil, Hemp Derived Cannabinoid Extract, FD&C Yellow #5, FD&C Blue #1
---
How We Tested the GREEN ROADS 150 MG RELAX CBD BATH BOMB – EUCALYPTUS & LAVENDER
I've been working out more lately. Being indoors due to the pandemic has gotten me addicted to physical therapy and yoga videos on youtube. I wanted to enjoy this CBD bath bomb after a rigorous yoga video for a bit of relaxation. I started the bath and after filling it up a little bit with hot water, got in along with the bath bomb.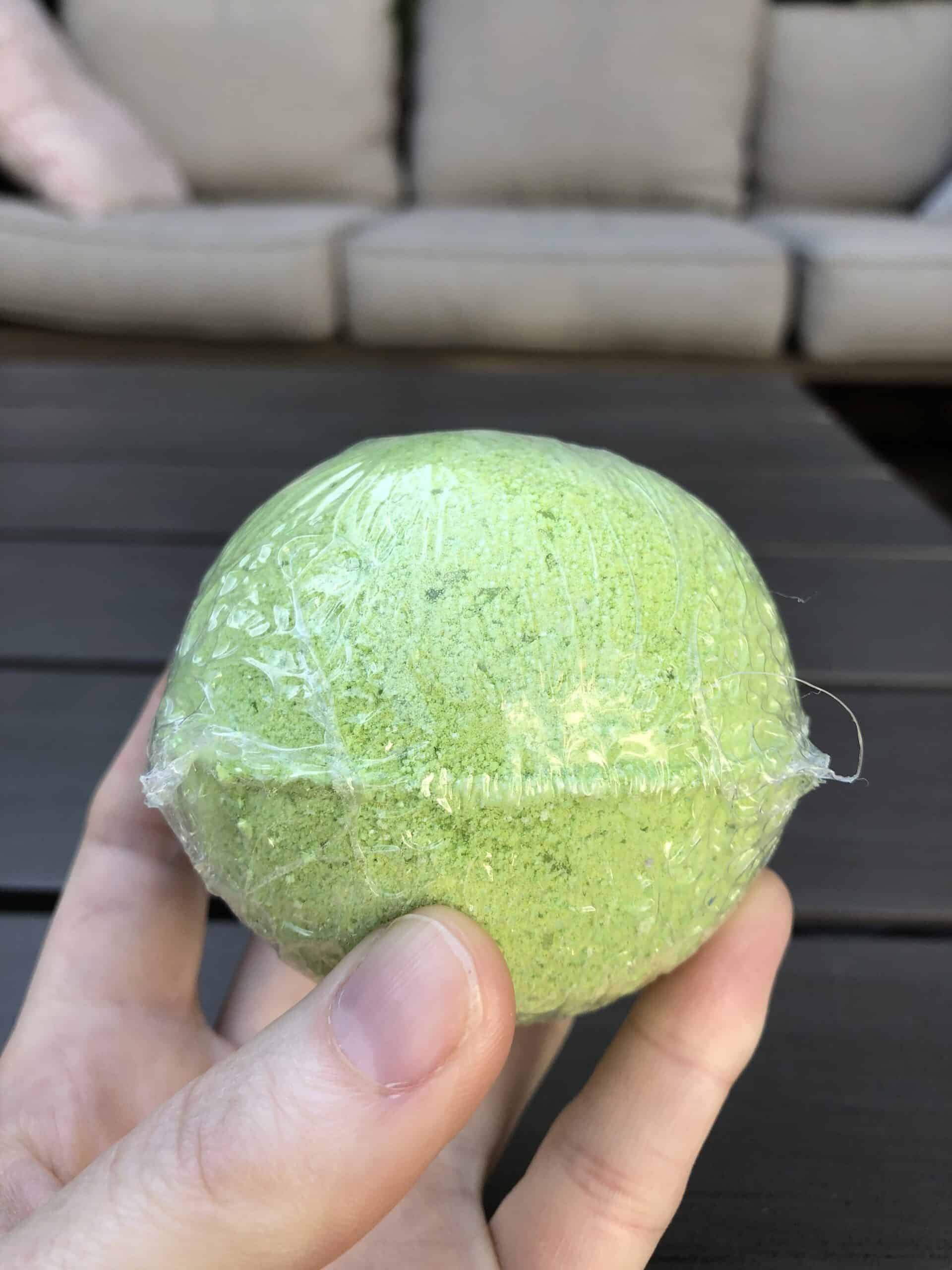 ---
How the GREEN ROADS 150 MG RELAX CBD BATH BOMB – EUCALYPTUS & LAVENDER Worked for Me
The bath bomb dissolved quickly making the bathroom smell like a spa. The scent was natural and not too overwhelming. I noticed the scent of lavender much more than the eucalyptus. After soaking for 15 – 20 minutes my muscles and joints were soothed and relaxed. This lasted for a good hour even after the bath, making me feel like a new person. I would love to try their other scents, particularly the ylang ylang.
---
Useful and Unique Things to Know About GREEN ROADS 150 MG RELAX CBD BATH BOMB – EUCALYPTUS & LAVENDER

Besides the calming CBD, this bath bomb contains eucalyptus and lavender oil both for their scents and health benefits. Both of them help bring about a sense of calm and peace of mind. They're ingredients found in many CBD topicals and non-CBD topicals for a healthy and natural way to feel better.
---
GREEN ROADS 150 MG RELAX CBD BATH BOMB – EUCALYPTUS & LAVENDER Ratings
In the next sections gradings from 0-100 on our review, these grades add up to give the product's overall score.
PRESENTATION • 100
Pretty packaging and informative.
RELIABILITY • 100
Relaxing.
QUALITY • 100
Nice ingredients.
FLAVOR / SMELL / or EASE OF USE • 100
Smells like lavender.
VALUE • 85
Somewhat expensive.
---
How GREEN ROADS 150 MG RELAX CBD BATH BOMB – EUCALYPTUS & LAVENDER Stacks Up Against the Competition
I loved this bath bomb. It smelled amazing and really helped me relax and soothed my joints and muscles after a workout. My one complaint is that it only lasts for one bath, while I've found other CBD-infused bath bombs that last for two, and cost less or about the same. Since bath bombs are generally single-use items, I think companies would sell more if they cost less.
---
Saving Money with Our Verified GREEN ROADS Coupons
Save money by using our verified CBD Bath Bombs here at Save On Cannabis the World's largest online cannabis coupon code directory.
---
Disclosure: I received these products gratis so that I could try them and then share my honest opinion with the SOC community. I am employed by Save on Cannabis to write honest reviews and provided a flat rate payment for the writing of the review. SOC may receive recurring affiliate payments for purchases made based on this content.

Sorry, no coupons were found.
Thinking of CBD for your pet, read our hands on review of the CBD Pet oil. See how it worked for our pets and also get coupon codes to save.
In this Pure Relief review we got to test out the hemp CBD pre-rolled joints. See if they gave us the ease and relief they claim to offer.
Hands-on review of the 710Life eNail from our expert reviewers. See if you should spend your money on this dabbing eNail.