Vital Plan Select Review – Joint's CBD Muscle Rub
Jun 5, 2020 | Romy
VITAL PLAN SELECT JOINT & MUSCLE RUB
Product Review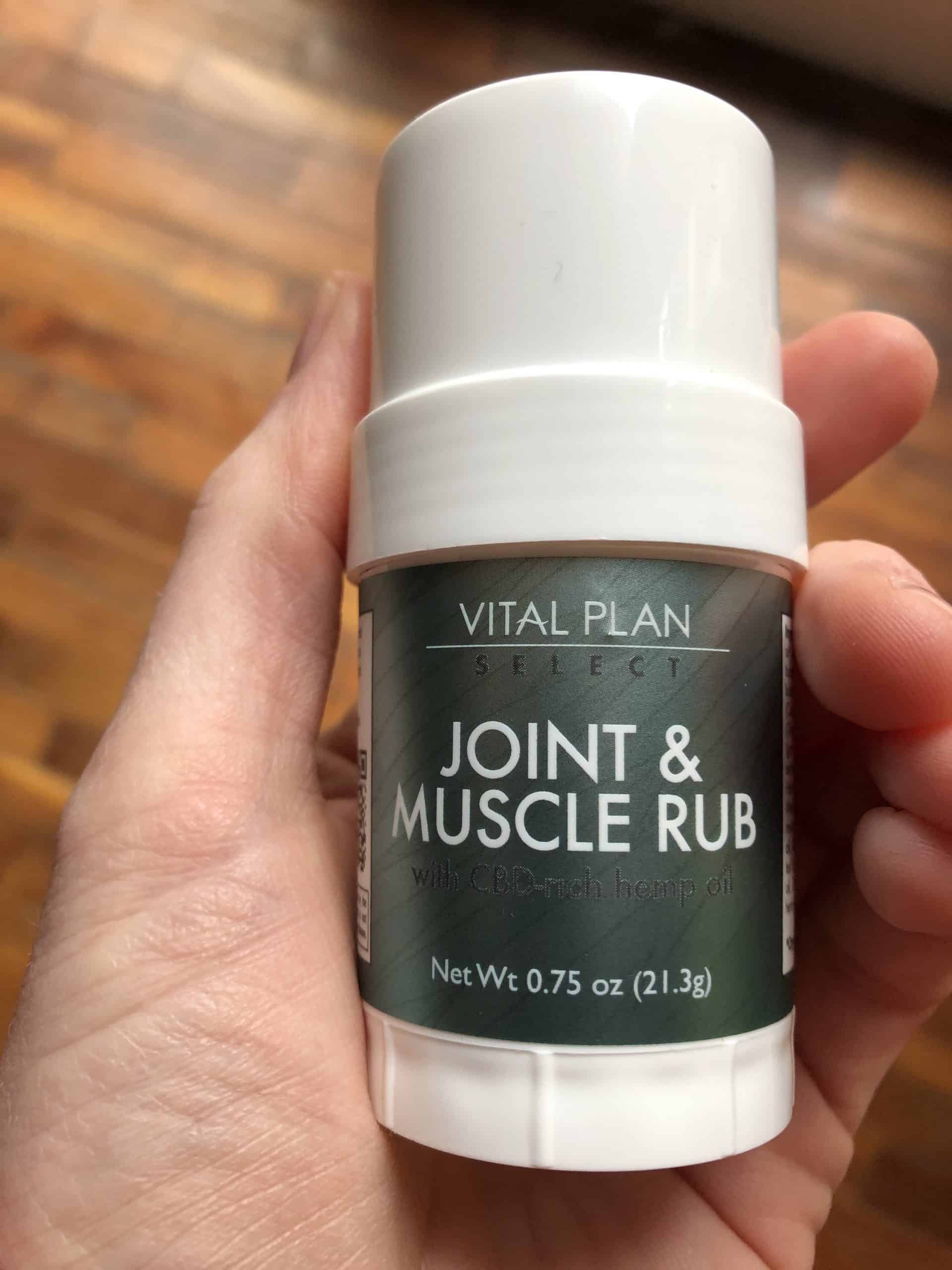 Brand Overview: Vital Plan Select
The faces behind herbal supplement company Vital Plan Select is their medical director, Dr. Bill Rawls, and his daughter and CEO, Braden Rawls. The father-daughter duo wanted to create a line of hemp products that have high standards of quality and effectiveness. When Dr. Rawls developed health issues, he saw how many herbal supplements changed his life, and wanted to create a company that doesn't just try to sell you their pills and potions but to include medical advisors, herbalists, and even yoga teachers on staff to answer all your questions about health and wellness. All of their products are third-party tested and Vital Plan Select is a B Corporation, meaning they've been certified as meeting the highest stands in "social and environmental performance, accountability, and transparency.
Products: Tinctures, Topicals.
Price Range ($-$$$$): $$$
---
About VITAL PLAN SELECT JOINT & MUSCLE RUB

Vital Plan Select's topical can help relieve pain in your joints and muscles from chronic issues or injuries. It can also help bring relief when your muscles are sore after a hard workout. The company has combined 100 mg of full-spectrum CBD with other healing ingredients like arnica, eucalyptus, and menthol. The rub contains less than .3% of THC and absorbs easily into your skin to work deep into your muscles and joints. You can use this easy-to-apply muscle rub on your painful areas every two to four hours, but be careful to avoid your eyes. It should take only 15 – 20 minutes to start giving you relief.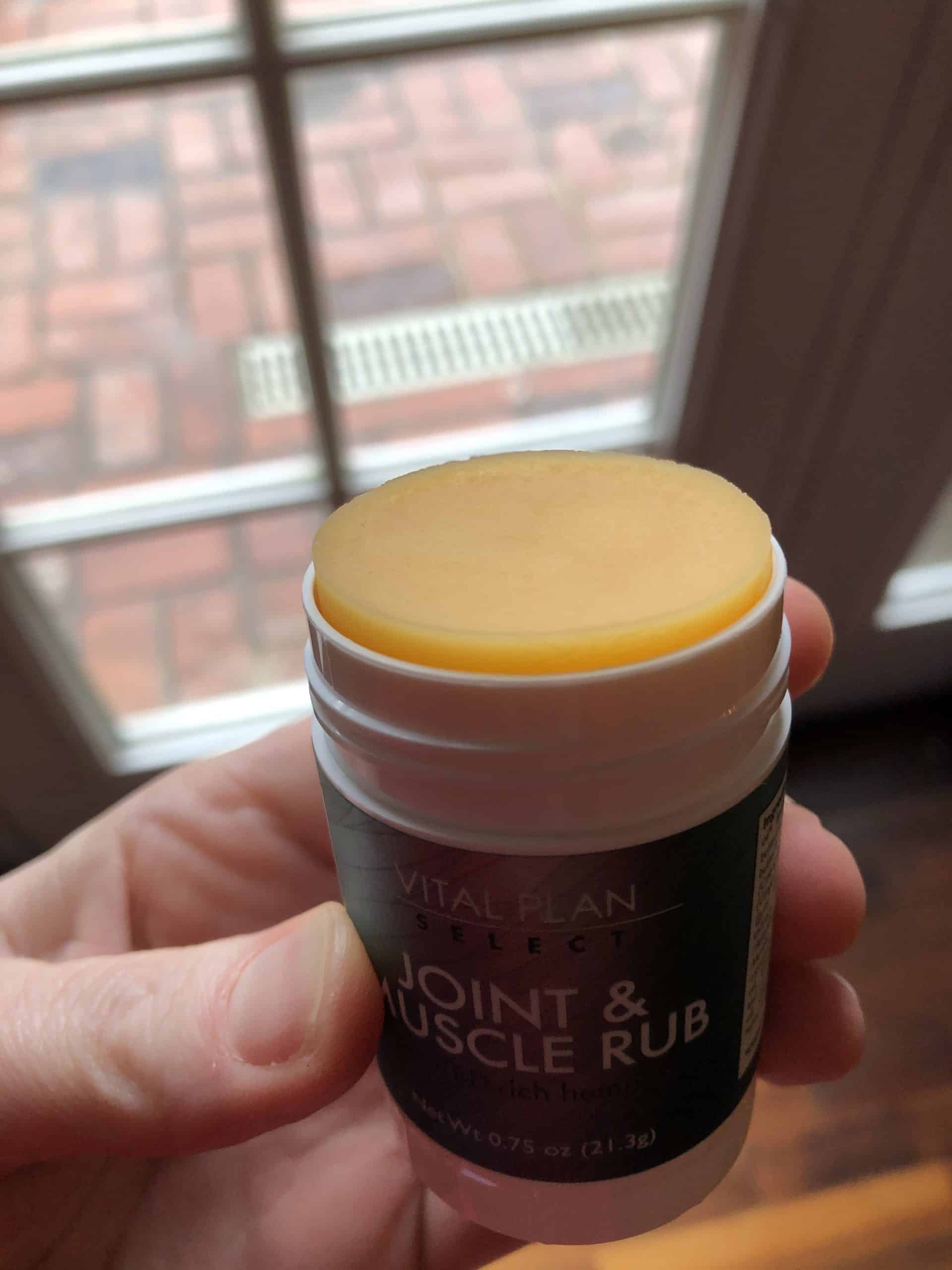 ---
VITAL PLAN SELECT JOINT & MUSCLE RUB Specifications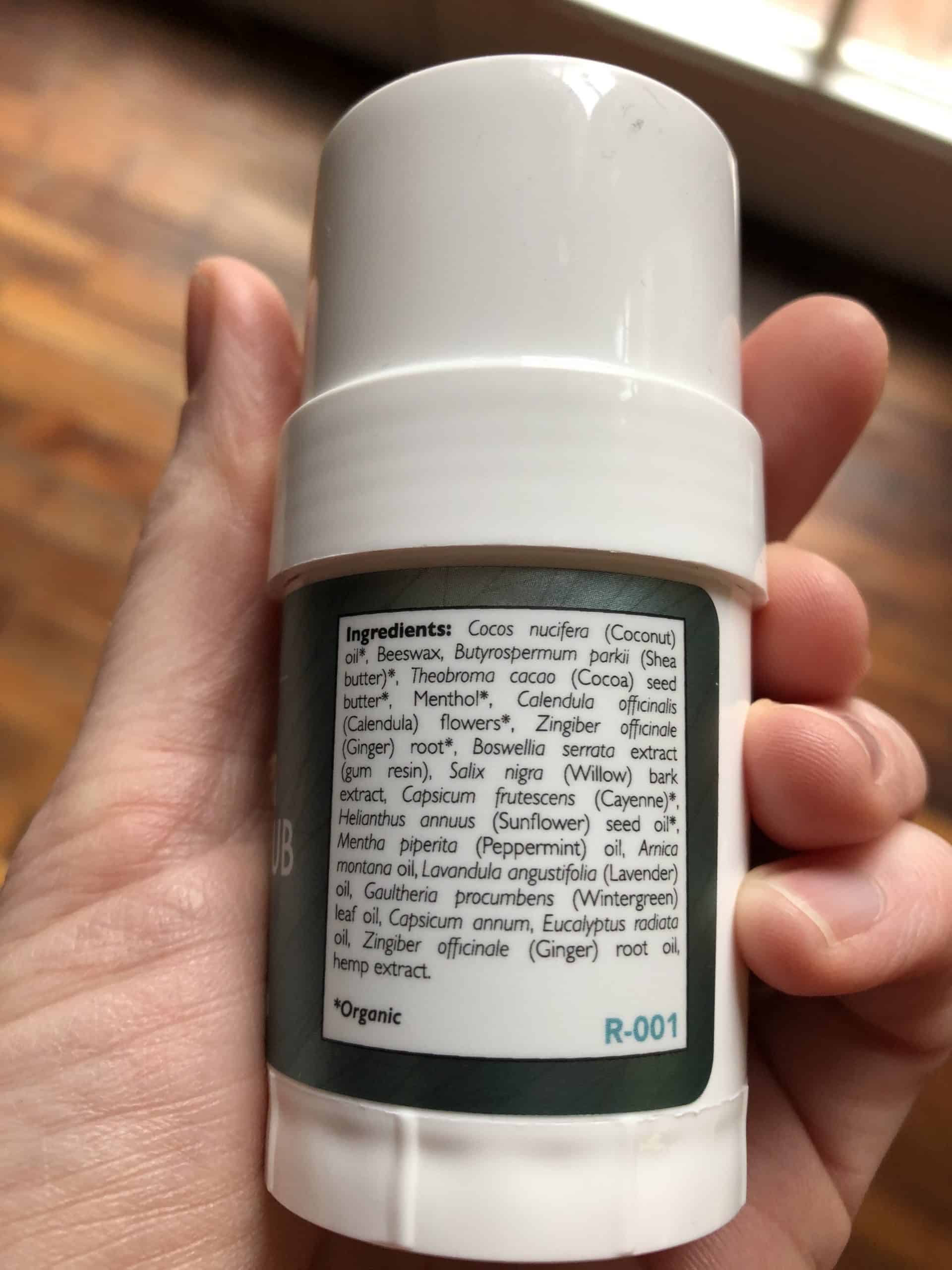 ---
How We Tested the VITAL PLAN SELECT JOINT & MUSCLE RUB
I have chronic pain in my front thighs, low back, and hips. Some of it's still undiagnosed, but some of it's from surgery and some of it's from being hit by a car. The pain prevents me from sitting or driving for long, and has messed up my sleep so bad, my therapist says I'm, "Sleep-disordered." I'm obsessed with topicals, so I was excited to try the Vital Plan Select Joint & Muscle Rub to see if it could bring me some relief. I applied some to my affected areas before class and work, then again at night before bed. I was hoping the relief would help me sit longer during class, and fall asleep easier at night.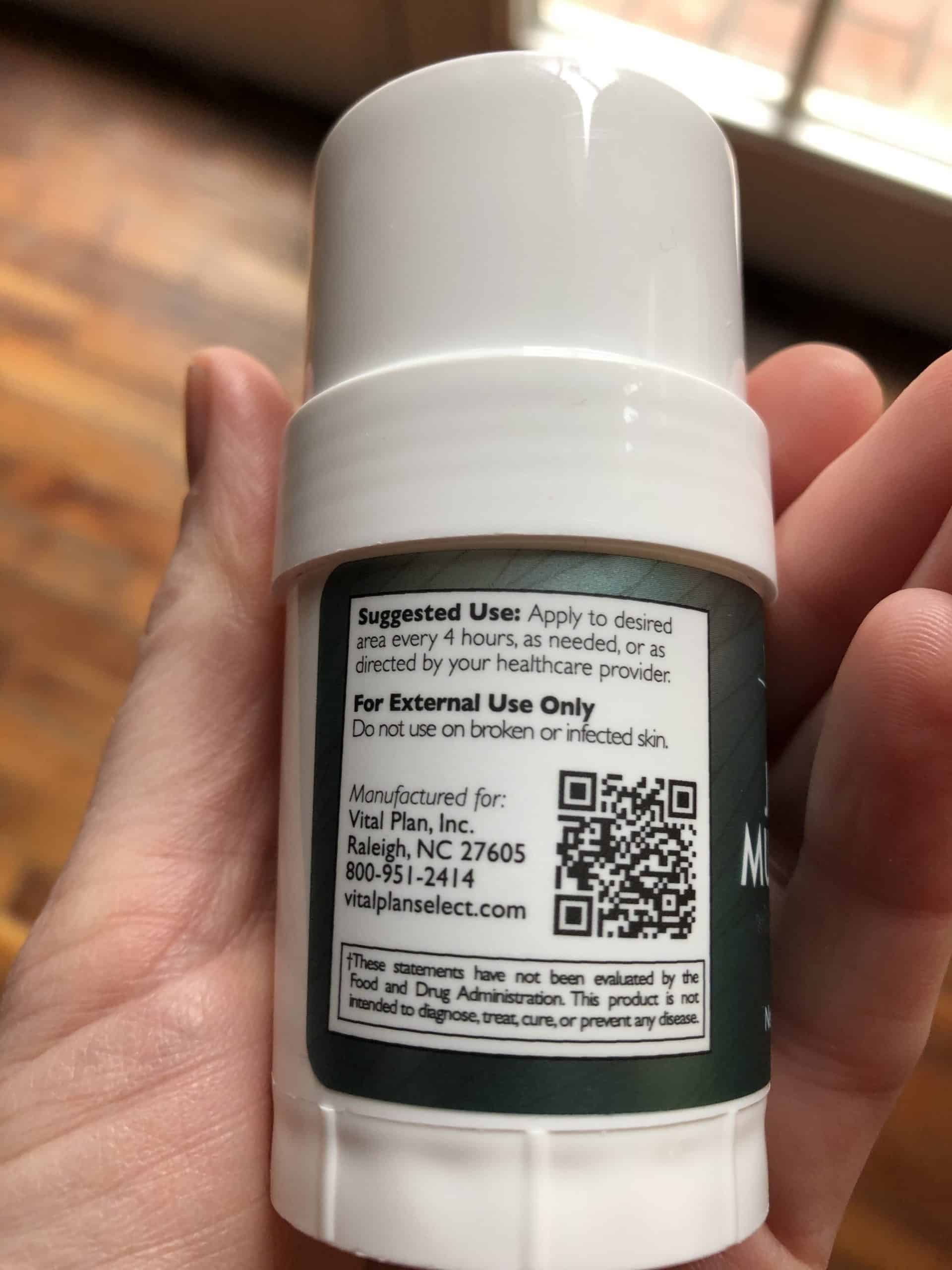 ---
How the VITAL PLAN SELECT JOINT & MUSCLE RUB Worked for Me

I felt a subtle cooling sensation on the affected areas after applying the Vital Plan Select Joint & Muscle Rub. It helped bring relief to my front thighs and left hip where I have chronic mild pain. Normally, the pain in my legs makes it tough to sleep, but this topical helped bring some relief and much-needed rest. The topical wasn't as effective for the more severe pain in my low back and right hip. I have found that it takes a really strong, and extra icy topical, to bring me relief in those places. I'd love it if the company would come up with something with a little more oomph because the ingredients are so amazing.
---
Useful and Unique Things to Know About VITAL PLAN SELECT JOINT & MUSCLE RUB

This topical contains several healing ingredients besides CBD, including but not limited to arnica, ginger root oil, cayenne, and Boswellia extract. Arnica is used for pain, bruising, and swelling. Ginger root oil helps with redness, fights bacteria, and is great for the skin and circulation. Cayenne relieves muscle and joint pain. Boswellia is used against inflammation. With so many other ingredients like Menthol and Eucalyptus, this is a great option in pain-relief.
---
VITAL PLAN SELECT JOINT & MUSCLE RUB Ratings
In the next sections gradings from 0-100 on our review, these grades add up to give the product's overall score.
PRESENTATION • 100
Simple and informative.
RELIABILITY • 90
Relieves mild pain.
QUALITY • 100
Superb ingredients. It even has arnica!
FLAVOR / SMELL / or EASE OF USE • 80
Mildly herbal smell. I didn't care for it.
VALUE • 80
More expensive than other great topicals.
---
How VITAL PLAN SELECT JOINT & MUSCLE RUB Stacks Up Against the Competition

While Vital Plan Select's topical was effective in relieving my more mild pain from arthritis and radiculopathy, there are other topicals that cost less and are more effective for treating more severe pain. I might add more menthol and/or camphor to the product to kick up its iciness, which helps with more severe pain. And $29 is a lot of money to spend on something that's only .75 ounces. That said, not a lot of topicals are using arnica and the plethora of herbs that you'll find in the Vital Plan Select Joint & Muscle Rub.
---
Saving Money With our Verified VITAL PLAN SELECT JOINT & MUSCLE RUB Coupons
Save money by using our verified Topicals here at Save On Cannabis the World's largest online cannabis coupon code directory.
---
Disclosure: I received these products gratis so that I could try them and then share my honest opinion with the SOC community. I am employed by Save on Cannabis to write honest reviews and provided a flat rate payment for the writing of the review. SOC may receive recurring affiliate payments for purchases made based on this content.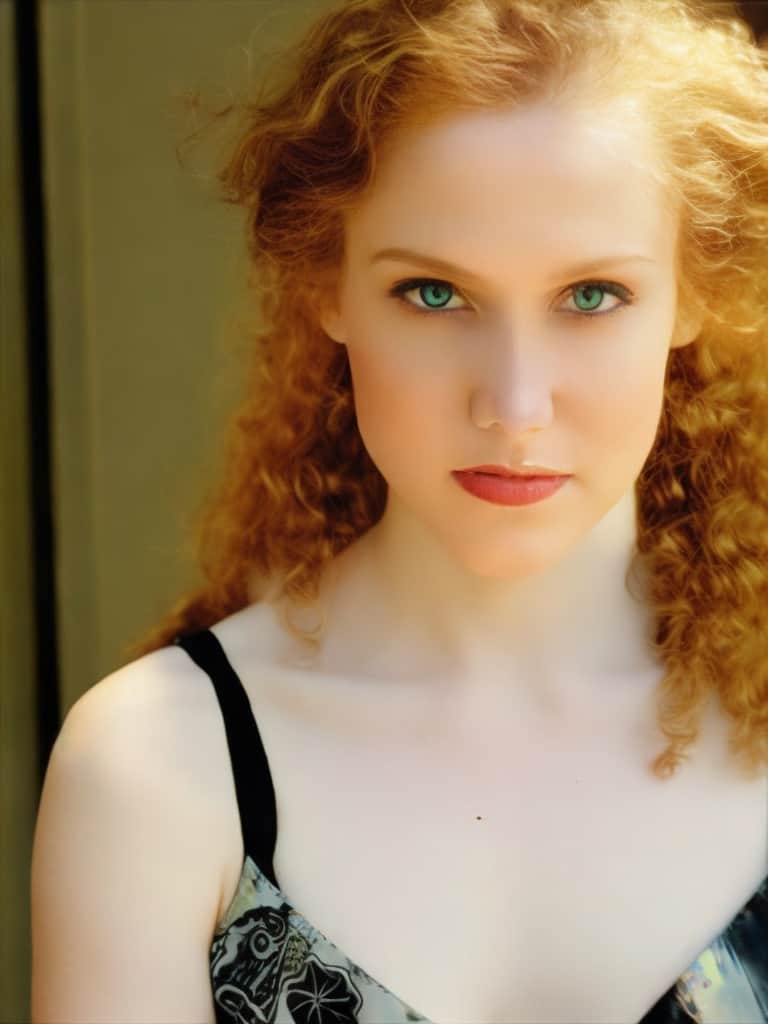 A medicinal cannabis user, utilizing the power of the plant to ease the pains and stresses from long standing conditions that other over the counter or prescriptions could not fix or weren't a natural option like cannabis.  Also, has a background in working directly in the cannabis industry in California within various dispensaries.
Save on Vital Plan Select
Winter is a pain on our lips and we need help! Luckily, we were able to test the CBDistillery Lip Balm with CBD...see how it worked.
Beautifully branded Jupiter CBD tincture has the looks, but does it do the job? See how the Jupiter Organic CBD 1350mg drops work.
Is the Calm By Wellness Strawberry Lemon-aid CBD tincture as delicious & useful as it sounds? Our reviewer puts it to the test.