CBD Review: Savage CBD – Pink Grapefruit 1500mg Tincture
Aug 6, 2019 | Romy
CBDCBD CandyCBD FlowersCBD GummiesCBD Pet ProductsCBD TincturesCBD TopicalsCBD Vape OilsSave On Cannabis Verified
Savage CBD - Pink Grapefruit 1500mg Tincture
Pros
Reduces pain
Relieves anxiety
Fair price
Good flavor
Natural
SAVAGE CBD PINK GRAPEFRUIT TINCTURE
Product Review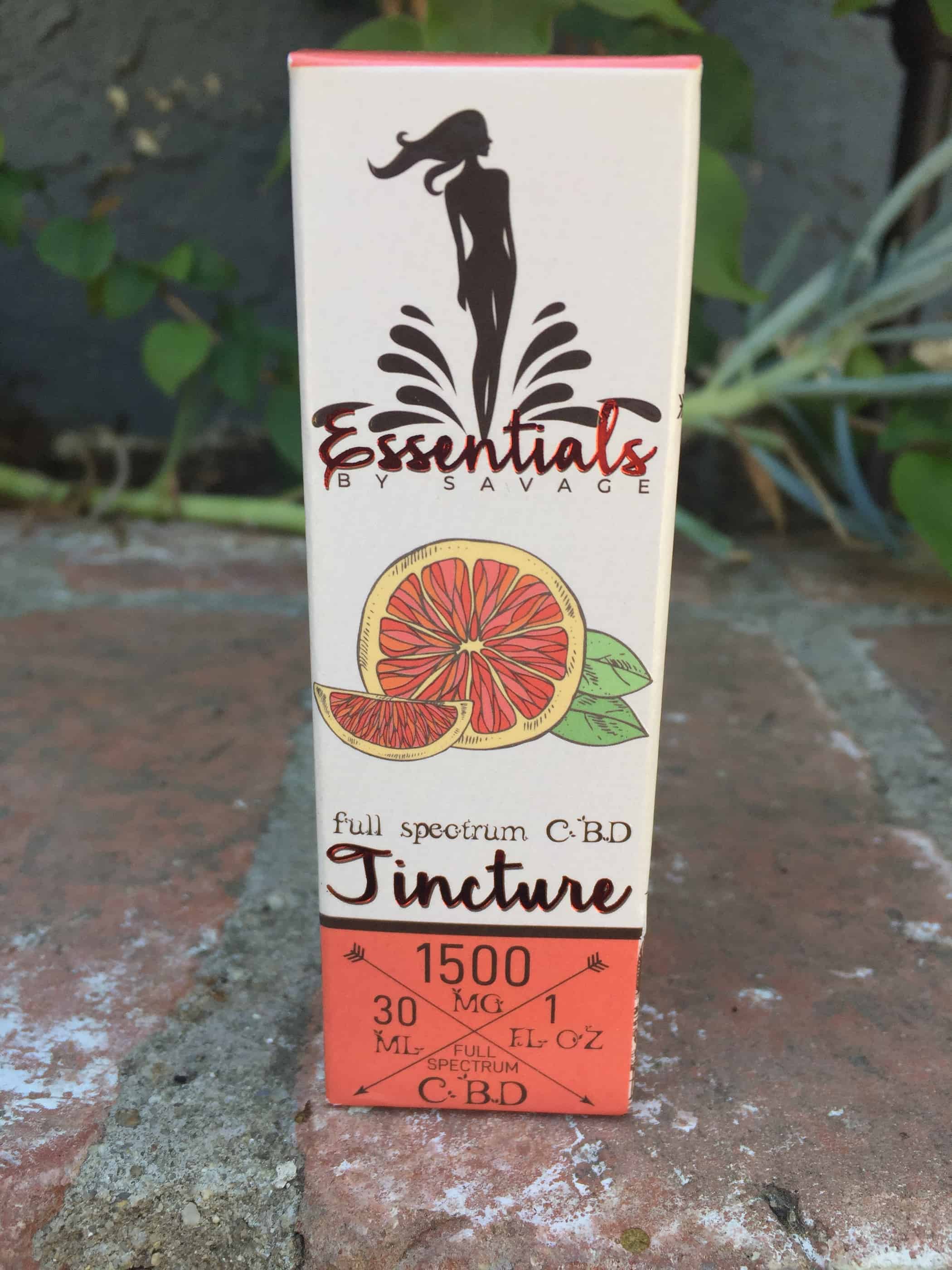 Brand Overview: SAVAGE CBD
Savage CBD is committed to improving people's lives with their CBD products. From edibles to tinctures to stuff for your pets, the company has created a diverse line for whatever ails you. Every product is free of THC, meaning you can safely use their products without getting "high." Their website is filled with useful information, including blog articles like, "Should you travel with CBD products?" and "Top 10 Things You Should Know Before Buying CBD." The founders of Savage CBD have seen the benefits themselves, and now they want to share it with the whole world.
Products: Tinctures, Topicals, Vape Oils, Vape Cartridges, Vape Pens, Pet, Capsules, Clothing, Bundles.
Price Range ($-$$$$): $-$$$
---
About the SAVAGE CBD PINK GRAPEFRUIT TINCTURE
Savage CBD has created a full-spectrum tincture that will ease anxiety, reduce pain, and help you get a restful night of sleep. This tincture is infused with a grapefruit flavor that can be taken sublingually (under the tongue) or by adding it to your drink. The folk at Savage CBD noticed that while there were a ton of CBD tinctures on the market, a lot of them didn't taste all that great. They hired mixologists to make some of the best and most original flavors, including Pink Grapefruit and Lemon Lime, to make taking your daily dose of CBD delicious. Using high-quality essential oils and terpenes, Savage CBD has made an enjoyable and completely THC-free tincture with superior flavor.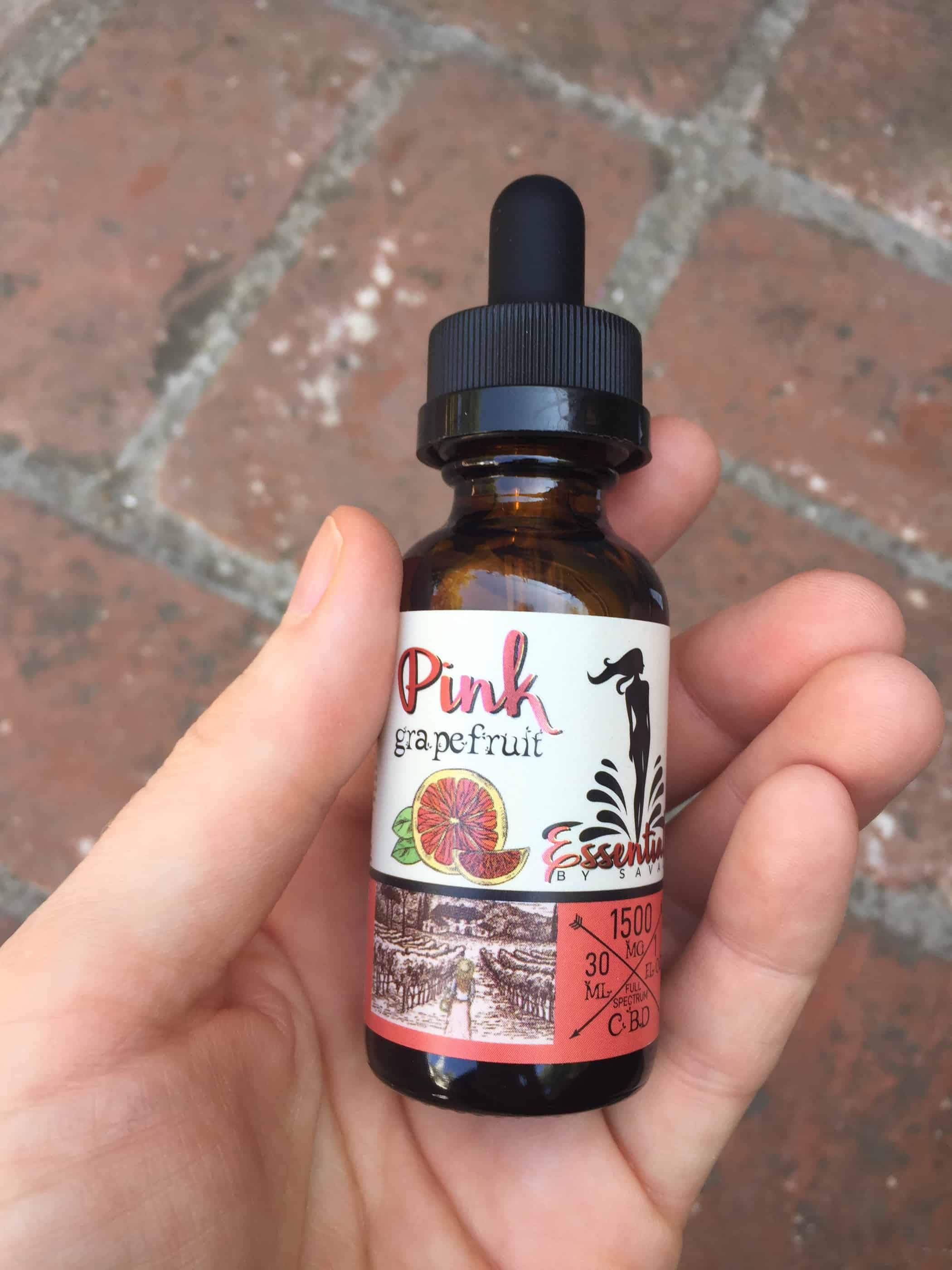 ---
SAVAGE CBD PINK GRAPEFRUIT TINCTURE Specifications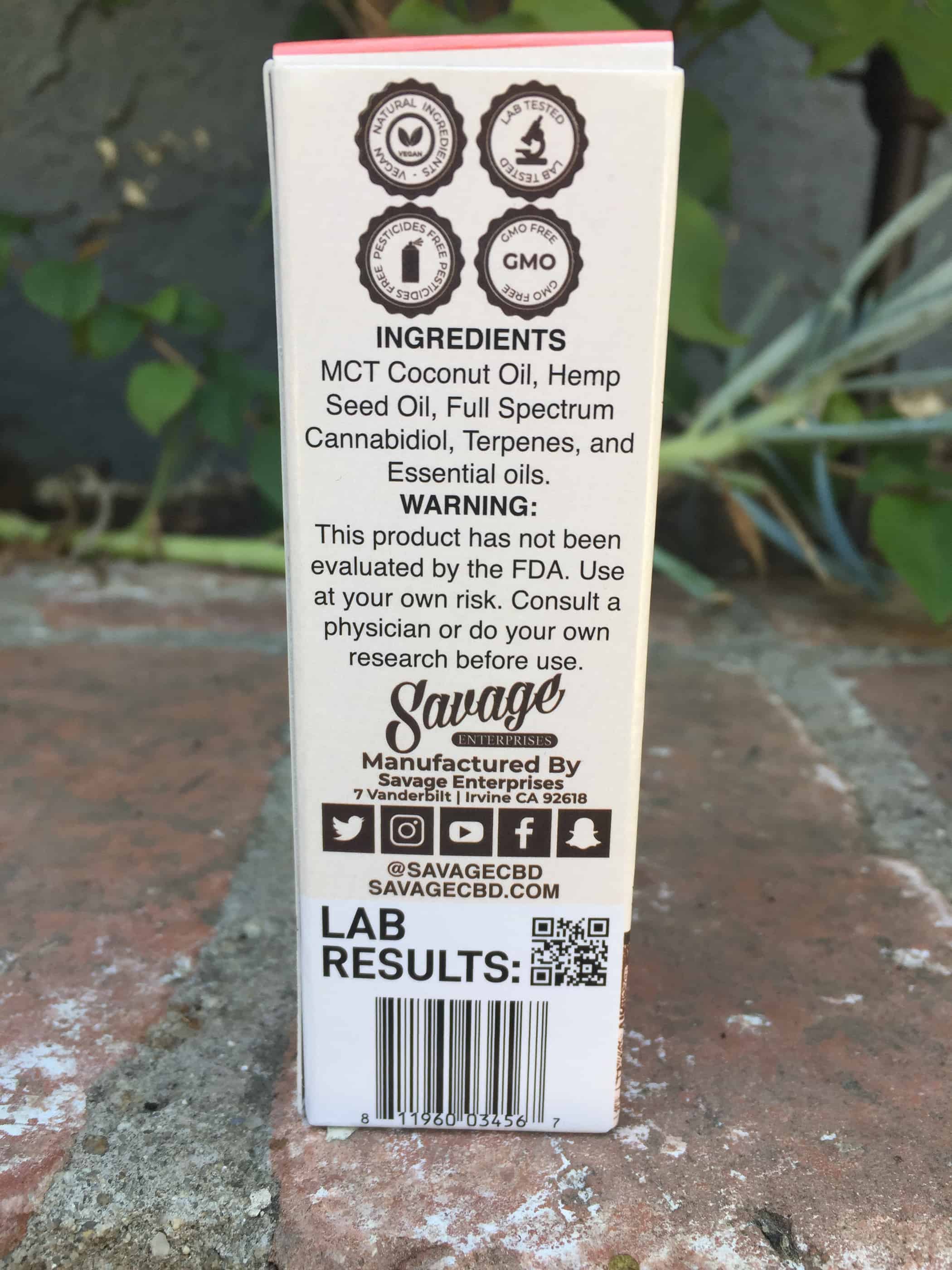 Ingredients: MCT Oil, Hemp Seed Oil, Full Spectrum Cannabidiol (CBD), Essential Oils, and Terpenes

Vegan

Pesticide-free

GMO-free

Lab-tested

30 ml

1,500 mg CBD
---
How We Tested the SAVAGE CBD PINK GRAPEFRUIT TINCTURE
I wanted to try the Savage CBD Pink Grapefruit Tincture to help assuage chronic nerve pain I have from a lumbar, hip, and foot injury. I currently take a low dose of prescribed neuropathic medications but they don't help all that much. I find that even if I can fall asleep, I am woken up by pain all through the night. I've read that CBD has really helped people who suffer from peripheral neuropathy, so I was hoping this tincture would relieve some of my symptoms. A quick Google search led me to an article by a doctor discussing how CBD is most effective in providing neuropathic pain relief after one week of taking it daily. With that in mind, I took three servings a day of the Savage CBD Pink Grapefruit Tincture to see if I noticed any pain reduction.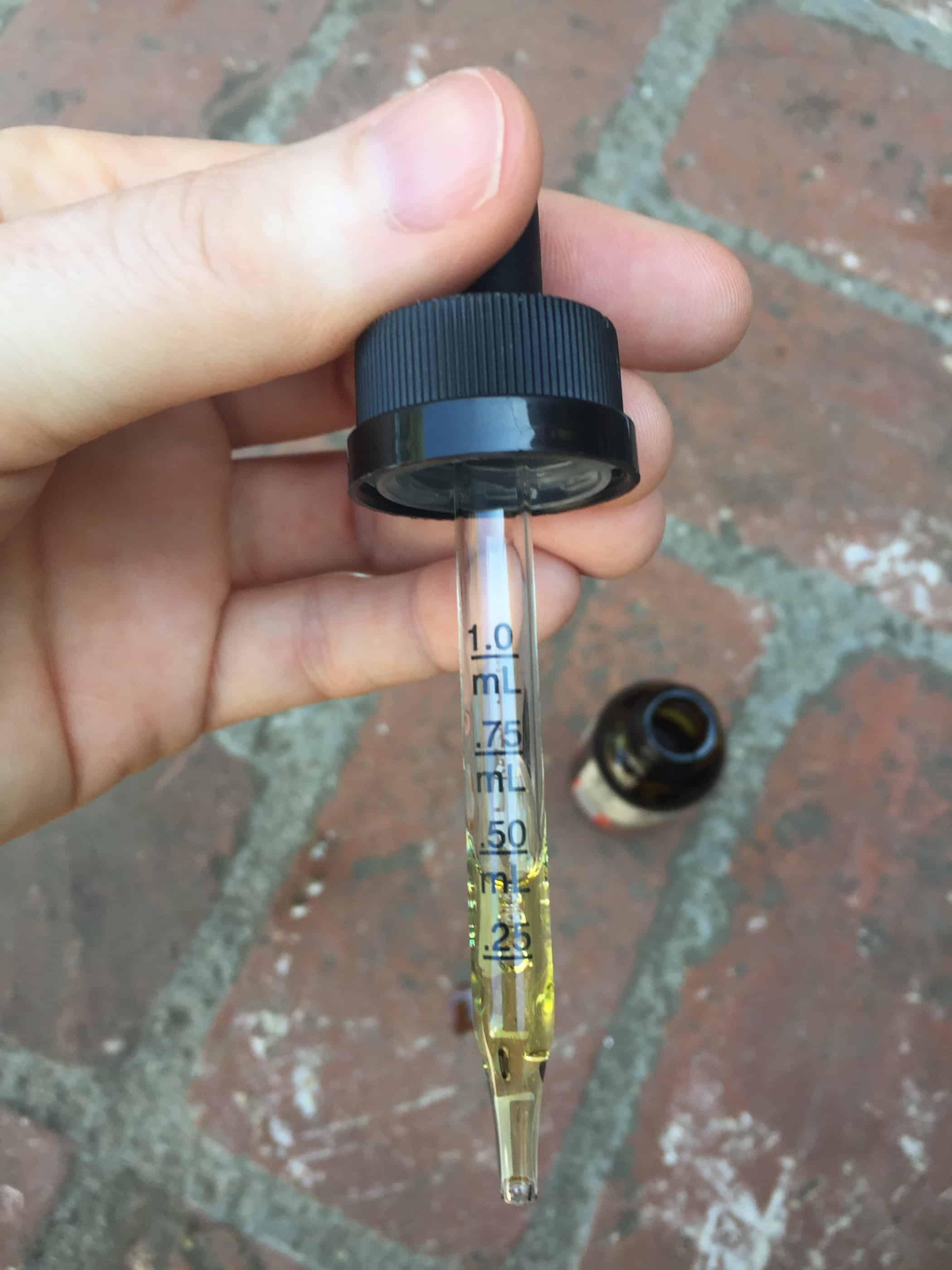 ---
How the SAVAGE CBD PINK GRAPEFRUIT TINCTURE Worked for Me
An hour after I took a serving of this tincture, I felt warm, relaxed, and focused. CBD affects everybody differently, and for me, it always makes me feel like I've just been wrapped in a heating blanket. There's an internal comfort that occurs. It's subtle, but the warming effect helps cover up the pain, not removing it completely, but taking the edge off it enough for me to focus on work or rest. After a week of taking this tincture three times a day, I noticed a difference in my ability to focus. I also found I was able to fall and stay asleep better. The grapefruit flavor is mild and delightful. I definitely will be using this product daily for continued reduction of pain and anxiety.
---
Useful and Unique Things to Know About SAVAGE CBD PINK GRAPEFRUIT TINCTURE
Savage CBD's Pink Grapefruit Tincture is infused with the finest essential oils and terpenes which give it the tasty grapefruit flavor, perfectly hiding any weediness. Essential oils support oral hygiene and reduce anxiety. Terpenes are what gives plants their odor and are used in CBD products to give them their unique flavor. Terpenes offer a bevy of health benefits from treating pain to anxiety. This particular tincture finds the perfect balance of flavor that won't overwhelm.
---
SAVAGE CBD PINK GRAPEFRUIT TINCTURE Ratings
In the next sections gradings from 0-100 on our review, these grades add up to give the product's overall score.
PRESENTATION • 90
Gorgeous packing but no info on dosing.
RELIABILITY • 100
Strong and reliable.
QUALITY • 100
Natural ingredients.
FLAVOR / SMELL / or EASE OF USE • 100
Mild grapefruit flavor.
VALUE • 100
Good price.
---
How the SAVAGE CBD PINK GRAPEFRUIT TINCTURE Stacks Up Against the Competition
The Savage CBD Pink Grapefruit Tincture is one of the yummiest I've tried. You can't taste the weed flavor at all. You get a subtle burst of grapefruity flavor that goes down easy whether you take it under the tongue, or add it to juice or a smoothie. Flavorwise, I would compare it GoGreen Hemp's Orange Tincture and Reef CBD's Newport Beach Orange Citrus Tincture. Since they all taste and work so similarly, I'd recommend going with whichever one is cheapest. Right now, Savage CBD's Pink Grapefruit Tincture's 1,500 mg bottle is on sale for $119.99, a deal that can't be beaten!
---
Saving Money With Savage CBD Coupons
Save money on all Cbd Tinctures here at Save On Cannabis the World's largest online cannabis coupon code directory.
---
Disclosure: I received these products gratis so that I could try them and then share my honest opinion with the SOC community. I am employed by Save on Cannabis to write honest reviews and provided a flat rate payment for the writing of the review. SOC may receive recurring affiliate payments for purchases made based on this content.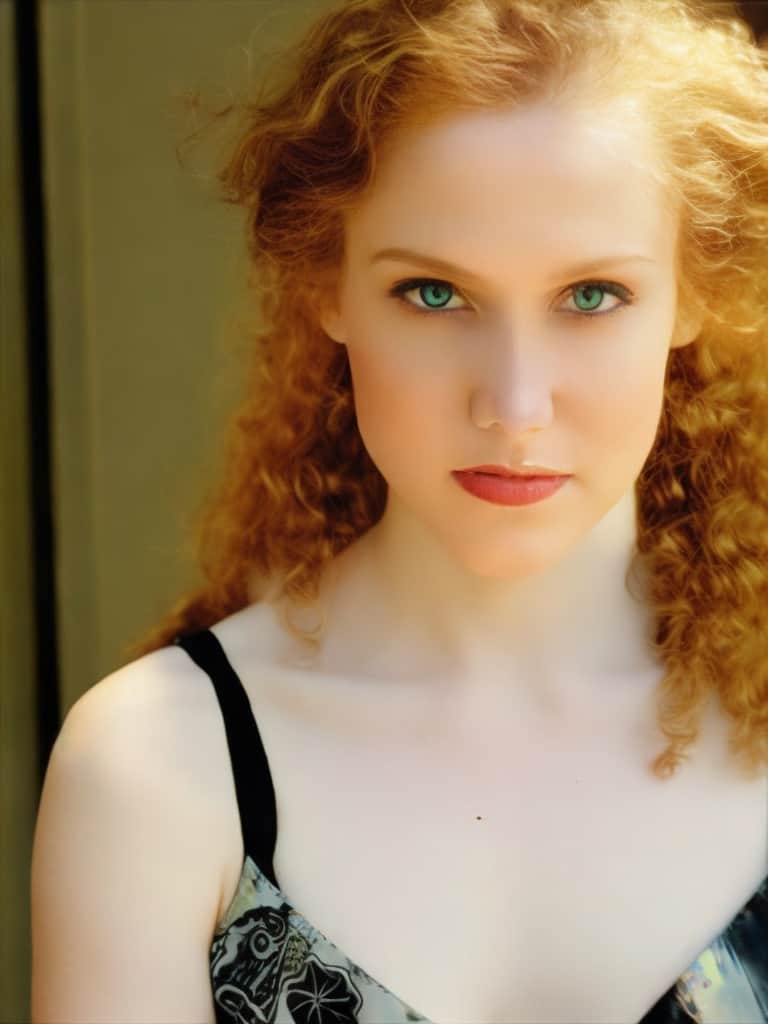 A medicinal cannabis user, utilizing the power of the plant to ease the pains and stresses from long standing conditions that other over the counter or prescriptions could not fix or weren't a natural option like cannabis.  Also, has a background in working directly in the cannabis industry in California within various dispensaries.
Sorry, no coupons were found.
In this Cannabis Life Delta-8 Gummies review our team tests out the high from this legal hemp product. Also save with Cannabis Life coupons.
Looking for trusted CBD products? We always are, so we tested the CBD Choice marketplace to see if they had what we wanted & were worth shopping from.
Looking for a portable dabbing device you can trust? See if we found it in this Dr. Dabber review of the Ghost & Light dab vape.