MagicalButter DecarBox Review: Thermometer Combo Pack
Nov 6, 2018 | NugAndStem
Cannabis Cooking EquipmentCannabis Decarboxylation MachinesCannabis Oil InfusersCoupons Valid For Returning UsersExtraction EquipmentSave On Cannabis VerifiedSmoking Accessories
MagicalButter DecarBox Thermometer Combo Pack
45.99
Pros
Nice Design
Easy to Operate
Gives you confidence in decarb process.
Allows you to see oven's internal temperature.
Keep cannabis in airtight container, holds in smell during decarb process.
Easy to Cool Container
Easy to Clean
Magnet to hold temperature readout on oven.
Improves the MagicalButter experience.
Cons
Does not come with batteries.
Parts of temperature sensor cable were slightly frayed.
MagicalButter DecarBox Review and Product Overview
The MagicalButter silicone decarboxylator comes with great packaging. The instructions are also clear and of the same high quality, we had come to expect from the MagicalButter machine. The products itself feels solid. However, it does not come with batteries. (You will need two AAA batteries.) The sensor cable also feels solid, but ours did have some bends in it that were already fraying, so we kept those out of the oven. The temperature readout device has a magnetic back, which allows it to stick to your oven door easily.
DecarBox Specifications and Features
Priced at $49.95, the DecarBox comes with an integrated digital thermometer that allows for precise oven calibration. The external digital display helps you monitor the temperature inside your DecarBox without having to open the oven, thus preventing temperature fluctuations. Made from food-grade silicone, the DecarBox is designed to lock in the smell and prevent the loss of valuable plant compounds. It can activate up to 2 ounces of herbs at a time to your specific desired potency.
Cost ($-$$$$): $$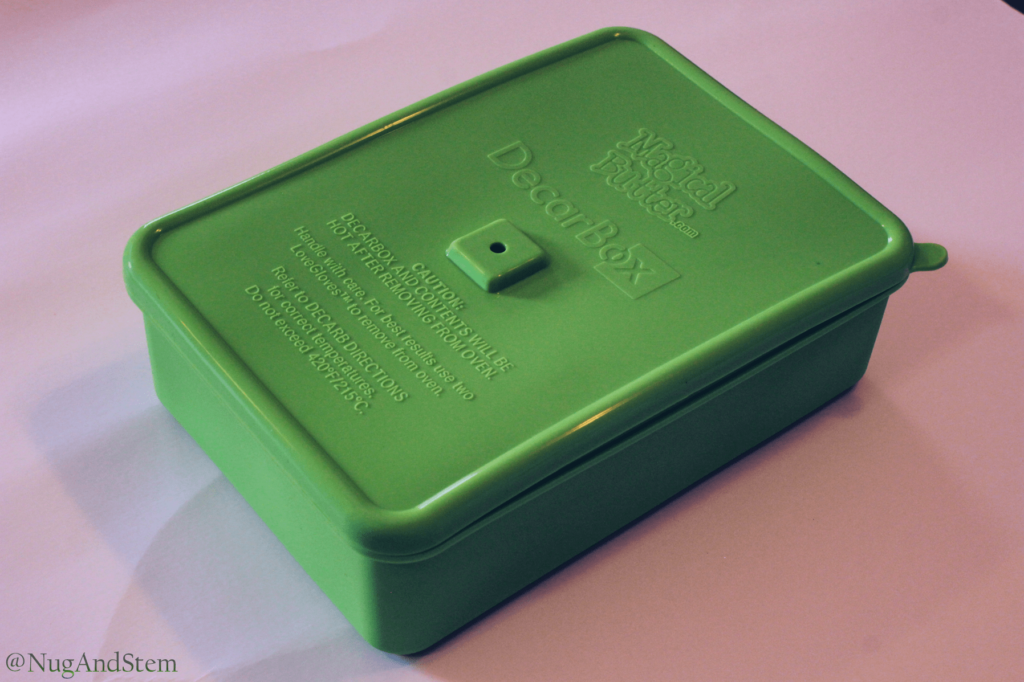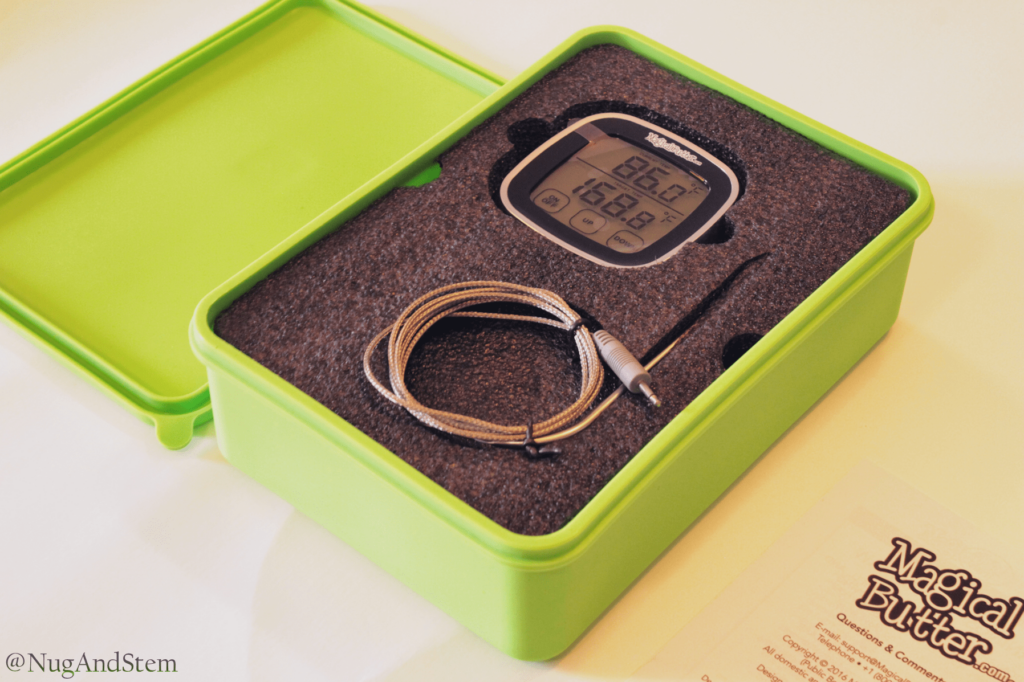 Product Operation – Standard Oven Decarboxylation
Step 1: Oven Calibration
Unfortunately, our oven was being extremely difficult throughout this procedure. When we set the oven to 245F the thermometer read 260F, and at 240F it read 240F. We could only choose those 5-degree increments, so there was no way to set it to our desired 252F.
From Stem's engineering background, he felt that the sensor refresh rate on the thermometer was a bit too slow – meaning that the sensor is not the highest quality sensor. At this price range, the sensor could be a bit more responsive. But it still reads the temperature, so it seems like the quality of your oven is more of the controlling factor than the DecarBox, but the thermometer certainly is helping and giving some confidence in the process. It just doesn't help you tame a stubborn oven.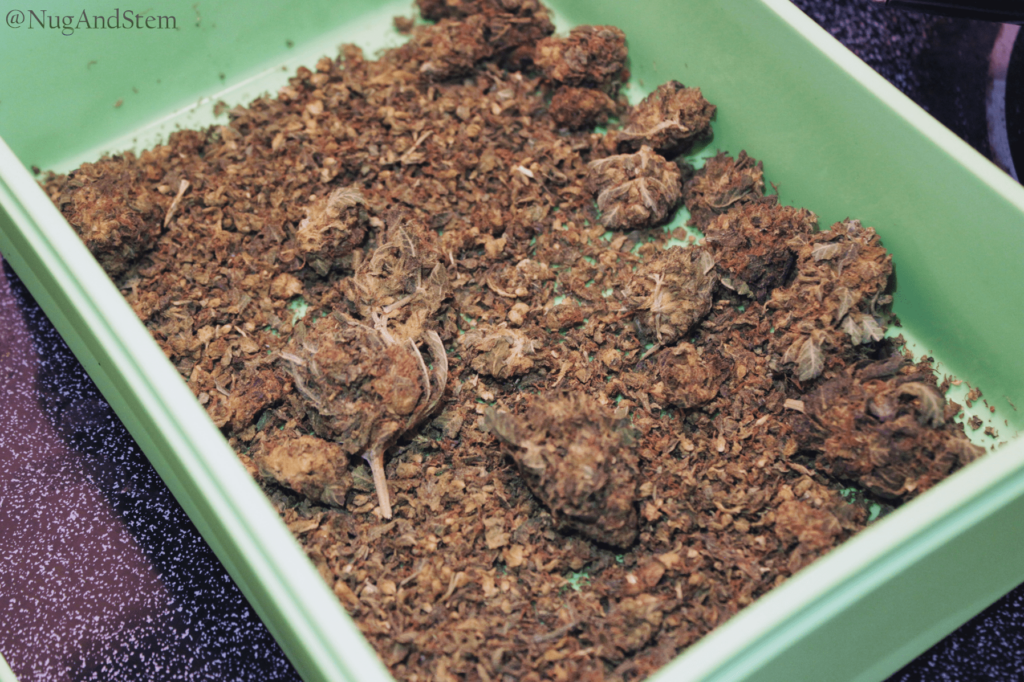 Step 2: Decarboxylation
We let the oven heat up at the 245F setting and then dropped it to 240F. The temperature began to drop from 260F and once we saw the thermometer reading 252F we took the empty DecarBox out and filled it with the cannabis. Even though the DecarBox is a bit floppy due to being made of silicone, it did go in the oven easily. We do recommend you use oven mitts because it gets hot!
The readout temperature continued to drop, and in essence, we had no added control of the temperature. Obviously, the product is not intended to help with controlling the temperature of your oven, so for us it just frustratingly let us know there was no way we could set the temperature to what we needed for an ideal decarboxylation.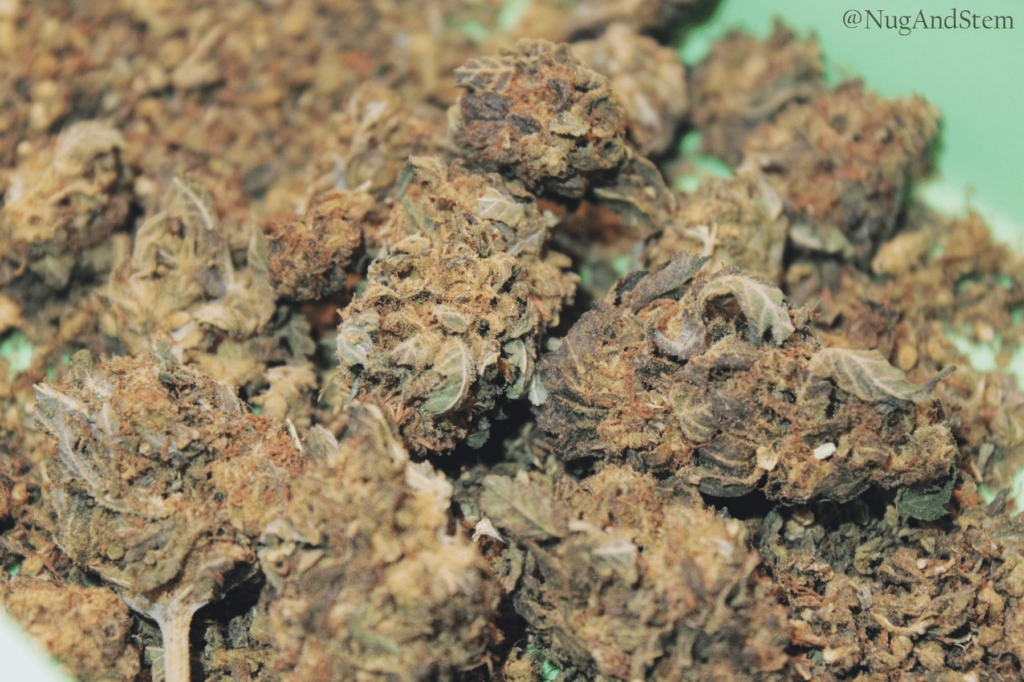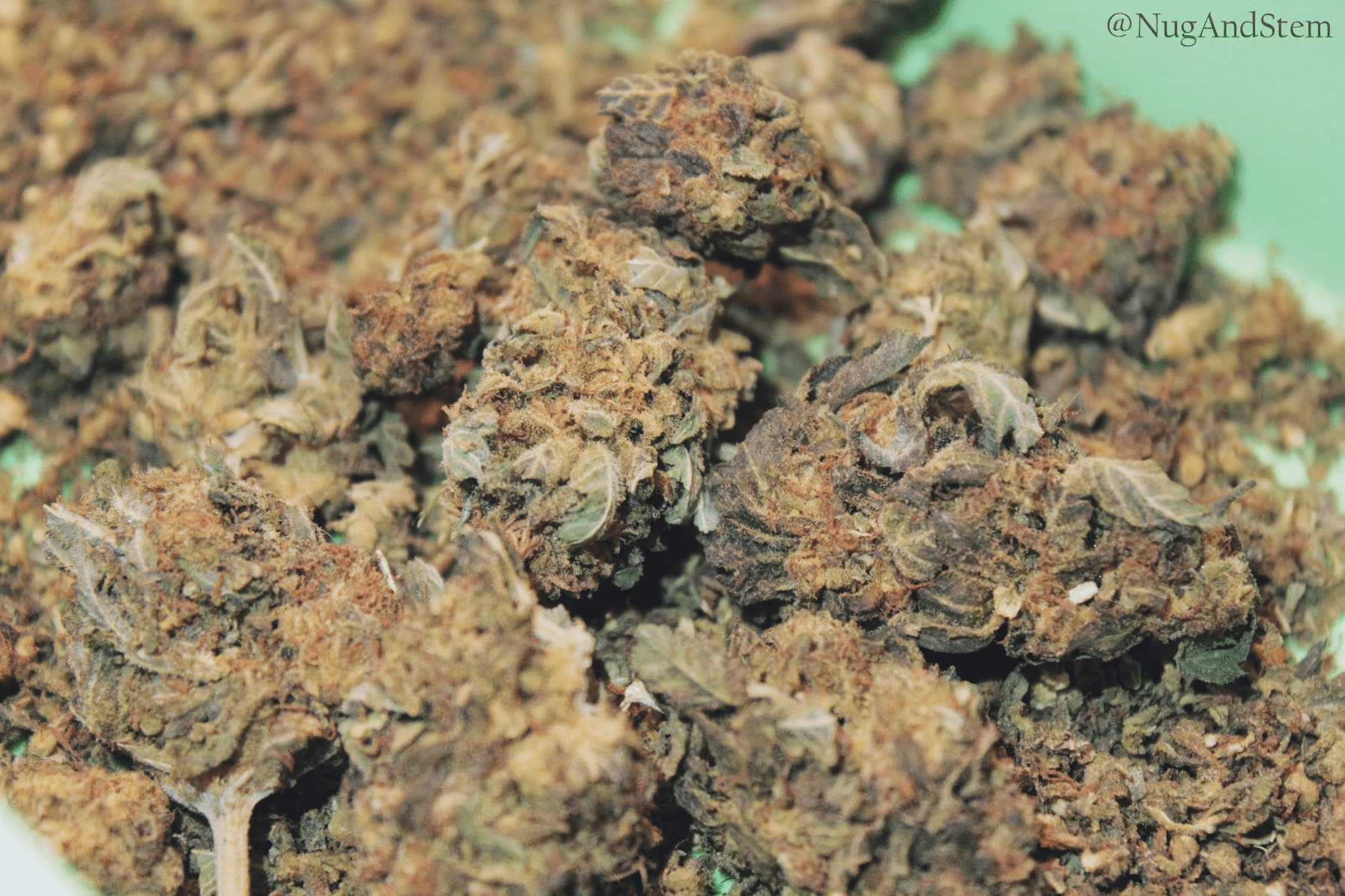 The device caused a bit of anxiety and made me work a lot to keep changing the temperature to try to get to a steady 252F. While we did not get to the temperature we wanted, we did get to a temperature that was close enough to decarboxylate the cannabis.
Saving Money with MagicalButter Coupons and DecarBox Coupons
For those looking to save, you can find Cannabis Decarboxylation Machines coupons at Save On Cannabis, the world's largest online cannabis coupon code directory.. Shop Magical Butter here.
Final Thoughts
The MagicalButter DecarBox is a useful tool for those who want to decarboxylate cannabis at home. While it may not offer complete control over the temperature, it does provide a level of confidence and ease that is often missing when using just an oven. If you have a reliable oven, this product will likely serve you well. However, if your oven is as temperamental as ours, be prepared for a bit of a roller coaster ride.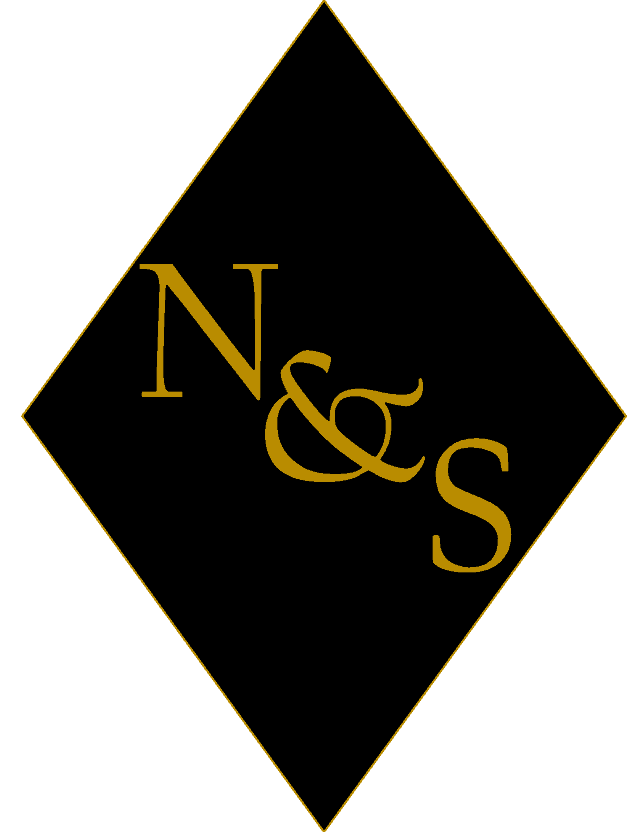 We are a couple that enjoys regular cannabis consumption and has a passion for sharing that enjoyment. I, Nug, am a petite woman who consumes cannabis more sparingly than Stem – who is a man and a more experienced user. Medically, I use cannabis most often to help treat anxiety, so I tend to reach for strains and products with higher levels of CBD. Stem uses cannabis to relieve chronic back pain caused by sports injuries, so he relies on a wide array of products depending on whether he needs help being active, falling asleep or needs instant topical relief. Medical uses aside, we do also enjoy using cannabis recreationally with friends and would like to contribute to normalizing this amazing plant
Save on Magical Butter Machine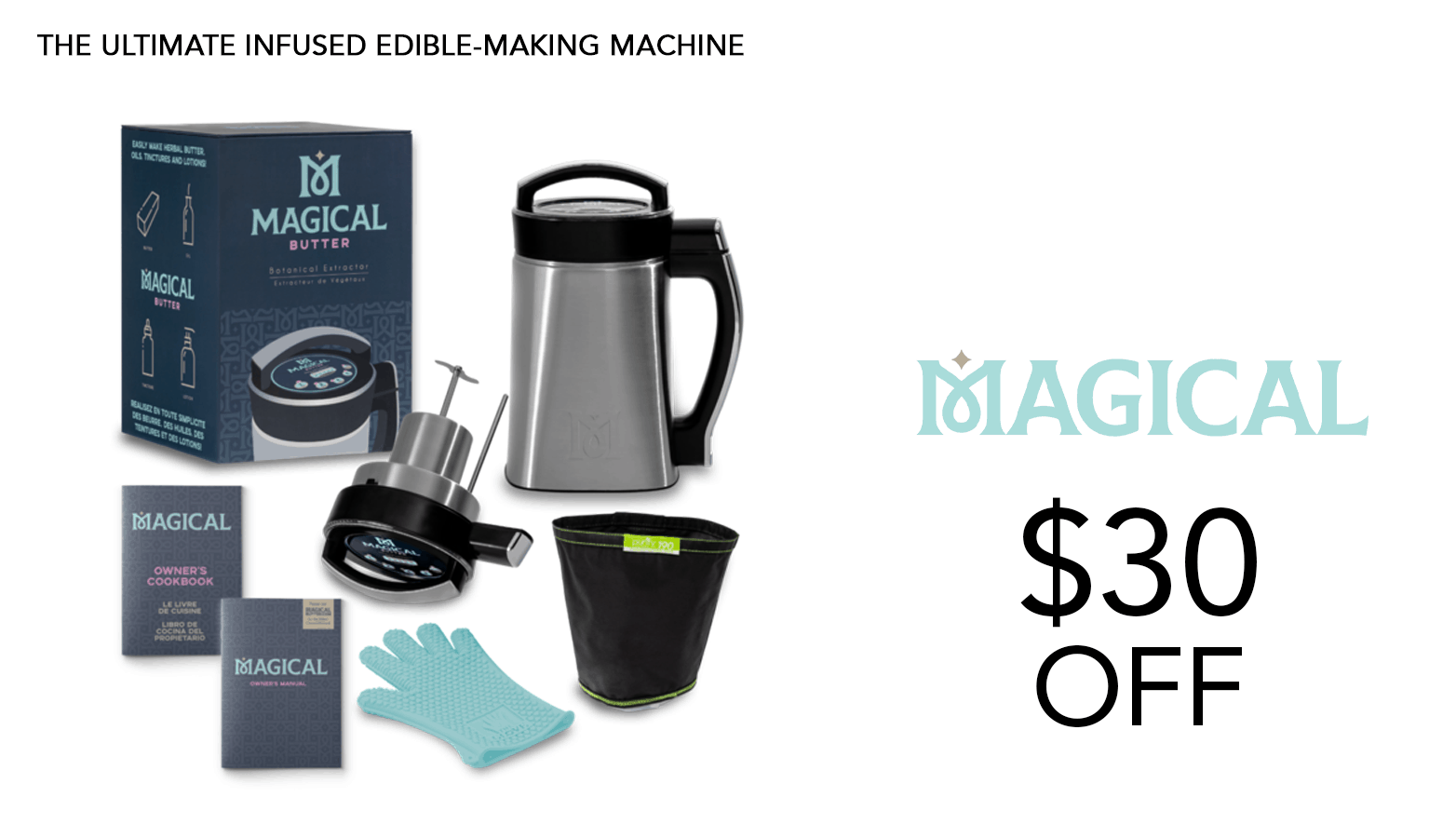 $30 OFF site-wide MagicalButter coupon code! Extract and Infuse cannabis at the push of a button. Worldwide Shipping
Winter is a pain on our lips and we need help! Luckily, we were able to test the CBDistillery Lip Balm with CBD...see how it worked.
Read our hands on 4 Corners Cannabis oral tincture review & also see photos of our testing. Organic CBD full spectrum oil tried by an expert, also get coupons.
Our reviewer tests the ZenWorks CBD Vape E-Liquid Bangin' Berry, find out from our hands-on testing if it is worth your money.