CBD Review: Manitoba Harvest CBD Peppermint Spray
May 25, 2020 | SOC
MANITOBA HARVEST CBD PEPPERMINT SPRAY
Pros
Tastes great
Inexpensive
Easy to use
All-natural
THC-free
MANITOBA HARVEST CBD PEPPERMINT SPRAY
Product Review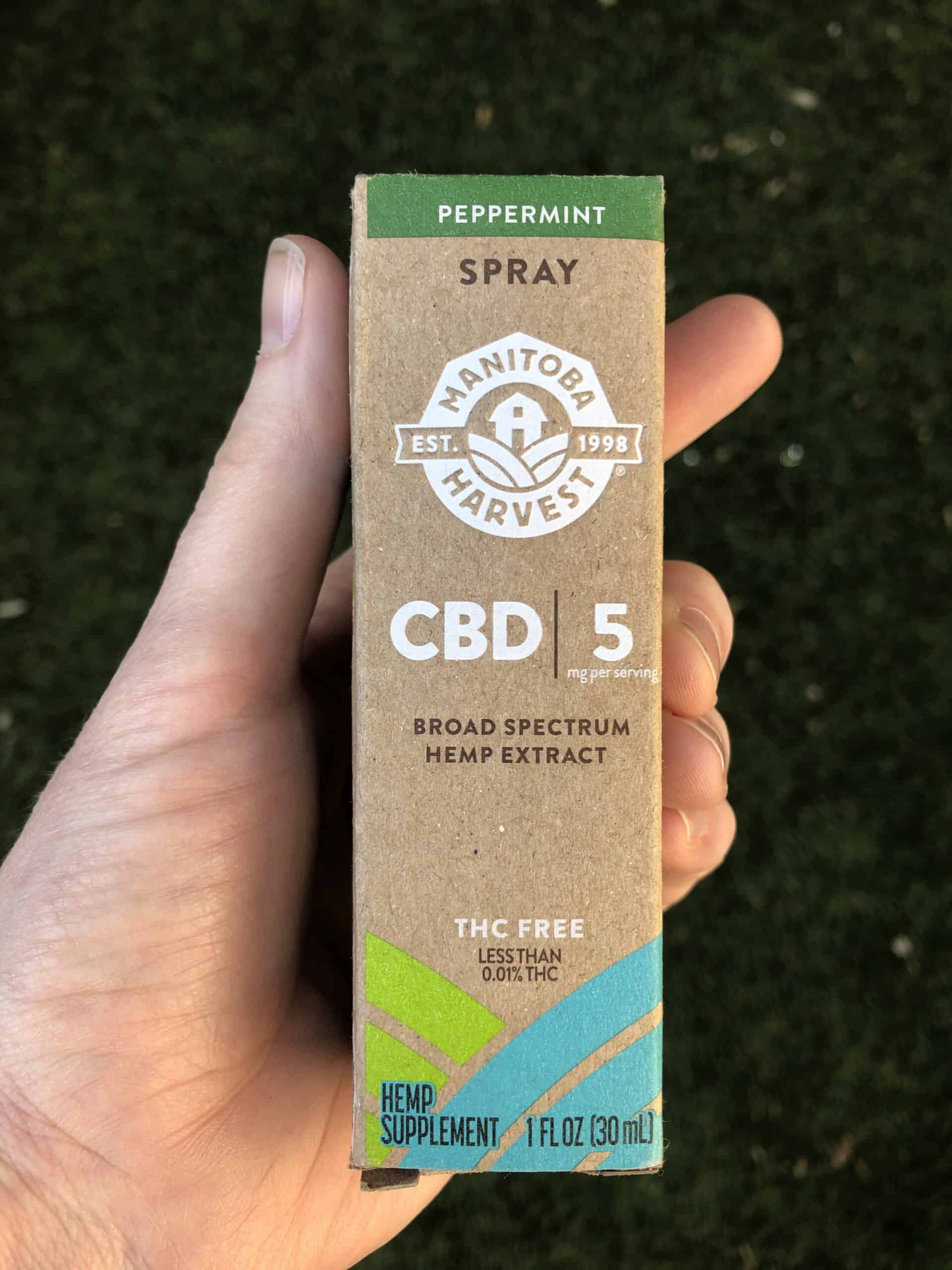 Brand Overview: MANITOBA HARVEST
Manitoba Harvest has created a unique and diverse line of hemp products at reasonable prices. You would be hard-pressed to find another company that offers hemp bars and CBD-infused protein powders. The company is dedicated to creating sustainable and high-quality hemp products through rigorous testing and a "seed to shelf" philosophy. Rest assured anything you purchase from Manitoba Harvest is pure, potent, and free from toxins. Check out their website for blogs and educational resources about the health benefits of hemp and CBD. The website's "Explore CBD" section delves into how to take CBD for peak effectiveness. They offer free shipping on all orders over $49 and offer a 30-day money-back guarantee.
Products: Tinctures, Sprays, Edibles, Gel Caps, Protein Powder.
Price Range ($-$$$$): $
---
About MANITOBA HARVEST CBD PEPPERMINT SPRAY

This spray is infused with 300 mg of CBD to help ease stress and create a sense of balance. Each serving (4 pumps) contains 5 mg of CBD and less than .01% THC, so it won't get you high. Manitoba Harvest combines organic peppermint oil with organic coconut MCT oil to give it a delicious flavor that hides any taste of hemp and will leave your breath tasting and smelling minty fresh. You can take this stuff on its own by putting it under your tongue and holding it there for thirty seconds before swallowing. But you can also add this to food and beverages. I think the mint would taste great in hot chocolate.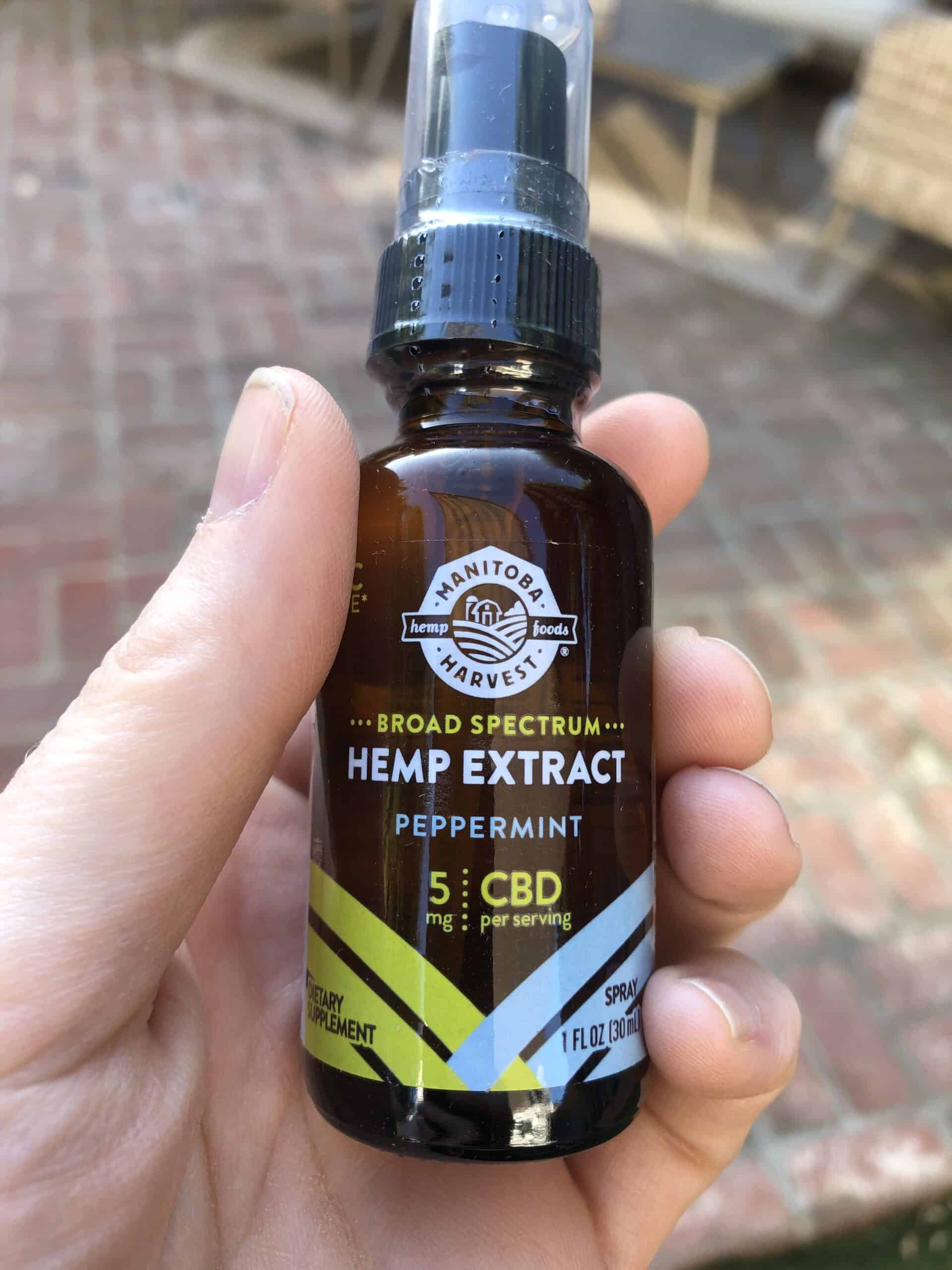 ---
MANITOBA HARVEST CBD PEPPERMINT SPRAY Specifications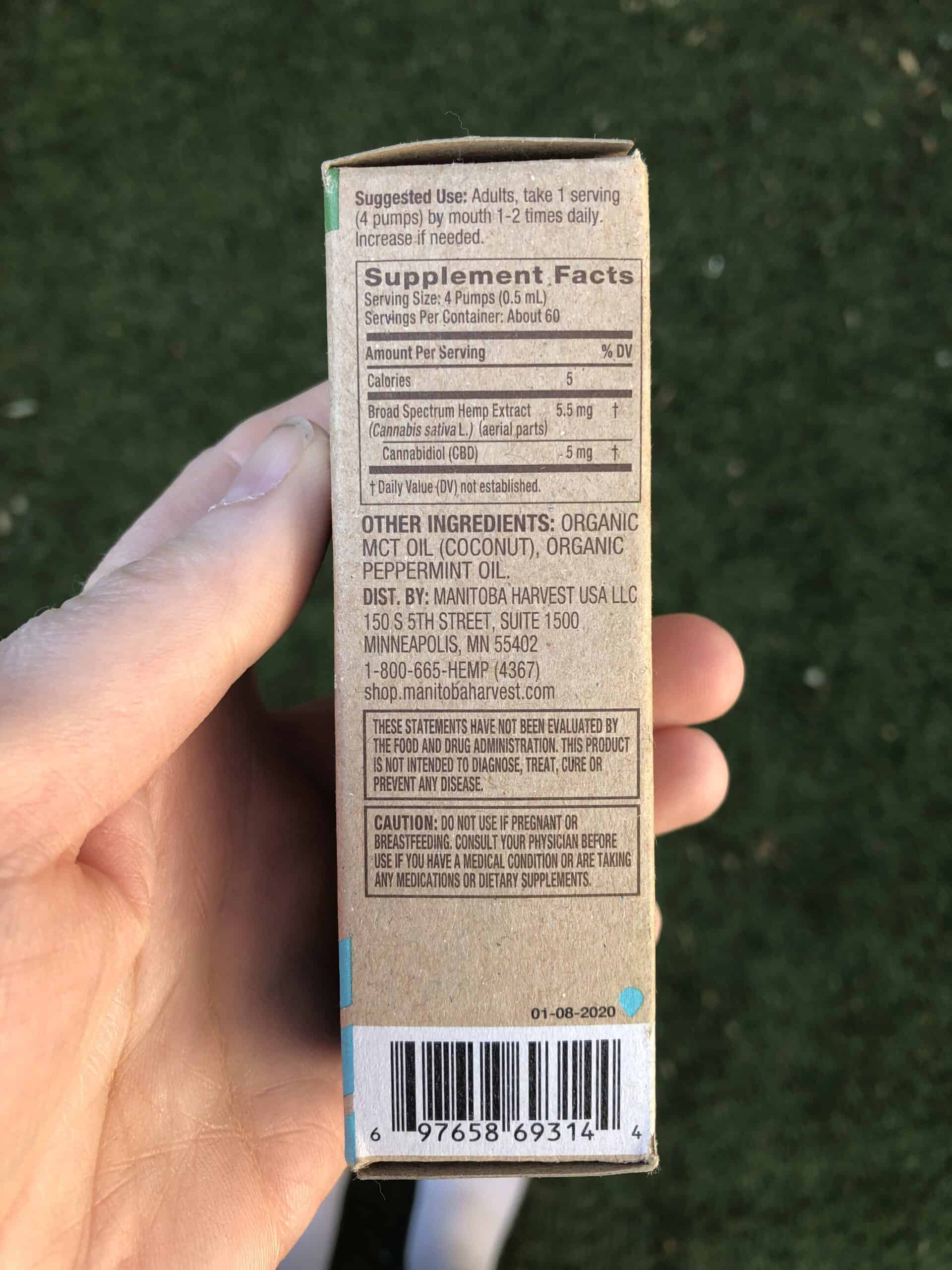 300 mg CBD
5 mg CBD per serving
60 servings
4 pumps per serving
Less than .01% THC
5 calories per serving
1 fl oz (30 ml)
Ingredients: Broad Spectrum Hemp Extract, Cannabidiol (CBD), Organic MCT Oil (Coconut), Organic Peppermint Oil
---
How We Tested the MANITOBA HARVEST CBD PEPPERMINT SPRAY

Finding balance during this time of COVID-19 has been challenging. Since I'm working and going to school at home now, I've found myself stressed by figuring out how to schedule my day. I wanted to try Manitoba Harvest's peppermint spray because I thought a small dose of CBD throughout the day would help me focus and find calm in the midst of what feels like a very chaotic time. Normally, I take CBD at a higher dose than 5 mg, so I started my day with 2 servings or 8 pumps of the bottle, for a total of 10 mg. Just for fun, I added it to my morning cup of coffee. It's like a peppermint mocha without the chocolate. Then I added another 10 mg to a bottle of water and sipped on it throughout the morning while I worked out and studied for a French test. At night, I took another 2 servings with the hope that it would calm my mind and help me sleep.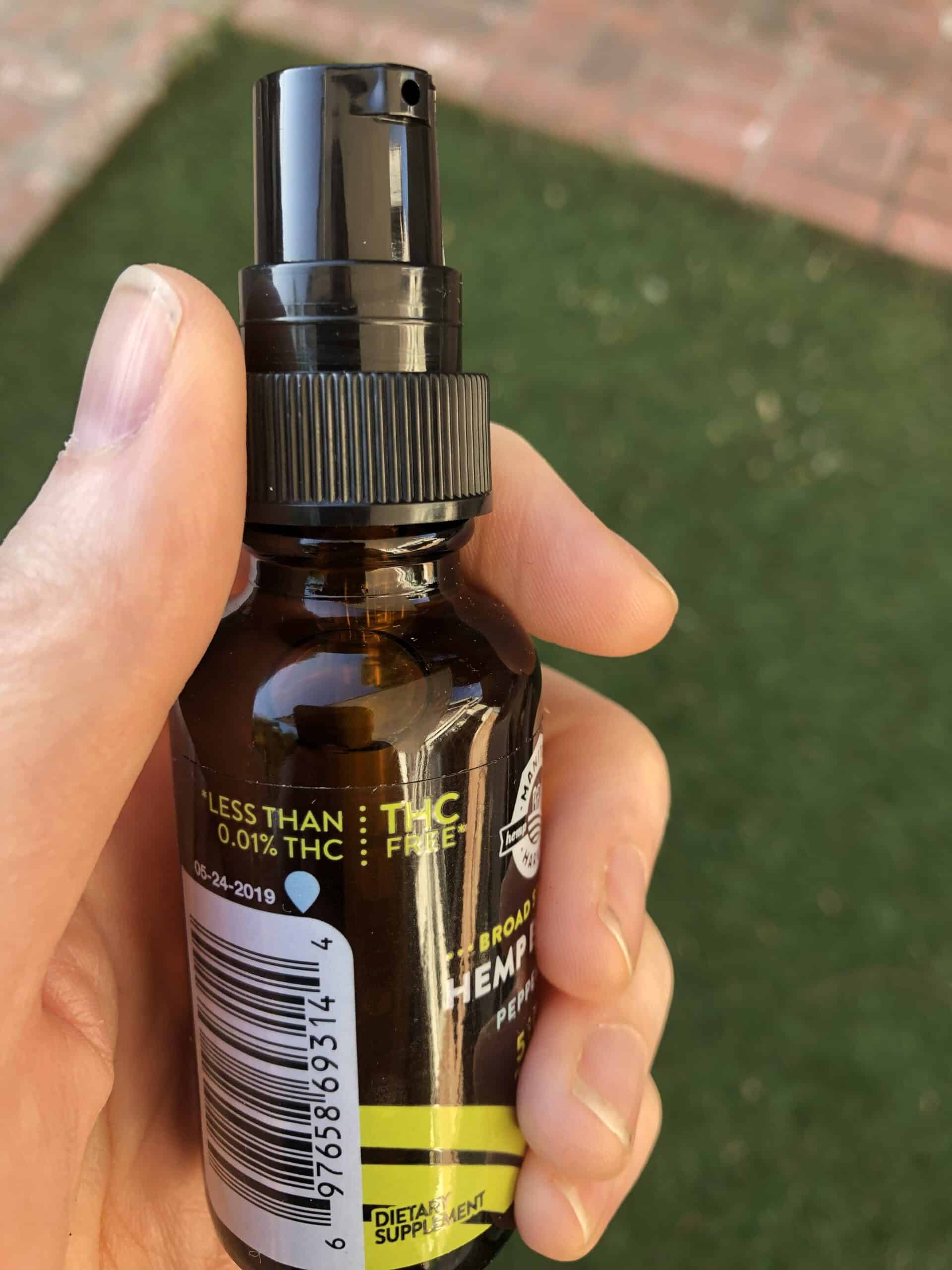 ---
How the MANITOBA HARVEST CBD PEPPERMINT SPRAY Worked for Me
The CBD-infused peppermint spray subtly works to warm the body and calm the mind. I found myself better able to focus on whatever I was doing. I also found myself better able to be in the moment. Too often at home I'm always thinking about what I need to do next, instead of focusing on what I'm doing at the moment. With this CBD spray, my workouts were more focused and effective. I think it even helped me pay attention better in class, as I often find myself distracted by the things that are around me, as well as chronic pain.
---
Useful and Unique Things to Know About MANITOBA HARVEST CBD PEPPERMINT SPRAY

I enjoyed what Manitoba Harvest's website has to offer, and if you're interested in learning more about the health benefits of hemp and CBD, I encourage you to check it out. Everyone's reasons for taking CBD are different, but the company talks quite a bit about the post-workout benefits. I'm no athlete, but I work out all the time because I have had several past injuries that require daily physical therapy, walking, and swimming. If I'm following the doctors' and physical therapists' orders, I'm working out as if it's a part-time job. From what I've learned, CBD's anti-inflammatory properties help reduce post-workout soreness and can shorten the recovery time.
---
MANITOBA HARVEST CBD PEPPERMINT SPRAY Ratings

In the next sections gradings from 0-100 on our review, these grades add up to give the product's overall score.
PRESENTATION • 100
Informative and professional.

RELIABILITY • 100
Effective and calming.
QUALITY • 100
All-natural ingredients.
FLAVOR / SMELL / or EASE OF USE • 100
Minty fresh!

VALUE • 100
Good deal.
---
How MANITOBA HARVEST CBD PEPPERMINT SPRAY Stacks Up Against the Competition
Manitoba Harvest's CBD-infused peppermint spray is a perfect product. With its great taste, effectiveness, and price, it really has no competition. The one thing I wish for the product is that it came in a higher dose. 5 mg is perfect for those new to CBD, or microdosers, but I have severe chronic pain and anxiety. I need a little oomph in my CBD. However, this stuff tastes so great, I don't mind take an extra serving or two.
!
---
Saving Money With our Verified MANITOBA HARVEST Coupons
Save money by using our verified CBD Vape Oils ,CBD Sprays ,CBD Tinctures here at Save On Cannabis the World's largest online cannabis coupon code directory.
---
I received these products gratis so that I could try them and then share my honest opinion with the SOC community. I am employed by Save on Cannabis to write honest reviews and provided a flat rate payment for the writing of the review. SOC may receive recurring affiliate payments for purchases made based on this content.
Sorry, no coupons were found.
Read our hands on 4 Corners Cannabis oral tincture review & also see photos of our testing. Organic CBD full spectrum oil tried by an expert, also get coupons.
In our new Pure Relief review our expert got to test out their high dosage 1,000mg CBD tincture. See how this worked for our reviewer now.
During the times of COVID, Quarantine, Stay At Home all the words that by themself bring stress, see if the CBDistillery 1,000mg helped ease anxiety.