Manitoba Harvest Review: Broad Spectrum CBD Oil Unflavored
May 28, 2020 | SOC
MANITOBA HARVEST UNFLAVORED CBD OIL DROPS - 300 MG
Pros
Inexpensive
Effective
All-natural
Balancing
MANITOBA HARVEST UNFLAVORED CBD OIL DROPS – 300 MG
Product Review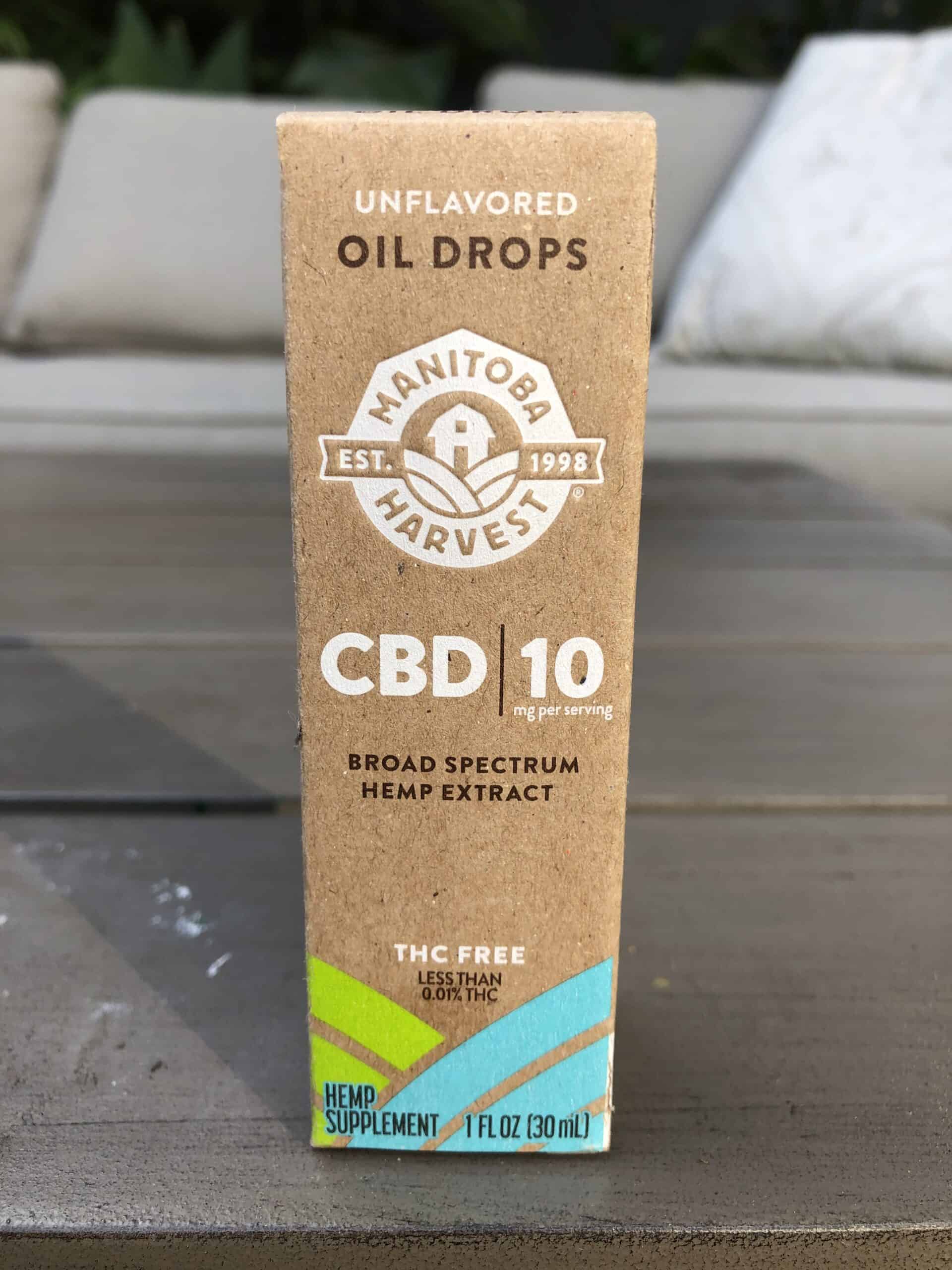 Brand Overview: MANITOBA HARVEST
Manitoba Harvest has created a unique and diverse line of hemp products at reasonable prices. You would be hard-pressed to find another company that offers hemp bars and CBD-infused protein powders. The company is dedicated to creating sustainable and high-quality hemp products through rigorous testing and a "seed to shelf" philosophy. Rest assured anything you purchase from Manitoba Harvest is pure, potent, and free from toxins. Check out their website for blogs and educational resources about the health benefits of hemp and CBD. The website's "Explore CBD" section delves into how to take CBD for peak effectiveness. They offer free shipping on all orders over $49 and offer a 30-day money-back guarantee.
Products: Tinctures, Sprays, Edibles, Gel Caps, Protein Powder.
Price Range ($-$$$$): $
---
About MANITOBA HARVEST UNFLAVORED CBD OIL DROPS – 300 MG
Manitoba Harvest's unflavored oil tincture is infused with 300 mg of CBD to give you 10 mg per serving. Containing broad-spectrum hemp extract and less than .01% THC, rest assured this balancing tincture is completely non-psychoactive, meaning it won't get you high while still giving you the positive effects of the cannabis plant. Manitoba Harvest also makes this tincture with a peppermint flavor, and if 10 mg is too small a dose, they also offer their CBD drops in 30 mg and 50 mg. If you're just starting out, take 1 dropper, or serving, in your mouth or beverage 1 – 2 times per day.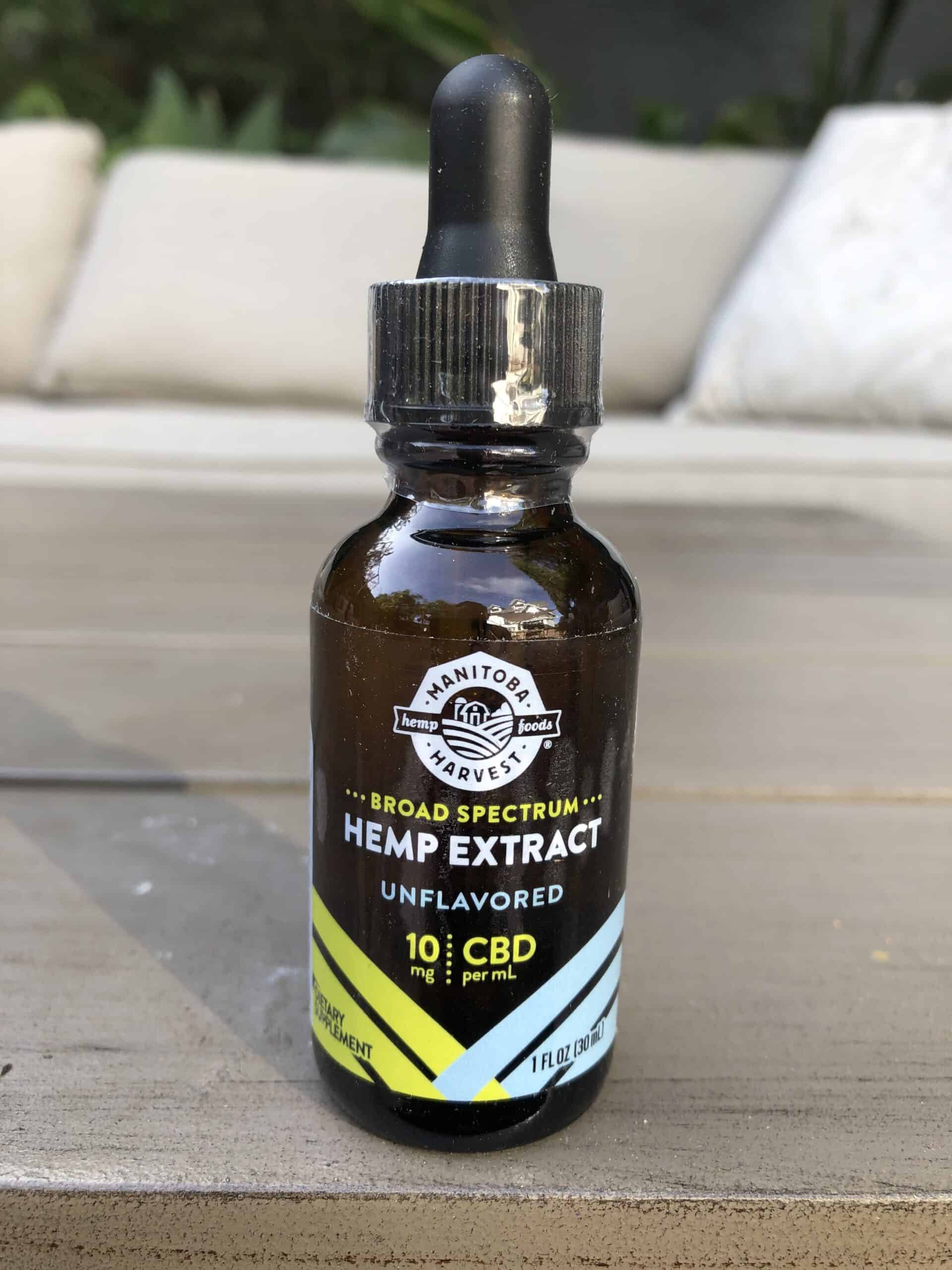 ---
MANITOBA HARVEST UNFLAVORED CBD OIL DROPS – 300 MG Specifications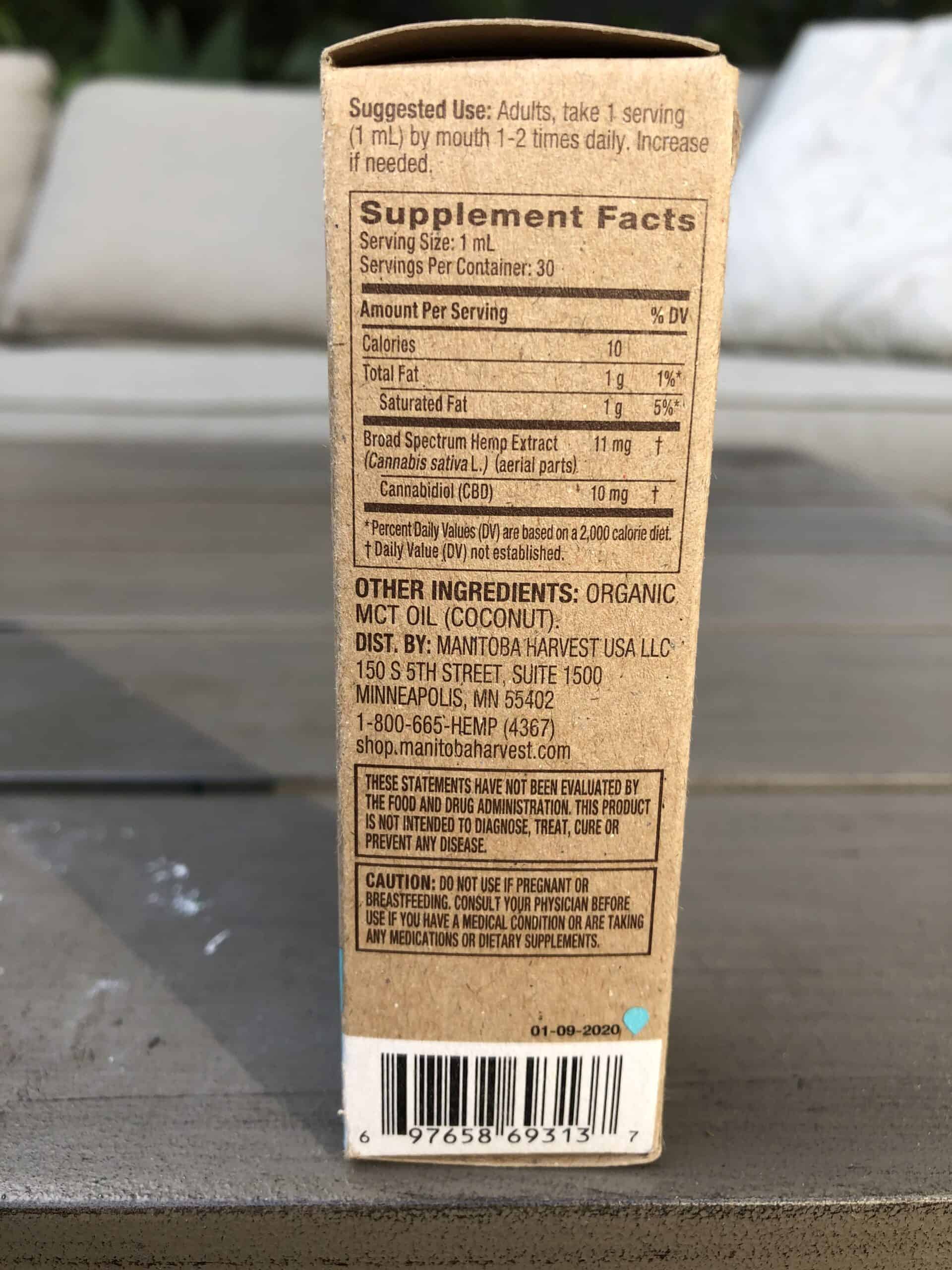 300mg CBD per bottle

10mg CBD per serving

1 fl oz / 30ml

Ingredients: Broad Spectrum Hemp Extract, Cannabidiol, and Organic MCT Oil (Coconut)
---
How We Tested the MANITOBA HARVEST UNFLAVORED CBD OIL DROPS – 300 MG

The pandemic and the current Stay-at-Home order has filled everyone in my household with anxiety. The master of the home is grouchy more. The mistress of the manor has a headache more often, and I increasingly find her hiding in the garage. The children of the house have tantrums from the moment they wake up, until the moment they are put to bed. Nobody knows why for sure, but we're all pretty certain it's to do with having to be at home all the time. To deal with the stress, I have been turning more and more to CBD. On a particularly screaming-filled Sunday morning, as I was taking an extra 10 mg of Manitoba Harvest's unflavored tincture, I offered some to my adult housemates, to see if it would also help make their day more calm and balanced.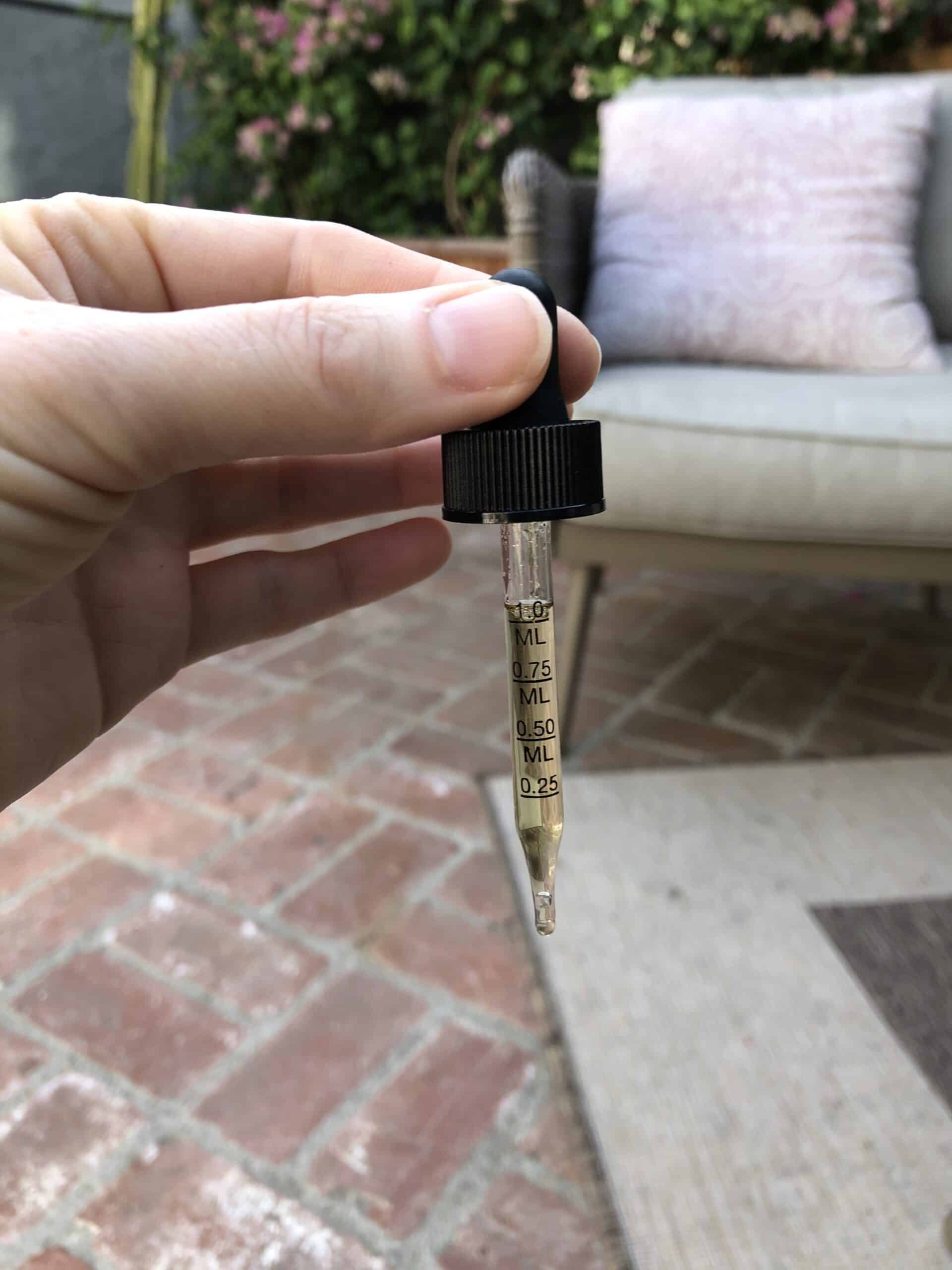 ---
How the MANITOBA HARVEST UNFLAVORED CBD OIL DROPS – 300 MG Worked for Me
CBD isn't a magic wand that will make two highly rambunctious and noisy children under seven suddenly seem like docile angels, but it certainly helped take the edge off the stress currently being experienced by myself, and my adult housemates. CBD has this way of warming up the body and soothing the mind so that everything's just a little bit easier to deal with. All the adults took another 10 mg of this CBD tincture at lunchtime and found we were better able to deal with all the craziness with more mindfulness. I'll be leaving this bottle of CBD oil out for all of us to use daily, as it's a great solution to the stress of being indoors.
---
Useful and Unique Things to Know About MANITOBA HARVEST UNFLAVORED CBD OIL DROPS – 300 MG



Manitoba Harvest's unflavored tincture has a mild weedy flavor that might not appeal to everyone. I tried their peppermint flavored one too, to see if I liked it any better. It was crisp, minty, and delicious. It perfectly hid any taste of hemp. In the future, I would prefer their peppermint flavor over the unflavored.
---
MANITOBA HARVEST UNFLAVORED CBD OIL DROPS – 300 MG Ratings



In the next sections gradings from 0-100 on our review, these grades add up to give the product's overall score.
PRESENTATION • 100
Informative packaging.

RELIABILITY • 100
Calming and effective.

QUALITY • 100
All-natural ingredients.
FLAVOR / SMELL / gold EASE OF USE • 85
Mild weedy flavor.
VALUE • 100
Great deal!.
---
How MANITOBA HARVEST UNFLAVORED CBD OIL DROPS – 300 MG Stacks Up Against the Competition
Manitoba Harvest's products are all priced to compete, and their unflavored CBD oil is no exception. For only $24.99, you can get a bottle of this effective and all-natural tincture, which, compared to other tinctures on the market that are just as good, is a total steal.
---
Saving Money With our Verified MANITOBA HARVEST Coupons
Save money by using our verified CBD Tinctures , CBD Oils here at Save On Cannabis the World's largest online cannabis coupon code directory.
---
I received these products gratis so that I could try them and then share my honest opinion with the SOC community. I am employed by Save on Cannabis to write honest reviews and provided a flat rate payment for the writing of the review. SOC may receive recurring affiliate payments for purchases made based on this content.
Sorry, no coupons were found.
Berkeley Gold review of the precise CBD doses in dissolvable tablets. Find out if the tablets (900mg package) do the trick to ease our days.
In this Americana CBD Flower review, we roll up the Hawaiian Haze and breakdown our experience for you. We smoke and tell, see how it scored.
Manitoba Harvest CBD capsules are at a great price range, but did they work for our reviewer? Find out if it helped with chronic pain.