Steve's Goods Sensual CBD Bath Bomb 100 MG Review
Feb 13, 2019 | Romy
STEVE'S GOODS SENSUAL CBD BATH BOMB 100 MG
Pros
Smells great
Relaxing
Eases muscle pain
Easy to use
Cons
Expensive
Only get one use out of it
STEVE'S GOODS SENSUAL CBD BATH BOMB 100 MG
Product Review
Brand Overview: STEVE'S GOODS
Steve's Goods makes high-quality CBD products grown, extracted, and packaged in Colorado by trusted farmers. This company is one of the only CBD sellers using one of the lesser-known components of the hemp plant, CBG. After years of research, they have found that adding CBD and CBG to your daily routine is a non-psychoactive, natural alternative to opioids. The company also strives to bring superior hemp products to the market at a fair cost.
Products: CBD Tinctures, CBD Concentrates, CBD Vape Oil, Edibles, Bundle Deals, CBD Pet Tinctures, CBD Topicals
Price Range ($-$$$$): $$-$$$$
---
About the STEVE'S GOODS SENSUAL CBD BATH BOMB 100 MG
This pink bath bomb contains 100 mg of CBD to help ease muscle pain. The romantic rose smell and a mix of essential oils create a sensual experience that not only helps you relax but gets you in the mood for love. Made in Colorado, this bath bomb contains the highest quality full-spectrum CBD with a high absorption rate, meaning it will work fast to give your body some relief. Light a candle, put on some Marvin Gaye, and run yourself a bath. Steve's Goods Sensual CBD Bath Bomb is perfect for the chronic pain sufferer who wants to get a little naughty, or who just wants some relief.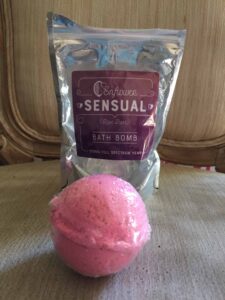 ---
STEVE'S GOODS SENSUAL CBD BATH BOMB 100 MG Technical Specifications
Ingredients: Hemp Seed Oil, Avocado Oil, Baking Soda, Citric Acid, Epsom Salt, Witch Hazel Astringent, Polysorbate 80, 100 mg Hemp Flower Extract, Ylang Ylang, Rose, and Orange Essential Oils
Frankincense Base
Contains up to 0.3% THC
---
How We Tested the STEVE'S GOODS SENSUAL CBD BATH BOMB 100 MG
I have chronic pain from the top of my hips to the top of my knees. Some days, the pain goes up my back and all the way down to my toes. Baths offer me short-term respite, and if I've got a bath bomb, it enhances the pain relief. I've tried GoGreen Hemp's bath bombs (which are the bomb!) so I was really interested in seeing what Steve's Goods had to offer. I really wanted to try this flavor in particular because rose is my all-time favorite smell. Btw, in case you hadn't guessed, I'm not using this bomb to get my ardor up (blech), no, I'm reviewing it in terms of how it works for my pain.) After an intense physical therapy session, I ran my bath, got in the tub, dropped the bath bomb in the water and laid back, waiting for relaxation and relief to take effect.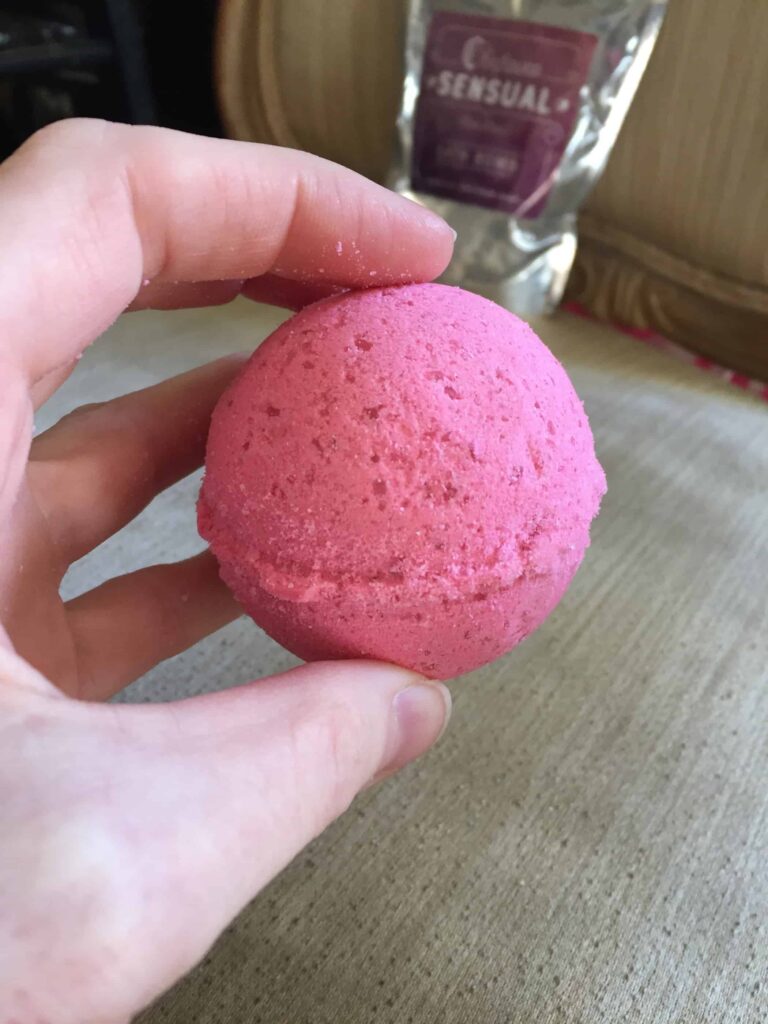 ---
How the STEVE'S GOODS SENSUAL CBD BATH BOMB 100 MG Worked for Me
The bath bomb dissolved immediately, turning the water a pretty pink. The smell of rose, ylang ylang, and oranges filled the bathroom. I relaxed in the tub for twenty minutes or so, allowing the CBD to absorb into my skin. My muscles relaxed and for a short time, I forgot about the pain. After getting out, I lay down, calm and ready for a nap. The CBD and hot water helped assuage my muscle spasms, and I had one of the best nights of sleep that I've had in a while. I'm eager to try Steve's Goods other bath bombs!
Useful and Unique Things to Know About STEVE'S GOODS SENSUAL CBD BATH BOMB 100 MG
Steve's Goods makes five unique CBD-infused bath bombs. The Defense CBD Bath Bomb (green) uses essential oils to assuage muscle pain. The Tranquil bath bomb (yellow) contains a relaxing mix of lemongrass, eucalyptus, rosemary, peppermint, and bergamot essential oils. If you're looking for a good night sleep, try the Utopia bath bomb (purple). The Recovery CBD Bath Bomb (blue) utilizes frankincense, tea tree oil, and lemon essential oils to help with skin problems. As an insomniac, I'd like to try the Utopia bomb next.
---
STEVE'S GOODS SENSUAL CBD BATH BOMB 100 MG Rating Breakdown
we validate our ratings that show as gradings from 0-100 on our review
PRESENTATION – 100
Pretty packaging.
RELIABILITY – 100
Relaxing and pain-relieving.
QUALITY – 100
Healing, natural ingredients.
SMELL – 100
Smells amazing! Easy to use.
VALUE – 95
Way too expensive.
---
How the STEVE'S GOODS SENSUAL CBD BATH BOMB 100 MG Stacks Up Against the Competition
Steve's Goods Sensual CBD Bath Bomb works great! My only issue with it is the price. For one bath bomb that lasts for one bath, you'll spend $20. GoGreen Hemp's CBD bath bombs work just as good and smell just as great, but will cost you almost half that amount and last for 2-3 baths. At that rate, I would stick with the GoGreen unless Steve's Goods brought the price down to stay competitive.
---
Saving Money With
Steve's Goods
Coupons
Save money on all CBD Bath Bombs here at Save On Cannabis the World's largest online cannabis coupon code directory.
---
Disclosure: I received these products gratis so that I could try them and then share my honest opinion with the SOC community. I am employed by Save on Cannabis to write honest reviews and provided a flat rate payment for the writing of the review. SOC may receive recurring affiliate payments for purchases made based on this content.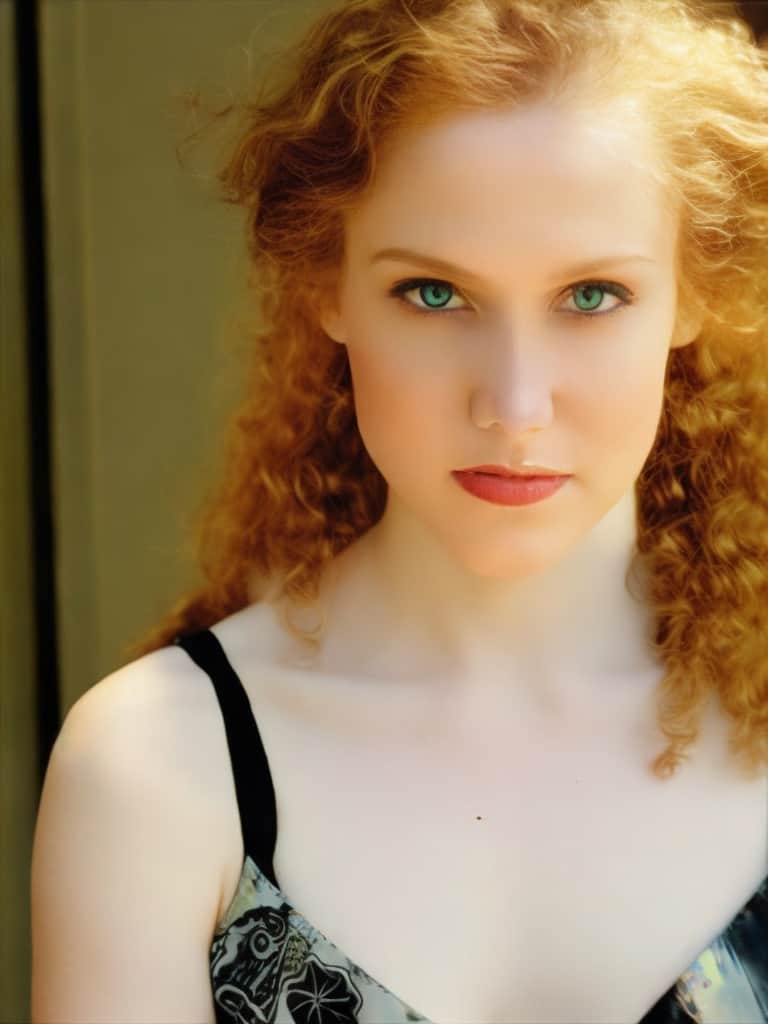 A medicinal cannabis user, utilizing the power of the plant to ease the pains and stresses from long standing conditions that other over the counter or prescriptions could not fix or weren't a natural option like cannabis.  Also, has a background in working directly in the cannabis industry in California within various dispensaries.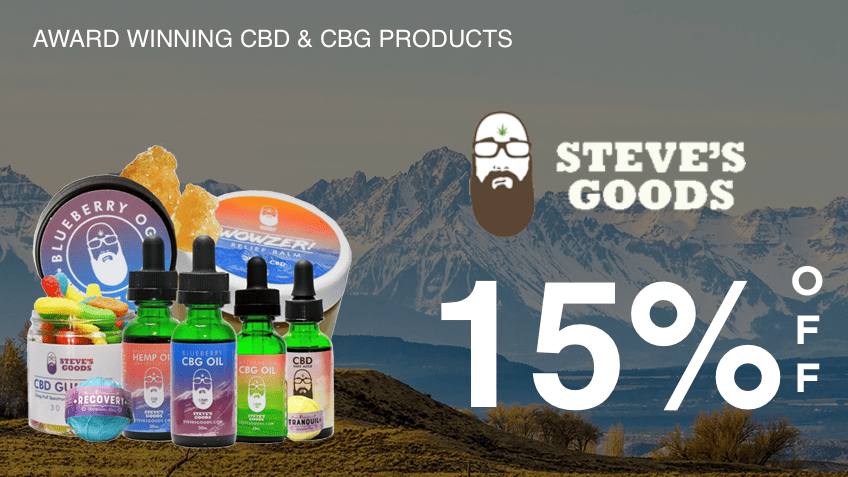 15% OFF CBD shatter with terpenes and more at Steve's Goods! Also get Delta 8 products now. USA Shipping.
Can a CBD oil help withsymptoms from chronic pain due to radiculopathy and arthritis, as well as symptoms from Complex Post Traumatic Stress Disorder?
Read our hands on expert GoGreen Hemp review of the CBD Gummy Bears. Also, get coupons to save on your purchase.
Our reviewer tries out the Savage CBD Driven vape oil to see if it helps her with her anxiety and daily stresses. See if this vape juice takes the edge off.