Maddyn Review: Relax & Revitalize CBD Oil Mint 600mg
Aug 28, 2020 | SOC
Maddyn Relax & Revitalize CBD Oil Tincture
Pros
Colorado-grown hemp
Full-spectrum hemp extract
Natural mint oil
Amazing flavor
Some 3-rd party lab testing
Medium-strength potency
Clean extraction method
No preservatives or artificial flavorings
Cons
Hard to read words shown on bottle
No third-party lab test for pesticides or heavy metals
Maddyn Relax & Revitalize CBD Oil Tincture
Product Review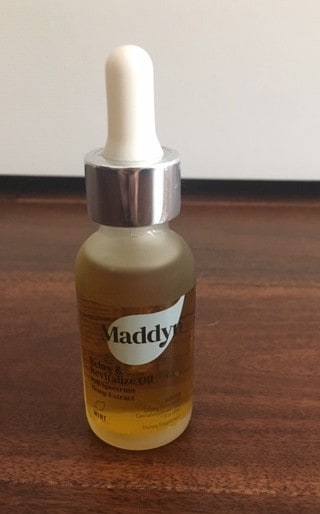 Brand Overview: Maddyn
Based in Aurora, Colorado, Maddyn was co-founded by Jim Heidenreich and Rolf Sannes in 2019. Both these men are entrepreneurs and fitness enthusiasts with a passion for hemp-derived wellness products. As a new company, it has a small, yet consciously crafted product line up.
Its products include a mint-flavored CBD oil tincture, turmeric CBD capsules, and a hemp topical cream with arnica and a long list of essential oils. As the company continues to grow, it plans to expand its offerings.
All of its products include organically grown hemp from Colorado. Additionally, Maddyn uses a safe extraction process without solvents to produce a clean CBD oil. Furthermore, the company has an independent third-party lab test the cannabinoid and terpene profiles and check for contaminants.
We pulled up the COA (lab report) for the 600mg CBD oil tincture to see the results of testing. From the "Cannabinoid Profile" we know the CBD content of 600mg per the product label is accurate. And there are also trace amounts of CBC, CBG, and Delta 9 THC (but below the legal limit of 0.3%).
The testing also shows there are no mycotoxins, microbial contaminants, or residual solvents in the tincture. However, we also learned that there are no terpenes, which could impact the overall entourage effect.
Finally, this third-party lab didn't test for the presence of pesticides or heavy metals.
Products: Tinctures, creams, capsules.
Price Range ($-$$$$): $$
---
About Maddyn Relax & Revitalize CBD Oil Tincture
Maddyn Relax & Revitalize CBD Oil Tincture is a full spectrum hemp-derived product. It contains MCT coconut oil as the carrier and is flavored with natural mint oil. There's 600mg of CBD per bottle, with 20mg per ml for a total of 30 servings.
The purpose of this tincture is to have a refreshing, tasty way to make CBD oil part of your morning and nightly routine or both. Also, there are several uses for this product. You can drop the oil under your tongue in a sublingual fashion, add some to your morning coffee, or mix some with a lotion and apply it topically.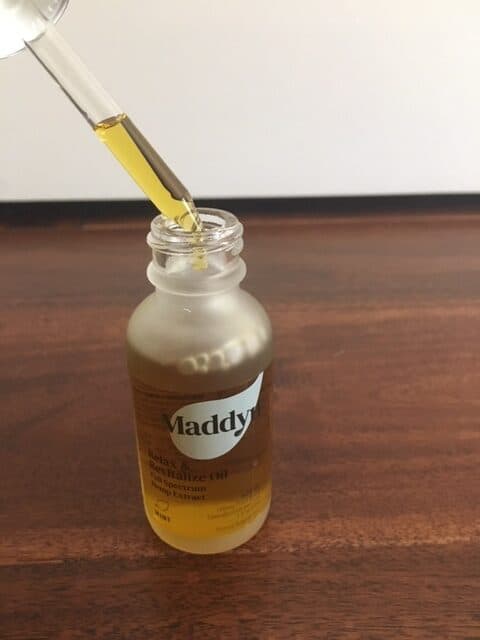 ---
Maddyn Relax & Revitalize CBD Oil Tincture Specifications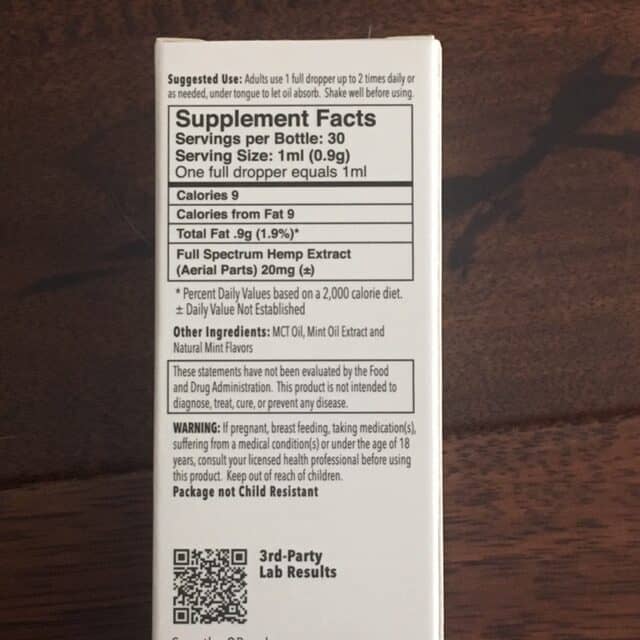 Full-spectrum hemp extract
MCT oil
Natural mint oil
600mg CBD
20mg CBD per ml
1oz (30ml) bottle
Colorado-grown hemp
Easy-to-use dropper
---
How We Tested the Maddyn Relax & Revitalize CBD Oil Tincture
Before writing this review, I dropped 20 mg of Maddyn CBD oil under my tongue each morning for about 2 weeks. It was the only CBD oil I used during this 2-week "testing" period. Occasionally, I would take another 10 to 20 mg dose in the afternoon or evening when I felt like it. During those times, I was feeling stressed or anxious and knew taking CBD could help me out. It almost always does!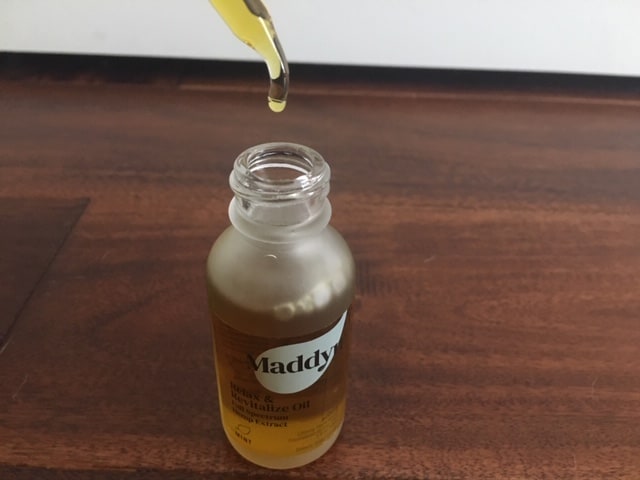 ---
How the Maddyn Relax & Revitalize CBD Oil Tincture Worked for Me
As someone who regularly consumes CBD (nearly every day, plus multiple times a day), I wasn't sure if I would "feel" or notice much in my body or mind when using the Maddyn CBD Oil Tincture. But, I have to say that I really enjoyed my morning ritual of consuming this oil.
Most of the time I took it on an empty stomach and the smooth, oily texture and natural mint flavor went down easy. I never had any stomach upset or heartburn-like symptoms, which was a great thing. And best of all, I felt calm and clear-headed. I'm sure if I took a double dose (40mg) here and there the effects would have been stronger, but I liked them as they were.
---
Useful and Unique Things to Know About Maddyn Relax & Revitalize CBD Oil Tincture
Maddyn CBD Tincture Oil has a natural mint oil that the company sources from Washington. Many of my friends and family members who try mint-flavored CBD oils generally have negative things to say. But, Maddyn's mint flavor was amazing, it was something I actually looked forward to tasting. My mouth felt fresh and clean. For me, and possibly for you too, this is a unique stand-out feature.
---
Maddyn Relax & Revitalize CBD Oil Tincture Ratings
In the next sections gradings from 0-100 on our review, these grades add up to give the product's overall score.
PRESENTATION • 90
Beautiful packaging, but the labelling on the bottle is hard to read.
RELIABILITY • 100
High-quality feel and taste in every drop.
QUALITY • 100
High-quality feel and taste in every drop.

FLAVOR • 100
The refreshing natural mint flavor is amazing.
VALUE • 90
Priced a bit higher than other comparable products, but offers good value.
---
PROS of the Maddyn Relax & Revitalize CBD Oil Tincture
This CBD Oil Tincture by Maddyn has some great features. Each medium-strength dose has 20mg of full-spectrum CBD that derives from Colorado-grown hemp. Also, the product gets made using a safe and clean extraction process. Then, the company sends a sample of the oil to a third-party laboratory for testing before it bottles the tinctures.
The lab testing includes an analysis of cannabinoids, terpenes, residual solvents, mycotoxins, and microbial contaminants. Finally, the formula includes natural mint oil that tastes fantastic and is free of preservatives and artificial flavorings.
---
CONS of the Maddyn Relax & Revitalize CBD Oil Tincture
There are only a few cons to mention, one is tiny and the other is a little bit more important. First, it's very hard to read the directions and other words on the bottle because the text is written on a transparent background (i.e. the bottle).
And the second con has to do with incomplete lab testing. We didn't see a test performed on pesticides or heavy metals.
---
How Maddyn Relax & Revitalize CBD Oil Tincture Stacks Up Against the Competition
Compared to the competition, Maddyn's Relax & Revitalize CBD Oil Tincture doesn't stand out in any obvious way, besides its wonderful mint flavor. But, on the same token, that doesn't mean it's a bad product.
I'd say it falls somewhere in the middle to the upper end when compared to other full-spectrum CBD oil tinctures. My opinion takes into account quality, ingredients, effects, price, and taste.
---
Saving Money with Our Verified Maddyn Coupons
Save money by using our verified CBD Tinctures Coupons here at Save On Cannabis the World's largest online cannabis coupon code directory.
---
Disclosure: I received these products gratis so that I could try them and then share my honest opinion with the SOC community. I am employed by Save on Cannabis to write honest reviews and provided a flat rate payment for the writing of the review. SOC may receive recurring affiliate payments for purchases made based on this content.

Save on Maddyn Review: Relax & Revitalize CBD Oil Mint 600mg
Sorry, no coupons were found.
Our reviewer got hold of some tasty CBD pet treats to give her Golden Retreiver, see how they helped her cope with anxiety in this King Calm Crunch review.
CBD protein bars are a new kind of edible that our reviewer tested, see how the Velobar tasted & if it helped calm our reviewer and assist with sleep.
In these crazy days, how many of us could use a boost of energy with a sense of mental calm? Let's see if the Sunday Scaries Yolo Shot works.