CBD Review: ZenWorks CBD Softgel 300mg Capsules
Dec 20, 2019 | Romy
ZenWorks CBD Softgel 300mg Capsules
Pros
Reduces Pain
Eases Anxiety
Small, easy-to-swallow capsules
Zero THC
High-quality ingredients
ZENWORKS CBD SOFTGEL CAPSULES
Product Review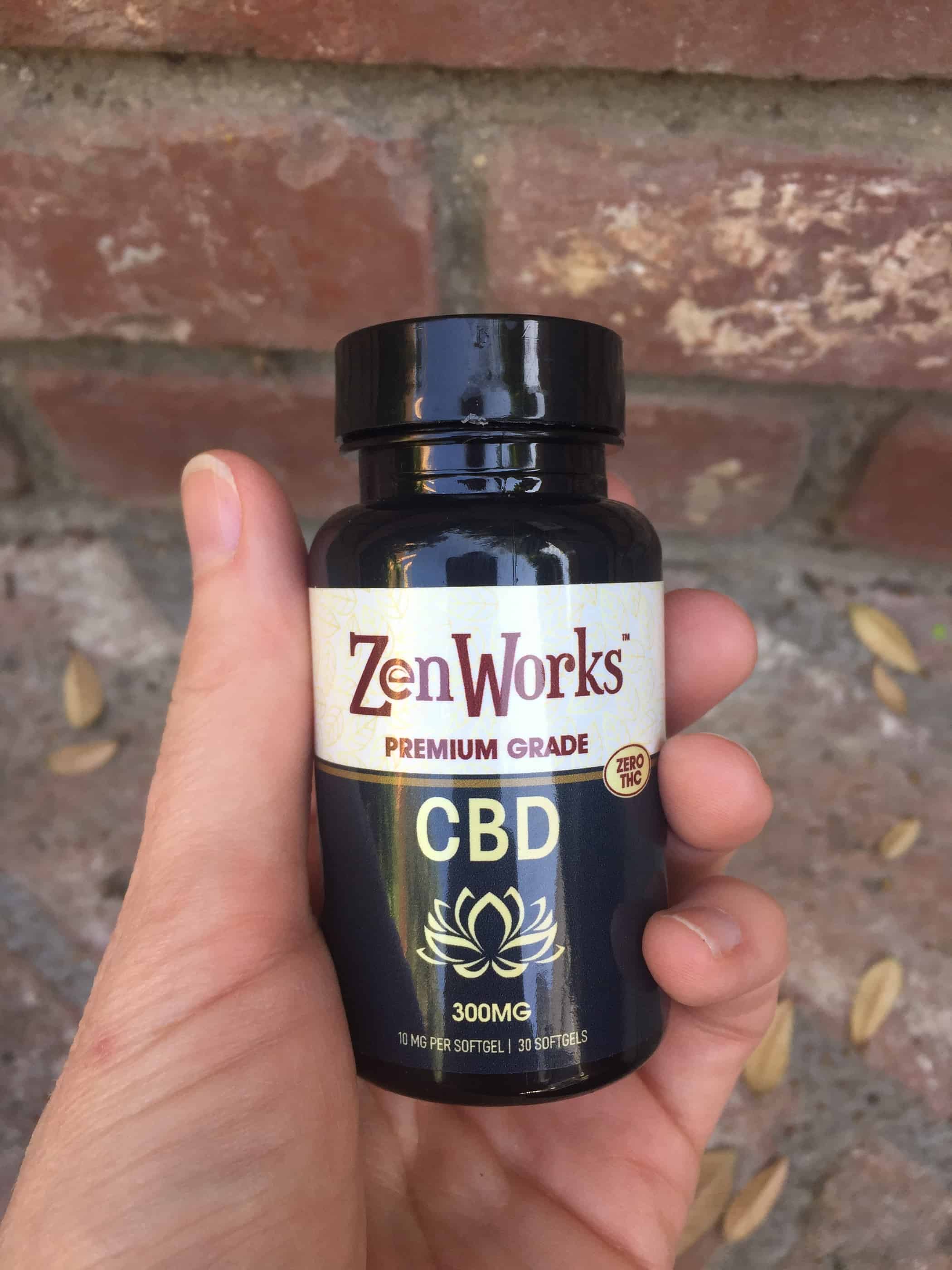 Brand Overview: ZENWORKS

ZenWorks makes a plethora of CBD products for people and pets to help calm inflammation after a difficult workout or calm your anxious pup for when she freaks out after you leave for work. The company's mint-flavored tinctures range from 250 mg of CBD to one thousand. ZenWorks started when the founder discovered he had stage 4 cancer. This led to a strenuous year of medical procedures. Al, the founder, discovered CBD during his recovery process and found that it helped with his sleep, appetite, pain, and mood. Al and his wife Sharon created ZenWorks with a mission to help suffering people with their high-quality CBD products. Everything they make is THC-free, meaning you won't get high. A small portion of every sale goes to a charity like the American Cancer Society, the Cancer Research Institute, and the Make-a-Wish Foundation.
---
Products: Tinctures, Vape E-Liquid, Edibles, Capsules, Pets.
Price Range ($-$$$$): $$-$$$$
About ZENWORKS CBD SOFTGEL CAPSULES
ZenWorks softgel capsules are each infused with 10 mg of CBD to help reduce stress, anxiety, and pain. Each bottle comes with thirty capsules for a total of 300 mg, but if you're looking for a higher does, ZenWorks also makes a 25 mg softgel capsule. Taking capsules is a low calorie and smoke-free way to get your daily dose of CBD, and ZenWorks makes it simple with these easy-to-swallow gelcaps made with bovine-derived gelatin. They look almost identical to my Vitamin E capsules! These gelcaps are great for consumers on-the-go who need a quick, easy, and subtle way to take CBD. These capsules are made with water-soluble nanoemulsion technology and MCT oil which allows for the CBD to be absorbed faster and more effectively. You can take 1 – 4 of these capsules a day as needed, but don't forget to take it with food to prevent any stomach aches.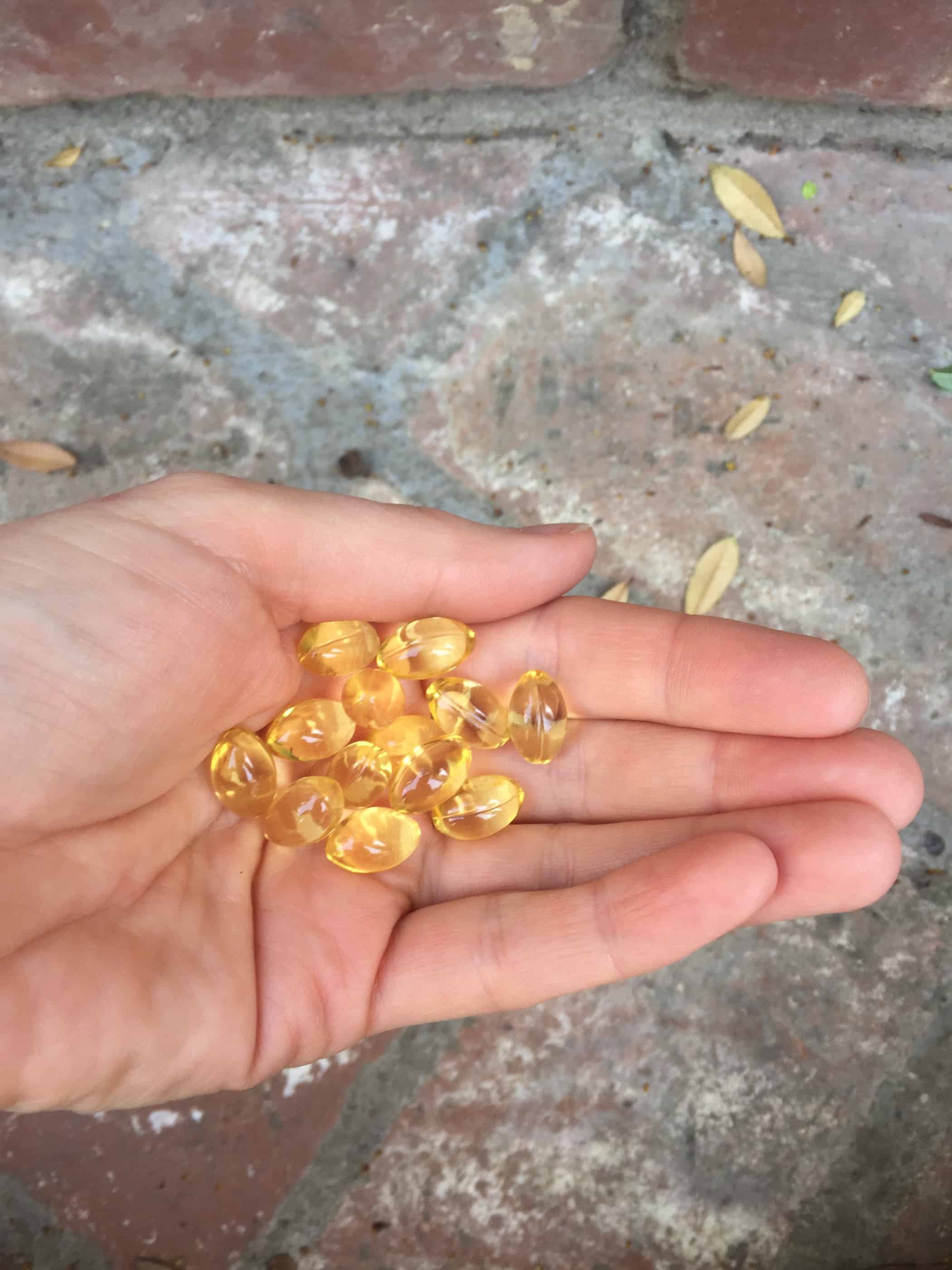 ---
ZENWORKS CBD SOFTGEL CAPSULES Specifications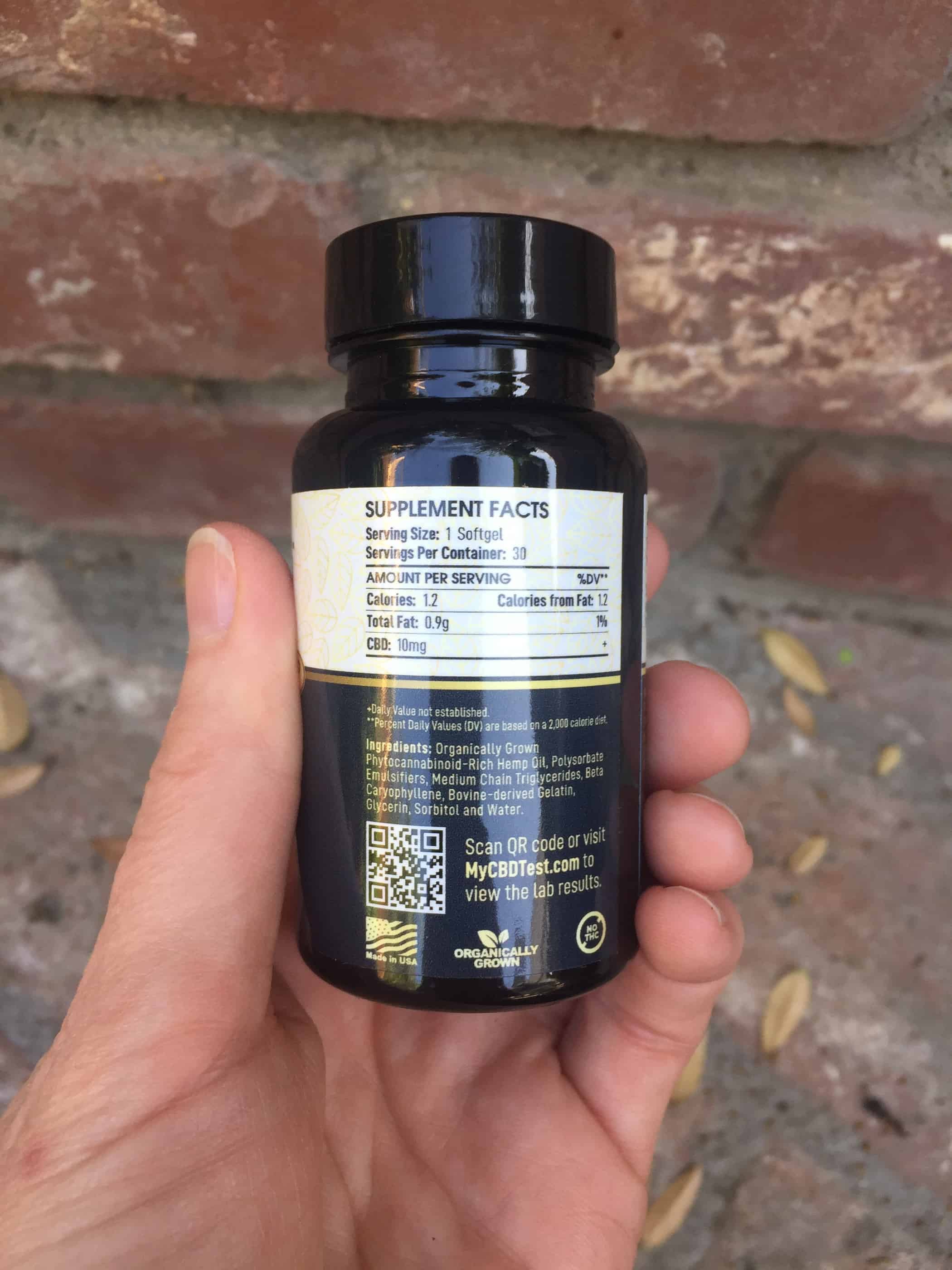 30 capsules per bottle
300 mg per bottle
Ingredients: Organically Grown Phytocannabinoid-Rich Hemp Oil, Polysorbate Emulsifiers, Medium Chain Triglycerides, Beta-Caryophyllene, Bovine-Derived Gelatin, Glycerin, Sorbitol, and Water.
10 mg per capsule
1.2 calories per capsule
Zero THC
Suggested Use: Take 1-4 capsules daily with food as needed.
---
How We Tested the ZENWORKS CBD SOFTGEL CAPSULES
My doctor prescribed me a medication called gabapentin which treats nerve pain I have from several injuries. My nerve pain is bad during the day, but at night it reaches a level of such extreme that I can't sleep unless I'm medicated. It was, for this reason, my doctor recommended I take a double dose of gabapentin before bedtime. Unfortunately, despite reminding her twice to make the change to my prescription, it's still at an amount that if I do double up my dose at night, I will run out of my prescription before I'm allowed to refill it. Right now, I'm at the end of the month and I've run out of my gabapentin. The pain during the day is so bad that I struggle to sit through my 2.5 hour-long French class. My sleep has been abysmal. While I wait until I can refill my medication and get in to see a different doctor, I've been using Ibuprofen, but it does nothing to help. I was interested in trying these ZenWork's CBD-infused capsules to help relieve some of this pain and allow me to get some rest. I took two capsules in the morning for a total of 20 mg of CBD and another three before bedtime.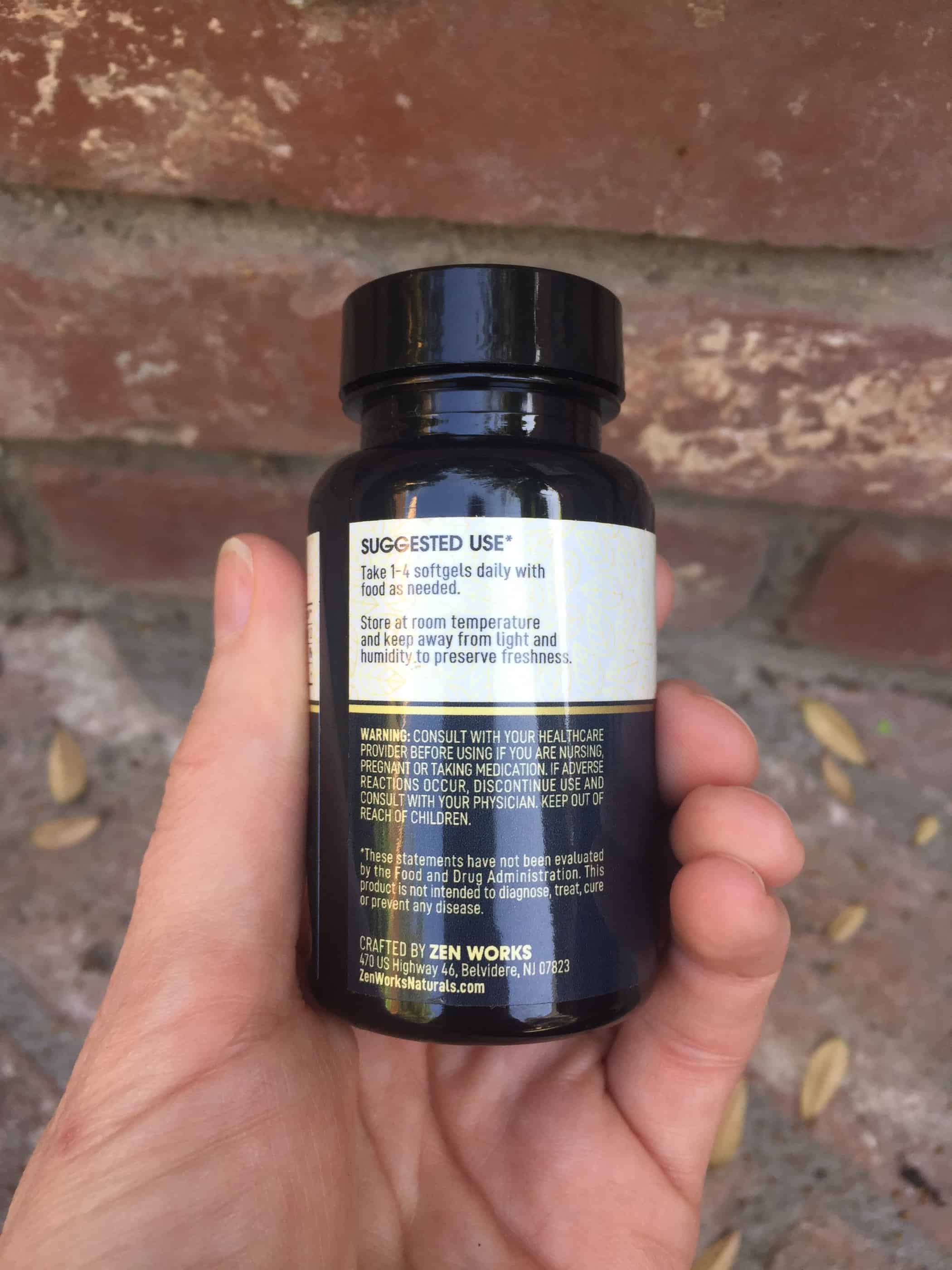 ---
How the ZENWORKS CBD SOFTGEL CAPSULES Worked for Me
I could feel the warming and calming effects of the CBD about an hour after taking my first round of Zenwork's softgel capsules. Sitting through my French class was still difficult, but the capsules helped reduce my anxiety and take my mind off of the physical pain and discomfort. I don't think CBD can replace gabapentin entirely, but it certainly helped take the edge off my symptoms so I could push through to the end of class.
At night, when I took 30 mg of the CBD capsules along with 12 mg of melatonin, I could tell I fell asleep faster and was able to stay asleep a little longer. While my sleep wasn't as good as it is when I have gabapentin, it helped just enough for me to get a few hours of sleep before I was woken up by pain. In the morning, I felt like a human being because I was able to sleep. In the future, a combination of CBD and gabapentin might be just the ticket in getting an even better night of sleep.
---
Useful and Unique Things to Know About ZENWORKS CBD SOFTGEL CAPSULES
was curious about some of the ingredients in ZenWorks CBD Softgel Capsules and decided to do a quick Google search to see what I was ingesting. Beta-Caryophyllene is a compound that comes from the clove plant, the cannabis plant, rosemary, and hops. This cannabis terpene helps with the effectiveness of the CBD, like medium-chain triglycerides. It's known as a "spicy terpene," which is why its found in cinnamon and black pepper. The molecular structure of beta-caryophyllene works with CBD to help reduce inflammation better than other terpenes. Beta-Caryophyllene is found in abundance in popular strains like Girl Scout Cookies, Bubba Kush, and Sour Diesel.
---
ZENWORKS CBD SOFTGEL CAPSULES Ratings

In the next sections gradings from 0-100 on our review, these grades add up to give the product's overall score.
PRESENTATION • 100
Informative.
RELIABILITY • 100
Eases pain and anxiety.
.
QUALITY • 100
Superb ingredients.

FLAVOR / SMELL / or EASE OF USE • 60
Easy to use.
VALUE • 75
expensive.
---
How ZENWORKS CBD SOFTGEL CAPSULES Stacks Up Against the Competition
ZenWork's gelcaps are an effective and easy way to get your daily dose of CBD. That said, they're more expensive than I'd like. For the 300 mg bottle, you'll cough up nearly fifty dollars. For the same price, you can get a bottle of 750 mg of CBD-infused gelcaps from TrytheCBD. Another way ZenWork's could be more competitive is to create a vegetarian gel-cap. TrytheCBD's gelcaps are not only cheaper but vegan too. Since ZenWorks and TrytheCBD both worked just as effectively, I'd stick with the latter for the price and even though I'm not a vegetarian, I would always choose that option because its better for the cows and the environment.
---
Saving Money With our Verified ZENWORKS Coupons
Save money on all Cbd Capsules here at Save On Cannabis the World's largest online cannabis coupon code directory.
---
Disclosure: I received these products gratis so that I could try them and then share my honest opinion with the SOC community. I am employed by Save on Cannabis to write honest reviews and provided a flat rate payment for the writing of the review. SOC may receive recurring affiliate payments for purchases made based on this content.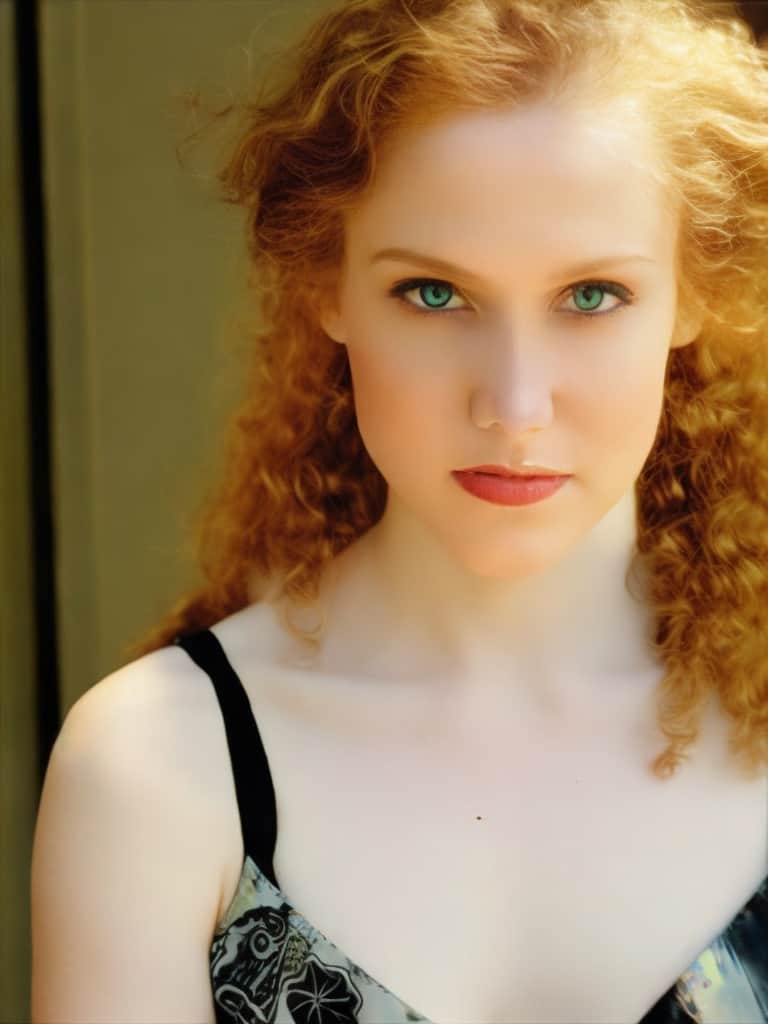 A medicinal cannabis user, utilizing the power of the plant to ease the pains and stresses from long standing conditions that other over the counter or prescriptions could not fix or weren't a natural option like cannabis.  Also, has a background in working directly in the cannabis industry in California within various dispensaries.
Sorry, no coupons were found.
MedTerra review of the MedOil CBD Tincture 1000mg, organic, pesticide-free, NON-GMO product. Find out how it worked.
Manitoba Harvest is a well-known hemp brand, but we got to test their first CBD products. Read to see how it stood up to our COVID & sleep trials
RYOT Ceramic Bong Review: Unveiling the Stylish and Functional Ceramic Traveller. Elevate your smoking experience and get exclusive savings.