CBD Review: CBDistillery – 500mg Full Spectrum CBD Tincture
Jul 12, 2020 | SOC
CBDISTILLERY FULL SPECTRUM CBD OIL - 500 MG
Pros
Good price
Effective in relieving pain
Eases anxiety
Easy to use
CBDISTILLERY FULL SPECTRUM CBD OIL – 500 MG
Product Review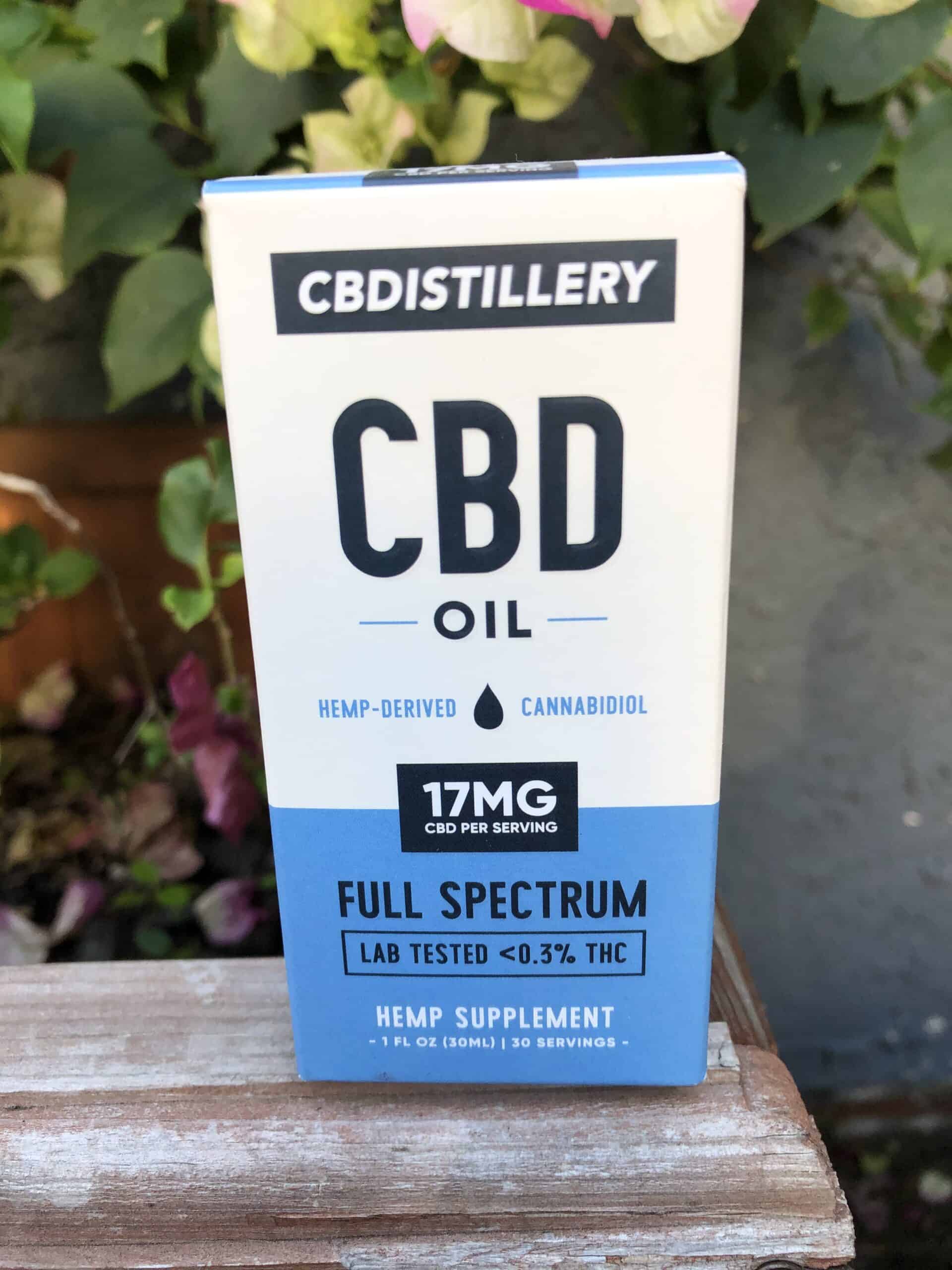 Brand Overview: CBDISTILLERY
CBDistillery has created an effective and affordable line of CBD products to help ease anxiety, stress, and pain. The company's mission is to bring you superior quality at a lower price, making it easier for the everyday person to get CBD-infused tinctures, salves, edibles, isolates, and topicals. The CBDistillery Team is proud to have brought to the Twittersphere the #CBDMOVEMENT™, which aims to educate people about non-addictive and all-natural ways to feel better. Every product is clearly labeled and third-party tested for quality, following guidelines set forth by the FDA. Certified by the U.S. Hemp Authority, you can rest assured that every product you buy from CBDistillery is the real deal. Check out their website for recipes using CBD, like their mouth-watering Buffalo Chicken Dip. The website also contains articles about the benefits of CBD when playing sports or doing yoga.
Products: Oils, Isolates, Gummies, Capsules, Topicals, Vape Liquids, Pets, THC-Free CBD.
Price Range ($-$$$$): $
---
About CBDISTILLERY FULL SPECTRUM CBD OIL – 500 MG
Made with 500 mg of cannabidiol (CBD) and full-spectrum hemp extract, CBDistillery makes an easy-to-use and effective tincture perfect for anyone looking for relief from pain, stress, and other ailments. You can mix this oil with your beverages, or you can take it by mouth. Simply shake the bottle, then take one dropper under the tongue, hold it there for 15 – 20 seconds, then swallow. One dropper is equal to 17 mg of CBD, so if you're new to the stuff, experts recommend starting at 5 – 10 mg, then work your way up as needed. With CBDistillery's 60-day money-back guarantee, you have nothing to lose by giving their full spectrum tincture a try.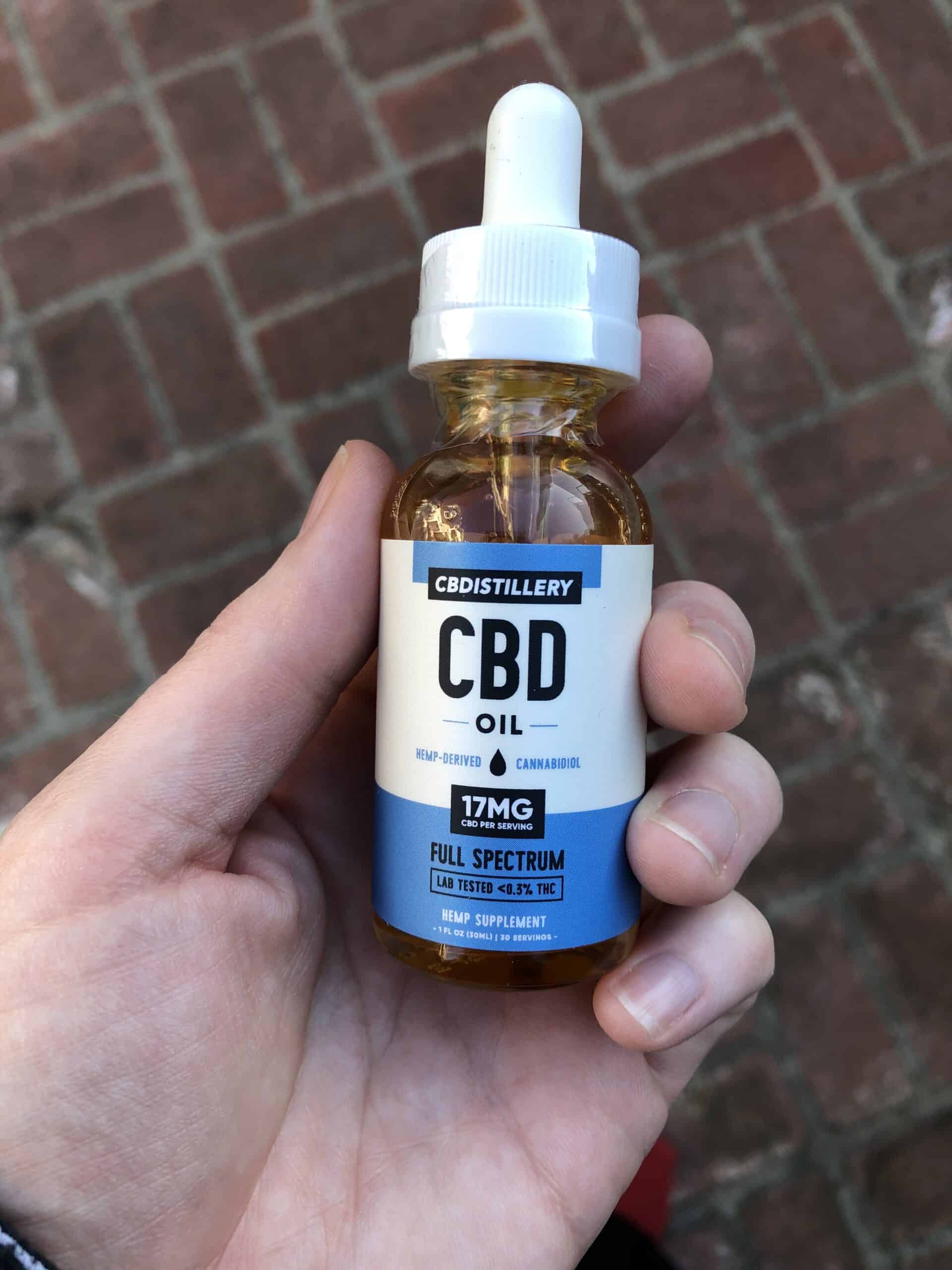 ---
CBDISTILLERY FULL SPECTRUM CBD OIL – 500 MG Specifications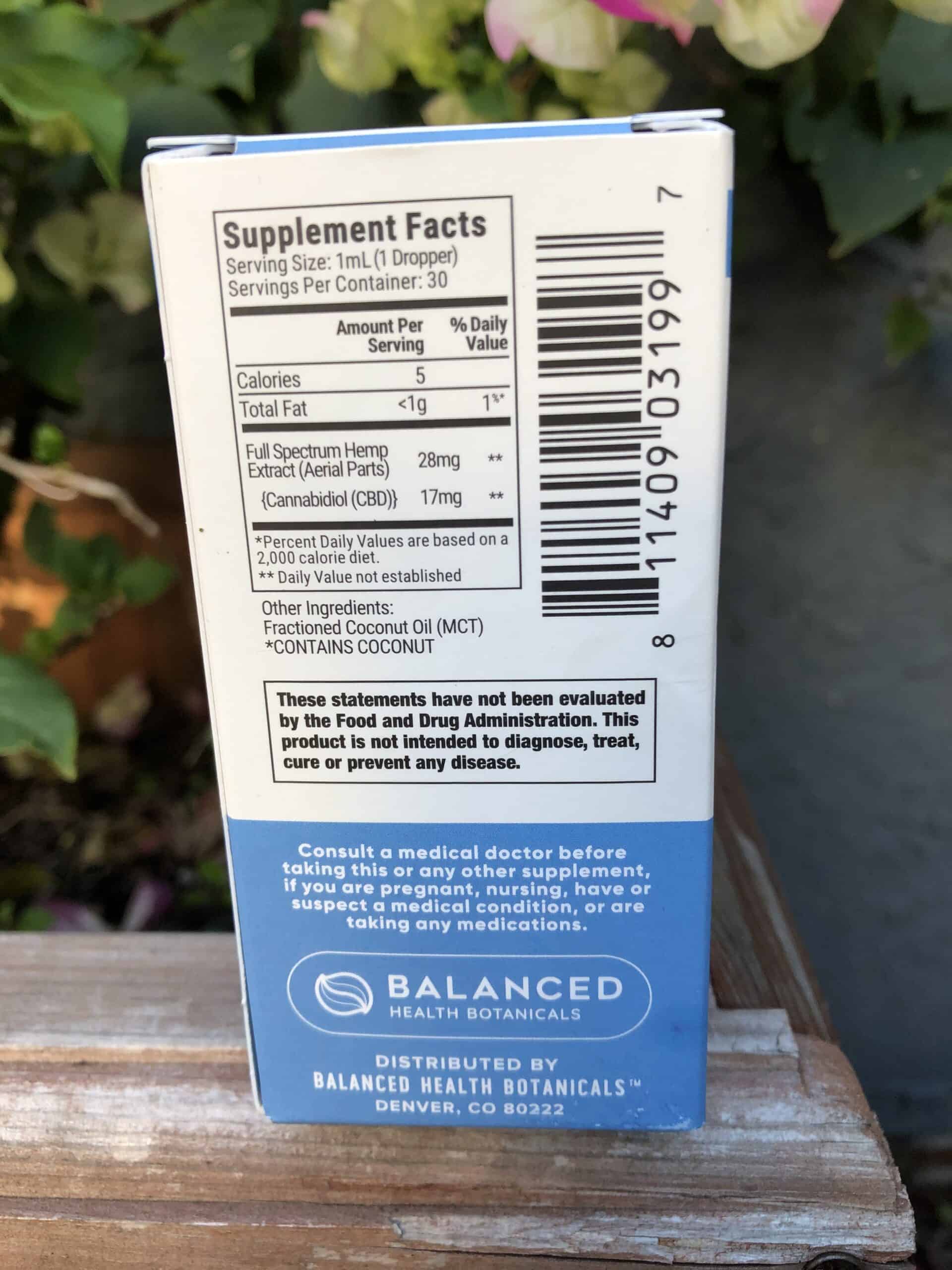 500 mg CBD
17 mg CBD per serving (1 dropper)
1 fl oz (30 ml)
30 servings
Less than .3% THC
Ingredients: Full Spectrum Hemp Extract (Aerial Parts), Cannabidiol (CBD), and Fractionated Coconut Oil (MCT)
Non-GMO
Gluten-free
---
How We Tested the FULL SPECTRUM CBD OIL – 500 MG CBDISTILLERY
I have chronic pain throughout my body that makes it difficult for me to sit or use my hands very long. During school, the pain gets worse because all I'm doing is sitting and using my hands. Sometimes I have to stand in the back of the class because the pain becomes too much. I've tried several of CBDistillery's other products and found them beneficial. With 17 mg per serving and me being an experienced CBD-user, I opted to take 2 servings in the morning, and 2 at night to see if this tincture would bring me a little respite.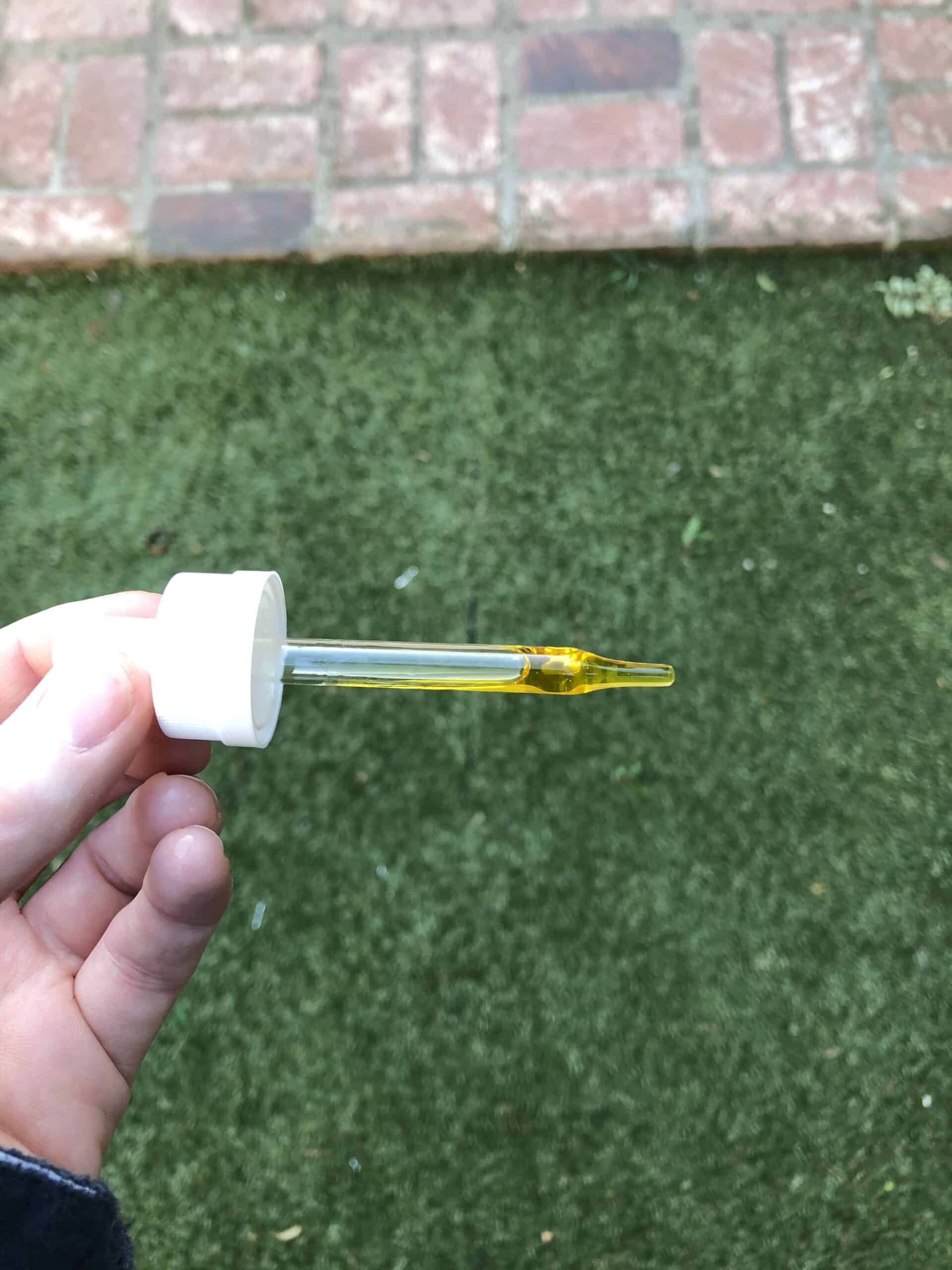 ---
How the CBDISTILLERY FULL SPECTRUM CBD OIL – 500 MG Worked for Me
An hour or so after taking 34 mg of CBDistillery's full-spectrum CBD oil in the morning, I felt warm, calm, and focused. It's not that the pain disappeared, but the CBD took the edge off it, allowing for me to pay attention to class, and not the pain. At night, I took the same amount. Normally, I wake up every hour or two from pain. With this CBD tincture and my regular medication of Gabapentin, I noticed I was able to fall asleep faster and stay asleep longer.
---
Useful and Unique Things to Know About CBDISTILLERY FULL SPECTRUM CBD OIL – 500 MG

CBDistillery makes a variety of different tinctures. If you want something with more potency, the company offers its full-spectrum formula in 250 mg, 500 mg, 1,000 mg, 2,500 mg, and 5,000 mg. You can also get THC-free tinctures in 250 mg, 500 mg, 1,000 mg, and 2,500 mg. They even have CBD tinctures for your pets! With their topicals, capsules, and edibles, there's something for everyone.
---
CBDISTILLERY FULL SPECTRUM CBD OIL – 500 MG Ratings
In the next sections gradings from 0-100 on our review, these grades add up to give the product's overall score.
PRESENTATION • 100
Informative packaging.
RELIABILITY • 100
Relieves pain and anxiety.
QUALITY • 100
Natural.
FLAVOR / SMELL / or EASE OF USE • 80
Slightly bitter flavor.
VALUE • 100
Great deal!

---
How CBDISTILLERY FULL SPECTRUM CBD OIL – 500 MG Stacks Up Against the Competition
It's hard to compete with CBDistillery because they have such a great array of products that are priced lower than most other companies. They're also offering free shipping during the COVID-19 pandemic. With their money-back guarantee, this is the company I would try first if I was new to CBD. If I could change one thing about this CBD oil, it's that I would make it taste better.
---
Saving Money with Our Verified CBDISTILLERY Coupons
Save money by using our verified CBD Tinctures here at Save On Cannabis the World's largest online cannabis coupon code directory.
---
Disclosure: I received these products gratis so that I could try them and then share my honest opinion with the SOC community. I am employed by Save on Cannabis to write honest reviews and provided a flat rate payment for the writing of the review. SOC may receive recurring affiliate payments for purchases made based on this content.
MedTerra review of the MedOil CBD Tincture 1000mg, organic, pesticide-free, NON-GMO product. Find out how it worked.
Thinking of CBD for your pet, read our hands on review of the CBD Pet oil. See how it worked for our pets and also get coupon codes to save.
Read our hands on cbdMD review of their cbdMD Max Tablets and see if it's worth your money. Video version and verified coupons.