Vape Oil Review: OHM Connect 2.0 – Girl Scout Cookie
Jul 12, 2019 | NugAndStem
Canada Mail Order CannabisCannabis DispensaryCBDCBD ConcentratesCBD EdiblesCBD TincturesCBD TopicalsCBD Vape OilsDisposable CBD Vape PenDisposable THC Vape PenTHCTHC ConcentratesTHC EdiblesTHC FlowersTHC GummiesTHC Pills & CapsulesTHC TincturesTHC TopicalsTHC Vape OilsVaporizers
OHM Connect 2.0 - Girl Scout Cookie
35
Pros
Improved high quality materialsImproved high quality materials
No increase in price
Carts are labeled with their flavour
Improved aesthetic appearance
Improved vape function - fills your lungs
True terpene flavours are delicious
No buttons needed to operate - just inhale
Cons
Cartridges are not refillable
OHM Connect Vapour Cartridge V2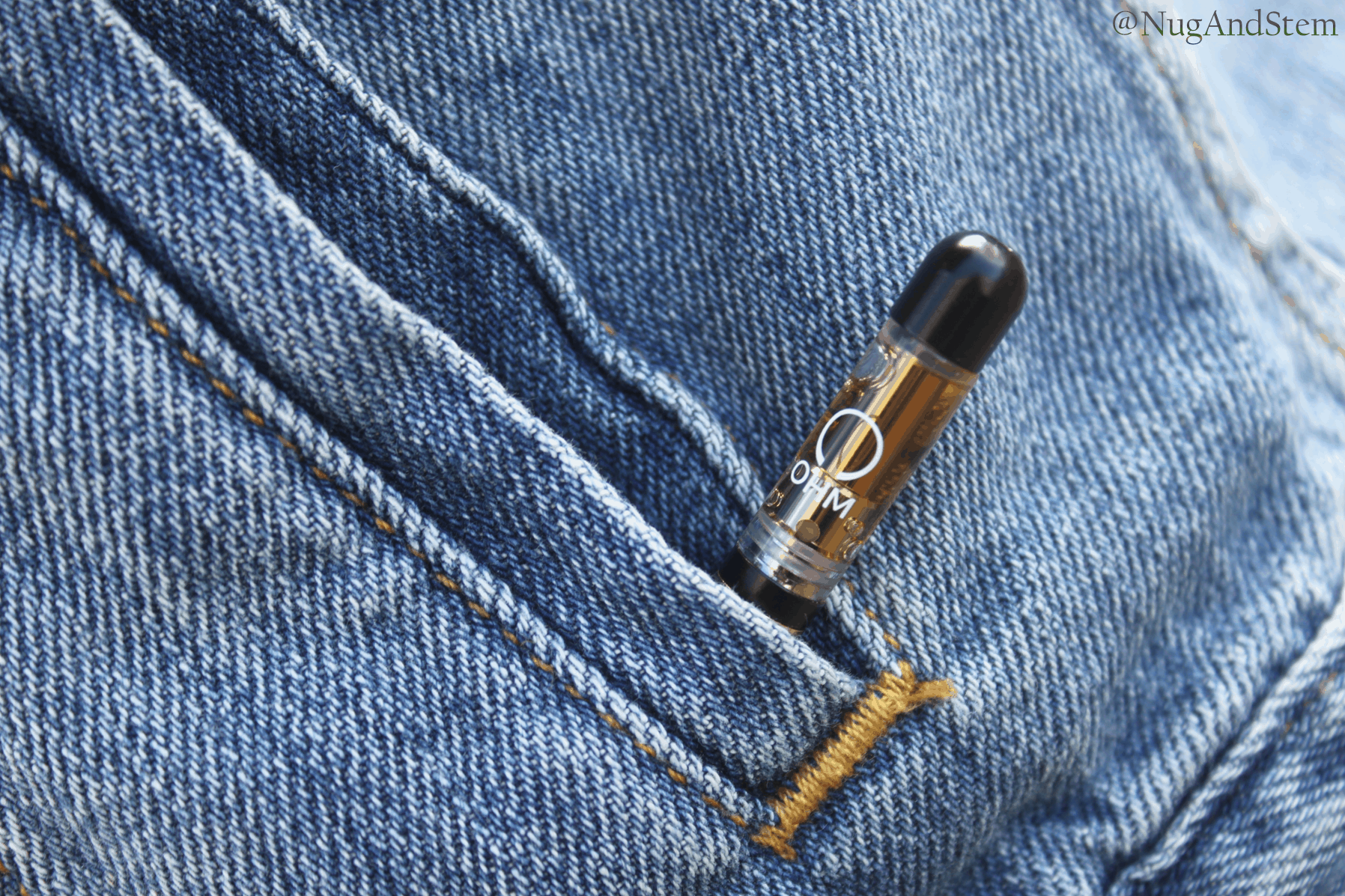 Product Overview
In simplest terms, the OHM Connect is a portable vape pen and pen charging case. The charging case allows you to carry 2 extra cartridges. This combination is perfect and allows you many options for discrete dosing. The cartridges are all flavourful and pack a strong punch. Some are cannabis distillates and some are CO2 extracted oils, they are also flavoured with natural flavours for added enjoyment. One feature we really love is that there is no complicated sequence of button clicks needed to activate the pen – you just need to inhale! This product feels like the future of cannabis, now. Especially since the recent release of the version 2 of their cartridge.
Cost ($-$$$$): $$
---
The Cartridge V2
The cartridge comes in a small plastic package that's extremely stylish. The back shows tasting notes, instructions for consumption, and gives a description of the product. It's makeup, origin and process of manufacturing is listed along with an estimated dosage of both thc and cbd per inhale. The soon to be implemented laws in Canada's second round of cannabis regulation should take note of this minimalistic but informative and attractive packaging.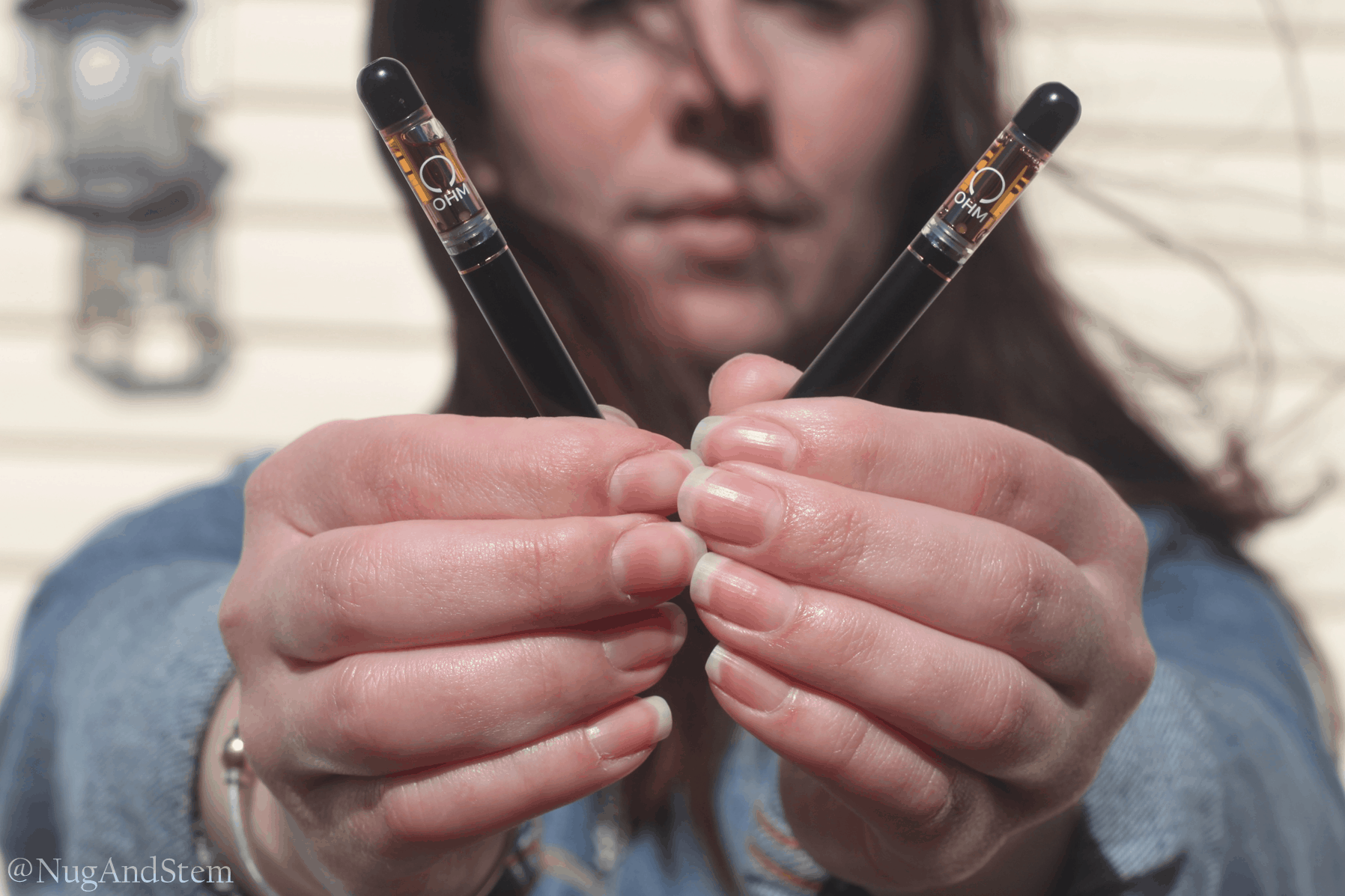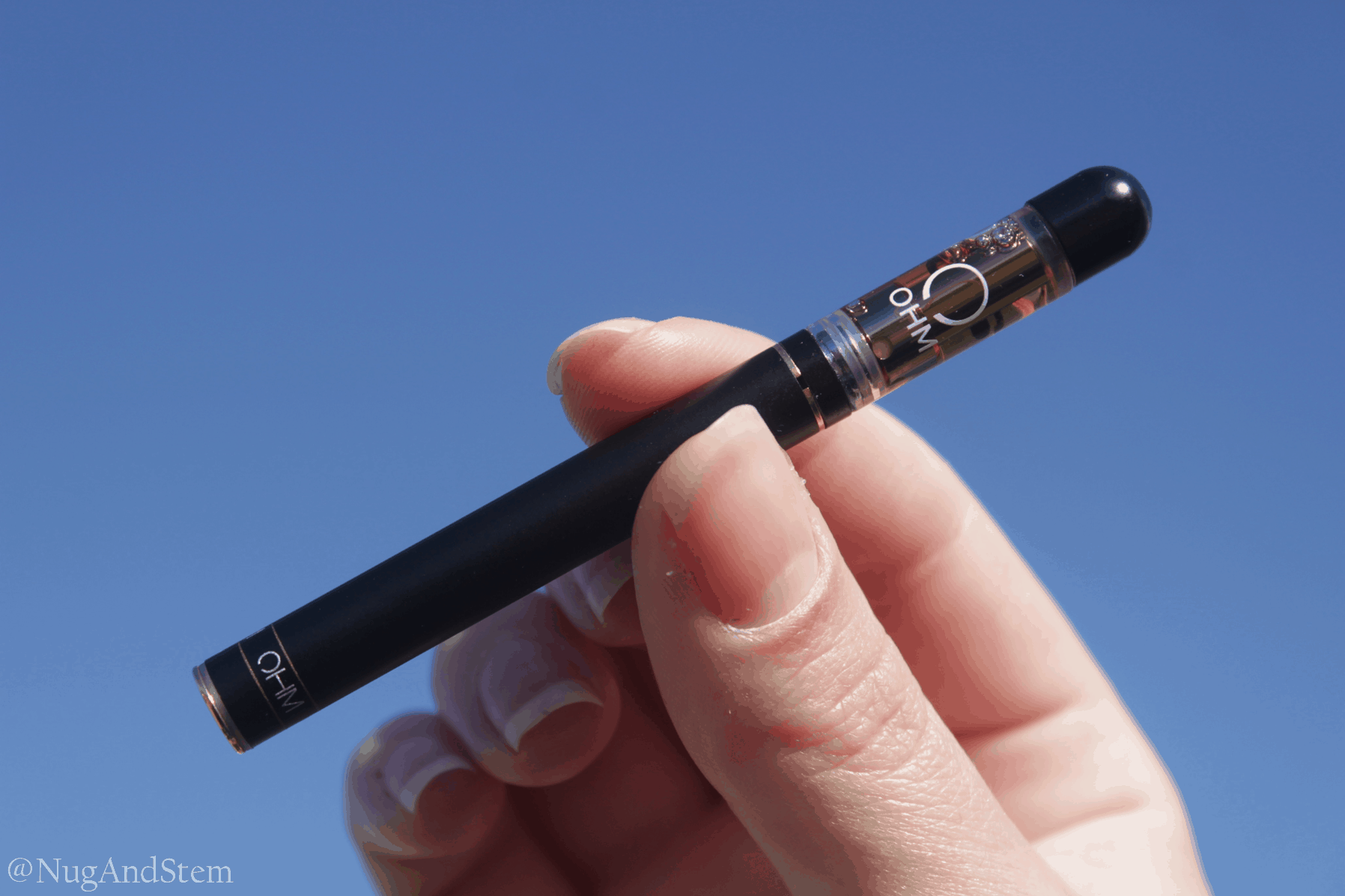 We specifically tested the Girl Scout Cookies – Mint flavour. The cartridge is see through – allowing you to quickly see how much product remains. More importantly the new design allows you to identify the flavour with an etched indication for the flavour on the cartridge. The new and improved ceramic heating coil is combined with an overall more aesthetically pleasing glass and plastic housing.
The amazing thing is that all of these material and design improvements come at no additional cost. We really love this cartridge and pen design because this will mean that your pen can be used for an extended period of time. In our experience with other vape pens, the battery runs out before the cartridge is empty. With this design there is no chance of that happening.
With this new design, when you inhale the air flows straight through the center of the cartridge rather than through a small side slit. To us, the improvement in airflow is massive and improves the vaping experience. This is perhaps the biggest improvement between the two versions and it results in the pen giving great hits. The hits provide big clouds. On top of that, the flavour has been improved.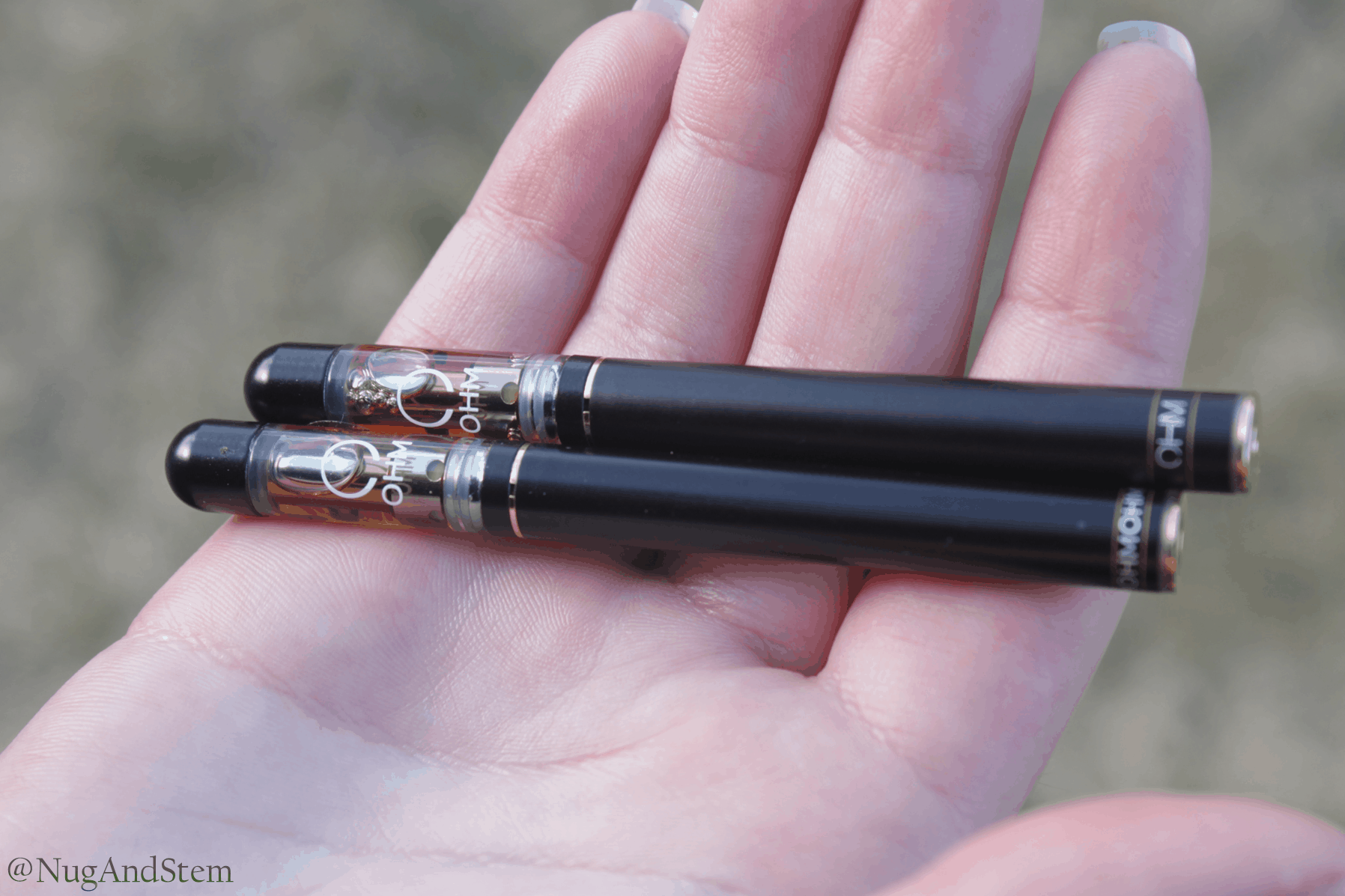 In particular, our cartridge had a great mint flavour that is reminiscent of our backyard grown mint. Typically, flavoured vapes have flavours that are more similar to artificial candies than to natural plants. Natural flavour which has a terpene quality is a great aspect of all OHM products.
---
OHM Connect 2.0 – Girl Scout Cookie Ratings
In the next sections gradings from 0-100 on our review, these grades add up to give the product's overall score.
PRESENTATION • 100
RELIABILITY • 90
QUALITY • 95
FLAVOR / SMELL • 95
EASE OF USE • 100
VALUE • 95
---
Should You Buy It?
Yes! For sure! Especially in Canada, in this wave of recreational cannabis vape pens have taken a hit. OHM Connect shows that the recreational market still has a lot to learn. This is a must have if you want a discreet, portable, and reliable cannabis experience.
Saving Money With OHM Connect Coupons
Save money on all Vape Pen here at Save On Cannabis the World's largest online cannabis coupon code directory.
---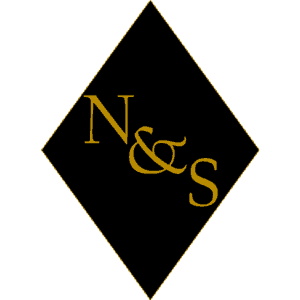 Nug & Stem Review
We are a couple that enjoys regular cannabis consumption and has a passion for sharing that enjoyment. I, Nug, am a petite woman who consumes cannabis more sparingly than Stem – who is a man and a more experienced user. Medically, I use cannabis most often to help treat anxiety, so I tend to reach for strains and products with higher levels of CBD. Stem uses cannabis to relieve chronic back pain caused by sports injuries, so he relies on a wide array of products depending on whether he needs help being active, falling asleep or needs instant topical relief. Medical uses aside, we do also enjoy using cannabis recreationally with friends and would like to contribute to normalizing this amazing plant. Visit us on Instagram @NugAndStem
Disclosure: I received these products gratis so that I could try them and then share my honest opinion with the SOC community. I am employed by Save on Cannabis to write honest reviews and provided a flat rate payment for the writing of the review. SOC may receive recurring affiliate payments for purchases made based on this content.
Our reviewer tests to see in this Green Roads Review of the Relax CBD Bath Bomb if it can soothe her muscles after working out. Find out now.
Check out our expert CBD review of the Infinite CBD Nano Energy Shot. We got hold of it and tested it see how it worked along with pictures.
Our hands-on R+R Medicinals review tests the 1000mg Mint Hemp Tincture to see if it works reliably. Can you depend on this tincture? Find out.