CBD Review: Infinite CBD Nano Shot Detox 25 MG
Nov 16, 2018 | Romy
Infinite CBD Nano Shot Detox 25 MG
Pros
Effective
Great List of Ingredients
Unique Product
Good Price
Cons
The taste is okay, not great.
Brand Overview: INFINITE CBD
Infinite CBD sells a variety of products made from the purest, all-natural CBD isolate on the market. All their products contain less than .1% THC so you won't get high but still get the health benefits of the cannabis plant. They add no harmful additives or chemicals to their products. Many professional athletes like UFC fighters, cyclists, and soccer players use Infinite CBD to help them train harder and improve during recovery. As an added bonus, the company offers yummy recipes like their homemade CBD Spice Latte. Sign me up!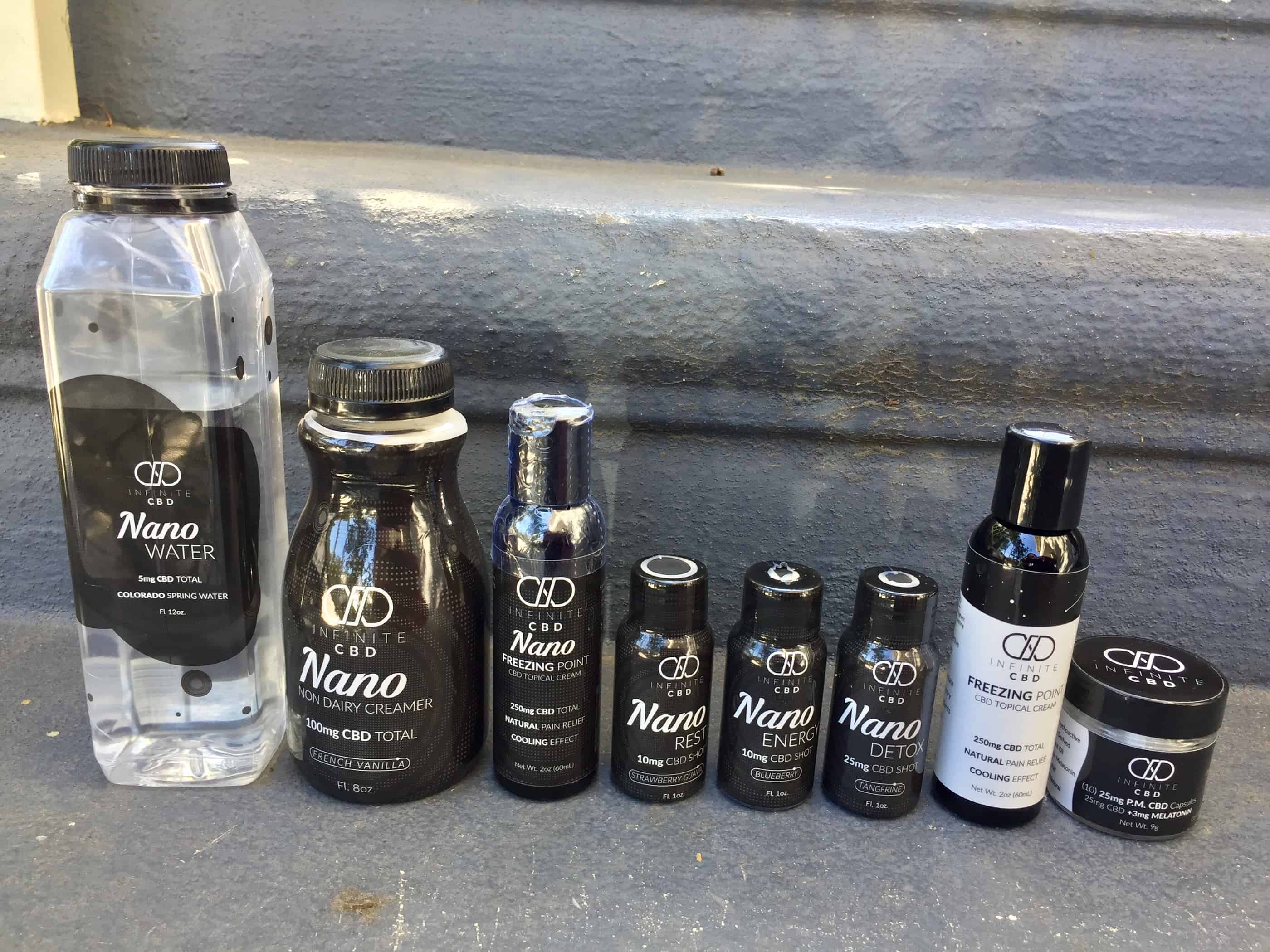 Products: CBD Water, Topical Cream, Shots (Detox, Energy, Rest), Non Dairy Creamer (French Vanilla, Hazelnut), Gummies, Salve (Stick, Tin), Tinctures, Pure Crystalline, Antiseptic Soap, Isolate Capsules, Isolate Droppers, A.M. Capsules, Afterglow Healing Oil, Pet Droppers, Vape Juice, Hair Plasma (Dry Scalp, Conditioning, Shine, Growth & Thickening), P.M. Capsules, Suppositories, Beard Flux Oil, Freezing Point Cream
Price Range ($-$$$$): $$
About the INFINITE CBD NANO SHOT DETOX 25 MG
The tangerine flavored Infinite CBD Nano Shot Detox is a single serving of nutrients that your body needs to recover after a hard night of partying, if you're starting to feel ill, or if you need a boost of energy (maybe after partying too much and puking your guts out). The detox shot offers ingredients that fight inflammation, settle an upset stomach, increase energy levels, cleans the liver, and can even help with weight loss. This tiny shot is packed with superfoods and CBD so you can do something nice for your body (for once).
INFINITE CBD NANO SHOT DETOX 25 MG Technical Specifications
Ingredients: Nano CBD, Milk Thistle, Green Tea, Ginger, Beet Root Powder, Vitamin B Complex, Vitamin

Directions:

Shake it and shoot!

Tangerine flavored

Tests at 99.7% CBD

No THC

1 oz

Grown and produced in Colorado

Third-party Lab Tested

$5.50 per shot
How We Tested the INFINITE CBD NANO SHOT DETOX 25 MG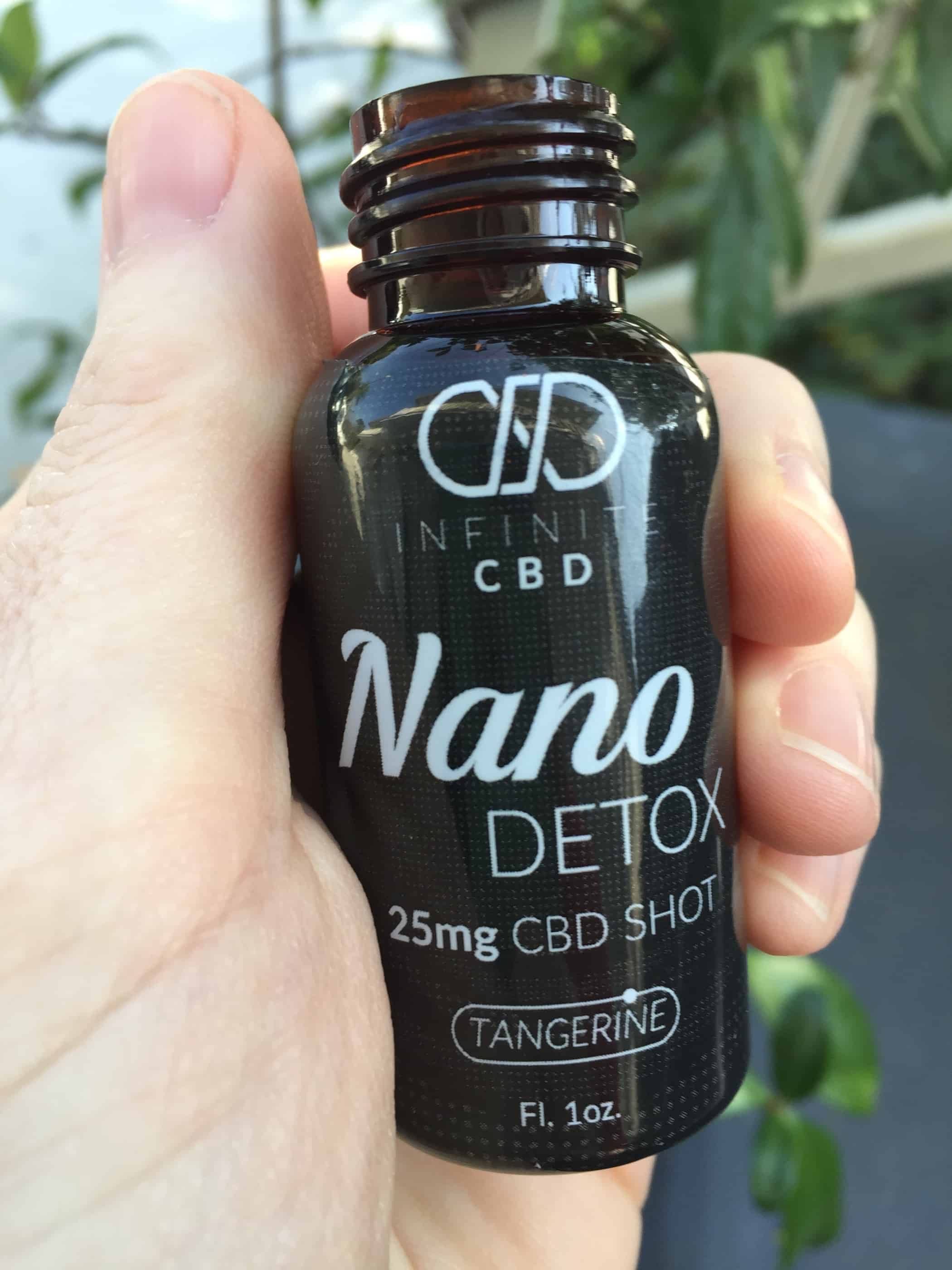 'Tis the season for Halloween. My best friend is really into Halloween. Like he has a HUGE party every year that has a budget and hired performers. How do I feel about Halloween? Well, I'm really into going to bed at eight in the evening so Halloween is just not my jam. But every year I suffer from FOMO and attend my BFF's Halloween party anyway. This year it was especially important for me to go because he and I are going into business together, and some big fancy people that wanted to back our project were going to the party. My plan was to be the first person to arrive, and the first person to leave after an hour of awkward mingling. I excel at awkward mingling. I'm not much of a drinker because after a glass of wine, I'm puking my guts out, but this year I was going to live on the wild side, and have some vino with my new associates. My plan was to shoot my Infinite CBD Nano Shot Detox the next morning in hopes of a painless recovery. The party was party-like, I made some awkward convo as planned, and had 1.5 glasses of Sauvignon Blanc. I was feeling pretty good. The next morning, however, I was feeling pretty barfy. My head hurt, and I vowed to never drink again (I've made this vow a few dozen times). I took my shot and downed a bunch of water.
How the INFINITE CBD NANO SHOT DETOX 25 MG Worked for Me
The Infinite CBD Nano Shot Detox was exactly what my poor, abused body needed to get through the day. After about thirty minutes, I felt the pain relieving benefits of the nano CBD particles creeping into my brain. The ginger really helped settle my stomach. I triumphantly did not puke. I felt more clear headed and ready for the day than any other post-party Sunday. The overall sense the shot gave me was clarity, a warm relaxation in my body, and an ease in my tummy. I would definitely recommend this product! Infinite CBD is becoming one of my favorite companies. Their Rest Shot is just as effective as their Detox Shot.
Useful and Unique Things to Know About INFINITE CBD NANO SHOT DETOX 25 MG
The ingredients of the Infinite CBD Nano Shot Detox make it unique amongst CBD products because it uses nanoparticles, which means the CBD has been excised through fancy technology to be extra small, and able to move through your bloodstream and up to your brain quicker. Milk thistle is added to treat liver problems and high cholesterol. Green Tea offers antioxidants that reduce cell damage and provides caffeine for energy. Ginger helps with stomach discomfort. Beetroot powder is packed with nutrients and antioxidants for overall health. Vitamin B complex is great for energy and metabolism. And, last but not least, Vitamin C is added to boost your immune system.
INFINITE CBD NANO SHOT DETOX 25 MG Rating Breakdown
In the next section, we score from 0-100.
PRESENTATION • 100
The detox shot is in a cute little black bottle that you can easily throw in your purse or bag.
RELIABILITY • 100
The shot is effective and works fast to relieve symptoms.
QUALITY • 100
The shot offers a variety of awesome ingredients to help you get through the day after drinking too much or if you're feeling sick.
FLAVOR • 80
The taste isn't great, like strong herbs and sweet fruit. It's medicine, after all, so I'm not expecting chocolate pudding. Luckily, it's just a tiny shot.
VALUE • 100
At $5.50 per 25 mg shot, the price is right.
How the INFINITE CBD NANO SHOT DETOX 25 MG Stacks Up Against the Competition
The Infinite CBD Nano Shot Detox 25 mg is a unique product on the market right now. I read that some major drink companies plan to add CBD to their detox and health drinks. The competition might become crazy in the future, but right now Infinite CBD is making a truly effective and inexpensive product that I will use again.
Saving Money With INFINITE CBD Coupons
Save money on with CBD Drinks coupons here at Save On Cannabis the World's largest online cannabis coupon code directory.
Disclosure: I received these products gratis so that I could try them and then share my honest opinion with the SOC community. I am employed by Save on Cannabis to write honest reviews and provided a flat rate payment for the writing of the review.  SOC may receive recurring affiliate payments for purchases made based on this content.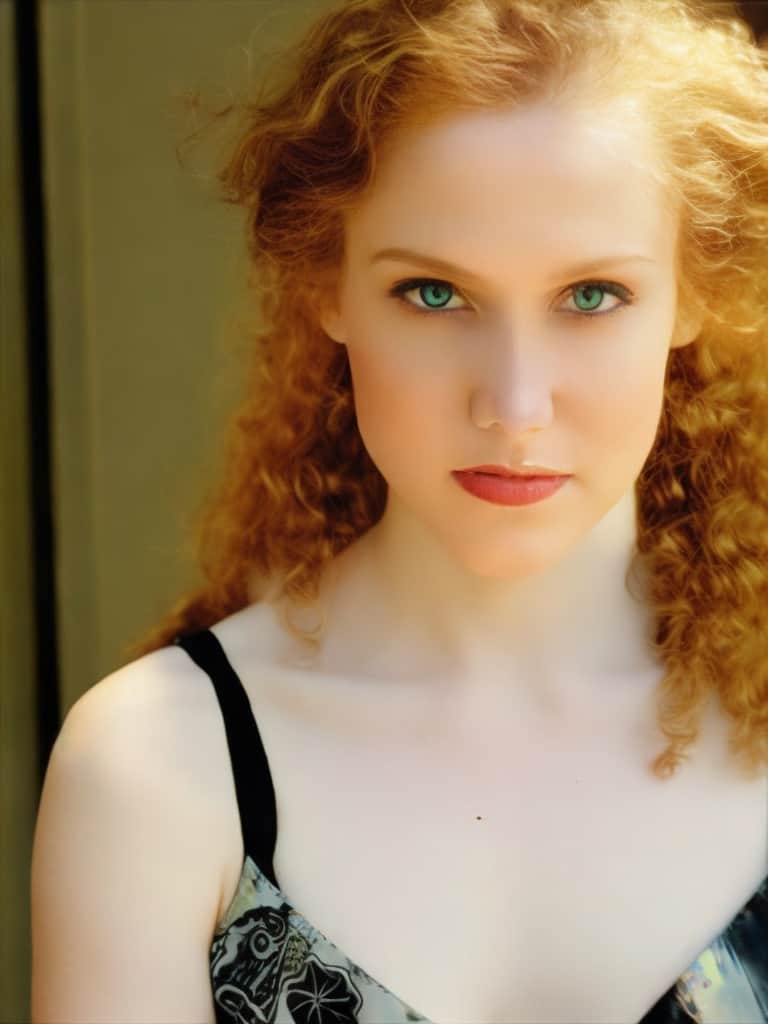 A medicinal cannabis user, utilizing the power of the plant to ease the pains and stresses from long standing conditions that other over the counter or prescriptions could not fix or weren't a natural option like cannabis.  Also, has a background in working directly in the cannabis industry in California within various dispensaries.
Pure CBD Vapors sent the Fresh Bamboo Bath Bombs, in this CBD for Life review see if it helps us sleep & our joint flexibility. Find out now!
Our CBD expert tries out the Eir Health Low Potency CBD tincture on a daily anxiety regimen. See if this helped take the edge off of her days.
Does CBD topical work on pain? Our reviewer got hit by a car & used Steve's Goods CBD Pain Cream on her pain, see if it worked.